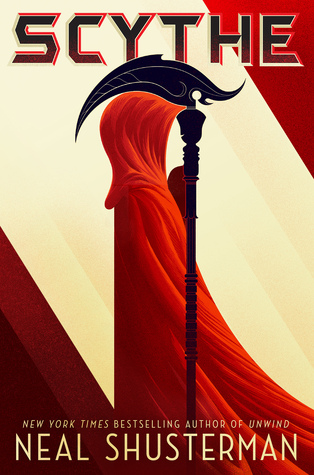 Thou shalt kill.

A world with no hunger, no disease, no war, no misery. Humanity has conquered all those things, and has even conquered death. Now scythes are the only ones who can end life—and they are commanded to do so, in order to keep the size of the population under control.

Citra and Rowan are chosen to apprentice to a scythe—a role that neither wants. These teens must master the "art" of taking life, knowing that the consequence of failure could mean losing their own.
I won a book of choice from Cassie over at Rants and Raves of a bibliophile and this is the book that I choose. Thank you so much, Cassie! <3
Why I loved this one:
The Writing - wow, the writing was amazing in this one. I don't know how to explain it except to say that it was intense and lyrical and just generally masterful. Whilst reading, I felt like I was being TOLD the story by an amazing storyteller. 10/10.
The story - the concept of this one sounded so good, so I was really worried that it wouldn't live up to it. But it totally did! The concept is executed beautifully, and the world is so well fleshed out. The Sci-fi aspects of the story also really reminded me of Illuminae, one of my favourite Sci-fi books. I feel like the whole story was really well planned and paced as well, at no point was I bored and I didn't see any of the plot twists coming.
The characters - Citra and Rowan were such incredible characters, strong, belivable and easy to epathise with in some ways. I also loved the side characters, such as Faraday and Curie. Even better than the hero.. the villans! They were just so evil, you couldn't help but hate them.
The ending - one of my biggest issues with many titles is that I feel that they are poorly wrapped up. Not so with this won! I loved the wrapping-up of the story, and the way it leaves things open for the next book. I NEED IT. WHEN WILL IT BE HERE!?
(side note: isn't this cover incredible? Seriously, it's even more beautiful in person. I can't wait to see what the next one looks like. I hope it matches! :-) )
ALSO THIS IS BECOMING A MOVIE.....WHATTTTTTTT!?
Quotes:
"Mortals fantasied that love was eternal and its loss unimaginable. Now we know neither is true. Love remained mortal, while we became eternal."
"Hope in the shadow of fear is the world's most powerful motivator."
"Human nature is both predictable and mysterious; prone to great and sudden advances, yet still mired in despicable self-interest."
Basssssicallly... this was my face after reading this one. I NEED more.