Hi everyone! Welcome the newly renamed Recent Reads (previously Mini Reviews), the series on my blog where I review books in a couple of sentences to give you my thoughts and recommendations. Here's some books I read in the last couple of months, including a couple of new all-time favourites.
Fate and fortune. Power and passion. What does it take to be the queen of a kingdom when you're only seventeen?

Maya is cursed. With a horoscope that promises a marriage of death and destruction, she has earned only the scorn and fear of her father's kingdom. Content to follow more scholarly pursuits, her whole world is torn apart when her father, the Raja, arranges a wedding of political convenience to quell outside rebellions. Soon Maya becomes the queen of Akaran and wife of Amar. Neither roles are what she expected: As Akaran's queen, she finds her voice and power. As Amar's wife, she finds something else entirely: Compassion. Protection. Desire…

But Akaran has its own secrets—thousands of locked doors, gardens of glass, and a tree that bears memories instead of fruit. Soon, Maya suspects her life is in danger. Yet who, besides her husband, can she trust? With the fate of the human and Otherworldly realms hanging in the balance, Maya must unravel an ancient mystery that spans reincarnated lives to save those she loves the most…including herself.
Quick Thoughts: The first thing I want to say about this book is that the writing is fabulous - it's so flowery and descriptive and frankly delectable. I just didn't have any particular connection to the characters or the plot so although I enjoyed the experience of reading it, it felt average to me.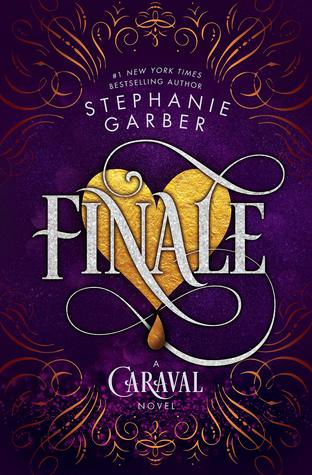 Welcome, welcome to Finale, the third and final book in the #1 New York Times bestselling Caraval series!

Welcome, welcome to Caraval...all games must come to an end.

It's been two months since the last Caraval concluded, two months since the Fates have been freed from an enchanted deck of cards, two months since Tella has seen Legend, and two months since Legend claimed the empire's throne as his own. Now, Legend is preparing for his official coronation and Tella is determined to stop it. She believes her own mother, who still remains in an enchanted sleep, is the rightful heir to the throne.

Meanwhile, Scarlett has started a game of her own. She's challenged Julian and her former fiancé, Count Nicolas d'Arcy, to a competition where the winner will receive her hand in marriage. Finaly, Scarlett feels as if she is in complete control over her life and future. She is unaware that her mother's past has put her in the greatest danger of all.

Caraval is over, but perhaps the greatest game of all has begun―with lives, empires, and hearts all at stake. There are no spectators this time: only those who will win...and those who will lose everything...
Quick Thoughts: What a great conclusion to a fabulous YA fantasy series. This one is very different from both Caraval and Legendary in terms of plot, but still somehow retains that magical atmosphere. A very satisfying "Finale".
For Sophie, small town life has never felt small. With her four best friends—loving, infuriating, and all she could ever ask for—she can weather any storm. But when Sophie's beloved Acadia High School marching band is selected to march in the upcoming Rose Parade, it's her job to get them all the way to LA. Her plan? To persuade country singer Megan Pleasant, their Midwestern town's only claim to fame, to come back to Acadia to headline a fundraising festival.

The only problem is that Megan has very publicly sworn never to return.

What ensues is a journey filled with long-kept secrets, hidden heartbreaks, and revelations that could change everything—along with a possible fifth best friend: a new guy with a magnetic smile and secrets of his own.
Quick Thoughts: Emma Mills never fails to impress me with her fabulous characters, fun plots, and most of all witty dialogue. With each new book from her I fall in love with a new group of characters who just feel so real. I will read everything Mills writes.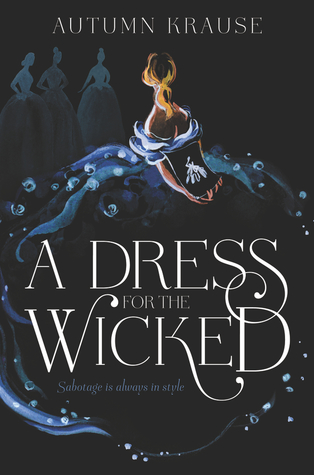 Nothing much happens in the sleepy town of Shy in Avon-upon-Kynt. And for eighteen years, Emmaline Watkins has feared that her future held just that: nothing.

But when the head of the most admired fashion house in the country opens her prestigious design competition to girls from outside the stylish capital city, Emmy's dreams seem closer than they ever have before.

As the first "country girl" to compete, Emmy knows she'll encounter extra hurdles on her way to the top. But as she navigates the twisted world of high fashion she starts to wonder: will she be able to tailor herself to fit into this dark, corrupted race? And at what cost?
Quick Thoughts: This was a cute, fun fantasy with which I could only describe as The Hunger Games meets The Great British Sewing Bee. It's a fun read but not anything particularly deep or stunning in terms of plot or characters. I would say it is maybe aimed at a younger YA audience.
She was looking for a place to land.

Anna is a fifteen-year-old girl slouching toward adulthood, and she's had it with her life at home. So Anna "borrows" her stepmom's credit card and runs away to Los Angeles, where her half-sister takes her in. But LA isn't quite the glamorous escape Anna had imagined.

As Anna spends her days on TV and movie sets, she engrosses herself in a project researching the murderous Manson girls—and although the violence in her own life isn't the kind that leaves physical scars, she begins to notice the parallels between herself and the lost girls of LA, and of America, past and present.

In Anna's singular voice, we glimpse not only a picture of life on the B-list in LA, but also a clear-eyed reflection on being young, vulnerable, lost, and female in America—in short, on the B-list of life. Alison Umminger writes about girls, sex, violence, and which people society deems worthy of caring about, which ones it doesn't, in a way not often seen in YA fiction.
Quick Thoughts:This one was just not for me. Anna and her sister as well as all of the other characters in this book are just so shallow and difficult to relate to. The make terrible decisions, but not in a way that makes them intruiging or fun to read about; they do these things in a way that is just annoying. I was also really hoping that the Manson Girls investigation would be a main plotpoint, but it was hardly mentioned. Unfortunetly, this one was a letdown.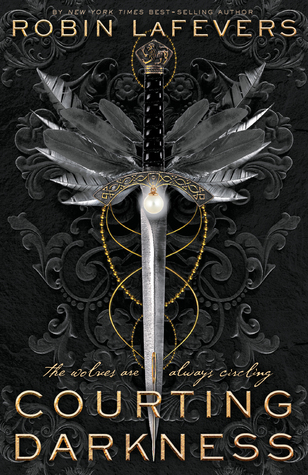 Death wasn't the end, it was only the beginning…


Sybella has always been the darkest of Death's daughters, trained at the convent of Saint Mortain to serve as his justice. But she has a new mission now. In a desperate bid to keep her two youngest sisters safe from the family that nearly destroyed them all, she agrees to accompany the duchess to France, where they quickly find themselves surrounded by enemies. Their one ray of hope is Sybella's fellow novitiates, disguised and hidden deep in the French court years ago by the convent—provided Sybella can find them.

Genevieve has been undercover for so many years, she struggles to remember who she is or what she's supposed to be fighting for. Her only solace is a hidden prisoner who appears all but forgotten by his guards. When tragedy strikes, she has no choice but to take matters into her own hands—even if it means ignoring the long awaited orders from the convent.

As Sybella and Gen's paths draw ever closer, the fate of everything they hold sacred rests on a knife's edge. Will they find each other in time, or will their worlds collide, destroying everything they care about?
Quick Thoughts: Wow. How do I even begin to describe this book? I honestly don't think I can without as it's the fourth in a series but all I can say is that I love this series with my whole heart and LaFevers continues to impress with each book. The one thing I would say is that even though this book is marketed as a new series, I really do think it is essential to read the prior books to get the full experience out of this book.
Have you guys read any of these? Please let me know!
Love,