All good things come in threes. The last of the mini reviews for a little while. And there's a new favourite in here too!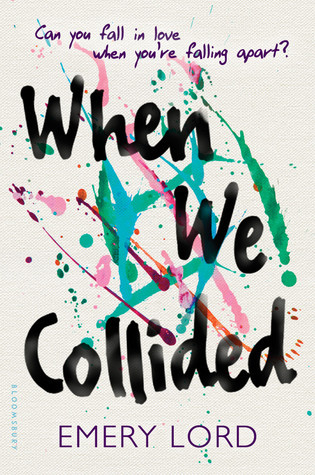 We are seventeen and shattered and still dancing. We have messy, throbbing hearts, and we are stronger than anyone could ever know…

Jonah never thought a girl like Vivi would come along.

Vivi didn't know Jonah would light up her world.

Neither of them expected a summer like this…a summer that would rewrite their futures.

In an unflinching story about new love, old wounds, and forces beyond our control, two teens find that when you collide with the right person at just the right time, it will change you forever.
I've had mixed experiences with Emery Lord's books. I loved The Start of Me and You , but I wasn't a big fan of Open Road Summer. Unfortunately, this one fit into the latter category. I thought I would love it, but I just didn't connect with any of the characters, or the story. I did love the family aspect of this one though, so that bumped up my rating a bit.
A girl realizes her life is being written for her in this unique, smart love story that is Stranger Than Fiction for fans of Stephanie Perkins.

Annabelle's life has always been Perfect with a capital P. Then bestselling young adult author Lucy Keating announces that she's writing a new novel—and Annabelle is the heroine.

It turns out, Annabelle is a character that Lucy Keating created. And Lucy has a plan for her.

But Annabelle doesn't want to live a life where everything she does is already plotted out. Will she find a way to write her own story—or will Lucy Keating have the last word?

The real Lucy Keating's delightful contemporary romance blurs the line between reality and fiction, and is the perfect follow-up for readers who loved her debut Dreamology, which SLJ called, "a sweet, quirky romance with appealing characters."
This was strange. Like, really, really strange. The whole way the story was written was disconcerting and somehow it was just weird hearing about Lucy Keating from the author's own perspective. I also really didn't like the characters and found the story forgettable. It just wasn't a book for me, but you should let me know what you think.
January 29, 2035.

That's the day the comet is scheduled to hit—the big one. Denise and her mother and sister, Iris, have been assigned to a temporary shelter near their hometown of Amsterdam to wait out the blast, but Iris is nowhere to be found, and at the rate Denise's drug-addicted mother is going, they'll never reach the shelter in time.

Then a last-minute encounter leads them to something better than a temporary shelter: a generation ship that's scheduled to leave Earth behind and colonize new worlds after the comet hits. But each passenger must have a practical skill to contribute. Denise is autistic and fears that she'll never be allowed to stay. Can she obtain a spot before the ship takes flight? What about her mother and sister?

When the future of the human race is at stake, whose lives matter most?
Firstly, I have to say that as a autisitic person, this was the most accurate autism rep I have ever encountered. Reading about Denise made me feel really, truly seen, in the best possible way. If you want to know what autism feels like for some of us - read this book! I didn't connect hugely to the story and felt it was far too slow paced, but Denise pushed my rating up a full star because I just loved being inside her head. I recommend this one!