Some more mini reviews for everyone! It's been a mixed bag of books recently... here are my thoughts!
O Threepio, Threepio, wherefore art thou, Threepio?

Join us, good gentles, for a merry reimagining of Star Wars: Episode I as only Shakespeare could have written it. The entire saga starts here, with a thrilling tale featuring a disguised queen, a young hero, and two fearless knights facing a hidden, vengeful enemy.

'Tis a true Shakespearean drama, filled with sword fights, soliloquies, and doomed romance... all in glorious iambic pentameter and coupled with twenty gorgeous Elizabethan illustrations. Hold onto your mini-chlorians: The play's the thing, wherein you'll catch the rise of Anakin!
To Shmi or not to Shmi?

The curtain rises on yeoman Jedi Anakin Skywalker, a man torn between duty to his
Masters, attraction to Padmé, and concern for his beloved mother, Shmi. His choices will determine not just his own destiny, but that of the entire Republic. An thereby hangs a tale.

Out, damned Fett!

A noble lady in danger. A knight and squire in battle. And a forbidden love written in the stars. The quill of William Shakespeare meets the galaxy of George Lucas... complete with period illustrations, insightful soliloquies, and masterful meter that will convince you the Bard himself penned this epic adventure.
As both a Star Wars fan and a Shakespeare reader, I was really really look forward to these gorgeous volumes. They're great fun, and it's wonderful comparing lines to their original form in the film. For me, they weren't anything life-changing, but they certainly gave me a kick to do a Star Wars rewatch.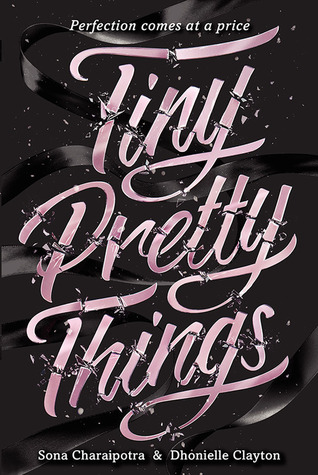 Black Swan meets Pretty Little Liars in this soapy, drama-packed novel featuring diverse characters who will do anything to be the prima at their elite ballet school.

Gigi, Bette, and June, three top students at an exclusive Manhattan ballet school, have seen their fair share of drama. Free-spirited new girl Gigi just wants to dance—but the very act might kill her. Privileged New Yorker Bette's desire to escape the shadow of her ballet-star sister brings out a dangerous edge in her. And perfectionist June needs to land a lead role this year or her controlling mother will put an end to her dancing dreams forever.

When every dancer is both friend and foe, the girls will sacrifice, manipulate, and backstab to be the best of the best.
This books was everything I was hoping for from a ballet thriller (is that even a genre?? what??). It was fast paced and thrilling and the characterisation was excellent. Another plus was that I could easily differentiate between the different points of view, something I often struggle with. Would recommend!
Prepare to be cured by this quirky and hilarious debut novel about a sixteen-year-old loner who is sent to rehab for video game addiction—perfect for fans of Ned Vizzini and Jesse Andrews.

Sixteen-year-old Jaxon is being committed to video game rehab…ten minutes after meeting a girl. A living, breathing girl named Serena, who not only laughed at his jokes but actually kinda sorta seemed excited when she agreed to go out with him.

Jaxon's first date. Ever.

In rehab, Jaxon can't blast his way through galaxies to reach her. He can't slash through armies to kiss her sweet lips. Instead, he has four days to earn one million points by learning real-life skills. And he'll do whatever it takes—lie, cheat, steal, even learn how to cross-stitch—in order to make it to his date.

If all else fails, Jaxon will have to bare his soul to the other teens in treatment, confront his mother's absence, and maybe admit that it's more than video games that stand in the way of a real connection.

From a bright new voice in young adult literature comes the story of a young man with a serious case of arrested development—and carpal tunnel syndrome—who is about to discover what real life is all about..
This was weird. Seriously weird. I've never read anything like it, and from the synopsis I was really hoping for a YA Ready Player One. Sadly, it fell short for me. I found the main character to be shallow and irritating and I really couldn't understand his motivations throughout the story. Having said that, I'm not a gamer, so if you are, you should totally give it a try and I'd love to hear your thoughts.
"Just let it go."

That's what everyone keeps telling Hadley St. Clair after she learns that her father cheated on her mother. But Hadley doesn't want to let it go. She wants to be angry and she wants everyone in her life—her dad most of all—to leave her alone.

Sam Bennett and his family have had their share of drama too. Still reeling from a move to a new town and his parents' recent divorce, Sam is hoping that he can coast through senior year and then move on to hassle-free, parent-free life in college. He isn't looking for a relationship…that is, until he sees Hadley for the first time.

Hadley and Sam's connection is undeniable, but Sam has a secret that could ruin everything. Should he follow his heart or tell the truth?
I really enjoyed this hard-hitting contemporary. The characters were flawed but believable and I really enjoyed the slow burn romance. The family relationships were also awesome! Not a new favourite, but a good read.
Have you guys read any of these? Please let me know!
Love,