Hi guys! Today I'm talking about a topic very close to my heart - neurodiversity in YA. Despite the fact that an estimated 1 in 100 people in the world are autistic, autistic characters are very rarely found in fiction, especially in YA. I haven't read most of these, but I have scoured the internet, trying to find more books with autistic characters, and here are five books I found. I hope this helps those looking to see people like themselves in YA literature and helps others learn about what life is like as a neurodiverse individual. Remember, autism is different for everybody.
Note: in some of these books, the character may not be explicitly described in the book as autistic, but the author has later confimed this, or it is widely assumed by the fan-base - let me know if I have made any mistakes.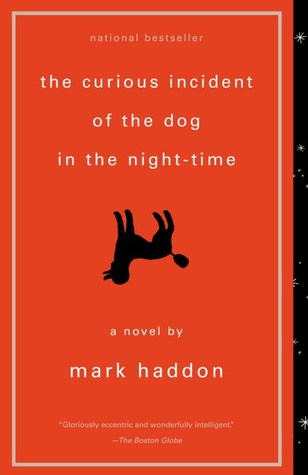 Christopher John Francis Boone knows all the countries of the world and their capitals and every prime number up to 7,057. He relates well to animals but has no understanding of human emotions. He cannot stand to be touched. And he detests the color yellow.

Although gifted with a superbly logical brain, for fifteen-year-old Christopher everyday interactions and admonishments have little meaning. He lives on patterns, rules, and a diagram kept in his pocket. Then one day, a neighbor's dog, Wellington, is killed and his carefully constructive universe is threatened. Christopher sets out to solve the murder in the style of his favourite (logical) detective, Sherlock Holmes. What follows makes for a novel that is funny, poignant and fascinating in its portrayal of a person whose curse and blessing are a mind that perceives the world entirely literally.
This book isn't technically YA, but it has a teenage protangonist. I'm sure you've heard of it, it's probably the most famous on this list. Some people find this one a little unrealistic, but I found it to be a really good depiction of what it is like to have Asperger's syndrome.
Love ignites in the City That Never Sleeps, but can it last?

Hopeless romantic Isla has had a crush on introspective cartoonist Josh since their first year at the School of America in Paris. And after a chance encounter in Manhattan over the summer, romance might be closer than Isla imagined. But as they begin their senior year back in France, Isla and Josh are forced to confront the challenges every young couple must face, including family drama, uncertainty about their college futures, and the very real possibility of being apart.

Featuring cameos from fan-favorites Anna, Étienne, Lola, and Cricket, this sweet and sexy story of true love—set against the stunning backdrops of New York City, Paris, and Barcelona—is a swoonworthy conclusion to Stephanie Perkins's beloved series.
In this one, the main character's best friend, Kurt, is described as having autism. He is such a wonderful character and I love his relationship with Isla. This book is such a cute book too!
In a kingdom by the sea…

In a secret world where half-angel warriors are sworn to fight demons, parabatai is a sacred word.

A parabatai is your partner in battle. A parabatai is your best friend. Parabatai can be everything to each other—but they can never fall in love.

Emma Carstairs is a warrior, a Shadowhunter, and the best in her generation. She lives for battle. Shoulder to shoulder with her parabatai, Julian Blackthorn, she patrols the streets of Los Angeles, where vampires party on the Sunset Strip, and faeries—the most powerful of supernatural creatures—teeter on the edge of open war with Shadowhunters. When the bodies of humans and faeries turn up murdered in the same way Emma's parents were when she was a child, an uneasy alliance is formed. This is Emma's chance for revenge—and Julian's chance to get back his brother Mark, who is being held prisoner by the faerie Courts. All Emma, Mark, and Julian have to do is solve the murders within two weeks…and before the murderer targets them.

Their search takes Emma from sea caves full of sorcery to a dark lottery where death is dispensed. And each clue she unravels uncovers more secrets. What has Julian been hiding from her all these years? Why does Shadowhunter Law forbid parabatai to fall in love? Who really killed her parents—and can she bear to know the truth?

The darkly magical world of Shadowhunters has captured the imaginations of millions of readers across the globe. Join the adventure in Lady Midnight, the long-awaited first volume of a new trilogy from Cassandra Clare.
Though it is not explicitly stated in the book, Cassandra Clare has stated that Ty is autistic. I knew as soon as I read about Ty that he was autistic, so I went on the internet to read about Cassandra Clare's research for writing and character and I was thrilled to discover it appears she did a lot of it. This really shows in the book, too.
January 29, 2035.

That's the day the comet is scheduled to hit—the big one. Denise and her mother and sister, Iris, have been assigned to a temporary shelter near their hometown of Amsterdam to wait out the blast, but Iris is nowhere to be found, and at the rate Denise's drug-addicted mother is going, they'll never reach the shelter in time.

Then a last-minute encounter leads them to something better than a temporary shelter: a generation ship that's scheduled to leave Earth behind and colonize new worlds after the comet hits. But each passenger must have a practical skill to contribute. Denise is autistic and fears that she'll never be allowed to stay. Can she obtain a spot before the ship takes flight? What about her mother and sister?

When the future of the human race is at stake, whose lives matter most?
This one sounds amazing and it's Own Voices (yay!). I've heard that it has wonderful representation and shows the difficulties that Denise faces whilst really showing her as just a normal teenager. I can't wait to read this one!
Update: I intially included the title "How to Say I Love You Out Loud", but I
have been told by a reader, Celine, that this has some problematic representation and may be offensive. So I've decided to include a different title. This title was suggested by two friends, Christina and C

eillie

, so I decided to add it. Thank you guys! I'll continue to add a

ny other suggestions :)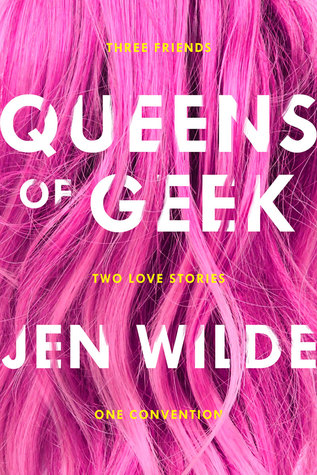 When BFFs Charlie, Taylor and Jamie go to SupaCon, they know it's going to be a blast. What they don't expect is for it to change their lives forever.

Charlie likes to stand out. SupaCon is her chance to show fans she's over her public breakup with co-star, Reese Ryan. When Alyssa Huntington arrives as a surprise guest, it seems Charlie's long-time crush on her isn't as one-sided as she thought.

While Charlie dodges questions about her personal life, Taylor starts asking questions about her own.

Taylor likes to blend in. Her brain is wired differently, making her fear change. And there's one thing in her life she knows will never change: her friendship with Jamie—no matter how much she may secretly want it to. But when she hears about the Queen Firestone SupaFan Contest, she starts to rethink her rules on playing it safe.
I don't know much about this one, but I've been told it has an Autistic main character. Thank you for telling me about it, C

eillie

and Christina!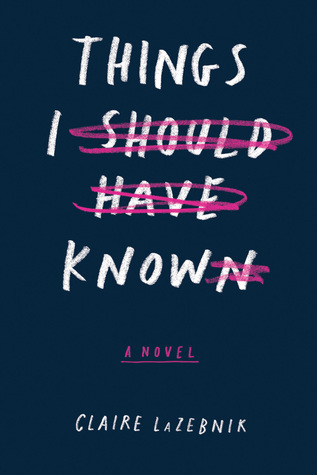 Things Chloe knew: Her sister, Ivy, was lonely. Ethan was a perfect match. Ethan's brother, David, was an arrogant jerk.

Things Chloe should have known: Setups are complicated. Ivy can make her own decisions. David may be the only person who really gets Chloe.

Meet Chloe Mitchell, a popular Los Angeles girl who's decided that her older sister, Ivy, who's on the autism spectrum, could use a boyfriend. Chloe already has someone in mind: Ethan Fields, a sweet, movie-obsessed boy from Ivy's special needs class.

Chloe would like to ignore Ethan's brother, David, but she can't—Ivy and Ethan aren't comfortable going out on their own, so Chloe and David have to tag along. Soon Chloe, Ivy, David, and Ethan form a quirky and wholly lovable circle. And as the group bonds over frozen-yogurt dates and movie nights, Chloe is forced to confront her own romantic choices—and the realization that it's okay to be a different kind of normal.
From the New York Times bestselling author of Tell Me Three Things comes a charming and poignant story about two struggling teenagers who find an unexpected connection just when they need it most. For fans of Sophie Kinsella, Jennifer Niven, and Rainbow Rowell.

Sometimes a new perspective is all that is needed to make sense of the world.

KIT: I don't know why I decide not to sit with Annie and Violet at lunch. It feels like no one here gets what I'm going through. How could they? I don't even understand.

DAVID: In the 622 days I've attended Mapleview High, Kit Lowell is the first person to sit at my lunch table. I mean, I've never once sat with someone until now. "So your dad is dead," I say to Kit, because this is a fact I've recently learned about her.

When an unlikely friendship is sparked between relatively popular Kit Lowell and socially isolated David Drucker, everyone is surprised, most of all Kit and David. Kit appreciates David's blunt honesty—in fact, she finds it bizarrely refreshing. David welcomes Kit's attention and her inquisitive nature. When she asks for his help figuring out the how and why of her dad's tragic car accident, David is all in. But neither of them can predict what they'll find. Can their friendship survive the truth?
These two were recommmended to me by Alsyssa. Thank you Alsyssa!
Have you guys read any o

f these one

s? If you are autistic, what did you th

ink of the representation

? Any other

titles

I should

add to this list

? Let me know in the comments <3
Love,