Undated
All of Us Villains by Amanda Foody and Christine Lynn Herman (Tor Teen)

You Fell In Love With The Victors of The Hunger Games.
Now Prepare To Meet The Villains Of The Blood Veil.

After the publication of a salacious tell-all book, the remote city of Ilvernath is thrust into the spotlight. Tourists, protesters, and reporters alike flock to its spellshops and historic ruins to witness an ancient curse unfold: every generation, seven families name a champion among them to compete in a tournament to the death. The winner awards their family exclusive control over the city's high magick supply, the most powerful resource in the world.

In the past, the villainous Lowes have won nearly every tournament, and their champion is prepared to continue his family's reign. But this year, thanks to the influence of their newfound notoriety, each of the champions has a means to win. Or better yet--a chance to rewrite their story.

But this is a story that must be penned in blood.

For All Times by Shanna Miles (Simon and Schuster) - previously titled For All We Know.
Outlander meets The Sun Is Also a Star in this teen romance that follows two lovers fated to repeat their story across hundreds of lifetimes, who hope to break the cycle once and for all.

Tamar is a headstrong slave in Mali, a high school junior with a terminal illness on a last-chance trip, a young woman struggling for independence in a segregated train car steaming her toward an arranged marriage. She is a musician, a warrior, a survivor.

Fayard is a soldier that must obey all the rules set before him, a charming high school senior who wishes to give his high school sweetheart a promise ring, a lost young man who runs numbers for King Fats in Chicago. He is a con man, a pioneer, a hopeless romantic.

Together, Tamar and Fayard have lived a thousand lives, seen the world go through revolutions and civil wars, and have even watched humanity take to the stars. But in each life one thing remains the same: Tamar and Fayard fall in love. Tamar and Fayard fight to be with each other. Tamar and Fayard die. Over and over again until, perhaps at last, they learn what it will take to break the cycle.

The Space Between Loneliness and Fear by Jennifer Mason-Black (Walker Books US)
The acclaimed young adult author returns with a literary thriller for fans of Caleb Roehrig's Last Seen Leaving and Sadie by Courtney Summers.

Since last year's cyberbullying incident, Sarah spends her days at home alone with her virtual school assignments, avoiding cell phones and social media. Until the day she discovers WeRemember.org. Together with a homeschooled girl down the street, Sarah follows the trail of a missing boy, uncovering details that never appeared in the official report. Sarah becomes convinced that he didn't just run away. But as she unravels the mystery, someone online is determined to keep the truth buried . . . at any cost.

Codename: Badass by Heather Demetrios (Atheneum)
When James Bond was still in diapers, Virginia Hall was behind enemy lines, playing a dangerous game of cat and mouse with Hitler's henchmen. Did this shero have second thoughts after a terrible accident left her needing a wooden leg? Please. Virginia Hall was the baddest broad in any room she walked into. When the State Department proved to be a sexist boy's club that wouldn't allow her in, she gave the finger to society's expectations of women and became a spy for the British. This boss lady helped arm and train the French Resistance and organized sabotage missions. There was just one problem: the Butcher of Lyon, a notorious Gestapo commander, was after her. But, hey, Virginia's classmates didn't call her "the Fighting Blade" for nothing.

So how does a girl who was a pirate in the school play, spent her childhood summers milking goats, and rocked it on the hockey field end up becoming the Gestapo's most wanted spy?

Audacious, irreverent, and fiercely feminist, Code Name Badass is for anyone who doesn't take no for an answer.

The Reckless Kind by Carly Heath (Soho Teen)
Daniel Ehrenhaft at Soho Teen has bought Carly Heath's debut YA novel, The Reckless Kind. Set in 1904 Norway, the novel follows a trio of queer teens—two boys and their best friend, Asta—who decide to defy the expectations of their rural Scandinavian village by leaving their families, living on their own, and challenging the town's patriarch in the region's annual winter horse race. Publication is set for fall 2021; Steven Chudney at the Chudney Agency brokered the deal for North American English rights.
As If On Cue by Maria Kanter (Simon and Schuster)

Beyond the Ruby Veil #2 by Mara Fitzgerald (Little, Brown)

September 1st
The Heartbreak Bakery by Amy Rose Capetta (Candlewick)
Miriam Newman at Candlewick has bought The Heartbreak Bakery, a new YA novel by Amy Rose Capetta (The Lost Coast; Once & Future) in an exclusive submission, in which agender teen baker Syd deals with first heartbreak by whipping up brownies—which break up everyone who eats them, including the owners of LGBTQIAP+ institution The Proud Muffin. With the help of magical baking and a cute transmasc bike messenger, Syd must save relationships and defend the bakery from disappearing in a fast-changing Austin, Texas. Publication is set for fall 2021; Sara Crowe at Pippin Properties did the deal for North American rights.

Where I Belong by Marcia Argueta Mickelson (Carolrhoda)
Lerner/Carolrhoda has bought Marcia Argueta Mickelson's YA novel Where I Belong. Guatemalan-American high school senior Milagros "Millie" Vargas struggles to balance her family's needs with her own ambitions for her future, especially after her mother's employer announces his run for Senate and tries to use Millie as a poster child for "deserving" immigrants. Publication is slated for fall 2020.

Passport by Sofia Glock (Little, Brown)
Susan Rich at Little, Brown has bought, in a six-house auction, debut graphic novelist Sophia Glock's Passport, a YA graphic memoir of secrets, spies, and double lives, in which a teen's emerging sense of self is shaped by her discovery that her "foreign diplomat" parents are actually spies. The book will publish in fall 2021, with a second, standalone, untitled graphic novel to follow; Molly O'Neill at Root Literary brokered the deal for world rights.

September 7th
So Many Beginnings : A Little Women Remix by Bethany C. Morrow (Feiwel and Friends)
Four young Black sisters come of age during the American Civil War in this warm and powerful ode to Black joy and sisterhood, a YA remix of the classic novel Little Women.

1863. As the American Civil War rages on, the Freedmen's Colony of Roanoke Island is blossoming, a haven for the recently emancipated. Black folk have begun building a community of their own, a refuge from the shadow of the "old life." It is where the March family has finally been able to safely put down roots with four young daughters:

Meg, a teacher who longs to find love and start a family of her own.

Jo, a writer whose words are too powerful to be contained.

Beth, a talented seamstress searching for a higher purpose.

Amy, a dancer eager to explore life outside her family's home.

As the four March sisters come into their own as independent young women, they will face first love, health struggles, heartbreak, and new horizons. But they will face it all together.

A Clash of Steel: A Treasure Island Remix by C.B. Lee (Fiewel and Friends)
Two intrepid girls hunt for a legendary treasure on the deadly high seas in this YA remix of the classic adventure novel Treasure Island.

1826. The sun is setting on the golden age of piracy, and the legendary Dragon Fleet, the scourge of the South China Sea, is no more. Xiang has grown up with stories about the Dragon Fleet and its ruthless leader, a woman known only as the Dragon Queen, all her life. Xiang desperately wants to set sail and explore—mainly to find her father, a presumed dead crew member of the Dragon Fleet. Her only memento of him is a pendant she always wears, a simple but plain piece of gold jewelry.

But the pendant's true nature is revealed when a mysterious girl named Anh steals it, only to return it to Xiang in exchange for her help in decoding the tiny map scroll hidden inside. Rumor has it that the legendary Dragon Queen had one last treasure—the plunder of a thousand ports—hidden away on an island shrouded in mist that only can be seen once in a blue moon.

Xiang is convinced this map could lead to the fabled treasure. Captivated with the thrill of adventure, she joins Anh and her motley crew off in pursuit of the island. But the girls soon find that the sea—and especially those who sail it—are far more dangerous than the legends led them to believe.
The Buried by Melissa Grey (Scholastic)
A heart-pounding, claustrophobic new story from Melissa Grey, the author of RATED.

Ten years ago, disaster struck the remote town of Indigo Falls. A horrific event drove the residents underground, into shelters that keep them safe from the danger on the surface. No one speaks about what happened that fateful day, but even the youngest still remember the fear and, most of all, the searing pain when sunlight touched their skin.

Now, a handfull of families inhabit this bunker together, guided by a charismatic leader named Dr. Imogen Moran. There are many rules Dr. Moran has instilled to govern life belowground. You must always tell the truth. You must avoid the light of the sun. You must never touch skin to skin.

But the most important rule, the one that was drilled into their heads from the moment the hatch slammed shut all those years ago, was at the very end of the list. It rattled around in their skulls when all was silent, echoing in the quiet, lonely dark.

You must never go outside.

The Problem with the Other Side by Kwame Ivery (Soho Teen)
A searing YA debut that follows the joys, complexities, and heartbreaks of an interracial romance between high school sophomores during a volatile school election

Uly would rather watch old Westerns with his new girlfriend, Sallie, than get involved in his school's messy politics—why focus on the "bad" and "ugly" when his days with Sallie are so good? His older sister Regina feels differently. She is fed up with the way white school-body presidential candidate Leona Walls talks about black students. Regina decides to run against Leona . . . and convinces Uly to be her campaign manager.

Sallie has no interest in managing her sister's campaign, but how could she say no? After their parents' death, Leona is practically her only family. Even after Leona is accused of running a racist campaign that targets the school's students of color—including Sallie's boyfriend, Uly—Sallie wants to give her sister the benefit of the doubt. But how long can she ignore the ugly truth behind Leona's actions?

Together and apart, Uly and Sallie must navigate sibling loyalty and romantic love as the campaign spirals toward a devastating conclusion.

CW: Acts of racism and bigotry, racist language, and gun violence are portrayed in this novel.
The City Beautiful by Aden Polydoros (Inkyard Press)
Would you sacrifice your soul to stop a killer?

Chicago, 1893. For Alter Rosen, this is the land of opportunity. Despite the unbearable summer heat, his threadbare clothes, and his constantly empty stomach, Alter still dreams of the day he'll have enough money to bring his mother and sisters to America, freeing them from the oppression they face in his native Romania.

But when Alter's best friend, Yakov, becomes the latest victim in a long line of murdered Jewish boys, his dream begins to slip away. While the rest of the city is busy celebrating the World's Fair, Alter is now living a nightmare: possessed by Yakov's dybbuk, he is plunged into a world of corruption and deceit, and thrown back into the arms of a dangerous boy from his past. A boy who means more to Alter than anyone knows.

Now, with only days to spare until the dybbuk takes over Alter's body completely, the two boys must race to track down the killer—before the killer claims them next.

Act Cool by Tolby McSmith (Harpercollins/Quill Tree)
Andrew Eliopulos at HarperCollins/Quill Tree has acquired, in an exclusive submission, Act Cool by Tobly McSmith. In the YA novel, a transgender teen is accepted into a prestigious performing arts high school in New York, but when he is cast in a role that hits too close to home—the part of a trans teen whose family is intent on conversion therapy—he must learn how to be true to himself, apart from any role. Publication is scheduled for fall 2021; Tina Dubois at ICM Partners brokered the two-book deal for world rights.

The Splendor by Breena Shields (Page Street Kids)
Ashley Hearn at Page Street has acquired world rights to Breeana Shields's The Splendor, a YA novel about a luxury magical hotel that promises to fulfill its guests' wildest fantasies, but when a girl's sister comes back from a visit forever changed, she checks in herself, only to discover the hotel is hiding nefarious secrets. Publication is scheduled for fall 2021; Kathleen Rushall at Andrea Brown Literary Agency did the deal.

Everything Within and in Between by Nicki Barthelmess (HarperCollins)
Carolina Ortiz at HarperCollins has acquired The Quiet You Carry author Nikki Barthelmess's Everything Within and in Between, an #OwnVoices contemporary YA novel about the convergence of family, identity, and assimilation. In the novel, Ri Fernandez, a biracial Mexican-American teenager, fights to reclaim her Latinx heritage and her connection with her absent mother from her strict immigrant grandmother, who has kept her from both. Publication is set for fall 2021.

The Book of Living Secrets by Madeline Roux (HarperTeen)
HarperTeen has acquired The Book of Living Secrets by Madeleine Roux. In this standalone YA novel, a girl follows her missing best friend into the world of their favorite dark fantasy novel, only to discover that the novel's heroine hasn't been telling the full story—and now she doesn't want to let the friends go. Publication is slated for winter 2021.

September 9th
Defy the Night by Brigid Kemmerer (Bloomsbury)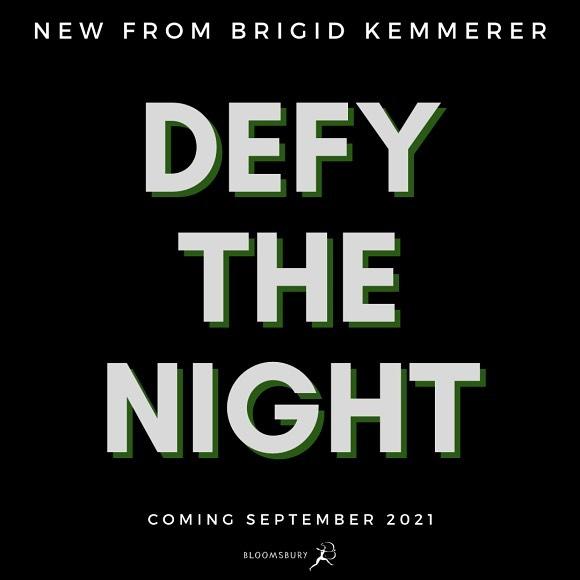 King Harristan rules Kandala with an iron fist. He's had to ever since he and his brother Prince Corrick inherited a kingdom on the verge of collapse after a deadly illness killed most of the population before a cure was found. The one thing keeping his people alive is also driving them apart . . . the cure, made from the nectar of a rare flower. As sickness lingers among the people of Kandala, a sharp divide has formed, as those who control access to the medicine live in luxury--while the rest live in suffering. The only way to keep the peace is to kill anyone who threatens it, and that task falls to young Prince Corrick.

Tessa Cade is a masked outlaw marked for death, but she likes it that way. At night, she and her best friend Weston Lark ride through the streets of the poorest towns, distributing food, money, and medicine they've stolen from the elite ruling class. Tessa has reason to hate the king: her parents were publicly executed after they were caught selling medicine on the black market. She has reason to love Weston: he saved her life when she nearly followed her parents to the same fate. She's come to hate the dawn, which signals that it's time for Weston to return to his home on the other side of the city, where he spends his days working in the grueling iron forge.

Lately, rumors have been spreading that the cure no longer works, and people are starting to act on their worst impulses. Tessa knows that the only way to save her people--the poor--is to assassinate King Harristan. It's a mission that is more likely to kill her than save anyone, but if her parents were willing to risk their lives, then so is she. What Tessa doesn't expect to find is that everything she believed about her kingdom is a lie, and that tipping the balance of power will require her to work with the very people she intended to destroy. . .

Set in a fantasy world startlingly similar to our own, Brigid Kemmerer's newest series illuminates the divide between those with power and those without. . . and what happens when someone is brave enough to flip the system upside down.

September 14th
The Demon Tide by Laurie Forest (Inkyard Press)
The realm war is near and the Prophecy is at hand. The Black Witch is back…and the demon tide is coming. Prepare to be spellbound by The Black Witch Chronicles.

Nothing can stop the demon tide…

Newly exposed as the Black Witch of Prophecy, Elloren Gardner Grey is on the run, not knowing if she'll find friends or foes. With her fastmate, Lukas Grey, either dead or in the hands of High Mage Marcus Vogel, Elloren knows the only chance of turning the tide of the coming war is to seek allies who will listen long enough not to kill her on sight.

In the Eastern Realm, Water Fae Tierney Calix and Elloren's brother Trystan have joined the Wyvernguard to prepare for Vogel's attack. But Trystan is fighting on two fronts, as the most despised and least trusted member of the guard. And Tierney's bond with Erthia's most powerful river has exposed a danger even more terrifying than the looming war.

Powerful magic and a deadly legacy combine for the most explosive twists yet in The Black Witch Chronicles!

Kneel by Candace Buford (Inkyard Press)
This fearless debut novel explores racism, injustice, and self-expression through the story of a promising Black football star in Louisiana.

The system is rigged.

For guys like Russell Boudreaux, football is the only way out of their small town. As the team's varsity tight end, Rus has a singular goal: to get a scholarship and play on the national stage. But when his best friend is unfairly arrested and kicked off the team, Rus faces an impossible choice: speak up or live in fear.

"Please rise for the national anthem."

Desperate for change, Rus kneels during the national anthem. In one instant, he falls from local stardom and becomes a target for hatred. But he's not alone. With the help of his best friend and an unlikely ally, Rus will fight for his dreams, and for justice.

The Battle of the Bands by Various YA Authors (Candlewick)
Anthologists Lauren Gibaldi and Eric Smith bring together fifteen well-known YA authors and a beloved rock star to tell one epic--and interconnected--story about a high school's Battle of the Bands. There is the former almost-famous teen musician, the lonely ticket-taker manning the front door, the fangirl, the merch kid, the frustrated stage manager, the jilted ex, and more. YA authors Brittany Cavallaro, Preeti Chhibber, Jay Coles, Katie Cotugno, Lauren Gibaldi, Shaun David Hutchinson, Ashley Poston, Jenny Torres Sanchez, Sarah Nicole Smetana, Eric Smith, Jenn Marie Thorne, Sarvenaz Tash, Jasmine Warga, Ashley Woodfolk, and Jeff Zentner, and Motion City Soundtrack's Justin Courtney Pierre weave together an unforgettable story.

A Dark and Starless Forest by Sarah Hollowell (HMH)
Nicole Sclama at HMH has bought world English rights to Sarah Hollowell's debut contemporary YA fantasy, A Dark and Starless Forest, about nine magical siblings who live in a secluded house cut off from the rest of the world by a sinister forest with their enigmatic caretaker, who is grooming them for a dark and mysterious purpose. Publication is set for fall 2021; Thao Le at Sandra Dijkstra Literary Agency handled the deal.

Not Here to Be Liked by Michelle Quach (Katherine Tegan)
Mabel Hsu at HarperCollins/Tegen has won, in an eight-house auction, North American rights to YA rom-com Not Here to Be Liked by debut author Michelle Quach. When Chinese-Vietnamese-American Eliza Quan is snubbed as the next editor-in-chief of the school paper for a less qualified but more "likable" male peer, she finds herself caught between leading a feminist reckoning and falling for the boy she's asking to step down. Publication is scheduled for fall 2021; Jenny Bent at the Bent Agency brokered the two-book mid-six figure deal.
The Hollow Heart by Marie Rutkoski (FSG)

September 17th
Empire of the Vampire by Jay Kristoff (Harper Voyager) - This one is not YA, but I know Jay Kristoff has a huge YA audience, so I thought I should include it here for completeness. But it is an ADULT title.

Twenty-seven years have passed since the last sunrise, and for almost three decades, the creatures of the night have walked the day without fear. Once, humanity fought bravely against the coldblood legions, but now, we exist only in a few scattered settlements—tiny sparks of light in a growing sea of darkness.

Gabriel de León is the last of the Silversaints, a holy order dedicated to defending realm and church, now utterly destroyed. Imprisoned for the murder of the vampiric king, Gabriel is charged with telling the story of his life.

His tale spans years, from his youth in the monastery of San Michel, to the forbidden love that spelled his undoing, and the betrayal that saw his order annihilated. Most importantly, Gabriel will tell of his discovery of the Grail—the legendary cup prophesied to bring an end to the eternal night.

But the Grail was no simple chalice; it was a smart-mouthed teenage urchin named Dior. Their journey with a band of unlikely allies would see Dior and Gabriel forge an unbreakable bond, and set the broken paragon on a road to redemption.

But now, the Grail is shattered. And with the cup of the Savior destroyed and the last Silversaint awaiting execution, what can bring an end to this unholy empire?

September 21st
Into the Dying Light by Katy Rose Pool (Henry Holt)

In the jaw-dropping conclusion to the Age of Darkness trilogy, hearts will shatter, cities will fall, and a god will rise.

Following the destruction of the City of Mercy, an ancient god has been resurrected and sealed inside Beru's body. Both are at the mercy of the Prophet Pallas, who wields the god's powers to subjugate the Six Prophetic Cities. But every day, the god grows stronger, threatening to break free and sow untold destruction.

Meanwhile, far away from Pallas Athos, Anton learns to harness his full powers as a Prophet. Armed with the truth about how the original Prophets killed the god, Anton leads Jude, Hassan, and Ephyra on a desperate quest to the edge of the world. With time running out, the group's tenuous alliance is beset by mounting danger, tumultuous romance, and most of all by a secret that Anton is hiding: a way to destroy the god at the price of an unbearable sacrifice. But the cost of keeping that secret might be their lives—and the lives of everyone in the Six Prophetic Cities.

The Age of Darkness trilogy is perfect for fans of Throne of Glass, Children of Blood and Bone, and An Ember in the Ashes.
Daughters of a Dead Empire by Carolyn Tara O' Neil
(Roaring Brook Press)
Carolyn Tara O'Neil's debut DAUGHTERS OF A DEAD EMPIRE, pitched as a reimagining of the Anastasia legend, following two young women as they flee from the Red Army at the height of the Russian Revolution—one a peasant and proud member of the Bolshevik party and the other a battered, bourgeoisie girl who's harboring a secret that could cost them their lives, to Mekisha Telfer at Roaring Brook Press, for publication in spring 2021, by Andrea Somberg at Harvey Klinger (NA).












This Is Why We Lie by Gabriella Lepore (Inkyard Press)
Everyone in Gardiners Bay has a secret.

When Jenna Dallas and Adam Cole find Colleen O'Dell's body floating off the shore of their coastal town, the community of Gardiners Bay is shaken. But even more shocking is the fact that her drowning was no accident.

Once Jenna's best friend becomes a key suspect, Jenna starts to look for answers on her own. As she uncovers scandals inside Preston Prep School leading back to Rookwood reform school, she knows she needs Adam on her side.

As a student at Rookwood, Adam is used to getting judgmental looks, but now his friends are being investigated by the police. Adam will do whatever he can to keep them safe, even if that means trusting Jenna.

As lies unravel, the truth starts to blur. Only one thing is certain: somebody must take the fall.
David Levithan at Scholastic has bought Things We Couldn't Say, a YA contemporary by Jay Coles (Tyler Johnson Was Here). High school junior Gio's hands are already full between school, family, friends, and a new boyfriend when his world is thrown off its axis by the return of the mother who abandoned him when he was nine. With his mother wanting to rebuild a relationship, he'll have to figure out which risks are worth taking and which hurts can be forgiven. Publication is planned for fall 2021; Lauren Abramo at Dystel, Goderich & Bourret did the deal for North American rights.
Reader, I Murdered Him by Betsy Cornwell (Clarion)
Lynne Polvino at Clarion has bought Reader, I Murdered Him by Betsy Cornwell (The Circus Rose). This YA tale of female agency, queer romance, and revenge features a girl who becomes a teenage vigilante, roaming Victorian England and using her privilege and power to protect other young women from abusive Gothic heroes. Publication is planned for fall 2021; Sara Crowe at Pippin Properties negotiated the deal for North American rights.

All These Bodies by Kendare Blake (HarperTeen)
Alexandra Cooper at HarperTeen has acquired North American rights to three novels from Kendare Blake, author of the bestselling Three Dark Crowns series. All These Bodies, in the vein of Anna Dressed in Blood, features a 15-year-old girl who is the surviving victim-turned-suspect of a Midwestern murder spree in a standalone that unspools like a speculative YA version of In Cold Blood. The first two books of Blake's untitled fantasy series follow a mystical order of female warriors. Publication for All These Bodies is scheduled for fall 2021; the first fantasy novel is scheduled for fall 2022. Adriann Ranta Zurhellen at Foundry Literary + Media negotiated the deal.

Terciel and Elinor by Garth Nix (Katherine Tegan Books)
The new novel in the YA Old Kingdom series, Terciel and Elinor, will be published in 2021, with a major sales, publicity and marketing campaign, alongside a rebrand for Nix and the Old Kingdom series
September 28th
Skyhunter #2 by Marie Lu (Roaring Brook Press)