Undated
All of Us Villains by Amanda Foody and Christine Lynn Herman (Tor Teen)
You Fell In Love With The Victors of The Hunger Games.
Now Prepare To Meet The Villains Of The Blood Veil.

After the publication of a salacious tell-all book, the remote city of Ilvernath is thrust into the spotlight. Tourists, protesters, and reporters alike flock to its spellshops and historic ruins to witness an ancient curse unfold: every generation, seven families name a champion among them to compete in a tournament to the death. The winner awards their family exclusive control over the city's high magick supply, the most powerful resource in the world.

In the past, the villainous Lowes have won nearly every tournament, and their champion is prepared to continue his family's reign. But this year, thanks to the influence of their newfound notoriety, each of the champions has a means to win. Or better yet--a chance to rewrite their story.

But this is a story that must be penned in blood.
The Space Between Loneliness and Fear by Jennifer Mason-Black (Walker Books US)
The acclaimed young adult author returns with a literary thriller for fans of Caleb Roehrig's Last Seen Leaving and Sadie by Courtney Summers.
Since last year's cyberbullying incident, Sarah spends her days at home alone with her virtual school assignments, avoiding cell phones and social media. Until the day she discovers WeRemember.org. Together with a homeschooled girl down the street, Sarah follows the trail of a missing boy, uncovering details that never appeared in the official report. Sarah becomes convinced that he didn't just run away. But as she unravels the mystery, someone online is determined to keep the truth buried . . . at any cost.
Codename: Badass by Heather Demetrios (Atheneum)
When James Bond was still in diapers, Virginia Hall was behind enemy lines, playing a dangerous game of cat and mouse with Hitler's henchmen. Did this shero have second thoughts after a terrible accident left her needing a wooden leg? Please. Virginia Hall was the baddest broad in any room she walked into. When the State Department proved to be a sexist boy's club that wouldn't allow her in, she gave the finger to society's expectations of women and became a spy for the British. This boss lady helped arm and train the French Resistance and organized sabotage missions. There was just one problem: the Butcher of Lyon, a notorious Gestapo commander, was after her. But, hey, Virginia's classmates didn't call her "the Fighting Blade" for nothing.

So how does a girl who was a pirate in the school play, spent her childhood summers milking goats, and rocked it on the hockey field end up becoming the Gestapo's most wanted spy?

Audacious, irreverent, and fiercely feminist, Code Name Badass is for anyone who doesn't take no for an answer.
You Can Go Your Own Way by Eric Smith (Inkyard Press)
Rebecca Kuss at Inkyard Press has bought world rights to Eric Smith's You Can Go Your Own Way, a YA romantic comedy about a boy trying to save his family's aging pinball arcade, and a girl whose tech giant dad wants to buy it. When the two get stuck there during Philadelphia's biggest-ever snowstorm, they'll have to work together to make it out. Publication is scheduled for fall 2021; Dawn Frederick at Red Sofa Literary represented the author.
The Reckless Kind by Carly Heath (Soho Teen)
Daniel Ehrenhaft at Soho Teen has bought Carly Heath's debut YA novel, The Reckless Kind. Set in 1904 Norway, the novel follows a trio of queer teens—two boys and their best friend, Asta—who decide to defy the expectations of their rural Scandinavian village by leaving their families, living on their own, and challenging the town's patriarch in the region's annual winter horse race. Publication is set for fall 2021; Steven Chudney at the Chudney Agency brokered the deal for North American English rights.
September 1st
Where I Belong by Marcia Argueta Mickelson (Carolrhoda)
Lerner/Carolrhoda has bought Marcia Argueta Mickelson's YA novel Where I Belong. Guatemalan-American high school senior Milagros "Millie" Vargas struggles to balance her family's needs with her own ambitions for her future, especially after her mother's employer announces his run for Senate and tries to use Millie as a poster child for "deserving" immigrants. Publication is slated for fall 2020.
Passport by Sofia Glock (Little, Brown)
Susan Rich at Little, Brown has bought, in a six-house auction, debut graphic novelist Sophia Glock's Passport, a YA graphic memoir of secrets, spies, and double lives, in which a teen's emerging sense of self is shaped by her discovery that her "foreign diplomat" parents are actually spies. The book will publish in fall 2021, with a second, standalone, untitled graphic novel to follow; Molly O'Neill at Root Literary brokered the deal for world rights.
September 7th
Act Cool by Tolby McSmith (Harpercollins/Quill Tree)
Andrew Eliopulos at HarperCollins/Quill Tree has acquired, in an exclusive submission, Act Cool by Tobly McSmith. In the YA novel, a transgender teen is accepted into a prestigious performing arts high school in New York, but when he is cast in a role that hits too close to home—the part of a trans teen whose family is intent on conversion therapy—he must learn how to be true to himself, apart from any role. Publication is scheduled for fall 2021; Tina Dubois at ICM Partners brokered the two-book deal for world rights.
Everything Within and in Between by Nicki Barthelmess (HarperCollins)
Carolina Ortiz at HarperCollins has acquired The Quiet You Carry author Nikki Barthelmess's Everything Within and in Between, an #OwnVoices contemporary YA novel about the convergence of family, identity, and assimilation. In the novel, Ri Fernandez, a biracial Mexican-American teenager, fights to reclaim her Latinx heritage and her connection with her absent mother from her strict immigrant grandmother, who has kept her from both. Publication is set for fall 2021.
The Book of Living Secrets by Madeline Roux (HarperTeen)
HarperTeen has acquired The Book of Living Secrets by Madeleine Roux. In this standalone YA novel, a girl follows her missing best friend into the world of their favorite dark fantasy novel, only to discover that the novel's heroine hasn't been telling the full story—and now she doesn't want to let the friends go. Publication is slated for winter 2021.
September 9th
Defy the Night by Brigid Kemmerer (Bloomsbury)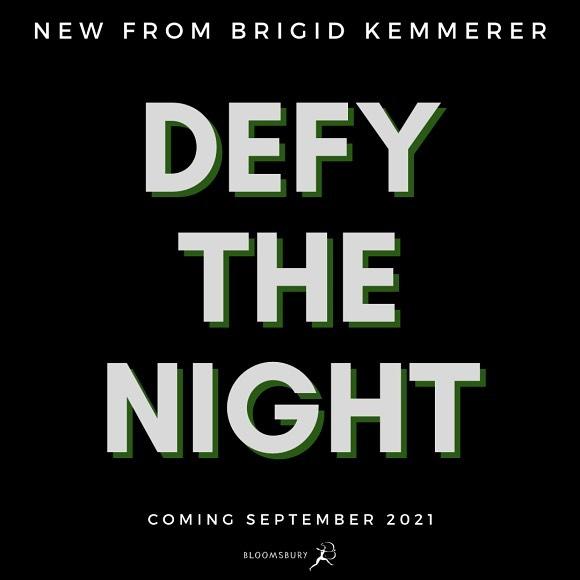 King Harristan rules Kandala with an iron fist. He's had to ever since he and his brother Prince Corrick inherited a kingdom on the verge of collapse after a deadly illness killed most of the population before a cure was found. The one thing keeping his people alive is also driving them apart . . . the cure, made from the nectar of a rare flower. As sickness lingers among the people of Kandala, a sharp divide has formed, as those who control access to the medicine live in luxury--while the rest live in suffering. The only way to keep the peace is to kill anyone who threatens it, and that task falls to young Prince Corrick.

Tessa Cade is a masked outlaw marked for death, but she likes it that way. At night, she and her best friend Weston Lark ride through the streets of the poorest towns, distributing food, money, and medicine they've stolen from the elite ruling class. Tessa has reason to hate the king: her parents were publicly executed after they were caught selling medicine on the black market. She has reason to love Weston: he saved her life when she nearly followed her parents to the same fate. She's come to hate the dawn, which signals that it's time for Weston to return to his home on the other side of the city, where he spends his days working in the grueling iron forge.

Lately, rumors have been spreading that the cure no longer works, and people are starting to act on their worst impulses. Tessa knows that the only way to save her people--the poor--is to assassinate King Harristan. It's a mission that is more likely to kill her than save anyone, but if her parents were willing to risk their lives, then so is she. What Tessa doesn't expect to find is that everything she believed about her kingdom is a lie, and that tipping the balance of power will require her to work with the very people she intended to destroy. . .

Set in a fantasy world startlingly similar to our own, Brigid Kemmerer's newest series illuminates the divide between those with power and those without. . . and what happens when someone is brave enough to flip the system upside down.
September 14th
The Battle of the Bands by Various YA Authors (Candlewick)
Anthologists Lauren Gibaldi and Eric Smith bring together fifteen well-known YA authors and a beloved rock star to tell one epic--and interconnected--story about a high school's Battle of the Bands. There is the former almost-famous teen musician, the lonely ticket-taker manning the front door, the fangirl, the merch kid, the frustrated stage manager, the jilted ex, and more. YA authors Brittany Cavallaro, Preeti Chhibber, Jay Coles, Katie Cotugno, Lauren Gibaldi, Shaun David Hutchinson, Ashley Poston, Jenny Torres Sanchez, Sarah Nicole Smetana, Eric Smith, Jenn Marie Thorne, Sarvenaz Tash, Jasmine Warga, Ashley Woodfolk, and Jeff Zentner, and Motion City Soundtrack's Justin Courtney Pierre weave together an unforgettable story.
Not Here to Be Liked by Michelle Quach (Katherine Tegan)
Mabel Hsu at HarperCollins/Tegen has won, in an eight-house auction, North American rights to YA rom-com Not Here to Be Liked by debut author Michelle Quach. When Chinese-Vietnamese-American Eliza Quan is snubbed as the next editor-in-chief of the school paper for a less qualified but more "likable" male peer, she finds herself caught between leading a feminist reckoning and falling for the boy she's asking to step down. Publication is scheduled for fall 2021; Jenny Bent at the Bent Agency brokered the two-book mid-six figure deal.
September 17th
Empire of the Vampire by Jay Kristoff (Harper Voyager) -
This one is not YA, but I know Jay Kristoff has a huge YA audience, so I thought I should include it here for completeness. But it is an ADULT title.
Twenty-seven years have passed since the last sunrise, and for almost three decades, the creatures of the night have walked the day without fear. Once, humanity fought bravely against the coldblood legions, but now, we exist only in a few scattered settlements—tiny sparks of light in a growing sea of darkness.

Gabriel de León is the last of the Silversaints, a holy order dedicated to defending realm and church, now utterly destroyed. Imprisoned for the murder of the vampiric king, Gabriel is charged with telling the story of his life.

His tale spans years, from his youth in the monastery of San Michel, to the forbidden love that spelled his undoing, and the betrayal that saw his order annihilated. Most importantly, Gabriel will tell of his discovery of the Grail—the legendary cup prophesied to bring an end to the eternal night.

But the Grail was no simple chalice; it was a smart-mouthed teenage urchin named Dior. Their journey with a band of unlikely allies would see Dior and Gabriel forge an unbreakable bond, and set the broken paragon on a road to redemption.

But now, the Grail is shattered. And with the cup of the Savior destroyed and the last Silversaint awaiting execution, what can bring an end to this unholy empire?
September 21st
All These Bodies by Kendare Blake (HarperTeen)
Alexandra Cooper at HarperTeen has acquired North American rights to three novels from Kendare Blake, author of the bestselling Three Dark Crowns series. All These Bodies, in the vein of Anna Dressed in Blood, features a 15-year-old girl who is the surviving victim-turned-suspect of a Midwestern murder spree in a standalone that unspools like a speculative YA version of In Cold Blood. The first two books of Blake's untitled fantasy series follow a mystical order of female warriors. Publication for All These Bodies is scheduled for fall 2021; the first fantasy novel is scheduled for fall 2022. Adriann Ranta Zurhellen at Foundry Literary + Media negotiated the deal.