September 3rd
Permenant Record by Mary H. K. Choi (Simon and Schuster)
After a year of college, Pablo is working at his local twenty-four-hour deli, selling overpriced snacks to brownstone yuppies. He's dodging calls from the student loan office and he has no idea what his next move is.

Leanna Smart's life so far has been nothing but success. Age eight: Disney Mouseketeer; Age fifteen: first #1 single on the US pop chart; Age seventeen, *tenth* #1 single; and now, at Age nineteen…life is a queasy blur of private planes, weird hotel rooms, and strangers asking for selfies on the street.

When Leanna and Pab randomly meet at 4:00 a.m. in the middle of a snowstorm in Brooklyn, they both know they can't be together forever. So, they keep things on the down-low and off Instagram for as long as they can. But it takes about three seconds before the world finds out…
Darkdawn by Jay Kristoff

(Thomas Dunne Books

) - technically catagorised as Adult, but included here for completeness.
A ruthless young assassin's journey for revenge comes to an end in the conclusion of this epic fantasy trilogy.

The Nevernight Chronicle is a complex fantasy series about Mia Corvere, a kick-butt, flawed heroine who trains as an assassin as part of her mission for personal revenge. Her tale takes place in the immersive world of Godsgrave which, although based on ancient Rome and Venice, is imaginative with many original details provided by a beloved snarky narrator.

In Darkdawn, the Republic of Itreya is in chaos. Mia has assassinated Cardinal Duomo and rumors of Consul Scaeva's death ripple through the street of Godsgrave like wildfire. But buried beneath those same streets, deep in the ancient city's bones, lies a secret that will change the Republic forever.

Mia and her brother Jonnen must journey through the depths of the ancient metropolis. Their quest will take them through the Godsgrave underdark, back to the library of the Quiet Mountain and the poisoned blades of Mia's old mentors, and at last the fabled Crown of the Moon. There, Mia will at last discover the origins of the darkin, and learn the destiny that lies in store for her and her world. But with the three suns now in descent, and Truedark on the horizon, will she survive?

New York Times and internationally bestselling author Jay Kristoff's writing has been praised by critics and readers alike and has won many awards, including four Aurealis Awards, an ABIA, and David Gemmell Morningstar and Legend awards.
She's The Worst by Lauren Spieller (Simon and Schuster)
Ferris Bueller's Day Off meets 10 Things I Hate About You in this fun, contemporary novel about two sisters who have twenty-four hours to fulfill a pact and overcome the secret that threatens to tear them apart.

Sisters April and Jenn haven't been close in years. Jenn's too busy with school, the family antique shop, and her boyfriend, and April would rather play soccer and hang out with the boy next door.

But when April notices her older sister is sad about staying home for college, she decides to do something about it. The girls set off to revive a pact they made as kids: spend an epic day exploring the greatest hits of their childhood and all that Los Angeles has to offer.

Then April learns that Jenn has been keeping a secret that could rip their family—and their feuding parents—apart. With only one day to set things right, the sisters must decide if their relationship is worth saving, or if the truth will tear them apart for good.
Only Ashes Remain by Rebecca Schaeffer (HMH)
After escaping her kidnappers and destroying the black market where she was held captive, all Nita wants is to find a way to live her life without looking over her shoulder. But with a video of her ability to self-heal all over the dark web, Nita knows she's still a prime target on the black market.

There's only one way to keep herself safe.

Nita must make herself so feared that no one would ever dare come after her again. And the best way to start building her reputation? Take her revenge on Fabricio, the boy who sold Nita to her kidnappers. But killing Fabricio is harder than Nita thought it would be, even with Kovit by her side. Now caught in a game of kill or be killed, Nita will do whatever it takes to win.
Dear Haiti, Love Alaine by Maika Moulite and Maritza Moulite (Harlequin Teen)
Quick-witted high school journalist Alaine Beauparlant gets booted from her elite private school after an intricate prank goes cruelly awry. She warily accepts an invitation from her Aunt to spend her suspension at the family's estate in Haiti--where her estranged mom is recuperating from a political fiasco. In her homeland for the first time, Alaine is immediately put to work at her aunt's start-up helping native children in need. Alaine meets locals, interacts with kids connected to donors, and is shown the ropes by Jason, a fellow intern whose charming ways are making work a bit more challenging. What she doesn't expect to find are letters, articles, emails, and diary entries that she compiles into a final project that will not only save her academic standing in school, but also help her finally know the mother she's never really understood.
Caster by Elise Chapman (Scholastic)
If the magic doesn't kill her, the truth just might.

Aza Wu knows that real magic is dangerous and illegal. After all, casting killed her sister, Shire. As with all magic, everything comes at a price. For Aza, it feels like everything in her life has some kind of cost attached to it. Her sister had been casting for money to pay off Saint Willow, the gang leader that oversees her sector of Lotusland. If you want to operate a business there, you have to pay your tribute. And now with Shire dead, Aza must step in to save the legacy of Wu Teas, the teahouse that has been in her family for centuries.

When Aza comes across a secret invitation, she decides she doesn't have much else to lose. She quickly realizes that she's entered herself into an underground casting tournament, and the stakes couldn't be higher. Real magic, real consequences. As she competes, Aza fights for her life against some very strong and devious competitors.

When the facts about Shire's death don't add up, the police start to investigate. When the tributes to Saint Willow aren't paid, the gang comes to collect. When Aza is caught sneaking around with fresh casting wounds, her parents are alarmed. As Aza's dangerous web of lies continues to grow, she is caught between trying to find a way out and trapping herself permanently.
A House of Rage and Sorrow by Sangu Mandanna (Sky Pony Press)
One kingdom. One crown. One family.

"Maybe it's time the great House of Rey came to an end. After all, what are we now? Just a house of rage and sorrow."

Esmae once wanted nothing more than to help her golden brother win the crown of Kali but that dream died with her best friend. Alexi broke her heart, and she vowed to destroy him for it. And with her sentient warship Titania beside her, how can she possibly fail?

As gods, beasts, and kingdoms choose sides, Alexi seeks out a weapon more devastating than even Titania. Past lives threaten the present. Old enemies claim their due. And Esmae cannot outrun the ghosts and the questions that haunt her. What really happened to her father? What was the third boon her mother asked of Amba? For in the shadows, lurking in wait, are secrets that will swallow her whole.

The House of Rey is at war. And the entire galaxy will bleed before the end.
There Will Come a Darkness by Katy Rose Pool (Henry Holt)
Leigh Bardugo's Six of Crows meets Kristin Cashore's Graceling, with a dash of Winter is Coming, in this showstopping debut YA fantasy!

The Age of Darkness approaches.
Five lives stand in its way.
Who will stop it . . . or unleash it?

For generations, the Seven Prophets guided humanity. Using their visions of the future, they ended wars and united nations—until the day, one hundred years ago, when the Prophets disappeared.

All they left behind was one final, secret prophecy, foretelling an Age of Darkness and the birth of a new Prophet who could be the world's salvation . . . or the cause of its destruction. As chaos takes hold, five souls are set on a collision course:

A prince exiled from his kingdom.
A ruthless killer known as the Pale Hand.
A once-faithful leader torn between his duty and his heart.
A reckless gambler with the power to find anything or anyone.
And a dying girl on the verge of giving up.

One of them—or all of them—could break the world. Will they be savior or destroyer? Perfect for fans of Throne of Glass, Children of Blood and Bone, and An Ember in the Ashes.
Butterfly Yellow by Thanhha Lai (HarperCollins)
In the final days of the Viet Nam War, twelve-year-old Hang took her brother, Linh, to the airport, desperate for them to be brought to America. In a split second, Linh was taken—and Hang was left behind. Six years later, she endures a horrifying escape from Viet Nam and arrives in Texas as a refugee, where LeeRoy, a city boy with rodeo dreams, helps her find the brother she thought she'd lost. But Hang's heart is shattered all over again when she learns that Linh doesn't remember her at all. The distance between them feels greater than ever—but she'll do anything to bridge the gap.
Year of the Wicked by Jeff Mariotte (Simon Pulse)
In the tradition of The Chilling Adventures of Sabrina and Riverdale, this magical bind-up includes all four novels in the Witch Season series filled with spellbinding romance, revenge, and of course, witches!

A witches' war is brewing…

And it's coming straight towards Kerry and her friends at their summertime home. Along with it is Daniel Blessing. Mysterious, charismatic, and handsome Daniel is on the run from a powerful witch named Season.

Kerry and her friends don't believe in witches and spells, but Kerry can't help believing in Daniel…and falling for him.

But falling for Daniel pulls Kerry into a feud his family has been waging for generations. A dark feud of passion, magic, and revenge. Suddenly it becomes clear that Season isn't after just Daniel, she wants Kerry and her friends dead too. Because, though Kerry doesn't know it yet, she might just be the only one with the power to uncover the truth—and end the witches' war once and for all.
American Royals by Katherine McGee (Random House)
When America won the Revolutionary War, its people offered General George Washington a crown. Two and a half centuries later, the House of Washington still sits on the throne. Like most royal families, the Washington's have an heir and a spare. A future monarch and a backup battery. Each child knows exactly what is expected of them. But these aren't just any royals. They're American. And their country was born of rebellion.
As Princess Beatrice gets closer to becoming America's first queen regnant, the duty she has embraced her entire life suddenly feels stifling. Nobody cares about the spare except when she's breaking the rules, so Princess Samantha, doesn't care much about anything, either . . . except the one boy who is distinctly off-limits to her. And then there's Samantha's twin, Prince Jefferson. If he'd been born a generation earlier, he would have stood first in line for the throne, but the new laws of succession make him third. Most of America adores their devastatingly handsome prince . . . but two very different girls are vying to capture his heart.
The Girl the Sea Gave Back by Adrienne Mather (Wednesday Books)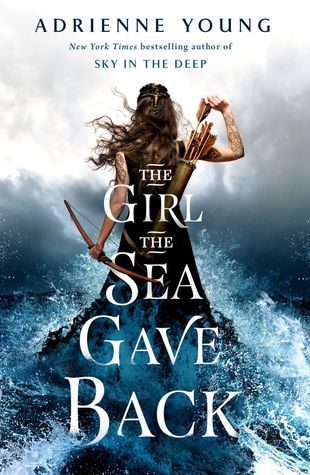 The new gut-wrenching epic from the New York Times bestselling author of Sky in the Deep.

For as long as she can remember, Tova has lived among the Svell, the people who found her washed ashore as a child and use her for her gift as a Truthtongue. Her own home and clan are long-faded memories, but the sacred symbols and staves inked over every inch of her skin mark her as one who can cast the rune stones and see into the future. She has found a fragile place among those who fear her, but when two clans to the east bury their age-old blood feud and join together as one, her world is dangerously close to collapse.

For the first time in generations, the leaders of the Svell are divided. Should they maintain peace or go to war with the allied clans to protect their newfound power? And when their chieftain looks to Tova to cast the stones, she sets into motion a series of events that will not only change the landscape of the mainland forever but will give her something she believed she could never have again—a home.
Red Skies Falling by Alex London (FSG)
In this thrilling sequel to Black Wings Beating, twins Kylee and Brysen are separated by the expanse of Uztar, but are preparing for the same war – or so they think.

Kylee is ensconsed in the Sky Castle, training with Mem Uku to master the Hollow Tongue and the Ghost Eagle. But political intrigue abounds and court drama seems to seep through the castle's stones like blood from a broken feather. Meanwhile, Brysen is still in the Six Villages, preparing for an attack by the Kartami. The Villages have become Uztar's first line of defense, and refugees are flooding in from the plains. But their arrival lays bare the villagers darkest instincts. As Brysen navigates the growing turmoil, he must also grapple with a newfound gift, a burgeoning crush on a mysterious boy, and a shocking betrayal.

The two will meet again on the battlefield, fighting the same war from different sides―or so they think. The Ghost Eagle has its own plans.
Rated by Melissa Grey (Scholastic)
Societies thrive on order, and the Rating System is the ultimate symbol of organized social mobility.

The higher it soars, the more valued you are. The lower it plummets, the harder you must work to improve yourself. For the students at the prestigious Maplethorpe Academy, every single thing they do is reflected in their ratings, updated daily and available for all to see.

But when an act of vandalism sullies the front doors of the school, it sets off a chain reaction that will shake the lives of six special students -- and the world beyond.
Serpent & Dove by Shelby Mahurin (HarperTeen)
For her sixteenth birthday, Louise le Blanc's mother gave her three things: a sacrificial altar, a ritual knife, and a wicked scar.

Lou's death would have ended the ancient war between the Church and witches, but Lou refuses to become a martyr. Forsaking her coven, she escapes to the gloomy city of Cesarine and hides her magic as a thief in the criminal underworld. But life in Cesarine has its own dangers. Huntsmen roam the city revered as holy men. Witches burn without trial. And the Archbishop, the Church's austere patriarch, revels in violence.

As a huntsman, Reid Diggory lives by one verse: thou shalt not suffer a witch to live.

He's devoted his entire life to eradicating the occult and making his surrogate father, the Archbishop, proud. Finally given the chance to capture a witch of his own, Reid is devastated when a foul-mouthed thief thwarts him—and doubly devastated when she too disappears. Hell-bent on bringing her to justice, Reid vows she won't escape again. But when Lou tricks him into public scandal trying to avoid capture, the two are forced into an impossible situation—marriage.

Marriage to a huntsman could provide real protection from the witches—if Lou can convince Reid she isn't one herself. The secret proves difficult to keep as Lou begins practicing magic in secret within the heart of the Church, determined to prepare for her mother's inevitable return. As time passes, however, Lou discovers yet another danger lurking: her own growing feelings for her husband. But Reid is still dangerous. He's just as likely to tie her to the stake as defend her if he learns her true identity. With enemies closing in—and more than her own life at stake—Lou must decide who she can trust before it's too late…and she's not the only one with a secret.
We Speak in Storms by Natalie Lund (Philomel)
A powerful and haunting debut novel about friendship, acceptance, and learning to let go as the balance between the living and the dead is upended, perfect for fans of We Were Liars.

It's been more than 50 years since a tornado tore through a drive-in movie theater in tiny Mercer, Illinois, leaving dozens of teens -- a whole generation of Mercerites -- dead in its wake. So when another tornado touches down in the exact same spot on the anniversary of this small-town tragedy, the town is shaken. For Brenna Ortiz, Joshua Calloway, and Callie Keller, the apprehension is more than just a feeling. Though they seem to share nothing more than a struggle to belong, the teens' paths continue to intersect, bringing them together when they least expect it, and perhaps, when they need it most. Both the living and the dead have secrets and unresolved problems, but they may be able to find peace and move forward--if only they work together.

A beautifully told, haunting yet hopeful novel about pushing past the pain, facing the world, and finding yourself.
Five Dark Fates by Kendare Blake (HarperTeen)
From Kendare Blake: "I can't believe the final Fennbirn book is here. I'm feeling a lot of emotions. Sadness. Excitement. Fear. Could someone put me inside a chocolate cake and let me eat my way out until September? I would really appreciate it.
This last trip to the island is full of betrayals and heartbreak, but also recovery and history revealed. Mirabella, Arsinoe, and Katharine (and the dead queens on both sides) have tricks up their sleeves and moves to make. I hope you love this last leg of their journey. Thank you for coming with them this far."

Have a Little Faith in Me by Sonia Hartl (Page Street)
Firsts meets "Saved!" in this standout feminist contemporary that deftly balances humor and heart as it takes a meaningful look at virginity and what it means to lose it.

When CeCe's born-again ex-boyfriend dumps her after they had sex, she follows him to Jesus camp in order to win him back. Problem: She knows nothing about Jesus. But her best friend Paul does. He accompanies CeCe to camp, and the plan—God's or CeCe's—goes immediately awry when her ex shows up with a new girlfriend, a True Believer at that.

Scrambling to save face, CeCe ropes Paul into faking a relationship. But as deceptions stack up, she questions whether her ex is the nice guy she thought. Maybe their romance was as phony as her beliefs? And what about her strange new feelings for Paul—is this love, lust, or an illusion born of heartbreak? To figure it out, she'll have to confront the reasons she chased her ex to camp in the first place, including the truth about the night she lost her virginity.
Eclipse the Skies by Maura Milan (Albert Whitman)
Ia Cōcha never thought she'd be working for the Olympus Commonwealth. But that was before she found out her trusted brother Einn was trying to tear apart the universe. Now, Ia, the Blood Wolf of the Skies, has agreed to help the Royal Star Force on one condition: when she finds him, she gets to kill Einn herself.
Brinn Tarver has just come to terms with her Tawny identity when the public lashes out against her people, crushing her family. At her breaking point, she starts to question everything she believes in — including Ia.
After the death of his mentor, Knives Adams is doing his best to live up to a role he didn't ask for as Aphelion's new headmaster. Still, with each new step deeper into war, he feels torn between his duties and the pull of Ia's radical — sometimes criminal — ideas.
As they fight to keep darkness from eclipsing the skies, their unpredictable choices launch this breathtaking sequel to explosive new heights.
We Are Lost and Found by Helene Dunbar (Sourcebooks Fire)
Michael is content to live in the shadow of his best friends, James, an enigmatic teen performance artist who everyone wants and no one can have and Becky, who calls things as she sees them, while doing all she can to protect those she loves. His brother, Connor, has already been kicked out of the house for being gay and laying low seems to be his only chance to avoid the same fate.

To pass the time before graduation, Michael hangs out at The Echo where he can dance and forget about his father's angry words, the pressures of school, and the looming threat of AIDS, a disease that everyone is talking about, but no one understands.

Then he meets Gabriel, a boy who actually sees him. A boy who, unlike seemingly everyone else in New York, is interested in him and not James. And Michael has to decide what he's willing to risk to be himself

A poignant, heartbreaking, uplifting, and compelling story about three friends coming-of-age in the early 1980's as they struggle to forge their own paths in the face of fear of the unknown.
Sword and Pen by Rachel Caine (Berkley Books)
With the future of the Great Library in doubt, the unforgettable characters from Ink and Bone must decide if it's worth saving in this thrilling adventure in the New York Times bestselling series.

The corrupt leadership of the Great Library has fallen. But with the Archivist plotting his return to power, and the Library under siege from outside empires and kingdoms, its future is uncertain. Jess Brightwell and his friends must come together as never before, to forge a new future for the Great Library . . . or see everything it stood for crumble.
Loki: Where Mischief Lies by Mackenzie Lee and Stephanie Hans (Disney Hyperion)
An epic tale across the realms. A deadly power that spans millennia. A story of struggle and betrayal, this adventure is told through the patchwork past of Marvel's most misunderstood mischief-maker of all time: Loki: Trickster. God of Asgard. Brother.

This is the first of three young adult novels from New York Times best-selling author Mackenzi Lee that explores the untapped potential of popular characters in the Marvel Universe. The novels focus on exploring the duality of heroism in specific character stories from the Marvel Universe.
The Truth Is by Nonieqa Ramos (Carolrhoda)
A powerful exploration of love, identity, and self-worth through the eyes of a fierce, questioning Puerto Rican teen.
Fifteen-year-old Verdad doesn't think she has time for love.
She's still struggling to process the recent death of her best friend, Blanca; dealing with the high expectations of her hardworking Puerto Rican mother and the absence of her remarried father; and keeping everyone at a distance. But when she meets Danny, a new guy at school--who happens to be trans--all bets are off. Verdad suddenly has to deal with her mother's disapproval of her relationship with Danny as well as her own prejudices and questions about her identity, and Danny himself, who is comfortable in his skin but keeping plenty of other secrets
.
The Cartographers by Amy Zhang (Greenwillow Books)
September 10th
Midnight Beauties by Megan Shepherd (HMH)
The witches, beasties, goblins, and Royals return in this spellbinding conclusion to New York Times best-selling author Megan Shepherd's Grim Lovelies duology.

Ever since she discovered her affinity for magic, seventeen-year-old Anouk has been desperate to become a witch. It's the only way to save her friends who, like Anouk, are beasties: animals enchanted into humans. But unlike Anouk, the other beasties didn't make it out of the battle at Montélimar in one piece.

With her friends now trapped in their animal forms, Anouk is forced into a sinister deal involving a political marriage with her sworn enemy, a wicked plot to overthrow London's fiercest coven of witches, and a deadly trial of fire to become a witch. The price for power has always been steep in the world of the Haute. Now, it will cost Anouk everything.

Wicked and delightful, this spellbinding sequel and conclusion to Grim Lovelies is perfect for fans of The Cruel Prince and The Hazel Wood.
A Match Made in Mehendi by Nandini Bajpai (Little, Brown)
When Dimple Met Rishi comes a lighthearted novel about tradition, high school social hierarchy, matchmaking, and swiping right (or left!).

Fifteen-year-old Simran "Simi" Sangha comes from a long line of Indian vichole-matchmakers-with a rich history for helping parents find good matches for their grown children. When Simi accidentally sets up her cousin and a soon-to-be lawyer, her family is thrilled that she has the "gift."

But Simi is an artist, and she doesn't want to have anything to do with relationships, helicopter parents, and family drama. That is, until she realizes this might be just the thing to improve her and her best friend Noah's social status. Armed with her family's ancient guide to finding love, Simi starts a matchmaking service-via an app, of course.

But when she helps connect a wallflower of a girl with the star of the boys' soccer team, she turns the high school hierarchy topsy-turvy, soon making herself public enemy number one.
The Lady Rogue by Jenn Bennett (Simon Pulse)
The Last Magician meets A Gentleman's Guide to Vice and Virtue in this thrilling tale filled with magic and set in the mysterious Carpathian Mountains where a girl must hunt down Vlad the Impaler's cursed ring in order to save her father.

Some legends never die…

Traveling with her treasure-hunting father has always been a dream for Theodora. She's read every book in his library, has an impressive knowledge of the world's most sought-after relics, and has all the ambition in the world. What she doesn't have is her father's permission. That honor goes to her father's nineteen-year-old protégé—and once-upon-a-time love of Theodora's life—Huck Gallagher, while Theodora is left to sit alone in her hotel in Istanbul.

Until Huck arrives from an expedition without her father and enlists Theodora's help in rescuing him. Armed with her father's travel journal, the reluctant duo learns that her father had been digging up information on a legendary and magical ring that once belonged to Vlad the Impaler—more widely known as Dracula—and that it just might be the key to finding him.

Journeying into Romania, Theodora and Huck embark on a captivating adventure through Gothic villages and dark castles in the misty Carpathian Mountains to recover the notorious ring. But they aren't the only ones who are searching for it. A secretive and dangerous occult society with a powerful link to Vlad the Impaler himself is hunting for it, too. And they will go to any lengths—including murder—to possess it.
Frankly In Love by David Yoon (Putnam)
High school senior Frank Li is a Limbo–his term for Korean-American kids who find themselves caught between their parents' traditional expectations and their own Southern California upbringing. His parents have one rule when it comes to romance–"Date Korean"–which proves complicated when Frank falls for Brit Means, who is smart, beautiful–and white. Fellow Limbo Joy Song is in a similar predicament, and so they make a pact: they'll pretend to date each other in order to gain their freedom. Frank thinks it's the perfect plan, but in the end, Frank and Joy's fake-dating maneuver leaves him wondering if he ever really understood love–or himself–at all.
Unpregnant by Jenni Hendricks and Ted Caplan (HarperTeen)
Seventeen-year-old Veronica Clarke never thought she would wish she'd failed a test until she finds herself holding a thick piece of plastic in her hands and staring at two solid pink lines. Even the most consistent use of condoms won't prevent pregnancy when your boyfriend secretly pokes holes in them to keep you from going out-of-state for college.

Veronica needs an abortion, but the closest place she can legally get one is over nine hundred miles away—and Veronica doesn't have a car. Too ashamed to ask her friends or family for help, Veronica turns to the one person she believes won't judge her: Bailey Butler, Jefferson High's own little black cloud of anger and snark—and Veronica's ex-best friend. Once on the road, Veronica quickly remembers nothing with Bailey is ever simple and that means two days of stolen cars, shotguns, crazed ex-boyfriends, truck stop strippers with pro-life agendas, and a limo driver named Bob. But the pain and betrayal of their broken friendship can't be outrun. When their fighting leads to a brutal moment of truth, Bailey abandons Veronica. Now Veronica must risk everything in order to repair the hurt she's caused.
A Treason of Thorns by Laura E. Weymouth (HarperTeen)
Violet Sterling has spent the last seven years in exile, longing to return to Burleigh House. One of the six great houses of England, Burleigh's magic always kept the countryside well. And as a child, this magic kept Violet happy, draping her in flowers while she slept, fashioning secret hiding places for her, and lighting fires on the coldest nights to keep her warm.

Everything shattered, though, when her father committed high treason trying to free Burleigh from the king's oppressive control. He was killed, and Vi was forced into hiding.

When she's given a chance to go back, she discovers Burleigh has run wild with grief. Vines and briars are crumbling the walls. Magic that once enriched the surrounding countryside has turned dark and deadly, twisting lush blooms into thorns, poisoning livestock and destroying crops. Burleigh's very soul is crying out in pain.

Vi would do anything to help, and soon she finds herself walking the same deadly path as her father all those years before. Vi must decide how far she's willing to go to save her house—before her house destroys everything she's ever known.
Tiger Queen by Annie Sullivan (Blink)
From Annie Sullivan, author of A Touch of Gold, comes Tiger Queen, a sweeping YA adventure that tells the story of a fierce desert princess as she fights to save her kingdom. Fans of Rebel of the Sands and Meagan Spooner will devour this retelling of Frank Stockton's famous short story "The Lady, or the Tiger?".

In the mythical desert kingdom of Achra, an old law forces sixteen-year-old Princess Kateri to fight in the arena against twelve suitors to prove her right to rule. For Kateri, losing is not an option because in order to fulfil her promise to her late mother, she must win to keep her crown and lead her people. The situation outside the palace is uneasy. The harsh desert is unforgiving, water is scarce, and Kateri's people are thirsty. To make matters worse, the gang of thieving Desert Boys, the same group that killed Kateri's mother and her new baby, frequently raids the city wells and steals water, forcing the king to ration what little water is left. The punishment for stealing water is the choice between two doors. Behind one door lies freedom and behind the other is a tiger.

The people of Achra are growing restless and distrustful of the monarchy, and when Kateri's final opponent is announced, she knows she cannot win. In her desperation, Kateri turns to the desert and the one person she never thought she'd side with. Her future now, too, is behind two doors—only she's not sure which holds the key to keeping her kingdom and which will release the tiger.
When She Reigns by Jodie Meadows (Katherine Tegan Books)
The First Dragon
The Great Abandonment has begun. Panic has seized the Fallen Isles, where no one knows which god will rise next. Mira Minkoba believes her dreams hold the secret to bringing an end to the destruction, but in order to save her people, she'll have to find a legendary treasure: the bones of the first dragon.
The Last Hope
Mira's desperate search leads the Hopebearer and her friends on a dangerous journey into the heart of enemy territory: the Algotti Empire itself. The empress is more than willing to help—for an impossible price. And as tensions escalate beneath the shadows of the risen gods, Mira grapples with a terrifying question: What will she have to sacrifice to preserve what she loves?
The explosive finale to Jodi Meadows's Fallen Isles trilogy is ablaze with sizzling romance and fiery magic as Mira's fight to save dragons from extinction evolves into a mission to save her world from annihilation.
Pet by Akwaeke Emezi (Make Me A World)
A thought-provoking and haunting novel about a creature that escapes from an artist's canvas, whose talent is sniffing out monsters in a world that claims they don't exist anymore. Perfect for fans of Akata Witch and Shadowshaper .

There are no monsters anymore, or so the children in the city of Lucille are taught. Jam and her best friend, Redemption, have grown up with this lesson all their life. But when Jam meets Pet, a creature made of horns and colors and claws, who emerges from one of her mother's paintings and a drop of Jam's blood, she must reconsider what she's been told. Pet has come to hunt a monster--and the shadow of something grim lurks in Redemption's house. Jam must fight not only to protect her best friend, but also uncover the truth, and the answer to the question How do you save the world from monsters if no one will admit they exist?

In their riveting and timely young adult debut, acclaimed novelist Akwaeke Emezi asks difficult questions about what choices you can make when the society around you is in denial.
Cracking the Bell by Geoff Herbach (Katherine Tegan Books)
Isaiah loves football. In fact, football saved Isaiah's life, giving him structure and discipline after his sister's death tore his family apart. Now, nothing makes Isaiah happier than setting up the perfect defense and delivering a big hit. But when Isaiah gets knocked out cold on the field, he learns there's a lot more to lose than football.

While recovering from another concussion, Isaiah wonders what his life would look without football. All his friends are on the team, and Isaiah knows they can't win without him. There's also the scholarship offer from Cornell, which is only on the table if he keeps playing. And without football, what would keep his family together? What would prevent him from sliding back into the habits that nearly destroyed him?

As Isaiah begins to piece his life together with help from unexpected places, he must decide how much he's willing to sacrifice for the sport that gave him everything, even if playing football threatens to take away his future.
Hope Is Our Only Wing by Rutendo Tavenwergei (Soho Teen)
At a time of national upheaval in Zimbabwe, an unlikely friendship illuminates the power of hope and the possibility to heal--in the face of tragedies beyond any teen's control.

For fifteen-year-old Shamiso, struggling with grief and bewilderment following her father's death, hope is nothing but a leap into darkness.

For Tanyaradzwa, whose life has been turned upside down by a cancer diagnosis, hope is the only reason to keep fighting.

As the two of them form an unlikely friendship, Shamiso begins to confront her terrible fear of loss. In getting close to another person, particularly someone who's ill, isn't she just opening herself up to more pain? And underpinning it all - what did happen to her father, the night of that strange and implausible car crash?

Rutendo Tavengerwei's extraordinary debut takes an honest look at hope, and the grit and courage it can take to hang on to it.
Rebel Girls by Elizabeth Keenan (Harlequin Teen)
It's 1992, and there's a rumor spreading in Baton Rouge...When it comes to being social, Athena Graves is far more comfortable creating a mixtape playlist than she is talking to cute boys--or anyone, for that matter. Plus her staunchly feminist views and love of punk rock aren't exactly mainstream at St. Ann's, her conservative Catholic high school.Then a malicious rumor starts spreading through the halls...a rumor that her popular, pretty, pro-life sister had an abortion over the summer. A rumor that has the power to not only hurt Helen, but possibly see her expelled.Despite their wildly contrasting views, Athena, Helen and their friends must find a way to convince the student body and the administration that it doesn't matter what Helen did or didn't do...even if their riot grrrl protests result in the expulsion of their entire rebel girl gang.
The Magnolia Sword by Sherry Thomas (Lee and Low)
CHINA, 484 A.D.

A Warrior in Disguise
All her life, Mulan has trained for one purpose: to win the duel that every generation in her family must fight. If she prevails, she can reunite a pair of priceless heirloom swords separated decades earlier, and avenge her father, who was paralyzed in his own duel.

Then a messenger from the Emperor arrives, demanding that all families send one soldier to fight the Rouran invaders in the north. Mulan's father cannot go. Her brother is just a child. So she ties up her hair, takes up her sword, and joins the army as a man.

A War for a Dynasty
Thanks to her martial arts skills, Mulan is chosen for an elite team under the command of the princeling--the royal duke's son, who is also the handsomest man she's ever seen. But the princeling has secrets of his own, which explode into Mulan's life and shake up everything she knows. As they cross the Great Wall to face the enemy beyond, Mulan and the princeling must find a way to unwind their past, unmask a traitor, and uncover the plans for the Rouran invasion . . . before it's too late.

Inspired by wuxia martial-arts dramas as well as the centuries-old ballad of Mulan, The Magnolia Sword is perfect for fans of Renee Ahdieh, Marie Lu, or Kristin Cashore--a thrilling, romantic, and sharp-edged novel that lives up to its beloved heroine.
Kingdom of Souls by Rena Barron (HarperTeen)
Magic has a price—if you're willing to pay.

The lush world building of Children of Blood and Bone meets the epic scale of Strange the Dreamer in this captivating YA fantasy debut.

Born into a family of powerful witchdoctors, Arrah yearns for magic of her own. But each year she fails to call forth her ancestral powers, while her ambitious mother watches with growing disapproval.

There's only one thing Arrah hasn't tried, a deadly last resort: trading years of her own life for scraps of magic. Until the Kingdom's children begin to disappear, and Arrah is desperate to find the culprit.

She uncovers something worse. The long-imprisoned Demon King is stirring. And if he rises, his hunger for souls will bring the world to its knees… unless Arrah pays the price for the magic to stop him.

Inspired by tales of folk magic in her own community, Rena Barron spins a darkly magical tale perfect for fans of Three Dark Crowns or Shadow and Bone, about a girl caught between gods, monsters, and her own mother's schemes.
Stormrise by Jillian Boehme (Tor Teen)
A combat warrior will risk everything to awaken the dragons and save her kingdom in Jillian Boehme's epic YA Fantasy debut, Stormrise, inspired by Twelfth Night and perfect for fans of Tamora Pierce.

If Rain weren't a girl, she would be respected as a Neshu combat master. Instead, her gender dooms her to a colorless future. When an army of nomads invades her kingdom, and a draft forces every household to send one man to fight, Rain takes her chance to seize the life she wants.

Knowing she'll be killed if she's discovered, Rain purchases powder made from dragon magic that enables her to disguise herself as a boy. Then she hurries to the war camps, where she excels in her training—and wrestles with the voice that has taken shape inside her head. The voice of a dragon she never truly believed existed.

As war looms and Rain is enlisted into an elite, secret unit tasked with rescuing the High King, she begins to realize this dragon tincture may hold the key to her kingdom's victory. For the dragons that once guarded her land have slumbered for centuries . . . and someone must awaken them to fight once more.
Capturing the Devil by Kerri Maniscalco (Jimmy Paterson)
In the shocking finale to the bestselling series that began with Stalking Jack the Ripper, Audrey Rose and Thomas are on the hunt for the depraved, elusive killer known as the White City Devil. A deadly game of cat-and-mouse has them fighting to stay one step ahead of the brilliant serial killer---or see their fateful romance cut short by unspeakable tragedy.

Audrey Rose Wadsworth and Thomas Cresswell have landed in America, a bold, brash land unlike the genteel streets of London they knew. But like London, the city of Chicago hides its dark secrets well. When the two attend the spectacular World's Fair, they find the once-in-a-lifetime event tainted with reports of missing people and unsolved murders.

Determined to help, Audrey Rose and Thomas begin their investigations, only to find themselves facing a serial killer unlike any they've heard of before. Identifying him is one thing, but capturing him---and getting dangerously lost in the infamous Murder Hotel he constructed as a terrifying torture device---is another.

Will Audrey Rose and Thomas see their last mystery to the end---together and in love---or will their fortunes finally run out when their most depraved adversary makes one final, devastating kill?
September 17th
The Babysitters Coven by Kate Williams (Delacorte)
Adventures in Babysitting
meets Buffy the Vampire Slayer in this funny, action-packed novel about a coven of witchy babysitters who realize their calling to protect the innocent and save the world from an onslaught of evil.


Seventeen-year-old Esme Pearl has a babysitters club. She knows it's kinda lame, but what else is she supposed to do? Get a job? Gross. Besides, Esme likes babysitting, and she's good at it.

And lately Esme needs all the cash she can get, because it seems like destruction follows her wherever she goes. Let's just say she owes some people a new tree.

Enter Cassandra Heaven. She's Instagram-model hot, dresses like she found her clothes in a dumpster, and has a rebellious streak as gnarly as the cafeteria food. So why is Cassandra willing to do anything, even take on a potty-training two-year-old, to join Esme's babysitters club?

The answer lies in a mysterious note Cassandra's mother left her: "Find the babysitters. Love, Mom."

Turns out, Esme and Cassandra have more in common than they think, and they're about to discover what being a babysitter really means: a heroic lineage of superpowers, magic rituals, and saving the innocent from seriously terrifying evil. And all before the parents get home.
The Liars of Maripossa Island by Jennifer Mathieu (Roaring Brook Press)
From the author of Moxie comes a stunning novel told in three voices about the lies families tell to survive.

Every year, summer begins when the Callahans arrive on Mariposa Island. That's when Elena Finney gets to escape her unstable, controlling mother by babysitting for their two children. And the summer of 1986 promises to be extra special when she meets J.C., the new boy in town, whose kisses make Elena feel like she's been transported to a new world.

Joaquin Finney can't imagine why anyone would want to come to Mariposa Island. He just graduated from high school and dreams about going to California to find his father and escape his mother's manipulation.

The Liars of Mariposa Island follows siblings Elena and Joaquin, with flashbacks to their mother's experience as a teenage refugee fleeing the Cuban revolution.

Jennifer Mathieu's multilayered novel explores the nature of secrets, lies, and fierce, destructive love.
Shatter City by Scott Westerfield (Scholastic)
When the world sees Frey, they think they see her twin sister Rafi. Frey was raised to be Rafi's double, and now she's taken on the role . . . without anyone else knowing.

Her goal? To destroy the forces that created her.

But with the world watching and a rebellion rising, Frey is forced into a detour. Suddenly she is stranded on her own in Paz, a city where many of the citizens attempt to regulate their emotions through an interface on their arms. Paz is an easy place to get lost . . . and also an easy place to lose yourself.

As the city comes under a catastrophic attack, Frey must leave the shadows and enter the chaos of warfare - because there is no other way for her to find her missing sister and have her revenge against her murderous father.
Suggested Reading by Davis Connis (Katherine Tegan Books)
Eleanor and Park. The Perks of Being a Wallflower. Their Eyes Were Watching God. These are just a few of the books at Lupton Academy that are now considered "prohibited media." A passionate reader who loves staying up all night to highlight the best lines in her favorite novels, Clara Evans is horrified when she discovers the titles on the principal's hit list are being taken out of circulation at the school library. In fact, the books aren't allowed anywhere on the school's premises, and students caught with the contraband will be sternly punished. Many of these stories have changed Clara's life, so she's not going to sit back and watch while her draconian principal, Mr. Walsh, abuses his power. She's going to strike back.

With the help of her friend and student body president, LiQui, Clara starts an underground library—the UnLib—in her locker, doing a shady trade in titles like Speak and The Chocolate War. But when one of the UnLib books she loves most is connected to a tragedy she never saw coming, Clara's forced to face her role in it. Will she be able to make peace with her conflicting feelings, or is fighting for this noble cause too tough for her to bear?
The Survival List by Courtney Scheinmel (Katherine Tegan Books)
The only thing connecting Sloane to her older sister Talley is a list–random places, unfamiliar names, a phone number that she doesn't recognize.

Ever since Talley died, Sloane has been completely fixated on it: maybe understanding how the items on list connect is the key to understanding why Talley took her own life. Except the clues on the list seem to be pointing her to California, and Talley had never even been there, right?

Turns out the list of things Sloane didn't know about her sister is much longer than she realized.

She heads out west in search of Adam, the owner of the mysterious phone number, who claims he'd never met Talley. Even though Adam is clearly hiding something, Sloane can't deny that she's drawn to him. Can unraveling the cryptic non-sequiturs Talley left behind – and putting her trust in a stranger – heal the hole her sister's death has left in Sloane's life?

From author Courtney Sheinmel comes an engaging and heartfelt novel about the bonds of sisterhood, the imprecision of memory, and the incomparable value of finding something to live for.
It's a Whole Spiel by Various YA Auth

ors
(Knopf)
Includes a special introduction by Mayim Bialik, star of The Big Bang Theory and author of the #1 bestseller Girling Up!

Get ready to fall in love, experience heartbreak, and discover the true meaning of identity in this poignant collection of short stories about Jewish teens, including entries by David Levithan, Nova Ren Suma, and more!

A Jewish boy falls in love with a fellow counselor at summer camp. A group of Jewish friends take the trip of a lifetime. A girl meets her new boyfriend's family over Shabbat dinner. Two best friends put their friendship to the test over the course of a Friday night. A Jewish girl feels pressure to date the only Jewish boy in her grade. Hilarious pranks and disaster ensue at a crush's Hanukkah party.

From stories of confronting their relationships with Judaism to rom-coms with a side of bagels and lox, It's a Whole Spiel features one story after another that says yes, we are Jewish, but we are also queer, and disabled, and creative, and political, and adventurous, and anything we want to be. You will fall in love with this insightful, funny, and romantic Jewish anthology from a collection of diverse Jewish authors.
Steel Tide by Natalie C. Parker (Razorbill)
The second book in a heart-stopping trilogy that follows the captain of an all-female ship intent on taking down a vicious warlord's powerful fleet.

Caledonia may have lost her crew, but she's not done fighting yet. After nearly dying at the hand of a powerful foe, Caledonia is pulled from the sea and nursed back to health by a crew of former Bullets that call themselves Blades. The Blades escaped Aric Athair's clutches and now live a nomadic existence, ready to disappear at a moment's notice should trouble come their way.

But Caledonia wants to do more than just hide. She wants to find the Mors Navis and her beloved sisters. She wants to continue fighting Aric's fleet and to take back the Bullet seas. She'll need to do everything in her power to convince the Blades that fighting is their only option, that there has to be a life better than the one under Aric Athair's reign, and that finding the women of the Mors Navis is the first step to revolution.
The Stars and the Blackness Between Them by Junauda Petrus (Dutton)
Told in two distinct and irresistible voices, Junauda Petrus's bold and lyrical debut is the story of two black girls from very different backgrounds finding love and happiness in a world that seems determined to deny them both.

Trinidad. Sixteen-year-old Audre is despondent, having just found out she's going to be sent to live in America with her father because her strictly religious mother caught her with her secret girlfriend, the pastor's daughter. Audre's grandmother Queenie (a former dancer who drives a white convertible Cadillac and who has a few secrets of her own) tries to reassure her granddaughter that she won't lose her roots, not even in some place called Minneapolis. "America have dey spirits too, believe me," she tells Audre.

Minneapolis. Sixteen-year-old Mabel is lying on her bed, staring at the ceiling and trying to figure out why she feels the way she feels–about her ex Terrell, about her girl Jada and that moment they had in the woods, and about the vague feeling of illness that's plagued her all summer. Mabel's reverie is cut short when her father announces that his best friend and his just-arrived-from-Trinidad daughter are coming for dinner.

Mabel quickly falls hard for Audre and is determined to take care of her as she tries to navigate an American high school. But their romance takes a turn when test results reveal exactly why Mabel has been feeling low-key sick all summer and suddenly it's Audre who is caring for Mabel as she faces a deeply uncertain future.

Junauda Petrus's debut brilliantly captures the distinctly lush and lyrical voices of Mabel and Audre as they conjure a love that is stronger than hatred, prison, and death and as vast as the blackness between the stars.
Break In Case Of Emergency by Brian Francis (HarperCollins)
Dads are such a drag

Still reeling from the complex legacy of her mother's death five years earlier, and having never met her absentee performer father, Toby Goodman lives a quiet life on her grandparents' dairy farm in the tiny town of Tilden. If she doesn't let people in, they can't abandon her. It's why she keeps even her closest friend at arms' length, and promptly ended things with the only boy she's ever had feelings for—who just happens to be her best friend's brother. Convinced that there is no one who wouldn't be better off without her, Toby comes up with a plan that will connect her to her mother for good.

But with the news that her father is finally coming home and wants to meet her, Toby must face the truth of her family's story. Not only is her father a gay man, but he's also a world-famous female impersonator—and someone who is incredibly ill-prepared to be a father figure of any kind.

When her own careful plans go awry, Toby is forced to rebuild the life she thought she knew from the ground up. With the help of some unexpected allies, she may finally be able to put together the many different pieces that make up who she really is, and who she is yet to be.
Snowflake, AZ by Marcus Sedgewick (Zephyr)
A timely, contemporary novel challenging ideas around health – our own and our planet's – and the stigma that persists around illness by Printz Medallist and internationally bestselling novelist, Marcus Sedgwick.

Ash gets on a greyhound bus to the last place anyone has heard of Bly. That place being Snowflake, Arizona. Arriving at the Forties, six thousand feet high in the wide red desert, Ash meets Mona, her goat, Socrates (who could be smart), her dog, Blackie,and finds step-brother Bly too. After What Happened theirs is a forgotten community living outside time. In their ramshackle homes, the walls lined with tin foil, they're all sick. But this isn't any ordinary sickness. The world has poisoned them. When Ash takes ill, the doctor's response is, 'it's all in your mind'. Ash begins a quest for self-knowledge and a way to survive modern life. This humane and deeply thoughtful novel is about resilience, trust, family and love, when all seems lost.
September 24th
A Dream So Dark by L. L. McKinney (Imprint)
In this thrilling sequel to A Blade So Black, Alice goes deeper into a dark version of Wonderland.

Still reeling from her recent battle (and grounded until she graduates), Alice must abandon her friends to complete her mission: find The Heart and prevent the Red Lady's rise. But the deeper she ventures into Wonderland, the more topsy-turvy everything becomes. It's not until she's at her wits end that she realizes—Wonderland is trying to save her.

There's a new player on the board; a poet capable of using Nightmares to not only influence the living but raise the dead. This Poet is looking to claim the Black Queen's power—and Alice's budding abilities—as their own.

Dreams have never been so dark in Wonderland, and if there is any hope of defeating this mystery poet's magic, Alice must confront the worst in herself, in the people she loves, and in the very nature of fear itself.
The Bone Houses by Emily Lyoyd-Jones (Little, Brown)
Buffy the Vampire Slayer meets Sky in the Deep in this bewitching, historical horror novel, perfect for fans of Holly Black and V.E. Schwab.

Seventeen-year-old Aderyn ("Ryn") only cares about two things: her family, and her family's graveyard. And right now, both are in dire straits. Since the death of their parents, Ryn and her siblings have been scraping together a meager existence as gravediggers in the remote village of Colbren, which sits at the foot of a harsh and deadly mountain range that was once home to the fae. The problem with being a gravedigger in Colbren, though, is that the dead don't always stay dead.

The risen corpses are known as "bone houses," and legend says that they're the result of a decades-old curse. When Ellis, an apprentice mapmaker with a mysterious past, arrives in town, the bone houses attack with new ferocity. What is it about Ellis that draws them near? And more importantly, how can they be stopped for good?

Together, Ellis and Ryn embark on a journey that will take them deep into the heart of the mountains, where they will have to face both the curse and the long-hidden truths about themselves. Equal parts classic horror novel and original fairy-tale, The Bone Houses will have you spellbound from the very first page.
Rules For Vanishing by Kate Alice Marshall (Viking)
In the faux-documentary style of The Blair Witch Project comes the campfire story of a missing girl, a vengeful ghost, and the girl who is determined to find her sister--at all costs.

Once a year, the path appears in the forest and Lucy Gallows beckons. Who is brave enough to find her--and who won't make it out of the woods?

It's been exactly one year since Sara's sister, Becca, disappeared, and high school life has far from settled back to normal. With her sister gone, Sara doesn't know whether her former friends no longer like her...or are scared of her, and the days of eating alone at lunch have started to blend together. When a mysterious text message invites Sara and her estranged friends to "play the game" and find local ghost legend Lucy Gallows, Sara is sure this is the only way to find Becca--before she's lost forever. And even though she's hardly spoken with them for a year, Sara finds herself deep in the darkness of the forest, her friends--and their cameras--following her down the path. Together, they will have to draw on all of their strengths to survive. The road is rarely forgiving, and no one will be the same on the other side.
Six Goodbyes We Never Said by Candace Ganger (Wednesday Books)
Two teens meet after tragedy and learn about love, loss, and letting go

Naima Rodriguez doesn't want your patronizing sympathy as she grieves her father, her hero—a fallen Marine. She'll hate you forever if you ask her to open up and remember him "as he was," though that's all her loving family wants her to do in order to manage her complex OCD and GAD. She'd rather everyone back the-eff off while she separates her Lucky Charms marshmallows into six, always six, Ziploc bags, while she avoids friends and people and living the life her father so desperately wanted for her.

Dew respectfully requests a little more time to process the sudden loss of his parents. It's causing an avalanche of secret anxieties, so he counts on his trusty voice recorder to convey the things he can't otherwise say aloud. He could really use a friend to navigate a life swimming with pain and loss and all the lovely moments in between. And then he meets Naima and everything's changed—just not in the way he, or she, expects.

Candace Ganger's Six Goodbyes We Never Said is no love story. If you ask Naima, it's not even a like story. But it is a story about love and fear and how sometimes you need a little help to be brave enough to say goodbye.
Verify by Joelle Charboneau (HarperTeen)
Meri Beckley lives in a world without lies. When she turns on the news, she hears only the facts. When she swipes the pages of her online textbooks, she reads only the truth. When she looks at the peaceful Chicago streets, she feels the pride everyone in the country feels about the era of unprecedented hope and prosperity over which the government presides.

But when Meri's mother is killed, Meri suddenly has questions that no one else seems to be asking. And when she tries to uncover her mother's state of mind in her last weeks, she finds herself drawn into a secret world full of facts she's never heard and a history she didn't know existed.

Suddenly, Meri is faced with a choice between accepting the "truth" she has been taught or embracing a world the government doesn't want anyone to see—a world where words have the power to change the course of a country, and the wrong word can get Meri killed.
Exile From Eden by Andrew Smith (Simon and Schuster)
From New York Times bestselling author Andrew Smith comes the stunning, long-awaited sequel to the groundbreaking Printz Honor Book Grasshopper Jungle.

It's been sixteen years since an army of horny, hungry, six-foot-tall praying mantises forced Arek's family underground and into the hole where he was born; it's the only home he's ever known. But now, post-end-of-the-world, the army of horny, hungry praying mantises might finally be dying out, and Arek's ready to leave the hole for good.

All he has are mysterious letters from Breakfast, a naked, wild boy traveling the countryside with his silent companion, Olive. Together, Arek and his best friend Mel, who stowed away in his van, navigate their way through the ravaged remains of the outside world.

This long-awaited sequel to the irreverent, groundbreaking Printz Honor Book Grasshopper Jungle is stunning, compelling, and even more hilarious and beautifully bizarre than its predecessor.
Bid My Soul Farewell by Beth Revis (Razorbill)
The stunning finale of the epic fantasy duology from New York Times bestselling author Beth Revis.

Alchemy student turned necromancer Nedra Brysstain has made a life-changing decision to embrace the darkness--but can the boy who loves her bring her back to the light before she pays the ultimate price?

Lunar Island is trying to heal. The necromantic plague that ravaged the land has been eradicated, and Emperor Auguste, the young and charming leader of the Allyrian Empire, has a plan: rid the island of necromancy once and for all. Though Greggori "Grey" Astor wants what's best for his people, he knows that allying himself with Auguste threatens the one person he loves most: necromancer Nedra Brysstain. Feeling like he already failed to save Nedra once, Grey becomes determined to help the Emperor rebuild Lunar Island while still keeping Nedra safe from harm.

Back at the quarantine hospital, Nedra's army of revenants are growing increasingly inhuman by the day. Wracked with guilt for imprisoning their souls, Nedra vows to discover a way to free the dead while still keeping her sister by her side.

But, still reeling from the trauma of the plague, the people of Lunar Island are looking for someone to blame, and Grey can only protect Nedra for so long. And when Nedra and Grey are thrust into a battle with an even more terrifying adversary, Nedra will be pushed to the darkest depths of her necromantic powers. But can Grey let her go that far?
The Tenth Girl by Sara Faring (Imprint)
Simmering in Patagonian myth, The Tenth Girl is a gothic psychological thriller with a haunting twist.

At the very southern tip of South America looms an isolated finishing school. Legend has it that the land will curse those who settle there. But for Mavi—a bold Buenos Aires native fleeing the military regime that took her mother—it offers an escape to a new life as a young teacher to Argentina's elite girls.

Mavi tries to embrace the strangeness of the imposing house—despite warnings not to roam at night, threats from an enigmatic young man, and rumors of mysterious Others. But one of Mavi's ten students is missing, and when students and teachers alike begin to behave as if possessed, the forces haunting this unholy cliff will no longer be ignored.

One of these spirits holds a secret that could unravel Mavi's existence. In order to survive she must solve a cosmic mystery—and then fight for her life.
His Hideous Heart by Various YA Authors (Flatiron)
Thirteen of YA's most celebrated names reimagine Edgar Allan Poe's most surprising, unsettling, and popular tales for a new generation.

Edgar Allan Poe may be a hundred and fifty years beyond this world, but the themes of his beloved works have much in common with modern young adult fiction. Whether the stories are familiar to readers or discovered for the first time, readers will revel in Edgar Allan Poe's classic tales, and how they've been brought to life in 13 unique and unforgettable ways.

Contributors include Dahlia Adler (reimagining "Ligeia"), Kendare Blake ("Metzengerstein"), Rin Chupeco ("The Murders in the Rue Morgue"), Lamar Giles ("The Oval Portrait"), Tessa Gratton ("Annabel Lee"), Tiffany D. Jackson ("The Cask of Amontillado"), Stephanie Kuehn ("The Tell-Tale Heart"), Emily Lloyd-Jones ("The Purloined Letter"), Amanda Lovelace ("The Raven"), Hillary Monahan ("The Masque of the Red Death"), Marieke Nijkamp ("Hop-Frog"), Dahlia Adler "Ligeia"), Caleb Roehrig ("The Pit and the Pendulum"), and Fran Wilde ("The Fall of the House of Usher")

.
The Infinite Noise by Lauren Shippen (Tor Teen)
From Lauren Shippen, the creator of the beloved and award-winning podcast The Bright Sessions, comes the first novel in a series that follows the struggles and discoveries of three teenagers with supernatural abilites who end up on the couch of Dr. Bright, a mysterious therapist who specializes in atypicals.

"What if the X-Men, instead of becoming superheroes, decided to spend some time in therapy?"
Slay by Brittany Morris (Simon Pulse)
Ready Player One meets The Hate U Give in this dynamite debut novel that follows a fierce teen game developer as she battles a real-life troll intent on ruining the Black Panther–inspired video game she created and the safe community it represents for black gamers

By day, seventeen-year-old Kiera Johnson is an honors student, a math tutor, and one of the only black kids at Jefferson Academy. But at home, she joins hundreds of thousands of black gamers who duel worldwide as Nubian personas in the secret multiplayer online role-playing card game, SLAY. No one knows Kiera is the game developer, not her friends, her family, not even her boyfriend, Malcolm, who believes video games are partially responsible for the "downfall of the black man."

But when a teen in Kansas City is murdered over a dispute in the SLAY world, news of the game reaches mainstream media, and SLAY is labeled a racist, exclusionist, violent hub for thugs and criminals. Even worse, an anonymous troll infiltrates the game, threatening to sue Kiera for "anti-white discrimination."

Driven to save the only world in which she can be herself, Kiera must preserve her secret identity and harness what it means to be unapologetically black in a world intimidated by blackness. But can she protect her game without losing herself in the process?
Who Put This Song On? by Morgan Parker (Delacorte)
In the vein of powerful reads like The Hate U Give and Girl in Pieces, comes poet Morgan Parker's pitch-perfect novel about a black teenage girl searching for her identity when the world around her views her depression as a lack of faith and blackness as something to be politely ignored.

Trapped in sunny, stifling, small-town suburbia, seventeen-year-old Morgan knows why she's in therapy. She can't count the number of times she's been the only non-white person at the sleepover, been teased for her "weird" outfits, and been told she's not "really" black. Also, she's spent most of her summer crying in bed. So there's that, too.

Lately, it feels like the whole world is listening to the same terrible track on repeat--and it's telling them how to feel, who to vote for, what to believe. Morgan wonders, when can she turn this song off and begin living for herself?

Life may be a never-ending hamster wheel of agony, but Morgan finds her crew of fellow outcasts, blasts music like there's no tomorrow, discovers what being black means to her, and finally puts her mental health first. She decides that, no matter what, she will always be intense, ridiculous, passionate, and sometimes hilarious. After all, darkness doesn't have to be a bad thing. Darkness is just real.

Loosely based on her own teenage life and diaries, this incredible debut by award-winning poet Morgan Parker will make readers stand up and cheer for a girl brave enough to live life on her own terms--and for themselves.
Wayward Son by Rainbow Rowell (Wednesday Books)
The story is supposed to be over. Simon Snow did everything he was supposed to do. He beat the villain. He won the war. He even fell in love. Now comes the good part, right? Now comes the happily ever after…
So why can't Simon Snow get off the couch?
What he needs, according to his best friend, is a change of scenery. He just needs to see himself in a new light… That's how Simon and Penny and Baz end up in a vintage convertible, tearing across the American West. They find trouble, of course. (Dragons, vampires, skunk-headed things with shotguns.) And they get lost. They get so lost, they start to wonder whether they ever knew where they were headed in the first place...