October 1st
Take the Mic: Fictional Stories of Everyday Resistance by Various Authors (Scholastic)
You might be the kind of person who stands up to online trolls.
Or who marches to protest injustice.
Perhaps you are #DisabledAndCute and dancing around your living room, alive and proud.
Or perhaps you are the trans mentor that you wish you had when you were younger.
Maybe you call out false allies, or stand up to loved ones.
Maybe you speak your truth and drop the mic, or maybe you take it with you.

Maybe your existence is its own form of resistance.

This anthology features fictional stories that reflect a slice of the varied and limitless ways that readers like you resist every day. Literary luminaries like Samira Ahmed, Jason Reynolds, Darcie Little Badger and emerging talent like Keah Brown and Ray Stoeve share a powerful collection of stories in poems, prose, and art.
Creep by Eireann Corrigan (Scholastic)
Olivia is curious about the people moving into 16 Olcott Place. The last family there moved out in the dead of night, and the new family, the Donahues, has no idea why. Olivia becomes fast friends with Janie Donahue . . . so she's there at the house when the first of the letters arrives:

--I am the Sentry of Glennon Heights. Long ago I claimed 16 Olcott Place as levy for my guardianship. The walls will not tolerate your trespass. The ceilings will bleed and the windows will shatter. If you do not cease your intrusion, the rooms will soon smell of corpses.--

Who is the Sentry? And why does the Sentry want the Donahues out of the house badly enough to kill? As Olivia and Janie explore the house, they find a number of sinister secrets . . . and as they explore their town, they find a hidden history that the Sentry wants to remain hidden forever.

You can lock the doors. You can close the windows. But you can't keep the Sentry out. . . .
The End and Other Beginnings by Veronica Roth (Katherine Tegan Books)
Bestselling Divergent and Carve the Mark author Veronica Roth delivers a stunning collection of novella-length stories set in the future, illustrated with startling black-and-white artwork.

No world is like the other. Within this masterful collection, each setting is more strange and wonderful than the last, brimming with new technologies and beings. And yet, for all the advances in these futuristic lands, the people still must confront deeply human problems.

In these six stories, Veronica Roth reaches into the unknown and draws forth something startlingly familiar and profoundly beautiful.

With tales of friendship and revenge, plus two new stories from the Carve the Mark universe, this collection has something for new and old fans alike. Each story begins with a hope for a better end, but always end with a better understanding of the beginning.

With beautifully intricate black-and-white interior illustrations and a uniquely designed package, this is the perfect gift for book lovers.
Supernova by Kass Morgan (Little, Brown)
The 100 meets Ender's Game in the captivating and romantic sequel to Light Years from New York Times bestselling author Kass Morgan!

With a galaxy on the brink of war and loyalties divided, the friendship of four Quatra Fleet cadets will be tested as their greatest enemy closes in.

Arrested for espionage, Orelia's future is looking bleak . . . until the Quatrans make her a surprising offer that could save her life -- and the lives of everyone in the galaxy. Reeling from a betrayal, Arran finds comfort in a sympathetic boy from Loos, someone who understands how hard it can be to fit in. But is it enough for Arran to forget his heartbreak? Meanwhile, Cormak's position at the Academy is in jeopardy when someone discovers his own treasonous secret, putting everything he's fought for in peril. And Vesper is on the brink of becoming the superstar officer she always dreamed she'd be . . . until she uncovers a conspiracy that shakes her faith in the Quatra Fleet to its core.

As secret machinations come to light, these cadets will be forced to overcome their differences and band together to restore peace to their worlds.

Kass Morgan, the bestselling author of The 100, once again delivers pulse-pounding action and glittering romance in this sequel to Light Years.
Scars Like Wings by Erin Stewart (Delacorte)
A year after the fire, Ava's doctor removes her compression mask and tells her to get a life. Of course, he uses medical-degree words like reintegration and isolation, but the gist is the same: Time to be normal.

But normal girls have eyebrows and all their fingers, and definitely don't have pieces of their butt stretched across their foreheads to make a patchwork quilt of scars. Normal teenagers also don't avoid mirrors or cringe at the word survivor.

The truth is, Ava didn't mean to survive the house fire that claimed her parents and left her with severe burns on 60 percent of her face and body. In fact, most days, she wishes she hadn't survived at all.

But when Ava meets an outspoken burn survivor named Piper at support group, she begins to reclaim some charred pieces of normal. Wheelchair-bound Piper even convinces Ava to sing on stage again, a dream she gave up the first time she saw her post-fire reflection. With Piper's middle-finger-to-the-universe attitude as her guide, Ava starts to believe "normal" has more to do with the people by her side than the girl in the glass.

When both girls have to face the harsh realities of their new normal, however, Piper begins to lose her own battle with depression and isolation. Before Ava can save her friend, she must confront the past to discover what really happened the night of the fire. Will the truth be enough to help both girls choose life—and love—despite the scars?
Angel Mage by Garth Nix (Katherine Tegan Books)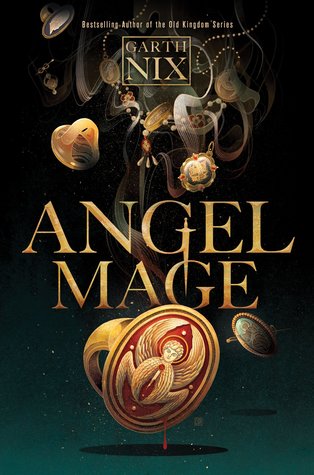 More than a century has passed since Liliath crept into the empty sarcophagus of Saint Marguerite, fleeing the Fall of Ystara. But she emerges from her magical sleep still beautiful, looking no more than nineteen, and once again renews her single-minded quest to be united with her lover, Palleniel, the archangel of Ystara.

A seemingly impossible quest, but Liliath is one of the greatest practitioners of angelic magic to have ever lived, summoning angels and forcing them to do her bidding.

Liliath knew that most of the inhabitants of Ystara died from the Ash Blood plague or were transformed into beastlings, and she herself led the survivors who fled into neighboring Sarance. Now she learns that angels shun the Ystaran's descendants. If they are touched by angelic magic, their blood will turn to ash. They are known as Refusers, and can only live the most lowly lives.

But Liliath cares nothing for the descendants of her people, save how they can serve her. It is four young Sarancians who hold her interest: Simeon, a studious doctor-in-training; Henri, a dedicated fortune hunter; Agnez, an adventurous musketeer cadet; and Dorotea, an icon-maker and scholar of angelic magic. They are the key to her quest.

The four feel a strange kinship from the moment they meet, but do not know why, or suspect their importance. All become pawns in Liliath's grand scheme to fulfill her destiny and be united with the love of her life. No matter the cost to everyone else...
Fake by Donna Cooner (Scholastic)
From acclaimed author Donna Cooner comes this gripping and timely story about identity, revenge, and the lies -- and truths -- we tell online.
Maisie Fernandez is fed up. Fed up with the bullies who taunt her about her size and her looks. Fed up with being the butt of everyone's jokes.

So, one night, Maisie goes online and creates a fake profile. "Sienna" is beautiful, skinny, and confident -- and soon she's messaging the most popular kids in Maisie's school. Maisie doesn't care about being friends with them. She wants to use Sienna to take them down.

But as Maisie's web of deception grows, she's in danger of being exposed. And what will happen when the actual Sienna -- the girl whose photos Maisie has been using -- shows up in real life?
Cursed by Thomas Wheeler and Frank Miller (Simon and Schuster)
Whosoever wields the Sword of Power shall be the one true King.

But what if the Sword has chosen a Queen?

Nimue grew up an outcast. Her connection to dark magic made her something to be feared in her Druid village, and that made her desperate to leave…

That is, until her entire village is slaughtered by Red Paladins, and Nimue's fate is forever altered. Charged by her dying mother to reunite an ancient sword with a legendary sorcerer, Nimue is now her people's only hope. Her mission leaves little room for revenge, but the growing power within her can think of little else.

Nimue teams up with a charming mercenary named Arthur and refugee Fey Folk from across England. She wields a sword meant for the one true king, battling paladins and the armies of a corrupt king. She struggles to unite her people, avenge her family, and discover the truth about her destiny.

But perhaps the one thing that can change Destiny itself is found at the edge of a blade.
Crier's War by Nina Varela (HarperTeen)
From debut author Nina Varela comes the first book in an Own Voices, richly imagined epic fantasy duology about an impossible love between two girls—one human, one Made—whose romance could be the beginning of a revolution.

Perfect for fans of Marie Rutkoski's The Winner's Curse as well as Game of Thrones and Westworld.

After the War of Kinds ravaged the kingdom of Rabu, the Automae, designed to be the playthings of royals, usurped their owners' estates and bent the human race to their will.

Now Ayla, a human servant rising in the ranks at the House of the Sovereign, dreams of avenging her family's death…by killing the sovereign's daughter, Lady Crier.

Crier was Made to be beautiful, flawless, and to carry on her father's legacy. But that was before her betrothal to the enigmatic Scyre Kinok, before she discovered her father isn't the benevolent king she once admired, and most importantly, before she met Ayla.

Now, with growing human unrest across the land, pressures from a foreign queen, and an evil new leader on the rise, Crier and Ayla find there may be only one path to love: war.
Michigan Vs. The Boys by Carrie Allen (Kids Can Press)
Kate Egan at KCP Loft has bought Michigan vs. the Boys by debut author Carrie Allen. After her girls' ice hockey team is cut for budget reasons, Michigan tries out for the boys' team, and earns a place on the starting lineup. But when she shows up her teammates with her skills and her refusal to back down, hazing crosses the line into assault. Publication is planned for fall 2019; Kate Testerman at KT Literary brokered the deal for world rights.
Ten Blind Dates by Ashley Elston (Disney Hyperion)
Sophie wants one thing for Christmas-a little freedom from her overprotective parents. So when they decide to spend Christmas in South Louisiana with her very pregnant older sister, Sophie is looking forward to some much needed private (read: make-out) time with her long-term boyfriend, Griffin. Except it turns out that Griffin wants a little freedom from their relationship. Cue devastation.

Heartbroken, Sophie flees to her grandparents' house, where the rest of her boisterous extended family is gathered for the holiday. That's when her nonna devises a (not so) brilliant plan: Over the next ten days, Sophie will be set up on ten different blind dates by different family members. Like her sweet cousin Sara, who sets her up with a hot guy at an exclusive underground party. Or her crazy aunt Patrice, who signs Sophie up for a lead role in a living nativity. With a boy who barely reaches her shoulder. And a screaming baby.

When Griffin turns up unexpectedly and begs for a second chance, Sophie feels more confused than ever. Because maybe, just maybe, she's started to have feelings for someone else . . . Someone who is definitely not available.

This is going to be the worst Christmas break ever . . . or is it?
Ninth House by Leigh Bardugo (Random House) - not YA, but I know Leigh has a lot of YA fans, so I'm including here for completeness.
The mesmerizing adult debut from #1 New York Times bestselling author Leigh Bardugo

Galaxy "Alex" Stern is the most unlikely member of Yale's freshman class. Raised in the Los Angeles hinterlands by a hippie mom, Alex dropped out of school early and into a world of shady drug dealer boyfriends, dead-end jobs, and much, much worse. By age twenty, in fact, she is the sole survivor of a horrific, unsolved multiple homicide. Some might say she's thrown her life away. But at her hospital bed, Alex is offered a second chance: to attend one of the world's most elite universities on a full ride. What's the catch, and why her?

Still searching for answers to this herself, Alex arrives in New Haven tasked by her mysterious benefactors with monitoring the activities of Yale's secret societies. These eight windowless "tombs" are well-known to be haunts of the future rich and powerful, from high-ranking politicos to Wall Street and Hollywood's biggest players. But their occult activities are revealed to be more sinister and more extraordinary than any paranoid imagination might conceive.
Now Entering Addamsville by Francesca Zappia (Greenwillow Books)
Stranger Things meets Buffy the Vampire Slayer in this contemporary novel from the acclaimed author of Eliza and Her Monsters. When Zora Novak is framed for a crime she didn't commit, she must track down the true culprit and clear her name before it's too late. But in a small town obsessed with ghosts, getting people to believe the truth might prove to be impossible. Fans of Riverdale and Maureen Johnson's Truly Devious will devour this eerie murder mystery. Features spot art and a map by the author.

Zora Novak has been framed.

When someone burns down the home of the school janitor and he dies in the blaze, everyone in Addamsville, Indiana, points a finger at Zora. Never mind that Zora has been on the straight and narrow since her father was thrown in jail. With everyone looking for evidence against her, her only choice is to uncover the identity of the real killer. There's one big problem—Zora has no leads. No one does. Addamsville has a history of tragedy, and thirty years ago a similar string of fires left several townspeople dead. The arsonist was never caught.

Now, Zora must team up with her cousin Artemis—an annoying self-proclaimed Addamsville historian—to clear her name. But with a popular ghost-hunting television show riling up the townspeople, almost no support from her family and friends, and rumors spinning out of control, things aren't looking good. Zora will have to read between the lines of Addamsville's ghost stories before she becomes one herself.

Acclaimed author Francesca Zappia has a perfectly pitched teen voice that shines in this inventive novel. With a compelling cast of memorable characters, a vivid small-town setting, and elements of a classic whodunit, Now Entering Addamvsille is perfect for fans of Brittany Cavallaro, Victoria Schwab, and The Chilling Adventures of Sabrina.
Resurrection Girls by Ava Morgyn (Albert Whitman)
Olivia Foster hasn't felt alive since her little brother drowned in the backyard pool three years ago. Then Kara Hallas moves in across the street with her mother and grandmother, and Olivia is immediately drawn to these three generations of women. Kara is particularly intoxicating, so much so that Olivia not only comes to accept Kara's morbid habit of writing to men on death row, she helps her do it. They sign their letters as the Resurrection Girls.

But as Kara's friendship pulls Olivia out of the dark fog she's been living in, Olivia realizes that a different kind of darkness taints the otherwise lively Hallas women—an impulse that is strange, magical, and possibly deadly.
Rebel by Marie Lu (Roaring Brook Press)
Eden Wing is a brilliant student. He's about to graduate a year early from Ross University of the Sciences, with honors, and already has an internship lined up back in the Republic. But most people don't introduce Eden this way. Instead, they say, "This is Eden, Daniel Wing's younger brother."

Ten years ago, Eden's brother Daniel was known as Day, the boy from the streets who led a revolution that saved the Republic of America. His name was spray-painted on walls, his profile splashed on both rebel pamphlets and wanted posters. He went from being a hunted criminal to a national hero in less than a year.

Day has spent the past decade piecing together his memory of his time in the Republic, pretending to enjoy life in Antarctica's capital, Ross City , and quietly hiding out from the world—even if it's meant giving up June, the great love of his life. As long as he can keep his little brother safe, that's all that matters . . .

But Eden isn't safe. As the two brothers struggle to accept who they've each become, they grow more distant from one another than they've ever been. Eden finds himself drawn deeper and deeper into Ross City's dark side, until even his legendary brother can't save him. At least not on his own.

When June suddenly steps back into Day's life, rekindling the flames of their romance, the pair team up to do whatever it takes to rescue Eden. But like the rest of the world, they may have underestimated Eden—what he's capable of, where his loyalties lie, and how hard he's willing to fight for what he believes.

With unmatched suspense and her signature cinematic storytelling, #1 New York Times bestselling author Marie Lu plunges readers back into the unforgettable world of Legend—for the most thrilling adventure yet. A truly grand finale.
Thirteen Doorways, Wolves Behind Them All by Laura Ruby (HarperTeen)
From the author of Printz Medal winner Bone Gap comes the unforgettable story of two young women—one living, one dead—dealing with loss, desire, and the fragility of the American dream during WWII.

When Frankie's mother died and her father left her and her siblings at an orphanage in Chicago, it was supposed to be only temporary—just long enough for him to get back on his feet and be able to provide for them once again. That's why Frankie's not prepared for the day that he arrives for his weekend visit with a new woman on his arm and out-of-state train tickets in his pocket.

Now Frankie and her sister, Toni, are abandoned alongside so many other orphans—two young, unwanted women doing everything they can to survive.

And as the embers of the Great Depression are kindled into the fires of World War II, and the shadows of injustice, poverty, and death walk the streets in broad daylight, it will be up to Frankie to find something worth holding on to in the ruins of this shattered America—every minute of every day spent wondering if the life she's able to carve out will be enough.

I will admit I do not know the answer. But I will be watching, waiting to find out.

That's what ghosts do.
When You Ask Me Where I'm Going by Jasmin Kaur (HarperCollins)
Perfect for fans of Rupi Kaur and Elizabeth Acevedo, Jasmin Kaur's stunning debut novel is a collection of poetry, illustrations, and prose.

scream
so that one day
a hundred years from now
another sister will not have to
dry her tears wondering
where in history
she lost her voice

The six sections of the book explore what it means to be a young woman living in a world that doesn't always hear her and tell the story of Kiran as she flees a history of trauma and raises her daughter, Sahaara, while living undocumented in North America.

Delving into current cultural conversations including sexual assault, mental health, feminism, and immigration, this narrative of resilience, healing, empowerment, and love will galvanize readers to fight for what is right in their world.
The Good Luck Girls by Charlotte Nicole Davis (Tor Teen)
Westworld meets The Handmaid's Tale in this stunning fantasy adventure from debut author Charlotte Nicole Davis.

Aster, the protector
Violet, the favorite
Tansy, the medic
Mallow, the fighter
Clementine, the catalyst

THE GOOD LUCK GIRLS

The country of Arketta calls them Good Luck Girls—they know their luck is anything
but. Sold to a "welcome house" as children and branded with cursed markings. Trapped in a life they would never have chosen.

When Clementine accidentally murders a man, the girls risk a dangerous escape and harrowing journey to find freedom, justice, and revenge in a country that wants them to have none of those things. Pursued by Arketta's most vicious and powerful forces, both human and inhuman, their only hope lies in a bedtime story passed from one Good Luck Girl to another, a story that only the youngest or most desperate would ever believe.

It's going to take more than luck for them all to survive.
October 8th
The Beautiful by Renee Ahdieh (Penguin Teen)
In 1872, New Orleans is a city ruled by the dead. But to seventeen-year-old Celine Rousseau, New Orleans provides her a refuge after she's forced to flee her life as a dressmaker in Paris. Taken in by the sisters of the Ursuline convent along with six other girls, Celine quickly becomes enamored with the vibrant city from the music to the food to the soirées and--especially--to the danger. She soon becomes embroiled in the city's glitzy underworld, known as La Cour des Lions, after catching the eye of the group's leader, the enigmatic Sèbastien Saint Germain. When the body of one of the girls from the convent is found in the lair of La Cour des Lions, Celine battles her attraction to him and suspicions about Sèbastien's guilt along with the shame of her own horrible secret.

When more bodies are discovered, each crime more gruesome than the last, Celine and New Orleans become gripped by the terror of a serial killer on the loose--one Celine is sure has set her in his sights . . . and who may even be the young man who has stolen her heart. As the murders continue to go unsolved, Celine takes matters into her own hands and soon uncovers something even more shocking: an age-old feud from the darkest creatures of the underworld reveals a truth about Celine she always suspected simmered just beneath the surface.

At once a sultry romance and a thrilling murder mystery, master storyteller Renée Ahdieh embarks on her most potent fantasy series yet: The Beautiful. And these vampires don't sparkle. They slay.
The Grace Year by Kim Liggett (Wednesday Books)
No one speaks of the grace year. It's forbidden.

Girls are told they have the power to lure grown men from their beds, drive women mad with jealousy. They believe their very skin emits a powerful aphrodisiac, the potent essence of youth, of a girl on the edge of womanhood. That's why they're banished for their sixteenth year, to release their magic into the wild so they can return purified and ready for marriage. But not all of them will make it home alive.
Sixteen-year-old Tierney James dreams of a better life—a society that doesn't pit friend against friend or woman against woman, but as her own grace year draws near, she quickly realizes that it's not just the brutal elements they must fear. It's not even the poachers in the woods, men who are waiting for their chance to grab one of the girls in order to make their fortune on the black market. Their greatest threat may very well be each other.

With sharp prose and gritty realism, The Grace Year examines the complex and sometimes twisted relationships between girls, the women they eventually become, and the difficult decisions they make in-between.
A Kingdom for a Stage by Heidi Heilig (Greenwillow Books)
Jetta is a prisoner. A prisoner of the armee, a prisoner of fate, and a prisoner of her own madness. Held captive in Hell's Court—now the workshop of Theodora, the armee engineer and future queen of Chakrana—Jetta knows she needs to escape. But Theodora has the most tempting bait—a daily dose of a medication that treats Jetta's madness.

But the cost is high. In exchange, Jetta must use her power over dead spirits to trap their souls into flying machines—ones armed with enough firepower to destroy every village in Chakrana. And Theodora and her armee also control Le Trépas—a terrifying necromancer who once had all of Chakrana under his thumb, and Jetta's biological father. Jetta fears the more she uses her powers, the more she will be like Le Trépas—especially now that she has brought her brother, Akra, back from the dead.

Jetta knows Le Trépas can't be trusted. But when Akra teams up with Leo, the handsome smuggler who abandoned her, to pull off an incredible escape, they insist on bringing the necromancer along. The rebels are eager to use Le Trépas's and Jetta's combined magic against the invading colonists. Soon Jetta will face the choice between saving all of Chakrana or becoming like her father, and she isn't sure which she'll choose.

Acclaimed author Heidi Heilig creates a rich world inspired by Southeast Asian cultures and French colonialism. Her characters are equally complex and nuanced, including a bipolar heroine and biracial love interest. Told from Jetta's first-person point-of-view, as well as chapters written as play scripts, and ephemera such as songs, maps, and letters, A Kingdom for a Stage is a vivid, fast-paced journey that weaves magic, simmering romance, and the deep bonds of family with the high stakes of epic adventure. It will thrill fans of Stephanie Garber, Renée Ahdieh, and Sabaa Tahir.
Our Year in Love and Parties by Karen Hattrup (HarperTeen)
Four nights of the highest highs and the lowest lows. Three seconds to get lost in a good party. Two friends with the potential to be something more. One year that will change everything. Tucker knows that relationships take work. Some are easier than others though. With his best friend, Bobby, and his mom, everything is simple and consistent. His dad, on the other hand, who is sick, still treats him like a nine-year-old. Then Erika Green comes back into his life, stirring up old feelings. A small part of him knows he shouldn't get too attached during senior year. But a bigger part doesn't want her to disappear again.

Erika from before the video liked to shock people with her words and bright- pink hair. Lately, she's been holing herself up in small, liberal college life and hoping that the past will stay where it belongs—in a dumpster fire. But then she reconnected with Tucker Campanelli. With him, she doesn't have to pretend to be okay. And she can't deny the unexplainable connection between them. And though it's complicated, she really wants to hold onto that feeling for as long as possible.
I Know You Remember by Jennifer Donaldson (Razorbill)
Jennifer Donaldson is back with another twisted thriller perfect for fans of One of Us Is Lying and Gone Girl.

Zahra Gaines is missing.

After three long years away, Ruthie Hayden arrives in her hometown of Anchorage, Alaska to this devastating news. Zahra was Ruthie's best friend--the only person who ever really understood her--and she vows to do whatever it takes to find her.

Zahra vanished from a party just days before Ruthie's return, but the more people she talks to, the more she realizes that the Zahra she knew disappeared long before that fateful night. Gone is the whimsical, artistic girl who loved books and knew Ruthie's every secret. In her place is an athlete, a partier, a girl with secrets of her own. Darker still are the rumors that something happened to Zahra while Ruthie was gone, something that changed her forever...

As Ruthie desperately tries to piece together the truth, she falls deeper and deeper into her friend's new world, circling closer to a dangerous revelation about what Zahra experienced in the days before her disappearance--one that might be better off buried.

In her stunning follow-up to Lies You Never Told Me, Jennifer Donaldson once again delivers a propulsive thriller with a masterful twist, skillfully creating a world where nothing is quite as it seems.
The Athena Protocol by Shamim Sarif (HarperTeen)
Jessie Archer is an agent for the Athena Protocol, a vigilante all-female organization created to combat injustices around the world. Athena has strict policies to not kill, so when Jessie loses control on a mission, she's kicked off the team, right before they're supposed to take down a human trafficking kingpin in Belgrade. Desperate to prove herself, Jessie launches her own investigation—but going rogue means there's no one there to watch her back as she gets closer to the horrifying truth.
Cold As Marble by Zoe Aarsen (Simon Pulse)
McKenna's mission to save her friends from their predicted deaths continues in the second installment in the Light as a Feather series that's perfect for fans of Pretty Little Liars and The Chilling Adventures of Sabrina!

The deadly game continues…

Olivia and Candace are dead, both casualties of Violet's deadly game of Light as a Feather, Stiff as a Board. McKenna and Mischa are the only ones left, and having failed to locate and destroy the source of Violet's power, her curse still abounds, eager to claim more lives.

What does Violet want? And how can she be stopped? Armed with a mysterious package containing clues, as well as a little help from the beyond, McKenna hopes to end this once and for all…before it's too late.
Among the Fallen by Virginia Schwartz (Holiday House)
Sixteen-year-old Orpha is imprisoned for crimes she did not commit, and harboring a terrible secret about her abuser, but an unusual invitation from Charles Dickens to live in a home for fallen women offers hope.


From the infamous Tothill prison, Orpha is haunted by recurring flashbacks of sexual abuse, neglect, exploitation, and the horrors of a Victorian workhouse, but she refuses to be crushed. Her heartbreaking yet inspiring story tells of the resilience and courage needed to make a new life for herself against all odds with the support of the amazing women of Urania cottage and the help of famous author Charles Dickens.

Fans of Laurie Halse Anderson's Fever 1793, Margaret Atwood's Alias Grace, and Katherine Paterson's Lyddie will enjoy this riveting historical fiction title. Schwartz's powerful prose speaks to the terrible things Orpha has endured yet celebrates the emotional and intellectual powers of young women.
By Any Means Necessary by Candice Montgomery (Page Street)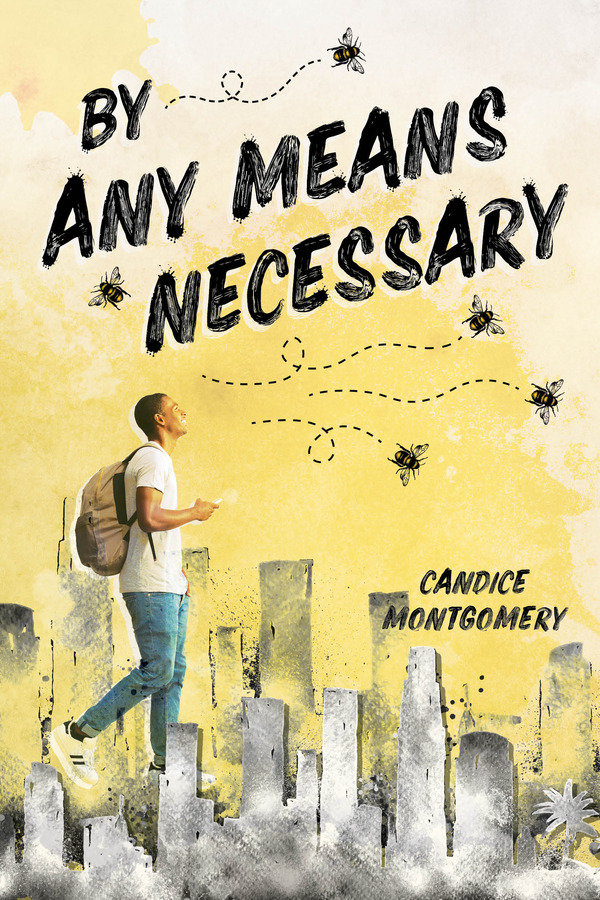 On the day Torrey officially becomes a college freshman, he gets a call that might force him to drop out before he's even made it through orientation: the bee farm his beloved uncle Miles left him after his tragic death is being foreclosed on.

Torrey would love nothing more than to leave behind the family and neighborhood that's bleeding him dry. But he still feels compelled to care for the project of his uncle's heart, even if it means being shackled to the people who are tearing him down.

As the farm heads for auction, Torrey precariously balances choosing a major and texting with Gabriel, the first boy he ever kissed, with the fight to stop his uncle's legacy from being demolished. But as notice letters pile up and lawyers appear at his dorm, dividing himself between family and future becomes impossible to navigate without sacrificing a part of himself.
Look Both Ways by Jason Renolds (Anthenum)
From National Book Award finalist and New York Times bestselling author Jason Reynolds comes a novel told in ten blocks, showing all they different directions a walk home can take.

This story was going to begin like all the best stories. With a school bus falling from the sky. But no one saw it happen. They were all too busy—

Talking about boogers.
Stealing pocket change.
Skateboarding.
Wiping out.
Braving up.
Executing complicated handshakes.
Planning an escape.
Making jokes.
Lotioning up.
Finding comfort.
But mostly, too busy walking home.

Jason Reynolds conjures ten tales (one per block) about what happens after the dismissal bell rings, and brilliantly weaves them into one wickedly funny, piercingly poignant look at the detours we face on the walk home, and in life.
The Burning Shadow by Jennifer L. Armentrout (Tor Teen)
When Evelyn Dasher crossed paths with Luc, she was thrown headfirst into the world of the Lux—only to discover that she was already far more involved in their world than she ever suspected.

Because the Luxen aren't the only ones with a hidden past. There's a gap in Evie's memory, lost months of her life and a lingering sense that something happened, something she can't remember and nobody is willing to tell her. She needs to find out the truth about who she is—and who she was. But every answer she finds only brings up more questions.

Her search for the truth brings her ever closer to Luc, the Origin at the center of it all. He's powerful, arrogant, inhumanly beautiful, extremely dangerous…and possibly in love with her. But even as Evie falls for him, she can't help but wonder if his attraction is to her, or to the memory of a girl who no longer exists.

And all the while, a new threat looms: reports of a flu-like, fatal virus that the government insists is being spread by Luxen. A horrifying illness that changes whoever it touches, spreading panic across a country already at its breaking point.


#1 New York Times, USA Today, and internationally bestselling author Jennifer L. Armentrout returns to the world of the Lux with this steamy, shocking second installment of the Origin series that will leave readers reeling.
Orpheus Girl by Brynne Rebele-Henry (Soho Teen)
Abandoned by a single mother she never knew, 16-year-old Raya—obsessed with ancient myths—lives with her grandmother in a conservative Texas town. For years Raya has hidden her true feelings for her best friend and true love, Sarah. When the two are caught in an intimate moment, they are sent to a re-education camp meant to "fix" them and make them heterosexual. Upon arrival Raya vows to assume the mythic role of Orpheus, to save them both and to return them to the world of the living, at any cost.

In a haunting voice reminiscent of Sylvia Plath, Orpheus Girl is as much epic poem as it is a novel—a story of first love, heartbreak, family dysfunction, and adolescent resilience set in a tragic underworld of death and imprisonment.
The Library of Lost Things by Laura Taylor Namey (Inkyard Press)
From the moment she first learned to read, literary genius Darcy Wells has spent most of her time living in the worlds of her books. There, she can avoid the crushing reality of her mother's hoarding, and pretend her life is simply ordinary. But when a new property manager becomes more active in the upkeep of their apartment complex, the only home Darcy has ever known outside of her books suddenly hangs in the balance.

While Darcy is struggling to survive beneath the weight of her mother's compulsive shopping, Asher Fleet, a former teen pilot with an unexpectedly shattered future, walks into the bookstore where she works…and straight into her heart. For the first time in her life, Darcy can't seem to find the right words. Fairy tales are one thing, but real love makes her want to hide inside her carefully constructed ink-and-paper bomb shelter.

Still, after spending her whole life keeping people out, something about Asher makes Darcy want to open up. But securing her own happily ever after will mean she'll need to stop hiding and start living her own truth—even if it's messy.
Into the Crooked Place by Alexandra Christo (Feiwel and Friends)
Into the Crooked Place begins a gritty two-book YA fantasy series from Alexandra Christo, the author of To Kill a Kingdom.

The streets of Creije are for the deadly and the dreamers, and four crooks in particular know just how much magic they need up their sleeve to survive.

Tavia, a busker ready to pack up her dark-magic wares and turn her back on Creije for good. She'll do anything to put her crimes behind her.

Wesley, the closest thing Creije has to a gangster. After growing up on streets hungry enough to swallow the weak whole, he won't stop until he has brought the entire realm to kneel before him.

Karam, a warrior who spends her days watching over the city's worst criminals and her nights in the fighting rings, making a deadly name for herself.

And Saxony, a resistance fighter hiding from the very people who destroyed her family, and willing to do whatever it takes to get her revenge.

Everything in their lives is going to plan, until Tavia makes a crucial mistake: she delivers a vial of dark magic--a weapon she didn't know she had--to someone she cares about, sparking the greatest conflict in decades. Now these four magical outsiders must come together to save their home and the world, before it's too late. But with enemies at all sides, they can trust nobody. Least of all each other.
Rogue Heart by Axie Oh (Tu Books)
Warcross meets Final Fantasy in this companion novel to Rebel Seoul, in which a young telepath joins a rebel group on a secret mission to end a decades-long world war.

Neo Beijing, 2201.

To escape the ghosts of her past, eighteen-year-old telepath Ama works by day in a bakery and cafe, and moonlights as a lounge singer in a smoky bar at night. She's anonymous, she's safe from the never-ending world war, and that's how she'd like to stay. But then a resistance group called PHNX recruits her to help save young girls from a government experiment exactly like the one she fled. Soon, Ama is traveling with the resistance on a series of dangerous missions, using her telepathic and telekinetic powers to infiltrate authoritarian Alliance operations and gain intelligence for the democratic resistance.

As they move closer and closer to the warfront, Ama hears about a brilliant new commander rising in the ranks of the Alliance, a young man rumored to have no fear of death. Her unit is assigned to dismantle his operation from the inside. But when Ama sees the commander for the first time, she discovers his identity: Alex Kim, the boy who once broke her heart.

The plan is for Ama to use her telepathic abilities to fool everyone and pose as an officer in Alex's elite guard. But as the final battle approaches, she struggles with her mission and her feelings for Alex. Will she be able to carry out her task? Or will she give up everything for Alex again--only to be betrayed once more?

Part heist novel, part love story, Rogue Heart will appeal to fans of Marie Lu's Warcross and Marissa Meyer's Renegades.
October 15th
Oasis by Katy de Becerra (Imprint)
The oasis saved them. But who will save them from the oasis?

Alif had exciting summer plans: working on her father's archaeological dig site in the desert with four close friends . . . and a very cute research assistant. Then the sandstorm hit.

With their camp wiped away, Alif and the others find themselves lost on the sands, seemingly doomed . . . until they find the oasis. It has everything they need: food, water, shade—and mysterious ruins that hide a deadly secret. As reality begins to shift around them, they question what's real and what's a mirage.

The answers turn Alif and her friends against one another, and they begin to wonder if they've truly been saved. And while it was easy to walk into the oasis, it may be impossible to leave . . .

Katya de Becerra's new supernatural thriller hides a mystery in plain sight, and will keep you guessing right up to its terrifying conclusion.
A secret beats inside Anna Thatcher's chest: An illegal clockwork heart. Anna works cog by cog -- donning the moniker Technician -- to supply black market medical technology to the sick and injured, against the Commissioner's tyrannical laws.

Nathaniel Fremont, the Commissioner's son, has never had to fear the law. Determined to earn his father's respect, Nathaniel sets out to capture the Technician. But the more he learns about the outlaw, the more he questions whether his father's elusive affection is worth chasing at all.

Their game of cat and mouse takes an abrupt turn when Eliza, a skilled assassin and spy, arrives. Her mission is to learn the Commissioner's secrets at any cost -- even if it means betraying her own heart.

When these uneasy allies discover the most dangerous secret of all, they must work together despite their differences and put an end to a deadly epidemic -- before the Commissioner ends them first.
War Girls by Tochi Onyebuchi (Razorbill)
Two sisters are torn apart by war and must fight their way back to each other in a futuristic, Black Panther-inspired Nigeria.

The year is 2172. Climate change and nuclear disasters have rendered much of earth unlivable. Only the lucky ones have escaped to space colonies in the sky.

In a war-torn Nigeria, battles are fought using flying, deadly mechs and soldiers are outfitted with bionic limbs and artificial organs meant to protect them from the harsh, radiation-heavy climate. Across the nation, as the years-long civil war wages on, survival becomes the only way of life.

Two sisters, Onyii and Ify, dream of more. Their lives have been marked by violence and political unrest. Still, they dream of peace, of hope, of a future together.

And they're willing to fight an entire war to get there.

Acclaimed author, Tochi Onyebuchi, has written an immersive, action-packed, deeply personal novel perfect for fans of Nnedi Okorafor, Marie Lu, and Paolo Bacigalupi.
Firebourne by Rosaria Munda (Putnam)
Seraphina meets Red Rising in a debut young adult fantasy that's full of rivalry, romance . . . and dragons.

The brutal revolution that overthrew the Dragonlords may have orphaned Annie and Lee, but it's brought new hope to their city. Now anyone--including the lowborn--can have wealth, an education, and even test into the governing class of dragonriders.

Aristocratic by birth and with his identity concealed, Lee's confidence and air of power have made him a rising star in the very regime that slaughtered his family. Annie, a former serf, is as bold a rider as they come--in the air. On the ground, she struggles with self-doubt.

Now, after seven years of friendship, Annie and Lee are rivals for the top position in the city's fleet. All the riders have been preparing to lead their people into the future, yet no one is ready when survivors from the Dragonlord families resurface with dragons of their own, bent on reclaiming the city.

With war looming and their relationship growing, Annie and Lee will both have to confront wavering loyalties. Lee will be forced to choose between killing the only family he has left, or betraying everything he's come to believe in, while Annie will have to decide whether to protect the boy she loves . . . or step up to be the champion her city needs.
The Never-Tilting World by Rin Chepueco (HarperTeen)
Frozen meets Mad Max in this epic teen fantasy duology bursting with star-crossed romance, immortal heroines, and elemental magic, perfect for fans of Furyborn.

Generations of twin goddesses have long ruled Aeon. But seventeen years ago, one sister's betrayal defied an ancient prophecy and split their world in two. The planet ceased to spin, and a Great Abyss now divides two realms: one cloaked in perpetual night, the other scorched by an unrelenting sun.

While one sister rules Aranth—a frozen city surrounded by a storm-wracked sea —her twin inhabits the sand-locked Golden City. Each goddess has raised a daughter, and each keeps her own secrets about her sister's betrayal.

But when shadowy forces begin to call their daughters, Odessa and Haidee, back to the site of the Breaking, the two young goddesses —along with a powerful healer from Aranth, and a mouthy desert scavenger —set out on separate journeys across treacherous wastelands, desperate to heal their broken world. No matter the sacrifice it demands.
Our Wayward Fate by Gloria Chao (Simon Pulse)
A teen outcast is simultaneously swept up in a whirlwind romance and down a rabbit hole of dark family secrets when another Taiwanese family moves to her small, predominantly white midwestern town in this remarkable new novel from the critically acclaimed author of American Panda, which The Wall Street Journal called "weepingly funny."

Seventeen-year-old Ali Chu knows that as the only Asian person at her school in middle-of-nowhere Indiana, she must be bland as white toast to survive. This means swapping her congee lunch for PB&Js, ignoring the clueless racism from her classmates and teachers, and keeping her mouth shut when people wrongly call her Allie instead of her actual name, Ah-lee, after the mountain in Taiwan.

Her autopilot existence is disrupted when she finds out that Chase Yu, the new kid in school, is also Taiwanese. Despite some initial resistance due to the they belong together whispers, Ali and Chase soon spark a chemistry rooted in competitive martial arts, joking in two languages, and, most importantly, pushing back against the discrimination they face.

But when Ali's mom finds out about the relationship, she forces Ali to end it. As Ali covertly digs into the why behind her mother's disapproval, she uncovers secrets about her family and Chase that force her to question everything she thought she knew about life, love, and her unknowable future.

Snippets of a love story from nineteenth-century China (a retelling of the Chinese folktale The Butterfly Lovers) are interspersed with Ali's narrative and intertwined with her fate.
Jackpot by Nic Stone (Crown Books)
From the author of the New York Times bestseller Dear Martin --which Angie Thomas, the bestselling author of The Hate U Give, called "a must read"--comes a pitch-perfect romance that examines class, privilege, and how a stroke of good luck can change an entire life.

Meet Rico: high school senior and afternoon-shift cashier at the Gas 'n' Go, who after school and work races home to take care of her younger brother. Every. Single. Day. When Rico sells a jackpot-winning lotto ticket, she thinks maybe her luck will finally change, but only if she--with some assistance from her popular and wildly rich classmate Zan--can find the ticket holder who hasn't claimed the prize. But what happens when have and have-nots collide? Will this investigative duo unite...or divide?

Nic Stone, the New York Times bestselling author of Dear Martin and Odd One Out, creates two unforgettable characters in one hard-hitting story about class, money--both too little and too much--and how you make your own luck in the world.
The People of the Lake by Nick Scorza (Sky Pony Press)
An enthralling, historically rich, small-town mystery in which a teen works with her deceased sister to solve an assumed murder.

Sixteen-year-old Clara Morris is facing an awkward summer with her father in the tiny upstate town of Redmarch Lake. Clara's relationship with her parents—and with life in general—has been strained since she lost her twin sister, Zoe, when the girls were eight. As a child, her sister had been her whole world—they even shared a secret invented twin language. Clara has managed to rebuild herself as best she can, but she still feels a hole in her life from the absence of her twin, and she suspects she always will.

She soon finds that Redmarch Lake, where her father's family has lived for generations, is a very unusual place. The townspeople live by odd rules and superstitions. The eerily calm lake the town is named for both fascinates and repels her. The town's young people are just as odd and unfriendly as their parents. Clara manages to befriend the one boy willing to talk to an outsider, but he disappears during a party in the woods.

The next day, he is found dead in the lake under mysterious circumstances. The townspeople all treat this as a tragic accident. Clara isn't buying it, but she doesn't know what to do until she receives a mysterious note hinting at murder—a note written in the language she shared with her twin sister, Zoe.
October 22nd
I Hope You Get This Message by Farah Rishi (HarperTeen)
Seven days. Seven days. The Earth might end in seven days.

When news stations start reporting that Earth has been contacted by a planet named Alma, the world is abuzz with rumors that the alien entity is giving mankind only few days to live before they hit the kill switch on civilization.

For high school truant Jesse Hewitt, though, nothing has ever felt permanent. Not the guys he hooks up with. Not the jobs his underpaid mom works so hard to hold down. Life has dealt him one bad blow after another — so what does it matter if it all ends now? Cate Collins, on the other hand, is desperate to use this time to find the father she's never met, the man she grew up hearing wild stories about, most of which she didn't believe. And then there's Adeem Khan. While coding and computer programming have always come easily to him, forgiveness doesn't. He can't seem to forgive his sister for leaving, even though it's his last chance.

With only seven days to face their truths and right their wrongs, Jesse, Cate, and Adeem's paths collide even as their worlds are pulled apart.
The Fountains of Silence by Ruta Sepetys (Philomel)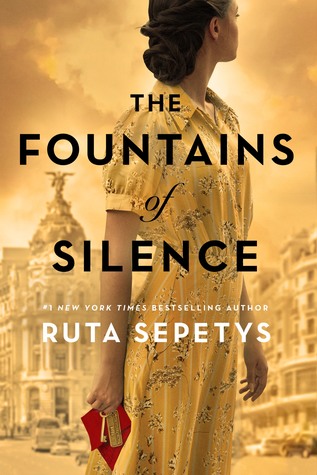 From the #1 New York Times bestselling author of Salt to the Sea and Between Shades of Gray comes a gripping, extraordinary portrait of love, silence, and secrets amidst a Spanish dictatorship.

Madrid, 1957. Under the fascist dictatorship of General Francisco Franco, Spain is hiding a dark secret. Meanwhile, tourists and foreign businessmen flood into Spain under the welcoming guise of sunshine and wine. Among them is eighteen-year-old Daniel Matheson, the son of a Texas oil tycoon, who arrives in Madrid with his parents hoping to connect with the country of his mother's birth through the lens of his camera. Photography--and fate--introduce him to Ana, whose family's interweaving obstacles reveal the lingering grasp of the Spanish Civil War--as well as chilling definitions of fortune and fear. Daniel's photographs leave him with uncomfortable questions amidst shadows of danger. He is backed into a corner of decisions to protect those he loves. Lives and hearts collide, revealing an incredibly dark side to the sunny Spanish city.

Master storyteller Ruta Sepetys once again shines light into one of history's darkest corners in this epic, heart-wrenching novel about identity, unforgettable love, repercussions of war, and the hidden violence of silence--inspired by the true post-war struggles of Spain.

Includes vintage media interstitials, oral history commentary, photos, and more.
Lifestyles of Gods and Monsters by Emily Roberson (FSG)
Sixteen-year-old Ariadne's whole life is curated and shared with the world. Her royal family's entertainment empire is beloved by the tabloids, all over social media, and the hottest thing on television. The biggest moneymaker? The Labyrinth Contest, a TV extravaganza in which Ariadne leads fourteen teens into a maze to kill a monster. To win means endless glory; to lose means death. In ten seasons, no one has ever won.

When the gorgeous, mysterious Theseus arrives at the competition and asks Ariadne to help him to victory, she doesn't expect to fall for him. He might be acting interested in her just to boost ratings. Their chemistry is undeniable, though, and she can help him survive. If he wins, the contest would end for good. But if she helps him, she doesn't just endanger her family's empire―the monster would have to die. And for Ariadne, his life might be the only one worth saving.

Ariadne's every move is watched by the public and predestined by the gods, so how can she find a way to forge her own destiny and save the people she loves?
October 29th
All The Things We Do in the Dark by Saundra Mitchell (HarperCollins)
There's no such thing as a secret.

SOMETHING happened to Ava. The curving scar on her face is proof. But Ava would rather keep that something hidden—buried deep in her heart and her soul.

She has her best friend Syd, and she has her tattoos—a colorful quilt, like a security blanket, over her whole body—and now, suddenly, she has Hailey. Beautiful, sweet Hailey, who seems to like Ava as much as she likes her. And Ava isn't letting anything get in the way of finally, finally seeking peace. But in the woods on the outskirts of town, the traces of someone else's secrets lie frozen, awaiting Ava's discovery—and what Ava finds threatens to topple the carefully-constructed wall of normalcy that she's spent years building. Secrets leave scars. But when the secret in question is not your own—do you ignore the truth and walk away? Or do you uncover it from its shallow grave, and let it reopen old wounds—wounds that have finally begun to heal?
Girls Like Us by Randi Pink (Fiewel and Friends)
Set in the summer of 1972, this moving YA historical novel is narrated by teen girls from different backgrounds with one thing in common: Each girl is dealing with pregnancy.
Four teenage girls. Four different stories. What they all have in common is that they're dealing with unplanned pregnancies.

In rural Georgia, Izella is wise beyond her years, but burdened with the responsibility of her older sister, Ola, who has found out she's pregnant. Their young neighbor, Missippi, is also pregnant, but doesn't fully understand the extent of her predicament. When her father sends her to Chicago to give birth, she meets the final narrator, Susan, who is white and the daughter of an anti-choice senator.

Randi Pink masterfully weaves four lives into a larger story – as timely as ever – about a woman's right to choose her future.
The Light at the Bottom of the World by London Shah (Disney Hyperion)
Hope had abandoned them to the wrath of all the waters.

At the end of the twenty-first century, the world has changed dramatically, but life continues one thousand feet below the ocean's surface. In Great Britain, sea creatures swim among the ruins of Big Ben and the Tower of London, and citizens waver between fear and hope; fear of what lurks in the abyss, and hope that humanity will soon discover a way to reclaim the planet.

Meanwhile, sixteen-year-old Leyla McQueen has her own problems to deal with. Her father's been arrested, accused of taking advantage of victims of the Seasickness—a debilitating malaise that consumes people, often claiming their lives. But Leyla knows he's innocent, and all she's interested in is getting him back so that their lives can return to normal.

When she's picked to race in the action-packed London Submersible Marathon, Leyla gets the chance to secure his freedom; the Prime Minister promises the champion whatever their heart desires. The race takes an unexpected turn, though, and presents her with an opportunity she never wanted: Leyla must venture outside of London for the first time in her life, to find and rescue her father herself.

Now, she'll have to brave the unfathomable waters and defy a corrupt government determined to keep its secrets, all the while dealing with a secretive, hotheaded companion she never asked for in the first place. As she discovers a world drowning in lies, how much longer can Leyla hold out hope for the truth? If she fails, or falls prey to her own fears, she risks capture—or worse. And her father might be lost forever.
Full Disclosure by Camryn Garrett (Knopf)
In a community that isn't always understanding, an HIV-positive teen must navigate fear, disclosure, and radical self-acceptance when she falls in love--and lust--for the first time. Powerful and uplifting, Full Disclosure will speak to fans of Angie Thomas and Nicola Yoon.

Simone Garcia-Hampton is starting over at a new school, and this time things will be different. She's making real friends, making a name for herself as student director of Rent, and making a play for Miles, the guy who makes her melt every time he walks into a room. The last thing she wants is for word to get out that she's HIV-positive, because last time . . . well, last time things got ugly.

Keeping her viral load under control is easy, but keeping her diagnosis under wraps is not so simple. As Simone and Miles start going out for real--shy kisses escalating into much more--she feels an uneasiness that goes beyond butterflies. She knows she has to tell him that she's positive, especially if sex is a possibility, but she's terrified of how he'll react! And then she finds an anonymous note in her locker: I know you have HIV. You have until Thanksgiving to stop hanging out with Miles. Or everyone else will know too.

Simone's first instinct is to protect her secret at all costs, but as she gains a deeper understanding of the prejudice and fear in her community, she begins to wonder if the only way to rise above is to face the haters head-on...
Beyond the Black Door by AdriAnne Strickland (Imprint)
Beyond the Black Door is a young adult dark fantasy about unlocking the mysteries around and within us―no matter the cost ...

Everyone has a soul. Some are beautiful gardens, others are frightening dungeons. Soulwalkers―like Kamai and her mother―can journey into other people's souls while they sleep.

But no matter where Kamai visits, she sees the black door. It follows her into every soul, and her mother has told her to never, ever open it.

When Kamai touches the door, it is warm and beating, like it has a pulse. When she puts her ear to it, she hears her own name whispered from the other side. And when tragedy strikes, Kamai does the unthinkable: she opens the door.

A.M. Strickland's imaginative dark fantasy features court intrigue and romance, a main character coming to terms with her asexuality, and twists and turns as a seductive mystery unfolds that endangers not just Kamai's own soul, but the entire kingdom ...
A River of Royal Blood by Amanda Saulsberry (Putnam)
An enthralling debut perfect for fans of Children of Blood and Bone set in a North African-inspired fantasy world where two sisters must fight to the death to win the crown.

Seventeen-year-old Eva is a princess, born with the magick of blood and bone--a dark and terrible magic that hasn't been seen in so long, the knowledge on how to wield its power has been lost to history. She wants nothing to do with the magick or with the Ivory Throne and heavy responsibility of leading her fractured country. But she has little choice. If she can't learn to harness the magick inside her by her nameday, she'll die at the hands of the Rival Heir. Her older sister Isadore, whose magick of light and persuasion is more glamorous but no less dangerous than Eva's, holds the hearts and alliances of the Court, and is widely favored to win the crown. Because in the Queendom of Myre, only the strongest, most ruthless rulers can ascend to the throne, and princesses kill for the right to do so.

When an assassin attacks Eva weeks before the competition is set to begin, she discovers there is more to the attempt on her life than meets the eye--and it isn't just her sister who wants to see her dead. Although humans have ruled Myre since the Great War, with fey holding only the illusion of power, bloodkin banned from noble society, and the despised khimaer forced to live in the Enclosures, unrest is growing, and someone is using the naming of the True Heir as a smokescreen for political gain.

As tensions escalate, alliances are tested and family secrets are revealed, and Eva turns to the help of an instructor of mythic proportions and a mysterious khimaer prince to grow her magick into something to fear. Because despite the love she still has for her sister and the childhood memories they share, Eva will have to choose: Isa's death, or her own; her freedom, or the Queendom.
Gravemaidens by Kelly Coone (Delacorte)
The Lugal is dying, and that is everything.

Because if he dies, Kammani's little sister, Nanaea, dies, too. She's been chosen as one of three Sacred Maidens who will be buried alive to serve the king in the afterlife.

It's an honor.

A sacred tradition.

And Nanaea is thrilled to have been chosen.

But Kammani, a 16-year-old healer's apprentice, who's been healing the sick with her father for the past ten years, recognizes the "honor" for what it really is: a death sentence. A trip across the river in the arms of the Boatman, the skeletal conduit between this life and the next.

And she cannot let her little sister go. That would be yet another failure in a family riddled with regret.

Her mission? Heal the Lugal in her father's stead, since he has gone missing. The problem? She is determined to right her past mistakes alone, but doesn't recognize that accepting the help of those who love her and being helpless are not the same thing at all.