February 4th
The Stars We Steal by Alexa Donne (HMH Teen)
Engagement season is in the air. Eighteen-year-old Princess Leonie "Leo" Kolburg, heir to a faded European spaceship, only has one thing on her mind: which lucky bachelor can save her family from financial ruin?

But when Leo's childhood friend and first love Elliot returns as the captain of a successful whiskey ship, everything changes. Elliot was the one that got away, the boy Leo's family deemed to be unsuitable for marriage. Now, he's the biggest catch of the season and he seems determined to make Leo's life miserable. But old habits die hard, and as Leo navigates the glittering balls of the Valg Season, she finds herself failing for her first love in a game of love, lies, and past regrets.

Fans of Katharine McGee and Kiera Cass will be dazzled by this world of lost love and royal intrigue.
Emilie des Marais is more at home holding scalpels than embroidery needles and is desperate to escape her noble roots to serve her country as a physician. But society dictates a noble lady cannot perform such gruesome work.
Annette Boucher, overlooked and overworked by her family, wants more from life than her humble beginnings and is desperate to be trained in magic. So when a strange noble girl offers Annette the chance of a lifetime, she accepts.
Emilie and Annette swap lives—Annette attends finishing school as a noble lady to be trained in the ways of divination, while Emilie enrolls to be a physician's assistant, using her natural magical talent to save lives.
But when their nation instigates a frivolous war, Emilie and Annette must work together to help the rebellion end a war that is based on lies.
Alice by Steven Sater (Razorbill)
A young girl takes refuge in a London Tube station during WWII and confronts grief, loss, and first love with the help of her favorite book, Alice in Wonderland, in the debut novel from Tony Award-winning playwright Steven Sater.

London, 1940. Amidst the rubble of the Blitz of World War II, fifteen-year-old Alice Spencer and her best friend, Alfred, are forced to take shelter in an underground tube station. Sick with tuberculosis, Alfred is quarantined, with doctors saying he won't make it through the night. In her desperation to keep him holding on, Alice turns to their favorite pastime: recalling the book that bonded them, and telling the story that she knows by heart–the story of Alice in Wonderland.

What follows is a stunning, fantastical journey that blends Alice's two worlds: her war-ravaged homeland being held together by nurses and soldiers and Winston Churchill, and her beloved Wonderland, a welcome distraction from the bombs and the death, but a place where one rule always applies: the pages must keep turning. But then the lines between these two worlds begin to blur. Is that a militant Red Cross Nurse demanding that Alice get BACK. TO. HER. BED!, or is it the infamous Queen of Hearts saying…something about her head? Soon, Alice must decide whether to stay in Wonderland forever, or embrace the pain of reality if that's what it means to grow up.

In this gorgeous YA adaption of his off-Broadway musical, the Tony Award-winning co-creator of Spring Awakening encourages us all to celebrate the transformational power of the imagination, even in the harshest of times.
What Kind of Girl by Alyssa Sheinmel (Sourcebooks Fire)
Girl In Pieces meets Moxie in this unflinching exploration of the many forms of abuse society inflicts upon women, and the strength it takes to rise above it all to claim your worth.
The girls at North Bay Academy are taking sides. It all started when Mike Parker's girlfriend showed up with a bruise on her face. Or, more specifically, when she walked into the principal's office and said Mike hit her. But the students have questions. Why did she go to the principal and not the polcie? Why did she stay so long if he was hurting her? Obviously, if it's true, Mike should be expelled. But is it true?
Some girls want to rally for his expulsion—and some want to rally around Mike. The only thing that the entire student body can agree on? Someone is lying. And the truth has to come out.
The King of Crows by Libba Bray (Little, Brown)
The breath-taking finale to the epic New York Times bestseller, The Diviners, from Printz winner and beloved author, Libba Bray.

After the horrifying explosion that claimed one of their own, the Diviners find themselves wanted by the US government, and on the brink of war with the King of Crows.

While Memphis and Isaiah run for their lives from the mysterious Shadow Men, Isaiah receives a startling vision of a girl, Sarah Beth Olson, who could shift the balance in their struggle for peace. Sarah Beth says she knows how to stop the King of Crows-but, she will need the Diviners' help to do it.

Elsewhere, Jericho has returned after his escape from Jake Marlowe's estate, where he has learned the shocking truth behind the King of Crow's plans. Now, the Diviners must travel to Bountiful, Nebraska, in hopes of joining forces with Sarah Beth and to stop the King of Crows and his army of the dead forever.

But as rumors of towns becoming ghost towns and the dead developing unprecedented powers begin to surface, all hope seems to be lost.

In this sweeping finale, The Diviners will be forced to confront their greatest fears and learn to rely on one another if they hope to save the nation, and world from catastrophe...
Cracked Up to Be by Courtney Summers (Wednesday Books) - Reprint Edition
When "Perfect" Parker Fadley starts drinking at school and failing her classes, all of St. Peter's High goes on alert. How has the cheerleading captain, girlfriend of the most popular guy in school, consummate teacher's pet, and future valedictorian fallen so far from grace?

Parker doesn't want to talk about it. She'd just like to be left alone, to disappear, to be ignored. But her parents have placed her on suicide watch and her conselors are demanding the truth. Worse, there's a nice guy falling in love with her and he's making her feel things again when she'd really rather not be feeling anything at all.

Nobody would have guessed she'd turn out like this. But nobody knows the truth.

Something horrible has happened, and it just might be her fault.
The Gravity of Us by Phil Stamper (Bloomsbury)
As a successful social media journalist with half a million followers, seventeen-year-old Cal is used to sharing his life online. But when his pilot father is selected for a highly publicized NASA mission to Mars, Cal and his family relocate from Brooklyn to Houston and are thrust into a media circus.

Amidst the chaos, Cal meets sensitive and mysterious Leon, another "Astrokid," and finds himself falling head over heels—fast. As the frenzy around the mission grows, so does their connection. But when secrets about the program are uncovered, Cal must find a way to reveal the truth without hurting the people who have become most important to him.

Expertly capturing the thrill of first love and the self-doubt all teens feel, debut author Phil Stamper is a new talent to watch.
What I Want You To See by Catherine Linka (Disney Hyperion)
Winning a scholarship to California's most prestigious art school seems like a fairy tale ending to Sabine Reye's awful senior year. After losing both her mother and her home, Sabine longs for a place where she belongs.

But the cutthroat world of visual arts is nothing like what Sabine had imagined. Colin Krell, the renowned faculty member whom she had hoped would mentor her, seems to take merciless delight in tearing down her best work—and warns her that she'll lose the merit-based award if she doesn't improve.

Desperate and humiliated, Sabine doesn't know where to turn. Then she meets Adam, a grad student who understands better than anyone the pressures of art school. He even helps Sabine get insight on Krell by showing her the modern master's work in progress, a portrait that's sold for a million dollars sight unseen.

Sabine is enthralled by the portrait; within those swirling, colorful layers of paint is the key to winning her inscrutable teacher's approval. Krell did advise her to improve her craft by copying a painting she connects with . . . but what would he think of Sabine secretly painting her own version of his masterpiece? And what should she do when she accidentally becomes party to a crime so well -plotted that no one knows about it but her?

Complex and utterly original, What I Want You to See is a gripping tale of deception, attraction, and moral ambiguity.
The Queen's Assassin by Melissa de la Cruz (Putnam)
Perfect for fans of Sarah J. Maas and Red Queen, this is the first novel in a sweeping YA fantasy-romance duet about a deadly assassin, his mysterious apprentice, and the country they are sworn to protect from #1 NYT bestselling author Melissa de la Cruz.

Caledon Holt is the Kingdom of Renovia's deadliest weapon. No one alive can best him in brawn or brains, which is why he's the Guild's most dangerous member and the Queen's one and only assassin. He's also bound to the Queen by an impossible vow--to find the missing Deian Scrolls, the fount of all magical history and knowledge, stolen years ago by a nefarious sect called the Aphrasians.

Shadow has been training all her life to follow in the footsteps of her mother and aunts--to become skilled enough to join the ranks of the Guild. Though magic has been forbidden since the Aphrasian uprising, Shadow has been learning to control her powers in secret, hoping that one day she'll become an assassin as feared and revered as Caledon Holt.

When a surprise attack brings Shadow and Cal together, they're forced to team up as assassin and apprentice to hunt down a new sinister threat to Renovia. But as Cal and Shadow grow closer, they'll uncover a shocking web of lies and secrets that may destroy everything they hold dear. With war on the horizon and true love at risk, they'll stop at nothing to protect each other and their kingdom in this stunning first novel in the Queen's Secret series.
The Empire of Dreams by Rae Carson (Greenwillow Books)
New York Times-bestselling author Rae Carson makes a triumphant return to the world of her award-winning Girl of Fire and Thorns trilogy in this extraordinary stand-alone novel. With action, adventure, and a heroine set on destroying the patriarchal limits meant to keep her in her place, The Empire of Dreams once again proves that Rae Carson is a master of epic fantasy.

Even though Red Sparkle Stone is a foundling orphan with an odd name and a veiled past, she's about to be adopted into the royal family—by Empress Elisa herself. Sixteen-year-old Red can hardly believe her luck. Then, in a stunning political masterstroke, the empress's greatest rival blocks the adoption, and Red is left with no family and no future.

Grieving and lost, but determined to find her place, Red hatches a daring plan: she will prove herself as a recruit for the world's most elite fighting force, the legendary Royal Guard—something no woman has done before. But it's no coincidence that someone wanted her to fail as a princess, someone whose shadowy agenda puts everything she loves at risk. As danger closes in, it will be up to Red and her new friends—and maybe some new enemies—to save the empire. If they can survive recruitment year.
All The Stars and Teeth by Adalyn Grace (Imprint)
Set in a kingdom where danger lurks beneath the sea, mermaids seek vengeance with song, and magic is a choice, Adalyn Grace's All the Stars and Teeth is a thrilling fantasy for fans of Stephanie Garber's Caraval and Sarah J. Maas's Throne of Glass series.

She will reign.

As princess of the island kingdom Visidia, Amora Montara has spent her entire life training to be High Animancer—the master of souls. The rest of the realm can choose their magic, but for Amora, it's never been a choice. To secure her place as heir to the throne, she must prove her mastery of the monarchy's dangerous soul magic.

When her demonstration goes awry, Amora is forced to flee. She strikes a deal with Bastian, a mysterious pirate: he'll help her prove she's fit to rule, if she'll help him reclaim his stolen magic.

But sailing the kingdom holds more wonder—and more peril—than Amora anticipated. A destructive new magic is on the rise, and if Amora is to conquer it, she'll need to face legendary monsters, cross paths with vengeful mermaids, and deal with a stow-away she never expected… or risk the fate of Visidia and lose the crown forever.

I am the right choice. The only choice. And I will protect my kingdom.
Ember Queen by Laura Sebastian (Delacorte)
The thrilling conclusion to the series that began with the instant New York Times bestseller "made for fans of Victoria Aveyard and Sabaa Tahir" (Bustle), Ember Queen is an epic fantasy about a throne cruelly stolen and a girl who must fight to take it back for her people.

Princess Theodosia was a prisoner in her own country for a decade. Renamed the Ash Princess, she endured relentless abuse and ridicule from the Kaiser and his court. But though she wore a crown of ashes, there is fire in Theo's blood. As the rightful heir to the Astrean crown, it runs in her veins. And if she learned nothing else from her mother, she learned that a Queen never cowers.

Now free, with a misfit army of rebels to back her, Theo must liberate her enslaved people and face a terrifying new enemy: the new Kaiserin. Imbued with a magic no one understands, the Kaiserin is determined to burn down anyone and everything in her way.

The Kaiserin's strange power is growing stronger, and with Prinz Søren as her hostage, there is more at stake than ever. Theo must learn to embrace her own power if she has any hope of standing against the girl she once called her heart's sister.
A Good Girl's Guide to Murder by Holly Jackson (Delacorte)
For readers of Kara Thomas and Karen McManus, an addictive, twisty crime thriller with shades of Serial and Making a Murderer about a closed local murder case that doesn't add up, and a girl who's determined to find the real killer--but not everyone wants her meddling in the past.

Everyone in Fairview knows the story.

Pretty and popular high school senior Andie Bell was murdered by her boyfriend, Sal Singh, who then killed himself. It was all anyone could talk about. And five years later, Pip sees how the tragedy still haunts her town.

But she can't shake the feeling that there was more to what happened that day. She knew Sal when she was a child, and he was always so kind to her. How could he possibly have been a killer?

Now a senior herself, Pip decides to reexamine the closed case for her final project, at first just to cast doubt on the original investigation. But soon she discovers a trail of dark secrets that might actually prove Sal innocent . . . and the line between past and present begins to blur. Someone in Fairview doesn't want Pip digging around for answers, and now her own life might be in danger.

This is the story of an investigation turned obsession, full of twists and turns and with an ending you'll never expect.
Of Kisses and Curses by Sandhya Menon (Simon Pulse)
Will the princess save the beast?

For Princess Jaya Rao, nothing is more important than family. When the loathsome Emerson clan steps up their centuries-old feud to target Jaya's little sister, nothing will keep Jaya from exacting her revenge. Then Jaya finds out she'll be attending the same elite boarding school as Grey Emerson, and it feels like the opportunity of a lifetime. She knows what she must do: Make Grey fall in love with her and break his heart. But much to Jaya's annoyance, Grey's brooding demeanor and lupine blue eyes have drawn her in. There's simply no way she and her sworn enemy could find their fairy-tale ending… Right?

His Lordship Grey Emerson is a misanthrope. Thanks to an ancient curse by a Rao matriarch, Grey knows he's doomed once he turns eighteen. Sequestered away in the mountains at St. Rosetta's International Academy, he's lived an isolated existence—until Jaya Rao bursts into his life. Sparkling and elegant, Jaya's unlike anyone Grey has ever met. Still, he can't shake the feeling that she's hiding something. Something that might just have to do with the rose-shaped ruby pendant around her neck…

As the stars conspire to keep them apart, Jaya and Grey grapple with questions of love, loyalty, and whether it's possible to write your own happy ending.
Yes No Maybe So by Becky Albertalli and Aisha Saeed (Balzer + Bray)
New York Times
bestselling authors Becky Albertalli and Aisha Saeed have crafted a resonant, funny, and memorable story about the power of love and resistance.

Jamie Goldberg is cool with volunteering for his local state senate candidate—as long as he's behind the scenes. When it comes to speaking to strangers (or, let's face it, speaking at all to almost anyone), Jamie's a choke artist. There's no way he'd ever knock on doors to ask people for their votes…until he meets Maya.

Maya Rehman's having the worst Ramadan ever. Her best friend is too busy to hang out, her summer trip is canceled, and now her parents are separating. Why her mother thinks the solution to her problems is political canvassing—with some awkward dude she hardly knows—is beyond her.

Going door to door isn't exactly glamorous, but maybe it's not the worst thing in the world. After all, the polls are getting closer—and so are Maya and Jamie. Mastering local activism is one thing. Navigating the cross-cultural romance of the century is another thing entirely.
Deathless Divide by Justina Ireland (Balzer + Bray)
After the fall of Summerland, Jane McKeene hoped her life would get simpler: Get out of town, stay alive, and head west to California to find her mother. But nothing is easy when you're a girl trained in putting down the restless dead, and a devastating loss on the road to a protected village called Nicodemus has Jane questioning everything she thought she knew about surviving in 1880s America.

What's more, this safe haven is not what it appears—as Jane discovers when she sees familiar faces from Summerland amid this new society. Caught between mysteries and lies, the undead, and her own inner demons, Jane soon finds herself on a dark path of blood and violence that threatens to consume her.

But she won't be in it alone.

Katherine Deveraux never expected to be allied with Jane McKeene. But after the hell she has endured, she knows friends are hard to come by—and that Jane needs her too, whether Jane wants to admit it or not. Watching Jane's back, however, is more than she bargained for, and when they both reach a breaking point, it's up to Katherine to keep hope alive —even as she begins to fear that there is no happily-ever-after for girls like her.
Scammed by Kristen Simmons (Tor Teen)
Brynn Hilder is living a life she never dreamed possible: She lives in a mansion, getting a top-rate education at Vale Hall. She has friends and an almost-boyfriend. Anything she wants, she can have.

The only catch? To stay in this life, she has to help the director of Vale Hall take down the bad guys of Sikawa City by collecting secrets and running cons.

Getting everything she wants and fighting evil doesn't seem like such a bad deal. The thing is, she's not so convinced anymore that Dr. Odin is really going after bad people after all. And the friends and almost-boyfriend that have made her life so different are all liars and con artists—so can she trust that any of it is real?

The stakes are higher. The cons are riskier. And nothing is what you think it is

.
February 11th
Ink in the Blood by Kim Smejkal (HMH
)
Two friends escape from a religious temple that they believe serves a false god, only to discover the god is quite real and bent on revenge, in this dark fantasy that weaves layers of religion and faith, tattoo magic, artist-anarchists, and eccentric theater.

If sixteen-year-old Celia Sand wasn't an expert liar, she would have been outed as a heretic and buried long ago. As an inkling, Celia must tattoo Divine decrees onto the skin of Illinian citizens. A noble calling, if you buy into that horseshit.

Celia's opportunity to escape the temple (with her heart still beating) rolls in with the Rabble Mob, a roving caravan of theater performers. But when Celia and her best friend, Anya, earn a spot in the troupe, someone stows away with them: Diavala, the higher power they never believed in.

To avoid a Rabble Mob-sized addition to the temple cemetery, Celia and Anya must out-trick the slickest trickster of them all. Diavala is immortal and commands a nationwide cult of personality; their only weapons are ink and lies.

But now they have a stage.
This Train Is Being Held by Ismee Amiel Williams (Amulet)
When private school student Isabelle Warren first meets Dominican-American Alex Rosario on the downtown 1 train, she remembers his green eyes and his gentlemanly behavior. He remembers her untroubled happiness, something he feels all rich kids must possess. That, and her long dancer legs. Over the course of multiple subway encounters spanning the next three years, Isabelle learns of Alex's struggle with his father, who is hell-bent on Alex being a contender for the major leagues, despite Alex's desire to go to college and become a poet. Alex learns about Isabelle's unstable mother, a woman with a prejudice against Latino men. But fate—and the 1 train—throw them together when Isabelle needs Alex most. Heartfelt and evocative, this romantic drama will appeal to readers of Jenny Han and Sarah Dessen.
The New David Espinoza by Fred Aceves (HarperTeen)
David Espinoza is tired of being messed with. When a video of him getting knocked down by a bully's slap goes viral at the end of junior year, David makes a vow to use the summer to bulk up—what he thinks it takes to become a man—and wow everyone when school starts back up in the fall.

David starts to spend all his time at Iron Life, a nearby gym that's full of bodybuilders. Frustrated with his slow progress at first, his life eventually becomes all about his muscle gains. As it says on the Iron Life wall, what does not kill me makes me stronger. As David falls into the dark side of the bodybuilding world, pursuing his ideal body at all costs, he'll have to grapple with the fact that it could actually cost him everything.

What doesn't kill you makes you stronger, right?

Is it worth it?
Turtle Under Ice by Julia De Rosario (Simon Pulse)
A teen navigates questions of grief, identity, and guilt in the wake of her sister's mysterious disappearance in this breathtaking novel-in-verse from the author of 500 Words or Less—perfect for fans of Elizabeth Acevedo.

Rowena feels like her family is a frayed string of lights that someone needs to fix with electrical tape. After her mother died a few years ago, she and her sister, Ariana, drifted into their own corners of the world, each figuring out in their own separate ways how to exist in a world in which their mother is no longer alive.

But then Ariana disappears under the cover of night in the middle of a snowstorm, leaving no trace or tracks. When Row wakes up to a world of snow and her sister's empty bedroom, she is left to piece together the mystery behind where Ariana went and why, realizing along the way that she might be part of the reason Ariana is gone.

Haunting and evocative—and told in dual perspectives—Turtle Under Ice examines two sisters frozen by grief as they search for a way to unthaw.
No True Believers by Rabiah York Lumbard (Crown)
Fans of the riveting mystery in Courtney Summers's Sadie and the themes of race and religion in Samira Ahmed's Internment will be captivated by this exploration of the intersection of Islamaphobia and white supremacy as an American Muslim teen is forced to confront hatred and hidden danger when she is framed for a terrorist act she did not commit.

Salma Bakkioui has always loved living in her suburban cul-de-sac, with her best friend Mariam next door, and her boyfriend Amir nearby. Then things start to change. Friends start to distance themselves. Mariam's family moves when her father's patients no longer want a Muslim chiropractor. Even trusted teachers look the other way when hostile students threaten Salma at school.

After a terrorist bombing nearby, Islamaphobia tightens its grip around Salma and her family. Shockingly, she and Amir find themselves with few allies as they come under suspicion for the bombing. As Salma starts to investigate who is framing them, she uncovers a deadly secret conspiracy with suspicious ties to her new neighbors--but no one believes her. Salma must use her coding talent, wits, and faith to expose the truth and protect the only home she's ever known--before it's too late.
In the Shadow of the Sun by E. M. Castellson (Feiwel and Friends)
It's 1661 in Paris, and magicians thrill nobles with enchanting illusions. Exiled in France, 17-year-old Henriette of England wishes she could use her magic to gain entry at court. Instead, her plan is to hide her magical talents, and accept an arranged marriage to the French king's younger brother.

Henriette soon realizes her fiancé prefers the company of young men to hers, and court magicians turn up killed by a mysterious sorcerer who uses forbidden magic. When an accident forces Henriette to reveal her uniquely powerful gift for enchantments to Louis, he asks for her help: she alone can defeat the dark magician threatening his authority and aid his own plans to build the new, enchanted seat of his power - the Palace of Versailles.
Together We Caught Fire by Eva Gibson (Simon Pulse)
What happens when the boy you want most becomes the one person you can't have?

Lane Jamison's life is turned upside down the week before her senior year when her father introduces her to his new fiancée: mother of Grey McIntyre, Lane's secret, longtime crush. Now with Grey living in Lane's house, there's only a thin wall separating their rooms, making it harder and harder to deny their growing mutual attraction—an attraction made all the more forbidden by Grey's long-term girlfriend Sadie Hall, who also happens to be Lane's friend

Torn between her feelings for Grey and her friendship with Sadie—not to mention her desire to keep the peace at home—Lane befriends Sadie's older brother, Connor, the black sheep of the strict, evangelical Hall family. Connor, a metal working artist who is all sharp edges, challenges Lane in ways no one else ever has. As the two become closer and start to open up about the traumas in their respective pasts, Lane begins to question her conviction that Connor is just a distraction.

Tensions come to a head after a tragic incident at a party, forcing Lane to untangle her feelings for both boys and face the truth of what—and who—she wants, in this gripping and stunningly romantic debut novel.
Honor Lost by Rachel Caine and Ann Aguirre (Katherine Tegan Books)
Space renegade Zara Cole may have finally met her match. Lifekiller—a creature that can devour entire planets—is spreading terror throughout the universe, and it seems nothing can stand in the monstrous godking's way.

Reeling from a series of battles, Zara and her wounded band of allies are going to need a strategy before they face Lifekiller again. Zara's street smarts may not be enough when their enemy could be anywhere, destroying civilizations and picking his teeth with the bones.

And just when it feels like she's reached a special place in her bond with Bea and Nadim, an ex from Earth with an ax to grind comes after her with nefarious intentions. With human enemies, alien creatures, and mechanical stalkers on her tail, it's down to the wire for Zara to save the galaxy—and the people she calls home—before the godking consumes them all.
If Only You Know by Prerna Pickett (Swoon Reads)
Corey has just been released from jail, and all he wants is a new beginning. But when his former gang comes knocking, Corey agrees to vandalize the home of Kent Hopper, the prosecutor who put him away.

To erase the guilt she carries from getting away with a crime, Tessa spends most of her nights riding her motorcycle. When she catches Corey destroying her father's car, she doesn't see a criminal: She sees a way to finally right her own wrongs. So instead of turning Corey over to the police, she convinces her father to give Corey a second chance.

As Tessa and Corey spend more time with each other, it becomes difficult to ignore the pull between them. But they're both keeping secrets, and when those secrets come to light, they'll each have to face their demons in order to have a future together.
Heart of Flames by Nicki Pau Preto (Simon Pulse)
Veronyka, Tristan, and Sev must stop the advancing empire from destroying the Phoenix Riders in this fiery sequel to Crown of Feathers, which #1 New York Times bestselling author Kendare Blake calls "absolutely unforgettable!"

You are a daughter of queens.

The world is balanced on the edge of a knife, and war is almost certain between the empire and the Phoenix Riders.

Like Nefyra before you, your life will be a trial by fire.

Veronyka finally got her wish to join the Riders, but while she's supposed to be in training, all she really wants to do is fly out to defend the villages of Pyra from the advancing empire. Tristan has been promoted to Master Rider, but he has very different ideas about the best way to protect their people than his father, the commander. Sev has been sent to spy on the empire, but maintaining his cover may force him to fight on the wrong side of the war. And Veronyka's sister, Val, is determined to regain the empire she lost—even if it means inciting the war herself.

Such is your inheritance. A name. A legacy. An empire in ruin.

As tensions reach a boiling point, the characters all find themselves drawn together into a fight that will shape the course of the empire—and determine the future of the Phoenix Riders. Each must decide how far they're willing to go—and what they're willing to lose in the process.

I pray you are able to pass through the flames.
Storm From the East by Joanna Hathaway (Tor Teen)
Led by Athan's father, the revolutionary Safire have launched a secret assault upon the last royal kingdom in the South, hoping to depose the king and seize a powerful foothold on the continent. Athan proves a star pilot among their ranks, struggling to justify the violence his family has unleashed as he fights his way to the capital—where, unbeknownst to him, Aurelia has lived since the war's onset. Determined to save the kingdom Athan has been ordered to destroy, she partners with a local journalist to inflame anti-Safire sentiment, all while learning this conflict might be far darker and more complex than she ever imagined.
When the two reunite at last, Athan longing to shake the nightmare of combat and Aurelia reeling from the discovery of a long-buried family truth come to light, they'll find the shadow of war stretches well beyond the battlefield. Each of them longs to rekindle the love they once shared . . . but each has a secret they're desperate to hide.
A Love Hate Thing by Whitney D. Grandison (Inkyard Press)
While they're stuck under one roof, the house may not be big enough for their hate…or their love

When Tyson Trice finds himself tossed into the affluent coastal community of Pacific Hills, he's ready for the questions, the stares, and the total feeling of not belonging in the posh suburb. Not that he cares. After recovering from being shot and surviving the mean streets of Lindenwood, he doesn't care about anyone or anything. He doesn't even care how the rest of his life will play out.

In Pacific Hills, image is everything. Something that, as the resident golden girl, Nandy Smith knows all too well. She's spent most of her life building the pristine image that it takes to fit in. After learning that her parents are taking in a former childhood friend to live with them, Nandy fears her summer plans, as well as her reputation, will go up in flames. It's the start of summer vacation and the last thing Nandy needs is some juvenile delinquent from the 'Wood crashing into her world.

Stuck together in close quarters with months of vacation stretching ahead, Trice and Nandy are in for some long summer nights. Only, with the ever-present pull back to the Lindenwood streets, it'll be a wonder if Trice makes it through this summer at all.
The Last Confessions of Autumn Casterly by Meredith Tate (Putnam)
If I Stay meets One of
Us is Lying in this gripping contemporary thriller.

When band-geek Ivy and her friends get together, things start with a rousing board game and end with arguments about Star Wars.

Her older sister Autumn is a different story. Enigmatic, aloof, and tough as nails, Autumn hasn't had real friends--or trusted anyone--in years. Even Ivy.

But Autumn might not be tough enough. After a drug deal gone wrong, Autumn is beaten, bound, and held hostage. Now, trapped between life and death, she leaves her body, seeking help. No one can sense her presence--except her sister.

When Autumn doesn't come home, Ivy just knows she's in trouble. Unable to escape the chilling feeling that something isn't right, Ivy follows a string of clues that bring her closer to rescuing her sister... and closer to danger.

Autumn needs Ivy to find her before time runs out. But soon, both sisters realize that finding her also means untangling the secrets that lead to the truth--about where they're hiding Autumn, and what Autumn has been hiding.
Sensational by Jodie Lynn Zdrock (Tor Teen)
The 1889 Exposition Universelle in Paris is full of innovations, cultural displays, and inventions. Millions of visitors attend over the course of several months...so no one would notice if a few were missing, right? Maybe--but someone is celebrating the 100th anniversary of the guillotine with a display of their own: beheaded victims in some of the Exposition's most popular exhibits.

Nathalie Baudin's ability to see murder scenes should help, but she's suffering the effects of her magic more than ever before. Fortunately she has other Insightfuls to team up with--if they can be trusted.
Night Spinner by Addie Thorley (Page Street)
A must-read for fans of Leigh Bardugo's Grishaverse, transforming The Hunchback of Notre Dame into a powerful tundra-inspired epic.

Before the massacre at Nariin, Enebish was one of the greatest warriors in the Sky King's Imperial Army: a rare and dangerous Night Spinner, blessed with the ability to control the threads of darkness. Now, she is known as Enebish the Destroyer―a monster and murderer, banished to a monastery for losing control of her power and annihilating a merchant caravan.

Guilt stricken and scarred, Enebish tries to be grateful for her sanctuary, until her adoptive sister, Imperial Army commander Ghoa, returns from the war front with a tantalizing offer. If Enebish can capture the notorious criminal, Temujin, whose band of rebels has been seizing army supply wagons, not only will her crimes be pardoned, she will be reinstated as a warrior.

Enebish eagerly accepts. But as she hunts Temujin across the tundra, she discovers the tides of war have shifted, and the supplies he's stealing are the only thing keeping thousands of shepherds from starving. Torn between duty and conscience, Enebish must decide whether to put her trust in the charismatic rebel or her beloved sister. No matter who she chooses, an even greater enemy is advancing, ready to bring the empire to its knees. thousands of shepherds from starving. Torn between duty and conscience, Enebish must decide whether to put her trust in the charismatic rebel or her beloved sister. No matter who she chooses, an even greater enemy is advancing, ready to bring the empire to its knees.

The Rise and Fall of Charles Lindenburg by Candace Fleming (Schwartz) - YA non-fiction.

Discover the dark side of Charles Lindbergh--one of America's most celebrated heroes and complicated men.

First human to cross the Atlantic via airplane; one of the first American media sensations; Nazi sympathizer and anti-Semite; loner whose baby was kidnapped and murdered; champion of Eugenics, the science of improving a human population by controlled breeding; tireless environmentalist. Charles Lindbergh was all of the above and more. Here is a rich, multi-faceted, utterly spellbinding biography about an American hero who was also a deeply flawed man.
February 18th
The Life Below by Alexandra Monir (HarperTeen)
As Naomi lifts off into space and away from a rapidly deteriorating Earth, she watches the world fade away, and along with it Leo, a Final Six contestant she grew close to during training. Leaving Earth behind is hard, but what's ahead, on Europa, could be worse. The International Space Training Camp continues to hide the truth about what happened to the last group of astronauts who attempted a similar colonization but failed mysteriously. With one shot—at this mission and to Europa—Naomi is determined to find out if there is alien life on Europa before she and her crew get there.

Leo, back on Earth, has been working with renegade scientist Dr. Greta Wagner, who promises to fly him to space where he can essentially latch on to Naomi's ship. And if Wagner's hypothesis is right, it isn't a possibility of coming in contact with extraterrestrial life on Europa—it's a definite. With Naomi unaware of what awaits, it's up to Leo to find and warn her and the others.

With all the pieces of their journey finally clicking into place, everything else starts to fall apart. A storm threatens to interfere with Leo's takeoff, a deadly entity makes itself known to the Final Six, and the questions the ISTC has been avoiding about the previous failed mission get answered in the worst way possible. If the dream was to establish a habitable domain on Europa… the Final Six are about to enter a nightmare.
Foul Is Fair by Hannah Capin (Wednesday Books)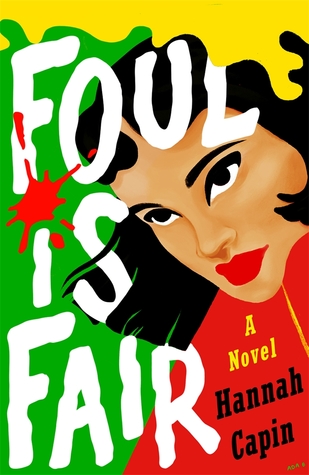 Elle, along with her friends Jenny, Mads, and Summer are the queens of their school. Untouchable, they have the kind of power that others only dream about. No party is closed to them, and the world is at their feet. Until the night of Elle's birthday, when they crash a St. Andrew's Prep party, and her life changes.

The lacrosse boys went after the wrong girl.

Elle enrolls at St. Andrew's Prep as Jade, with revenge on her mind: with the help of her coven, they'll take down each boy, one by one. They'll lose their power, and their lives, as the coven destroys the social structure of the school. Elle and her friends will make sure these boys can never go after a girl again, and they have a perfect way in: a boy named Macbeth, whose ambitions could turn deadly.

Foul is Fair is a bloody, thrilling revenge fantasy for the girls who've had enough. The boys better watch out, for something wicked this way comes.
Soltice by Lorence Alison (Imprint)
A music fest goes wrong in this comic YA thriller as selfie-mad concert-goers wake up to realize their tropical island fantasy is a deadly nightmare.

When Adri is offered an all-expenses-paid trip to the exclusive Solstice Festival, she throws caution, her prestigious summer internship, and her parents goodwill to the wind. She just wants to live a little before the first day of the rest of her life, planned and scheduled in accordance to her parents' law school dreams.

But when she and a horde of affluent, entitled teen partiers arrive at the island paradise, it looks nothing like the luxury vacation they were promised. There's barely any food, nowhere to stay, and not nearly enough porta-potties. Pretty soon, the festival's trending on social media for all the wrong reasons, and the music acts are cancelling left and right.

And then the first dead body washes up on the beach.

Adri has a front-row seat as everything devolves into chaos—and she's in a prime position to put together the clues to who—or what—is killing off the helpless attendees. But even if she finds the killer, how can she hope to stop them?

Check your privilege at the door—before it gets you killed. This is one vacation you can't escape.
The Upside of Falling by Alex Light (HarperTeen)
It's been years since seventeen-year-old Becca Hart believed in true love. But when her former best friend teases her for not having a boyfriend, Becca impulsively pretends she's been secretly seeing someone.

Brett Wells has it all. Being captain of the football team and one of the most popular guys in school, he should have no problem finding someone to date, but he's always been more focused on his future than who to bring to prom. When he overhears Becca's lie, Brett decides to step in and be her mystery guy. It's the perfect solution: he gets people off his back for not dating and she can keep up the ruse.

Acting like the perfect couple isn't easy though, especially when you barely know the other person. But with Becca still picking up the pieces from when her world was blown apart years ago and Brett just barely holding his together now, they begin to realize they have more in common than they ever could have imagined. When the line between real and pretend begins to blur, they are forced to answer the question: is this fake romance the realest thing in either of their lives?
Miss You Love You Hate You Bye by Abby Sher (FSG)
Zoe and Hank (short for Hannah) have been inseparable since they met in elementary school. The leader of the pack, Zoe is effortlessly popular while Hank hides comfortably in her shadow. But when Zoe's parents unexpectedly divorce, Zoe's perfect facade starts cracking little by little. Sinking under the weight of her broken family, Zoe develops an eating disorder. Now she must rely on Hank for help.

Hank struggles to help Zoe; after all, she is used to agreeing, not leading. How can she help her best friend get better before it's too late?

Written partially in letters from Zoe and mostly in narrative from Hank's perspective, Miss You Love You Hate You Bye is a poignant and eye-opening novel about friendship, mental health, and learning to put yourself first.
A novel about friendship, feminism, and the knotty complications of tradition and privilege from the author of The Vigilante Poets of Selwyn Academy.

Outspoken and opinionated, Jemima Kincaid doesn't fit in at her tradition-bound private school. Then she's named to the Senior Triumvirate, with superstar athlete Andy and popular Gennifer, and together the three must organize prom. Inspired by her feminist ideals and the desire to make her mark on school, Jemima proposes a new idea: rather than relying on boys to ask girls to the dance, every student will privately submit a list of people they secretly like to a website, and then they'll be paired up with any mutual matches. When these lists are accidentally disclosed, the students are in an uproar. Meanwhile, Jemima and Andy have developed a secret romance, and her best friend has lost patience with Jemima's hypocritical judgment of Gennifer and any woman Jemima deems not feminist enough.

The Feminist Agenda of Jemima Kincaid is a fun and thoughtful cautionary tale of how to be a social justice warrior without forgetting what you're actually fighting for.
Dark secrets and conflicting loyalties abound as four superpowered teens are torn apart by war in Caitlin Lochner's An Outcast and an Ally, the epic YA sequel to A Soldier and a Liar.

Lai, Jay, Al, and Erik are on the run after the military accuses them of being traitors. Tensions between everyone are high, but they have to stick together if they want to survive. And somehow stop the war that's now in full swing.

But when Erik returns to the rebels to find answers about his past, Lai, Al, and Jay have no choice but to go to the Order—a peace coalition bent on stopping the rebels and dissolving the enmity between gifted and ungifted. However, the longer the war drags on, the more Lai's long-kept secrets threaten to destroy everything she's ever worked for. Sparks fly as the team constantly questions whether they can trust one another and everyone tries to navigate a war that will change everything.

Filled with the same high-stakes superpowered action and complex relationships as A Soldier and A Liar, Caitlin's first book, An Outcast and an Ally brings this story to a dramatic and satisfying close.
The Language of Cherries by Jen Marie Hawkins (Owl Hollow Press)
When Evie Perez is cut off from everything she loves and forced to move to Iceland for the summer, she takes her canvas and paintbrushes into the picturesque cherry orchard behind her guesthouse. She stains her lips with stolen cherries in the midnight sun and paints a boy she's never met.

Oskar is startled to discover Evie in his family's orchard, and even more surprised to see himself on her canvas. Too ashamed to reveal his stutter, he remains silent as Evie returns day after day to paint, spilling confessions she wouldn't even tell her priest.

As Evie's life back home unravels, Oskar wants to comfort her with words, but he knows he's waited too long, so he uses music instead. But when it all comes to the surface, he knows that if Evie can't forgive him for lying, he may never forgive himself for surviving.
The Blossom and the Firefly by Sherri L. Smith (Putnam)
From the award-winning author of Flygirl comes this powerful WWII romance between two Japanese teens caught in the cogs of an unwinnable war, perfect for fans of Salt to the Sea , Lovely War , and Code Name Verity .

Japan 1945. Taro is a talented violinist and a kamikaze pilot in the days before his first and only mission. He believes he is ready to die for his country . . . until he meets Hana. Hana hasn't been the same since the day she was buried alive in a collapsed trench during a bomb raid. She wonders if it would have been better to have died that day . . . until she meets Taro.

A song will bring them together. The war will tear them apart. Is it possible to live an entire lifetime in eight short days?

Sherri L. Smith has been called "an author with astonishing range" and "a stellar storyteller" by E. Lockhart, the New York Times-bestselling author of We Were Liars, and "a truly talented writer" by Jacqueline Woodson, the National Book Award-winning author of Brown Girl Dreaming. Here, with achingly beautiful prose, Smith weaves a tale of love in the face of death, of hope in the face of tragedy, set against a backdrop of the waning days of the Pacific War.
Break the Fall by Jennifer Iacopelli (Razorbill)
Audrey Lee is going to the Olympics.

A year ago, she could barely do a push up as she recovered from a spine surgery, one that could have paralyzed her. And now? She's made the United States' gymnastics team with her best friend, Emma, just like they both dreamed about since they were kids. She's on top of the world.

The pressure for perfection is higher than ever when horrifying news rips the team apart. Audrey is desperate to advocate for her teammate who has been hurt by the one person they trusted most—but not all the gymnasts are as supportive.

With the team on the verge of collapse, the one bright spot in training is Leo, her new coach's ridiculously cute son. And while Audrey probably (okay, definitely) shouldn't date him until after the games, would it really be the end of the world?

Balancing the tenuous relationship between her teammates with unparalleled expectations, Audrey doesn't need any more distractions. No matter what it takes, she's not going to let anyone bring them down. But with painful revelations, incredible odds, and the very real possibility of falling at every turn, will Audrey's determination be enough?
February 25th
The Shadows Between Us by Tricia Levenseller (Fiewel and Friends)
Alessandra is tired of being overlooked, but she has a plan to gain power:

1) Woo the Shadow King.
2) Marry him.
3) Kill him and take his kingdom for herself.

No one knows the extent of the freshly crowned Shadow King's power. Some say he can command the shadows that swirl around him to do his bidding. Others say they speak to him, whispering the thoughts of his enemies. Regardless, Alessandra knows what she deserves, and she's going to do everything within her power to get it.

But Alessandra's not the only one trying to kill the king. As attempts on his life are made, she finds herself trying to keep him alive long enough for him to make her his queen—all while struggling not to lose her heart. After all, who better for a Shadow King than a cunning, villainous queen?
Rebelwing by Andrea Tang (Razorbill)
Business is booming for Prudence Wu.

A black-market-media smuggler and scholarship student at the prestigious New Columbia Preparatory Academy, Pru is lucky to live in the Barricade Coalition where she is free to study, read, watch, and listen to whatever she wants. But between essays and exams, she chooses to spend her breaks sweet-talking border patrol with her best friend, Anabel, in order to sell banned media to the less fortunate citizens of the United Continental Confederacy, Inc.

When a drop-off goes awry, Pru narrowly escapes UCC enforcers to find that her rescuer is, of all things, a sentient cybernetic dragon. On the one hand, Pru is lucky not to be in prison, or worse. On the other, the dragon seems to have imprinted on her permanently, which means she has no choice but to be its pilot.

Drawn into a revolution she has no real interest in leading, Pru, Anabel, and friends Alex and Cat become key players in a brewing conflict with the UCC as the corporate government develops advanced weaponry more terrifying and grotesque than Pru could have ever imagined.
Bent Heavens by Daniel Kraus (Simon and Shuster)
From New York Times-bestselling author Daniel Kraus comes a breakneck, genre-defying YA thriller perfect for fans of Kiersten White, Neal Shusterman, and M. T. Anderson.

Liv Fleming's father went missing more than two years ago, not long after he claimed to have been abducted by aliens. Liv has long accepted that he's dead, though that doesn't mean she has given up their traditions. Every Sunday, she and her lifelong friend Doug Monk trudge through the woods to check the traps Lee left behind, traps he set to catch the aliens he so desperately believed were after him.

But Liv is done with childhood fantasies. Done pretending she believes her father's absurd theories. Done going through the motions for Doug's sake. However, on the very day she chooses to destroy the traps, she discovers in one of them a creature so inhuman it can only be one thing. In that moment, she's faced with a painful realization: her dad was telling the truth. And no one believed him.

Now, she and Doug have a choice to make. They can turn the alien over to the authorities...or they can take matters into their own hands.

On the heels of the worldwide success of The Shape of Water, Daniel Kraus returns with a horrifying and heartbreaking thriller about the lengths people go to find justice and the painful reality of grief.
Red Hood by Elana K Arnold (Balzer + Bray)
You are alone in the woods, seen only by the unblinking yellow moon. Your hands are empty. You are nearly naked.

And the wolf is angry.

Since her grandmother became her caretaker when she was four years old, Bisou Martel has lived a quiet life in a little house in Seattle. She's kept mostly to herself. She's been good. But then comes the night of homecoming, when she finds herself running for her life over roots and between trees, a fury of claws and teeth behind her. A wolf attacks. Bisou fights back. A new moon rises. And with it, questions. About the blood in Bisou's past and on her hands as she stumbles home. About broken boys and vicious wolves. About girls lost in the woods—frightened, but not alone.

Elana K. Arnold, National Book Award finalist and author of the Printz Honor book Damsel, returns with a dark, engrossing, blood-drenched tale of the familiar threats to female power—and one girl's journey to regain it.
Twisted Fates by Danielle Rollins (HarperTeen)
The thrilling follow-up to Danielle Rollins' epic time travel romance Stolen Time, which Kirkus called "pure fun with an explosive twist."

As far as anyone in New Seattle knows, Dorothy has disappeared. The stowaway from 1913, the girl that Ash maybe—possibly—could've loved: she's gone. And in her place is bloodthirsty Quinn Fox, silver-haired and vicious. But even though he saw her fall through the anilon their last ill-fated mission through time, Ash can't stop himself from looking for Dorothy around every dark corner. What he doesn't know, though, is that the girl he fell in love with is the very same one who is fated to kill him.

As Ash and his friends grow increasingly desperate searching for a way to head off the devastating earthquake threatening to tear down New Seattle for good, Quinn and Roman are working to take down mob boss Mac Murphy, who is attempting to use them to control time travel for his own selfish purposes. When they collide, can they change the course of the future entirely?
The Truth App by Jack Heath (Simon and Schuster)
In this pulse-pounding techno-thriller, Jack Heath creates a world where everyone knows when you lie—and telling the truth doesn't always set you free.

Jarli likes to think he's an honest guy. He's a big believer in telling the truth, no matter what. So he develops The Truth App, a mobile application that listens in on your conversations and can tell when someone's lying. Then his app goes viral and, suddenly, Jarli is an internet sensation.

But, soon enough, Jarli realizes that being famous can be dangerous—especially when you've just exposed everyone's deepest, darkest secrets. Now his entire town is out to get him; kids at school, teachers, the police, even his own family.

Also, an underground network of criminals has just added Jarli to their hit list. Sometimes, exposing the truth comes with a price…
We Unleash the Merciless Storm by Tehlor Kay Mejia (Katherine Tegan Books)
In this nail-biting sequel to Tehlor Kay Mejia's critically acclaimed fantasy novel We Set the Dark on Fire, La Voz operative Carmen is forced to choose between the girl she loves and the success of the rebellion she's devoted her life to.

Being a part of the resistance group La Voz is an act of devotion and desperation. On the other side of Medio's border wall, the oppressed class fights for freedom and liberty, sacrificing what little they have to become defenders of the cause.

Carmen Santos is one of La Voz's best soldiers, taken in when she was an orphaned child and trained to be a cunning spy. She spent years undercover at the Medio School for Girls, but now, with her identity exposed and the island on the brink of civil war, Carmen returns to the only real home she's ever known: La Voz's headquarters. There she must reckon with her beloved leader, who is under the influence of an aggressive new recruit, and with the devastating news that her true love might be the target of an assassination plot. Will Carmen break with her community and save the girl who stole her heart—or fully embrace the ruthless rebel she was always meant to be?
The Sound of Stars by Alechia Dow (Inkyard Press)
Two years ago, a misunderstanding between the leaders of Earth and the invading Ilori killed a third of the world's population.

Seventeen-year-old Janelle "Ellie" Baker survives in an Ilori-controlled center in New York City. Deemed dangerously volatile because of their initial reaction to the invasion, humanity's emotional transgressions are now grounds for execution. All art, books, and creative expression are illegal, but Ellie breaks the rules by keeping a secret library. When a book goes missing, Ellie is terrified that the Ilori will track it back to her and kill her.

Born in a lab, M0Rr1S was raised to be emotionless. When he finds Ellie's illegal library, he's duty-bound to deliver her for execution. The trouble is, he finds himself drawn to human music, and in desperate need of more. They're both breaking the rules for love of art—and Ellie inspires the same feelings in him that music does.

Ellie's—and humanity's—fate rests in the hands of an alien she should fear. M0Rr1S has a lot of secrets, but also a potential solution—thousands of miles away. The two embark on a wild and dangerous road trip with a bag of books and a stack of old CDs, all the while making a story and a song of their own that just might save them both.
Glitch Kingdom by Sheena Boekweg (Feiwel and Friends)
The teenage daughter of an executioner and the traitorous prince she can't kill must reluctantly join forces to dethrone a paranoid queen after discovering they are trapped in a video game where "Game Over" equals death in this fast-paced YA debut.

Ryo is the golden boy, the playboy prince, until his uncle betrays him and everything falls apart. Minor nobles Dagney and Grigfen are suddenly forced to fight for their lives after their father is branded a traitor. McKenna, queen of the enemy realm, has been given a mission of conquest, though she isn't sure she's fit for the task.

But things are not always what they seem... All of these teens are actually players in the newest, most immersive virtual reality game, competing against each other for a highly coveted internship.

Now this golden opportunity has suddenly become a deadly trap. There's a glitch in the software and it has trapped the players inside a world that is slowly falling apart. If they die in the game they die for real, and the only way out is to win.