March 1st
Bloodleaf by Crystal Smith (HMH)
Aurelia is the first princess born to the Renalten crown in two hundred years, destined to fulfill a treaty by journeying to marry Valentin, the prince of Achelva – Renalt's greatest enemy. Rumors of an unwell, cruel prince abound, and the only thing that eclipses Aurelia's apprehension of her impending marriage is her fear of those who'd kill her to prevent it.

When an assassination attempt forces Aurelia to use forbidden magic to save a stranger, she is driven from Renalt by the witch-hunting Tribunal and a mob out for blood. But before she can claim asylum in the court of her betrothed, her travel party turns on her, forcing her to trade places with her treacherous lady-in-waiting, Lisette.

Now penniless in Achleva and bereft of her identity, Aurelia must decide if she wants to surrender to her new life or fight for her old one, all while navigating the complicated ties binding her to the enigmatic prince, the unquiet ghost of an ancient queen, and a poisonous plant called bloodleaf.

Aurelia is a pawn in a centuries-long game of love, power, and war— and if she can't extricate herself from it before Lisette marries Valentin in her stead, she may face losses far more devastating than her crown.

The Shadowglass by Rin Chupeco (Sourcebooks Fire)
In the highly anticipated finale to the Bone Witch trilogy, Tea's life—and the fate of the kingdoms—hangs in the balance
Tea is a bone witch with the dark magic needed to raise the dead. She has used this magic to breathe life into those she has loved and lost…and those who would join her army against the deceitful royals. But Tea's quest to conjure a shadowglass—to achieve immortality for the one person she loves most in the world—threatens to consume her heart.

Tea's black heartsglass only grows darker with each new betrayal. And when she is left with new blood on her hands, Tea must answer to a power greater than the elder asha or even her conscience...
The Fever King by Victoria Lee (Skyscape)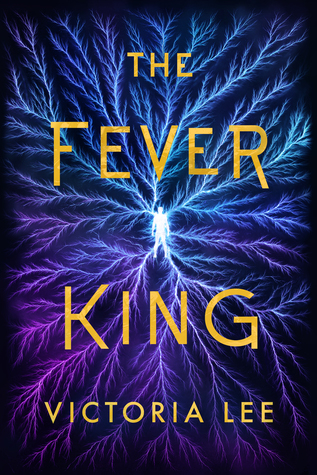 In the former United States, sixteen-year-old Noam Álvaro wakes up in a hospital bed, the sole survivor of the viral magic that killed his family and made him a technopath. His ability to control technology attracts the attention of the minister of defense and thrusts him into the magical elite of the nation of Carolinia.

The son of undocumented immigrants, Noam has spent his life fighting for the rights of refugees fleeing magical outbreaks—refugees Carolinia routinely deports with vicious efficiency. Sensing a way to make change, Noam accepts the minister's offer to teach him the science behind his magic, secretly planning to use it against the government. But then he meets the minister's son—cruel, dangerous, and achingly beautiful—and the way forward becomes less clear.

Caught between his purpose and his heart, Noam must decide who he can trust and how far he's willing to go in pursuit of the greater good.

March 5th
The Last 8 by Laura Pohl (Sourcebooks Fire)
A high-stakes survival story about eight teenagers who outlive an alien attack—perfect for fans of The 5th Wave

Clover Martinez has always been a survivor, which is the only reason she isn't among the dead when aliens invade and destroy Earth as she knows it.

When Clover hears an inexplicable radio message, she's shocked to learn there are other survivors—and that they're all at the former Area 51. When she arrives, she's greeted by a band of misfits who call themselves The Last Teenagers on Earth.
Only they aren't the ragtag group of heroes Clover was expecting. The group seems more interested in hiding than fighting back, and Clover starts to wonder if she was better off alone. But then she finds a hidden spaceship, and she doesn't know what to believe…or who to trust.
The Everlasting Rose by Dhonielle Clayton (Disney Hyperion) -
In this sequel to the instant New York Times bestseller, Camille, her sister Edel, and her guard and new love Remy must race against time to find Princess Charlotte. Sophia's Imperial forces will stop at nothing to keep the rebels from returning Charlotte to the castle and her rightful place as queen. With the help of an underground resistance movement called The Iron Ladies-a society that rejects beauty treatments entirely-and the backing of alternative newspaper The Spider's Web, Camille uses her powers, her connections and her cunning to outwit her greatest nemesis, Sophia, and restore peace to Orleans.
To Best the Boys by Mary Weber (Thomas Nelson)
Every year for the past fifty-four years, the residents of Pinsbury Port receive a mysterious letter inviting all eligible-aged boys to compete for an esteemed scholarship to the all-male Stemwick University. Every year, the poorer residents look to see that their names are on the list. The wealthier look to see how likely their sons are to survive. And Rhen Tellur opens it to see if she can derive which substances the ink and parchment are created from, using her father's microscope.

In the province of Caldon, where women are trained in wifely duties and men are encouraged into collegiate education, sixteen-year-old Rhen Tellur wants nothing more than to become a scientist. As the poor of her seaside town fall prey to a deadly disease, she and her father work desperately to find a cure. But when her Mum succumbs to it as well? Rhen decides to take the future into her own hands—through the annual all-male scholarship competition.

With her cousin, Seleni, by her side, the girls don disguises and enter Mr. Holm's labyrinth, to best the boys and claim the scholarship prize. Except not everyone's ready for a girl who doesn't know her place. And not everyone survives the maze.
You Owe Me a Murder by Eileen Cook (HMH)
Seventeen-year-old Kim gets more than she bargained for when she is set up for murder. Perfect for fans of One of Us is Lying, E. Lockhart, and Gillian Flynn.

17-year-old Kim never expected to plot a murder. But that was before her boyfriend dumped her for another girl. Now, Kim's stuck on a class trip to London with him and his new soulmate and she can't help wishing he was a little bit dead, even if she'd never really do that.

But when Kim meets Nicki, a stranger on the plane who's more than willing to listen to Kim's woes, things start to look up. Nicki's got a great sense of humor, and when she jokes about swapping murders, Kim plays along—that is, until Kim's ex-boyfriend mysteriously dies.

Blackmailed by Nicki to fulfill her end of the deal, Kim will have to commit a murder or take the fall for one.
Field Notes on Love by Jennifer E. Smith (Delacorte)
Having just been dumped by his girlfriend, British-born Hugo is still determined to take his last-hurrah-before-college train trip across the United States. One snag: the companion ticket is already booked under the name of his ex, Margaret Campbell. Nontransferable, no exceptions.

Enter the new Margaret C. (Mae for short), an aspiring filmmaker with big dreams. After finding Hugo's spare ticket offer online, she's convinced it's the perfect opportunity to expand her horizons.

When the two meet, the attraction is undeniable, and both find more than they bargained for. As Mae pushes Hugo to explore his dreams for his future, he'll encourage her to channel a new, vulnerable side of her art. But when life off the train threatens the bubble they've created for themselves, will they manage to keep their love on track?
Within These Lines by Stephanie Morrill (Blink)
Evalina Cassano's life in an Italian-American family in 1941 is everything it "should be" until she falls in love with Taichi Hamasaki, the son of Japanese immigrants. Despite the scandal it would cause and that inter-racial marriage is illegal in California, Evalina and Taichi vow they will find a way to be together. But anti-Japanese feelings erupt across the country after the attack on Pearl Harbor, and Taichi and his family are forced to give up their farm and move to an internment camp.

Degrading treatment make life at Manzanar Relocation Center difficult. Taichi's only connection to the outside world are treasured letters from Evalina. Feeling that the only action she can take to help Taichi is to speak out on behalf of all Japanese Americans, Evalina becomes increasingly vocal at school and at home. Meanwhile, inside Manzanar, fighting between different Japanese-American factions arises. Taichi begins to doubt he will ever leave the camp alive.

With tensions running high and their freedom on the line, Evalina and Taichi must hold true to their values and believe in their love to make a way back to each other against unbelievable odds.

Deathcaster by Cinda Williams Chima (HarperCollins)
SPLINTERED ALLEGIANCE.

Warrior Alyssa ana'Raisa would do anything to protect her home, the Fells, and her legacy, the Gray Wolf Line. But as a prisoner of Empress Celestine, Lyss is forced to turn her fearsome talents as an army commander against her beloved homeland. Refusal would swiftly lead to her death, and her death would end the Gray Wolf Line.

ANCIENT DANGER.

In Lyss's absence, Fellsmarch Castle swarms with intrigue, deception, and a primordial threat. Destin Karn, a Southern spymaster with a hidden agenda of his own, might be the queendom's only hope of defeating the forces aligned against the Seven Realms… as well as the enemies within the castle.

THE DEADLY COST OF PEACE.

Master storyteller Cinda Williams Chima delivers spellbinding action, bittersweet reunions, and dazzling revelations in this indispensable conclusion to the Shattered Realms series.

If You're Out There by Katy Loutzenhiser (Balzer + Bray)
After Zan's best friend moves to California, she's baffled and crushed when Priya suddenly ghosts. Worse, Priya's social media has turned into a stream of ungrammatical posts chronicling a sunny, vapid new life that doesn't sound like her at all. Everyone tells Zan not to be an idiot: Let Priya do her reinvention thing, and move on. But until Zan hears Priya say it, she won't be able to admit that the friendship is finished.

It's only when she meets Logan, the charming new guy in Spanish class, that Zan begins to open up about her sadness, her insecurity, her sense of total betrayal. And he's just as willing to throw himself into the investigation when everyone else thinks her suspicions are crazy.

Then a clue hidden in Priya's latest selfie introduces a new, deeply disturbing possibility. Maybe Priya isn't just not answering Zan's emails. Maybe she can't.
Superman: Dawnbreaker by Matt de la Pena (Random House)
The blockbuster DC Icons series that began with Leigh Bardugo's Wonder Woman, Marie Lu's Batman, and Sarah J. Maas's Catwoman continues with the story of the world's first super hero--SUPERMAN--from award-winning and #1 New York Times bestselling author MATT DE LA PENA.

When the dawn breaks, a hero rises.

His power is beyond imagining.
Clark Kent has always been faster, stronger--better--than everyone around him. But he wasn't raised to show off, and drawing attention to himself could be dangerous. Plus, it's not like he's earned his powers . . . yet.
But power comes with a price.
Lately it's difficult to hold back and keep his heroics in the shadows. When Clark follows the sound of a girl crying, he comes across Gloria Alvarez and discovers a dark secret lurking in Smallville. Turns out, Clark's not the only one hiding something. Teaming up with his best friend, Lana Lang, he throws himself into the pursuit of the truth. What evil lies below the surface of his small town? And what will it cost Clark to learn about his past as he steps into the light to become the future Man of Steel? Because before he can save the world, he must save Smallville.

Lovely War by Julie Berry (Viking)
A sweeping, multi-layered romance with a divine twist, by the Printz Honor-winning author of The Passion of Dolssa, set in the perilous days of World Wars I and II.

It's 1917, and World War I is at its zenith when Hazel and James first catch sight of each other at a London party. She's a shy and talented pianist; he's a newly minted soldier with dreams of becoming an architect. When they fall in love, it's immediate and deep--and cut short when James is shipped off to the killing fields.

Aubrey Edwards is also headed toward the trenches. A gifted musician who's played Carnegie Hall, he's a member of the 15th New York Infantry, an all-African-American regiment being sent to Europe to help end the Great War. Love is the last thing on his mind. But that's before he meets Colette Fournier, a Belgian chanteuse who's already survived unspeakable tragedy at the hands of the Germans.

Thirty years after these four lovers' fates collide, the Greek goddess Aphrodite tells their stories to her husband, Hephaestus, and her lover, Ares, in a luxe Manhattan hotel room at the height of World War II. She seeks to answer the age-old question: Why are Love and War eternally drawn to one another? But her quest for a conclusion that will satisfy her jealous husband uncovers a multi-threaded tale of prejudice, trauma, and music and reveals that War is no match for the power of Love.
Once and Future #1 by Cori McCarthy and Amy Rose Capetta (Jimmy Paterson)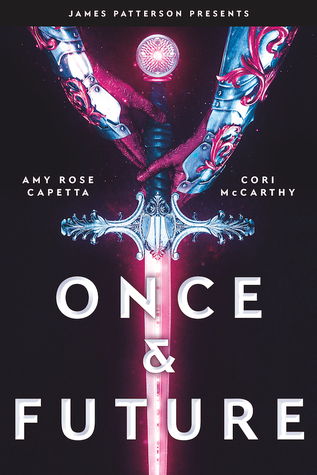 Some legends never die - they are reborn. Once & Future is King Arthur as you've never imagined!

I've been chased my whole life. An illegal immigrant in Mercer-controlled territory, I've always had to hide who I am. Until now.

When Ari crash lands on Old Earth, and pulls a magic sword from its ancient resting place, she becomes the forty-second reincarnation of King Arthur. Merlin awakes to find that having aged backward over the last forty-one Arthurs, he is now-wretchedly-a teenager. Ari may be Merlin's final chance to complete the steps of the cycle: 1) Train Arthur 2) Defeat the greatest evil in the universe. 3) Unite all of mankind. No pressure.

I don't know about prophecies or kings, but I do know this: Mercer is evil. They've imprisoned my parents, enslaved worlds, and now they're after my friends. I'm done hiding.

My name is Ari Helix. I have a magic sword, a cranky wizard, and a revolution to start.

The Queen's Resistance by Rebecca Ross (HarperTeen)
At long last, Brienna is a mistress of knowledge and is beginning to settle into her role as the daughter of Davin MacQuinn, a disgraced lord who returned to Maevana to reclaim his house. Though she'd just survived a revolution, one that will finally return a queen to the throne, she faces yet another challenge: proving herself trustworthy to the MacQuinns. But as Queen Isolde Kavanagh's closest confidant, she'll have to balance serving her father's house as well as her country. And then there's Cartier, a wholly separate but desirable factor in her new life.

Aodhan Morgane, formerly known as Cartier Évariste, is adjusting to the stark contrast between his pre-rebellion life in Valenia as a master of knowledge and his current one as the lord of a fallen house. During the castle's restoration, he discovers a young boy named Tomas, whose past and parentage are a complete mystery. So when Cartier's former pupil Brienna is as taken with Tomas as he is, he lets his mind wander — what if he doesn't have to raise him or his house alone?

As the Lannon trial swiftly approaches, Brienna and Cartier must put their love aside and stay focused on the most vital task at hand — forging alliances, executing justice and ensuring that no man, woman or child halts the queen's coronation. But resistance is rumbling in the old regime's supporters, who are desperate to find a weakness in the rebels' forces. And what makes one more vulnerable than deep-seated love?

In this follow-up to The Queen's Rising, Rebecca Ross weaves political intrigue, complicated relationships and love to create a story that readers won't be able to put down.

The Pioneer by Bridget Tyler (Harper Teen)
When Jo steps onto Tau Ceti E, it should be the happiest moment of her life. After all, she's been training for as long as she can remember to be a cadet pilot in the International Space Agency. She's dreamed of the day she and her family would leave Earth forever and begin life as pioneers on a new planet. But now she can't stop thinking of everything that has gone wrong on their mission: the terrible accident that nearly destroyed their craft, that set their voyage back years, that killed her brother, that left her unable to fly…As Jo struggles to live with her grief and figure out who she's going to be now, she falls in love with her new world. It isn't hard. Jo's team is camped out by a pristine, tumbling river at the base of a mountain range that looks like huge prisms buried in the prairie. The soring crystal peaks transform every sunset into rainbows full of colors human eyes have never seen before. And that's just the beginning. Tau offers Jo and her family a lifetime of beauty and adventure. Jo throws herself into helping her team, lead by her commander mother, establish their community on this amazing new world. But just when she starts to feel like her old self again, she uncovers a devastating secret her mother has been keeping from her people. A secret that could destroy her family's pioneering dreams…if they survive that long.. With the fate of the pioneers in her hands, Jo must decide how far she's willing to go to expose the truth — before the truth destroys them all.
Within These Lines by Stephanie Morrill (Blink)
Evalina Cassano's life in an Italian-American family in 1941 is everything it "should be" until she falls in love with Taichi Hamasaki, the son of Japanese immigrants. Despite the scandal it would cause and that inter-racial marriage is illegal in California, Evalina and Taichi vow they will find a way to be together. But anti-Japanese feelings erupt across the country after the attack on Pearl Harbor, and Taichi and his family are forced to give up their farm and move to an internment camp.

Degrading treatment make life at Manzanar Relocation Center difficult. Taichi's only connection to the outside world are treasured letters from Evalina. Feeling that the only action she can take to help Taichi is to speak out on behalf of all Japanese Americans, Evalina becomes increasingly vocal at school and at home. Meanwhile, inside Manzanar, fighting between different Japanese-American factions arises. Taichi begins to doubt he will ever leave the camp alive.

With tensions running high and their freedom on the line, Evalina and Taichi must hold true to their values and believe in their love to make a way back to each other against unbelievable odds.

Dealing In Dreams by Lillian Rivera (Simon Schuster)
At night, Las Mal Criadas own these streets.

Sixteen-year-old Nalah leads the fiercest all-girl crew in Mega City. That role brings with it violent throwdowns and access to the hottest boydega clubs, but Nalah quickly grows weary of her questionable lifestyle. Her dream is to get off the streets and make a home in the exclusive Mega Towers, in which only a chosen few get to live. To make it to the Mega Towers, Nalah must prove her loyalty to the city's benevolent founder and cross the border in a search of the mysterious gang the Ashé Riders. Led by a reluctant guide, Nalah battles crews and her own doubts but the closer she gets to her goal the more she loses sight of everything—and everyone—she cares about.

Nalah must choose whether or not she's willing to do the unspeakable to get what she wants. Can she discover that home is not where you live but whom you chose to protect before she loses the family she's created for good?

We Told Six Lies by Victoria Scott (Entangled Teen)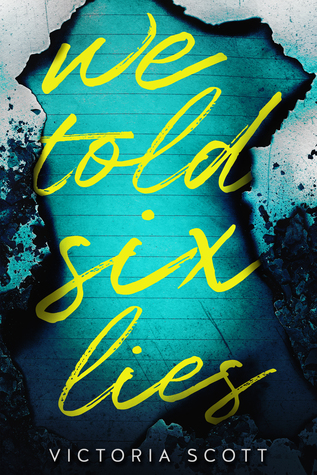 Remember how many lies we told, Molly? It's enough to make my head spin. You were wild when I met you, and I was mad for you. But then something happened. And now you're gone.

But don't worry. I'll find you. I just need to sift through the story of us to get to where you might be. I've got places to look, and a list of names.

The police have a list of names, too. See now? There's another lie. There is only one person they're really looking at, Molly.

And that's yours truly.
Barely Missing Everything by Matt Mendez (Simon and Schuster)
In the tradition of Jason Reynolds and Matt de la Peña, this heartbreaking, no-holds-barred debut novel told from three points of view explores how difficult it is to make it in life when you—your life, brown lives—don't matter.

Juan has plans. He's going to get out of El Paso, Texas, on a basketball scholarship and make something of himself—or at least find something better than his mom Fabi's cruddy apartment, her string of loser boyfriends, and a dead dad. Basketball is going to be his ticket out, his ticket up. He just needs to make it happen.

His best friend JD has plans, too. He's going to be a filmmaker one day, like Quinten Tarantino or Guillermo del Toro (NOT Steven Spielberg). He's got a camera and he's got passion—what else could he need?

Fabi doesn't have a plan anymore. When you get pregnant at sixteen and have been stuck bartending to make ends meet for the past seventeen years, you realize plans don't always pan out, and that there some things you just can't plan for…

Like Juan's run-in with the police, like a sprained ankle, and a tanking math grade that will likely ruin his chance at a scholarship. Like JD causing the implosion of his family. Like letters from a man named Mando on death row. Like finding out this man could be the father your mother said was dead.

Soon Juan and JD are embarking on a Thelma and Louise­–like road trip to visit Mando. Juan will finally meet his dad, JD has a perfect subject for his documentary, and Fabi is desperate to stop them. But, as we already know, there are some things you just can't plan for…
You Asked For Perfect by Laura Silverman (Sourcebooks Fire)
For fans of History is All You Left Me and Love, Hate and Other Filters comes a new and timely novel from Laura Silverman about a teen's struggle when academic success and happiness pull him in opposite directions.

Senior Ariel Stone is the perfect college applicant: first chair violin, dedicated community volunteer, and expected valedictorian. He works hard—really hard—to make his life look effortless. A failed Calculus quiz is not part of that plan. Not when he's number one. Not when his peers can smell weakness like a freshman's body spray.

Figuring a few all-nighters will preserve his class rank, Ariel throws himself into studying. His friends will understand if he skips a few plans, and he can sleep when he graduates. Except Ariel's grade continues to slide. Reluctantly, he gets a tutor. Amir and Ariel have never gotten along, but Amir excels in Calculus, and Ariel is out of options.

Ariel may not like Calc, but he might like Amir. Except adding a new relationship to his long list of commitments may just push him past his limit.
Chrysalis by Brendan Reichs (Putnam)
The stunning finale of the Project Nemesis trilogy from New York Times bestselling author Brendan Reichs.

The 64 members of Fire Lake's sophomore class have managed to survive the first two phases of the Program--and each other. Now, they alone have emerged into the dawn of a new era on Earth, into a Fire Lake valley that's full of otherworldly dangers and challenges. Although staying alive in this broken world should force Min, Noah, Tack, and the others to form new alliances, old feuds die hard, and the brutality of the earlier Program phases cannot be forgotten. But being a team isn't easy for the sophomores, and when they discover that they may not be alone on the planet after all, they'll have to decide if they're going to work together . . . or die together.
The Quiet You Carry by Nikki Barthelmess (Flux)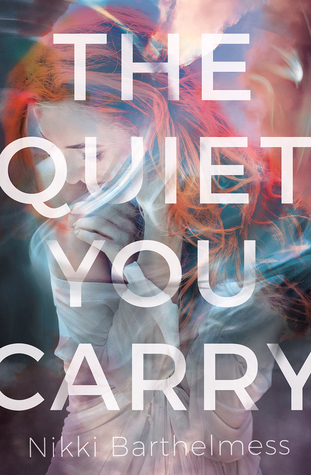 Victoria Parker knew her dad's behavior toward her was a little unusual, but she convinced herself everything was fine—until she found herself locked out of the house at 3:00 a.m., surrounded by flashing police lights.

Now, dumped into a crowded, chaotic foster home, Victoria has to tiptoe around her domineering foster mother, get through senior year at a new school, and somehow salvage her college dreams . . . all while keeping her past hidden.

But some secrets won't stay buried—especially when unwanted memories make Victoria freeze up at random moments and nightmares disrupt her sleep. Even worse, she can't stop worrying about her stepsister Sarah, left behind with her father. All she wants is to move forward, but how do you focus on the future when the past won't leave you alone?
The Manic Pixie Dream Boy Improvement by Lenore Appelhans (Carolrhoda Lab)
Riley lives in TropeTown, where everyone plays stock roles in novels. Riley, a Manic Pixie Dream Boy, is sent to group therapy after going off-script. Riley knows that breaking the rules again could get him terminated, yet he feels there must be more to life than recycling the same cliches for readers' entertainment. Then he meets Zelda, a Manic Pixie Dream Girl (Geek Chic subtype), and falls head over heels in love. Zelda's in therapy too, along with several other Manic Pixies. But TropeTown has a dark secret, and if Riley and his fellow Manic Pixies don't get to the bottom of it, they may all be terminated.
March 7th
Song of Sorrow by Melinda Salisbury (Scholastic)
Sorrow Ventaxis has won the election, and in the process lost everything...

Governing under the sinister control of Vespus Corrigan, and isolated from her friends, Sorrow must to find a way to free herself from his web and save her people. But Vespus has no plans to let her go, and he isn't the only enemy Sorrow faces as the curse of her name threatens to destroy her and everything she's fought for.

March 12th
Meet Me in Outer Space by Melinda Grace (Swoon Reads)
Edie Kits has a learning disability. Well, not a learning disability exactly, but a disability that impacts her learning. It isn't visible, it isn't obvious, and it isn't something she likes to advertise. In fact, she's successfully hidden it from nearly everyone in her life, including her college roommate and best friend, Serena.


And for the first half of her freshman year, she has managed without assistance. Edie thought she was in control of her disability, until she meets her match with French 101 and a professor unwilling to hear her out.

Edie finds herself caught between getting the help she needs and convincing her professor that she isn't looking for an easy out. Luckily for her, Hudson, the badly dressed but undoubtedly adorable TA in her French class, ambles in to help her out…
Angel Thieves by Kathi Appelt (Antheneum)
An ocelot. A slave. An angel thief.

Multiple perspectives spanning across time are united through themes of freedom, hope, and faith in a most unusual and epic novel from Newbery Honor–winning author and National Book Award finalist Kathi Appelt.

Sixteen-year-old Cade Curtis is an angel thief. After his mother's family rejected him for being born out of wedlock, he and his dad moved to the apartment above a local antique shop. The only payment the owner Mrs. Walker requests: marble angels, stolen from graveyards, for her to sell for thousands of dollars to collectors. But there's one angel that would be the last they'd ever need to steal; an angel, carved by a slave, with one hand open and one hand closed. If only Cade could find it…

Sixteen-year-old Soleil Broussard is meant to save Cade Curtis—at least that's what she thinks God wants her to do. With the country and the world the way it is, Bridget takes great comfort in her church and religion, and maybe that's just what Cade needs: comfort. Maybe it's what everyone needs.

Zorra, a young ocelot, watches the bayou rush past her yearningly. The poacher who captured and caged her has long since lost her, and Zorra is getting hungrier and thirstier by the day. Trapped, she only has the sounds of the bayou for comfort—but it tells her help will come soon.

Before Zorra, Achsah, a slave, watched the very same bayou with her two young daughters. After the death of her master, Achsah is free, but she'll be damned if her daughters aren't freed with her. All they need to do is find the church with an angel with one hand open and one hand closed…

In a masterful feat, National Book Award Honoree Kathi Appelt weaves together stories across time, connected by the bayou, an angel, and the universal desire to be free.
Izzy + Tristan by Shannon Dunlap (Little, Brown)
Izzy, a practical-minded teen who intends to become a doctor, isn't happy about her recent move from the Lower East Side across the river to Brooklyn. She feels distanced from her family, especially her increasingly incomprehensible twin brother, as well as her new neighborhood.

And then she meets Tristan.

Tristan is a chess prodigy who lives with his aunt and looks up to his cousin, Marcus. He and Izzy meet one moonlit night, and together they tumble into a story as old and unstoppable as love itself.

In debut author Shannon Dunlap's capable hands, the romance that has enthralled for 800 years is spun new. Told from several points of view, this is a love story for the ages and a love story for this very moment. This fast-paced novel is at once a gripping tale of first love and a sprawling epic about the bonds that tie us together and pull us apart and the different cultures and tensions that fill the contemporary American landscape.

Heroine by Mindy McGinnis (Katherine Tegan Books)
Three screws in her hip.

Two months until spring training.

One answer to all her problems.

Mickey Catalan's life has been littered with struggles—from the scars that tell of past injuries, to her parents' divorce, to the daily complexity of finding the right words to fit in socially. Mickey is no stranger to pain, emotional or physical.

When a car crash sidelines her months before softball season, Mickey has to find a way to hold on to her spot as the catcher for a team expected to make a historic tournament run. Behind the plate is the only place she's ever felt comfortable, and the painkillers she's been prescribed can help her get back there.

The pills do more than take away pain; they make her feel good. With a new circle of friends—fellow injured athletes, others with just time to kill—Mickey finds peaceful acceptance, and people with whom words come easily, even if it is just the pills loosening her tongue. But as the pressure to be Mickey Catalan heightens, her need increases, and it becomes less about pain and more about want, something that could send her spiraling out of control.


Edgar Award–winning author Mindy McGinnis lays bare an honest exploration of the opioid crisis through the eyes of one girl, a visceral and necessary story about addiction, family, friendship, and hope.

Other Words for Smoke by Sarah Maria Griffin (Greenwillow Books)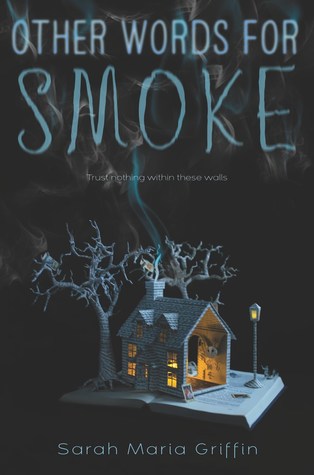 Years ago, the house at the end of the lane burned down. The townspeople never learned what happened, but Rita Frost and her teenage ward, Bevan, were never seen again. Only Mae and her brother Rossa know the truth of what happened that summer—and they'll never say a word. When they were told they'd be spending their summer with their great aunt, Mae and Rossa were anything but thrilled. But nothing at Rita's is as it appears. Bevan is enthralled by a dangerous power lurking behind the walls of Rita's home. The power—known as Sweet James—is hungry, and what he wants most is a taste of the twins. And Bevan wants the magic and escape that Sweet James is offering her. But Sweet James is never satisfied, no matter what Bevan brings him. Mae would give Bevan almost anything—she is in the grip of first love, both dying for Bevan's attention and worried she'll get it. But Rossa is learning some of the terrible secrets the house is hiding, secrets that paralyze him with fear. As the summer draws to a close, Bevan tries to free Sweet James from his prison within the walls, but is thwarted by Rita and her cat (who is more than a cat), Bobby Dear.

It's over for Mae and Rossa, isn't it? They return home. They don't talk about the strangeness of that summer. But it never completely abandons them. And things at home only get worse.

And so three years later, Rossa and Mae are sent once again to Rita's home, as their parents' marriage finally seems to crumble. At first it seems that the strangeness has dissipated. But Sweet James never left. He has been lurking within the walls, waiting the perfect time to return. He's been waiting much longer than any of them know—any of them except Rita, who has been keeping secrets of her own. Secrets that bring the house down in flames around them and bring them all to the brink of the things they most want—and what they most fear.

Sarah Maria Griffin is a rare talent with a unique and atmospheric writing style. Fans of Maggie Stiefvater's All the Crooked Saints and Libba Bray's The Diviners will devour this dark and unusual novel.
The Sound of Drowning by Katherine Fleet (Page Street)
Meredith Hall has a secret. Every night she takes the ferry to meet Ben, her best friend and first love. Though their relationship must remain a secret, they've been given a second chance, and Mer's determined to make it work. She lost Ben once before and discovered the awful reality: she doesn't know how to be happy without him…

Until Wyatt washes ashore―a brash new guy with a Texas twang and a personality bigger than his home state. He makes her feel reckless, excited, and alive in ways that cut through her perpetual gloom. The deeper they delve into each other's pasts, the more Wyatt's charms become impossible to ignore.

But a storm is brewing in the Outer Banks. When it hits, Mer finds her heart tearing in half and her carefully constructed reality slipping back into the surf. As she discovers that even the most deeply buried secrets have a way of surfacing, she'll have to learn that nothing is forever―especially second chances.

Opposite of Always by Justin A Reynolds (Katherine Tegan Books)
Jack Ellison King. King of Almost.

He almost made valedictorian.

He almost made varsity.

He almost got the girl . . .

When Jack and Kate meet at a party, bonding until sunrise over their mutual love of Froot Loops and their favorite flicks, Jack knows he's falling—hard. Soon she's meeting his best friends, Jillian and Franny, and Kate wins them over as easily as she did Jack. Jack's curse of almost is finally over.

But this love story is . . . complicated. It is an almost happily ever after. Because Kate dies. And their story should end there. Yet Kate's death sends Jack back to the beginning, the moment they first meet, and Kate's there again. Beautiful, radiant Kate. Healthy, happy, and charming as ever. Jack isn't sure if he's losing his mind. Still, if he has a chance to prevent Kate's death, he'll take it. Even if that means believing in time travel. However, Jack will learn that his actions are not without consequences. And when one choice turns deadly for someone else close to him, he has to figure out what he's willing to do—and let go—to save the people he loves.

Squad by Mariah MacCarthy (FSG)
This darkly comic debut novel by an award-winning playwright is like Mean Girls meets Heathers with a splash of Bring it On.

Jenna Watson is a cheerleader. But it's not some Hollywood crap. Cheerleaders are not every guy's fantasy; they are not the "popular girls" or the "mean girls" of Marsen High School. They're too busy for that. They're literally just some human females trying to live their lives and do a perfect toe touch. But that all changed after Raejean stopped talking to Jenna and started hanging out with Meghan Finnegan. Jenna stopped getting invited out with the rest of the squad and she couldn't tell if it was on purpose or if it was all in her head.

At times heartbreaking, at others hilarious, Squad follows Jenna through her attempts to get revenge on Raejean and invent a new post-cheer life for herself through LARPING (live action role-playing) and a relationship with a trans guy that feels like love—but isn't. In the, end Jenna discovers that who she is is not defined by which squad she's in.

The Tesla Legacy by K. K. Perez (Tor Teen)
THE TESLA LEGACY follows a precocious young scientist named Lucy Phelps whose fateful encounter in the Tesla Suite of the New Yorker Hotel unlocks her dormant electrical powers. As Lucy struggles to understand her new abilities through scientific experimentation, she is thrust into a centuries old battle between rival alchemical societies.

One side wants her help and the other wants her dead, but both believe she is the next step in human evolution. Unfortunately, carriers of the genetic mutation--including Nikola Tesla--eventually lose their minds and then their lives. Even if Lucy can outrun her enemies, she can't outrun herself.

A Question of Holmes by Brittany Cavallaro (Katherine Tegan Books)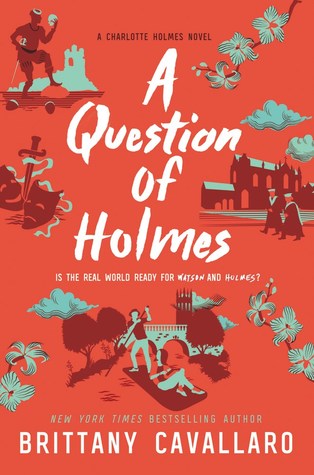 The fourth book in the New York Times bestselling Charlotte Holmes series!

Charlotte Holmes and Jamie Watson think they're finally in the clear. They've left Sherringford School—and the Moriartys—behind for a pre-college summer program at Oxford University. A chance to start from scratch and explore dating for the first time, while exploring a new city with all the freedom their program provides. But when they arrive, Charlotte is immediately drawn into a new case: a series of accidents have been befalling the members of the community theater troupe in Oxford, and now, on the eve of their production of Hamlet, they're starting all over again. What once seemed like a comedy of errors is now a race to prevent the next tragedy—before Charlotte or Jamie is the next victim.
The Waking Forest by Alyssa Wees (Delacorte)
Pan's Labyrinth meets The Hazel Wood in this novel about a girl with terrifying visions and a wish-granting witch whose lives collide in the most unexpected of ways.

The waking forest has secrets. To Rhea, it appears like a mirage, dark and dense, at the very edge of her backyard. But when she reaches out to touch it, the forest vanishes. She's desperate to know more--until she finds a peculiar boy who offers to reveal its secrets. If she plays a game.

To the Witch, the forest is her home, where she sits on her throne of carved bone, waiting for dreaming children to beg her to grant their wishes. One night, a mysterious visitor arrives and asks her what she wishes for, but the Witch sends him away. And then the uninvited guest returns.

The strangers are just the beginning. Something is stirring in the forest, and when Rhea's and the Witch's paths collide, a truth more treacherous and deadly than either could ever imagine surfaces. But how much are they willing to risk to survive?
When The Sky Fell on Splendor by Emily Henry (Razorbill)
The Serpent King meets Stranger Things in Emily Henry's gripping novel about a group of friends in a small town who find themselves dealing with unexpected powers after a cosmic event.

Almost everyone in the small town of Splendor, Ohio, was affected when the local steel mill exploded. If you weren't a casualty of the accident yourself, chances are a loved one was. That's the case for seventeen-year-old Franny, who, five years after the explosion, still has to stand by and do nothing as her brother lies in a coma.

In the wake of the tragedy, Franny found solace in a group of friends whose experiences mirrored her own. The group calls themselves The Ordinary, and they spend their free time investigating local ghost stories and legends, filming their exploits for their small following of YouTube fans. It's silly, it's fun, and it keeps them from dwelling on the sadness that surrounds them.

Until one evening, when the strange and dangerous thing they film isn't fiction–it's a bright light, something massive hurdling toward them from the sky. And when it crashes and the teens go to investigate…everything changes.
Cold Day in the Sun by Sarah Biren (Amulet)
Holland Delviss wants to be known for her talent as a hockey player, not a hockey player who happens to be a girl. But when her school team is selected to be featured and televised as part of HockeyFest, her status as the only girl on the boys' team makes her the lead story. Not everyone is thrilled with Holland's new fame, but there's one person who fiercely supports her, and it's the last person she expects (and definitely the last person she should be falling for): her bossy team captain, Wes.
Shout by Laurie Halse Anderson (Viking Books)
A searing poetic memoir and call to action from the bestselling and award-winning author of Speak, Laurie Halse Anderson!

Bestselling author Laurie Halse Anderson is known for the unflinching way she writes about, and advocates for, survivors of sexual assault. Now, inspired by her fans and enraged by how little in our culture has changed since her groundbreaking novel Speak was first published twenty years ago, she has written a poetry memoir that is as vulnerable as it is rallying, as timely as it is timeless. In free verse, Anderson shares reflections, rants, and calls to action woven between deeply personal stories from her life that she's never written about before. Searing and soul-searching, this important memoir is a denouncement of our society's failures and a love letter to all the people with the courage to say #metoo and #timesup, whether aloud, online, or only in their own hearts. Shout speaks truth to power in a loud, clear voice-- and once you hear it, it is impossible to ignore.
Ink Knows No Bounds by Various Authors (Triangle Square)
A poetry collection for young adults brings together some of the most compelling and vibrant voices today reflecting the experiences of teen immigrants and refugees.
With authenticity, integrity, and insight, this collection of poems from some of today's most compelling voices addresses the many issues confronting first- and second- generation young adult immigrants and refugees, such as cultural and language differences, homesickness, social exclusion, human rights, racism, stereotyping, and questions of identity. Poems by Elizabeth Acevedo, Erika L. Sanchez, Bao Phi, Eduardo C. Corral, Chen Chen, Sholeh Wolpe, and a growing list of others encourage readers to honor their roots as well as explore new paths, and offers empathy and hope for those who are struggling to overcome discrimination. Many of the struggles immigrant and refugee teens face head-on are also experienced by young people everywhere as they contend with isolation, self-doubt, confusion, and emotional dislocation.
Ink Knows No Borders is the first book of its kind and features approximately 60 poems and an introduction, a bibliography of recommended titles, a resource list of poetry organizations, and brief biographies of the poets. It's a hopeful and beautiful and meaningful book for any reader.
Tin Heart by Shivaun Plozza (Flatiron Books)
When Marlowe gets a heart transplant and a second chance at life, all she wants is to thank her donor's family. Maybe then she can move on. Maybe then she'll discover who she is if she's no longer 'The Dying Girl'.

But with a little brother who dresses like every day is Halloween, a vegan warrior for a mother and an all-out war with the hot butcher's apprentice next door, Marlowe's life is already pretty complicated. And her second chance is about to take an unexpected turn…

March 19th
Sherwood by Meagan Spooner (HarperTeen)
Robin of Locksley is dead.

When news comes that he's fallen in battle at the King's side in the Holy Land, Maid Marian doesn't know how she'll go on. Betrothed to Robin, she was free to be herself, to flaut the stifling rules of traditional society and share an equal voice with her beloved when it came to caring for the people of her land.

Now Marian is alone, with no voice of her own. The people of Locksley, persecuted by the Sheriff of Nottingham, are doomed to live in poverty or else face death by hanging. The dreadful Guy of Gisborne, the Sherriff's right hand, wishes to step into Robin's shoes as Lord of Locksley, and Marian's fiancé. Society demands that she accept her fate, and watch helplessly as her people starve.

When Marian dons Robin's green cloak, and takes up his sword and bow, she never intended that anyone should mistake her for Robin, returned from the Holy Land as a vigilante. She never intended that the masked, cloaked figure she created should stand as a beacon of hope and justice to peasant and noble alike. She never intended to become a legend.

But all of Nottingham is crying out for a savior. So Marian must choose to make her own fate and become her own hero...
The Weight of the Stars by K. Ancrum (Imprint)
Ryann Bird dreams of traveling across the stars. But a career in space isn't an option for a girl who lives in a trailer park on the wrong side of town. So Ryann becomes her circumstances and settles for acting out and skipping school to hang out with her delinquent friends.

One day she meets Alexandria: a furious loner who spurns Ryann's offer of friendship. After a horrific accident leaves Alexandria with a broken arm, the two misfits are brought together despite themselves—and Ryann learns her secret: Alexandria's mother is an astronaut who volunteered for a one-way trip to the edge of the solar system.

Every night without fail, Alexandria waits to catch radio signals from her mother. And its up to Ryann to lift her onto the roof day after day until the silence between them grows into friendship, and eventually something more . . .

In K. Ancrum's signature poetic style, this slow-burn romance will have you savoring every page.
Return of the Thief by Megan Whalen Turner (Greenwillow Books)
The thrilling, twenty-years-in-the-making, conclusion to the New York Times–bestselling Queen's Thief series, by Megan Whalen Turner. This beloved and award-winning series began with the acclaimed novel The Thief. It and four more stand-alone volumes bring to life a world of epics, myths, and legends, and feature one of the most charismatic and incorrigible characters of fiction, Eugenides the thief. Now more powerful and cunning than ever before, Eugenides must navigate a perilous future in this sweeping conclusion. Perfect for fans of Leigh Bardugo, Marie Lu, Patrick Rothfuss, and Sarah J. Maas.

Neither accepted nor beloved, Eugenides is the uneasy linchpin of a truce on the Lesser Peninsula, where he has risen to be high king of Attolia, Eddis, and Sounis. As the treacherous Baron Erondites schemes anew and a prophecy appears to foretell the death of the king, the ruthless Mede empire prepares to strike. The New York Times–bestselling Queen's Thief novels are rich with political machinations, divine intervention, dangerous journeys, battles lost and won, power, passion, and deception.
The Next To Last Mistake by Amalie Jahn (Light Messages Publishing)
Tess Goodwin's life in rural Iowa is sheltered and uncomplicated. Although she chooses to spend most of her free time playing chess with her best friend Zander, the farm-boy from next door, her skills as a bovine midwife and tractor mechanic ensure that she fits in with the other kids at East Chester High. But when her veteran father reenlists in the Army, moving her family halfway across the country to North Carolina, Tess is forced out of her comfort zone into a world she knows nothing about.

Tess approaches the move as she would a new game of chess, plotting her course through the unfamiliar reality of her new life. While heeding Zander's long-distance advice for making new friends and strategizing a means to endure her dad's imminent deployment to the Middle East, she quickly discovers how ill-equipped she is to navigate the challenges she encounters and becomes convinced she'll never fit in at her new school.

When Leonetta Jackson is assigned as her mentor, she becomes Tess's unexpected guide through the winding labyrinth of disparities between them, sparking a tentative friendship and challenging Tess to confront her reluctant nature. As the pieces move across the board of her upended life, will Tess find the acceptance she so desperately desires?

Girls With Sharp Sticks by Suzanne Young (Simon Pulse)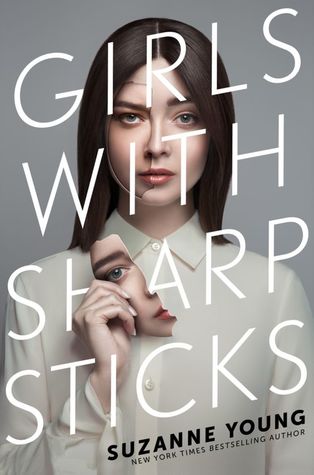 The Girls of Innovations Academy are beautiful and well-behaved—it says so on their report cards. Under the watchful gaze of their Guardians, the all-girl boarding school offers an array of studies and activities, from "Growing a Beautiful and Prosperous Garden" to "Art Appreciation" and "Interior Design." The girls learn to be the best society has to offer. Absent is the difficult math coursework, or the unnecessary sciences or current events. They are obedient young ladies, free from arrogance or defiance. Until Mena starts to realize that their carefully controlled existence may not be quite as it appears.

As Mena and her friends begin to uncover the dark secrets of what's actually happening there—and who they really are—the girls of Innovations will find out what they are truly capable of. Because some of the prettiest flowers have the sharpest thorns.
The Universal Laws of Marco Rodrigues (Simon Pulse)
Told through the lens of a guy in love with the cosmos (and maybe two girls), The Universal Laws of Marco explores the complicated histories that bring us together and tear us apart.

In the summer before eighth grade, Marco Suarez kissed his best friend Sally Blake. This was his first spark.

And since then, whenever he's thought about that moment, he's traveled through a wormhole—of sorts—to relive those brief seconds when time sped up (or, rather, his view of time distorted) and he kissed her.

And then, at the end of that year, she disappeared, leaving in that way that people sometimes leave—alive and well and somewhere out there but gone, nonetheless. She never even said why.

And now in their senior year, Sally unexpectedly returns and Marco is shaken. Still, he holds tightly to his carefully choreographed life. A life that is full of reasons why first sparks don't matter:

Reason 1: He has a girlfriend. Her name is Erika Richards.
Reason 2: He's leaving on a full scholarship to college.
Reason 3: He's busy with his tribe and making money to help support his family.

But as Marco navigates the final days of high school, he learns that leaving home is never easy and a first spark is hard to ignore.
Winter War Awakening by Rosalyn Eves (Knopf)
The Binding is broken. Mátyás is alive. And Anna Arden is on the run.
It seems, yet again, that breaking the Binding has shattered the world. And the only hope of mending it is Anna and Mátyás, working together. But it's never that simple, is it? The praetheria, the creatures once held captive by the spell, are now waging war against the Austro-Hungarian empire. And they are holding Noémi hostage–using her life to manipulate Anna and Mátyás, like marionettes on a string.

Gábor has elected to stay behind, to fight in the Hungarian army's resistance, while Anna and Mátyás search for their beloved Noémi–a mission doomed from the start, cloaked in praetherian magic. Magic that relies on illusion and misdirection. Eventually, there's only one way to save her: to split up. And to walk right into the lion's den.

When everyone thinks they're fighting each other for the same thing–freedom–can anyone truly win?
Small Town Hearts by Lillie Vale (Swoon Reads)
Rule #1 - Never fall for a summer boy.

Fresh out of high school, Babe Vogel should be thrilled to have the whole summer at her fingertips. She loves living in her lighthouse home in the sleepy Maine beach town of Oar's Rest and being a barista at the Busy Bean, but she's totally freaking out about how her life will change when her two best friends go to college in the fall. And when a reckless kiss causes all three of them to break up, she may lose them a lot sooner. On top of that, her ex-girlfriend is back in town, bringing with her a slew of memories, both good and bad.

And then there's Levi Keller, the cute artist who's spending all his free time at the coffee shop where she works. Levi's from out of town, and even though Babe knows better than to fall for a tourist who will leave when summer ends, she can't stop herself from wanting to know him. Can Babe keep her distance, or will she break the one rule she's always had - to never fall for a summer boy?
Fear of Missing Out by Kate McGovern (FSG)
Everyone has a fear of missing out on something--a party, a basketball game, a hangout after school. But what if it's life that you'll be missing out on?

When Astrid learns that her cancer has returned, she hears about a radical technology called cryopreservation that may allow her to have her body frozen until a future time when--and if--a cure is available. With her boyfriend, Mohit, and her best friend, Chloe, Astrid goes on a road trip in search of that possibility. To see if it's real. To see if it's worth it. For fear of missing out on everything.
Internment by Samira Ahmed (Little, Brown)
Rebellions are built on hope. Set in a horrifying near-future-United States, seventeen-year-old Layla Amin is forced into an internment camp for Muslim-American citizens with her parents.
With the help of newly-made friends also trapped within the internment camp, her boyfriend on the outside, and an unexpected alliance, Layla begins a journey to fight for freedom, leading a revolution against the internment camp's Director and his guards.
Heart-racing and emotional, Internment challenges readers to fight complicit silence that exists in our society today.
Night Music by Jenn Marie Thorne (Dial)
A romantic comedy that sweeps you up with breezy writing and canny social commentary, set behind the scenes of the classical music world during one hot, anything-can-happen, New York City summer.

Ruby has always been Ruby Chertok future classical pianist, heir to the Chertok family legacy, daughter of renowned composer Martin Chertok. But after bungling her audition for the prestigious Amberley School of Music--where her father is on faculty--Ruby is suddenly just . . . Ruby. And who is that again? All she knows is that she wants out of the orbit of her relentlessly impressive family, and away from the world of classical music for good. Yes? Yes.

Oscar is a wunderkind, a musical genius. Just ask any of the 1.8 million people who've watched him conduct his own compositions on YouTube--or hey, just ask Oscar. But while he might be the type who'd name himself when asked about his favorite composer and somehow make you love him more for it, Oscar is not the type to jeopardize his chance to study under the great Martin Chertok--not for a crush. He's all too aware of how the ultra-privileged, ultra-white world of classical music might interpret a black guy like him falling for his benefactor's white daughter. Right? Right.

But as the New York City summer heats up, so does the spark between Ruby and Oscar. Soon their connection crackles with the same alive, uncontainable energy as the city itself. But can two people still figuring themselves out figure out how to be together? Or will the world make the choice for them?

Never-Contented Things by Sarah Porter (Tor Teen)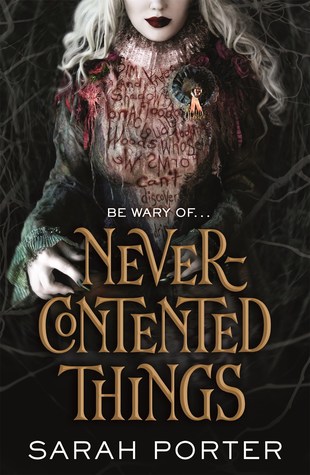 Seductive. Cruel. Bored
Be wary of...

Never-Contented Things
A Novel of Faery

Prince and his fairy courtiers are staggeringly beautiful, unrelentingly cruel, and exhausted by the tedium of the centuries--until they meet foster-siblings Josh and Ksenia. Drawn in by their vivid emotions, undying love for each other, and passion for life, Prince will stop at nothing to possess them.

First seduced and then entrapped by the fairies, Josh and Ksenia learn that the fairies' otherworldly gifts come at a terrible price--and they must risk everything in order to reclaim their freedom.

A new YA standalone novel about dark faeries with surefire appeal to fans of Holly Black, Laini Taylor, and Sarah J. Maas by Sarah Porter, the critically-acclaimed author of Vassa in the Night and When I Cast Your Shadow.

March 26th
Undaunted by Kat Falls (Scholastic)
Acclaimed author Kat Falls returns for another breathless, genre-bending adventure.

First love is the most dangerous game in this fast-paced adventure perfect for fans of Marie Lu, Veronica Rossi, and Sarah J. Maas.

Lane Everson barely survived her first journey to the Feral Zone. The forbidden, overgrown landscape east of the Mississippi River was abandoned years ago when a virus spread through the population, bringing civilization to its knees.

But Lane has crossed the quarantine line, and she knows the truth. There are survivors on the other side of the wall - people who were not killed by the virus, but changed by it, their bodies warped to display a variety of animal traits. In the most severe cases, their minds are warped as well, leaving them barely human.

Lane volunteers to return to the Zone as part of a humanitarian aid mission. But she has a darker, secret purpose. Someone she loves has been infected, and she once made him a promise: If he ever goes feral, Lane will be the one to put him down. Now, Lane fears that the time has come.

Quarantine: A Love Story by Katie Cicatelli-Kuc (Scholastic)
Oliver wants a girlfriend, and there's a girl back home who might be interested in him. The problem is, he has to spend his spring break on a volunteer trip in the Dominican Republic. Flora, on the other hand, isn't really looking for a boyfriend. She just wants to end a miserable spring break visiting her dad and her new stepmom in the D.R.

The solution to both their problems? Get back home to New York ASAP. Sadly, they won't be getting there anytime soon.

Their hopes are dashed when Flora's impulsiveness lands them in quarantine -- just the two of them. Now, the two teens must come together in order to survive life in a bubble for 30 days. In that time, love will bloom. But is it the real thing, or just a placebo effect?

In her debut novel, Katie Cicatelli-Kuc delivers an introspective and witty story about finding love in the most unexpected place.
The Last Voyage of Poe Blythe by Ally Condie (Dutton)
The only thing Poe Blythe ever wanted was Call. Call was true love and hope in Poe's otherwise dim life as a machinist in the Settlement. Call was home. Poe and Call hungered for the chance to live in the untamed wilderness beyond the Settlement's walls—to make a new life, together. Hopeful for a taste of freedom, they take jobs on the river dredge—a hulking beast of a ship that claws its way across river bottoms in search of gold. But all their dreams are shattered the night raiders board the dredge and murder Call.

Poe's world is irreparably fractured in the wake of Call's death and soon her only driving force is revenge, destruction of those who ripped Call away from her. She becomes the architect of a stronger dredge, outfitted with savage defense systems that will slaughter any outsider who attempts to board. But Poe never expected to return to the river, nor did she expect to return as the dredge's captain. With possible traitors in her midst and a looming unease about the true agenda of the Settlement's leadership, Poe's unexpected new voyage might also be her last. Poe is confident that her defenses will not fail. What she is less sure of, is herself.
The Dating Game by Kiley Roache (Inkyard Press)
The Social Network gets a romantic twist in this fresh and engaging new read from the author of Frat Girl, featuring college campus life as three freshman stuck working together on a group project create a dating app that goes viral, winning them fame, potential fortune...and more trouble than it might be worth.

When a prestigious class for future entrepreneurs leads to three freshman developing the next It App for dating on college campuses, all hell breaks loose...

Sara is a driven type-A control freak who lives by her color coordinated Post-it notes. Braden is a player who wants out from under his billionaire father's thumb. Roberto earned his place at Warren University through scholarship and can't afford for his grades to drop. When the three are forced to work together as a group in one of the university's most notoriously difficult classes, tension rises to the breaking point...until shockingly, the silly dating app they created in the final hour proves to be the most viable project in class. Late nights of app development, interest from corporate sponsors, and unexpected romance are woven into a true-to-life college drama that combines the intensity and atmosphere of The Social Network with a romantic twist.
Killing November by Adriana Mather (Imprint)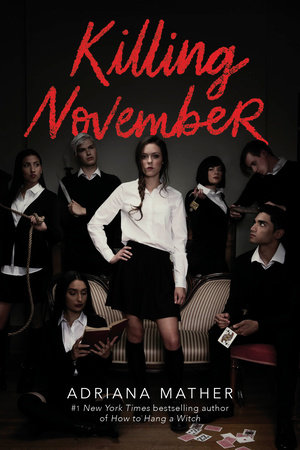 From the #1 New York Times bestselling author of How to Hang a Witch comes a thriller set at a secretive boarding school where students are trained to carry on family legacies that date back hundreds of years, legacies that have built—and toppled—empires.

It's a school completely off the grid, hidden by dense forest and surrounded by traps. There's no electricity, no internet, and an eye-for-an-eye punishment system. Classes include everything from Knife-Throwing and Poisons to the Art of Deception and Historical Analysis. And all of the students are children of the world's most elite strategists—training to become assassins, counselors, spies, and master impersonators. Into this world walks November Adley, who quickly discovers that friends are few in a school where personal revelations are discouraged and competition is everything. When another student is murdered, all eyes turn to November, who must figure out exactly how she fits into the school's bizarre strategy games before she is found guilty of the crime…or becomes the killer's next victim.

Fake Plastic Girl by Zara Lisbon (Henry Holt)
Celebrity-studded parties that last long into the night. Camera flashes and designer clothes. And a body found floating in the Venice Beach canals.

But let's start at the beginning.

Justine Childs is your average teenage girl, until the day ex-child-star Eva Kate Kelly moves in across the way. Eva Kate is gorgeous, seductive, and eager to invite Justine into her glittery world. Their relationship intensifies quickly, but there is a lot they aren't telling each other, and in the midst of the whirlwind, a girl lies dead. Who killed Eva Kate? Justine swears her innocence—and she'd like you to hear her side of the story.
The Meaning of Birds by Jaye Robin Brown (HarperTeen)
Before, Jessica has always struggled with anger issues, but come sophomore year that all changes when Vivi crashes into her life. As their relationship blossoms, Vivi not only helps Jess deal with her pain, she also encourages her to embrace her talent as an artist. And for the first time, it feels like the future is filled with possibilities. After In the midst of senior year, Jess's perfect world is erased when Vivi suddenly passes away. Reeling from the devastating loss, Jess pushes everyone away, and throws out her plans to go to art school. Because art is Vivi and Vivi is gone forever.

Desperate for an escape, Jess gets consumed in her work-study program, letting all of her dreams die. Until she makes an unexpected new friend who shows her a new way to channel her anger, passion, and creativity. Although Jess may never draw again, if she can find a way to heal and room in her heart, she just might be able to forge a new path for herself without Vivi.

Dig by A.S. King (Dutton)
Acclaimed master of the YA novel A. S. King's eleventh book is a surreal and searing dive into the tangled secrets of an upper-middle-class white family in suburban Pennsylvania and the terrible cost the family's children pay to maintain the family name.

The Shoveler, the Freak, CanIHelpYou?, Loretta the Flea-Circus Ring Mistress, and First-Class Malcolm. These are the five teenagers lost in the Hemmings family's maze of tangled secrets. Only a generation removed from being simple Pennsylvania potato farmers, Gottfried and Marla Hemmings managed to trade digging spuds for developing subdivisions and now sit atop a seven-figure bank account, wealth they've declined to pass on to their adult children or their teenage grand children. "Because we want them to thrive," Marla always says. What does thriving look like? Like carrying a snow shovel everywhere. Like selling pot at the Arby's drive-thru window. Like a first class ticket to Jamiaca between cancer treatments. Like a flea-circus in a doublewide. Like the GPS coordinates to a mound of dirt in a New Jersey forest. As the rot just beneath the surface of the Hemmings precious white suburban respectability begins to spread, the far flung grand children gradually find their ways back to each other, just in time to uncover the terrible cost of maintaining the family name.

With her inimitable surrealism and insight into teenage experience, A.S. King explores how a corrosive culture of polite, affluent white supremacy tears a family apart and how one determined generation can save themselves.
In Another Life by C.C. Hunter (Wednesday Books)
Chloe was three years old when she became Chloe Holden, but her adoption didn't scar her, and she's had a great life. Now, fourteen years later, her loving parents' marriage has fallen apart and her mom has moved them to Joyful, Texas. Starting twelfth grade as the new kid at school, everything Chloe loved about her life is gone. And feelings of déjà vu from her early childhood start haunting her.

When Chloe meets Cash Colton she feels drawn to him, as though they're kindred spirits. Until Cash tells her the real reason he sought her out: Chloe looks exactly like the daughter his foster parents lost years ago, and he's determined to figure out the truth.

As Chloe and Cash delve deeper into her adoption, the more things don't add up, and the more strange things start happening. Why is Chloe's adoption a secret that people would kill for?

Unleaving by Melissa Ordstrom (Fiewel and Friends)
In a book that is both urgent and timely, Melissa Ostrom explores the intricacies of shame and victim-blaming that accompany the aftermath of assault.

After surviving an assault at an off-campus party, nineteen-year-old Maggie is escaping her college town, and, because her reporting the crime has led to the expulsion of some popular athletes, many people--in particular, the outraged Tigers fans--are happy to see her go.

Maggie moves in with her Aunt Wren, a sculptor who lives in an isolated cabin bordered by nothing but woods and water. Maggie wants to forget, heal, and hide, but her aunt's place harbors secrets and situations that complicate the plan. Worse, the trauma Maggie hoped to leave behind has followed her, haunting her in ways she can't control, including flashbacks, insomnia and a sense of panic. Her troubles intensify when she begins to receive messages from another student who has survived a rape on her old campus. Just when Maggie musters the courage to answer her emails, the young woman goes silent.
Voices: The Final Hours of Joan of Arc by David Elliot (HMH)
Bestselling author David Elliott explores how Joan of Arc changed the course of history and remains a figure of fascination centuries after her extraordinary life and death. Joan of Arc gets the Hamilton treatment in this in a fiery, evocative novel-in-verse.

Told through medieval poetic forms and in the voices of the people and objects in Joan of Arc's life, (including her family and even the trees, clothes, cows, and candles of her childhood), Voices offers an unforgettable perspective on an extraordinary young woman. Along the way it explores timely issues such as gender, misogyny, and the peril of speaking truth to power. Before Joan of Arc became a saint, she was a girl inspired. It is that girl we come to know in Voices.