Hi everyone! Welcome to mini reviews, the series on my blog where I review books in a couple of sentences to give you my thoughts and recommendations. I often save my full reviews for books I've absolutely adored and have a lot to say on, and write about the other book, which I have more criticisms for here. Nevertheless, there's a new favourite in here if you read on... here's my thoughts on some of the books I've read recently.
Aisha Un-Haad would do anything for her family. When her brother contracts a plague, she knows her janitor's salary isn't enough to fund his treatment. So she volunteers to become a Scela, a mechanically enhanced soldier sworn to protect and serve the governing body of the Fleet, the collective of starships they call home. If Aisha can survive the harrowing modifications and earn an elite place in the Scela ranks, she may be able to save her brother.

Key Tanaka awakens in a Scela body with only hazy memories of her life before. She knows she's from the privileged end of the Fleet, but she has no recollection of why she chose to give up a life of luxury to become a hulking cyborg soldier. If she can make it through the training, she might have a shot at recovering her missing past.

In a unit of new recruits vying for top placement, Aisha's and Key's paths collide, and the two must learn to work together--a tall order for girls from opposite ends of the Fleet. But a rebellion is stirring, pitting those who yearn for independence from the Fleet against a government struggling to maintain unity.

With violence brewing and dark secrets surfacing, Aisha and Key find themselves questioning their loyalties. They will have to put aside their differences, though, if they want to keep humanity from tearing itself apart.
Quick Thoughts: Overall, my impression having read this book is that there was so much potential, but it sadly fell short for me. I found the characters to be bland and unmemorable, and I struggled to differentiate the two points of view. The world felt poorly developed and honestly, I was never particularly interested in the plot. I found myself just flicking through the pages, waiting to finish, which is never a good sign. There have also been some discussions on harmful content in this book, which you can find in Heather's review here. It just wasn't for me.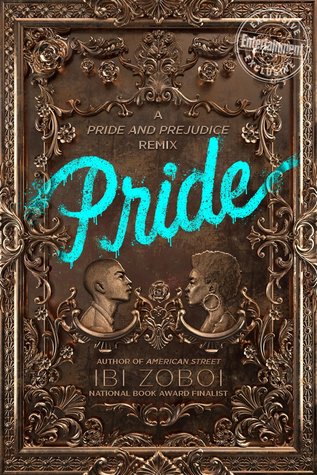 Pride and Prejudice gets remixed in this smart, funny, gorgeous retelling of the classic, starring all characters of color, from Ibi Zoboi, National Book Award finalist and author of American Street.

Zuri Benitez has pride. Brooklyn pride, family pride, and pride in her Afro-Latino roots. But pride might not be enough to save her rapidly gentrifying neighborhood from becoming unrecognizable.

When the wealthy Darcy family moves in across the street, Zuri wants nothing to do with their two teenage sons, even as her older sister, Janae, starts to fall for the charming Ainsley. She especially can't stand the judgmental and arrogant Darius. Yet as Zuri and Darius are forced to find common ground, their initial dislike shifts into an unexpected understanding.

But with four wild sisters pulling her in different directions, cute boy Warren vying for her attention, and college applications hovering on the horizon, Zuri fights to find her place in Bushwick's changing landscape, or lose it all.

In a timely update of Jane Austen's Pride and Prejudice, critically acclaimed author Ibi Zoboi skillfully balances cultural identity, class, and gentrification against the heady magic of first love in her vibrant reimagining of this beloved classic.
Quick Thoughts:This was a cute and fun retelling of Pride and Prejudice, which I enjoyed reading. My favourite part of this book was the main character Zuri, who was wonderful, and her Brooklyn community. There were some really thoughtful themes too. It wasn't a new favourite, or the most memorable book in the world, but I enjoyed it.
Beware of the woods and the dark, dank deep.

He'll follow you home, and he won't let you sleep.

Who are the Sawkill Girls?

Marion: the new girl. Awkward and plain, steady and dependable. Weighed down by tragedy and hungry for love she's sure she'll never find.

Zoey: the pariah. Luckless and lonely, hurting but hiding it. Aching with grief and dreaming of vanished girls. Maybe she's broken—or maybe everyone else is.

Val: the queen bee. Gorgeous and privileged, ruthless and regal. Words like silk and eyes like knives, a heart made of secrets and a mouth full of lies.

Their stories come together on the island of Sawkill Rock, where gleaming horses graze in rolling pastures and cold waves crash against black cliffs. Where kids whisper the legend of an insidious monster at parties and around campfires.

Where girls have been disappearing for decades, stolen away by a ravenous evil no one has dared to fight… until now.
Quick Thoughts: This one started so strong, and I was sure I was going to love it, but unfortunately as the book went on, it went in a direction I didn't enjoy so much. I think I just had issues suspending disbelief and understanding the rules and layout of the world, and I wasn't a fan of the ending. I did really appreciate the atmospheric writing and the ace rep however!
Girl Online meets Wild in this emotionally charged story of girl who takes to the wilderness to rediscover herself and escape the superficial persona she created on social media.

Mari Turner's life is perfect. That is, at least to her thousands of followers who have helped her become an internet starlet. But when she breaks down and posts a video confessing she's been living a lie—that she isn't the happy, in-love, inspirational online personality she's been trying so hard to portray—it goes viral and she receives major backlash. To get away from it all, she makes an impulsive decision: to hike the entire John Muir trail. Mari and her late cousin, Bri, were supposed to do it together, to celebrate their shared eighteenth birthday. But that was before Mari got so wrapped up in her online world that she shut anyone out who questioned its worth—like Bri.

With Bri's boots and trail diary, a heart full of regret, and a group of strangers that she meets along the way, Mari tries to navigate the difficult terrain of the hike. But the true challenge lies within, as she searches for the way back to the girl she fears may be too lost to find: herself.
.
Quick Thoughts: One of Jessi Kirby's books, Things We Know By Heart, is one of my favourite books of all time, so I always have high expectations for Jessi Kirby's books, and they rarely live up to that first book I read. Although I found the story quite slow, I really enjoyed this survival story and particular the characters and relationships in the book - both romantic and friends. It just wasn't a page-turner for me.
The rite has existed for as long as anyone can remember: when the prince-who-will-be-king comes of age, he must venture out into the gray lands, slay a fierce dragon, and rescue a damsel to be his bride. This is the way things have always been.

When Ama wakes in the arms of Prince Emory, however, she knows none of this. She has no memory of what came before she was captured by the dragon, or what horrors she has faced in its lair. She knows only this handsome prince, the story he tells of her rescue, and her destiny to sit on the throne beside him. Ama comes with Emory back to the kingdom of Harding, hailed as the new princess, welcomed to the court.

However, as soon as her first night falls, she begins to realize that not all is as it seems, that there is more to the legends of the dragons and the damsels than anyone knows–and that the greatest threats to her life may not be behind her, but here, in front of her.
Quick Thoughts: The first thing that needs to be said about this book is that it is very mature and graphic in places. There are some really difficult and upsetting moments, and I wouldn't recommend it for younger readers. Having said that, every single piece of this felt necessary and important. I felt like this book could be a light in the dark for so many people who have experienced abuse, and it really is needed. The writing was beautiful and introspective and I learnt so much from being inside Ama's head. If you think you are okay reading about some more difficult topics, I would strongly recommend this dark, gritty and frightening fairytale.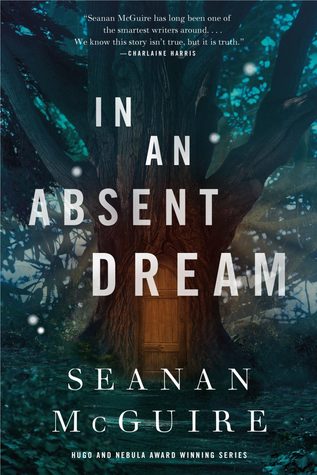 This is the story of a very serious young girl who would rather study and dream than become a respectable housewife and live up to the expectations of the world around her. As well she should.

When she finds a doorway to a world founded on logic and reason, riddles and lies, she thinks she's found her paradise. Alas, everything costs at the goblin market, and when her time there is drawing to a close, she makes the kind of bargain that never plays out well.

For anyone . . .
Quick Thoughts: Wow. Wow, wow, wow. I really didn't think I could love this series any more than I already do, but then I read this book. It might even be my favourite in the series. I don't want to give too much away about this one, because I feel it's one of those books that's best to go into blind, but this was honestly one of the best crafted stories I've read in a long time. The world-building was masterful, the characters lovable, and the story heart wrenching. Please read this book!
Have you guys read any of these? Please let me know!
Love,