I read some great books recently, so here are my thoughts! I'd love to hear what you think, too.
This morning, Kady thought breaking up with Ezra was the hardest thing she'd have to do. This afternoon, her planet was invaded.

The year is 2575, and two rival megacorporations are at war over a planet that's little more than an ice-covered speck at the edge of the universe. Too bad nobody thought to warn the people living on it. With enemy fire raining down on them, Kady and Ezra—who are barely even talking to each other—are forced to fight their way onto an evacuating fleet, with an enemy warship in hot pursuit.

But their problems are just getting started. A deadly plague has broken out and is mutating, with terrifying results; the fleet's AI, which should be protecting them, may actually be their enemy; and nobody in charge will say what's really going on. As Kady hacks into a tangled web of data to find the truth, it's clear only one person can help her bring it all to light: the ex-boyfriend she swore she'd never speak to again.

BRIEFING NOTE: Told through a fascinating dossier of hacked documents—including emails, schematics, military files, IMs, medical reports, interviews, and more—Illuminae is the first book in a heart-stopping, high-octane trilogy about lives interrupted, the price of truth, and the courage of everyday heroes.
When I started reading this, I really wasn't sure about the format, but once I got used to it, I sped through it and couldn't put it down towards the end. This one is like watching an action movie. I can't wait to read Gemina!
A near drowning…a coma for days…and then…

Olivia wakes up to realize she doesn't remember. Not just the accident—but anything from the last four years. Not high school. Not Matt, the guy who is apparently her boyfriend. Not the reason she and Jules are no longer friends. Nothing.

That's when it hits her—the accident may not have taken her life, but it took something just as vital: her memory. The harder she tires to remember things, the foggier everything gets, and figuring out who she is feels impossible when everyone keeps telling her who she was.

But then there's Walker. The guy who saved her. The one who broke her ribs pumping life back into her lungs. The hardened boy who keeps his distance despite Olivia's attempts to thank him.

With her feelings growing for Walker, tensions rising with Matt, and secrets she can't help but feel are being kept from her, Olivia must find her place in a life she doesn't even remember living.
I love Jessi Kirby's books, especially Things We Know By Heart, which is one of my favourites. Unfortunately, this one didn't quite live up to the hype for me. Although Liv was a great main character, and I really enjoyed being inside her head, plot-wise I needed more. I wanted more to happen in the story, this one was just too slow for me.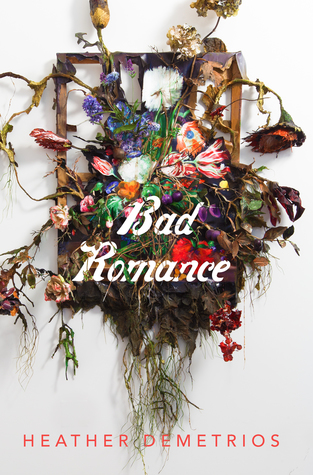 Grace wants out. Out of her house, where her stepfather wields fear like a weapon and her mother makes her scrub imaginary dirt off the floors. Out of her California town, too small to contain her big city dreams. Out of her life, and into the role of Parisian artist, New York director—anything but scared and alone.

Enter Gavin: charming, talented, adored. Controlling. Dangerous. When Grace and Gavin fall in love, Grace is sure it's too good to be true. She has no idea their relationship will become a prison she's unable to escape.

Deeply affecting and unflinchingly honest, this is a story about spiraling into darkness—and emerging into the light again.
This is a really important book. It's very difficult to read, and although I have to say I didn't particularly connect with any of the characters, I thought it was an honest portrayal of domestic abuse and it is an important addition to the genre. That said, I'm not sure it would be a book I would reread.