I'm back with another review! This one was sent to me by the lovely, lovely folks at Harper360, and I adored it so much. Here's all my thoughts!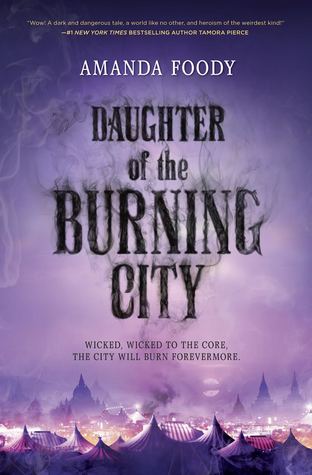 Sixteen-year-old Sorina has spent most of her life within the smoldering borders of the Gomorrah Festival. Yet even among the many unusual members of the travelling circus-city, Sorina stands apart as the only illusion-worker born in hundreds of years. This rare talent allows her to create illusions that others can see, feel and touch, with personalities all their own. Her creations are her family, and together they make up the cast of the Festival's Freak Show.

But no matter how lifelike they may seem, her illusions are still just that—illusions, and not truly real. Or so she always believed…until one of them is murdered.

Desperate to protect her family, Sorina must track down the culprit and determine how they killed a person who doesn't actually exist. Her search for answers leads her to the self-proclaimed gossip-worker Luca, and their investigation sends them through a haze of political turmoil and forbidden romance, and into the most sinister corners of the Festival. But as the killer continues murdering Sorina's illusions one by one, she must unravel the horrifying truth before all of her loved ones disappear.
This one was so awesome! Thank you so so much to Shrina at Harper360 for sending it to me!
Firstly the cover; the cover of this one is so incredibly beautiful. The smoky title on the front is embossed and the background is this incredible purple ombre colour - it's just so beautiful and suits the story so perfectly.
I loved the world of Gomorrah - the setting was so sumptuously described and so beautifully imagined. I really feel like Foody knew her world well, and I was impressed by the world-building. We all know I'm fussy about Carnival/Circus books (The Night Circus and Caraval are wonderful, but I struggle to find anything else that compares) - but this one totally lived up to the hype. In particular, I like the descriptions of the different carnival stalls and the beautiful food bought at each. It was all so beautifully imagined.
I was also a big fan of the characters. Although at first, I struggled to rememeber the names of all of those in Sorina's family, but soon I grew to enjoy reading about them all, although I did like some better than others. My favourite character of all, was Luca, the love interest. Luca is on the ace spectrum, and I LOVED seeing this come to light in the story. Yay for ace rep! I also feel like the romance between Sorina and Luca managed to avoid any cliches like love triangles or the "bad boy" trope, which was awesome. It's so rare to find a YA book without these cliches these days.
As for the plot, it was a delicious mix of creepy and captivating. The occasional illustrations spread through the book added to the creepy factor and I was hooked all the way through, trying to work out who the killer was. I have to say, I did guess pretty early who it would be, and there were some other aspects of the plot I also guessed pretty early, but I still found the story enjoyable.
At the end of this book, I wanted more, and I have to say I would LOVE more books set in this world. I'm looking forward to Amanda Foody's next volume, this was a really solid YA fantasy/mystery.
"Walk the line between normal and monstrous."
Have any of you guys read this one? If so, what did you think? I'd love to know!
Love,