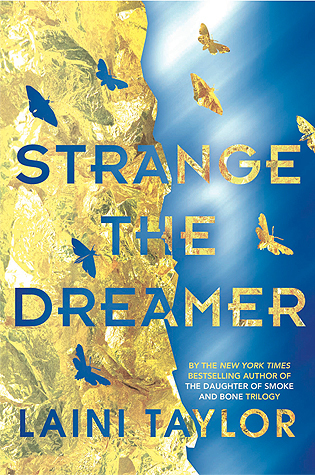 The dream chooses the dreamer, not the other way around—and Lazlo Strange, war orphan and junior librarian, has always feared that his dream chose poorly. Since he was five years old he's been obsessed with the mythic lost city of Weep, but it would take someone bolder than he to cross half the world in search of it. Then a stunning opportunity presents itself, in the person of a hero called the Godslayer and a band of legendary warriors, and he has to seize his chance or lose his dream forever.

What happened in Weep two hundred years ago to cut it off from the rest of the world? What exactly did the Godslayer slay that went by the name of god? And what is the mysterious problem he now seeks help in solving?

The answers await in Weep, but so do more mysteries—including the blue-skinned goddess who appears in Lazlo's dreams. How did he dream her before he knew she existed? And if all the gods are dead, why does she seem so real?

Welcome to Weep.
Why did I not read this sooner?
So this was the first book I ever preordered, over TWO YEARS AGO. As soon as I read the description (or basically as soon as I saw Laini Taylor's name on the cover), I knew I would love it, and I placed an order straight away. Then the publishing date was pushed back - and then again - and I slowly lost interest. I thought this book would never arrive and I kind of forgot about it untill it appeared on my doormat in April.
I went to Laini Taylor's signing later that month, having not read the book - I know, shock, horror - and thankfully wasn't spoiled but I loved the evening. Laini was so lovely and everytime she talked about Strange the Dreamer I was so intruiged. When she signed my copy, she was so kind and asked me all about my life and what I study at university, and I vowed I would read Strange straight away But I didn't. Life got in the way, and honestly, the size and apart epicness of the book terrified me a little. Big books sometimes kind of scare me. I forgot about it again.
Then, this month, life got really hard and very stressful, and I really needed a book which would pull me away from the stuff I was going through. I needed to immerse myself in a completely different world. I remebered the lovely Cait at Paper Fury saying how immersive this story was. So I picked this book up.
AND GUYS. GUYS. It was so incredibly beautiful. So beautiful. This was a world-changing book for me. I lived and breathed this book, and it is without a doubt my favourite book of the year so far.
Lazlo Strange might be one of my new favourite characters of all time. He is kind and gentle, and slightly shy, and I swear the moment I read the line about his nose being broken by a falling library book, I fell in love.He's just such a lover of stories, and I relate to him so much. As for the other characters, I don't want to say too much, and spoil things, but I adored Sarai too, and I thought her character development throughout the story was excellent. Too my surprise, I even loved the villans of the story. They weren't cliche or predictable, but surprising and complex, and that was so refreshing.
This one is kind of a slow burn, and I can understand that that makes it a book that not everyone will love. If you're looking for action and fast-paced scenes, you won't find them here. What you will find are beautiful descriptions, particularly of the city of Weep. As you read, you will be transported onto winding city lanes, filled with cakes on windowsills, children laughing and the business of the local markets. Lazlo and Sarai's stories slowly intertwine, and perhaps the best part about this book is seeing their stories come together. Laini Taylor is a master at foreshadowing as well as world building, but most of all at pulling the strings of a story together. I had to pause at various moments and wonder at how Laini Taylor planned the story so brilliantly. I'm so glad she spent that extra year on the book, because you can see just how deliberate and carefully crafted every word is.
One of my favourite things about this book was the theme of dreaming. Laini Taylor perfectly creates that wonderous, odd atmosphere of a dream, and these scenes were beautifully threaded together with the waking scenes in weep. As I said before, I don't want to give too much away, but the last 50 pages of this book were brutal. So fast paced and I was terrified for all my precious character babies. I can't wait to see what happens in the next volume, The Muse of Nightmares just became my most anticipated book of 2018.
How do I finish this review? Why with a F.R.I.E.N.D.S gif that perfectly sums up my feelings of course! ^-^
Quotes:
"You're a storyteller. Dream up something wild and improbable," she pleaded. "Something beautiful and full of monsters."

"Beautiful and full of monsters?"

"All the best stories are."
"It was impossible, of course. But when did that ever stop any dreamer from dreaming."
"You think good people can't hate?" she asked. "You think good people don't kill?"[...}"Good people do all the things bad people do, Lazlo. It's just that when they do them, they call it justice."

"He read while he walked. He read while he ate. The other librarians suspected he somehow read while he slept, or perhaps didn't sleep at all."