November 1st
Girls on the Line by Jenny Liu (Carolrhoda)
Sixteen-year-old Luli has just aged out of the orphanage where she grew up, and her childhood friend Yun helps her get a job at the factory where Yun works.
Both girls enjoy the freedom of making their own decisions and earning their own money--until Yun gets pregnant by her boyfriend, who's rumored to be a human trafficker. China's restrictive family planning laws put Yun in a difficult position: she'll either have to have an expensive abortion or face crippling fines for having a child out of wedlock.
When she disappears, it's up to Luli to track her down and find a way to help her.
The Infinite Pieces of Us by Rebe
kah Crane (Skyscape)
From the author of The Odds of Loving Grover Cleveland comes a hilarious and heartbreaking novel about coming apart, getting it together—and moving on. It's just a two-hour drive…
Pondering math problems is Esther Ainsworth's obsession. If only life's puzzles required logic. Her stepfather's solution? Avoidance. He's exiled the family to Truth or Consequences, New Mexico, to erase a big secret from Esther's past. So much for the truth. Now for the consequences: an empty swimming pool, a water-sucking cactus outside her window, a goldfish rescued from a church festival, and Esther's thirst for something real.
Step one: forget about her first love. Step two: make allies. Esther finds them in Jesús from the local coffee bar; a girl named Color who finds beauty in an abandoned video store; Beth, the church choir outcast; and Moss, a boy with alluring possibilities. Step three: confess her secret to those she hopes she can trust. Esther's new friends do more than just listen. They're taking Esther one step further.
Together, they hit the road to face Esther's past head-on. It's a journey that will lead her to embrace her own truth—in all its glory, pain, and awesomeness.
November 6th
Umbertouched by Livia Blackburne (Disney Hyperion)
The mission was a failure. Even though Zivah and Dineas discovered a secret that could bring down the empire, their information is useless without proof. Now, with their cover blown and their quest abandoned, their only remaining hope is to get home before Ampara brings the full might of its armies against their peoples.

As Shidadi and Dara alike prepare for war, Zivah and Dineas grapple with the toll of their time in the capital. After fighting alongside the Amparans against his own kin, can Dineas convince the Shidadi—and himself—where his loyalties lie? After betraying her healer's vows in Sehmar City, can Zivah find a way to redeem herself—especially when the Dara ask her to do the unthinkable? And after reluctantly falling in love, what will the two do with their lingering feelings, now that the Dineas from Sehmar City is gone forever? Time is running out for all of them, but especially Zivah whose plague symptoms surface once again. Now, she must decide how she'll define the life she has left.

Together, healer and warrior must find the courage to save their people, expose the truth, and face the devastating consequences headed their way.
Last Seen by Sara Shepard (Freeform Books)
The stakes are higher than ever in this third installment of The Amatuers, as Aerin finds herself kidnapped by the killer she knows all too well, and her friends must work to solve a puzzle laid out by the villain in order to save her.
At first, the mystery they're tasked with seems to have nothing to do with Aerin or her kidnapper. But as Seneca, Maddox, and Madison hit the Jersey Shore to gather clues, they begin to uncover the true background of the killer and the horrors that shaped him into who he is. The scavenger hunt leads them to the family of a recently kidnapped boy, a serial child-snatcher, and dark secrets they could never have seen coming. As Aerin struggles to play nice with the person who killed her sister in order to buy herself time, her friends work feverishly against the ticking clock that could mean her life, and every clue they uncover leads Seneca to suspect she's more connected to the killer's history than she ever realized.
With nail-biting suspense, twisted secrets, and non-stop action, this final installment in #1 New York Times best-selling author Sara Shepard's The Amateurs series will shock even the savviest of readers with its big reveal.
Girls of Paper and Fire by Natasha Ngan (Jimmy Paterson)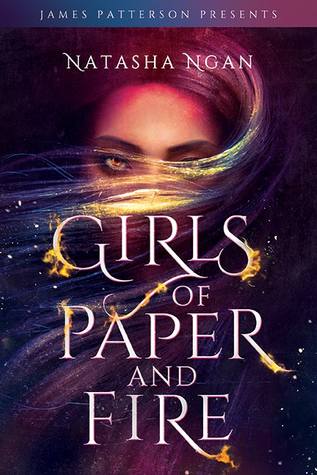 Each year, eight beautiful girls are chosen as Paper Girls to serve the king. It's the highest honor they could hope for...and the most cruel.

But this year, there's a ninth girl. And instead of paper, she's made of fire.

In this lush fantasy, Lei is a member of the Paper caste, the lowest and most oppressed class in Ikhara. She lives in a remote village with her father, where the decade-old trauma of watching her mother snatched by royal guards still haunts her. Now, the guards are back, and this time it's Lei they're after--the girl whose golden eyes have piqued the king's interest.

Over weeks of training in the opulent but stifling palace, Lei and eight other girls learn the skills and charm that befit being a king's consort. But Lei isn't content to watch her fate consume her. Instead, she does the unthinkable--she falls in love. Her forbidden romance becomes enmeshed with an explosive plot that threatens the very foundation of Ikhara, and Lei, still the wide-eyed country girl at heart, must decide just how far she's willing to go for justice and revenge.

Presented by James Patterson, Natasha Ngan's lyrical, searing, visceral fantasy, Girls of Paper and Fire, will remind us how precious freedom is--and the price we must pay to achieve it.
Skyward by Brandon Sanderson (Delacorte Press)
From Brandon Sanderson, the #1 New York Times bestselling author of the Reckoners series, Words of Radiance, and the internationally bestselling Mistborn series, comes the first book in an epic new series about a girl who dreams of becoming a pilot in a dangerous world at war with aliens.

Spensa's world has been under attack for hundreds of years. An alien race called the Krell leads onslaught after onslaught from the sky in a never-ending campaign to destroy humankind. Humanity's only defense is to take to their ships and combat the Krell. Pilots are the heroes of what's left of the human race.

Becoming a pilot has always been Spensa's dream. Since she was a little girl, she has imagined soaring above the earth and proving her bravery. But her fate is intertwined with that of her father--a pilot himself who was killed years ago when he abruptly deserted his team, leaving Spensa's chances of attending Flight School at slim to none.

No one will let Spensa forget what her father did, but she is determined to fly. And the Krell just made that a possibility. They've doubled their fleet, which will make Spensa's world twice as deadly . . . but just might take her skyward.
Throne of Glass: Collector's Edition by Sarah J Maas (Bloomsbury)
This must-have collectible edition of THRONE OF GLASS, the exciting first book in the New York Times bestselling series, features a deluxe package, brand new interior page designs, and more-perfect for Sarah J. Maas fans.

This lush, one-of-a-kind edition of the book that started a world-wide phenomenon tells the sweeping saga of Celaena Sardothien who lives in a land without magic, where the king rules with an iron hand. Celaena is summoned to the castle-not to assassinate the king, but to win her freedom. If she defeats twenty-three killers, thieves, and warriors in a competition, she will be released from prison to serve as the king's champion.
The Crown Prince will befriend her. The Captain of the Guard will protect her. But something evil dwells in the castle of glass-and it's there to kill. When her competitors start dying one by one, Celaena's fight for freedom becomes a fight for survival, and a desperate quest to root out the evil before it destroys her world.
Now available in an all-new, deluxe package, the THRONE OF GLASS COLLECTOR'S EDITION features a cloth slipcase with unique foil art on the case and the book cover, a ribbon pull, beautiful brand-new interior page designs, metallic endpapers, and a new map of Erilea.
The Wren Hunt by Mary Watson (Bloomsbury)
Every Christmas, Wren is chased through the woods near her isolated village by her family's enemies—the Judges—and there's nothing that she can do to stop it. Once her people, the Augurs, controlled a powerful magic. But now that power lies with the Judges, who are set on destroying her kind for good.

In a desperate bid to save her family, Wren takes a dangerous undercover assignment—as an intern to an influential Judge named Cassa Harkness. Cassa has spent her life researching a transformative spell, which could bring the war between the factions to its absolute end. Caught in a web of deceit, Wren must decide whether or not to gamble on the spell and seal the Augurs' fate.
Hearts Unbroken by Cynthia Leitich Smith (Candlewick Books)
Cynthia Leitich Smith turns to realistic fiction with the thoughtful story of a Native teen navigating the complicated, confusing waters of high school—and first love.
When Louise Wolfe's first real boyfriend mocks and disrespects Native people in front of her, she breaks things off immediately and dumps him over email. It's her senior year, anyway, and she'd rather spend her time on her family and friends and working on the school newspaper. The editors pair her up with Joey Kairouz, the ambitious new photojournalist, and in no time the paper's staff find themselves with a major story to cover: the school music director's inclusive approach to casting The Wizard of Oz has been provoking backlash in their mostly white, middle-class Kansas town. From the newly formed "Parents Against Revisionist Theater" to anonymous threats, long-held prejudices are being laid bare and hostilities are spreading against teachers, parents, and students—especially the cast members at the center of the controversy, including Lou's little brother, who's playing the Tin Man. As tensions mount at school, so does a romance between Lou and Joey—but as she's learned, "dating while Native" can be difficult. In trying to protect her own heart, will Lou break Joey's?
Hide With Me by Sorboni Banerjee (Razorbill)
In this heart-pounding, deeply-felt debut for fans of Jeff Zentner and Marieke Nijkamp, Sorboni Banerjee crafts a powerful story about the unbreakable bonds of friendship, the headiness of first love, and the courage to fight for a brighter future against all odds.

In the dying cornfields of his family's farm, seventeen-year-old Cade finds a mysterious girl broken and bleeding. She has one request: hide me.

With help from Cade's best friend, the son of the local veterinarian, the mysterious Jane Doe starts to heal, and details of her past surface. A foster kid looking for a way out, Jane got caught up in the wrong crowd and barely escaped with her life.

Cade has been trapped in the border town of Tanner, Texas all his life and has a difficult past of his own. Reeling from his parents' separation, he's focused on one thing: a football scholarship--his one-way ticket out of town.

As the two plan their escapes, Jane and Cade spend their nights in the abandoned barn on the edge of the farm and their days with Cade's friends: sweet, artistic, Mateo and his vivacious sister Jojo who vows to be president one day.

But just across the border in a city in Mexico lies the life Jane desperately wants to leave behind--a past filled with drugs and secrets, information she never wanted, and a cartel boss who is watching her every move.
Frozen Reign by Katherine Purdie (Katherine Tegan Books)
Fear reigns in Riaznin.
Former emperor Valko has kidnapped the youngest Auraseer and provoked a civil war. Now, he's hunting his brother, Anton, and threatening the people Sonya holds most dear.
With her empathic powers gone, Sonya doesn't know how to protect the people she loves and the nation she helped free. She can't sense who to trust. She can't track Valko. She can't tell if her beloved Anton is safe.
She only knows danger is coming. And there's nothing she can do to stop it.
When Sonya hears a tale of an Esten Auraseer with a mysterious ability to heal, suddenly her situation doesn't feel as impossible as it once did. But without her powers, finding the legendary Auraseer will be dangerous. And if she doesn't succeed, the peace she sacrificed so much to achieve will be shattered forever.
In this pulse-pounding finale to the New York Times bestselling series, Sonya must learn how to find her true strength—before the power she once saw as a curse is lost to her for good.
The Colour of Lies by C. J. Lyons (Blink)
From New York Times and USA Today bestselling author CJ Lyons comes The Color of Lies, a world drenched in color and mystery.

High school senior Ella Cleary has always been good at reading people. Her family has a rare medical condition called synesthesia that scrambles the senses—her Gram Helen sees every sound, and her uncle Joe can literally taste words. Ella's own synesthesia manifests itself as the ability to see colors that reveal people's true emotions…until she meets a guy she just can't read.

Alec is a mystery to Ella, a handsome, enigmatic young journalist who makes her feel normal for the first time in her life. That is, until he reveals the real reason why he sought her out—he wants to learn the truth behind her parents' deaths, the parents that Ella had always been told died in a fire. Alec turns Ella's world upside down when he tells her their deaths were definitely not an accident.

After learning her entire life has been a lie, Ella doesn't know who she can trust or even who she really is. With her adoptive family keeping secrets and the evidence mixing fact and fiction, the only way for Ella to learn the truth about her past is to find a killer.

Perfect for fans of Caroline B. Cooney, Ally Carter, and Jennifer Brown, The Color of Lies blurs the lines between black-and-white facts and the kaleidoscope of reality.
Pulp by Robin Talley (Harlequin Teen)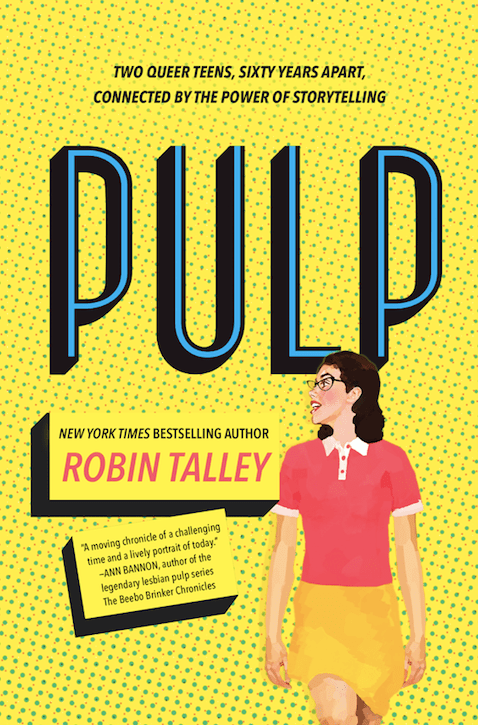 The New York Times bestselling author of Lies We Tell Ourselves weaves a stunning story told in dual narratives of two gay teens, one in 1955 and the other in present day, connected by their interest in the literary legacy of lesbian pulp fiction.

To avoid problems in her personal life, openly gay high school senior Abby Cohen focuses all of her attention on her senior project: writing and researching 1950s lesbian pulp fiction. Abby knows life was different back then, but on the page, Abby's own feelings, desires, hopes and questions are all there. Chasing that connection, Abby decides to track down her favorite pulp author, a woman named Marian Love.

In 1955 eighteen-year-old Janet Jones—the woman who would one day be published as Marian Love—must keep her feelings and the love she has for her best friend, Marie, a secret from her family and the rest of the world. But when Janet discovers books about women like her, she realizes she can live her truth...through fiction. As Janet pours her secrets into a novel of her own, she risks exposing herself, and Marie, to a danger all too real.

Pulp is a story of bravery, of love and of the power and influence of storytelling.
Archenemies by Marissa Meyer (Fiewel and Friends)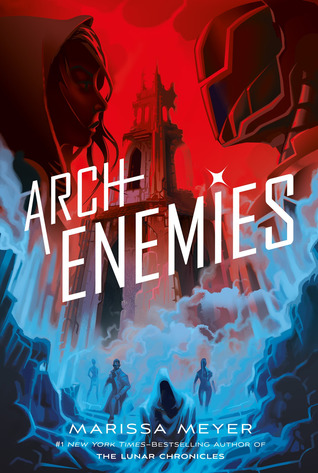 Part thriller, part superhero fantasy, here is the fiercely awaited sequel to the New York Times-bestselling Renegades by Marissa Meyer, author of the Lunar Chronicles.

Are Nova and Adrian each other's worst nightmare?

In Renegades, Nova and Adrian (aka Insomnia and Sketch) fought the battle of their lives against the Anarchist known as the Detonator. It was a short-lived victory.

The Anarchists still have a secret weapon, one that Nova believes will protect her. The Renegades also have a strategy for overpowering the Anarchists, but both Nova and Adrian understand that it could mean the end of Gatlon City – and the world – as they know it.
Empress of All Seasons by Emiko Jean (HMH)
In a palace of illusions, nothing is what it seems.

In the mythical empire of Honoku (reminiscent of ancient Japan), humans and yōkai battle for dominance.

MARI lives in the isolated mountain village of Tsuma where only women reside. The daughter of the most powerful Animal Wife – a full-blooded yōkai that is preternaturally beautiful but houses a terrible beast within – her life's duty it to trick men into marriage and steal their fortunes. Secretly though, Mari longs for another life. She will make a dangerous bargain – in exchange for her freedom she will compete at the Palace of Illusions in the seasonal rooms.

TARO is human and heir to the imperial throne. He cares little for the war between human and yōkai – a struggle his father, the Emperor, instigated. Taro also possesses a unique and dangerous gift – the ability to bring metal into life. Like Mari, he longs for freedom, a way out of his gilded cage.

AKIRA, (a.k.a. The Son of Nightmares) is an outcast. The son of the Slash-Mouthed Girl, a vengeful ghost yōkai, and her human lover, Akira ekes out a living stealing from mountain travelers. But he hates his life in the shadows and would rather spend his days in the open with the girl he adores, Mari.
Taro, Mari, and Akira come face to face in the Palace of Illusions where their true destinies are revealed. Torn between duty and love, loyalty and betrayal, vengeance and forgiveness, their choices will decide the fate of Honoku itself.
November 8th
Mammoth by Jill Baguchinsky (Turner Publishing)
The summer before her junior year, paleontology geek Natalie Page lands a coveted internship at an Ice Age dig site near Austin. Natalie, who's also a plus-size fashion blogger, depends on the retro style she developed to shield herself from her former bullies, but vintage dresses and perfect lipstick aren't compatible with prospecting for fossils in the Texas heat. But nothing is going to dampen Natalie's spirit — she's exactly where she wants to be, and she gets to work with her hero, a rock-star paleontologist who hosts the most popular paleo podcast in the world. And then there's Chase the intern, who's seriously cute, and Cody, a local boy who'd be even cuter if he were less of a grouch.
It's a summer that promises to be about more than just mammoths.
Until it isn't.
When Natalie's hero turns out to be anything but, and steals the credit for one of her accomplishments, Nat has to unearth the confidence she needs to stand out in a field dominated by dudes. To do this, she'll have to let her true self shine, even if that means defying all the rules for the sake of a major discovery.
November 13th
Four Three Two One by Courtney Stevens (HarperTeen)
Golden "Go" Jennings wasn't supposed to be on Bus 21 the day it blew up in New York City. Neither was her boyfriend, Chandler. But they were. And so was Rudy, a cute stranger whom Go shared a connection with the night before. And Caroline, a girl whose silence ended up costing nineteen people their lives.
Though it's been almost a year, Go is stuck in the memory of that day. She needs to talk about what happened and would like it to be with Chan, but he's completely shut himself off to what happened and what Go needs to move on from it. Then she makes contact with Rudy. Just like that, she again finds herself connecting so easily (and guiltily) to him.
Talking to another survivor has opened up a small window of healing in an otherwise stifling nightmare of memories. So she makes an impulsive decision: take her Gran's truck and her best friend Becky, road trip to Florida to pick up Rudy and Caroline, and, somehow along the way, convince Chan to join them. Their destination? New York City to board an art installation made of the charred remnants of Bus 21.
But things are never easy when it comes to healing. Uniting the four stirs up conflicting feelings of love, anger, and forgiveness. And secrets. Secrets that answer long-awaited questions. Secrets that dig schisms. Secrets that just may save these survivors—from themselves and the guilt that plagues them.
The
Incredible True Story of the Making of the Eve of Destruction by Amy Brashaer (Soho Teen)
Arkansas, 1984: The town of Griffin Flat is known for almost nothing other than its nuclear missile silos. MAD—Mutually Assured Destruction—is a fear every local lives with and tries to ignore. Unfortunately that's impossible now that film moguls have picked Griffin Flat as the location for a new nuclear holocaust movie, aptly titled The Eve of Destruction.

When sixteen-year-old Laura Ratliff wins a walk-on role (with a plus-one!) thanks to a radio call-in contest, she is more relieved than excited. Mingling with Hollywood stars on the set of a phony nuclear war is a perfect distraction from being the only child in her real nuclear family—which has also been annihilated. Her parents are divorced. Her mother has recently married one of the only African-American men in town. Her father, an officer in the Strategic Air Command, is absent…except when he phones at odd hours to hint at an impending catastrophe. But isn't that his job?

Laura's only real friend is her new stepbrother, Terrence. She picks him as her plus-one and manages to enrage both her fair-weather friends and film crew. (Now the script has to adjust for "another black.") But that adjustment is nothing compared to what happens on set after t

he scripted nuclear explosion. Because nobody seems to know if a real nuclear bomb has detonated or not.
Shatter the Suns by Caitlin Sangster (Simon Pulse)
No one is safe, not with a horrifying new strain of Sleeping Sickness tearing through the population. After fleeing the City with her friends, Sev has one goal: to find the cure her mother developed and put an end to the epidemic once and for all. But decoding her mother's last words—to seek out "Port North"—is easier said than done.

Nobody she talks to has heard of Port North, and with only Tai-ge and June on her side, Sev fears Dr. Yang will find the cure first, and that he'll use it to start a new world order under his rule.

With no leads, Sev is running out of options—until she discovers someone hiding in the cargo hold of her heli plane. Someone she thought was dead. Someone with maps that could point the way to Port North, if only she could read them.

Unfortunately, the one person Sev never wants to see again might be the one person who can help her find the cure.
The Resolutions by Mia Garcia (Katherine Tegan Books)
New Years are for fresh starts, but Jess just wants everything to go back to the way it was.
From hiking trips, to four-person birthday parties, to never-ending group texts, Jess, Lee, Ryan, and Nora have always been inseparable—and unstoppable. But now, with senior year on the horizon, they've been splintering off and growing apart. And so, as always, Jess makes a plan.
Reinstating their usual tradition of making resolutions together on New Year's Eve, Jess adds a new twist: instead of making their own resolutions, the four friends assign them for each other—dares like kiss someone you know is wrong for you, show your paintings, learn Spanish, say yes to everything.
But not even the best laid plans can take into account the uncertainties of life. As the year unfolds, Jess, Ryan, Nora, and Lee each test the bonds that hold them together. And amid first loves, heart breaks, and life-changing decisions, beginning again is never as simple as it seems.
Your Own Worst Enemy by Gordon Jack (HarperTeen)
What does it take to become student body president at Lincoln High School?
Stacey Wynn has the experience, the support of the administration, and the right temperament. Julia Alvarado promises to break down the barriers dividing those who ride the bus and those who drive their Lexus. Tony Guo will do almost whatever it takes to bring back chocolate milk and make the cafeteria great again—as long as he's able to also smoke up.
If this were an ordinary school election, the winner would be whichever candidate was the most popular. But this year is special because campaign manager Brian and his ruthless younger brother Kyle are working behind the scenes to help their candidates succeed. To become the clear frontrunner in the race, how low will each candidate sink to win an election that could change the course of… well, nothing, really?
Wilder by Andrew Simonet (FSG)
I met Melissa in the rubber room, a.k.a. in-school suspension. And that's not her real name.
She had secrets, I had enemies.
"People are either useful or dangerous," she said. "One or the other."
"Which one am I?" I said.
"You're both."
Meili was right. (That's her real name.)
You can solve a lot of problems if you don't mind getting hurt.

Jason Wilder is in permanent in-school suspension for fighting. Meili Wen gets there by breaking a girl's finger. Jason and Meili don't just connect; they collide. Two people who would never cross paths―outsiders from radically different backgrounds―they form an exhiliarating, unpredictable bond. When circumstances push, they push back. There's no plan. And there's no stopping.

"I am so crap. How can you stand being with me? Don't answer that or I will crash this thing with both of us on it, swear to god, are you ready?"
Yes. No. Didn't matter.
I reached both arms around Meili's waist as we zoomed down the hill.
The Reckoning of Noah Shaw by Michelle Hodkin (Simon and Schuster)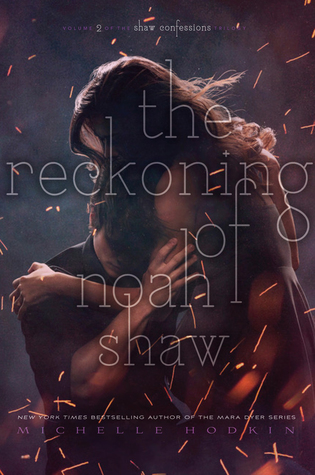 Noah Shaw confesses all in this second novel of a chilling new companion series to Michelle Hodkin's New York Times bestselling Mara Dyer trilogy!

Noah Shaw doesn't think he needs his father's inheritance.
He does.

Noah believes there's something off about the suicides in his visions.
There is.

Noah is convinced that he still knows the real Mara Dyer.
He does not.

Everyone thought the ni

ghtmare had ended with Mara Dyer's memoirs, but it was only the beginning. As old skeletons are laid bare, alliances will be tested, hearts will be broken, and no one will be left unscarred.
This Splintered Silence by Kayla Olsen (HarperTeen)
She thought it was over. It was only the beginning.
Lindley Hamilton has been the leader of the space station Lusca ever since all first generation crew members on board, including her mother, the commander, were killed by a deadly virus.
Lindley always assumed she'd captain the Lusca one day, but she never thought that day would come so soon. And she never thought it would be like this—struggling to survive every day, learning how to keep the Lusca running, figuring out how to communicate with Earth, making sure they don't run out of food.
When a member of the surviving second generation dies from symptoms that look just like the deadly virus, though, Lindley feels her world shrinking even smaller. The disease was supposed to be over; the second generation was supposed to be immune. But as more people die, Lindley must face the terrifying reality that either the virus has mutated, or something worse is happening: one of their own is a killer.
How She Died, How I Lived by Mary Crockett (Little, Brown)
Girl in Pieces meets The Way I Used to Be in this poignant and thought-provoking novel about a girl who must overcome her survivor's guilt after a fellow classmate is brutally murdered.

I was one of five. The five girls Kyle texted that day. The girls it could have been. Only Jamie--beautiful, saintly Jamie--was kind enough to respond. And it got her killed.

On the eve of Kyle's sentencing a year after Jamie's death, all the other "chosen ones" are coping in various ways. But our tenacious narrator is full of anger, stuck somewhere between the horrifying past and the unknown future as she tries to piece together why she gets to live, while Jamie is dead.

Now she finds herself drawn to Charlie, Jamie's boyfriend--knowing all the while that their relationship will always be haunted by what-ifs and why-nots. Is hope possible in the face of such violence? Is forgiveness? How do you go on living when you know it could have been you instead?
The Lying Woods by Ashley Elston (Disney Hyperion)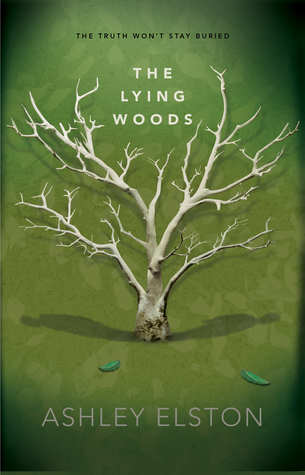 Owen Foster has never wanted for anything. Then his mother shows up at his elite New Orleans boarding school cradling a bombshell: his privileged life has been funded by stolen money. After using the family business, the single largest employer in his small Louisiana town, to embezzle millions and drain the employees' retirement accounts, Owen's father vanished without a trace, leaving Owen and his mother to deal with the fallout.

Owen returns to Lake Cane to finish his senior year, where people he can barely remember despise him for his father's crimes. It's bad enough dealing with muttered insults and glares, but when Owen and his mother receive increasingly frightening threats from someone out for revenge, he knows he must get to the bottom of what really happened at Louisiana Frac--and the cryptic note his father sent him at his boarding school days before disappearing.

Owen's only refuge is the sprawling, isolated pecan orchard he works at after school, owned by a man named Gus who has his own secrets--and in some ways seems to know Owen better than he knows himself. As Owen uncovers a terrible injustice that looms over the same Preacher Woods he's claimed as his own, he must face a shocking truth about his own past--and write a better future.
The Storyteller by Trachi Chee (Putnam)
The thrilling conclusion to the epic adventure that began with New York Times bestselling The Reader, "a series fantasy lovers will want to sink their teeth into." - Booklist, starred review

Sefia is determined to keep Archer out of the Guard's clutches and their plans for war between the Five Kingdoms. The Book, the ancient, infinite codex of the past, present and future, tells of a prophecy that will plunge Kelanna in that bloody war, but it requires a boy—Archer—and Sefia will stop at nothing to ensure his safety. The Guard has already stolen her mother, her father, and her Aunt Nin. Sefia would sooner die than let them take anymore from her—especially the boy she loves.

But escaping the Guard and the Book's prophecy is no easy task. After all, what is written always comes to pass. As Sefia and Archer watch Kelanna start to crumble to the Guard's will, they will have to choose between their love and joining a war that just might tear them apart.

Full of magic, suspense, and mystery, Traci Chee brings her Sea of Ink and Gold trilogy to a close in this spellbinding final installment.
November 20
th
Dagger and Coin by Kathy MacMillan (HarperTeen)
Soraya Gamo was meant to be queen of Qilara, until an Arnath slave rebellion destroyed the monarchy and the capital city. Now, improbably, she sits on the new Ruling Council beside her former enemies, finally holding the political power she always wanted - but over a nation in ruins. As she works to rebuild Qilara, she can, at last, use what everyone once told her to hide: her brain.
But not everyone is ready to accept the new equality that the Ruling Council has decreed between the Arnathim and Qilarites. So when a slave ship arrives in the city, full of Arnathim captured before Qilara fell—the civil unrest that has been bubbling since the rebellion erupts.
Forced to confront her own prejudices, Soraya struggles to gain the trust of the Arnath people she once disregarded and establish peace in what has become chaos. With the threat of attacks high, Gelti, a former guard captain, trains Soraya in self-defense. As the two grow close, tension within the city ramps up, with danger, betrayal, and deception meeting Soraya everywhere she turns. Friends become foes, adversaries become companions, and the clashing of classes threatens to unravel all the good Soraya has been trying to do. Can Soraya, raised to be a proper Qilarite lady, learn to be a true leader? Or will the sins of her past forever haunt the footsteps of her future?
Any Second by

Kevin Emerson (Crown Books)
F
ive years after being kidnapped, Elian's captor sends him into the mall--with a bomb strapped to his chest.

Across the mall is Maya, a girl whose crippling anxiety holds her prisoner in its own way.

Whether it's chance or fate, Maya keeps Eli from ending them all. And now nothing is the same. Drawn together by their dark pasts, Maya and Eli know it takes only seconds for their entire worlds to change. But time will tell if meeting each other will change them for better or worse.
The Dark Days Deceit by Ailson Goodman (Viking Books)
The thrilling, genre-bending conclusion to Lady Helen's demon-hunting adventures, set in the glittering Regency world.

Lady Helen has retreated to a country estate outside Bath to prepare for her wedding to the Duke of Selburn, yet she knows she has unfinished business to complete. She and the dangerously charismatic Lord Carlston have learned they are a dyad, bonded in blood, and only they are strong enough to defeat the Grand Deceiver, who threatens to throw mankind into chaos. But the heinous death-soaked Ligatus Helen has absorbed is tearing a rift in her mind. Its power, if unleashed, will annihilate both Helen and Carlston unless they can find a way to harness its ghastly force and defeat their enemy.

In the final book of the trilogy that began with THE DARK DAYS CLUB and continued with THE DARK DAYS PACT, the intrepid Lady Helen's story hurtles to a shocking conclusion full of action, heartbreak, and betrayal.
November 27th
Amber & Dusk by Lyra Selene (Scholastic Press)
Sylvie has always known she deserves more. Out in the permanent twilight of the Dusklands, her guardians called her power to create illusions a curse. But Sylvie knows it gives her a place in Coeur d'Or, the palais of the Amber Empress and her highborn legacies.

So Sylvie sets off toward the Amber City, a glittering jewel under a sun that never sets, to take what is hers.

But her hope for a better life is quickly dimmed. The empress invites her in only as part of a wicked wager among her powerful courtiers. Sylvie must assume a new name, Mirage, and begin to navigate secretive social circles and deadly games of intrigue in order to claim her spot. Soon it becomes apparent that nothing is as it appears and no one, including her cruel yet captivating sponsor, Sunder, will answer her questions. As Mirage strives to assume what should be her rightful place, she'll have to consider whether it is worth the price she must pay.

An extraordinary, vividly rendered YA debut.
Love a la Mode by Stephanie Kate Strohm (Disney Hyperion)
Take two American teen chefs, add one heaping cup of Paris, toss in a pinch of romance, and stir. . . .

Rosie Radeke firmly believes that happiness can be found at the bottom of a mixing bowl. But she never expected that she, a random nobody from East Liberty, Ohio, would be accepted to celebrity chef Denis Laurent's school in Paris, the most prestigious cooking program for teens in the entire world. Life in Paris, however, isn't all cream puffs and crepes. Faced with a challenging curriculum and a nightmare professor, Rosie begins to doubt her dishes.

Henry Yi grew up in his dad's restaurant in Chicago, and his lifelong love affair with food landed him a coveted spot in Chef Laurent's school. He quickly connects with Rosie, but academic pressure from home and his jealousy over Rosie's growing friendship with gorgeous bad-boy baker Bodie Tal makes Henry lash out and push his dream girl away.

Desperate to prove themselves, Rosie and Henry cook like never before while sparks fly between them. But as they reach their breaking points, they wonder whether they have what it takes to become real chefs.

Perfect for lovers of Chopped Teen Tournament and Kids Baking Championship, as well as anyone who dreams of a romantic trip to France, Love la Mode follows Rosie and Henry as they fall in love with food, with Paris, and ultimately, with each other.
Runebreaker by Alex R Kahler (Harlequin Teen)
Magic is sin.

Aidan desires only one thing: to rule. Arrogant, headstrong and driven by the element of Fire, he will stop at nothing to bring the evil Howls that destroyed Scotland to their knees. But Fire is a treacherous element, and the very magic that brought him to power could burn his world to ash.

Especially with the blood of his fellow Hunters on his hands.

Driven by a bloodlust he can't control and dark whispers that may not be entirely in his head, he and his magic-eschewing friend Kianna will do whatever it takes to liberate their broken world. Even at the risk of confronting the Church. Even at the risk of losing his humanity.

But power isn't the only thing on Aidan's mind. He's falling for the intoxicating Tomas, an Incubus who offers everything Aidan desires. For a price.

And if that price burns the world down, well… Aidan is used to playing with Fire.
Outrun the Wind by Elizabeth Tammi (Flux)
The Huntresses of Artemis must obey two rules: never disobey the goddess, and never fall in love. After being rescued from a harrowing life as an Oracle of Delphi, Kahina is glad to be a part of the Hunt; living among a group of female warriors gives her a chance to reclaim her strength, even while her prophetic powers linger. But when a routine mission goes awry, Kahina breaks the first rule in order to save the legendary huntress Atalanta.

To earn back Artemis's favor, Kahina must complete a dangerous task in the kingdom of Arkadia— where the king's daughter is revealed to be none other than Atalanta. Still reeling from her disastrous quest and her father's insistence on marriage, Atalanta isn't sure what to make of Kahina. As her connection to Atalanta deepens, Kahina finds herself in danger of breaking Artemis' second rule.

She helps Atalanta devise a dangerous game to avoid marriage, and word spreads throughout Greece, attracting suitors willing to tempt fate to go up against Atalanta in a race for her hand. But when the men responsible for both the girls' dark pasts arrive, the game turns deadly.