Undated
Idol Gossip by Alexandra Leigh Young (Walker Books US)
A sharp, witty debut young adult novel by producer of The New York Times "The Daily" podcast
After moving to Seoul for her diplomat mom's job, lonely seventeen-year-old Alice Choy mostly sings karaoke with her sister. But when a talent agent overhears Alice, she's invited to be part of his company's Star Academy for a chance at becoming
a K-pop idol. Except independent Alice chafes at the rigid, teamfocused atmosphere of the school. Her bits of rebellion make her fodder for the fan gossip blogs, jeopardizing not only her shot at being a professional singer, but the chances of the girls in her new group.
The Witch Owl Parliament by David Bowles and Raul Gonzalez III (Tu Books) - postponed from December 2020.
When apprentice shaman Cristina Franco is killed by witch owls, her brother Enrique brings her back to life with alchemy and engineering. Now partly mechanical, she vows to protect the Republic of Santander against the supernatural attacks rocking the country––even though her very existence is an abomination to its citizens.

But to do so requires the green magic Cristina has trained to wield. Will she still have access to that vital power now that her body and soul have been forever altered? Can it be used to fight as well as heal? When groups of refugees and indigenous people begin to disappear, Cristina has to set her doubts aside and embrace her new destiny.

In the first volume of the Clockwork Curandera trilogy, Mexican American creatives David Bowles and Raúl the Third combine their unique talents and vision to craft a compelling new world in which Mesoamerican magic and steampunk technology co-exist, sometimes manipulated by the rich and powerful for nefarious ends

.
Chain of Iron by Cassandra Clare (Margaret K. McElderry Books)
March 2nd
The start of a bold and immersive West African-inspired, feminist fantasy series for fans of Children of Blood and Bone and Black Panther. In this world, girls are outcasts by blood and warriors by choice.

Sixteen-year-old Deka lives in fear and anticipation of the blood ceremony that will determine whether she will become a member of her village. Already different from everyone else because of her unnatural intuition, Deka prays for red blood so she can finally feel like she belongs.

But on the day of the ceremony, her blood runs gold, the color of impurity--and Deka knows she will face a consequence worse than death.

Then a mysterious woman comes to her with a choice: stay in the village and submit to her fate, or leave to fight for the emperor in an army of girls just like her. They are called alaki--near-immortals with rare gifts. And they are the only ones who can stop the empire's greatest threat.

Knowing the dangers that lie ahead yet yearning for acceptance, Deka decides to leave the only life she's ever known. But as she journeys to the capital to train for the biggest battle of her life, she will discover that the great walled city holds many surprises. Nothing and no one are quite what they seem to be--not even Deka herself.
Down Comes the Night by Allison Saft
(Wednesday Books)
A gorgeously gothic, deeply romantic YA debut fantasy about two enemies trapped inside a crumbling mansion, with no escape from the monsters within.

Honor your oath, destroy your country.

Wren Southerland is the most talented healer in the Queen's Guard, but her reckless actions have repeatedly put her on thin ice with her superiors. So when a letter arrives from a reclusive lord, asking Wren to come to his estate to cure his servant from a mysterious disease, she seizes the chance to prove herself.

When she arrives at Colwick Hall, Wren realizes that nothing is what it seems. Particularly when she discovers her patient is actually Hal Cavendish, the sworn enemy of her kingdom.

As the snowy mountains make it impossible to leave the estate, Wren and Hal grow closer as they uncover a sinister plot that could destroy everything they hold dear. But choosing love could doom both their kingdoms.

Allison Saft's Down Comes the Night is a snow-drenched, gothic, romantic fantasy that keeps you racing through the pages long into the night.
I Think I Love You by Auriane Desombre (Underlined) - postponed due to COVID19, some editions dated September 2020, but the author confirms this date.
A YA contemporary rom com about two girls who start as rivals but after a twist of events, end up falling for one another--at least they think so. A pitch perfect queer romance--and it's a paperback original!

Arch-nemeses Emma, a die-hard romantic, and more-practical minded Sophia find themselves competing against one another for a coveted first-prize trip to a film festival in Los Angeles . . . what happens if their rivalry turns into a romance? For fans of Becky Albertalli's Leah on the Offbeat, full of laugh-out-loud humor and make-your-heart-melt moments.
Red Tigress by Amelie Wen Zhao (Delacorte)
For fans of Children of Blood and Bone comes the sequel to Blood Heir. The second book in an epic fantasy series about a princess hiding a dark secret and the con man she must trust to clear her name for her father's murder.

Ana Mikhailov is the only surviving member of the royal family of Cyrilia. She has no army, no title, and no allies, and now she must find a way to take back the throne or risk the brutal retribution of the empress. Morganya is determined to establish a new world order on the spilled blood of non-Affinites. Ana is certain that Morganya won't stop until she kills them all.

Ana's only chance at navigating the dangerous world of her homeland means partnering with Ramson Quicktongue again. But the cunning crime lord has schemes of his own. For Ana to find an army, they must cross the Whitewaves to the impenetrable stone forts of Bregon. Only, no one can be certain what they will find there.

A dark power has risen. Will revolution bring peace--or will it only pave the streets in more blood.
The Bright and the Pale by Jessica Rubinkowski (HarperTeen) - some editions also scheduled for January 2021.
Seventeen-year-old Valeria is one of the only survivors of the Knnot Massacre. A decade ago, a magical happening trapped her entire mining town in a sheet of unbreakable ice. Ever since, Valeria has been on the run. fte emperor is determined to imprison any who managed to escape the curse of Knnot.

Valeria finds safety with the ftieves Guild, earning her the nickname "fte Arctic Fox." Until her best friend, Alik, is kidnapped.

Valeria will do anything to get Alik back. Even lead the team of cutthroats and thieves on a perilous expedition to the very mountain that claimed her family, where she swore never to return. Something sinister slumbers at the heart of Knnot, and it has waited centuries for release.
List of Ten by Hali Gomez (Stirling Childrens Books)
A harrowing yet hopeful account of a teen living with Tourette Syndrome and Obsessive Compulsive Disorder . . . and contemplating his own morality.

Ten: three little letters, one ordinary number. No big deal, right? But for Troy Hayes, a 16-year-old suffering from Tourette Syndrome and Obsessive-Compulsive Disorder, the number ten dictates his life, forcing him to do everything by its exacting rhythm. Finally, fed up with the daily humiliation, loneliness, and physical pain he endures, Troy writes a list of ten things to do by the tenth anniversary of his diagnosis—culminating in suicide on the actual day. But the process of working his way through the list changes Troy's life: he becomes friends with Khory, a smart, beautiful classmate who has her own troubled history. Khory unwittingly helps Troy cross off items on his list, moving him ever closer to his grand finale, even as she shows him that life may have more possibilities than he imagined. This is a dark, intense story—with many trigger warnings—but it's also realistic, hopeful, and deeply authentic.
If You Should Ever Leave Me by Pheobe North (Balzer + Bray)
When a teen boy vanishes, his sister suspects he's fled into the make-believe fantasy world they invented as children. But when he reappears, she's forced to confront the dark worlds she's created, both real and fantastical, to save what's left of her family.
March 4th
All Our Hidden Gifts by Caroline O' Donoghue (Walker Books US)
16-year-old Maeve Chambers is a loner, and has been since she ditched her best friend Lily three years ago. The sole idiot in a family of geniuses, she has always struggled to fit in. But when she finds a pack of dusty old tarot cards in a cupboard at her school, and begins to give scarily accurate readings to the girls in her class, she realises she's found her gift at last. Things are looking up. Until she discovers a strange card in her deck – one that shouldn't be there. Then a reading for her ex-best-friend Lily goes very wrong. And two days later, Lily disappears.

Consumed by guilt, Maeve teams up with the only two people who believe Maeve's version of events: new friend Fiona, a talented acting prodigy; and Lily's alluring older brother, the gender-fluid, lipstick and leather jacket wearing Roe. All three have unnatural talents that are only now waking up. Will their strange gifts be enough to find Lily and bring her back, before she's gone for good?

ALL OUR HIDDEN GIFTS is the darkly magical first book in a new YA series for fans of Stranger Things and The Chilling Adventures of Sabrina.
March 9th
Fragile Remedy by Maria Ingrande Mora (Flux) - delayed due to COVID-19.
Sixteen-year-old Nate is a Gem—a Genetically Engineered Medical Surrogate—created by the scientists of Gathos City as a cure for the elite from the fatal lung rot ravaging the population. As a child, he was smuggled out of the laboratory where he was held captive and into the Withers—a quarantined, lawless region. Nate manages to survive by using his engineering skills to become a Tinker, fixing broken tech in exchange for food or a safe place to sleep. When he meets Reed, a kind and fiercely protective boy that makes his heart race, and his misfit gang of scavengers, Nate finds the family he's always longed for—even if he can't risk telling them what he is.

But Gathos created a genetic failsafe in their Gems—a flaw that causes their health to rapidly deteriorate as they age unless they are regularly dosed with medication controlled by Gathos City. As Nate's health declines, his hard-won freedom is put in jeopardy. Violence erupts across the Withers, his illegal supply of medicine is cut off, and a vicious attack on Reed threatens to expose his secret. With time running out, Nate is left with only two options: work for a shadowy terrorist organization that has the means to keep him alive, or stay — and die — with the boy he loves.
nna K Away by Jenny Lee (Flatiron Books)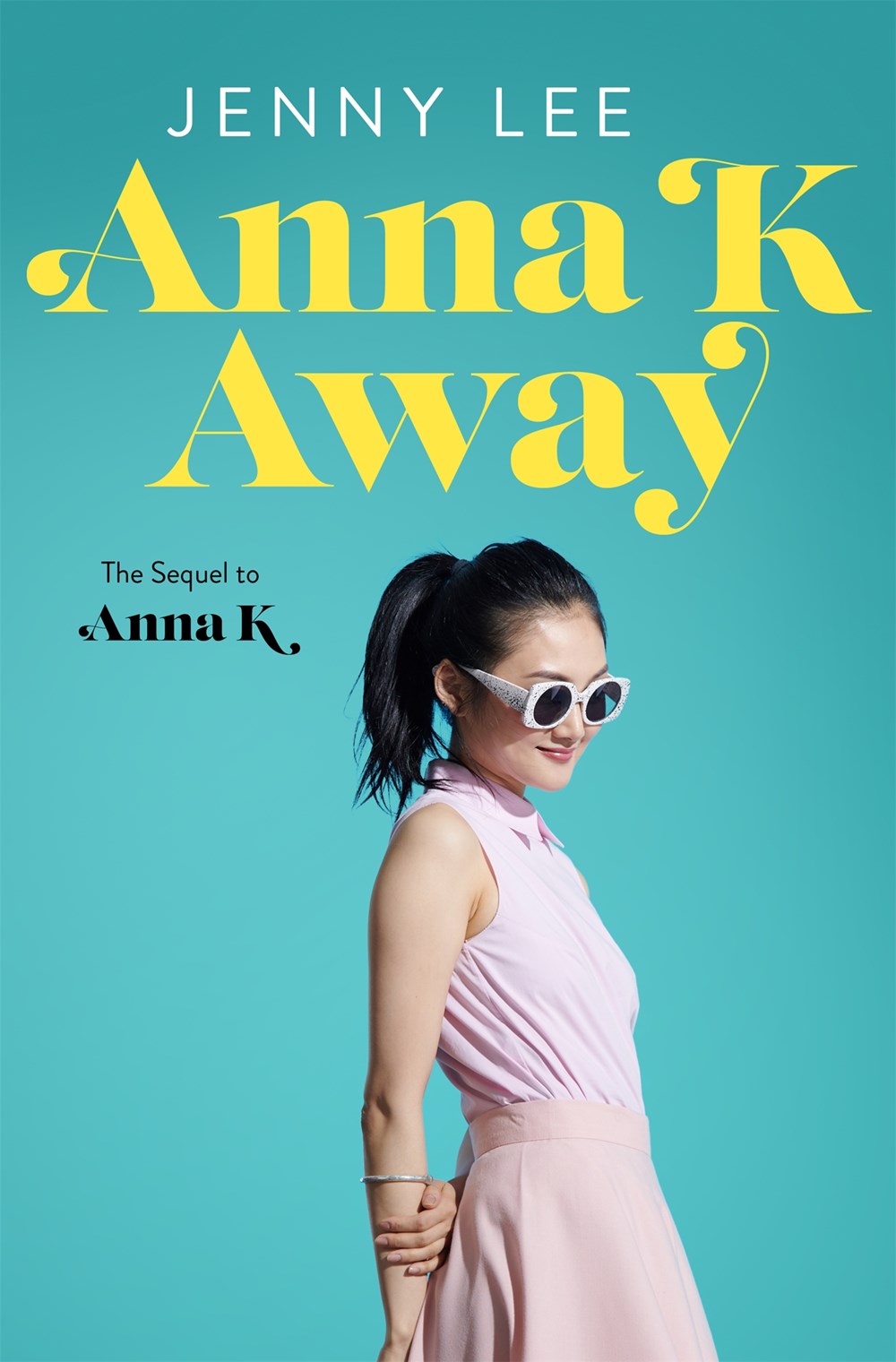 The sequel to the national indie bestseller Anna K, set over the course of the next summer, as the characters deal with the fallout from Vronsky's tragic death and Anna's sex tape scandal.

How the mighty have fallen. Anna K, once the golden girl of Greenwich, CT, and New York City, has been brought low by a scandalous sex tape and the tragic death of her first love, Alexia Vronsky. At the beginning of the summer, her father takes her to the other side of the world, to connect with his family in South Korea and teach his daughter about her roots. Is Anna in exile? Or could this be her chance to finally figure out who she really is?

Back in the U.S., Anna's brother, Stephen, and his girlfriend, Lolly, are falling even more deeply in love. But when Lolly learns about unexpected consequences from Stephen's cheating the previous year, she has to consider how much she is willing to forgive. Lolly's little sister, Kimmie, and her new boyfriend, Dustin, are thinking about having sex together for the first time. And Bea, Vronsky's cousin, is having her own romantic and sexual awakening, though she hasn't forgiven her ex-BFF, Anna, for her role in Vronsky's death.

Set over the course of a single, life-changing summer, Anna K Away is full of the risk, joy, heartbreak, and adventure that marks the three months between the end of one school year and the beginning of the next.
It's a Kind of Cheesy Love Story by Lauren Morrill (FSG)
Beck is sick of being known as the Hot 'N Crusty Bathroom Baby. After her mother gave birth to her in the bathroom of a local pizzeria, she's been given the dubious honor of having minor fame, free pizza for life, and a guaranteed job when she turns sixteen—a job she unfortunately can't afford to turn down.
Now she's stuck with her weird co-workers instead of hanging out with her best friends (and her epic crush).
But maybe the pizza people aren't all bad. Maybe that pizza delivery guy is kind of cute. And maybe there's a way to make this Bathroom Baby thing work for her. Because when disaster strikes the beloved pizza place that's started to feel like home, she's going to need a miracle – one that might even mean bringing her two worlds together.
Sing Me Forgotten by Jessica S. Olsen (Inkyard Press)
Isda does not exist. At least not beyond the opulent walls of the opera house.

Cast into a well at birth for being one of the magical few who can manipulate memories when people sing, she was saved by Cyril, the opera house's owner. Since that day, he has given her sanctuary from the murderous world outside. All he asks in return is that she use her power to keep ticket sales high—and that she stay out of sight. For if anyone discovers she survived, Isda and Cyril would pay with their lives.

But Isda breaks Cyril's cardinal rule when she meets Emeric Rodin, a charming boy who throws her quiet, solitary life out of balance. His voice is unlike any she's ever heard, but the real shock comes when she finds in his memories hints of a way to finally break free of her gilded prison.

Haunted by this possibility, Isda spends more and more time with Emeric, searching for answers in his music and his past. But the price of freedom is steeper than Isda could ever know. For even as she struggles with her growing feelings for Emeric, she learns that in order to take charge of her own destiny, she must become the monster the world tried to drown in the first place.
Perfect on Paper by Sophie Gonzales (Wednesday Books)
Everyone in school knows about Locker 89. If you slip a letter in outlining your relationship woes, along with a fiver, an anonymous source will email you with the best advice you've ever gotten.

Darcy Phillips, a quiet, sweet junior, is safe in the knowledge no one knows she's the genius behind locker 89. Until Brougham, a senior, catches her.

The deal Brougham offers is tempting: in exchange for his silence--and a generous coach's fee to sweeten the deal--Darcy can become Brougham's personal dating coach to help him get his ex-girlfriend back.

And as for Darcy, well, she has a fairly good reason to want to keep her anonymity. Because she has another secret. Not too long ago, she abused locker 89 to sabotage the budding romance of her best friend, Brooke. Brooke, who Darcy's been in love with for a year now.

Yeah. Brooke can't find out about that. No matter what.
Pride and Premeditation by Tirzah Price (HarperTeen)
Three of Jane Austen's classic novels receive a murder mystery makeover in this romantic and thrilling three book series that's perfect for fans of The Lady's Guide to Petticoats and Piracy and Stalking Jack the Ripper. In Pride & Premeditation, aspiring lawyer Lizzie Bennet attempts to solve a murder case while fighting off feelings for her rival Mr. Darcy.

It is a truth universally acknowledged that a young woman who desires a law career must be in want of a case. So when sixteen year old Lizzie Bennet hears about a scandalous society murder, she sees an opportunity to prove herself as a solicitor by solving the case and ensuring justice is served.

Except the man accused of the crime already has a lawyer on his side: Mr. Fitzwilliam Darcy, the stern young heir to the prestigious Pemberley Associates law firm. Lizzie is determined to solve the murder before Darcy can so that she can show the world that a woman can be just as good as a man. (The fact that Darcy is an infuriating snob doesn't help.) But there's still a killer on the loose, and as the case gets more complicated, Lizzie and Darcy may have to start working together to avoid becoming the next victims themselves.

Agatha Christie meets Jane Austen with a feminist twi
st in this smart, romantic, and thrilling novel from debut author Tirzah Price.
City of Spells by Alexandra Christo (Fiewel and Friends)
March 16th
A Better Bad Idea by Laurie Devore (Imprint)
Laurie Devore's new YA novel is a searing look at a forgotten girl who has no good choices left, but one better bad idea . . .

Evelyn Peters is desperate. Desperate for a way out of McNair Falls, the dying southern town that's held her captive since the day she was born. Desperate to protect her little sister from her mother's terrifying and abusive boyfriend. And desperate to connect with anyone, even fallen golden boy Ashton Harper, longtime boyfriend of the girl Evelyn can never stop thinking about ― beautiful, volatile, tragically dead Reid Brewer.

Until a single night sends Evelyn and Ashton on a collision course that starts something neither of them can stop. With one struck match, their whole world goes up in flames. The only thing left to do is run―but leaving McNair Falls isn't as easy as just putting distance between here and there and some secrets refuse to stay left behind.

A reckoning is coming . . . and not everyone is getting out alive.
Namesake by Adrienne Young (Wednesday Books)
Filled with action, emotion, and lyrical writing, New York Times bestselling author Adrienne Young returns with the final book in the captivating Fable duology.

Trader. Fighter. Legend.

Welcome to a world made dangerous by the sea and by those who wish to profit from it. Where a young girl must find her place and her family while trying to survive in a world built for men.
Five Ways To Fall Out of Love by Emily Martin (Inkyard Press)
This whip-smart rom-com explores the risks and rewards of letting love in, for fans of Jennifer E. Smith, Julie Buxbaum, and Sandhya Menon.

How do I hate thee? Let me count the ways…
Aubrey Cash learned the hard way not to rely on love. After all, Webster Casey, the new boy next door she'd been falling for all summer, stood her up at homecoming in front of everyone with no explanation. Proving her theory that love never lasts seems easy when she's faced with parents whose marriage is falling apart and a best friend who thinks every boy she dates is "the one." But when sparks fly with a boy who turns out to be Webster's cousin, and then Webster himself becomes her lab partner for the rest of senior year, Aubrey finds her theory—and her commitment to stay single—put to the test.

As she navigates the breakdown of her family, the consequences her cynicism has on her relationship with her best friend, and her own confusing but undeniable feelings for Webster, Aubrey has to ask herself: What really happened the night Webster stood her up? And if there are five ways to fall out of love…could there perhaps be even more ways to fall back in?
That Way Madness Lies by Various YA Authors (Flatrion Books)
Fifteen acclaimed YA writers put their modern spin on William Shakespeare's celebrated classics!

West Side Story. 10 Things I Hate About You. Kiss Me, Kate. Contemporary audiences have always craved reimaginings of Shakespeare's most beloved works. Now, some of today's best writers for teens take on the Bard in these 15 whip-smart and original retellings!

Contributors include Dahlia Adler (reimagining The Merchant of Venice), Kayla Ancrum (The Taming of the Shrew), Lily Anderson (All's Well That Ends Well), Patrice Caldwell (Hamlet), Melissa Bashardoust (A Winter's Tale), Amy Rose Capetta and Cori McCarthy (Much Ado About Nothing), Brittany Cavallaro (Sonnet 147), Joy McCullogh (King Lear), Anna-Marie McLemore (A Midsummer Night's Dream), Samantha Mabry (Macbeth), Tochi Onyebuchi (Coriolanus), Mark Oshiro (Twelfth Night), Lindsay Smith (Julius Caesar), Kiersten White (Romeo and Juliet), and Emily Wibberley and Austin Siegemund-Broka (The Tempest).
Holt has bought Jen Larsen's novel The Big Reveal. Pitched as a body-positive Fame for YA readers, the novel follows a talented, proudly plus-sized dancer on scholarship at an elite boarding school, who starts an underground burlesque club to finance her dreams.
March 23rd
The Secret Recipe For Moving On by Karen Bishcher (Swoon Reads)
Home economics is supposed to be an easy A for Ellie Agresti, but, much like an imperfect souffle, her plans collapse epically when she's dumped by her boyfriend, Hunter. Now Ellie has to mend her broken heart while watching Hunter fawn all over his new girlfriend, Brynn, in class. To make matters worse, Ellie is partnered with four of the biggest misfit guys in school: Jeremy, the loudmouth with temper issues; Isaiah, the solemn, silent horse racing obsessive; Andrew, who can't take rejection; and Luke, the giant, tattooed stunt biker.

Over the course of a semester, Ellie works to overcome her feelings for Hunter, as well as deeper insecurities that have plagued her since middle school. As the weeks go by, she's surprised to find friendships in unexpected places... and sparks flying with the last guy she'd expect.
When children go missing, people want answers. When children go missing in the small coastal town of Astoria, people look to Wendy for answers.

It's been five years since Wendy and her two brothers went missing the woods, but when the town's children start to disappear, the questions surrounding her brothers' mysterious circumstances are brought back into light. Attempting to flee her past, Wendy almost runs over an unconscious boy lying in the middle of the road, and gets pulled into the mystery haunting the town.

Peter, a boy she thought lived only in her stories, claims that if they don't do something, the missing children will meet the same fate as her brothers. In order to find them and rescue the missing kids, Wendy must confront what's waiting for her in the woods.
The Theft of Sunlight by Intisar Khanani (HarperTeen)
This companion novel to Thorn features Rae, who was introduced in the short story The Bone Knife.
March 30th
She's Too Pretty To Burn by Wendy Heard (Henry Holt)
Inspired by The Picture of Dorian Gray, this sexy psychological thriller explores the int ersect ions of love, art, power and violence. For fans of E. Lockhart, Lauren Oliver and Kara Thom as.

The summer is winding down in San Diego. Veronica is bored, caustically charismatic, and uninspired in her photography. Nico is insatiable, subversive, and obsessed with chaotic performance art. They're artists first, best friends second. But that was before Mick. Delicate, lonely, magnetic Mick: the perfect subject, and Veronica's dream girl. The days are long and hot—full of adventure—and soon they are falling in love. Falling so hard, they never imagine what comes next.

One fire. Two murders. Three drowning bodies. One suspect... one stalker. This is the summer they won't survive.

New love spirals into lethal danger in this expertly plotted YA thriller.