Undated
Ravage the Dark by Tara Sim (Disney-Hyperion)
For seven long years, while she was imprisoned on a debtor's ship, Amaya Chandra had one plan: to survive. But now, survival is not enough. She has people counting on her; counting on her for protection, for leadership, for vengeance. And after escaping Moray by the skin of her teeth, she's determined to track down the man who betrayed her and her friends: Boon.

Cayo Mercado has lost everything: his money, his father, his reputation. Everything except his beloved sister. But he's well on his way to losing her, too, with no way to afford the treatment for her deadly illness. In a foreign empire also being consumed by ash fever, Cayo has no choice but to join Amaya in uncovering the mystery of the counterfeit currency, the fever, and how his father was involved in their creation. But Cayo still hasn't forgiven Amaya for her earlier deception, and their complicated feelings for each other are getting harder and harder to ignore.

Through glittering galas, dazzling trickery, and thrilling heists, Cayo and Amaya will learn that the corruption in Moray goes far deeper than they know, and in the end the only people they can trust are each other.
Idol Gossip by Alexandra Leigh Young (Walker Books US)
A sharp, witty debut young adult novel by producer of The New York Times "The Daily" podcast
After moving to Seoul for her diplomat mom's job, lonely seventeen-year-old Alice Choy mostly sings karaoke with her sister. But when a talent agent overhears Alice, she's invited to be part of his company's Star Academy for a chance at becoming
a K-pop idol. Except independent Alice chafes at the rigid, teamfocused atmosphere of the school. Her bits of rebellion make her fodder for the fan gossip blogs, jeopardizing not only her shot at being a professional singer, but the chances of the girls in her new group.
The Witch Owl Parliament by David Bowles and Raul Gonzalez III (Tu Books) - postponed from December 2020.
When apprentice shaman Cristina Franco is killed by witch owls, her brother Enrique brings her back to life with alchemy and engineering. Now partly mechanical, she vows to protect the Republic of Santander against the supernatural attacks rocking the country––even though her very existence is an abomination to its citizens.

But to do so requires the green magic Cristina has trained to wield. Will she still have access to that vital power now that her body and soul have been forever altered? Can it be used to fight as well as heal? When groups of refugees and indigenous people begin to disappear, Cristina has to set her doubts aside and embrace her new destiny.

In the first volume of the Clockwork Curandera trilogy, Mexican American creatives David Bowles and Raúl the Third combine their unique talents and vision to craft a compelling new world in which Mesoamerican magic and steampunk technology co-exist, sometimes manipulated by the rich and powerful for nefarious ends

.
March 2nd
The start of a bold and immersive West African-inspired, feminist fantasy series for fans of Children of Blood and Bone and Black Panther. In this world, girls are outcasts by blood and warriors by choice.

Sixteen-year-old Deka lives in fear and anticipation of the blood ceremony that will determine whether she will become a member of her village. Already different from everyone else because of her unnatural intuition, Deka prays for red blood so she can finally feel like she belongs.

But on the day of the ceremony, her blood runs gold, the color of impurity--and Deka knows she will face a consequence worse than death.

Then a mysterious woman comes to her with a choice: stay in the village and submit to her fate, or leave to fight for the emperor in an army of girls just like her. They are called alaki--near-immortals with rare gifts. And they are the only ones who can stop the empire's greatest threat.

Knowing the dangers that lie ahead yet yearning for acceptance, Deka decides to leave the only life she's ever known. But as she journeys to the capital to train for the biggest battle of her life, she will discover that the great walled city holds many surprises. Nothing and no one are quite what they seem to be--not even Deka herself.
Once Upon a Quinceanera by Monica Gomez-Hira (HarperTeen)
Jenny Han meets "Jane the Virgin" in this flashy and fun Own Voices romcom from debut author Monica Gomez-Hira.

Carmen Aguilar just wants to make her happily ever after come true. Except apparently "happily ever after" for Carmen involves being stuck in an unpaid summer internship! All she has to do is perform! In a ball gown! During the summer. In Miami.

Fine. Except that Carmen's company is hired for her spoiled cousin Ariana's over the top quinceañera.

And of course, her new dance partner at work is none other than Mauro Reyes, Carmen's most deeply regrettable ex.

If Carmen is going to move into the future she wants, she needs to leave the past behind. And if she can manage dancing in the blistering heat, fending off Mauro's texts, and stopping Ariana from ruining her own quinceañera Carmen might just get that happily ever after after all.
A Dark and Hollow Star by Ashley Shuttleworth (Simon Pulse)
The Cruel Prince meets City of Bones in this thrilling urban fantasy set in the magical underworld of Toronto that follows a queer cast of characters racing to stop a serial killer whose crimes could expose the hidden world of faeries to humans.

Choose your player.

The "ironborn" half-fae outcast of her royal fae family.
A tempestuous Fury, exiled to earth from the Immortal Realm and hellbent on revenge.
A dutiful fae prince, determined to earn his place on the throne.
The prince's brooding guardian, burdened with a terrible secret.

For centuries, the Eight Courts of Folk have lived among us, concealed by magic and bound by law to do no harm to humans. This arrangement has long kept peace in the Courts—until a series of gruesome and ritualistic murders rocks the city of Toronto and threatens to expose faeries to the human world.

Four queer teens, each who hold a key piece of the truth behind these murders, must form a tenuous alliance in their effort to track down the mysterious killer behind these crimes. If they fail, they risk the destruction of the faerie and human worlds alike. If that's not bad enough, there's a war brewing between the Mortal and Immortal Realms, and one of these teens is destined to tip the scales. The only question is: which way?

Wish them luck. They're going to need it.
Bones of a Saint by Grant Farley (Soho Teen)
Set in Northern California in the late '70s, this timeless coming-of-age story examines the nature of evil, the art of storytelling, and the possibility of redemption.

Fifteen-year-old RJ Armante has never known a life outside his dead-end hometown of Arcangel, CA. The Blackjacks still rule as they have for generations, luring the poorest kids into their monopoly on petty crime. For years, they've left RJ alone…until now.

When the Blackjacks come knocking, they want RJ to prey upon an old loner. But RJ is at his breaking point. It's not just about the gang who rules the town. It's about Charley, his younger brother, who is disabled. It's about Roxanne, the girl he can't reach. It's about the kids in his crew who have nothing to live for. If RJ is to resist, he must fight to free Arcangel of its past.
The Lake by Natasha Preston (Delacorte)
Hot on the heels of The Twin, the undisputed queen of YA thrillers is back with a scary and suspenseful read about a summer camp filled with dark secrets.

Esme and Kayla once were campers at Camp Pine Lake. They're excited to be back this year as CITs (counselors in training). Esme loves the little girls in her cabin and thinks it's funny how scared they are of everything--spiders, the surly head counselor, the dark, boys . . . even swimming in the lake! It reminds her a little of how she and Kayla used to be, once. Before . . . it happened.

Because Esme and Kayla did something bad when they were campers. Afterwards, the girls agreed to keep it secret. They've moved on--or so they say--and this summer is going to be great. Two months of sun, s'mores, and flirting with the cute boy counselors. But then they get a note. THE LAKE NEVER FORGETS. And the secret they've kept buried for so many years is about to resurface.
Down Comes the Night by Allison Saft
(Wednesday Books)
A gorgeously gothic, deeply romantic YA debut fantasy about two enemies trapped inside a crumbling mansion, with no escape from the monsters within.

Honor your oath, destroy your country.

Wren Southerland is the most talented healer in the Queen's Guard, but her reckless actions have repeatedly put her on thin ice with her superiors. So when a letter arrives from a reclusive lord, asking Wren to come to his estate to cure his servant from a mysterious disease, she seizes the chance to prove herself.

When she arrives at Colwick Hall, Wren realizes that nothing is what it seems. Particularly when she discovers her patient is actually Hal Cavendish, the sworn enemy of her kingdom.

As the snowy mountains make it impossible to leave the estate, Wren and Hal grow closer as they uncover a sinister plot that could destroy everything they hold dear. But choosing love could doom both their kingdoms.

Allison Saft's Down Comes the Night is a snow-drenched, gothic, romantic fantasy that keeps you racing through the pages long into the night.
Follow Your Arrow by Jess Verdi (Scholastic)
For fans of Becky Albertalli and Adam Silvera, this is a riveting and irresistible take on love, life, and identity -- both online and off.
CeCe Ross is kind of a big deal. She and her girlfriend, Silvie, are social media influencers with zillions of fans and followers, known for their cute outfits and being #relationshipgoals.

So when Silvie breaks up with her, CeCe is devastated. She's lost her first love, and now she can't help but wonder if she'll lose her followers as well.

Things get even messier when CeCe meets Josh, a new boy in town who is very much Not Online. CeCe isn't surprised to be falling for a guy; she's always known she's bi. And Josh is sweet and smart and has excellent taste in donuts... but he has no idea that CeCe is internet-famous. And CeCe sort of wants to keep it that way.

But when CeCe's secrets catch up to her, she finds herself in the middle of an online storm, where she'll have to confront the blurriness of public vs. private life, and figure out what it really means to speak her truth.
Dark Stars by Danielle Rollins (HarperTeen)
Dorothy finds herself completely alone.

Roman is dead. The Chronology Protection Agency wants nothing to do with her. The Black Cirkus no longer trusts her. And Ash… Ash is gone.

Dorothy has seen the evidence with her own eyes—she knows that she was the one who killed Ash. But she still has no idea how, when, or—most important—why. But the discovery of several missing pages from the Professor's journal drives a narrow sliver of hope into her heart.

Without a ship, it should be impossible for Dorothy to travel through time. But for Ash, Dorothy will do anything to not only create the present that will protect Ash—but also to save what's left of their ruined world.

The satisfying conclusion to Danielle Rollins's Dark Stars series brings new meaning to the idea that "love is timeless."
The Bright and the Pale by Jessica Rubinkowski (HarperTeen)
Seventeen-year-old Valeria is one of the only survivors of the Knnot Massacre. A decade ago, a magical happening trapped her entire mining town in a sheet of unbreakable ice. Ever since, Valeria has been on the run. fte emperor is determined to imprison any who managed to escape the curse of Knnot.

Valeria finds safety with the ftieves Guild, earning her the nickname "fte Arctic Fox." Until her best friend, Alik, is kidnapped.

Valeria will do anything to get Alik back. Even lead the team of cutthroats and thieves on a perilous expedition to the very mountain that claimed her family, where she swore never to return. Something sinister slumbers at the heart of Knnot, and it has waited centuries for release.
I Think I Love You by Auriane Desombre (Underlined) - postponed due to COVID19, some editions dated September 2020, but the author confirms this date.
A YA contemporary rom com about two girls who start as rivals but after a twist of events, end up falling for one another--at least they think so. A pitch perfect queer romance--and it's a paperback original!

Arch-nemeses Emma, a die-hard romantic, and more-practical minded Sophia find themselves competing against one another for a coveted first-prize trip to a film festival in Los Angeles . . . what happens if their rivalry turns into a romance? For fans of Becky Albertalli's Leah on the Offbeat, full of laugh-out-loud humor and make-your-heart-melt moments.
Chain of Iron by Cassandra Clare (Margaret K. McElderry Books)
The Shadowhunters must catch a killer in Edwardian London in this dangerous and romantic sequel to the #1 New York Times bestselling novel Chain of Gold, from New York Times and USA TODAY bestselling author Cassandra Clare. Chain of Iron is a Shadowhunters novel.

Cordelia Carstairs seems to have everything she ever wanted. She's engaged to marry James Herondale, the boy she has loved since childhood. She has a new life in London with her best friend Lucie Herondale and James's charming companions, the Merry Thieves. She is about to be reunited with her beloved father. And she bears the sword Cortana, a legendary hero's blade.

But the truth is far grimmer. James and Cordelia's marriage is a lie, arranged to save Cordelia's reputation. James is in love with the mysterious Grace Blackthorn whose brother, Jesse, died years ago in a terrible accident. Cortana burns Cordelia's hand when she touches it, while her father has grown bitter and angry. And a serial murderer is targeting the Shadowhunters of London, killing under cover of darkness, then vanishing without a trace.

Together with the Merry Thieves, Cordelia, James, and Lucie must follow the trail of the knife-wielding killer through the city's most dangerous streets. All the while, each is keeping a shocking secret: Lucie, that she plans to raise Jesse from the dead; Cordelia, that she has sworn a dangerous oath of loyalty to a mysterious power; and James, that he is being drawn further each night into the dark web of his grandfather, the arch-demon Belial. And that he himself may be the killer they seek.
Yolk by Mary H. K. Choi (Simon and Schuster)
From New York Times bestselling author Mary H.K. Choi comes a funny and emotional story about two estranged sisters switching places and committing insurance fraud to save one of their lives.

Jayne Baek is barely getting by. She shuffles through fashion school, saddled with a deadbeat boyfriend, clout-chasing friends, and a wretched eating disorder that she's not fully ready to confront. But that's New York City, right? At least she isn't in Texas anymore, and is finally living in a city that feels right for her.

On the other hand, her sister June is dazzlingly rich with a high-flying finance job and a massive apartment. Unlike Jayne, June has never struggled a day in her life. Until she's diagnosed with uterine cancer.

Suddenly, these estranged sisters who have nothing in common are living together. Because sisterly obligations are kind of important when one of you is dying.
Red Tigress by Amelie Wen Zhao (Delacorte)
For fans of Children of Blood and Bone comes the sequel to Blood Heir. The second book in an epic fantasy series about a princess hiding a dark secret and the con man she must trust to clear her name for her father's murder.

Ana Mikhailov is the only surviving member of the royal family of Cyrilia. She has no army, no title, and no allies, and now she must find a way to take back the throne or risk the brutal retribution of the empress. Morganya is determined to establish a new world order on the spilled blood of non-Affinites. Ana is certain that Morganya won't stop until she kills them all.

Ana's only chance at navigating the dangerous world of her homeland means partnering with Ramson Quicktongue again. But the cunning crime lord has schemes of his own. For Ana to find an army, they must cross the Whitewaves to the impenetrable stone forts of Bregon. Only, no one can be certain what they will find there.

A dark power has risen. Will revolution bring peace--or will it only pave the streets in more blood.
The Queen's Secret by Melissa De La Cruz (Putman)
From #1 bestselling author Melissa de la Cruz comes the heart-pounding follow-up to The Queen's Assassin .

Lilac's birthright makes her the Queen of Renovia, and a forced marriage made her the Queen of Stavin. But being a ruler does not mean making the rules. For Lilac, taking the throne means giving up the opportunity to be with love of her life, the kingdom's assassin, Caledon Holt.

Worse, Cal is forced to leave the castle when a horrific set of magical attacks threatens Lilac's sovereignty. Now Cal and Lilac will have to battle dark forces separately, even though being together is the only thing that's ever saved them.

In the riveting conclusion to Melissa De La Cruz's fantasy duet, love and magic are at war, and victory rests on a knife's edge.
Indivisible by Daniel Aleman (Disney Hyperion)
There is a word Mateo Garcia and his younger sister Sophie have been taught to fear for as long as they can remember: deportation. Over the past few years, however, the fear that their undocumented immigrant parents could be sent back to Mexico has started to fade to the back of their minds. And why wouldn't it, when their Ma and Pa have been in the United States for so long, they have American-born children, and they're hard workers and good neighbors?

When two ICE agents come asking for Pa, the Garcia family realizes that the lives they've built are about to come crumbling down. And when Mateo returns from school one day to find that his parents have been taken, he'll have to come to terms with the fact that his family's worst nightmare has become a reality.

With his Ma and Pa being held in separate detention centers, Mateo must learn how to look after his sister and himself. The choices Mateo makes, and the people he turns to for help, might reunite his family… or tear them apart for good. With his parents' fate and his own future hanging in the balance, Mateo must figure out who he is and what he is capable of, even as he's forced to question what it means to be an American teenager in a country that rejects his own mom and dad.

Daniel Aleman's INDIVISIBLE is a remarkable and timely story—both powerful in its explorations of immigration in America and deeply intimate in its portrait of a teen boy driven by his fierce, protective love for his parents and his sister.
List of Ten by Hali Gomez (Stirling Childrens Books)
A harrowing yet hopeful account of a teen living with Tourette Syndrome and Obsessive Compulsive Disorder . . . and contemplating his own morality.

Ten: three little letters, one ordinary number. No big deal, right? But for Troy Hayes, a 16-year-old suffering from Tourette Syndrome and Obsessive-Compulsive Disorder, the number ten dictates his life, forcing him to do everything by its exacting rhythm. Finally, fed up with the daily humiliation, loneliness, and physical pain he endures, Troy writes a list of ten things to do by the tenth anniversary of his diagnosis—culminating in suicide on the actual day. But the process of working his way through the list changes Troy's life: he becomes friends with Khory, a smart, beautiful classmate who has her own troubled history. Khory unwittingly helps Troy cross off items on his list, moving him ever closer to his grand finale, even as she shows him that life may have more possibilities than he imagined. This is a dark, intense story—with many trigger warnings—but it's also realistic, hopeful, and deeply authentic.
The Salt in Our Blood by Ava Morgyn (Albert Whitman)
Nine years ago, Cat's volatile mother, Mary, left her at her grandmother's house with nothing but a deck of tarot cards. Now seventeen, Cat is determined to make her life as different from Mary's as possible.When Cat's grandmother dies, she's forced to move to New Orleans with her mother.
There, she discovers a picture of Mary holding a baby that's not her, leading her to unravel a dark family history and challenge her belief that Mary's mental health issues are the root of all their problems.But as Cat explores the reasons for her mother's breakdown, she fears she is experiencing her own. Ever since she arrived in New Orleans, she's been haunted by strangely familiar visitors--in dreams and on the streets of the French Quarter--who know more than they should.Unsure if she can rebuild her relationship with her mother, Cat is realizing she must confront her past, her future, and herself in the fight to try.
If You Should Ever Leave Me by Pheobe North (Balzer + Bray)
When a teen boy vanishes, his sister suspects he's fled into the make-believe fantasy world they invented as children. But when he reappears, she's forced to confront the dark worlds she's created, both real and fantastical, to save what's left of her family.
March 4th
All Our Hidden Gifts by Caroline O' Donoghue (Walker Books US)
16-year-old Maeve Chambers is a loner, and has been since she ditched her best friend Lily three years ago. The sole idiot in a family of geniuses, she has always struggled to fit in. But when she finds a pack of dusty old tarot cards in a cupboard at her school, and begins to give scarily accurate readings to the girls in her class, she realises she's found her gift at last. Things are looking up. Until she discovers a strange card in her deck – one that shouldn't be there. Then a reading for her ex-best-friend Lily goes very wrong. And two days later, Lily disappears.

Consumed by guilt, Maeve teams up with the only two people who believe Maeve's version of events: new friend Fiona, a talented acting prodigy; and Lily's alluring older brother, the gender-fluid, lipstick and leather jacket wearing Roe. All three have unnatural talents that are only now waking up. Will their strange gifts be enough to find Lily and bring her back, before she's gone for good?

ALL OUR HIDDEN GIFTS is the darkly magical first book in a new YA series for fans of Stranger Things and The Chilling Adventures of Sabrina.
March 9th
Sweet & Bitter Magic by Adrienne Tooley (Simon Pulse)
In this charming debut fantasy perfect for fans of Sorcery of Thorns and Girls of Paper and Fire, a witch cursed to never love meets a girl hiding her own dangerous magic, and the two strike a dangerous bargain to save their queendom.

Tamsin is the most powerful witch of her generation. But after committing the worst magical sin, she's exiled by the ruling Coven and cursed with the inability to love. The only way she can get those feelings back—even for just a little while—is to steal love from others.

Wren is a source—a rare kind of person who is made of magic, despite being unable to use it herself. Sources are required to train with the Coven as soon as they discover their abilities, but Wren—the only caretaker to her ailing father—has spent her life hiding her secret.

When a magical plague ravages the queendom, Wren's father falls victim. To save him, Wren proposes a bargain: if Tamsin will help her catch the dark witch responsible for creating the plague, then Wren will give Tamsin her love for her father.

Of course, love bargains are a tricky thing, and these two have a long, perilous journey ahead of them—that is, if they don't kill each other first..
When We Were Infinite by Kelly Loy Gilbert (Simon and Schuster)
All Beth wants is for her tight-knit circle of friends—Grace Nakamura, Brandon Lin, Sunny Chen and Jason Tsou—to stay together. With her family splintered and her future a question mark, these friends are all she has—even if she sometimes wonders if she truly fits in with them. Besides, she's certain she'll never be able to tell Jason how she really feels about him, so friendship will have to be enough.

Then Beth witnesses a private act of violence in Jason's home, and the whole group is shaken. Beth and her friends make a pact to do whatever it takes to protect Jason, no matter the sacrifice. But when even their fierce loyalty isn't enough to stop Jason from making a life-altering choice, Beth must decide how far she's willing to go for him—and how much of herself she's willing to give up
Fragile Remedy by Maria Ingrande Mora (Flux) - delayed due to COVID-19.
Sixteen-year-old Nate is a Gem—a Genetically Engineered Medical Surrogate—created by the scientists of Gathos City as a cure for the elite from the fatal lung rot ravaging the population. As a child, he was smuggled out of the laboratory where he was held captive and into the Withers—a quarantined, lawless region. Nate manages to survive by using his engineering skills to become a Tinker, fixing broken tech in exchange for food or a safe place to sleep. When he meets Reed, a kind and fiercely protective boy that makes his heart race, and his misfit gang of scavengers, Nate finds the family he's always longed for—even if he can't risk telling them what he is.

But Gathos created a genetic failsafe in their Gems—a flaw that causes their health to rapidly deteriorate as they age unless they are regularly dosed with medication controlled by Gathos City. As Nate's health declines, his hard-won freedom is put in jeopardy. Violence erupts across the Withers, his illegal supply of medicine is cut off, and a vicious attack on Reed threatens to expose his secret. With time running out, Nate is left with only two options: work for a shadowy terrorist organization that has the means to keep him alive, or stay — and die — with the boy he loves.
American Betiya by Anuradha D. Rajukar (Knopf)
Fans of Sandhya Menon, Erika Sanchez and Jandy Nelson will identify with this story of a young artist grappling with first love, family boundaries and the complications of a cross-cultural relationship.

Rani Kelkar has never lied to her parents, until she meets Oliver. The same qualities that draw her in--his tattoos, his charisma, his passion for art--make him her mother's worst nightmare.
They begin dating in secret, but when Oliver's troubled home life unravels, he starts to ask more of Rani than she knows how to give, desperately trying to fit into her world, no matter how high the cost. Their relationship is nearly at the breaking point, when a family tragedy draws Rani to India for a summer. There, she gains perspective on what it means to be true to herself and what that means for her and Oliver.

Winner of SCBWI's Emerging Voices award, Anuradha Rajurkar takes an honest look at the ways cultures can clash in an interracial relationship. Rani's journey to hold onto her cultural identity amid the push-and-pull of first love, will resonate with anyone who's ever navigated a cross-cultural relationship.
Anna K Away by Jenny Lee (Flatiron Books)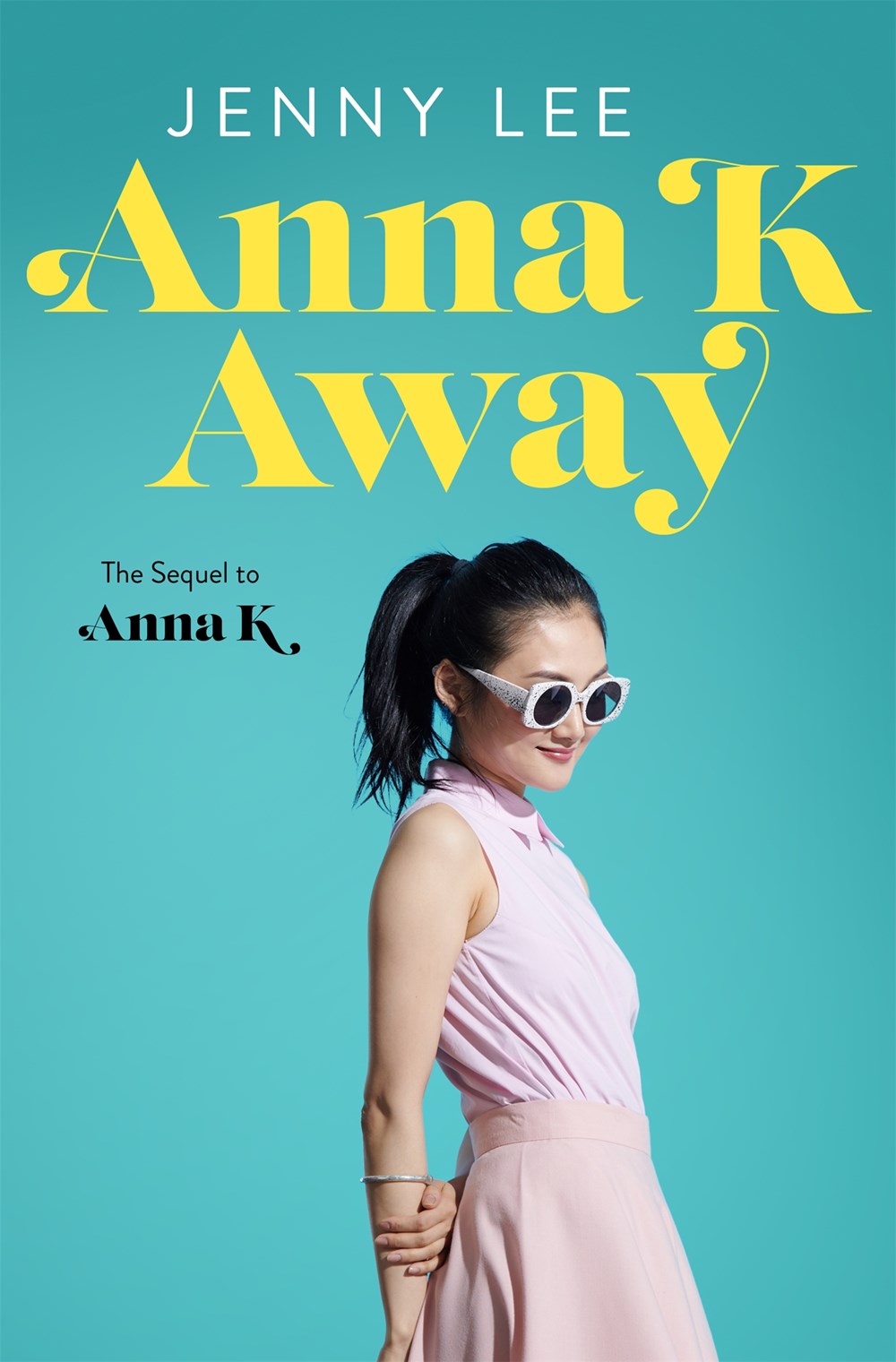 The sequel to the national indie bestseller Anna K, set over the course of the next summer, as the characters deal with the fallout from Vronsky's tragic death and Anna's sex tape scandal.

How the mighty have fallen. Anna K, once the golden girl of Greenwich, CT, and New York City, has been brought low by a scandalous sex tape and the tragic death of her first love, Alexia Vronsky. At the beginning of the summer, her father takes her to the other side of the world, to connect with his family in South Korea and teach his daughter about her roots. Is Anna in exile? Or could this be her chance to finally figure out who she really is?

Back in the U.S., Anna's brother, Stephen, and his girlfriend, Lolly, are falling even more deeply in love. But when Lolly learns about unexpected consequences from Stephen's cheating the previous year, she has to consider how much she is willing to forgive. Lolly's little sister, Kimmie, and her new boyfriend, Dustin, are thinking about having sex together for the first time. And Bea, Vronsky's cousin, is having her own romantic and sexual awakening, though she hasn't forgiven her ex-BFF, Anna, for her role in Vronsky's death.

Set over the course of a single, life-changing summer, Anna K Away is full of the risk, joy, heartbreak, and adventure that marks the three months between the end of one school year and the beginning of the next.
It's a Kind of Cheesy Love Story by Lauren Morrill (FSG)
Beck is sick of being known as the Hot 'N Crusty Bathroom Baby. After her mother gave birth to her in the bathroom of a local pizzeria, she's been given the dubious honor of having minor fame, free pizza for life, and a guaranteed job when she turns sixteen—a job she unfortunately can't afford to turn down.
Now she's stuck with her weird co-workers instead of hanging out with her best friends (and her epic crush).
But maybe the pizza people aren't all bad. Maybe that pizza delivery guy is kind of cute. And maybe there's a way to make this Bathroom Baby thing work for her. Because when disaster strikes the beloved pizza place that's started to feel like home, she's going to need a miracle – one that might even mean bringing her two worlds together.
Perfect on Paper by Sophie Gonzales (Wednesday Books)
Everyone in school knows about Locker 89. If you slip a letter in outlining your relationship woes, along with a fiver, an anonymous source will email you with the best advice you've ever gotten.

Darcy Phillips, a quiet, sweet junior, is safe in the knowledge no one knows she's the genius behind locker 89. Until Brougham, a senior, catches her.

The deal Brougham offers is tempting: in exchange for his silence--and a generous coach's fee to sweeten the deal--Darcy can become Brougham's personal dating coach to help him get his ex-girlfriend back.

And as for Darcy, well, she has a fairly good reason to want to keep her anonymity. Because she has another secret. Not too long ago, she abused locker 89 to sabotage the budding romance of her best friend, Brooke. Brooke, who Darcy's been in love with for a year now.

Yeah. Brooke can't find out about that. No matter what.
Pride and Premeditation by Tirzah Price (HarperTeen)
Three of Jane Austen's classic novels receive a murder mystery makeover in this romantic and thrilling three book series that's perfect for fans of The Lady's Guide to Petticoats and Piracy and Stalking Jack the Ripper. In Pride & Premeditation, aspiring lawyer Lizzie Bennet attempts to solve a murder case while fighting off feelings for her rival Mr. Darcy.

It is a truth universally acknowledged that a young woman who desires a law career must be in want of a case. So when sixteen year old Lizzie Bennet hears about a scandalous society murder, she sees an opportunity to prove herself as a solicitor by solving the case and ensuring justice is served.

Except the man accused of the crime already has a lawyer on his side: Mr. Fitzwilliam Darcy, the stern young heir to the prestigious Pemberley Associates law firm. Lizzie is determined to solve the murder before Darcy can so that she can show the world that a woman can be just as good as a man. (The fact that Darcy is an infuriating snob doesn't help.) But there's still a killer on the loose, and as the case gets more complicated, Lizzie and Darcy may have to start working together to avoid becoming the next victims themselves.



Agatha Christie meets Jane Austen with a feminist twi
st in this smart, romantic, and thrilling novel from debut author Tirzah Price.
Sing Me Forgotten by Jessica S. Olsen (Inkyard Press)
Isda does not exist. At least not beyond the opulent walls of the opera house.

Cast into a well at birth for being one of the magical few who can manipulate memories when people sing, she was saved by Cyril, the opera house's owner. Since that day, he has given her sanctuary from the murderous world outside. All he asks in return is that she use her power to keep ticket sales high—and that she stay out of sight. For if anyone discovers she survived, Isda and Cyril would pay with their lives.

But Isda breaks Cyril's cardinal rule when she meets Emeric Rodin, a charming boy who throws her quiet, solitary life out of balance. His voice is unlike any she's ever heard, but the real shock comes when she finds in his memories hints of a way to finally break free of her gilded prison.

Haunted by this possibility, Isda spends more and more time with Emeric, searching for answers in his music and his past. But the price of freedom is steeper than Isda could ever know. For even as she struggles with her growing feelings for Emeric, she learns that in order to take charge of her own destiny, she must become the monster the world tried to drown in the first place.
Can't Take That Away by Steven Salvatore (Bloomsbury)
Steven Salvatore's debut Can't Take That Away is about a genderqueer student who dreams of being a diva like their hero Mariah Carey, but when they are cast in the lead female role in the school musical, they must fight against the injustices from the closed-mindedness of their school's administration.
Sold to Annette Pollert-Moragn at Bloomsbury Children's, in a good deal, at auction, in a two-book deal, or publication in winter 2021, by Jessica Regel at Foundry Literary + Media.
City of Spells by Alexandra Christo (Fiewel and Friends)
City of Spells, the follow-up to Alexandra Christo's gritty YA fantasy, Into the Crooked Place, finds the world on the brink of war and four unlikely allies facing sacrifices they had never imagined.

After the loss of Wesley and the horrifying reveal that Zekia is helping the Kingpin of her own free will, Tavia, Saxony, and Karam flee to Saxony's home to rebuild their rebellion. Meanwhile, trapped in the Kingpin's darkness, Wesley must fight against the deadly magic that invades his mind and find a way back to his friends before it's too late.

As the Kingpin's dark magic spreads and his army conquers Creije, these four unlikely friends have to decide just how far they'll go―and how much they are willing to sacrifice―to win.
Tell Me My Name by Amy Reed (Dial)
A YA Great Gatsby set in the near future--think We Were Liars meets Speak in this haunting, mesmerizing psychological thriller that will linger long after the final line

In a few decades, floods have overtaken the East Coast and fires have burned swaths of the west to nothing. But on wealthy Commodore Island, life is serene. Fern is watching and waiting--for summer, for college, for her childhood best friend to decide he loves her.

Then Ivy Avila lands on the island like a falling star. When Ivy shines on her, Fern feels seen. When they're together, Fern has purpose. She glimpses the secrets Ivy hides behind her fame, her fortune, the lavish parties she throws at her great glass house, and understands that Ivy hurts in ways Fern can't fathom. And soon, it's clear Ivy wants someone Fern can help her get.

But as the two pull closer, Fern's cozy life on Commodore unravels: drought descends, fires burn, and a reckless night spins out of control. Everything Fern thought she understood--about her home, herself, the boy she loved, about Ivy Avila--twists and bends into something new. And Fern won't emerge the same person she was.

An enthralling, mind-altering psychological thriller, Tell Me My Name is about the cost of being a girl in a world that takes so much, and the enormity of what is regained when we take it back.
The Black Friend by Frederick Joseph (Candlewick) - NOTE: YA Non-fiction.
From the perspective of the friend everyone should have, Frederick Joseph offers an essential read for white people who want to be better about race—and people of color who long to see their experiences validated.

"We don't see color." "I didn't know Black people liked Star Wars!" "What hood are you from?" For Frederick Joseph, life in a mostly white high school as a smart and increasingly popular transfer student was full of wince-worthy moments that he often simply let go. As he grew older, however, he saw these as missed opportunities not only to stand up for himself, but to spread awareness to the white friends and acquaintances who didn't see the negative impact they were having and who would change if they knew how.

Speaking directly to the reader, The Black Friend calls up race-related anecdotes from the author's past, weaving in his thoughts on why they were hurtful and how he might handle things differently now. Each chapter includes the voice of at least one artist or activist, including Tarell Alvin McCraney, screenwriter of Moonlight; April Reign, creator of #OscarsSoWhite; Angie Thomas, author of The Hate U Give; and eleven others. Touching on everything from cultural appropriation to power dynamics, "reverse racism" to white privilege, microaggressions to the tragic results of overt racism, this book serves as conversation starter, tool kit, and invaluable window into the life of a former "token Black kid" who now presents himself as the friend many of us need. Back matter includes an encyclopedia of racism, providing details on relevant historical events, terminology, and more.
March 16th
A Better Bad Idea by Laurie Devore (Imprint)
Laurie Devore's new YA novel is a searing look at a forgotten girl who has no good choices left, but one better bad idea . . .

Evelyn Peters is desperate. Desperate for a way out of McNair Falls, the dying southern town that's held her captive since the day she was born. Desperate to protect her little sister from her mother's terrifying and abusive boyfriend. And desperate to connect with anyone, even fallen golden boy Ashton Harper, longtime boyfriend of the girl Evelyn can never stop thinking about ― beautiful, volatile, tragically dead Reid Brewer.

Until a single night sends Evelyn and Ashton on a collision course that starts something neither of them can stop. With one struck match, their whole world goes up in flames. The only thing left to do is run―but leaving McNair Falls isn't as easy as just putting distance between here and there and some secrets refuse to stay left behind.

A reckoning is coming . . . and not everyone is getting out alive.
That Way Madness Lies by Various YA Authors (Flatrion Books)
Fifteen acclaimed YA writers put their modern spin on William Shakespeare's celebrated classics!

West Side Story. 10 Things I Hate About You. Kiss Me, Kate. Contemporary audiences have always craved reimaginings of Shakespeare's most beloved works. Now, some of today's best writers for teens take on the Bard in these 15 whip-smart and original retellings!

Contributors include Dahlia Adler (reimagining The Merchant of Venice), Kayla Ancrum (The Taming of the Shrew), Lily Anderson (All's Well That Ends Well), Patrice Caldwell (Hamlet), Melissa Bashardoust (A Winter's Tale), Amy Rose Capetta and Cori McCarthy (Much Ado About Nothing), Brittany Cavallaro (Sonnet 147), Joy McCullogh (King Lear), Anna-Marie McLemore (A Midsummer Night's Dream), Samantha Mabry (Macbeth), Tochi Onyebuchi (Coriolanus), Mark Oshiro (Twelfth Night), Lindsay Smith (Julius Caesar), Kiersten White (Romeo and Juliet), and Emily Wibberley and Austin Siegemund-Broka (The Tempest).
A Queen of Gilded Thorns by Amanda Joy
(Putnam)
On the run and desperate for answers, Eva and her friends have fled Ternain. With them they have brought captive Isa who is chained and magicked to prevent her from making trouble. Their lives bonded after the Entwining ceremony, each sister's life is now in the other's hand.
Having fled to the northern part of the Arym Plain, Eva hopes she might find her father's family and learn more of his plan to unite the country. However, the welcome she receives at her father's ancestral home puts her at death's door, and leaves more questions than answers. Without Baccha to guide and train her magick, Eva must find a way not only to survive her own metamorphosis, but to unite all the people of Myre, including her sister, before it is too late.
The Last Secret You'll Ever Keep by Laurie Faria Stolarz (Wednesday Books)
Bestselling author Laurie Faria Stolarz returns with a thrilling novel where an eighteen-year-old girl's search for answers lands her in one of the most terrifying situations imaginable.

It's been a year since eighteen-year-old Terra insists she was abducted and held captive in a well for four days. However, authorities can't corroborate any of the details or find any evidence. And with a history of mental illness—depression, anxiety, and paranoia—no one believes her story.

Since then, Terra has found solace in a chat site for survivors of crime-related trauma and there meets Peyton, whose abduction story seems to mirror her own. Unlike in Terra's situation, people believed Peyton's story and took it much more seriously, but the case has since gone cold.

One day Peyton drops off the chat site with no explanation, and Terra fears that the abductor has come back. When she posts a message looking for information, she's contacted by a man claiming to know Peyton's whereabouts and soon she's on a hunt for clues. Before she knows it, she's in the same captivity situation as before. Peyton isn't there. She's all alone, and she'll need to find a way out before it's too late.
On This Unworthy Scaffold by Heidi Heilig (Greenwillow Books) - some editions dated for November 2020, but the publisher confirms this date.
Jetta's home is spiraling into civil war.
Le Trépas—the deadly necromancer—has used his blood magic to wrest control of the country, and Jetta has been without treatment for her malheur for weeks. Meanwhile, Jetta's love interest, brother, and friend are intent on infiltrating the palace to stop the Boy King and find Le Trépas to put an end to the unleashed chaos.
The sweeping conclusion to Heidi Heilig's ambitious trilogy takes us to new continents, introduces us to new gods, flings us into the middle of palace riots and political intrigue, and asks searching questions about power and corruption. As in the first two books, the story is partly told in ephemera, including original songs, myths, play scripts, and various forms of communication.
Namesake by Adrienne Young (Wednesday Books)
Filled with action, emotion, and lyrical writing, New York Times bestselling author Adrienne Young returns with the final book in the captivating Fable duology.

Trader. Fighter. Legend.

Welcome to a world made dangerous by the sea and by those who wish to profit from it. Where a young girl must find her place and her family while trying to survive in a world built for men.
Five Ways To Fall Out of Love by Emily Martin (Inkyard Press)
This whip-smart rom-com explores the risks and rewards of letting love in, for fans of Jennifer E. Smith, Julie Buxbaum, and Sandhya Menon.

How do I hate thee? Let me count the ways…
Aubrey Cash learned the hard way not to rely on love. After all, Webster Casey, the new boy next door she'd been falling for all summer, stood her up at homecoming in front of everyone with no explanation. Proving her theory that love never lasts seems easy when she's faced with parents whose marriage is falling apart and a best friend who thinks every boy she dates is "the one." But when sparks fly with a boy who turns out to be Webster's cousin, and then Webster himself becomes her lab partner for the rest of senior year, Aubrey finds her theory—and her commitment to stay single—put to the test.

As she navigates the breakdown of her family, the consequences her cynicism has on her relationship with her best friend, and her own confusing but undeniable feelings for Webster, Aubrey has to ask herself: What really happened the night Webster stood her up? And if there are five ways to fall out of love…could there perhaps be even more ways to fall back in?
Like Home by Louisa Onome (Delacorte)
Fans of Netflix's On My Block, In the Heights, and readers of Elizabeth Acevedo and Ibi Zoboi will love this debut novel about a girl whose life is turned upside down after one local act of vandalism throws her relationships and even her neighborhood into turmoil.

Chinelo, or Nelo as her best friend Kate calls her, is all about her neighborhood Ginger East. She loves its chill vibe, ride-or-die sense of community, and her memories of growing up there. Ginger East isn't what it used to be, though. After a deadly incident at the local arcade, all her closest friends moved away, except for Kate. But as long as they have each other, Nelo's good.

Only, Kate's parents' corner store is vandalized, leaving Nelo shaken to her core. The police and the media are quick to point fingers, and soon more of the outside world descends on Ginger East with promises to "fix" it. Suddenly, Nelo finds herself in the middle of a drama unfolding on a national scale.

Worse yet, Kate is acting strange. She's pushing Nelo away at the exact moment they need each other most. Nelo's entire world is morphing into something she hates, and she must figure out how to get things back on track or risk losing everything⁠—and everyone⁠—she loves.
The Mirror Season by Anna Marie McLemore (Feiwel and Friends) - delayed from January 2021.
When two teens discover that they were both sexually assaulted at the same party, they develop a cautious friendship through her family's possibly-magical pastelería, his secret forest of otherworldly trees, and the swallows returning to their hometown, in Anna-Marie McLemore's The Mirror Season...

Graciela Cristales' whole world changes after she and a boy she barely knows are assaulted at the same party. She loses her gift for making enchanted pan dulce. Neighborhood trees vanish overnight, while mirrored glass appears, bringing reckless magic with it. And Ciela is haunted by what happened to her, and what happened to the boy whose name she never learned.

But when the boy, Lock, shows up at Ciela's school, he has no memory of that night, and no clue that a single piece of mirrored glass is taking his life apart. Ciela decides to help him, which means hiding the truth about that night. Because Ciela knows who assaulted her, and him. And she knows that her survival, and his, depend on no one finding out what really happened.
The Cost of Knowing by Brittney Morris (Simon Pulse)
For fans of DEAR MARTIN and THEY BOTH DIE AT THE END.

From the acclaimed author of SLAY, comes a gripping, evocative novel, about a Black teen who has the power to see into the future, and whose life turns upside down when he foresees his younger brother's imminent death.

Sixteen-year-old Alex Rufus is trying his best. He wants to be the best employee at the local ice cream shop; the best boyfriend to his amazing girlfriend, Talia; the best protector of his little brother, Isaiah. But however much he tries, he often comes up short.

It's hard to concentrate when every time he touches an object, or person, Alex sees its future. It's fine when he touches the ice cream scoop and can see what flavor the customer will pick, but it's less fun when he touches his car and sees it submerged in water years from now, or when he touches his girlfriend, and sees them at the precipice of breaking up.

But Alex is about to find out the real cost of knowing...

When Alex touches a family photo, he sees that his brother, Isaiah, is going to die—he can't tell how, but he knows it will be soon. If Alex has any chance of saving his brother's future, he will have to deal with the past...but can the curse be broken?

A story of brothers, grief, and what it means to be a young Black man in America.
Our Last Echoes by Kate Alice Marshall (Penguin Teen)
Kara Thomas meets Twin Peaks in this supernatural thriller about one girl's hunt for the truth about her mother's disappearance in Kate Alice Marshall's most commercial book yet.

Sophia's first memory is of drowning. She remembers the darkness of the water and the briny taste as it fills her throat. She remembers the cold shock of going under. She remembers her mother pulling her to safety before disappearing forever. But Sophia has never been in the ocean. And her mother died years ago in a hospital. Or so she has been told her whole life.

A series of clues have led Sophia to the island of Bitter Rock, Alaska, where she talked her way into a summer internship at the Landon Avian Research Center, the same center her mother worked at right before she died. There, she meets the disarmingly clever Liam, whose own mother runs the LARC, as well as Abby, who's following a mystery of her own: a series of unexplained disappearances. People have been vanishing from Bitter Rock for decades, leaving only their ghostly echoes behind. When it looks like their two mysteries might be one and the same, Sophia vows to dig up the truth, no matter how many lies she has to tell along the way. Even if it leads her to a truth she may not want to face.

Our Last Echoes is an eerie collection of found documents and written confessionals, in the style of Rules for Vanishing, with supernatural twists that keep you questioning what is true and what is an illusion.
The Seventh Raven by David Elliot (HMH)
Kate O'Sullivan at HMH has bought David Elliott's The Seventh Raven, a YA retelling of the Brothers Grimm story "The Seven Ravens." Elliott's verse narrative follows a girl determined to rescue her brothers while exploring themes of balance, transformation, and restoration. Publication is scheduled for spring 2021; Kelly Sonnack at Andrea Brown Literary Agency negotiated the deal for world rights.
An Emotion of Great Delight by Taherah Mafi (HarperCollins)
A new contemporary standalone, described by Mafi as "a really sad book".
March 23rd
The Secret Recipe For Moving On by Karen Bishcher (Swoon Reads)
Home economics is supposed to be an easy A for Ellie Agresti, but, much like an imperfect souffle, her plans collapse epically when she's dumped by her boyfriend, Hunter. Now Ellie has to mend her broken heart while watching Hunter fawn all over his new girlfriend, Brynn, in class. To make matters worse, Ellie is partnered with four of the biggest misfit guys in school: Jeremy, the loudmouth with temper issues; Isaiah, the solemn, silent horse racing obsessive; Andrew, who can't take rejection; and Luke, the giant, tattooed stunt biker.

Over the course of a semester, Ellie works to overcome her feelings for Hunter, as well as deeper insecurities that have plagued her since middle school. As the weeks go by, she's surprised to find friendships in unexpected places... and sparks flying with the last guy she'd expect.
When children go missing, people want answers. When children go missing in the small coastal town of Astoria, people look to Wendy for answers.

It's been five years since Wendy and her two brothers went missing the woods, but when the town's children start to disappear, the questions surrounding her brothers' mysterious circumstances are brought back into light. Attempting to flee her past, Wendy almost runs over an unconscious boy lying in the middle of the road, and gets pulled into the mystery haunting the town.

Peter, a boy she thought lived only in her stories, claims that if they don't do something, the missing children will meet the same fate as her brothers. In order to find them and rescue the missing kids, Wendy must confront what's waiting for her in the woods.
The Theft of Sunlight by Intisar Khanani (HarperTeen)
I did not choose this fate. But I will not walk away if I can make a difference.

Children have been disappearing from Menaiya for longer than Amraeya ni Ansarim can remember. When her best friend's sister disappears, Rae knows she can't stay silent any longer. She finds the chance to make a difference in an invitation to the palace.

But Rae struggles to fit in with the lords and ladies of the court. Instead, she finds unexpected help in a rough-around-the-edges thief named Bren who always seems to have her best interests at heart. Soon even Bren can't help her, and Rae must risk her life and well-being to face an evil that lurks in the shadows of the darkest hearts.
Gilded Serpent by Danielle L. Jensen (Tor Teen)
From bestselling author Danielle L. Jensen comes a thrilling new novel in the Dark Shores world, a series that Sarah J. Maas called "everything I look for in a fantasy novel."

THEIR BATTLES ENDED IN VICTORY

Lydia returns to Mudaire to enter training at the healing temple. But instead of fighting to save lives, she's convinced she is doing more harm than good. She delves into the history of the gods only to discover a truth that will change her life forever.

His birthright as commander of the Royal Army is finally in his grasp, but Killian feels anything but victorious. Burdened by his past, he embraces the darker side of his mark—and in doing so, risks starting a war.

BUT THE WAR HAS ONLY JUST BEGUN

Having defeated the tyrant Urcon, Marcus struggles to form a lasting alliance with the Arinoquians. But he is plagued by the knowledge that there is a traitor among his friends, and it could cost him everything that he's fought for.

Torn between her growing allegiance to the Thirty-Seventh legion and her need to liberate her people, Teriana finds herself mired in a web of secrets. She embarks upon a path that will either save everyone she loves—or put them all in their graves.
Bruised by Tanya Boteju (Simon Pulse)
Whip It meets We Are Okay in this vibrant coming-of-age story, about a teen girl navigates first love, identity, and grief when she immerses herself in the colorful, brutal, beautiful world of roller derby—from the acclaimed author of Kings, Queens, and In-Betweens.

To Daya Wijesinghe, a bruise is a mixture of comfort and control. Since her parents died in an accident she survived, bruises have become a way to keep her pain on the surface of her skin so she doesn't need to deal with the ache deep in her heart.

So when chance and circumstances bring her to a roller derby bout, Daya is hooked. Yes, the rules are confusing and the sport seems to require the kind of teamwork and human interaction Daya generally avoids. But the opportunities to bruise are countless, and Daya realizes that if she's going to keep her emotional pain at bay, she'll need all the opportunities she can get.

The deeper Daya immerses herself into the world of roller derby, though, the more she realizes it's not the simple physical pain-fest she was hoping for. Her rough-and-tumble teammates and their fans push her limits in ways she never imagined, bringing Daya to big truths about love, loss, strength, and healing.
Flamefall by Rosaria Munda
(Putnam)
Revolutionary flames ignite around Annie, Lee, and a brand new POV character in the second book of the Fireborne trilogy.

After fleeing the revolution and settling into the craggy cliffs of New Pythos, the Dragonlords are eager to punish their usurpers--and reclaim their city. Their first order of business was destroying the Callipolan food supply. Now they're coming for the Dragonriders.

Annie is Callipolis's new Firstrider, and while her goal has always been to protect the people, being the government's enforcer has turned her into public enemy number one.

Lee struggles to find his place after killing kin to prove himself to a leader who betrayed him. He can support Annie and the other Guardians . . . or join the radicals who look to topple the new regime.

Griff, a lowborn dragonrider who serves New Pythos, knows he has no future. And now that Julia, the Firstrider who had protected him, is dead, he is called on to sacrifice everything for the lords that oppress his people--or to forge a new path with the Callipolan Firstrider seeking his help.

With famine tearing Callipolis apart and the Pythians determined to take back what they lost, it will be up to Annie, Lee, and Griff to decide what to fight for--and who to love.
Your Heart, My Sky: Love in a Time of Hunger by Margarita Engle (Antheneum)
Acclaimed author Margarita Engle tells a painful, poignant story of love in a time of hunger inspired by her own family's struggles during a dark period in Cuba's history.

The people of Cuba are living in el periodo especial en tiempos de paz—the special period in times of peace. That's what the government insists that this era must be called, but the reality behind these words is starvation.

Liana is struggling to find enough to eat. Yet hunger has also made her brave: she finds the courage to skip a summer of so-called volunteer farm labor, even though she risks government retribution. Nearby, a quiet, handsome boy named Amado also refuses to comply, so he wanders alone, trying to discover rare sources of food.

A chance encounter with an enigmatic dog brings Liana and Amado together. United in hope and hunger, they soon discover that their feelings for each other run deep. Love can feed their souls and hearts—but is it enough to withstand el periodo especial?
March 30th
She's Too Pretty To Burn by Wendy Heard (Henry Holt)
Inspired by The Picture of Dorian Gray, this sexy psychological thriller explores the int ersect ions of love, art, power and violence. For fans of E. Lockhart, Lauren Oliver and Kara Thom as.

The summer is winding down in San Diego. Veronica is bored, caustically charismatic, and uninspired in her photography. Nico is insatiable, subversive, and obsessed with chaotic performance art. They're artists first, best friends second. But that was before Mick. Delicate, lonely, magnetic Mick: the perfect subject, and Veronica's dream girl. The days are long and hot—full of adventure—and soon they are falling in love. Falling so hard, they never imagine what comes next.

One fire. Two murders. Three drowning bodies. One suspect... one stalker. This is the summer they won't survive.

New love spirals into lethal danger in this expertly plotted YA thriller.
Bone Crier's Dawn by Kathryn Purdie (Katherine Tegan Books)
Love is a matter of life and death.

Bone Criers have been ferrying the dead into the afterlife for centuries, a dangerous duty only possible with the powers they gain from sacrificing their amourés the men destined to love them and die. But Bone Criers Ailesse and Sabine—along with Ailesse's love, Bastien—are working to chart their own course and rewrite the rules of the afterlife. If they don't break the soul between Ailesse and her amouré, she could die—just as Bastien's father did.

Sabine struggles to maintain her authority as matrone of her famille—the role always destined for her sister—even as she fights to control the violent jackal power within her.

Bastien is faced with a new dilemma as the spirits of the Underworld threaten the souls of his friends—and his father.

Ailesse attempts to resist her mother's siren song as she's drawn into her own version of the Underworld. How will she save her friends once she's cut off from their world?

This pulse-pounding follow-up to Bone Crier's Moon is a story of love, sisterhood, and determination as three friends find the courage and power to shatter the boundary between the living and the dead.
Prom Theory by Anna LaBar (Simon Pulse)
In this heartwarming and whip-smart YA spin on The Rosie Project, a teen girl is determined to prove that love, like all things, should be scientifically quantified…right?

Iris Oxtabee has managed to navigate the tricky world of unspoken social interactions by reading everything from neuroscience journals to Wikipedia articles. Science has helped her fit the puzzle pieces into an understandable whole, and she's sure there's nothing it can't explain. Love, for example, is just chemistry.

Her best friend Seth, however, believes love is one of life's beautiful and chaotic mysteries, without need for explanation. Iris isn't one to back down from a challenge; she's determined to prove love is really nothing more than hormones and external stimuli. After all, science has allowed humanity to understand more complex mysteries than that, and Iris excels at science.

The perfect way to test her theory? Get the popular and newly-single Theo Grant, who doesn't even know Iris exists, to ask her to prom. With prom just two weeks away, Iris doesn't have any time to waste, so she turns her keen empirical talents and laser-focus attention to testing her theory.

But will proving herself correct cause her friendship with Seth—and the tantalizing possibility for something more—to become the failed experiment?
With You All the Way by Cynthia Hand (HarperTeen)
A Forever for a new generation. Fans of Sarah Dessen , Jenny Han, and Nina LaCour will devour this exploration of family relationships, romantic relationships, and everything in between from New York Times bestselling author Cynthia Hand.

Ada's sick of being the invisible good girl in her family. She's just caught her boyfriend cheating on her after she said she wasn't ready for sex, and she's had it up to here with her perfect, beautiful older sister trying to give her advice, especially when that advice includes staying a virgin until she's truly in love.

But all of that pales in comparison to what Ada discovers when her mom drags them to Hawaii for an annual surgeons' conference: her mom is having an affair. Just like that, Ada's whole world comes crashing down, all because it seems like no one can stop themselves from falling into bed with people they shouldn't.

So Ada decides it's time for her to do just that, and get sex over with. But what she thinks is one of her best laid plans doesn't actually leave room for the truth: That feelings, romantic or not, always get in the way.
The Accidental Apprentice by Amanda Foody (McElderry Books)
A boy who accidentally bonds with a magical Beast must set off on an adventure in the mysterious Woods in this whimsical and cheeky middle grade fantasy debut—perfect for fans of Nevermoor and How to Train Your Dragon.

The last thing Barclay Thorne ever wanted was an adventure.

Thankfully, as an apprentice to the town's mushroom farmer, Barclay need only work hard and follow the rules to one day become the head mushroom farmer himself. No danger required. But then Barclay accidentally breaks his town's most sacred rule: never ever EVER stray into the Woods, for within the Woods lurk vicious magical Beasts.

To Barclay's horror, he faces a fate far worse than being eaten: he unwittingly bonds with a Beast and is run out of town by an angry mob. Determined to break this bond and return home, Barclay journeys to find the mysterious town of Lore Keepers, people who have also bonded with Beasts and share their powers.

But after making new friends, entering a dangerous apprenticeship exam, and even facing the legendary Beast of the Woods, Barclay must make a difficult choice: return to the home and rules he's always known, or embrace the adventure awaiting him.
Pieces of a Girl by Stephanie Kuehnert (Dutton) - non-fiction YA.
A raw and bold memoir about abuse and addiction, and the power of expression and community that helped Stephanie Kuehnert, the author of Ballads of Suburbia and regular Rookie contributor, survive and thrive. Told in varied narrative styles, including journal entries, original illustration, and pages torn from her actual diaries and zines, this is the memoir of Stephanie's life as a struggling outsider who survived substance and relationship abuse to become a strong young woman after years and years trapped in a cycle that sometimes seemed to have no escape.
King of Scars #2 by Leigh Bardugo (Imprint)