4
th December
Queen of Air and Darkness by Cassandra Clare (Margaret K. McElldry Books)
Dark secrets and forbidden love threaten the very survival of the Shadowhunters in Cassandra Clare's Queen of Air and Darkness, the final novel in the #1 New York Times and USA TODAY bestselling The Dark Artifices trilogy.

What if damnation is the price of true love?

Innocent blood has been spilled on the steps of the Council Hall, the sacred stronghold of the Shadowhunters. In the wake of the tragic death of Livia Blackthorn, the Clave teeters on the brink of civil war. One fragment of the Blackthorn family flees to Los Angeles, seeking to discover the source of the blight that is destroying the race of warlocks.

Meanwhile, Julian and Emma take desperate measures to put their forbidden love aside and undertake a perilous mission to Faerie to retrieve the Black Volume of the Dead. What they find in the Courts is a secret that may tear the Shadow World asunder and open a dark path into a future they could never have imagined. Caught in a race against time, Emma and Julian must save the world of Shadowhunters

before the deadly power of the parabatai curse destroys them and everyone they love.
Fire and Heist by Sarah Beth Durst (Crown BFYR)
In Sky Hawkins's family, leading your first heist is a major milestone--even more so than learning to talk, walk, or do long division. It's a chance to gain power and acceptance within your family, and within society. But stealing your first treasure can be complicated, especially when you're a wyvern--a human capable of turning into a dragon.

Embarking on a life of crime is never easy, and Sky discovers secrets about her mother, who recently went missing, the real reason her boyfriend broke up with her, and a valuable jewel that could restore her family's wealth and rank in their community.

With a handpicked crew by her side, Sky knows she has everything she needs to complete her first heist, and get her boyfriend and mother back in the process. But then she uncovers a dark truth about were-dragon society--a truth more valuable and dangerous than gold or jewels could ever be.
Stronger, Faster and More Beautiful by Arwen Elys Dayton (Delacorte)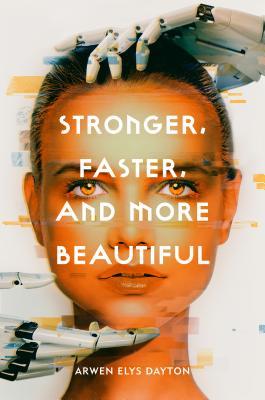 For fans of television shows Black Mirror and Westworld, this compelling, mind-bending novel is a twisted look into the future, exploring how far we will go to remake ourselves into the perfect human specimen and what it means to be human at all.

Set in our world, spanning the near to distant futures, Stronger, Faster, and More Beautiful is a novel made up of six interconnected stories that ask how far we will go to remake ourselves into the perfect human specimens, and how hard that will push the definition of "human."

This extraordinary work explores the amazing possibilities of genetic manipulation and life extension, as well as the ethical quandaries that will arise with these advances. The results range from the heavenly to the monstrous. Deeply thoughtful, poignant, horrifying, and action-packed, Arwen Elys Dayton's Stronger, Faster, and More Beautiful is groundbreaking in both form and substance.
Once a King by Erin Summerhill (HMH)
Since before King Aodren was born, Channelers—women with a magical ability—have been persecuted in Malam. Now Aodren wants to end the bloody divide and unite his kingdom. But decades of hatred can't be overcome by issuing decrees, and rumors of a deadly Channeler-made substance are making things worse.

When Lirra, a Channeler from a neighboring country, offers to help him discover the truth behind the rumors, Aodren begins to see a way forward for his people. But only if he can rewrite the mistakes of the past before it's too late.
Strange Days by Constantine J. Singer (Punam)
Alex Mata doesn't want to worry about rumors of alien incursions – he'd rather just skate and tag and play guitar. But when he comes home to find an alien has murdered his parents, he's forced to confront a new reality: Aliens are real, his parents are dead, and nobody will believe him if he says what he saw. On the run, Alex finds himself led to the compound of tech guru Jeffrey Sabazios, the only public figure who stands firm in his belief that aliens are coming.

At Sabazios' invitation, Alex becomes a "Witness"—one of a special group of teens gifted with an ability that could save the Earth: they can glide through time and witness futures. When a Witness sees a future it guarantees that it will happen the way it's been seen, making their work humanity's best hope for controlling what happens next and stopping the alien threat. Guided by Sabazios, befriended by his fellow time travelers, and maybe even falling in love, Alex begins to find a new home at the compound -- until a rogue glide shows him the dangerous truth about his new situation.

Now in a race against time, Alex must make a terrible choice: save the people he loves or save the world instead.

Debut author Constantine Singer's fresh-voiced protagonist leaps off the page in this captivating novel that weaves sci-fi and contemporary fiction.
11th December
The Fade by Demitria Lunetta (Delacorte)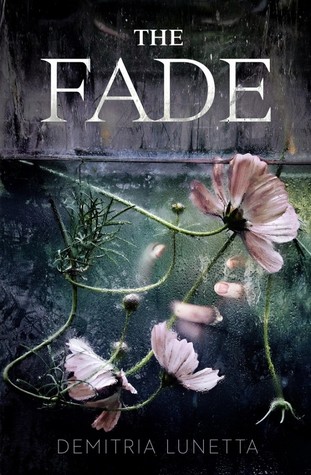 We don't want to disappear. We want to be found.

Something terrible happened in her basement. Haley can feel it.

Four girls went missing several years ago, and the police never solved the case. But Haley know the missing girls were murdered. How else can she explain the hostile presence in her house?

The ghostly girls need something from her. And unless Haley can figure out what they want...she might be next.
Br

oken Lands by Jonathan Maberry
(Simon and Schuster)
New York Times bestselling author Jonathan Maberry returns to the world of Rot & Ruin with this first novel in a brand-new series that's more thrilling and filled with exceptionally terrifying adventures.

Ever since her mother's death, Gabriella "Gutsy" Gomez has spent her days flying under the radar. But when her mother's undead body is returned to her doorstep from the grave and Gutsy witnesses a pack of ravagers digging up Los Muertos—her mother's name for the undead—she realizes that life finds you no matter how hard you try to hide from it.

Meanwhile, Benny Imura and his gang set out on a journey to finish what Captain Joe Ledger started: they're going to find a cure. After what they went through in the Rot and Ruin, they think they've seen it all, but as they venture into new and unexplored territory, they soon learn that the zombies they fought before were nothing compared to what they'll face in the wild beyond the peace and safety of their fortified town.
This Lie Will Kill You by Chelsea Pitcher (McElderry Books)
Tell the truth. Or face the consequences.

Clue meets Riverdale in this page-turning thriller that exposes the lies five teens tell about a deadly night one year ago.

One year ago, there was a party.
At the party, someone died.
Five teens each played a part and up until now, no one has told the truth.

But tonight, the five survivors arrive at an isolated mansion in the hills, expecting to compete in a contest with a $50,000 grand prize. Of course…some things are too good to be true. They were each so desperate for the prize, they didn't question the odd, rather exclusive invitation until it was too late.

Now, they realize they've been lured together by a person bent on revenge, a person who will stop at nothing to uncover what actually happened on that deadly night, one year ago.

Five arrived, but not all can leave. Will the truth set them free?
Or will their lies destroy them all?
Deadfall by Stephen Wallenfels (Disney Hyperion)
Twin brothers Ty and Cory Bic are on the run. When they encounter a dying deer in the middle of a remote mountain road with fresh tire tracks swerving down into a ravine, they know they have to help. But when they reach the wrecked car the vehicle appears empty, with signs that the driver escaped.

Until they hear a sound coming from the trunk.

Ty and Cory are escaping demons of their own. But what they discover in the trunk puts them in the crosshairs of something darker and more sinister than their wildest nightmares.

Told through a gripping, lightning-fast narrative that alternates between present and past, this unputdownable survival thriller unravels the tangled circumstances that led Ty and Cory to the deer in the road and set them on a perilous course through the wilderness of the Pacific Northwest.
18th December
Kiss Collector by Wendy Higgins (HarperTeen)
When seventeen-year-old Zae Monroe gets cheated on by the only guy she's ever loved, then watches her parents' marriage crumble, she decides to forget about relationships and turn the tables on the boys of the world. It's time to take what she wants, and what she wants are kisses. Athletes, musicians, poets, and bad boys—their lips are all on her agenda, and it's time to collect.

Zae proposes a contest with her friends to see who can kiss the most boys during spring break. But what starts as a harmless competition leads to a downward spiral she can't seem to break free of. As family drama, academic drama, friend drama, and guy drama come to a head, Zae is forced to face the reasons behind her boy hatred, and starts to wonder if she wasn't wrong about the male race...or at least some of them.

***
"We take what we want!" I yell. "And we don't feel guilty for saying no to what they want. We're the bosses. And the biggest rule of all is no falling for any of the boys we kiss. This is our time to rule! No love. No emotion. Just kisses and fun. Got it?"
"Got it!" they respond together.
I turn up the radio as loud as it will go without blowing out the speakers and we car-dance with hyper, reckless abandon. I'm taking back my life, one kiss at a time.
The Girl With the Broken Heart by Lurlene McDaniel (Delacorte)
An inspirational story about love, tragedy, heartbreak, and renewal as a young woman deals with her serious health issues, a fractured family life, and the prospect of romantic love while trying to remain focused on her studies and a lifelong dream.

Kenzie Caine is enrolled at Vanderbilt University, with the goal of becoming a veterinarian. When she lands a summer job caring for and helping to rehabilitate abused horses at the Bellmeade Estate stables, she is over-the-moon happy. One place she does not want to be is at home with her parents. Since the tragic death of Kenzie's younger sister, her mother has unraveled and her father has lost Kenzie's trust.

At the stables, Kenzie is in her element. But a serious heart condition limits her ability to complete the more physical aspects of the job, so her employers have tasked the charming Austin Boyd with helping her. But Austin has secrets. And as Kenzie and Austin become closer, those secrets threaten to harm their relationship, as well as reveal other startling truths.

Once again Lurlene McDaniel delivers the type of story for which she is famous--and readers everywhere will be reaching for their tissues.
My Almost Flawless Tokyo Dream Life by Rachel Cohn (Disney Hyperion)
"I'm here to take you to live with your father. In Tokyo, Japan! Happy birthday!"

In the Land of the Rising Sun, where high culture meets high kitsch, and fashion and technology are at the forefront of the First World's future, the foreign-born teen elite attend ICS-the International Collegiate School of Tokyo. Their accents are fluid. Their homes are ridiculously posh. Their sports games often involve a (private) plane trip to another country. They miss school because of jet lag and visa issues. When they get in trouble, they seek diplomatic immunity.

Enter foster-kid-out-of-water Elle Zoellner, who, on her sixteenth birthday discovers that her long-lost father, Kenji Takahari, is actually a Japanese hotel mogul and wants her to come live with him. Um, yes, please! Elle jets off first class from Washington D.C. to Tokyo, which seems like a dream come true. Until she meets her enigmatic father, her way-too-fab aunt, and her hyper-critical grandmother, who seems to wish Elle didn't exist. In an effort to please her new family, Elle falls in with the Ex-Brats, a troupe of uber-cool international kids who spend money like it's air. But when she starts to crush on a boy named Ryuu, who's frozen out by the Brats and despised by her new family, her already tenuous living situation just might implode.

My Almost Flawless Tokyo Dream Life is about learning what it is to be a family, and finding the inner strength to be yourself, even in the most extreme circumstances.
Dear Heartbreak by Various YA Authors (Henry Holt)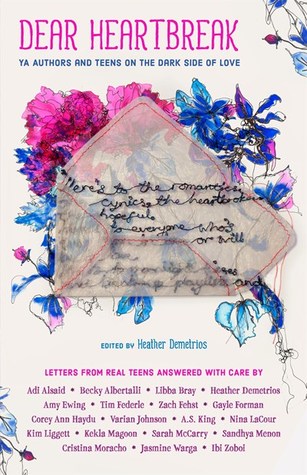 Kate Farrell at Henry Holt has acquired Dear Heartbreak: YA Authors on the Dark Side of Love, edited by Heather Demetrios, a collection of real-life letters from teens answered by 19 young adult authors: Adi Alsaid, Becky Albertalli, Libba Bray, Heather Demetrios, Amy Ewing, Tim Federle, Zach Fehst, Gayle Forman, Corey Ann Haydu, Varian Johnson, A.S. King, Nina LaCour, Kim Liggett, Kekla Magoon, Sarah McCarry, Sandhya Menon, Cristina Moracho, Jasmine Warga, and Ibi Zoboi. Publication is slated for December 2018. Brenda Bowen at Sanford J. Greenburger Associates sold North American rights on behalf of Demetrios; the contributors were represented by various agents.
The Disasters by M.K. England (HarperCollins)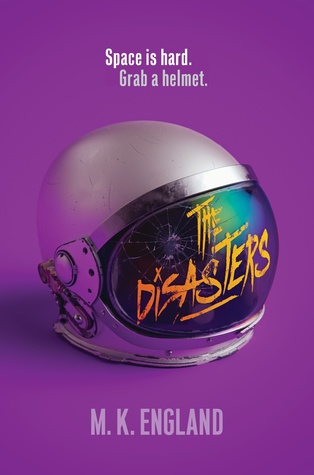 When Nax Kahn flunks out of Ellis Station Academy after less than 24 hours at the elite space training school, he is not devastated. But just as Nax and a handful of other Academy washouts are departing the station for Earth, the entire Academy is hijacked and everyone aboard is killed.
As the only surviving pilots, it's up to Nax and a group of misfit flunkees to join forces in an intergalactic adventure to save the universe as they know it. No pressure or anything…
The Cursed Sea by Lauren De

Stephano
(Balzer + Bray)
Wilhemina Heidle, the exiled princess of Northern Arrod, the girl thought dead by her family and friends, must return home. The only way to save Loom, the cursed prince of the Southern Isles, is to revisit the castle and discover the origins of her own curse.
But home is very different from how she left it—Wil's unstable elder brother is now king, leading a war against the Southern Isles. And the rest of her family must reckon with the truth of what happened to lead to Wil's exile. With time running out, Wil must navigate the dangerous secrets within her family if she's going to find the truth and save the boy she loves.
When she's finally able to reach Pahn, nothing goes as planned, and suddenly Wil and her allies are fighting for their lives, again and again, as the Southern King is out to punish his children for all they've done. Traveling across cursed seas and treacherous kingdoms, Wil, Loom—and his ruthless sister Espel—have to work to make peace with their own struggles if they hope to secure the future of their kingdoms.
But when their plans lead them right back to evil marveler Pahn, and to Baren—who is more dangerous than ever—can Wil and her friends outsmart their enemies, this time, for good?
December 31st
Evermore by Sara Holland (HarperTeen)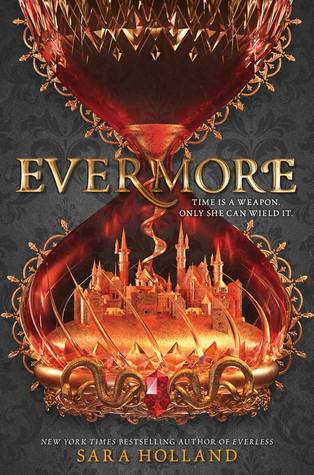 Time is currency in the kingdom of Sempera, which is why the rich aristocracy are able to live for centuries, while the poor bleed to pay for their bread. Determined to do whatever it took to save her dying father's life, Jules Ember risked everything by going back to Everless, the palatial estate of the Gerlings' where they used to be servants, to earn more time for him. But now that she knows the truth about her incredible ability to manipulate time, and the link to the ancient myth that has defined her kingdom and its bloody history, will Jules be able to defeat the evil that has dominated her home for centuries? Can the Alchemist o

vercome the Sorceress once and for all?
The Curses by Laure Eve (Amulet Books)
Picking up the pieces after the chilling events of the previous year isn't easy, but the Graces are determined to do it. Wolf is back after a mysterious disappearance, and everyone's eager to return to normal. Except for Summer, the youngest Grace. Summer has a knack for discovering the truth—and something is troubling her. After a trail of clues leads her to what could be the key to both her family's mysterious past and the secret of Wolf, she's determined to vanquish yet another curse. But exposing secrets is a dangerous game, and it's not one Summer can win alone.

At Summer's behest, the coven comes back together, reluctantly drawing their erstwhile friend River back into the fold. But Wolf's behavior becomes unpredictable even as Fenrin's strength fades, and Summer must ask herself whether the friend she so loves is also planning her family's ultimate, cursed demise.

This riveting sequel to The Graces is saturated with magic, the destructive cost of power, the complications of family, and the nature of forgiveness.