June 5th
The Bird and The Blade by Megan Bannen (Balzer and Bray)
As a slave in the Kipchak Khanate, Jinghua has lost everything: her home, her family, her freedom … until she finds herself an unlikely conspirator in the escape of Prince Khalaf and his irascible father as they flee from their enemies across the vast Mongol Empire. On the run, with adversaries on all sides and an endless journey ahead, Jinghua hatches a scheme to use the Kipchaks' exile to return home, a plan that becomes increasingly fraught as her feelings for Khalaf evolve into a hopeless love.

Jinghua's already dicey prospects take a downward turn when Khalaf seeks to restore his kingdom by forging a marriage alliance with Turandokht, the daughter of the Great Khan. As beautiful as she is cunning, Turandokht requires all potential suitors to solve three impossible riddles to win her hand—and if they fail, they die.
Jinghua has kept her own counsel well, but with Khalaf's kingdom—and his very life—on the line, she must reconcile the hard truth of her past with her love for a boy who has no idea what she's capable of ... even if it means losing him to the girl who'd sooner take his life than his heart.

THE BIRD AND THE BLADE is a lush, powerful story of life and death, battles and riddles, lies and secrets from debut author Megan Bannen.
The Last Summer of the Garrett Girls by Jessica Spotswood (Sourcebooks Fire)
One summer will challenge everything the Garrett sisters thought they knew about themselves—and each other.
Kat lands the lead in the community theater's summer play, but the drama spills offstage when her ex and his new girlfriend are cast too. Can she get revenge by staging a new romance of her own?

Bea and her boyfriend are heading off to college together in the fall, just like they planned when they started dating. But Bea isn't sure she wants the same things as when she was thirteen…

Vi has a crush on the girl next door. It makes her happy and nervous, but Cece has a boyfriend…so it's not like her feelings could ever be reciprocated, right?

As the oldest, Des shoulders a lot of responsibility for her family and their independent bookstore. Except it's hard to dream big when she's so busy taking care of everyone else.

Told through four alternating points of view, readers will laugh, cry, and fall in love alongside the Garrett girls in this captivating new novel from Jessica Spotswood.
Invisible Ghosts by Robyn Schneider (Katherine Tegan Books)
Rose Asher believes in ghosts. She should, since she has one for a best friend: Logan, her annoying, Netflix-addicted brother, who is forever stuck at fifteen. But Rose is growing up, and when an old friend moves back to Laguna Canyon and appears in her drama class, things get complicated.

Jamie Aldridge is charming, confident, and a painful reminder of the life Rose has been missing out on since her brother's death. She watches as Jamie easily rejoins their former friends--a group of magnificently silly theater nerds--while avoiding her so intensely that it must be deliberate.

Yet when the two of them unexpectedly cross paths, Rose learns that Jamie has a secret of his own, one that changes everything. Rose finds herself drawn back into her old life--and to Jamie. But she quickly starts to suspect that he isn't telling her the whole truth.

All Rose knows is that it's becoming harder to choose between the boy who makes her feel alive and the brother she isn't ready to lose.
Smoke in the Sun by Renee Adeidh (G.P. Putnam & Sons)
The highly anticipated sequel to Flame in the Mist--an addictive, sumptuous finale that will leave readers breathless from the bestselling author of The Wrath and the Dawn

After Okami is captured in the Jukai forest, Mariko has no choice--to rescue him, she must return to Inako and face the dangers that have been waiting for her in the Heian Castle. She tricks her brother, Kenshin, and betrothed, Raiden, into thinking she was being held by the Black Clan against her will, playing the part of the dutiful bride-to-be to infiltrate the emperor's ranks and uncover the truth behind the betrayal that almost left her dead.

With the wedding plans already underway, Mariko pretends to be consumed with her upcoming nuptials, all the while using her royal standing to peel back the layers of lies and deception surrounding the imperial court. But each secret she unfurls gives way to the next, ensnaring Mariko and Okami in a political scheme that threatens their honor, their love and very the safety of the empire.
Mariam Sharma Hits the Road by Sheba Karim (HarperTeen)
The summer after her freshman year in college, Mariam is looking forward to working and hanging out with her best friends: irrepressible and beautiful Ghazala and religious but closeted Umar. But when a scandalous photo of Ghaz appears on a billboard in Times Square, Mariam and Umar come up with a plan to rescue her from her furious parents. And what better escape than New Orleans?

The friends pile into Umar's car and start driving south, making all kinds of pit stops along the way--from a college drag party to a Muslim convention, from alarming encounters at roadside diners to honky-tonks and barbeque joints.

Along with the adventures, the fun banter, and the gas station junk food, the friends have some hard questions to answer on the road. With her uncle's address in her pocket, Mariam hopes to learn the truth about her father (and to make sure she didn't inherit his talent for disappearing). But as each mile of the road trip brings them closer to their own truths, they know they can rely on each other, and laughter, to get them through.
Fat Girl On A Plane by Kelly DeVos (Harlequin Teen)
Don't miss this unforgettable debut novel, told in two timelines, about smart fashion, pursuing your dreams, and loving yourself!

FAT.

High school senior Cookie Vonn's post-graduation dreams include getting out of Phoenix, attending Parsons and becoming the next great fashion designer. But in the world of fashion, being fat is a cardinal sin. It doesn't help that she's constantly compared to her supermodel mother—and named after a dessert.

Thanks to her job at a fashion blog, Cookie scores a trip to New York to pitch her portfolio and appeal for a scholarship, but her plans are put on standby when she's declared too fat too fly. Forced to turn to her BFF for cash, Cookie buys a second seat on the plane. She arrives in the city to find that she's been replaced by the boss's daughter, a girl who's everything she's not—ultrathin and superrich. Bowing to society's pressure, she vows to lose weight, get out of the friend zone with her crush, and put her life on track.

SKINNY.

Cookie expected sunshine and rainbows, but nothing about her new life is turning out like she planned. When the fashion designer of the moment offers her what she's always wanted—an opportunity to live and study in New York—she finds herself in a world full of people more interested in putting women down than dressing them up. Her designs make waves, but her real dream of creating great clothes for people of all sizes seems to grow more distant by the day.

Will she realize that she's always had the power to make her own dreams come true?
Tell Me No Lies by A.V. Geiger (Sourcebooks Fire)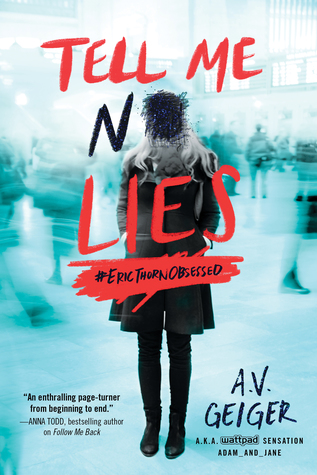 Love. Obsession. Jealousy. Murder.

No one knows what happened to pop icon Eric Thorn. His Twitter account? Frozen. His cell phone? Cracked and bloody, buried in the snow.

Agoraphobic fangirl Tessa Hart knows the truth, but she's finally left her #EricThornObsessed days behind. She has no intention of ever touching her Twitter app again. But Snapchat... That's safer, right?

After months of living under the radar, Tessa emerges from hiding, forced to face the deadly consequences of her past. But in the interrogation room, answers only lead to more questions in the pulse-pounding conclusion to the Follow Me Back duology.
Whisper of the Tide by Sarah Tolcser (Bloomsbury)
Caro and Markos have settled into a routine: Wake up, eat breakfast, and try to figure out who might attempt to assassinate Markos today . . . so the currents aren't exactly calm. Markos is in constant danger, and his claim to the throne is shaky without the support of an army. But then a powerful Archon offers Markos the military might he needs in exchange for marrying his daughter. Markos and Caro must decide which is more important: their love for each other or the fate of Akhaia.

With shipwrecks, lost treasure, old and new enemies, dark magic, and breathtaking romance, Sarah Tolcser weaves another epic story about chasing your fate and charting your own course.
The History of Jane Doe by Micheal Belanger (Dial)
A poignant, deeply funny coming-of-age story about first love, first loss, and the power of history to give life meaning.

History buff Ray knows everything about the peculiar legends and lore of his rural Connecticut hometown. Burgerville's past is riddled with green cow sightings and witches' curses, but the most interesting thing about the present is the new girl--we'll call her Jane Doe.

Inscrutable, cool, and above all mysterious, Jane seems as determined to hide her past as Ray is to uncover it. As fascination turns to friendship and then to something more, Ray is certain he knows Jane's darkest, most painful secrets and Jane herself--from past to present. But when the unthinkable happens, Ray is forced to acknowledge that perhaps history can only tell us so much.

Mixing humor with heartache, this is an unmissable coming-of-age story from an exciting new voice in YA.
Blood Will Out by Jo Treggiari (Penguin Teen)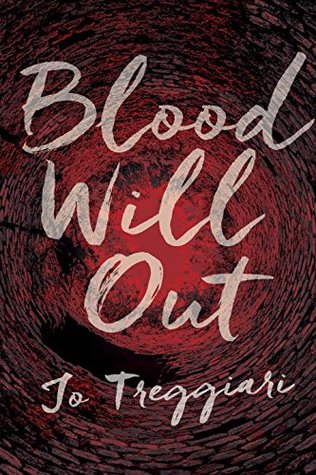 Ari Sullivan is alive—for now.

She wakes at the bottom of a cistern, confused, injured and alone, with only the shadowy recollection of a low-pitched voice and a gloved hand. No one can hear her screams. And the person who put her there is coming back. The killer is planning a gruesome masterpiece, a fairytale tableau of innocence and blood, meticulously designed.

Until now, Ari was happy to spend her days pining for handsome, recent-arrival Stroud Bellows, fantasizing about their two-point-four-kids-future together. Safe in her small hometown of Dempsey Hollow. But now her community has turned very dangerous—and Ari may not be the only intended victim.
Kissing Games by Kara Eglington (Wednesday Books)
The course of true love never did run smooth. For a girl who shares her name with a princess (a.k.a Aurora from Sleeping Beauty) Aurora Skye's life seem fathoms away from a fairytale. Sure, she's landed Hayden Paris, Potential Prince extraordinaire. And she got her wish -- one first kiss with all the knee-trembling, butterfly-inducing gloriousness she'd hoped for.
But Aurora's learning that a kiss is just the beginning of a story.
Instead of being the truly transcendent, utterly epic follow up it should be, her second attempt at kissing has literally landed Hayden Paris in the emergency room. If that's not mortifying enough, the whole school is now referring to her as 'Lethal Lips'.
Meanwhile it's all systems go for her best friend Cassie - she and Potential Prince Scott are totally loved up and can't stop kissing. Jelena (Jefferson High's answer to Helen of Troy) has moved on from the heinous betrayal by Bad Boy Alex West and has unleashed her plan to rule the world by running for School Captain. Problem is Alex is running too and Jelena's pulling out all the stops to prevent him from stealing her rightful place as ruler of Jefferson High - including offering Aurora's Find a Prince/Princess Program as one of her campaign initiatives.
How is Aurora going to prove her program is foolproof and help Jelena win the election when her matchmaking manoeuvres seem to be throwing all the wrong people together - including the NAD and the hippy-dippy Ms Deforest -- and she can't even convince Hayden to kiss her?
Neverworld Awake by Marisha Pessl (Delacorte)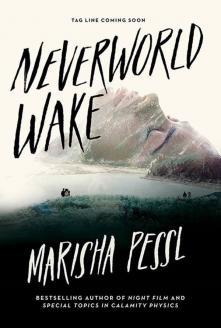 Beatrice Hartley has no plans for the summer—except a secret reunion with her five former best friends.

Once upon a time, back at Darrow-Harker School, they were the cool kids, the beautiful ones. Then the shocking death of Jim—their creative genius—changed everything.

One year after graduation, Beatrice is returning to Wincroft—the seaside estate where they spent so many nights sharing secrets, crushes, plans to change the world—in the hopes that she will get to the bottom of the dark questions gnawing at her about Jim's death. She suspects that her friends knew much more than they ever let on.

But as the night plays out in a haze of stilted jokes and unfathomable silence, answers seem unlikely. Her friends are all so different now, so splintered and lost. It's too late. Beatrice senses she's going to live the rest of her life far away from them, never knowing what really happened.

Then night fades to morning. A thunderstorm rages, and a mysterious man knocks on the door. He looks like the exhausted ringmaster of a cheap traveling circus. Blithely, he announces the impossible.

And so begins the Neverworld Wake. The nightmare. The nothingness.
Always Forever Maybe by Anica Mrose Rissi (HarperTeen)
When Betts meets Aiden at the candy store where she works, their connection is like a sugar rush to the heart. Betts already knows the two of them are infinite. Inevitable. Destined to become an us.

Betts has only ever kept one secret from her best friend, Jo, but suddenly there's a long list of things she won't tell her, things Jo wouldn't understand. Because Jo doesn't see how good Aiden is for Betts. She finds him needy. Possessive. Controlling.

She's wrong. With a love like this, nothing else matters.
Social Intercourse by Greg Howard (Simon and Schuster)
Beckett Gaines, a gay teen living in South Carolina, has his world turned upside-down by a jock in this laugh-out-loud novel that's Simon vs. the Homo Sapiens Agenda meets The Parent Trap.

Beck is a Golden Girl-loving, quick-witted, out-and-proud, gay high-school senior in a conservative southern town.

Jax is the Golden boy—a football star and the student council president who may not be exactly who everyone has always believed he was.

And when Beck's dad starts dating one of Jax's moms, the parents think it's a great idea to have their sons organize the town's first Rainbow Prom. In elementary school, the boys were friends, but things are different now. And as they try to work together—using the prom to break up their parents—it looks as though they are going to find out exactly how different things can become.
The Art of French Kissing by Brianna R. Shrum (Sky Pony Press)
Seventeen-year-old Carter Lane has wanted to be a chef since she was old enough to ignore her mom's warnings to stay away from the hot stove. And now she has the chance of a lifetime: a prestigious scholarship competition in Savannah, where students compete all summer in Chopped style challenges for a full-ride to one of the best culinary schools in the country. The only impossible challenge ingredient in her basket: Reid Yamada.

After Reid, her cute but unbearably cocky opponent, goes out of his way to screw her over on day one, Carter vows revenge, and soon they're involved in a full-fledged culinary war. Just as the tension between them reaches its boiling point, Carter and Reid are forced to work together if they want to win, and Carter begins to wonder if Reid's constant presence in her brain is about more than rivalry. And if maybe her desire to smack his mouth doesn't necessarily cancel out her desire to kiss it.
Nightblood by Elly Blake (Little, Brown)
Ruby's world has changed more than she ever could have imagined. She's in love with a powerful Frost King. She's the heir to the Fire Throne. And she may be a Nightblood--the spawn of a vengeful deity hellbent on releasing his wraithlike Minax from their prison. Once freed, these beasts will roam the earth, devouring every last person until he or she is nothing but an empty husk. But Ruby is able to control the Minax to a degree, and now she, her beloved Arcus, and her friend Kai must find a way to bring Frostbloods and Firebloods--sworn enemies--together to make a stand against a foe more deadly than any they've faced.

In this heart-pounding finale of Elly Blake's gorgeously written and action-packed Frostblood Saga, the fate of Frostbloods, Firebloods, and all of humanity is at stake.
The Summer of Us by Cecelia Vinesse (Poppy)
A swoon-worthy story about five best friends on a whirlwind trip through Europe, perfect for fans of Jenny Han, Stephanie Perkins, and Jennifer E. Smith.

American expat Aubrey has only two weeks left in Europe before she leaves for college, and she's nowhere near ready. Good thing she and her best friend, Rae, have planned one last group trip across the continent. From Paris to Prague, they're going to explore famous museums, sip champagne in fancy restaurants, and eat as many croissants as possible with their friends Clara, Jonah, and Gabe.

But when old secrets come to light, Aubrey and Rae's trip goes from a carefree adventure to a complete disaster. For starters, there's Aubrey and Gabe's unresolved history, complicated by the fact that Aubrey is dating Jonah, Gabe's best friend. And then there's Rae's hopeless crush on the effortlessly cool Clara. How is Rae supposed to admit her feelings to someone so perfect when they're moving to different sides of the world in just a few weeks?

Author Cecilia Vinesse delivers a romantic European adventure that embraces the magic of warm summer nights, the thrill of first kisses, and the bittersweet ache of learning to say goodbye to the past while embracing the future.

City of Bastards by Andrew Shwarts (Disney Hyperion)
While war rages in her Western homeland, Tilla of House Kent is far away, safely cloistered as a ward of the King in Lightspire. She's best friends with the Princess, treated like nobility, and is even given a spot at the prestigious University, where only the Kingdom's finest are educated. And yet, she finds herself unhappy, haunted by memories of her beloved brother, Jax, and plagued by a deeper sense of uncertainty, of not fitting in.

Her boyfriend, Zell, who is now a recruit for the City Watch, puts on a brave face to hide the pain of leaving behind his Zitochi identity, while Princess Lyriana, stripped of her role as Mage, has begun rebelling against her conservative upbringing: drinking, partying, and hooking up with random boys.

Then, Tilla returns to her quarters one night to find the cold body of her roommate. The girl was the daughter of an Eastern diplomat, well-known to be troubled, so the school has no trouble ruling it a suicide and sweeping it under the rug. Tilla doesn't buy it. And despite the urging of just about everyone in her life, she can't let it go. She digs deeper, along with Zell, Lyriana, and the Archmagus-to-be Ellarion, unearthing a conspiracy that goes from the highest of the nobility to the most dangerous depths of its criminal underbelly...and whose sinister mastermind is a face all too familiar.
Dear Rachel Maddow by Adrienne Kisner (Fiewel and Friends)
Sixteen-year-old Brynn Harper's life has one steadying force—Rachel Maddow. She watches her daily, and after writing to Rachel for a school project—and actually getting a response—Brynn starts drafting emails to Rachel but never sending them. It's an outlet; Brynn tells Rachel about breaking up with Sarah, her first serious girlfriend, about her beloved brother Nick's death, her passive mother and even worse stepfather, about how she's stuck in remedial courses at school and is considering dropping out.

But then Brynn is confronted with a moral dilemma. She learns that one student representative will be allowed to have a voice among teachers and administrators in the selection of a new school superintendent. Sarah, along with Brynn's arch-nemesis John, believe only honors students worthy of the selection committee seat. Brynn knows they are more interested in power and perks. Brynn feels all students deserve a voice. When she runs for the position the knives are out and her brother's memory and her new crush Michaela are shamed. Brynn asks herself: What would Rachel Maddow do?
The Opposite of Here by Tara Altebrando (Bloomsbury)
Natalie's parents are taking her and three best friends on a week-long cruise for her birthday—a sail-a-bration! Sigh. It's also only been months since her boyfriend died in a tragic accident, and she wants to be anywhere but here. So she's surprised when she meets a guy on the first night and feels a connection she's never felt before. After a late-night talk on a secluded part of the ship, Natalie runs to her cabin for a change of clothes. But when she returns, he's gone without a trace. And something he said makes her think he may have jumped. . . . What pulled her to him, and what pulled him away? Was he ever even there?
Summer of Salt by Katrina Leno (HarperTeen)
A magic passed down through generations . . .

Georgina Fernweh waits with growing impatience for the tingle of magic in her fingers—magic that has been passed down through every woman in her family. Her twin sister, Mary, already shows an ability to defy gravity. But with their eighteenth birthday looming at the end of this summer, Georgina fears her gift will never come.

An island where strange things happen . . .

No one on the island of By-the-Sea would ever call the Fernwehs what they really are, but if you need the odd bit of help—say, a sleeping aid concocted by moonlight—they are the ones to ask.

No one questions the weather, as moody and erratic as a summer storm.

No one questions the (allegedly) three-hundred-year-old bird who comes to roost on the island every year.

A summer that will become legend . . .

When tragedy strikes, what made the Fernweh women special suddenly casts them in suspicion. Over the course of her last summer on the island—a summer of storms, of love, of salt—Georgina will learn the truth about magic, in all its many forms.
Save the Date by Morgan Matson (Simon and Shuster)
Charlie Grant's older sister is getting married this weekend at their family home, and Charlie can't wait—for the first time in years, all four of her older siblings will be under one roof. She knows as soon as everyone is home, things will finally go back to the way they used to be. Her parents will change their mind about putting the house up for sale. Her mom will finally pay attention again to the real Grants instead of the version of the family she draws for her popular comic strip. The house will be filled with jokes and games and laughs again. Making decisions about things like what college to attend and reuniting with longstanding crush Jesse Foster—all that can wait. She wants to focus on making the weekend perfect.

The only problem? The weekend is shaping up to be absolute disaster.
There's the unexpected dog with a penchant for howling, an alarm that won't stop going off, and a papergirl with a grudge.
There are the relatives who aren't speaking, the (awful) girl her favorite brother brought home unannounced, and a missing tuxedo.
Not to mention the neighbor who seems to be bent on sabotage and a storm that is bent on drenching everything. The justice of the peace is missing. The band will only play covers. The guests are all crazy. And the wedding planner's nephew is unexpectedly, distractingly…cute.
Over the course of three ridiculously chaotic days, Charlie will learn more than she ever expected about the family she thought she knew by heart. And she'll realize that sometimes, trying to keep everything like it was in the past means missing out on the future.
Bruja Born by Zoradia Cordova (Sourcebooks Fire)
New in the highly lauded Brooklyn Brujas series—Lula must let go of the ghosts of her past to face the actual living dead of her present

Lula Mortiz may be a bruja with healing powers, but after her family's battle in Los Lagos, she feels broken in a way she can't seem to fix. Then tragedy strikes when a bus crash leaves her friends and her boyfriend, Maks, dead. Desperate to reclaim normalcy, Lula invokes a dark spell to bring Maks back. It isn't until she hears that all of the bodies from the crash have gone missing that she realizes something is wrong. Lula has unwittlingly raised an army of casi muertos—creatures between the living and dead—and they're hungry for freedom…which they can only achieve if Lula dies.
Sweet Black Waves by Krsitina Perez (Imprint)
Not you without me, not me without you.

Two proud kingdoms stand on opposite shores, with only a bloody history between them.

As best friend and lady-in-waiting to the princess, Branwen is guided by two principles: devotion to her homeland and hatred for the raiders who killed her parents. When she unknowingly saves the life of her enemy, he awakens her ancient healing magic and opens her heart. Branwen begins to dream of peace, but the princess she serves is not so easily convinced. Fighting for what's right, even as her powers grow beyond her control, will set Branwen against both her best friend and the only man she's ever loved.

Inspired by the star-crossed tale of Tristan and Eseult, this is the story of the legend's true heroine: Branwen. For fans of Graceling and The Mists of Avalon, this is the first book of a lush fantasy trilogy about warring countries, family secrets, and forbidden romance.
Little Do We Know by Tamara Ireland Stone (Disney Hyperion)
Next-door neighbors and ex-best friends Hannah and Emory haven't spoken in months. But their paths cross unexpectedly when, one night, Hannah finds Emory's boyfriend, Luke, doubled over in his car outside her house. The paramedics rush him to the hospital, and for three minutes, Luke is clinically dead. And then he isn't.

As Luke struggles to understand why he lived, he turns first to Emory for comfort, and then to Hannah for an explanation through her strong faith. With Hannah's help, Luke records a video about his experience, and suddenly his video goes viral, thrusting him into the limelight while Emory watches helplessly, unsure of where his new experiences leave their relationship. But when a devastating secret comes to light, all three must reexamine the things they hold true.

In alternating chapters, a skeptic and a believer piece together the story of the close relationship they lost and the boy caught somewhere in the middle. New York Times best-selling author Tamara Ireland Stone deftly crafts a moving portrait that examines the intricacies of faith, love, and friendship.
What You Left Me
by Bridget Morrissey (Sourcebooks Fire)
If I Stay meets While You Were Sleeping in this beautiful and heartbreaking novel told in dual perspectives about friendship, family, and all the other intangible threads that bind us together.

Martin and Petra meet for the first time at graduation, and though they've shared the halls of their high school for four years without crossing paths, there's an instant connection the moment they're seated next to each other at the commencement ceremony.

Then a car accident puts Martin into a coma, and Petra is somehow left picking up the pieces, using friends, family, and shared dreams to keep their surprise connection going.

Together they must unlock the truth of his situation, and with time running out, their bond becomes Martin's best shot at waking back up to the life he's left behind.
Bring Me Their Hearts by Sara Wolf (Entangled Teen)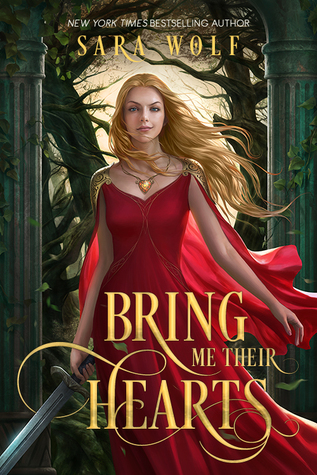 A lush, unique new fantasy trilogy about a girl tasked with stealing the prince's heart…literally, from the New York Times bestselling author of the Lovely Vicious series.

Zera is a Heartless – the immortal, unageing soldier of a witch. Bound to the witch Nightsinger ever since she saved her from the bandits who murdered her family, Zera longs for freedom from the woods they hide in. With her heart in a jar under Nightsinger's control, she serves the witch unquestioningly.

Until Nightsinger asks Zera for a Prince's heart in exchange for her own, with one addendum; if she's discovered infiltrating the court, Nightsinger will destroy her heart rather than see her tortured by the witch-hating nobles.

Crown Prince Lucien d'Malvane hates the royal court as much as it loves him – every tutor too afraid to correct him and every girl jockeying for a place at his darkly handsome side. No one can challenge him – until the arrival of Lady Zera. She's inelegant, smart-mouthed, carefree, and out for his blood. The Prince's honor has him quickly aiming for her throat.

So begins a game of cat and mouse between a girl with nothing to lose and a boy who has it all.

Winner takes the loser's heart.

Literally.
June 7th
A Thousand Perfect Notes by C. G. Drews (Orchard Books)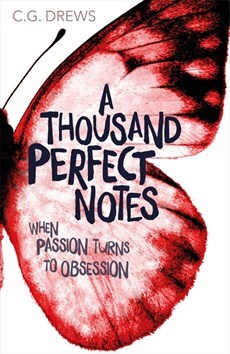 An emotionally charged story of music, abuse and, ultimately, hope.

Beck hates his life. He hates his violent mother. He hates his home. Most of all, he hates the piano that his mother forces him to play hour after hour, day after day. He will never play as she did before illness ended her career and left her bitter and broken. But Beck is too scared to stand up to his mother, and tell her his true passion, which is composing his own music - because the least suggestion of rebellion on his part ends in violence.

When Beck meets August, a girl full of life, energy and laughter, love begins to awaken within him and he glimpses a way to escape his painful existence. But dare he reach for it?
June 11th
Rage by Cora Cormack (Tor Teen)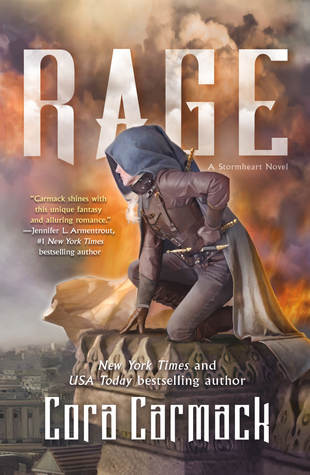 New York Times bestselling author Cora Carmack's young adult debut series: the second in a captivating new YA fantasy/romance series perfect for fans of Victoria Aveyard

Princess or adventurer.

Duty or freedom.

Her Kingdom or the Stormhunter she loves.

If Aurora knows anything, it's that choices have consequences. To set things right, she joins a growing revolution on the streets of Pavan.

In disguise as the rebel Roar, she puts her knowledge of the palace to use to aid the rebellion. But the Rage season is at its peak and not a day passes without the skies raining down destruction. Yet these storms are different—they churn with darkness, and attack with a will that's desperate and violent.

This feels like more than rage.

It feels like war.
June 12th
A Reaper At The Gates by Sabaa Tahir (Razorbill)
Beyond the Empire and within it, the threat of war looms ever larger.

The Blood Shrike, Helene Aquilla, is assailed on all sides. Emperor Marcus, haunted by his past, grows increasingly unstable, while the Commandant capitalizes on his madness to bolster her own power. As Helene searches for a way to hold back the approaching darkness, her sister's life and the lives of all those in the Empire hang in the balance.

Far to the east, Laia of Serra knows the fate of the world lies not in the machinations of the Martial court, but in stopping the Nightbringer. But while hunting for a way to bring him down, Laia faces unexpected threats from those she hoped would aid her, and is drawn into a battle she never thought she'd have to fight.

And in the land between the living and the dead, Elias Veturius has given up his freedom to serve as Soul Catcher. But in doing so, he has vowed himself to an ancient power that will stop at nothing to ensure Elias's devotion—even at the cost of his humanity.
Soulstruck by Natasha Sinel (Sky Pony Press)
Seventeen-year-old Rachel Ferguson is trying to get struck by lightning. Hopefully it will lead to finding her soul mate, like it did for her mother. And then maybe her mom will be as devoted to her as she is to her lightning strike survivors group.

When Rachel discovers a journal written by her mother's soul mate?the man she thought was her father?she begins to question everything she's always believed, including soul mates, fate, and even her mother. No longer sure of its power, she decides to quit chasing lightning.

Rachel feels abandoned and alone?her best friend has ditched her, her boyfriend has dumped her, and a confrontation with her mom only made things worse. At least she still has her friend Jay?in fact, their growing attraction to each other seems to be the only good thing happening.

But when her relationship with Jay starts to unravel, too, the impulse to get struck by lightning resurfaces.

And there's a thunderstorm coming.

Set in a small Cape Cod beach town in the off-season, Soulstruck is about the search for love and the risk of losing it while waiting for destiny to happen.
All That I Can Fix by Crystal Chan (Simon Pulse)
In Makersville, Indiana, people know all about Ronney—he's from that mixed-race family with the dad who tried to kill himself, the pill-popping mom, and the genius kid sister. If having a family like that wasn't bad enough, the local eccentric at the edge of town decided one night to open up all the cages of his exotic zoo—lions, cheetahs, tigers—and then shoot himself dead. Go figure. Even more proof that you can't trust adults to do the right thing.

Overnight, news crews, gun control supporters, and gun rights advocates descend on Makersville, bringing around-the-clock news coverage, rallies, and anti-rallies with them. With his parents checked out, Ronney is left tending to his sister's mounting fears of roaming lions, stopping his best friend from going on a suburban safari, and shaking loose a lonely boy who follows Ronney wherever he goes. Can Ronney figure out a way to hold it together as all his worlds fall apart?

From acclaimed author Crystal Chan comes an incisive tale of love, loyalty, and the great leaps we take to protect the people and places we love most
Supermoon by H. A. Swain (Fiewel and Friends)
Sol is the month between June and July on the thirteen-month Moon calendar. It's the only time teenagers have to themselves between rigorous scientific training and their ultimate lab assignments in their colony on the Moon. Their families emigrated from Earth to build better lives; but life on the Moon is far from perfect, as Uma learns on the eve of Sol.

Uma meets an Earthen girl who becomes a fast friend, and much more. What Uma doesn't know is that the girl is assigned to infect Uma with a plague that a rogue faction of Earthen scientists hope will wipe out Moon soldiers. Will Uma be the cause of a pandemic? Whom can she trust, and moreover, whom does she love?
The Merciless IV: Last Rites by Danielle Vega (Razorbill)
The fourth book of the scream-worthy cult series The Merciless combines Stephen King level terror with true crime stories like the Amanda Knox case.

The ropes tighten on Berkley Hubbard's wrists. Blood drips down her fingers and lands with a smack on the cold floor of the church basement. She's trapped, bound, and petrified by fear. A knife punctures her fragile skin as Berkley's captors search for the mark of the devil on her body. They say they want to save her--drive the devil away and cleanse her soul--but will she make it out alive?

When Berkley arrived in Italy a week ago, the last thing she expected was that she'd end up fighting for her life. After spending six months at the Institute, confined to a room with the dangerous-yet-alluring Sofia Flores, Berkley was certain that a vacation in Italy with her two best friends would be the perfect getaway. But Berkley is hiding a terrible secret, one that threatens to undo everything. As she's forced to face her wicked past, she learns that the devil is always watching, and no one is coming to save her.
Tell Me No Lies by Adele Griffin (Algonquin Young Readers)
A riveting novel about secrecy, complicated friendships, and heartbreak, set against the iconic backdrop of the late 1980s.

Lizzy Swift is a senior in high school, emerging from her nerd chrysalis to become a social butterfly. She starts dating popular Matt Ashley, whom she's been pining for since freshman year. She's delighted when rebellious new girl Claire Reynolds introduces her to Center City Philadelphia—clubs, street life, and the eye-opening art scene. As Lizzy begins to question her own long-held dreams, the changes in her life mirror the upheaval of a decade marked by a drug epidemic and the AIDS crisis. She's no longer sure of her Ivy League ambition. While she has a special connection with Matt, something's missing. And Claire carries around a mysterious sadness and talks about a breakup so bad she changed schools—but she won't tell the whole story. Lizzy wants Claire to confide in her, even as she keeps her own embarrassing secrets.

Before too long, the heady thrill of her new life starts to crumble under insecurities and deceptions. When the truth emerges from the wreckage, will it be too late for Lizzy, Claire, and Matt to save their love and friendships?

Tell Me No Lies, a companion to the acclaimed Be True to Me, is a novel of unflinching emotional honesty about secrecy, lies, love, and identity.
A Flicker in the Clarity by Amy McNamara (HarperTeen)
For as long as Evie can remember, she and Emma have been best friends. They've gone through everything together—only Evie understood what it was like for Emma to lose her older brother in a car accident. And though they couldn't be more different—Emma is the life of the party while Evie is shy—the dynamic has always worked for them.

But then Evie makes a careless mistake that ends up having serious consequences for Emma. They've had their squabbles before, but this is different. When Evie tries to apologize, Emma ignores her texts, gets a new best friend, and completely freezes her out. Evie didn't mean to betray Emma in the way that she did, and she's desperate to get back in Emma's good graces. Who is Evie without Emma?

Then Evie meets Theo, a kindred spirit unlike any boy she's ever encountered. With him, she can at least pretend like her life is normal. But just as she's about to let go and fully fall into whatever is happening with him, Emma resurfaces, miraculously letting Evie back in—though it's not without consequence. Erratic behavior, drunken incidents, and panicked late-night calls are only some of the hoops Emma makes Evie jump through. All Evie has wanted is to get her best friend back—but Emma seems hell-bent on self-destruction. Evie is used to swooping in to pull Emma out of her troubles, but how do you help someone who doesn't want to be saved?
Eden Conquered by Joelle Charbonneau (HarperTeen)
The second and final installation in the Dividing Eden series, a Cain and Abel meets The Selection fantasy about two royal siblings forced to compete for the crown

In the electrifying final installment in the Dividing Eden duology, royal siblings Carys and Andreus, betrayed by everyone they believed to be allies, continue to fight to determine who will reign over the kingdom—but now, one sibling has changed the game.
Sometime After Midnight by L. Phillips (Viking)
#AlexFromTarget meets queer Prince Charming in this glittering romcom following a teen music prodigy and the handsome socialite who unwittingly turns him into an internet sensation.

In a dingy Los Angeles club late one night, Cameron and Nate meet and find they have much more in common than their love of an obscure indie band. But when Nate learns that Cameron is the heir to a record label, the very one that destroyed his father's life, he runs away as fast as he can. The only evidence of their brief but intense connection is a blurry photo Cameron snaps of Nate's Sharpie-decorated Chuck Taylors as he flees.

Considering that Cameron is a real life Prince Charming--he's handsome, famous, and rich--it's only fitting that he sets out to find the owner of the Sharpied shoes. Cameron's twin sister, a model and socialite, posts the picture of Nate's shoes on Instagram to her legions of fans with the caption, "Anyone know the gorgeous owner of these shoes? My hottie brother is looking for him." The internet just about breaks with the news of a modern fairy tale and the two become entwined in each other's lives in this sparkling story about the power of music, the demons that haunt us, and the flutterings of first real love.
The Fall of Innocence by Jenny Torres Sanches (Philomel)
The Lovely Bones meets Thirteen Reasons Why in this gorgeous, haunting, and tragic novel that examines the crippling--and far-reaching--effects of one person's trauma on her family, her community, and herself.

For the past eight years, sixteen-year-old Emilia DeJesus has done her best to move on from the traumatic attack she suffered in the woods behind her elementary school. She's forced down the memories--the feeling of the twigs cracking beneath her, choking on her own blood, unable to scream. Most of all, she's tried to forget about Jeremy Lance, the boy responsible, the boy who caused her such pain. Emilia believes that the crows who watched over her that day, who helped her survive, are still on her side, encouraging her to live fully. And with the love and support of her mother, brother, and her caring boyfriend, Emilia is doing just that.

But when a startling discovery about her attacker's identity comes to light, and the memories of that day break through the mental box in which she'd shut them away, Emilia is forced to confront her new reality and make sense of shifting truths about her past, her family, and herself.

A compulsively-readable tragedy that reminds us of the fragility of human nature.
Love Scene, Take Two by Alex Evansley (Swoon Reads)
Teddy Sharp is kinda famous, and if his latest audition for the lead in the newest YA blockbuster works out, he'll be REALLY famous. But even being kinda famous doesn't keep your flights from being cancelled.

Stranded in a small North Carolina airport, he figures his weekend is ruined, until Bennett Caldwell, the author of the very book series he just auditioned for, takes pity on him and invites him to stay at her family's lake house. Bennett is unlike any girl Teddy's ever met before, and somehow they just seem to click. But the internet is full of juicy gossip about Teddy's last relationship… gossip that Bennett might not be prepared to handle.
Crossing the Line by Simone Elkeles (HarperTeen)
From New York Times bestselling author Simone Elkeles comes a story of star-crossed lovers, set on the US/Mexico border

To escape his abusive stepdad, bad boy Ryan Hess runs from his tiny Texas border town to Mexico. But his plans to keep his head down and stay out of trouble are shattered the minute he meets the beautiful and totally out of his league Dalila Sandoval.

Dalila Sandoval shouldn't even know someone like Ryan Hess. The daughter of one of the wealthiest lawyers in Mexico, Dalila is focused on studying and planning for her bright future. Ryan is only a distraction from her dreams, but she's never felt more alive than when she's by his side.

Ryan and Dalila are wrong for each other in every way. And yet they can't resist the sparks that fly when they're together. But their love is like a flame burning too close to the fuse. Something is going to explode. Will their love be strong enough to survive? Or will it burn them both?
June 19th
Chemistry Lessons by Meredith Goldstein (HMH)
From advice columnist Meredith Goldstein, a dazzling, romantic, and emotionally resonant YA debut about a teen science whiz in Cambridge, Massachusetts, who tries to crack the chemical equation for lasting love and instead wreaks havoc on herself and the boys in her life.

For seventeen-year-old Maya, the equation for happiness is simple: a dream internship at MIT + two new science nerd friends + a perfect boyfriend = one amazing summer. Then Whit dumps her out of the blue. Maya is miserable until she discovers that her scientist mother, before she died, was conducting research on manipulating pheromones to enhance human attraction. If Maya can finish her mother's work, maybe she can get Whit back. But when her experiment creates chaos in her love life, she realizes that maybe love and loss can't be understood using the scientific method. Can she learn to trust the unmeasurables of love and attraction instead?
Ten After Closing by Jessica Bayliss (Sky Pony Press)
10PM: Closing time at Cafe Flores. The door should be locked, but it isn't, Scott Bradley and Winsome Sommervil are about to become hostages.

TEN MINUTES BEFORE CLOSING: Scott's girlfriend breaks up with him over the phone while he's in the cafe's basement storeroom because he's late picking her up for the big end-of-the-year party. Now he can't got to the party, but he can't go home, either--not knowing his dad will still be in a drunken rage. Meanwhile, Winny wanted one night to let loose, away from her mother's crushing expectations. Instead, she's stranded at the cafe after her best friend ditches her in a misguided attempt at matchmaking.

TEN MINUTES AFTER CLOSING: The first gunshot is fired. Someone's dead. And if Winny, Scott, and the rest of the hostages don't come up with a plan soon, they may not live to see morning.

Told from both Winny and Scott's perspectives, and alternating between the events leading up to and following the hold-up, Ten Past Closing is an explosive story of teens wrestling with their own challenges, thrown into circumstances that will test their very limits.
Almost Impossible by Nicole Williams (Crown Books)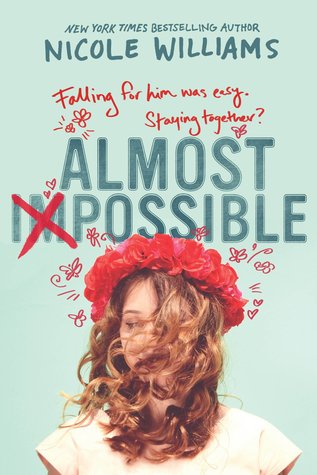 Fans of Sarah Dessen, Stephanie Perkins, and Jenny Han will delight as the fireworks spark and the secrets fly in this delicious summer romance from a New York Times and USA Today bestselling author.

When Jade decided to spend the summer with her aunt in California, she thought she knew what she was getting into. But nothing could have prepared her for Quentin. Jade hasn't been in suburbia long and even she knows her annoying (and annoyingly cute) next-door neighbor spells T-R-O-U-B-L-E.

And when Quentin learns Jade plans to spend her first American summer hiding out reading books, he refuses to be ignored. Sneaking out, staying up, and even a midnight swim, Quentin is determined to give Jade days--and nights--worth remembering.

But despite their storybook-perfect romance, every time Jade moves closer, Quentin pulls away. And when rumors of a jilted ex-girlfriend come to light, Jade knows Quentin is hiding a secret--and she's determined to find out what it is.
Julia Unbound
by Catherine Egan (Knopf)
In this heart-pounding conclusion to the Witch's Child trilogy, Catherine Egan's masterful world-building and fiercely flawed heroine will thrill fans of Graceling and Six of Crows.

Julia has been ensnared in so many different webs, it's hard to see how she'll ever break free. She must do Casimir's bidding in order to save the life of her brother. She must work against Casimir to save the lives of most everyone else she knows.

Casimir demands that Julia use her vanishing skills to act as a spy at court and ensure that a malleable prince is installed on the throne of Frayne. But Julia is secretly acting as a double agent, passing information to the revolutionaries and witches who want a rebel princess to rule.

Beyond these deadly entanglements, Julia is also desperately seeking the truth about herself: How is it she can vanish? Is she some form of monster? Is her life her own?



With every move she makes, Julia finds herself tangled ever tighter. Should she try to save her country? Her brother? A beloved child? Can she even save herself?
Thief of Happy Endings by Kristen Chandler (Viking Books)
Wild mustangs, irresistible wranglers, and lovesick teens abound over the course of one beautifully crazy summer at a Wyoming Ranch Camp.

Ever since her father moved out, Cassidy feels like her life has been falling apart. So a summer of riding horses at a ranch camp in Wyoming sounds like just what she needs--never mind the fact that she has a paralyzing fear of horses. She's determined to move past her fear, even if that means taking lessons from the insufferable (yet irresistible) junior wrangler Justin and embarrassing herself in front of the other campers. What follows is a summer of rodeos, complicated friendships, and a wild mustang thief on the loose.
Dive Smack by Demetra Brodsky (Tor Teen)
Theo Mackey only remembers one thing for certain about the fire that destroyed his home: he lit the match.

Sure, it was an accident. But the blaze killed his mom and set his dad on a path to self-destruction. Everything else about that fateful night is full of gaping holes in Theo's mind, for good reason. Maybe it's better that way. As captain of the Ellis Hollow Diving Team, with straight A's and solid friends, he's only one semester away from securing a scholarship, and leaving his past behind.

But when a family history project gets assigned at school, new memories come rushing to the surface, memories that make him question what he really knows about his family, the night of the fire, and if he can trust anyone—including himself.
Phoebe Will Destroy You by Blake Nelson (Simon Pulse)
The summer I was seventeen I met this girl…

Nick has the best of moms and the worst of moms. On the upside, she's a distinguished professor and bestselling author. On the downside, she's a serious alcoholic, with no clue how to relate to her son or husband.

Nick, meanwhile, has finished his junior year and needs a break from his stressful home life. What better place to spend the summer than Seaside, Oregon, a sleepy beach town where he can chill out, meet girls, and work at his Uncle's car wash.

Enter local legend, Phoebe Garnet. She's funny, sexy, but dangerously self-destructive. Suddenly Nick is more in love, more obsessed, more heartsick than he's ever been in his life.

Why does Nick love her so much? Will he survive this obsession? And who can he turn to for help?
The Art of Escaping by Erin Callahan (Amberjack)
I stripped down to my bathing suit and gripped the ladder to the top of the tank with my shaky fingers. A little voice hissed through my mind. You can't do this. You're out of your damn mind. Stop. Go back to your quiet little life. I swallowed the voice and started the climb.

Seventeen-year-old Mattie hides her obsession with Harry Houdini and Dorothy Dietrich from everyone she knows, even her best friend. Then her best friend takes off for summer boarding school and all of Mattie's anxieties bubble to the surface, leaving her feeling adrift. To distract herself, she seeks out Miyu, the reclusive daughter of a world-renowned escape artist whose life and career were snuffed out by a tragic plane crash.

With Miyu's help, Mattie secretly transforms herself into a burgeoning escapologist and performance artist. Away from the curious eyes of her peers, she thrives in her new world of lock picking, straitjackets, and aquarium escapes. But when Will, a popular varsity athlete, discovers her act at an underground venue, she fears that her double life will be exposed. Instead of outing her, Will tells Mattie something he's never told anyone before. But not all secrets can remain secrets forever.

Told through multiple perspectives, this funny and fresh debut explores the power of stage personas and secret spaces, and speaks to the uncanny ways in which friendship transforms us.
Love Me, Love Me Not by S. M. Koz (Swoon Reads)
When Hailey Brown is removed from her home and put into foster care, all she wants is a safe, comfortable place where she can finish school and move on with her life. It's not easy adjusting to a new school and a new life, but Mr. and Mrs. Campbell and their teenage son, Brad, welcome Hailey with open arms.

As Hailey begins to adjust to her new life, she and Brad grow closer. For the first time, Hailey feels like she might have a real shot at a future. Soon, however, Hailey realizes her relationship with Brad has crossed the line from friendship into something more. But being with Brad would mean giving up the perfect life that Hailey has waited so long to have.

Can Hailey and Brad resist the feelings that are developing between them—or will they risk it all to be together?
The Boyfriend Bracket

by Kate Evangelista (Swoon Reads)
Stella has had a hopeless crush on Will, her older brother's best friend FOREVER, but now that Cam and Will have graduated and are going off to college, this year is her chance to really strike out on her own. Without her overprotective brother and his sidekick around to distract her, she can focus on having all the typical high school experiences that she's always dreamed of—starting with finding a boyfriend! With the help of her best friend Franklin, she comes up with the perfect plan to have a boyfriend by Christmas: The Boyfriend Bracket.

Or it seems like the perfect plan...right up until Will starts showing up again. How is she supposed to find the perfect boyfriend when none of her dates measure up to the one boy she can never have?
Not The Girls You're Looking For by Aminah Mae Safi (Fiewel and Friends)
Lulu Saad doesn't need your advice, thank you very much. She's got her three best friends and nothing can stop her from conquering the known world. Sure, for half a minute she thought she'd nearly drowned a cute guy at a party, but he was totally faking it. And fine, yes, she caused a scene during Ramadan. It's all under control. Ish.

Except maybe this time she's done a little more damage than she realizes. And if Lulu can't find her way out of this mess soon, she'll have to do more than repair friendships, family alliances, and wet clothing. She'll have to go looking for herself.
June 26th
Your Destination is on the Left by Lauren Spillier
Dessa Rhodes is a traveler—a modern day nomad. Her family lives in an RV, traveling the country in a small communal pack. Among them: Cyrus, the boy she has always loved but knows she can never be with. When your families are perpetually connected on the road, it's too dangerous to take a risk on romance.

When she applies to art school, Dessa thinks the biggest hurdle is going to be convincing her traveler parents that she's ready to leave the freedom of the road behind and lay down roots. But instead of packing her bags and starting her new life as a freshman, Dessa doesn't get in…anywhere. Suddenly her future is as empty as the road she's grown up traveling, and it looks like she's going to be stuck grappling with her feelings for Cy indefinitely.

Then an opportunity presents itself: an internship working with an artist whose work inspires, challenges, and thrills Dessa. But when the internship turns into a permanent position, Dessa suddenly isn't so sure that she's ready to stop moving—whether she's really ready to say goodbye to the nomadic existence or, perhaps more importantly, to the boy she has always loved.

While Dessa's traveling lifestyle is a fascinating and unique one, the questions she confronts are universal. How do you know when to say goodbye? When are you ready to stand on your own two feet? And how can you trust yourself to know what you really want? YOUR DESTINATION IS ON THE LEFT is a romantic novel about family, responsibility, and learning to trust yourself, that will appeal to fans of Sarah Dessen, Morgan Matson, and Emery Lord.
The Fragile Ordinary by Samantha Young (Harlequin Teen)
From the New York Times bestselling author of The Impossible Vastness of Us and the On Dublin Street series comes a heartfelt and beautiful new young adult fiction novel, set in Scotland, about daring to dream and embracing who you are.
I am Comet Caldwell.
And I sort of, kind of, absolutely hate my name.

People expect extraordinary things from a girl named Comet. That she'll be effortlessly cool and light up a room the way a comet blazes across the sky.

But from the shyness that makes her book-character friends more appealing than real people to the parents whose indifference hurts more than an open wound, Comet has never wanted to be the center of attention. She can't wait to graduate from her high school in Edinburgh, Scotland, where the only place she ever feels truly herself is on her anonymous poetry blog. But surely that will change once she leaves to attend university somewhere far, far away.

When new student Tobias King blazes in from America and shakes up the school, Comet thinks she's got the bad boy figured out. Until they're thrown together for a class assignment and begin to form an unlikely connection. Everything shifts in Comet's ordinary world. Tobias has a dark past and runs with a tough crowd—and none of them are happy about his interest in Comet. Targeted by bullies and thrown into the spotlight, Comet and Tobias can go their separate ways…or take a risk on something extraordinary.
99 Lies by Rachel Vincent (Katherine Tegan Books)
They wanted Spring Break to be memorable. Getting kidnapped in the jungle? Impossible to forget.

Lie # 1: I'm Fine Truth is, Maddie's heart is buried with the hostages who didn't make it, while Genesis is still fighting to free herself—from her own lies and her vindictive ex.

Lie #16: I'm Still Me Home in Miami, the former hostages try to return to normal life: high school, dating, million-dollar pool parties. But with headlines that declare Maddie and Luke the new "it couple," Holden a hero, and Genesis a traitor, there's no escaping the spotlight—or the truth about the ways they betrayed each other in the jungle.

Lie #3: I Forgive You They may have stopped their captors' main threat, but everyone has a plan B and this time the danger isn't coming from the outside … it's what they might do to each other.

Told from the alternating perspectives in countdown format, the gripping conclusion to 100 HOURS delivers an explosive mix of non-stop action and emotional intensity as five elite teens discover that lies are nowhere near as dangerous as the truth.
Wild Blue Wonder by Carlie Sorosiak (HarperTeen)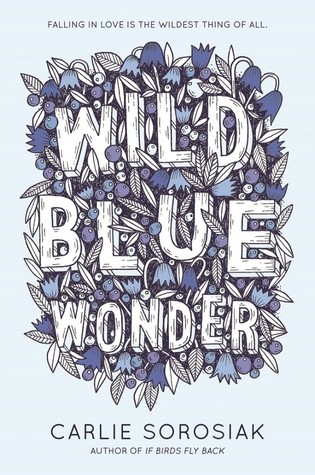 There are two monsters in this story. One of them is me.

Ask anyone in Winship, Maine, and they'll tell you the summer camp Quinn's family owns is a magical place. Paper wishes hang from the ceiling. Blueberries grow in the dead of winter. According to local legend, a sea monster even lurks off the coast. Mostly, there's just a feeling that something extraordinary could happen there.

Like Quinn falling in love with her best friend, Dylan.

After the accident, the magic drained from Quinn's life. Now Dylan is gone, the camp is a lonely place, and Quinn knows it's her fault.

But the new boy in town, Alexander, doesn't see her as the monster she believes herself to be. As Quinn lets herself open up again, she begins to understand the truth about love, loss, and monsters—real and imagined.
My Plain Jane by Cynthia Hand, Jodi Meadows and Brodi Ashton (HarperTeen)
You may think you know the story. After a miserable childhood, penniless orphan Jane Eyre embarks on a new life as a governess at Thornfield Hall. There, she meets one dark, brooding Mr. Rochester. Despite their significant age gap (!) and his uneven temper (!!), they fall in love—and, Reader, she marries him. (!!!)

Or does she?

Prepare for an adventure of Gothic proportions, in which all is not as it seems, a certain gentleman is hiding more than skeletons in his closets, and one orphan Jane Eyre, aspiring author Charlotte Bronte, and supernatural investigator Alexander Blackwood are about to be drawn together on the most epic ghost hunt this side of Wuthering Heights.
Now You See Her by Lisa Leighton & Lauren Stropki (Katherine Tegan Books)
AMELIA has always felt like a happy life is just out of reach. Having moved every few years with her mom and sister, she's always had a hard time making and keeping friends; there's never enough time, and never enough money to stay in one place. And now, in her senior year, right before tennis season, Mom wants to move again.

SOPHIE has a perfectly curated, Instagram-ready life, from her first singles wins to her cute, long-term boyfriend to the beautiful, landscaped home where she lives with her parents. Though they're tennis teammates, the two girls almost never speak.

But then one night changes everything. When Amelia's car breaks down on the side of the road in a rainstorm, a man she thinks is a Good Samaritan pulls over to help her. When he tries to abduct her instead, she escapes into oncoming traffic.

In one inexplicable moment, Amelia and Sophie switch bodies. Amelia wakes up in Sophie's body. Amelia's body is in a coma. Now Amelia needs to find a way to switch back into her own life—but before that, she must retrace her steps to unravel the mystery of the accident, her attempted abduction, and how it's all tied to her mother's secret past.
A Thousand Beginnings and Endings by Various YA Authors (Greenwillow)
Star-crossed lovers, meddling immortals, feigned identities, battles of wits, and dire warnings. These are the stuff of fairy tale, myth, and folklore that have drawn us in for centuries.

Fifteen bestselling and acclaimed authors reimagine the folklore and mythology of East and South Asia in short stories that are by turns enchanting, heartbreaking, romantic, and passionate.

Compiled by We Need Diverse Books's Ellen Oh and Elsie Chapman, the authors included in this exquisite collection are: Renee Ahdieh, Sona Charaipotra, Preeti Chhibber, Roshani Chokshi, Aliette de Bodard, Melissa de la Cruz, Julie Kagawa, Rahul Kanakia, Lori M. Lee, E. C. Myers, Cindy Pon, Aisha Saeed, Shveta Thakrar, and Alyssa Wong.

A mountain loses her heart. Two sisters transform into birds to escape captivity. A young man learns the true meaning of sacrifice. A young woman takes up her mother's mantle and leads the dead to their final resting place. From fantasy to science fiction to contemporary, from romance to tales of revenge, these stories will beguile readers from start to finish. For fans of Neil Gaiman's Unnatural Creatures and Ameriie's New York Times–bestselling Because You Love to Hate Me.
Dawn of Legends by Eleanor Herman (Harlequin Teen)
The epic scope of Outlander meets the shocking twists of HBO's Game of Thrones in the riveting conclusion to New York Times bestselling author Eleanor Herman's Blood of Gods and Royals series, Dawn of Legends!

Prince Alexander of Macedon has battled both men and monsters, but his final war will determine his fate…and the future of mankind. While Macedon's enemies close in from all corners of the earth, Alexander must fulfill one last prophecy that dictates only he—and he alone—can ensure humanity's survival against the age of the deadly Spirit Eaters.

As the threads of fate draw Alexander closer to his destiny, an exiled queen will meet a runaway princess, a young sorceress will set the final path of her heart and generals will choose their final battles. Before the light of victory can shine, enemies must become allies, Death must be tamed and hearts must break.

Who will rise and who will die? All is revealed in the epic finale to New York Times bestselling author Eleanor Herman's rich and fantastical Blood of Gods and Royals series.
The Emerald Sea by Richelle Mead (Razorbill)
The dazzling conclusion to #1 New York Times bestselling author Richelle Mead's The Glittering Court series.

Meet Tamsin, the Glittering Court's hard-angled emerald. Her outsized aspirations make her a fierce competitor, rising to the top of the ranks. But when the ship she boards for the New World is tragically lost at sea, she is quite literally thrown off-course.
The Museum of Us by Tara Wilson Redd (Random House)
An intoxicating debut novel that will leave you questioning what is real and why we escape into fantasy, perfect for fans of Belzhar by Meg Wolitzer and Falling into Place by Amy Zhang.

Secrets are con artists: they trick you into letting them out.

Sadie loves her rocker boyfriend Henry and her running partner and best friend Lucie, but no one can measure up to her truest love and hero, the dazzling and passionate George. George, her secret.

When something goes wrong and Sadie is taken to the hospital calling out for George, her hidden life may be exposed. Now she must confront the truth of the past, and protect a world she is terrified to lose.

"A teen learns to use her rich interior world to fight trauma, but is this the only way out? This honest, heartfelt tale is deep and mysterious as imagination itself." --Judy Blundell, author of What I Saw and How I Lied and Strings Attached
Learning to Breathe by Janice Lynn Mather (Simon and Schuster)
Sixteen-year-old Indy struggles to conceal her pregnancy while searching for a place to belong in this stunning debut novel that's perfect for fans of Amber Smith and Sara Zarr.

Indira Ferguson has done her best to live by her Grammy's rules—to study hard in school, be respectful, and to never let a boy take advantage of her. But it hasn't always been easy, especially while living in her mother's shadow.

When Indy is sent to live with distant relatives in Nassau, trouble follows her. Now she must hide an unwanted pregnancy from her aunt, who would rather throw Indy out onto the street than see the truth.

Completely broke with only a hand-me-down pregnancy book as a resource, Indy desperately looks for a safe space to call home. After stumbling upon a yoga retreat, she wonders if perhaps she's found the place. But Indy is about to discover that home is much bigger than just four walls and a roof—it's about the people she chooses to share it with.
Trail of Lightning by Rebecca Roanhorse (Saga Press)
While most of the world has drowned beneath the sudden rising waters of a climate apocalypse, Dinétah (formerly the Navajo reservation) has been reborn. The gods and heroes of legend walk the land, but so do monsters.

Maggie Hoskie is a Dinétah monster hunter, a supernaturally gifted killer. When a small town needs help finding a missing girl, Maggie is their last—and best—hope. But what Maggie uncovers about the monster is much larger and more terrifying than anything she could imagine.

Maggie reluctantly enlists the aid of Kai Arviso, an unconventional medicine man, and together they travel to the rez to unravel clues from ancient legends, trade favors with tricksters, and battle dark witchcraft in a patchwork world of deteriorating technology.

As Maggie discovers the truth behind the disappearances, she will have to confront her past—if she wants to survive.

Welcome to the Sixth World.
The Life and Death Parade by Eliza Wass (Disney Hyperion)
One year ago, Kitty's boyfriend Nikki Bramley visited a psychic who told him he had no future. Now, he's dead.

With the Bramley family grieving in separate corners of their home, Kitty sets out to find the psychic who read Nikki his fate. Instead she finds Roan, an enigmatic boy posing as a medium who belongs to the Life and Death Parade--a group of supposed charlatans that explore, and exploit, the thin veil between this world and the next. A group whose members include the psychic... and Kitty's late mother.

Desperate to learn more about the group and their connection to Nikki, Kitty convinces Roan to return to the Bramley house with her and secures a position for him within the household. Roan quickly ingratiates himself with the Bramleys, and soon enough it seems like everyone is ready to move on. Kitty, however, increasingly suspects Roan knows more about Nikki than he's letting on. And when they finally locate the Life and Death Parade, and the psychic who made that fateful prophecy to Nikki, Kitty uncovers a secret about Roan that changes everything.

From rising star Eliza Wass comes a sophisticated, mesmerizing meditation on the depths of grief and the magic of faith. After all, it only works if you believe it.