August 1st
Here There Are Monsters by Amelinda Berube (Sourcebooks Fire)
The Blair Witch Project meets Imaginary Girls in this story of sisterhood turned toxic, imaginary monsters brought to life, and secrets that won't stay buried.

Sixteen-year-old Skye is done playing the knight in shining armor for her insufferable younger sister, Deirdre. Moving across the country seems like the perfect chance to start over. Maybe even build a normal life.

In their isolated new neighborhood, Skye manages to fit in, but Deirdre withdraws from everyone, becoming fixated on the swampy woods behind their house and building monstrous sculptures out of sticks and bones.

Then Deirdre disappears.

And when something awful comes scratching at Skye's window in the middle of the night, claiming she's the only one who can save Deirdre, Skye knows she will stop at nothing to bring her sister home.
August 6th
Containment by Caryn Lix (Simon Pulse)
They may have escaped Sanctuary, but Kenzie and her friends are far from safe.

Ex-Omnistellar prison guard Kenzie and her superpowered friends barely made it off Sanctuary alive. Now they're stuck in a stolen alien ship with nowhere to go and no one to help them. Kenzie is desperate for a plan, but she doesn't know who to trust anymore. Everyone has their own dark secrets: Omnistellar, her parents, even Cage. Worse still, she's haunted by memories of the aliens who nearly tore her to shreds—and forced her to accidentally kill one of the Sanctuary prisoners, Matt.

When Kenzie intercepts a radio communication suggesting that more aliens are on their way, she knows there's only one choice: They must turn themselves in to Omnistellar and destroy the ship before the aliens follow the signal straight to them. Because if the monstrous creatures who attacked Sanctuary reach Earth, then it's game over for humanity.

What Kenzie doesn't know is that the aliens aren't the only ones on the hunt. Omnistellar has put a bounty on Kenzie's head—and the question is whether the aliens or Omnistellar get to her first.
#MurderFunding by Gretchen McNeil (Freeform Books)
WELCOME TO WHO WANTS TO BE A PANIAC?, the latest reality TV show on the hunt for the next big-hit serial killer. But don't worry—no one is actually going to murder anyone, as real as the fake gore and pretend murder may appear . . . uh, right?

Seventeen-year-old Becca Martinello is about to find out. When her perfectly normal soccer mom dies in a car crash, a strange girl named Stef appears to let Becca know that her deceased mom was none other than one of Alcatraz 2.0's most popular serial killers—Molly Mauler. Soon, Becca ends up on Who Wants to Be a Painiac? to learn the truth about her mom's connection to Molly Mauler, but things turn sinister when people are murdered IRL. Will Becca uncover dark secrets and make it out of the deadly reality show alive? Or will she get cut?
How The Light Gets In by Katy Upperman (Swoon Reads)
Since her sister's tragic death, seventeen-year-old Callie Ryan has basically given up. Her grades have plummeted, she's quit her swim team, and she barely recognizes the people her parents once were.

When she returns to her aunt's run-down coastal Victorian one year after Chloe's death, Callie resigns herself to a summer of guilt and home renovations. She doesn't expect to be charmed by the tiny coastal town or by Tucker Morgan, a local boy brimming with sunshine.

But even as her days begin to brighten, Callie's nights are crowded with chilling dreams, unanswered questions, and eerie phenomenon that have her convinced she's being haunted. Will Callie be able to figure out what her sister is trying to communicate before it's too late?
I'm Not Dying With You Tonight by Kimberly Jones and Gilly Segal (Sourcebooks Fire)
Lena and Campbell aren't friends.

Lena has her killer style, her awesome boyfriend, and a plan. She knows she's going to make it big. Campbell, on the other hand, is just trying to keep her head down and get through the year at her new school.

When both girls attend the Friday-night football game, what neither expects is for everything to descend into sudden mass chaos. Chaos born from violence and hate. Chaos that unexpectedly throws them together.

They aren't friends. They hardly understand the other's point of view. But none of that matters when the city is up in flames, and they only have each other to rely on if they're going to survive the night.
A Dress for the Wicked by Autumn Krause (HarperTeen)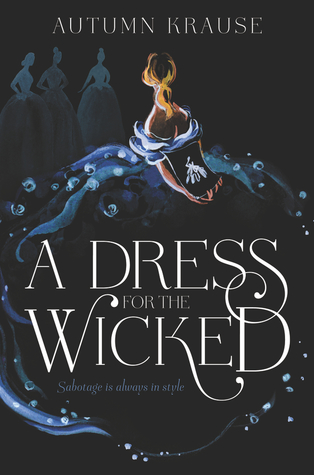 The high-stakes fashion scene of a reimagined nineteenth century Europe takes center stage in this YA debut perfect for fans of The Belles and The Luxe.

Nothing much happens in the sleepy town of Shy in Avon-upon-Kynt. And for eighteen years, Emmaline Watkins has feared that her future held just that: nothing.

But when the head of the most admired fashion house in the country opens her prestigious design competition to girls from outside the stylish capital city, Emmy's dreams seem closer than they ever have before.

As the first "country girl" to compete, Emmy knows she'll encounter extra hurdles on her way to the top. But as she navigates the twisted world of high fashion she starts to wonder: will she be able to tailor herself to fit into this dark, corrupted race? And at what cost?

Historical fiction and contemporary fans alike will flock to this twisted, lush story of fashion, betrayal, and romance.
Swipe Right For Murder by Derek Millman (Little, Brown)
On the run from the FBI.
Targeted by a murderous cult.
Labeled a cyber-terrorist by the media.
Irritated texts from his best friend.
Eye contact with a nice-looking guy on the train.
Aidan has a lot to deal with, and he's not quite sure which takes top priority.

Finding himself alone in a posh New York City hotel room for the night, Aidan does what any red-blooded seventeen-year-old would do---he tries to hook up with someone new. But that lapse in judgement leads to him waking up next to a dead guy, which sparks an epic case of mistaken identity that puts Aidan on the run from everyone---faceless federal agents, his eccentric family, and, naturally, a cyber-terrorist group who will stop at nothing to find him.

He soon realizes the only way to stop the chase is to deliver the object everyone wants, before he gets caught or killed. But for Aidan, the hardest part is knowing who he can trust not to betray him---including himself.
Hello Girls by Brittany Cavallaro and Emily Henry (Katherine Tegan Books)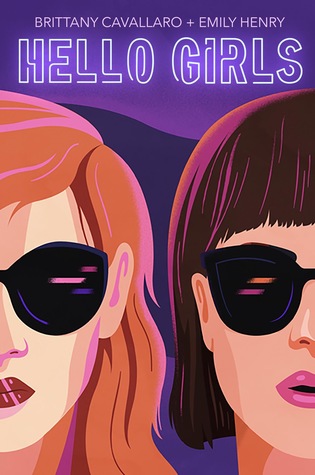 From critically acclaimed authors Brittany Cavallaro and Emily Henry comes a powerful, page-turning teen novel about two teenage girls who have had enough of the controlling men in their lives—and take their rage on the road to make a new life for themselves.

Best friends are forged by fire. For Winona Olsen and Lucille Pryce, that fire happened the night they met outside the police station—both deciding whether to turn their families in.

Winona has been starving for life in the seemingly perfect home that she shares with her seemingly perfect father, celebrity weatherman Stormy Olsen. No one knows that he locks the pantry door to control her eating and leaves bruises where no one can see them.

Lucille has been suffocating beneath the needs of her mother and her drug-dealing brother, wondering if there's more out there for her than disappearing waitress tips and generations of barely getting by.

One harrowing night, Winona and Lucille realize they can't wait until graduation to start their new lives. They need out. Now. All they need is three grand, fast. And really, a stolen convertible to take them from Michigan to Las Vegas can't hurt.

A darkly funny, razor-sharp collaboration between Brittany Cavallaro and Emily Henry, Hello Girls is the unforgettable story of two girls who are filled with equal parts rage and love—and must reclaim their power if they are ever going to get away with their daring escape.
Announcing Trouble by Amy Fellner Dominy (Entangled Teen)
I may know everything there is to know about baseball, but that doesn't mean I have to like it. Or like him. Garrett Reeves: sidelined player and the embodiment of everything I've learned to hate about baseball. He's gorgeous, he's cocky, he's laser-focused on getting back in the game, no matter the cost.

When he convinces me to call games alongside him, our chemistry heats up the booth. We're good together, whether I want to admit it or not. I'm finding that I like baseball again, but even worse, I'm liking Garrett. A lot.

But when he has to decide between our future and a new shot at his dreams, I know baseball will win out every time.

Disclaimer: This Entangled Teen Crush book has tons of hilarious banter, lots of sexual tension, and a hero who will throw a wild pitch right at your heart.
Let's Call it a Doomsday by Katie Henry (Katherine Tegan Books)
There are so many ways the world could end. There could be a fire. A catastrophic flood. A super eruption that spews lakes of lava. Ellis Kimball has made note of all possible scenarios, and she is prepared for each one. What she doesn't expect is meeting Hannah Marks in her therapist's waiting room. Hannah calls their meeting fate. After all, Ellis is scared about the end of the world; Hannah knows when it's going to happen.

Despite Ellis's anxiety — about what others think of her, about what she's doing wrong, about the safety of her loved ones — the two girls become fast friends. As Ellis tries to help Hannah decipher the details of her doomsday premonition, she learns there are secrets Hannah isn't telling her. But with time ticking down, the search for answers only raises more questions. When does it happen? Who will believe them? How do you prepare for the end of the world when it feels like your life is just getting started?

Katie Henry, the author of Heretics Anonymous, delivers an engrossing and thoughtful tale about how people survive — with some faith in family, friends, and maybe a few prepper forums.
House of Salt and Sorrows by Erin A. Craig (Delacorte)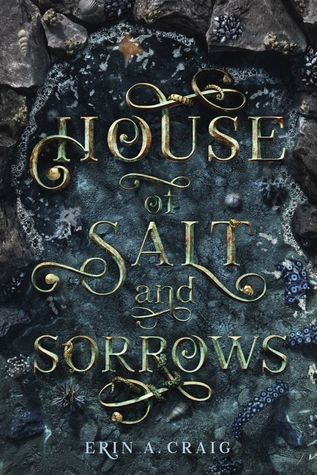 Get swept away in Erin A. Craig's mesmerizing House of Salt and Sorrows. As one by one her beautiful sisters mysteriously die on their isolated island estate, Annaleigh must unravel the curse that haunts her family. Be careful who you dance with. . . .

Four of Annaleigh Thaumas's eleven sisters have returned to the Salt, the brackish water that surrounds their lonely island home, their lives cut short, each more tragically than the last. Whispers throughout the Highmoor estate say the girls have been cursed by the gods.

When Annaleigh finds out that her sisters have been sneaking out to attend glittering midnight balls and dance until dawn, she's not sure whether to stop them--or join them. And when she begins to see a series of horrific, ghostly visions and more sisters die, she realizes she must solve the mystery--with the help of Cassius, a sea captain who knows much more about her than he should--and unravel the Thaumas curse before she descends into madness or . . . it claims her next.
Vow of Thieves by Mary E. Pearson (Henry Holt)
Kazi and Jase have survived, stronger and more in love than ever. Their new life now lies before them―the Ballengers will be outlaws no longer, Tor's Watch will be a kingdom, and the two of them will meet all challenges side by side, together at last.

But an ominous warning mars their journey back, and in their rush to return to Tor's Watch, just outside the fortress walls, they are violently attacked and torn apart―and each is thrust into their own new hell.

Unsure whether the other is alive or dead, Kazi and Jase must keep their wits among their greatest enemies and unlikeliest allies. And all the while, Death watches and waits.
Remember Me by Chelsea Bobulski (Fiewel and Friends)
In this eerie and suspenseful YA, a teen girl discovers what connects her to the hotel she calls home as horrifying visions lead her to the truth.

Nell Martin is moving again, this time to the Winslow Grand Hotel, built in 1878. As Nell is settling in, strange things begin to happen. Doors lock of their own accord, writing appears on bathroom walls—and most horrifying of all—visions of a dead boy permeate her waking life. Thinking it was her mind playing tricks on her, she soon finds the past and the present colliding as she learns horrific details of a murder that happened at the hotel in 1905 involving a girl named Lea.

Nell and a mysterious bellboy must relive that day in hopes of finally breaking a curse that imprisons them both. And Nell discovers what truly links her to the history of the Winslow Grand Hotel.
The Demon Wold by Sally Green (Viking)
The epic, magical saga of royalty, romance, and violence continues.

A princess. A soldier. A servant. A demon hunter. A thief. When we last saw them, this unlikely group was heading into the Northern Territory of the kingdom of Pitoria, on the run from the sadistic and power-hungry King Aloysius of Brigant. The Smoke Thieves have discovered that demon smoke is not only an illegal drug used for pleasure, but in fact, when taken by children, demon smoke briefly gives its users super-human strength. Aloysius' plan is simple and brutal: kill the demons for their smoke, and use that smoke to build an unstoppable army of children to take over Pitoria, Calidor, and then the rest of the world. The Smoke Thieves are the only ones who understand this plan—but can they stop it? Catherine, Aloysius' daughter, is seen as a traitor from all sides; Tash is heartbroken after the loss of her one friend and sees nothing left for her in the human world; Edyon is wanted for murder; March is carrying the secret of his betrayal of his new love; Ambrose is out for revenge--and all the while, the demons have plans of their own...
Postcards for a Songbird by Rebekah Crane (Skyscape)
Everyone eventually leaves Wren Plumley. First it was her mother, then her best friend, and then her sister. Now living with only her cop father and her upended dreams, Wren feels stranded, like a songbird falling in a storm.

When Wilder, a sickly housebound teen, moves in next door, Wren finally finds what she's always wanted—a person who can't leave. But a chance meeting with Luca, the talkative, crush-worthy boy in her driver's ed class, has Wren wondering if maybe she's too quick to push people away. Soon, Wren finds herself caught between the safety of a friendship and a love worth fighting for.

Wren starts to dream again. But when postcards begin arriving from her sister, Wren must ultimately confront why her mother left fourteen years before and why her sister followed in her footsteps. For her new life to take flight, Wren will have to reconcile the heartbreaking beauty of lost dreams and the beautiful heartbreak of her new reality.
Sea Witch Rising by Sarah Henning (Katherine Tegan Books)
"The Little Mermaid" takes a twisted turn in this thrilling sequel to villainess origin story Sea Witch, as the forces of land and sea clash in an epic battle for freedom, redemption, and true love.

Runa will not let her little sister die. Alia traded her voice to the Sea Witch for a shot at happiness with a prince who doesn't love her. And his rejection will literally kill her—unless Runa intervenes.

Under the sea, Evie craves her own freedom—but liberation from her role as Sea Witch will require an exchange she may not be willing to make. With their hearts' desires at odds, what will Runa and Evie be willing to sacrifice to save their worlds?

Told from alternating perspectives, this epic fairy tale retelling is a romantic and heart-wrenching story about the complications of sisterhood, the uncompromising nature of magic, and the cost of redemption.
Ziggy, Stardust and Me by James Brandon (Putnam)
In this tender-hearted debut, set against the tumultuous backdrop of life in 1973, when homosexuality is still considered a mental illness, two boys defy all the odds and fall in love.

When he's not being bullied or in therapy for anxiety, sixteen-year-old Jonathan lives with his alcoholic dad in the suburbs of St. Louis. Still coping with the death of his mother, his elaborate imagination keeps him afloat and is a balm against vicious school bullies. But everything changes when a Native American boy named Web joins his English class three weeks before the school year ends.

After being partnered for an English project, Jonathan realizes Web is different from his classmates: he's confident, stands up to Jonathan's bullies, and calms Jonathan's severe anxiety. Then one day Web kisses him, and throws Jonathan into a tailspin. It's 1973 and being gay is considered a mental illness. Eventually he tells Web they can't be together.

But when things get bad at home Jonathan must decide if he wants to stand up to his dad, and his therapist, and be true to himself.
A Crash of Fate by Zoraida C

ordova
(Disney/Lucasfilm)
Izzy and Jules were childhood friends, climbing the spires of Batuu, inventing silly games, and dreaming of adventures they would share one day. Then, Izzy's family left abruptly, without even a chance to say goodbye. Izzy's life became one of constant motion, traveling from one world to the next, until her parents were killed and she became a low-level smuggler to make ends meet. Jules remained on Batuu, eventually becoming a farmer like his father, but always yearning for something more.

Now, thirteen years after she left, Izzy is returning to Batuu. She's been hired to deliver a mysterious parcel, and she just wants to finish the job and get gone. But upon arrival at Black Spire Outpost she runs smack into the one person who still means something to her after all this time: Jules.

The attraction between them is immediate, yet despite Jules seeming to be everything she's ever needed, Izzy hesitates. How can she drag this good-hearted man into the perilous life she's chosen?

Jules has been trying to figure out his future, but now all he knows for certain is that he wants to be with Izzy. How can he convince her to take a chance on someone who's never left the safety of his homeworld?
August 8th
No Big Deal by Bethanny Rutter (Macmillan Childrens)
Witty, timely and just darn brilliant, No Big Deal by Bethany Rutter will publish in Spring 2019.

No Big Deal tells the story of Emily, a fat teenager who is perfectly happy with her body, thank you very much. With a mum signing up to new fad diets every week, and friends who appear to be having grown-up sexual relationships, Emily faces the constant battle to stay strong and not conform to society's idealistic image of a young woman. Can she remain the strong feminist (with a great sense of style) that she is and retain her identity as a happy fat girl?
August 13th
Truly Madly Royally by Debbie Rigaud (Scholastic)
Fiercely independent and smart, Zora Emerson wants to change the world. She's excited to be attending a prestigious summer program, even if she feels out of place among her privileged, mostly white classmates. So she's definitely not expecting to feel a connection to Owen, who's an actual prince of an island off the coast of England. But Owen is funny, charming...and undeniably cute. Zora can't ignore the chemistry between them. When Owen invites Zora to be his date at his big brother's big royal wedding, Zora is suddenly thrust into the spotlight, along with her family and friends. Everyone is talking about her, in real life and online, and while Owen is used to the scrutiny, Zora's not sure it's something she can live with. Can she maintain her sense of self while moving between two very different worlds? And can her feelings for Owen survive and thrive in the midst of the crazy? Find out in this charming romantic comedy that's like The Princess Diaries for a new generation.
Of Ice and Shadows by Audrey Coulthurst (Balzer + Bray)
The long-awaited sequel to Of Fire and Stars—in which Mare and Denna travel to a new and dangerous kingdom where Denna must be trained to tame her magic by a mysterious queen who is not all she seems. Perfect for fans of Kristin Cashore and Tamora Pierce.

Princesses Denna and Mare are in love and together at last—only to face a new set of dangers.

Mare just wants to settle down with the girl she loves, which would be easier if Denna weren't gifted with forbidden and volatile fire magic. Denna must learn to control her powers, which means traveling in secret to the kingdom of Zumorda, where she can seek training without fear of persecution. Determined to help, Mare has agreed to serve as an ambassador as a cover for their journey.

But just after Mare and Denna arrive in Zumorda, an attack on a border town changes everything. Mare's diplomatic mission is now urgent: She must quickly broker an alliance with the Zumordan queen to protect her homeland. However, the queen has no interest in allying with other kingdoms—it's Denna's untamed but powerful magic that catches her eye. The queen offers to teach Denna herself, and both girls know it would be dangerous to refuse.

As Denna's powers grow stronger, Mare does her best to be the ambassador her kingdom needs. Her knowledge of Zumorda and its people grows, and so too do her suspicions about the queen's intentions. With rising tensions and unexpected betrayals putting Mare and Denna in jeopardy and dangerous enemies emerging on all sides, can they protect their love and save their kingdoms?
We Are The Ghosts by Vicky Skinner (Swoon Reads)
After her estranged brother suddenly dies, a girl embarks on a road trip to rediscover who her brother really was in this contemporary YA novel.

When Ellie's estranged brother, Luke, dies in a car accident, she's not sure whether to be devastated that she lost the person who was once her best friend or enraged, still, that he left without a word a year ago. Now, the only people who seem to understand what she's going through are Luke's best friend and his ex-girlfriend, who she bonds with over their desire to figure out where Luke went when he walked out of their lives.

As she gets closer to them, and closer to Cade, a boy who seems determined to get to know her better, she realizes that she's not the only one with reasons to be angry at Luke. And when Ellie makes a discovery that changes everything, she and her new friends hit the road, hoping that following Luke's trail will bring them answers about the life Luke was living away from them.
Start Here by Trish Dollar (Simon Pulse)
Two teens go on a life-changing sailing trip as they deal with the grief of losing their best friend in this heartwrenching, hopeful novel from the author of Something Like Normal and In a Perfect World.

Willa and Taylor were supposed to spend the summer after high school sailing from Ohio to Key West with their best friend, Finley. But Finley died before graduation, leaving them with a twenty-five-foot sailboat, a list of clues leading them to destinations along the way, and a friendship that's hanging by a thread.

Now, Willa and Taylor have two months and two thousand miles to discover how life works without Finley—and to decide if their own friendship is worth saving.

From acclaimed author Trish Doller comes a poignant tale of forgiveness, grief, and the brilliant discoveries we make within ourselves when we least expect it.
The Surface Breaks by Louise O'Neill (Scholastic)
Deep beneath the sea, off the cold Irish coast, Gaia is a young mermaid who dreams of freedom from her controlling father. On her first swim to the surface, she is drawn towards a human boy. She longs to join his carefree world, but how much will she have to sacrifice? What will it take for the little mermaid to find her voice? Hans Christian Andersen's original fairy tale is reimagined through a searing feminist lens, with the stunning, scalpel-sharp writing and world building that has won Louise her legions of devoted fans. A book with the darkest of undercurrents, full of rage and rallying cries: storytelling at its most spellbinding.
The Downstairs Girl by Stacey Lee (Putnam)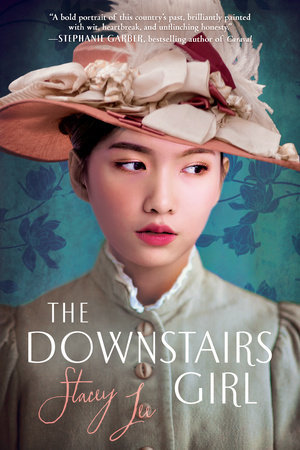 By day, seventeen-year-old Jo Kuan works as a lady's maid for the cruel daughter of one of the wealthiest men in Atlanta. But by night, Jo moonlights as the pseudonymous author of a newspaper advice column for the genteel Southern lady, "Dear Miss Sweetie." When her column becomes wildly popular, she uses the power of the pen to address some of society's ills, but she's not prepared for the backlash that follows when her column challenges fixed ideas about race and gender. While her opponents clamor to uncover the secret identity of Miss Sweetie, a mysterious letter sets Jo off on a search for her own past and the parents who abandoned her as a baby. But when her efforts put her in the crosshairs of Atlanta's most notorious criminal, Jo must decide whether she, a girl used to living in the shadows, is ready to step into the light. With prose that is witty, insightful, and at times heartbreaking, Stacey Lee masterfully crafts an extraordinary social drama set in the New South.
Right Tackle/Gut Check by Eric Kester (FSG)
A darkly comic high-school drama about brotherhood, body image, concussions, and toxic masculinity from Boston Globe–bestselling adult author of That Book About Harvard.

Wyatt has wanted nothing more than to play football on Grayport's championship-winning team. But not for the fame, glory, or girls. It's his last chance to build a relationship with his older brother Brett, the star quarterback, before he leaves for college. Now that their team has gained national attention, a big win could be just what the small town needs in order to rebound from a fishing season that has been devastated by Red Tide. But when Brett suffers a terrible concussion, Wyatt must decide if keeping his brother's secret is worth risking his scholarship future.

Told with irreverent humor reminiscent of Carl Hiaasen, and a stark honesty about brotherhood and masculinity for fans of Andrew Smith, Gut Check explores the struggle of grappling with uncomfortable truths.
The Last Hope by Krista and Becca Ritchie (Wednesday Books)
A stunning conclusion to the sci-fi romance duology by writing duo Krista & Becca Ritchie, The Last Hope is filled with twists and turns you'll never see coming.
Sacrifice all you have to survive.
Imprisoned for weeks on an enemy starcraft, Franny, Court, and Mykal have sat with an unfathomable revelation. They are human. But as they fight to stay alive, they're unsure of why or how they're different. Escaping prison means trusting a young mysterious stranger. He knows everything about their lost histories, but when answers aren't given freely, the bonded trio are forced to join a mission. One that will determine the fate of humanity.
Legend says, a baby—the first of her species—has the power to cloak and teleport planets. Tasked with retrieving the infant, Court is afraid the baby is just a myth, and if they fail, they'll never know the truth about their human origins.
As Court and Mykal grow closer, their linked bond becomes harder to hide, and dynamics change when Franny begins to fall for someone new. Vulnerable and with no choice, the hunt for the baby sends the trio on a dangerous path to Saltare-1: a water world where their enemies can't die and survival comes at a high cost.
The Importance of Being Wilde at Heart by R. Zamora Linmark (Delacorte)
Readers of Adam Silvera (They Both Die at the End) and Elizabeth Acevedo (The Poet X) will pull out the tissues for this tender, quirky story of one seventeen-year-old boy's journey through first love and first heartbreak, guided by his personal hero, Oscar Wilde.

Words have always been more than enough for Ken Z, but when he meets Ran at the mall food court, everything changes. Beautiful, mysterious Ran opens the door to a number of firsts for Ken: first kiss, first love. But as quickly as he enters Ken's life, Ran disappears, and Ken Z is left wondering: Why love at all, if this is where it leads?

Letting it end there would be tragic. So, with the help of his best friends, the comfort of his haikus and lists, and even strange, surreal appearances by his hero, Oscar Wilde, Ken will find that love is worth more than the price of heartbreak.
August 20th
The Revolution of Birdie Randolph by Brandy Colbert (Little, Brown)
Perfect for fans of Nina LaCour and Nicola Yoon comes a novel about first love and family secrets from Stonewall Book Award winner Brandy Colbert.

Dove "Birdie" Randolph works hard to be the perfect daughter and follow the path her parents have laid out for her: She quit playing her beloved soccer, she keeps her nose buried in textbooks, and she's on track to finish high school at the top of her class. But then Birdie falls hard for Booker, a sweet boy with a troubled past...whom she knows her parents will never approve of.

When her estranged aunt Carlene returns to Chicago and moves into the family's apartment above their hair salon, Birdie notices the tension building at home. Carlene is sweet, friendly, and open-minded--she's also spent decades in and out of treatment facilities for addiction. As Birdie becomes closer to both Booker and Carlene, she yearns to spread her wings. But when long-buried secrets rise to the surface, everything she's known to be true is turned upside down.
Brave Face by Shaun David Hutchinson (Simon Pulse)
Critically acclaimed author of We Are the Ants—described as having "hints of Vonnegut's Slaughterhouse-Five" (School Library Journal)—opens up about what led to an attempted suicide in his teens, and his path back from the experience.

"I wasn't depressed because I was gay. I was depressed and gay."

Shaun David Hutchinson was nineteen. Confused. Struggling to find the vocabulary to understand and accept who he was and how he fit into a community in which he couldn't see himself. The voice of depression told him that he would never be loved or wanted, while powerful and hurtful messages from society told him that being gay meant love and happiness weren't for him.

A million moments large and small over the years all came together to convince Shaun that he couldn't keep going, that he had no future. And so he followed through on trying to make that a reality.

Thankfully Shaun survived, and over time, came to embrace how grateful he is and how to find self-acceptance. In this courageous and deeply honest memoir, Shaun takes readers through the journey of what brought him to the edge, and what has helped him truly believe that it does get better.
Fan the Flame by Anna Priemaza (HarperTeen)
Equal parts Rainbow Rowell's Fangirl and Jennifer Mathieu's Moxie, this fiercely crafted, feminist YA novel takes on fandom, accountability, and doing the right thing. Even when it hurts.

Lainey wouldn't mind lugging a camera around a video game convention for her brother, aka YouTube superstar Codemeister, except for one big problem. He's funny and charming online, but behind closed doors, Cody is a sexist jerk.

SamTheBrave came to this year's con with one mission: meeting Codemeister—because getting his idol's attention could be the big break Sam needs.

ShadowWillow is already a successful streamer. But when her fans start shipping her with Code, Shadow concocts a plan to turn the rumors to her advantage.

The three teens' paths collide when Lainey records one of Cody's hateful rants on video. Because she's determined to spill the truth to her brother's fans—even if that means putting Sam and Shadow in the crosshairs.

Told through three relatable voices and arriving on the heels of the author's widely praised debut novel, Kat and Meg Conquer the World, this sophomore novel is a nuanced and timely story about followers, fame, and fighting for what's right.
Colour Me In by Natasha Diaz (Delacorte)

Who is Nevaeh Levitz?

Growing up in an affluent suburb of New York City, sixteen-year-old Nevaeh Levitz never thought much about her biracial roots. When her Black mom and Jewish dad split up, she relocates to her mom's family home in Harlem and is forced to confront her identity for the first time.

Nevaeh wants to get to know her extended family, but one of her cousins can't stand that Nevaeh, who inadvertently passes as white, is too privileged, pampered, and selfish to relate to the injustices they face on a daily basis as African Americans. In the midst of attempting to blend their families, Nevaeh's dad decides that she should have a belated bat mitzvah instead of a sweet sixteen, which guarantees social humiliation at her posh private school. Even with the push and pull of her two cultures, Nevaeh does what she's always done when life gets complicated: she stays silent.

It's only when Nevaeh stumbles upon a secret from her mom's past, finds herself falling in love, and sees firsthand the prejudice her family faces that she begins to realize she has a voice. And she has choices. Will she continue to let circumstances dictate her path? Or will she find power in herself and decide once and for all who and where she is meant to be?
My Box-Shaped Heart by Racheal Lucas (Fiewel and Friends)
A powerful YA novel about an unlikely friendship between two struggling teens—and how they come together to help one another.

Holly's mom is a hoarder, and Holly is fed up with being picked on at school for being weird . . . and having the wrong clothes . . . and sticking out. All she wants is to fit in. She loves swimming, because in the water everyone is the same.

Ed goes to the swimming pool because everything else in his life has changed. In his old life, he had money, was on the swim team, knew who he was and what he wanted. In his old life, his dad hit his mom.

Holly is swimming in one direction and Ed's swimming in the other. As their worlds collide they find a window into each other's lives—and learn how to meet in the middle.
As Many Nows As I Can Get by Shana Youngdahl (Dial)
A timely, searing, and unconventional romance from an urgent new voice in young adult fiction

In one impulsive moment the summer before they leave for college, overachievers Scarlett and David plunge into an irresistible swirl of romance, particle physics, and questionable decisions. Told in non-linear, vivid first-person chapters, As Many Nows As I Can Get is the story of a grounded girl who's pulled into a lightning-strike romance with an electric-charged boy, and the enormity of the aftermath. Cerebral, accessible, bold, and unconventionally romantic, this is a powerful debut about grief, guilt, and reconciling who you think you need to be with the person you've been all along.
August 27th
Wild Savage Stars by Kristina Perez (Imprint)
Branwen has a secret powerful enough to destroy two kingdoms.Her ancient magic caused a terrible betrayal by both her best friend, the princess Essy, and her first love, Tristan. Now this same magic is changing Branwen, growing ever stranger and darker.
Adrift in a rival court, she must hide the truth from the enemy king by protecting the lovers who broke her heart. Not everyone wants the alliance with Branwen's kingdom to succeed — peace is balanced on a knife's edge, and her only chance is to embrace the darkness within.
These Divided Shores by Sara Raasch (Balzer + Bray)
The thrilling sequel to These Rebel Waves—full of deadly magic, double crosses, and a revolution—from Sara Raasch, the bestselling author of the Snow Like Ashes series.

As a child, she committed unforgivable acts to free Grace Loray from King Elazar of Argrid. Now Elazar's plan to retake the island has surpassed Lu's darkest fears: he's holding her and his son, Ben, captive in an endlessly shifting prison, forcing them to make a weapon that will guarantee Elazar's success. Escape is impossible—unless Lu becomes the ruthless soldier she hoped never to be again.

Vex failed to save Lu and Ben—and that torments him as much as his Shaking Sickness. With the disease worsening, Vex throws himself into the rebellion against Argrid. The remaining free armies are allied with the stream raider syndicates—and getting them to cooperate will take a strength Vex thought burned on a pyre six years ago.

Imprisoned, betrayed, and heartbroken, Ben is determined to end his father's rampage. Watching Elazar sway the minds of Grace Loray as he did those of Argrid, Ben knows he has to play his father's game of devotion to win this war. But how can a heretic prince defeat the Pious God?

As armies clash and magic rises, Lu, Vex, and Ben will confront their pasts . . . or lose their futures forever.
Pumpkinheads by Rainbow Rowell and Faith Erin Hicks (First Second Books)
Pumpkinheads tells the story of Deja and Josiah, two high school seniors working their last shift at the local pumpkin patch-alooza. Josiah is in mourning. He's not ready to let go of the patch. It's not just a job for him; it's his favorite place in the world!

But Deja doesn't want to spend their last shift moping. She has plans. First: to try all their favorite fall-themed snacks (pie! s'mores! kettle corn!) one last time -- and second: to help Josiah finally take a big risk.



Pumpkinheads is a book about fall and friendship and saying good-bye. About puns and pumpkin spice. And about taking a moment, while everything around you changes, to appreciate something wonderful.
The (Best) Worst Case Scenario by Sandy Hall (Swoon Reads)
Scenario: A Musical Theater Lock-In you've been looking forward to all summer long.

Best Case: You and all your best friends have a fabulous time, you win backstage passes to your favorite Broadway show, your crush falls madly in love with you, and you get amazing material for your college applications that gets you early admittance into their theater programs.

Worst Case: Your best friend brings your mortal enemy to the lock-in and insists that you be on the same team mere hours after you learn your father's new girlfriend is now in charge of the lock-in. The drama totally overwhelms you, making it impossible to charm your crush and leaving you wanting to lay down on the floor and cry. Not exactly a formula for success.

Fans of Glee will delight in this fourth irresistibly fun and completely adorkable YA romance from Sandy Hall, the author of A Little Something Different.
Song of the Abyss by Makiia Lucier (HMH)
Ancient grievances, long-held grudges, and dangerous magic combine in this sweeping fantasy perfect for fans of Tamora Pierce and Rachel Hartman.

As the granddaughter of a famed navigator, seventeen-year-old Reyna has always lived life on her own terms, despite those who say a girl could never be an explorer for the royal house of St. John del Mar. She is determined to prove them wrong, and as she returns home after a year-long expedition, she knows her dream is within reach. No longer an apprentice, instead: Reyna, Master Explorer. But when menacing raiders attack her ship, those dreams are pushed aside. Reyna's escape is both desperate and dangerous, and when next she sees her ship, a mystery rises from the deep. The sailors—her captain, her countrymen—have vanished. To find them, Reyna must use every resource at her disposal . . . including placing her trust in a handsome prince from a rival kingdom. Together they uncover a disturbing truth. The attack was no isolated incident. Troubling signs point to a shadowy kingdom in the north, and for once, the rulers of the Sea of Magdalen agree: something must be done. But can Reyna be brave enough to find a way?
The Shortest Distance Between Love and Hate by Sandy Hall (Swoon Reads)
A teen girl starting at a new school is torn between long-held loyalties and a bright new love in this irresistible new YA contemporary romance from the author of A Little Something Different.

Paisley is really looking forward to college. She is ready to take charge of her destiny and embrace some new experiences! Finding a hot guy to make out with at her first ever college party seems like a great start . . . until her best friend informs her that mystery guy is actually Carter Schmitt, Paisley's sworn enemy who basically ruined their lives in middle school.

So much for new people and exciting new experiences. Oh well. Paisley will just pretend he doesn't exist. Of course that would be easier if Carter, AKA her super-hot-sworn-enemy, hadn't ended up in three of her classes AND the same work study. Is it too late to rethink this college thing?

Sandy Hall, author of A Little Something Different and A Prom to Remember, is heading back to college in this sweet and quirky contemporary romance.
All The Bad Apples by Moira Fowley Doyle (Penguin)
Unflinching and gorgeously written, this feminist novel is important, timely, and a compulsive read. From the highly acclaimed author of the beloved The Accident Season comes an epic breakout novel examining the very topical and controversial issue of women's sexual and reproductive rights, which has never been higher on the public's radar.

When Deena's wild older sister Mandy goes missing, presumed dead, Deena refuses to believe it's true. Especially when letters start arriving--letters from Mandy--which proclaim that their family's blighted history is not just bad luck or bad decisions but a curse, handed down to women from generation to generation. Mandy's gone to find the root of the curse before it's too late for Deena. But is the curse even real? And is Mandy still alive? Deena's desperate, cross-country search for her beloved sister--guided only by the notes that mysteriously appear at each destination, leading her to former Magdalene laundry sites and more--is a love letter to women and a heartbreaking cathartic journey.
Mind Games by Shana Silver (Swoon Reads)
Arden sells memories. Whether it's the becoming homecoming queen or studying for that all important test, Arden can hack into a classmate's memories and upload the experience for you just as if you'd lived it yourself. Business is great, right up until the day Arden whites out, losing 15 minutes of her life and all her memories of the hot boy across the school yard. The hot boy her friends assure her she's had a crush on for years.

Arden realizes that her own memories have been hacked, but they haven't just been stolen and shared… they've been deleted. And she's not the only one, the hot stranger, Sebastian, has lost ALL of his memories. But how can they find someone with the power to make them forget everything they've learned?
Crown of Coral and Pearl by Mara Rutherford (Harlequin Teen)
Impetuous and outspoken, seventeen-year-old Nor is used to living in her identical twin sister's shadow. As the most beautiful girl in Lakana, Zadie is destined to marry the prince of Ilara, heir to all the ocean realms. Though free from her mother's strict constraints, Nor still feels trapped. Just once, she longs to see Ilara's glittering towers and encounter its dashing prince...

But when Zadie is injured, Nor is chosen to replace her. And she soon finds Prince Ceren is as forbidding and cold as llara, a realm carved into a mountain and devoid of light. Ceren's plans would strip Lakana of its most precious resources--a decree Nor will risk anything to stop. And through Ceren's half brother, Talin, she pursues an even darker mystery rooted in the failing royal bloodline, a murdered queen--and Ilara's sinister secret history.

Now Nor must negotiate the treacherous protocols and insidious deceptions of a dazzling court where lies reign and obsession rules. And discovering her own formidable strength may be the one move that costs her everything: the crown, Lakana and Zadie.
The Ghost Seekers by Devon Taylor (Swoon Reads)
The Harbinger is lost, sunk to the bottom of an otherworldly sea. Every soul that ever died and was protected within its hold has been lost along with it. But at least that precious cargo is out of reach of the demon Urcena and her army of soul-devouring monsters.

For now.

The soul keepers are broken, scattered, and barely clinging to existence without their ship or any way to collect or protect the souls of the newly dead. If they are to have any hope of stopping Urcena's horrifying plans to destroy the fragile balance between living and dead, they will first have to survive long enough to locate the ghost of one of their own, who sacrificed himself to save the rest of the crew.