October 6th
Kingdom of Sea and Stone by Mara Rutherford (Inkyard Press)
She risked everything to save her kingdom. But the crown's fate still hangs in the balance.

Not long ago, Nor would have given anything to explore Ilara, the kingdom beyond her sea village of Varenia. But ever since she was forced into that world in her sister's stead, Nor has wanted nothing more than to return to the place and people she loves. After Ilarean court politics take a deadly turn, Nor's wish comes true—but not in the way she'd hoped. Varenia is now facing the wrath of Ilara, and Nor is cast out in blame.

When Prince Talin arrives with news that changes everything, Nor knows a war is coming. Together with her twin sister, Zadie, Nor must rescue their childhood best friend and seek new allies to fight alongside their small army.

As an old enemy resurfaces more powerful than ever, Nor will have to harness all of her strength to keep the kingdom from falling apart. There are forces within the world more mysterious than Nor ever guessed—and she'll need to stay alive long enough to conquer them…
A Cuban Girl's Guide to Sweaters and Stars by Laura Taylor Namey (Anthenum)
Teenage master of Cuban cuisine, Lila Reyes, is eager to inherit her family's Miami bakery along with her sister, Pilar. But between spring and graduation, Lila's abuela dies, her best friend abandons her, and her long-time boyfriend dumps her. Fearing Lila's emotional health, her parents defy her wishes and entrust her summer to family and their Winchester, England inn. Even though she's given a space to cook at the inn, she longs for Miami, the seat of her Cuban roots. Being a Miami Cuban baker is her glorified past and destined future, forged by years of training by her loving abuela.
Days into her stay, Orion Maxwell barges into Lila's inn kitchen with a delivery from his family's tea shop. A nuisance at first, opposite ingredients soon learn to blend. Orion befriends Lila, introducing her to his mates and devouring her food––comida Cubana.
Orion entertains her with his mental collection of superstitions and sweeps her onto his vintage motorbike. He wraps cold, underdressed Lila in his wool cardigan and becomes her personal tour guide. His mum's early-onset (FTD) Dementia gives Orion a unique outlook––he never asks too much of the world, accepting what he can't control. Lila soon discovers this British boy brings empathy to her loss because he's living his own.
Before long, Lila can't control the route of her own heart as she begins to fall for more than a new love. England has charmed her. And a special opportunity in London tempts her. As her return ticket looms, Lila feels impossibly caught between two flags. Hearts aren't supposed to split like this––between a beautiful boy and a beautiful family. Between exploring an uncharted future in a rich new place, and honoring Abuela's treasured legacy.
Girl on the Run by Abigail Johnson (Underlined)
A fast-paced original paperback thriller about a girl who discovers that her mother might not be who she says she is . . . and now someone is hunting them both.

Katelyn wants the best for her widowed mom. Surprising her with an online dating profile seems like a good idea.

It isn't. Katelyn's mom hasn't just been acting overprotective all these years--she's been hiding something. And now that anyone can find them online, Katelyn is in a desperate race against time to uncover the secrets of the past--not only her mom's, but also her own.

As Katelyn's world unravels, she begins to trust the guy who brought this nightmare to her door and to doubt the one person she never thought she would. Because her mom has been hiding for a reason: she's been waiting.
We Were Restless Things by Cole Nagamastu (Sourcebooks Fire)
Maggie Stiefvater meets Neil Gaiman in this stunning contemporary fantasy debut.

Last summer, Link Miller drowned in the woods, miles from the nearest body of water. His death was ruled a weird accident, but Noemi Amato knows the truth: Link was killed. He told her so himself in the texts he's been sending from beyond the grave, warning Noemi to keep away from the forest.

Amberlyn, Link's sister, can't shake the feeling Noemi is hiding something, and Jonas, Noemi's new sort-of-stepbrother, can't get past the walls she's constructed around herself. But Noemi is hiding a dangerous secret even bigger than Link's ghost: Link did drown in a lake in the woods, but only she can see it. Now, if the three teens don't work together to unravel the truth about what is happening in the woods, someone else will wind up six feet under water.
Deepfake by Sarah Darer Littman (Scholastic)
What happens when anyone can make a video of you saying anything?

Dara Simons and Will Hochman have everything they've ever wanted. They are the rulers of Greenpoint High's geekdom, overachieving in every way, and it's an intense competition to see who will be valedictorian. One the entire school is invested in. That is, until Rumor Has It, the anonymous gossip site, posts a video of Dara accusing Will of paying someone to take the SAT for him.

When the video goes viral, suddenly Will's being investigated, and everyone's wondering how he pulled off cheating on the SAT. But Dara swears that she didn't say any of those things, which seems a little hard to believe since it's her in the video.

Did Will cheat?

Is it Dara saying he did?

Who's lying, and who's telling the truth?

The answer is more shocking than anyone realizes ...
The Poppy and the Rose by Ashlee Cowles (Owl Hollow Press)
1912: Ava Knight, a teen heiress, boards the Titanic to escape the shadow of her unstable mother and to fulfill her dream of becoming a photographer in New York. During the journey she meets three people who will change her life: a handsome sailor, a soldier in the secret Black Hand society that will trigger World War I, and a woman with clairvoyant abilities. When disaster strikes the ship, family betrayals come to light.

2010: When Taylor Romano arrives in Oxford for a summer journalism program, something feels off. Not only is she greeted by a young, Rolls Royce-driving chauffeur, but he invites her to tea with Lady Mae Knight of Meadowbrook Manor, an old house with a cursed history going back to the days of Henry VIII. Lady Knight seems to know a strange amount about Taylor and her family problems, but before Taylor can learn more, the elderly woman dies, leaving as the only clue an old diary. With the help of the diary, a brooding chauffeur, and some historical sleuthing, Taylor must uncover the link between Ava's past and her own….

A rich and intriguing tale, The Poppy and the Rose will appeal to readers of Jennifer Donnelly, Libba Bray, and Kate Morton.
Forget this Ever Happened by Cassandra Rose Clark (Holiday House)
Sometimes there's a town called Indianola.

And sometimes there isn't.

Summer, 1993. Claire has been dumped in rural Indianola, Texas, to spend her whole vacation taking care of mean, sickly Grammy. There's nothing too remarkable about Indianola: it's run-down, shabby, and stifling hot, a pin-dot on the Gulf Coast.

Well, there is one remarkable thing, she discovers. Something otherworldly.

But if you leave Indianola, you forget about it... and if you stay, you have to live with it every day.

Because there's a confluence of energies at Indianola, a fissure in time and space, a gap in reality. Nothing is as it seems. And unless Claire can figure out this town--the talkative lizards under the pecan trees; the honey-sweet but terrifying girl next door; the cute daughter of a powerful family, who would answer Claire's questions if she had any answers; the pervasive sense of history coming unspooled, like a video tape--she might never leave.

Featuring a mindbending plot, heartfelt queer romance, brilliant writing, and intricate worldbuilding, Forget This Ever Happened is a lush and thrilling genre-bender perfect for the Black Mirror generation.
Apple: Skin to the Core by Eric Gansworth (Levine Querido)
How about a book that makes you barge into your boss's office to read a page of poetry from? That you dream of? That every movie, song, book, moment that follows continues to evoke in some way?

The term "Apple" is a slur in Native communities across the country. It's for someone supposedly "red on the outside, white on the inside."

Eric Gansworth is telling his story in Apple (Skin to the Core). The story of his family, of Onondaga among Tuscaroras, of Native folks everywhere. From the horrible legacy of the government boarding schools, to a boy watching his siblings leave and return and leave again, to a young man fighting to be an artist who balances multiple worlds.

Eric shatters that slur and reclaims it in verse and prose and imagery that truly lives up to the word heartbreaking.
The Shadow Mission by Shamim Sarif (HarperTeen)
Jessie Archer faced down death to prove her dedication to Athena, the elite organization of female spies she works for. Now she's back on the team, in time to head to Pakistan to take down the man whose actions spurred Athena's founders to create the secretive squad. But his connections spread farther than anyone knew, and when a girls' school in Mumbai is bombed, a shadowy far-right organization reveals itself—and its evil plans to continue attacks.
When someone close to the investigation turns on Athena, Jessie knows that their time to save everyone is nearly up. Once again, she'll have to risk everything to protect the vulnerable and prove herself.
Shine by Jessica Jung (Simon Pulse)
Crazy Rich Asians meets Gossip Girl by way of Jenny Han in this knock-out debut about a Korean American teen who is thrust into the competitive, technicolor world of K-pop, from Jessica Jung, K-pop legend and former lead singer of one of the most influential K-pop girl groups of all time, Girls Generation.

What would you sacrifice for a chance to live your dreams?

For seventeen-year-old Korean American Rachel Kim, the answer is almost everything. Or at least that's been the answer for the past six years, ever since she was recruited by DB Entertainment—one of Seoul's largest K-pop labels, known for churning out the industry's most popular stars.

The rules are simple: Train 24/7. Be perfect. Don't date. So while Rachel and her fellow trainees face grueling practices, punishing expectations, and ruthless competition, they know it's worth it for the chance to debut in DB's newest girl group.

And when the opportunity to sing with K-pop star and DB golden boy Jason Lee arises, Rachel knows this is her chance to get noticed. To finally debut. The only problem? Jason is charming, sexy, and ridiculously talented—he's exactly the kind of distraction Rachel can't afford to have. And exactly the kind she can't stay away from.

Get ready as Jessica Jung, K-pop legend and former lead singer of Korea's most famous girl group, Girls Generation, takes us inside the twisted, technicolor world of K-pop. Where following your dreams might just mean living through a nightmare. Where the stakes are high, but for one girl, the cost of success might be even higher.

It's time for the world to see: this is what it takes to SHINE.
The Lives of Saints by Leigh Bardgo (Imprint) - Companion to Grishaverse books
Enter the world of the Grishaverse and Shadow and Bone, soon to be a Netflix original series!

Dive into the epic world of international bestselling author Leigh Bardugo with this beautifully illustrated replica of The Lives of Saints, the Istorii Sankt'ya, featuring tales of saints drawn from the beloved novels and beyond. Out of the pages of the Shadow and Bone trilogy, from the hands of Alina Starkov to yours, the Istorii Sankt'ya is a magical keepsake from the Grishaverse.

These tales include miracles and martyrdoms from familiar saints like Sankta Lizabeta of the Roses and Sankt Ilya in Chains, to the strange and obscure stories of Sankta Ursula, Sankta Maradi, and the Starless Saint.

This beautiful collection includes stunning full-color illustrations of each story.
Five Total Strangers by Natalie D. Richards (Sourcebooks Fire)
A hitched ride home in a snow storm turns sinister when one of the passengers is plotting for the ride to end in disaster.

When Mira flies home to spend Christmas with her mother in Pittsburgh, a record-breaking blizzard results in a cancelled layover. Desperate to get to her grief-ridden mother in the wake of a family death, Mira hitches a ride with a group of friendly college kids who were on her initial flight.

As the drive progresses and weather conditions become more treacherous, Mira realizes that the four other passengers she's stuck in the car with don't actually know one another.

Soon, they're not just dealing with heavy snowfall and ice-slick roads, but the fact that somebody will stop at nothing to ensure their trip ends in a deadly disaster.
All This Time by Mikki Daughtry and Rachael Lippincott (Simon and Schuster)
From the team behind #1 New York Times bestseller Five Feet Apart comes a gripping new romance that asks: Can you find true love after losing everything?

Kyle and Kimberly have been the perfect couple all through high school, but when Kimberly breaks up with him on the night of their graduation party, Kyle's entire world upends—literally. Their car crashes and when he awakes, he has a brain injury. Kimberly is dead. And no one in his life could possibly understand.

Until Marley. Marley is suffering from her own loss, a loss she thinks was her fault. And when their paths cross, Kyle sees in her all the unspoken things he's feeling.

As Kyle and Marley work to heal each other's wounds, their feelings for each other grow stronger. But Kyle can't shake the sense that he's headed for another crashing moment that will blow up his life as soon as he's started to put it back together.

And he's right.
One Way Or Another by Kara McDowell (Scholastic)
Sliding Doors meets To All the Boys I've Loved Before in a sweet, smart holiday romance about a girl who decides to stop letting her anxiety stand in the way of true love.

The average person makes 35,000 decisions every single day. That's about 34,999 too many for Paige Collins who lives in debilitating fear of making the wrong choice. The simple act of picking an art elective is enough to send her into a spiral of what ifs. What if she's destined to be a famous ceramicist but wastes her talent in drama club? What if there's a carbon monoxide leak in the ceramics studio and everyone drops dead? (Grim, but possible!)

That's why when Paige is presented with two last-minute options for Christmas vacation, she's paralyzed by indecision. Should she go with her best friend (and longtime crush) Fitz to his family's romantic mountain cabin? Or should she accompany her mom to New York, a city Paige has spent her whole life dreaming about?

Just when it seems like Paige will crack from the pressure of choosing, fate steps in -- in the form of a slippery grocery store floor -- and Paige's life splits into two very different parallel paths. One path leads to New York where Paige falls for the city . . . and the charms of her unexpected tour guide. The other leads to the mountains where Paige might finally get her chance with Fitz . . . until her anxiety threatens to ruin everything.

However, before Paige gets her happy ending in either destiny, she'll have to face the truth about her struggle with anxiety -- and learn that you don't have to be "perfect" to deserve true love.
Into the Real by Z Brewer (Quill Tree Books)
Three Quinns. Three realities. Three Brumes.

The first Brume is a waking nightmare, overrun by literal monsters and cutthroat survivors. For Quinn, who is openly genderqueer, the only silver lining is their friendship with Lia—and the hope that there might still be a safe place somewhere else in the world.

The second Brume is a prison with no bars. Forced to "sort out" their sexuality with other teens at Camp Redemption, Quinn must also figure out why presenting as female has never felt quite right.

The third Brume is a warzone. For Quinn, who presents as male, leading the Resistance against an authoritarian government is hard, since even the Resistance might not accept them if they knew Quinn's truth.

As Quinn starts to realize that they might be one person alternating among these three worlds and identities, they wonder: Which world is the real one? Or do they all contain some deeper truth?

You can't run from the monster. The monster is you.
Hush by Dylan Farrow (Wednesday Books)
How do you speak up in a world where propaganda is a twisted form of magic?

In the land of Montane, language is literal magic to the select few who possess the gift of Telling. This power is reserved for the Bards, and, as everyone knows, the Bards have almost always been men.

Seventeen-year-old Shae has lived her entire life in awe of the Bards—and afraid of the Blot, a deadly disease spread by ink, which took the life of her younger brother five years ago. Ever since, Shae fears she's cursed. But when tragedy strikes again, and her mother is
found murdered with a golden dagger—a weapon used only by the Bards—Shae is forced to act.

With a heart set on justice, Shae journeys to High House in search of answers. But when the kind, fatherly Cathal, the High Lord of Montane, makes Shae an undeniable offer to stay and train as a Bard, Shae can't refuse.

Through this twisty tale, Shae endures backbreaking training by a ruthless female Bard, tentative and highly-forbidden feelings for a male Bard with a dark past, and a castle filled with dangerous illusions bent on keeping its secrets buried. But sometimes, the truth is closer than we think. We just have to learn to listen.

A stunning and timely debut from activist Dylan Farrow, HUSH is a powerful feminist fantasy full of surprising insights, that casts a ray of light into the shadows of a society based on silencing and lies.
War Of Swallowed Stars by Sangu Mandanna (Sky Pony Press)
A prince without his kingdom.

A kingdom without its princess.

The destruction of the stars themselves.

War is destroying the galaxy. Esmae has vanished without a trace. A terrifying, ravenous beast is devouring the stars one by one. Titania is offered a gift that may well be a curse. Alexi, the exiled prince, is asked to pay a heavy price for his mistakes. And far, far away, on a dark, mysterious planet, a sleeping god stirs awake.

War or family.

Pride or peace.

As the end of the world draws ever closer, Esmae and Alexi must decide how far they'll go to win—and who they'll sacrifice along the way.

Celebrated author Sangu Mandanna promises a gripping conclusion to the Celestial Trilogy in A War of Swallowed Stars.
Eventide by Sarah Goodman (Tor Teen)
MADNESS, SECRETS, AND THE LENGTHS WE'LL GO TO KEEP THEM BURIED.

Wheeler, Arkansas, 1907

When her father descends into madness, Verity Pruitt and her little sister Lilah find themselves uprooted from New York, on an orphan train to rural Arkansas.

In Wheeler, Lilah is quickly adopted by the town's beloved schoolteacher—but Verity is not. Willing to do anything to stay close, she pawns herself off as a farmhand, but even charming farm boy Abel Atchley can't completely distract her from the sense that something is not quite right in this little town. Strange local superstitions abound, especially about the eerie old well at the center of the forest. The woods play tricks, unleashing heavy fog and bone-chilling cold…and sometimes visions of things that aren't there.

But for Verity, perhaps most unsettling of all is the revelation that her own parents have a scandalous history in this very town. And as she tries to unearth the past, sinister secrets come with it—secrets that someone will go to violent lengths to protect.
The Mirror: Broken Wish by Julie C. Dao (Disney Hyperion)
Sixteen-year-old Elva has a secret. She has visions and strange powers that she will do anything to hide. She knows the warnings about what happens to witches in their small village of Hanau. She's heard the terrible things people say about the Witch of the North Woods, and the malicious hunts that follow.

But when Elva accidentally witnesses a devastating vision of the future, she decides she has to do everything she can to prevent it. Tapping into her powers for the first time, Elva discovers a magical mirror and its owner-none other than the Witch of the North Woods herself. As Elva learns more about her burgeoning magic, and the lines between hero and villain start to blur, she must find a way to right past wrongs before it's too late.

The Mirror: Broken Wish marks the first book in an innovative four-book fairy-tale series written by Julie C. Dao, Dhonielle Clayton, Jennifer Cervantes, and L. L. McKinney, following one family over several generations, and the curse that plagues it.
A Deadly Education by Naomi Novik (Del Ray Books) - technically an adult title.
From the New York Times bestselling author of Uprooted and Spinning Silver comes the story of an unwilling dark sorceress who is destined to rewrite the rules of magic.

I decided that Orion Lake needed to die after the second time he saved my life.

Everyone loves Orion Lake. Everyone else, that is. Far as I'm concerned, he can keep his flashy combat magic to himself. I'm not joining his pack of adoring fans.

I don't need help surviving the Scholomance, even if they do. Forget the hordes of monsters and cursed artifacts. I'm probably the most dangerous thing in the place. Just give me a chance and I'll level mountains and kill untold millions, make myself the dark queen of the world.

At least, that's what the world expects me to do. Most of the other students in here would be delighted if Orion killed me like one more evil thing that's crawled out of the drains. Sometimes I think they want me to turn into the evil witch they assume I am. The school itself certainly does.

But the Scholomance isn't getting what it wants from me. And neither is Orion Lake. I may not be anyone's idea of the shining hero, but I'm going to make it out of this place alive, and I'm not going to slaughter thousands to do it, either.

Although I'm giving serious consideration to just one.

With flawless mastery, Naomi Novik creates a heroine for the ages—a character so sharply realized and so richly nuanced that she will live on in hearts and minds for generations to come.
The Code for Love and Heartbreak by Jillian Cantor (Inkyard Press)
From USA TODAY bestselling author Jillian Cantor comes a smart, edgy update of Jane Austen's beloved classic Emma .

Emma Woodhouse is a genius at math, but clueless about people. After all, people are unreliable. They let you down—just like Emma's sister, Izzy, did this year, when she moved to California for college. But numbers…those you can count on. (No pun intended.)

Emma's senior year is going to be all about numbers, and seeing how far they can take her. When she and George, her Coding Club copresident, are tasked with brainstorming a new project, The Code for Love is born—a matchmaking app that goes far beyond swiping, using algorithms to calculate compatibility. George disapproves of Emma's idea, accusing her of meddling in people's lives. But all the happy new couples at school are proof that the app works. At least at first.

Emma's code is flawless. So why is it that perfectly matched couples start breaking up, the wrong people keep falling for each other and her own feelings defy any algorithm? Emma thought math could solve everything. But there's nothing more complex—or unpredictable—than love.
Something Happened to Ali Greenleaf by Hayley Krischer (Razorbill)
For fans of Rory Power and Laurie Halse Anderson, this sharp, emotional debut follows Ali, a high school junior reeling from a recent sexual assault, and Blythe, a popular senior--and the rapist's longtime friend--who tries to gain Ali's trust in hopes of dissuading her from turning him in.

Ali Greenleaf and Blythe Jensen couldn't be more different. Ali is sweet, bitingly funny, and just a little naive. Blythe is beautiful, terrifying, and the most popular girl in school. At a party one night, the girls' lives collide when Ali decides she'll finally make her move on Sean Nessel, the hottest guy in school, her longtime crush, and Blythe's best friend. But when Sean pushes Ali farther than she wants to go, she is forced to confront a horrible truth--Sean raped her.

Afraid for his reputation and his future, Sean begs Blythe to convince Ali that he didn't do anything wrong. Blythe complies because, as much as she tries to deny it, she's been in love with Sean for years. She tries to befriend Ali, inviting her to the exclusive senior bathroom, letting her hang out with her gang of ruthless popular girls, and sharing her own dark secrets. But getting closer to Ali also digs up memories of the sexual assault Blythe experienced during an elite "initiation" she was part of as a freshman--one she's expected to carry on as a senior.

In the aftermath of what happened at the party that night, Ali and Blythe must navigate tumultuous relationships, the effects of trauma, and what empowerment means to them.
The Invisible Life of Addie La Rue by V.E. Schwab (Tor Books) - technically an adult title.
A Life No One Will Remember. A Story You Will Never Forget.

France, 1714: in a moment of desperation, a young woman makes a Faustian bargain to live forever―and is cursed to be forgotten by everyone she meets.

Thus begins the extraordinary life of Addie LaRue, and a dazzling adventure that will play out across centuries and continents, across history and art, as a young woman learns how far she will go to leave her mark on the world.

But everything changes when, after nearly 300 years, Addie stumbles across a young man in a hidden bookstore and he remembers her name.
Spell Starter by Elsie Chapman (Scholastic)
The Sting meets Fight Club in this magical, action-packed sequel to Caster by Elsie Chapman.

Yes, Aza Wu now has magic back. But like all things in her life, it has come at a great cost. After the tournament, Aza is able to pay off her parents' debt to Saint Willow. Unfortunately, the cost of the gathering spell she used to strip Finch of his magic has put her permanently in the employ of the gang leader. Aza has been doing little errands using real magic -- collecting debts, putting the squeeze on new businesses in the district. But that had never been the plan. Saint Willow is nothing if not ambitious and having Aza as a fighter is much more lucrative than as a fixer. Especially if she can control the outcome. Aza is going to have to put it all on the line again to get out of this situation!
The Secret Life of Kitty Granger by G. D. Falksen (Carolrhoda)
It's 1967, and Kitty Granger is about to accidentally become a spy. A working-class girl from London's East End who today would be recognized as autistic, she's spent sixteen years hiding her peculiarities from the world. But after her hyper-awareness helps her survive a chance encounter with a Russian spy ring, two British secret agents offer her a job.
Kitty's first mission draws her into a fascist conspiracy within the ranks of Parliament led by a prominent politician--who's also an unreformed Nazi sympathizer. With help from her team, Kitty must use her wits, training, and instincts to get out alive. And she might as well save the country while she's at it.
A Royal Christmas Quandry by Samantha Hastings (Swoon Reads)
Readers looking for a light, fun read full of holiday mischief will be delighted by Samantha Hastings' A Royal Christmas Quandary, perfect for fans of A Christmas Prince.
When you spend Christmas in a castle, anything is possible.
1860. Lady Alexandrina Gailey is looking forward to a cozy holiday at Windsor Castle with her best friend, Princess Alice, and her long-time crush, Lord George Worthington. But Drina's plans are all but dashed when Alice's parents, Queen Victoria and Prince Albert, declare that Alice must choose one of two royal princes to become engaged to before Christmas.
There's just one problem: George, a junior member of the Foreign Office, has accidentally misplaced one of the princes.
Together, Drina and George scour the town of Windsor for the missing prince, desperately hoping to deliver him to the royal dinner party with the queen and king none the wiser. They might just need a royal Christmas miracle to pull it off.
Blazewrath Games by Amparo Ortiz (Page Street)
How to Train Your Dragon meets Quidditch through the Ages in this debut fantasy, set in an alternate contemporary world, in which people compete with dragons in an international sports tournament.

Seventeen-year-old Lana Torres has always preferred dragons to people. In one week, sixteen countries will ship out riders and their dragons to the dunes of Dubai, where the Blazewrath World Cup is being held. Lana is gunning for a spot in her native Puerto Rico's team as their Runner—the only player without a dragon steed. While dragon riders score points in the skies, the runners must race past flames from rival dragons to be the first to get the Iron Scale to the top of the tallest dune.

After rescuing a prized dragon from an attacker, Lana finds herself with an unexpected gift from the International Federation of Blazewrath: A spot on the team. Reality sets in, however, when faced with the actual prospect of fleeing the seven-headed Hydras of Greece, dodging fireballs from the Russian Gorynych, and battling against the Chinese Shen-lung. What's worse, Lana has to deal with the return of The Sire, an ancient dragon who's been cursed to remain in human form. He might not be able to wield magic anymore, but The Sire's army is burning down dragon sanctuaries, freeing the captive dragons and murdering humans. And he will not stop until the Blazewrath World Cup is shut down. Permanently. All Lana ever wanted to be was a Runner, but now she must choose between playing the game she's been chosen for, or fighting the war no one asked her to.
Take Three Girls by Cath Crowley Simmone Howell and Fiona Wood (Sterling)
Three authors. Three appealing and relatable characters. One smart YA novel about a trio of unlikely friends who team up to take down the school cyberbully.
"Mean stuff spreads so fast. One click. Post. Send. Share. Online bullying = sometimes suicides, so all the private schools have strategies for dealing with it. At St Hilda's, it's Wellness classes. We greeted the idea with genuine enthusiasm. Why not? Everyone loves the chance to slack off."
Popular Ady seems cool and confident at school, but at home her family is falling apart. Brainiac Kate wants to pursue her dreams of playing music, even if it jeopardizes her academic scholarship. And swim champ Clem finds herself disenchanted with the sport . . . and falling for a very wrong boy. When these three very different girls are forced to team up in a wellness class, they're not too pleased. But over time, they bond—and when they're all targeted by PSST, a website that dishes out malicious gossip and lies, they decide to take a stand, uncover the culprits, and fight back. But can they really fix a broken system? With each girl's story told by a different author, as well as intriguing questionnaires from the wellness class included throughout, this empowering novel explores today's most relevant topics— from cyberbullying and fat shaming to drug abuse and financial stress.
I Hope You're Listening by Tom Ryan (Albert Whitman)
In her small town, seventeen year-old Delia "Dee" Skinner is known as the girl who wasn't taken. Ten years ago, she witnessed the abduction of her best friend, Sibby. And though she told the police everything she remembered, it wasn't enough. Sibby was never seen again.
At night, Dee deals with her guilt by becoming someone else: the Seeker, the voice behind the popular true crime podcast Radio Silent, which features missing persons cases and works with online sleuths to solve them. Nobody knows Dee's the Seeker, and she plans to keep it that way.
When another little girl goes missing, and the case is linked to Sibby's disappearance, Dee has a chance to get answers, with the help of her virtual detectives and the intriguing new girl at school. But how much is she willing to reveal about herself in order to uncover the truth? Dee's about to find out what's really at stake in unraveling the mystery of the little girls who vanished.
October 8th
Night by Alexandria Warwick (Wolf Publishing)
After months in captivity, Apaay managed to escape Yuki's labyrinth with her life. But her freedom did not come without a steep cost. When the Face Stealer, the North's most notorious demon, calls in her blood oath, Apaay must heed his demand. Debts, after all, must be repaid.

As Apaay attempts to navigate her uprooted life, something dark slithers among the snow-dusted conifers of the North. A long-dead war is unfinished, and there are those who would see it revived. In a place where misplaced loyalty could mean her death, Apaay must look inward to repair her broken soul—for if she cannot place trust in those around her, she might find enemies are closer than they appear.

In this stunning follow-up to Below, Alexandria Warwick brings the second book in her dark and seductive North series to thrilling new heights.
The Scorpio Sea Tarot by Maggie Stiefvater (
Llewellyn Worldwide)
From Maggie Stiefvater―#1 New York Times bestselling author of The Scorpio Races―comes a new tarot deck of rugged beauty and mystery. Like a charming flower that turns out conceal poison beneath its petals, Scorpio Sea Tarot seems simple on the surface but demands a closer look. Maggie Stiefvater's phenomenal art shows us that hard times may lie on the horizon, but if you brave the ocean, you will be rewarded in incredible ways. With its full-color companion book to guide you, this powerful deck gives you a deep sense of pride when the work is complete.
October 13th
The Truth Project by Dante Medema (HarperTeen)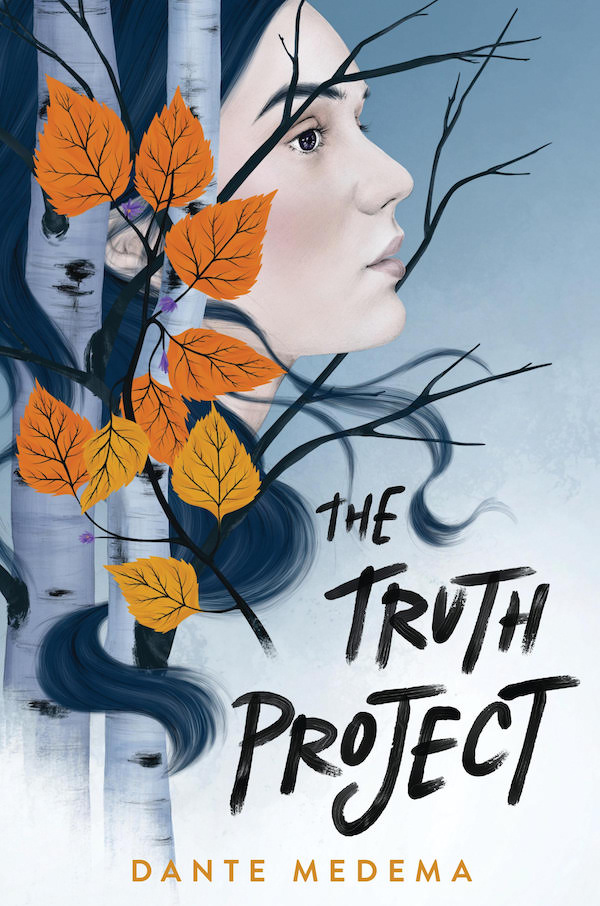 Seventeen-year-old Cordelia Koenig was sure of many things going into her last year of high school. For one, she wasn't going to stress over the senior project all her peers were dreading—she'd just use the same find-your-roots genealogy idea that her older sister used for hers. Secondly, she'd put all that time spent not worrying about the project toward getting reacquainted with former best friend and longtime crush Kodiak Jones who, conveniently, gets assigned as Cordelia's partner.
All she has to do is mail in her DNA sample, write about her ancestry results and breeze through the rest of senior year. Done, done and done.
But when Cordelia's GeneQuest results reveal that her father is not the man she thought he was but a stranger who lives thousands of miles away, Cordelia realizes she isn't sure of anything anymore—not the mother who lied, the life she was born into or the girl staring back at her in the mirror.
If your life began with a lie, how can you ever be sure of what's true?
Charming as a Verb by Ben Philippe (Balzer + Bray) - some editions dated September 2020, but author confirms this date.
From the award-winning author of The Field Guide to the North American Teenager comes a whip-smart and layered romantic comedy. Perfect for fans of Nicola Yoon and Jenny Han.
Henri "Halti" Haltiwanger can charm just about anyone. He is a star debater and popular student at the prestigious FATE academy, the dutiful first-generation Haitian son, and the trusted dog walker for his wealthy New York City neighbors. But his easy smiles mask a burning ambition to attend his dream college, Columbia University.
There is only one person who seems immune to Henri's charms: his "intense" classmate and neighbor Corinne Troy. When she uncovers Henri's less-than-honest dog-walking scheme, she blackmails him into helping her change her image at school. Henri agrees, seeing a potential upside for himself.
Soon what started as a mutual hustle turns into something more surprising than either of them ever bargained for. . . .
This is a sharply funny and insightful novel about the countless hustles we have to keep from doing the hardest thing: being ourselves.
Daughters of Jubilation by Kara Lee Kothron (Simon Pulse)
From the award-winning author of The Truth of Right Now comes a stunning, grounded fantasy in the vein of Dread Nation that follows a black teen as she finds her place among a family of women gifted with magical abilities.

In the Jim Crow South, white supremacy reigns and tensions are high. But Evalene Deschamps has other things to worry about. She has two little sisters to look after, an overworked single mother, and a longtime crush who is finally making a move.

On top of all that, Evvie's magic abilities are growing stronger by the day. Her family calls it jubilation—a gift passed down from generations of black women since the time of slavery. And as Evvie's talents waken, something dark comes loose and threatens to resurface…

And when the demons of Evvie's past finally shake free, she must embrace her mighty lineage, and summon the power that lies within her.
Time Travel For Love and Profit by Sarah Lariviere (Knopf)
When Nephele has a terrible freshman year, she does the only logical thing for a math prodigy like herself: she invents a time travel app so she can go back and do it again (and again, and again) in this funny love story, Groundhog Day for the iPhone generation.

Fourteen-year-old Nephele used to have friends. Well, she had a friend. That friend made the adjustment to high school easily, leaving Nephele behind in the process. And as Nephele looks ahead, all she can see is three very lonely years.

Nephele is also a whip-smart lover of math and science, so she makes a plan. Step one: invent time travel. Step two: go back in time, have a do-over of 9th grade, crack the code on making friends and become beloved and popular.

Does it work? Sort of. Nephele does travel through time, but not the way she planned--she's created a time loop, and she's the only one looping. And she keeps looping, for ten years, always alone. Now, facing ninth grade for the tenth time, Nephele knows what to expect. Or so she thinks. She didn't anticipate that her new teacher would be a boy from her long ago ninth grade class, now a grown man; that she would finally make a new friend, after ten years. And, she couldn't have pictured someone like Jazz, with his deep violet eyes, goofy magic tricks and the quietly intense way he sees her. After ten freshman years, she still has a lot more to learn. But now that she's finally figured out how to go back, has she found something worth staying for?
Junk Boy by Tony Abbott (Katherine Tegan Books)
Bestselling author Tony Abbott's YA novel-in-verse is an unflinching and heartbreaking look at a boy's junk-filled life, and the ways he finds redemption and hope, perfect for fans of The Crossover and Long Way Down.

Junk. That's what the kids at school call Bobby Lang, mostly because his rundown house looks like a junkyard, but also because they want to put him down. Trying desperately to live under the radar at school—and at the home he shares with his angry, neglectful father—Bobby develops a sort of proud loneliness. The only buffer between him and the uncaring world is his love of the long, wooded trail between school and home.

Life grinds along quietly and hopelessly for Bobby until he meets Rachel. Rachel is an artist who sees him in a way no one ever has. Maybe it's because she has her own kind of junk, and a parent who hates what Rachel is: gay. Together the two embark on journeys to clean up the messes that fill their lives, searching against all odds for hope and redemption.

Narrated in Bobby's unique voice in arresting free verse, this novel will captivate readers right from its opening lines, urging them on page after page, all the way to its explosive conclusion.
Renegade Rule by Ben Kahn, Rachel Silverstein and Sam Back (Dark Horse)
Prepare for competitive gaming like you've never seen it!

The Manhattan Mist have beaten the odds to land themselves in the national championships for Renegade Rule, one of the hottest virtual reality games in existence. But they're in for competition fiercer than they ever imagined, and one team member's entire future could be at stake. Four queer female friends will have to play harder than ever against self-doubt, infighting, romantic distraction, and a slew of other world-class teams if they hope to become champions.

Both hilarious and heartwarming, this new graphic novel from Ignatz-nominated writer Ben Kahn, debut author Rachel Silverstein, and artist Sam Beck is a celebration of friendship, competition, queer identity, and the insane things we do for the things and people we love.
Fangirl, Vol 1: The Manga by Rainbow Rowell, Gabi Nam and Sam Maggs (VIZ)
The manga adaptation of the beloved novel by #1 Bestselling author Rainbow Rowell!

Cath is a Simon Snow fan. Okay, everybody is a Simon Snow fan, but for Cath, being a fan is her life. Cath's sister has mostly grown away from fandom, but Cath just can't let go. Now that they're in college, Cath must decide if she's ready to start living her own life. But does she even want to if it means leaving Simon Snow behind?

Cath doesn't need friends IRL. She has her twin sister, Wren, and she's a popular fanfic writer in the Simon Snow community with thousands of fans online. But now that she's in college, Cath is completely outside of her comfort zone. There are suddenly all these new people in her life. She's got a surly roommate with a charming boyfriend, a writing professor who thinks fan fiction is the end of the civilized world, a handsome new writing partner ... And she's barely heard from Wren all semester!
The Magic Fish by Trung Le Ngyun (Random House)
Tiến loves his family and his friends…but Tiến has a secret he's been keeping from them, and it might change everything. An amazing YA graphic novel that deals with the complexity of family and how stories can bring us together.

Real life isn't a fairytale.

But Tiến still enjoys reading his favorite stories with his parents from the books he borrows from the local library. It's hard enough trying to communicate with your parents as a kid, but for Tiến, he doesn't even have the right words because his parents are struggling with their English. Is there a Vietnamese word for what he's going through?

Is there a way to tell them he's gay?

A beautifully illustrated story by Trung Le Nguyen that follows a young boy as he tries to navigate life through fairytales, an instant classic that shows us how we are all connected. The Magic Fish tackles tough subjects in a way that accessible with readers of all ages, and teaches us that no matter what—we can all have our own happy endings.
Winter, White and Wicked by Shannon Dittemore (Abrams)
Mad Max: Fury Road meets Frozen in this striking YA fantasy about a rig driver's journey to save her friend

Twice-orphaned Sylvi has chipped out a niche for herself on Layce, an island cursed by eternal winter. Alone in her truck, she takes comfort in two things: the solitude of the roads and the favor of Winter, an icy spirit who has protected her since she was a child. But when her best friend, Lenore, runs off with the rebels, she finds herself making a haul too late in the season for a smuggler whom she wouldn't normally work with, the infamous Mars Dresden. Alongside his team—Hyla, a giant warrior woman, and Kyn, a boy with skin like stone—Sylvi will do whatever it takes to save her friend. But when the time comes, she'll will have to choose: safety, anonymity, and the favor of Winter—or the future of the island that she calls home.
Everything I Thought I Knew by Shannon Takaoka (Candlewick)
Seventeen-year-old Chloe had a plan: work hard, get good grades, and attend a top-tier college. But after she collapses during cross-country practice and is told she needs a new heart, all her careful preparations are laid to waste. Six months after her transplant, everything is different. Stuck in summer school with the underachievers, the "new Chloe" takes heedless risks, like skipping her anti-rejection meds while running wild with the class party girl and nearly crashing a motorcycle she's not even licensed to drive. Even more unsettling: her recurring nightmares of dying and the strange, vivid memories she doesn't recognize as her own.

The only place Chloe feels at home is in the ocean, where she's learning to surf the Pacific's wild waves and slowly falling for her instructor, Kai. But as her strange symptoms continue, she becomes more and more convinced that something is wrong with her new heart—or even worse, her mind. As Chloe searches for answers, what she learns will lead her to question everything she thought she knew about life, death, love, identity and the true nature of reality.
Caraval: The Collector's Edition by Stephanie Garber (Flatiron Books)
The acclaimed New York Times bestseller! Welcome, welcome to Caraval—Stephanie Garber's sweeping tale of the unbreakable bond between two sisters. It's the closest you'll ever find to magic in this world...

Scarlett has never left the tiny island where she and her beloved sister, Tella, live with their powerful, and cruel, father. Now Scarlett's father has arranged a marriage for her, and Scarlett thinks her dreams of seeing Caraval, the far-away, once-a-year performance where the audience participates in the show, are over.

But this year, Scarlett's long-dreamt of invitation finally arrives. With the help of a mysterious sailor, Tella whisks Scarlett away to the show. Only, as soon as they arrive, Tella is kidnapped by Caraval's mastermind organizer, Legend. It turns out that this season's Caraval revolves around Tella, and whoever finds her first is the winner.

Scarlett has been told that everything that happens during Caraval is only an elaborate performance. But she nevertheless becomes enmeshed in a game of love, heartbreak, and magic with the other players in the game. And whether Caraval is real or not, she must find Tella before the five nights of the game are over, a dangerous domino effect of consequences is set off, and her sister disappears forever.

Welcome, welcome to Caraval . . . beware of getting swept too far away.
Rural Voices: 15 Authors Challenge Assumptions About Small-Town America by Various YA Authors (Candlewick)
Think you know what rural America is like? Discover a plurality of perspectives in this enlightening anthology of stories that turns preconceptions on their head.

Gracie sees a chance of fitting in at her South Carolina private school, until a "white trash"-themed Halloween party has her steering clear of the rich kids. Samuel's Tejano family has both stood up to oppression and been a source of it, but now he's ready to own his true sexual identity. A Puerto Rican teen in Utah discovers that being a rodeo queen means embracing her heritage, not shedding it. . . .

For most of America's history, rural people and culture have been casually mocked, stereotyped, and, in general, deeply misunderstood. Now an array of short stories, poetry, graphic short stories, and personal essays, along with anecdotes from the authors' real lives, dives deep into the complexity and diversity of rural America and the people who call it home. Fifteen extraordinary authors - diverse in ethnic background, sexual orientation, geographic location, and socioeconomic status - explore the challenges, beauty, and nuances of growing up in rural America. From a mountain town in New Mexico to the gorges of New York to the arctic tundra of Alaska, you'll find yourself visiting parts of this country you might not know existed - and meet characters whose lives might be surprisingly similar to your own.
Above All Else by Dana Alison Levy (Charlesbridge)
In a fictional tale as riveting, irresistible, and heartbreaking as Into Thin Air, teen climbing prodigies Rose and Tate attempt to summit—and survive—Mount Everest.

Rose Keller and Tate Russo have been climbing for years, training in harsh weather and traveling all over the world. The goal that kept them going: summiting Mount Everest, the highest point on earth. Accompanied by Tate's dad, the two will finally make the ultimate climb at the end of their senior year. But neither Rose nor Tate are fully in the game—not only is there a simmering romance between them, but Rose can't get her mind off her mother's illness, while Tate constantly fails to live up to his ambitious father's standards.

Everyone on their expedition has something to prove, it seems. And not everyone is making the best decisions while short on oxygen and physically and mentally exhausted. The farther up the mountain they go, the more their climbing plans unravel and the more isolated each team member becomes. Rose and Tate will have to dig deep within themselves to determine what—or who—they value above all else.
A Golden Fury by Samantha Cohoe (Wednesday Books)
Thea Hope longs to be an alchemist out of the shadow of her famous mother. The two of them are close to creating the legendary Philosopher's Stone—whose properties include immortality and can turn any metal into gold—but just when the promise of the Stone's riches is in their grasp, Thea's mother destroys the Stone in a sudden fit of violent madness.

While combing through her mother's notes, Thea learns that there's a curse on the Stone that causes anyone who tries to make it to lose their sanity. With the threat of the French Revolution looming, Thea is sent to Oxford for her safety, to live with the father who doesn't know she exists.

But in Oxford, there are alchemists after the Stone who don't believe Thea's warning about the curse—instead, they'll stop at nothing to steal Thea's knowledge of how to create the Stone. But Thea can only run for so long, and soon she will have to choose: create the Stone and sacrifice her sanity, or let the people she loves die.

In her debut novel, Samantha Cohoe weaves a story of magic and danger, where the streets of Oxford and London come to life, and the curse of the Philosopher's Stone will haunt you long after the final page.
You Know I'm No Good by Jessie Ann Foley (HarperTeen)
From Printz Honor winner and William C. Morris Award finalist Jessie Ann Foley comes the story of one girl's battle to define herself as something other than her reputation.
Mia is officially a Troubled Teen—she gets bad grades, drinks too much, and has probably gone too far with too many guys. But she doesn't realize how out of control her parents think she is until they send her away to Red Oak Academy, a therapeutic boarding school in rural Minnesota.
While there, Mia starts confronting her painful past, and questions the purpose of Red Oak. After all, if the Red Oak girls were boys, they never would have been treated the way that they are. Amidst the revelations that cause her to question the way that society treats young women, circumstances outside of her control force Mia to discover what happens when she makes herself vulnerable enough to be truly seen by the rest of the world.
Come On In by Various YA Authors (Inkyard Press)
This exceptional and powerful anthology explores the joys, heartbreaks and triumphs of immigration, with stories by bestselling and beloved YA authors who are themselves immigrants and the children of immigrants.

WELCOME

From some of the most exciting bestselling and up-and-coming YA authors writing today…journey from Ecuador to New York City and Argentina to Utah, from Australia to Harlem and India to New Jersey, from Fiji, America, Mexico and more… Come On In.

With characters who face random traffic stops, TSA detention, customs anxiety, and the daunting and inspiring journey to new lands, who camp with their extended families, dance at weddings, keep diaries, teach ESL, give up their rooms for displaced family, decide their own answer to the question "where are you from?" and so much more, Come On In illuminates fifteen of the myriad facets of the immigrant experience.
Lightbringer by Claire Legrand (Sourcebooks Fire)
The incredible conclusion to the trilogy that started with the instant New York Times bestsellers Furyborn and Kingsbane!

In this epic finale to the Empirium Trilogy from New York Times bestselling author Claire Legrand, two queens, separated by a thousand years must face their ultimate destinies.

Queen Rielle, pushed away from everything she loves, turns to Corien and his promises of glory. Meanwhile, whispers from the empirium slowly drive her mad, urging her to open the Gate. Separated from Audric and Ludivine, she embraces the role of Blood Queen and her place by Corien's side, determined to become the monster the world believes her to be.

In the future, Eliana arrives in the Empire's capital as a broken shell of herself. Betrayed and abandoned, she fights to keep her power at bay―and away from Corien, who will stop at nothing to travel back in time to Rielle, even if that means destroying her daughter.

But when the mysterious Prophet reveals themselves at last, everything changes, giving Rielle and Eliana a second chance for salvation―or the destruction their world has been dreading.
The Puppetmaster's Apprentice by Lisa DeSelm (Page Street)
Pinocchio meets Frankenstein in this dark fairy tale retelling where a young girl is commissioned to build an assassin for a dark-hearted tyrant.

Impressed by the work of the puppetmaster and his apprentice, Tavia's ruler, The Margrave, has ordered dozens of life-size marionette soldiers to be sent to Wolfspire Hall. When the orders for more soldiers come in with increasingly urgent deadlines, the puppetmaster's health suffers and Pirouette, his daughter and protégé, is left to build in his stead. But there is something far more twisted brewing at Wolfspire—the Margrave's son wants Pirouette to create an assassin. And he wants her to give it life.

With Tavia teetering on the brink of war and her father dying in the dungeons, Pirouette has no choice but to accept. Racing against the rise of the next blue moon—the magic that will bring her creations to life—she can't help but wonder, is she making a masterpiece...or a monster?
Long Way Down: The Graphic Novel by Jason Reynolds and Danica Novgorodoff
(Athenuem)
Jason Reynolds's Newbery Honor and Coretta Scott King Honor–winning, #1 New York Times bestselling novel Long Way Down is now a gripping, galvanizing graphic novel, with haunting artwork by Danica Novgorodoff.

Will's older brother, Shawn, has been shot.
Dead.
Will feels a sadness so great, he can't explain it. But in his neighborhood, there are THE RULES:

No. 1: Crying.
Don't.
No matter what.

No. 2: Snitching
Don't.
No matter what.

No. 3: Revenge
Do.
No matter what.

But bullets miss. You can get the wrong guy. And there's always someone else who knows to follow the rules…
Beyond the Ruby Veil by Mara Fitzgerald (Little, Brown)
Emanuela Ragno has always gotten exactly what she wanted. The privileged daughter of the House of Ragno, her daring and sharp mind has kept her from being the traditional young lady everyone wishes she would be. What other people think of her is no consequence, though--she is about to marry Ale, her best friend and heir to the first house of Occhia, despite the fact that they are both secretly gay. Through Ale, Emanuela will be able to rule the city.

However, Emanuela has another, deeper secret that could shatter her plans. In Occhia, the source of all water is the watercrea, a mysterious being with blood magic who requires all Occhians to give themselves to her when their first bruise-like omen appears on their skin. Throughout history, all Occhians have obeyed this rule. Except Emanuela. She has kept the tiny omen on her hip out of sight for years.

When the watercrea exposes her during her wedding ceremony, Emanuela fights back and kills her. But Occhia's water supply is dangerously low, and now they have no water source. In a race against time, Emanuela and Ale must travel through the mysterious, blood red veil that surrounds their city in order to uncover the secrets of the watercrea's magic and find a way to save Occhia--by any means necessary.
October 20th
Rebel Girls by Toni Onyebuchi (Razorbill)
In the epic, action-packed sequel to the "brilliant" (Booklist, starred review) novel War Girls, the battles are over, but the fight for justice has just begun.

It's been five years since the Biafran War ended. Ify is now nineteen and living where she's always dreamed–the Space Colonies. She is a respected, high-ranking medical officer and has dedicated her life to helping refugees like herself rebuild in the Colonies.

Back in the still devastated Nigeria, Uzo, a young synth, is helping an aid worker, Xifeng, recover images and details of the war held in the technology of destroyed androids. Uzo, Xifeng, and the rest of their team are working to preserve memories of the many lives lost, despite the government's best efforts to eradicate any signs that the war ever happened.

Though they are working toward common goals of helping those who suffered, Ify and Uzo are worlds apart. But when a mysterious virus breaks out among the children in the Space Colonies, their paths collide. Ify makes it her mission to figure out what's causing the deadly disease. And doing so means going back to the corrupt homeland she thought she'd left behind forever.
God Storm by Coco Ma (Blackstone Publishing)
Everything has a price.

In the kingdom of Axaria, a darkness has fallen. After defeating the evil mother who summoned an immortal demon to kill her, newly coronated Queen Asterin Faelenhart should have every reason to celebrate. Her kingdom is safe, forbidden magic eradicated, and her friends are alive. Except Asterin's triumph has come at a devastating cost - forced to choose between a lifelong friend and true love, she's lost both. But the shadows in Axaria have begun to stir once again, and no one is more starved for vengeance than Asterin....

Yet it soon becomes clear that the shadows plaguing her kingdom are just the beginning. Another realm coexists with the mortal world - the beautiful, nightmarish Immortal Realm ruled by the wicked God of Shadow, King Eoin. When their paths entwine, Asterin realizes that Eoin possesses exactly what - and who - she seeks most. And the fates of all those that she holds dear - Orion, her missing Guardian; Luna, the friend she could not save; Harry, the demon who saved them all; and Quinlan, her beloved broken prince - ultimately rest in the god's hands.

But in a world of magic, not everyone is always as they seem. When shocking discoveries threaten everything and everyone Asterin has sworn her life to protect, she won't be the only person forced to make a choice...a choice that will change the mortal world forever.

And maybe even destroy it.
Together, Apart by Various YA Authors (Delacorte)
A collection of original contemporary love stories set during life in lockdown by some of today's most popular YA authors.

Erin Craig "delivers" on a story about a new girl in town and the cute pizza delivery boy, Auriane Desombre captures our hearts with teens communicating through window signs, and Bill Konigsberg takes us along on daily walks with every step bringing us closer to love. There's flirting and romance from Rachael Lippincott, a tale of a determined girl with a mask-making business from Erin Hahn, and a music-inspired love connection from Sajni Patel. Brittney Morris turns enemies to lovers with the help of a balcony herb garden, Jennifer Yen writes an unconventional romance that starts outside a hospital, and Natasha Preston's teens discover each other--and their love story--in a storybook oak tree.

Romantic, realistic, sweet and uplifting, TOGETHER, APART is a collection of finding love in unexpected places during an unprecedented time . . . each with the one thing we all want: a guaranteed happy ending.
Poisoned by Jennifer Donnelly (Scholastic)
From Jennifer Donnelly, author of the acclaimed New York Times bestseller Stepsister, comes a fairytale retelling that'll forever change the way you think about strength, power, and the real meaning of "happily ever after."
Once upon a time, a girl named Sophie rode into the forest with the queen's huntsman. Her lips were the color of ripe cherries, her skin as soft as new-fallen snow, her hair as dark as midnight. When they stopped to rest, the huntsman took out his knife . . . and took Sophie's heart.

It shouldn't have come as a surprise. Sophie had heard the rumors, the whispers. They said she was too kind and foolish to rule -- a waste of a princess. A disaster of a future queen. And Sophie believed them. She believed everything she'd heard about herself, the poisonous words people use to keep girls like Sophie from becoming too powerful, too strong . . .

With the help of seven mysterious strangers, Sophie manages to survive. But when she realizes that the jealous queen might not be to blame, Sophie must find the courage to face an even more terrifying enemy, proving that even the darkest magic can't extinguish the fire burning inside every girl, and that kindness is the ultimate form of strength.
Among the Beast and Briars by Ashley Poston (Balzer + Bray)
Cerys is safe in the kingdom of Aloriya.

Here there are no droughts, disease, or famine, and peace is everlasting. It has been this way for hundreds of years, since the first king made a bargain with the Lady who ruled the forest that borders the kingdom. But as Aloriya prospered, the woods grew dark, cursed, and forbidden. Cerys knows this all too well: when she was young, she barely escaped as the woods killed her friends and her mother. Now Cerys carries a small bit of the curse—the magic—in her blood, a reminder of the day she lost everything. The most danger she faces now, as a gardener's daughter, is the annoying fox who stalks the royal gardens and won't leave her alone.

As a new queen is crowned, however, things long hidden in the woods descend on the kingdom itself. Cerys is forced on the run, her only companions the small fox from the garden, a strange and powerful bear, and the magic in her veins. It's up to her to find the legendary Lady of the Wilds and beg for a way to save her home. But the road is darker and more dangerous than she knows, and as secrets from the past are uncovered amid the teeth and roots of the forest, it's going to take everything she has just to survive.
You Were Never Here by Kathleen Peacock (HarperTeen)
Cat hasn't been to Montgomery Falls, the town her family founded, since she was twelve years old. Since the summer she discovered she could do things that no normal twelve-year-old could do. Since she had her first kiss with Riley Fraser. Since she destroyed their friendship.
Now, five years later, she's back and Riley has disappeared.
For the last three months no one has heard from or seen Riley. And while there are all sorts of conspiracy theories about where he went, neither the police nor his parents are any closer to finding him. When Noah, Riley's brother, asks for help in discovering what happened, Cat is torn between wanting to learn the truth and protecting the secret that she's been guarding ever since that summer she and Riley stopped speaking.
But then a girl is discovered floating in the river, barely alive with no knowledge of who attacked her or why. With the possibility that someone out there is hunting teens, Cat must make a choice: Use her unusual ability to discover the truth and find Riley or keep running away from a power she can't control. Only one choice will put her in a killer's sights…
The Brightest Night by Jennifer L. Armentrout (Tor Teen)
The thrills, drama, and intrigue continue in the third installment of the Origin series from #1 New York Times bestselling author Jennifer L. Armentrout.

He is the darkest star.
You are the burning shadow.
And together, you will bring about the brightest night.

Less than a year ago, Evelyn Dasher was a normal girl, living an unremarkable life.

Now, she's on the run, under the protection of the beautiful, deadly inhuman Luc. She's been betrayed by those who were closest to her. And she's learned truths about herself that she never saw coming--things she once knew, and was made to forget. Truths with devastating consequences. She's caught in the eye of the storm.

She is the eye of the storm.
The Heart Underwater by Laurel Flores Fantauzzo (HarperTeen)
After Corazon's mother catches her kissing her older female teacher, Corazon is sent to the Philippines to live with a half brother she barely knows. There she learns more about loss and love than she could have ever imagined.

Corazon Tagubio is an outcast at her Catholic school. She's attending on scholarship, she keeps to herself, and her crush on her teacher Ms. Holden doesn't help anything. At home, Cory's less-than-perfect grades disappoint her mom and dad, who are already working overtime to support her distant half brother in the Philippines.

When an accident leaves her dad comatose, Cory feels like Ms. Holden is the only person who really sees her. But when a crush turns into something more and the secret gets out, Cory is sent to her half brother. She's not prepared to face a stranger in an unfamiliar place, but she begins to discover how the country that shaped her past might also change her future.

This #ownvoices story takes readers on a journey across the world as Cory comes to understand her family, her relationships, and, ultimately, herself.
Foreshadow: A Serial YA Anthology by Malinda Lo and Emily X. R. Pan (Algonquin)
Thirteen Short Stories from Bold New YA Voices & Writing Advice from YA Icons
Created by

New York Times

bestselling authors Emily X. R. Pan and Nova Ren Suma,

FORESHADOW

is so much more than a short story collection. A trove of unforgettable fiction makes up the beating heart of this book, and the accompanying essays offer an ode to young adult literature, as well as practical advice to writers.
Featured in print for the first time, the thirteen stories anthologized here were originally released via the buzzed-about online platform

FORESHADOW

. Ranging from contemporary romance to mind-bending fantasy, the

FORESHADOW

stories showcase underrepresented voices and highlight the beauty and power of YA fiction. Each piece is selected and introduced by a YA luminary, among them Gayle Forman, Laurie Halse Anderson, Jason Reynolds, and Sabaa Tahir.
What makes these memorable stories tick? What sparked them? How do authors build a world or refine a voice or weave in that deliciously creepy atmosphere to bring their writing to the next level? Addressing these questions and many more are essays and discussions on craft and process by Nova Ren Suma and Emily X. R. Pan.
This unique compilation reveals and celebrates the magic of reading and writing for young adults.
October 27th
Warriors of Wing and Flame by Sara B. Larson (Tor Teen)
Acclaimed author Sara B. Larson continues her enchanting YA fantasy duology with a timeless fairytale feel in an original voice

The doorway between the magical Visempirum and the human world has been reopened. Paladin are once more living in the citadel where Zuhra and Inara grew up completely isolated by the magical hedge that trapped them there. Amidst the brewing conflict between the Paladin and humans looms the threat of Barloc, who has stolen Inara's immense power and continues to elude the Paladin who are desperately searching for him.

In this sequel to Sisters of Shadow and Light, Inara and Zuhra must navigate the treacherous paths of self-discovery, their love for each other, and for the boys who have captured their hearts. Together, they search for the strength within themselves to bridge the divide between the two worlds they inhabit, even as war threatens to destroy everything—and everyone—they love.
Monsters Among Us by Monica Rodden (Crown)
Fans of Sadie and You will be riveted by this compulsively readable new thriller about a survivor of dating violence who uses her newfound awareness of everyday evil to hunt for a killer.

When Catherine Ellers returns home after her first semester at college, she is seeking refuge from a night she can barely piece together, dreads remembering, and refuses to talk about. She tries to get back to normal, but just days later the murder of someone close to her tears away any illusion of safety.

Catherine feels driven to face both violent events head on in hopes of finding the perpetrators and bringing them to justice with the help of her childhood friend, Henry. Then a stranger from college arrives with her lost coat, missing driver's license--and details to help fill in the gaps in her memory that could be the key to solving both mysteries. But who is Andrew Worthington and why is he offering to help her? And what other dangerous obsessions is her sleepy town hiding?

Surrounded by secrets and lies, Catherine must unravel the truth--before this wolf in sheep's clothing strikes again.
Anna and the French Kiss: Collector's Edition by Stephanie Perkins (Dutton)
Celebrate the 10th anniversary of this beloved romance classic with a one-of-a-kind, beautifully luxe edition that includes all-new bonus content.

"Stephanie Perkins's characters fall in love the way we all want to, in real time and for good." -Rainbow Rowell,

#1 New York Times bestselling author

Anna can't wait for her senior year in Atlanta, where she has a great job, a loyal best friend, and a crush on the verge of becoming more. So she's less than thrilled when her father unexpectedly ships her off to boarding school in Paris—until she meets Etienne St. Clair, the perfect boy. The only problem? He's taken, and Anna might be, too, if anything comes of her crush back home. Will a year of romantic near-misses end in the French kiss Anna awaits?
Magic Dark and Strange by Kelly Powell (Margaret K. McElderry)
The Bone Witch meets Sherlock Holmes in this thrilling historical fantasy about a girl with the ability to raise the dead who must delve into her city's dangerous magical underworld to stop a series of murders.

Catherine Daly has an unusual talent. By day she works for a printer. But by night, she awakens the dead for a few precious moments with loved ones seeking a final goodbye. But this magic comes with a price: for every hour that a ghost is brought back, Catherine loses an hour from her own life.

When Catherine is given the unusual task of collecting a timepiece from an old grave, she is sure that the mysterious item must contain some kind of enchantment. So she enlists Guy Nolan, the watchmaker's son, to help her dig it up. But instead of a timepiece, they find a surprise: the body of a teenage boy. And as they watch, he comes back to life—not as the pale imitation that Catherine can conjure, but as a living, breathing boy. A boy with no memory of his past.

This magic is more powerful than any Catherine has ever encountered, and revealing it brings dangerous enemies. Catherine and Guy must race to unravel the connection between the missing timepiece and the undead boy. For this mysterious magic could mean the difference between life and death—for all of them.
Nemesis and the Swan by Lindsay Bandy (Blackstone)
From her prison cell in revolutionary Paris, nineteen-year-old aristocrat Hélène d'Aubign recalls the events that led her to choose between following in her parents' unforgivable footsteps or abandoning the man she loves.

Despite her world of privilege, Hélène is inspired early on by the radical ideas of her progressive governess. Though her family tries to intervene, the seeds of revolution have already been planted in Hélène's heart, as are the seeds of love from an unlikely friendship with a young jeweler's apprentice. Hélène's determination to find true love is as revolutionary as her attempt to unravel the truth behind a chilling set of eye-shaped brooches and the concealed murder that tore her family apart.

As violence erupts in Paris, Hélène is forced into hiding with her estranged family, where the tangled secrets of their past become entwined with her own. When she finally returns to the blood-stained streets of Paris, she finds everything-and everyone-very much changed. In a city where alliances shift overnight, no one knows who to trust.

Faced with looming war, the mystery of her family's past, and the man she loves near death, Hélène will soon will find out if doing one wrong thing will make everything right, or if it will simply push her closer to the guillotine.