The electric second book in the Heart of Thorns trilogy explores the effects of power in a dark magical kingdom—and the fierce courage it takes to claim your body as your own.

Mia Rose is back from the dead. Her memories are hazy, her body numb—but she won't stop searching. Her only hope to save the boy she loves and the sister who destroyed her is to find the mother she can never forgive. Pilar is on a hunt of her own. Betrayed by her mother, and plagued by a painful secret, she's determined to seek out the only person who can exact revenge. All goes according to plan… until she collides with Prince Quin, the boy whose sister she killed.

As Mia, Pilar, and Quin forge dangerous new alliances, they are bewitched by the snow kingdom's promise of freedom and opportunity. But with the winter solstice drawing near, they must confront the truth beneath the glimmering ice, as lines between friend, foe, and lover vanish like snowflakes on a flame.
Hero by Micheal Grant (Katherine Tegan Books)
Monster. Villain. Hero.

Four years after the Perdido Beach dome went down, the alien virus that created it is still wreaking havoc, and virus-infested rock has created a new set of humans with mutant powers.

Rockborn gang members Dekka, Shade, Cruz, Malik, Armo, and Francis are fresh off their defeat of Dillion Poe and in need of answers to some very pressing questions about their own powers: who are the Dark Watchers? And what is this Fourth Dimension that only Francis can access?

But heroes don't get down time. When the alien-virus infested rock hits New York, a new foe, Bob Markovic, rises amongst the newly rockborn. Markovic's arrogance and lack of a moral compass already made him unbearable. With his newfound power to inflict a deadly disease, he could send all of humanity into a living hell. As they try to find their footing on morally gray grounds, the Rockborn Gang will have to make some tough decisions if they want to save the world.

Michael Grant bids farewell to the globally bestselling Gone universe with the finale to the Monster trilogy. Old friends and new foes come together in this battle for humanity. The mind-blowing and existential ending will make you rethink: What does it take to be a hero?
Every Stolen Breath by Kimberly Gabriel (Blink)
The Swarm is unrecognizable, untraceable, and unpredictable—random attacks on the streets of Chicago by a mob of crazed teens that leaves death in its wake. It's been two years since the last attack, but Lia Finch has found clues that reveal the Swarm is ready to claim a new victim.

Lia is the only one still pursuing her father's killers, two years after attorney Richard Finch's murder by the Swarm. Devastated and desperate for answers, Lia will do anything to uncover the reasons behind his death and to stop someone else from being struck down. But due to debilitating asthma and PTSD that leaves her with a tenuous hold on reality, Lia is the last person to mount a crusade on her own.

After a close encounter with the Swarm puts Lia on their radar, she teams up with a teen hacker, a reporter, and a mysterious stranger who knows firsthand how the mob works. Together, they work to uncover the master puppeteer behind the group. Though if Lia and her network don't stop the person pulling the strings—and fast—Lia may end up the next target.

Inspired by the real-life "flash mob" violence that has plagued Chicago since 2011, Every Stolen Breath by debut author Kimberly Gabriel is a fast-paced and immersive thriller that shows just how hard one girl will fight back, knowing any breath might be her last.
Shannon Price's A Thousand Fires is a breakout contemporary debut―think The Outsiders meets The Iliad―that's perfect for fans of Courtney Summers and Veronica Roth.

10 Years. 3 Gangs. 1 Girl's Epic Quest…

An extraordinary debut set in an alternate San Francisco and inspired by The Iliad…

Valerie Simons knows the gangs are dangerous—her little brother was shot and killed by the Boars two years ago.

Still, nothing will sway Valerie from wanting to join the elite and beautiful Herons and find her brother's killer. It doesn't hurt that her best friend Matthew is slated to become a Heron leader—and she'd follow him to the ends of the earth.

Then Valerie is recruited by the mysterious Stags when their volatile, provocative, and beyond charismatic leader Jax promises to help her get revenge. Torn between old love and new loyalty, Valerie races to finish the mission that got her into the gangs.

But no one truly wins the Wars.
Sisters of Shadow and Light by Sara B. Larson (Tor Teen)
Zuhra and Inara have grown up in the Citadel of the Paladins, an abandoned fortress where legendary, magical warriors once lived before disappearing from the world—including their Paladin father the night Inara was born.
On that same night, a massive, magical hedge grew and imprisoned them within the citadel. Inara inherited their father's Paladin power; her eyes glow blue and she is able to make plants grow at unbelievable rates, but she has been trapped in her own mind because of a "roar" that drowns everything else out—leaving Zuhra virtually alone with their emotionally broken human mother.
For 15 years they have lived, trapped in the citadel, with little contact with the outside world…until the day a stranger passes through the hedge, and everything changes.
A wrenchingly honest, thought-provoking exploration of a girl judged and dismissed by society who must break the cycle of shaming that traps her in her real life and comforts her in her online one.
In real life, eighteen-year-old Beth is overweight, shy, and geeky. She's been bullied all her life, and her only refuge is food. Online, though, she's a vicious troll who targets the beautiful, vain, oversharing It girls of the internet. When she meets Tori, a fellow troll, she becomes her online girlfriend-slash-partner-in-crime.
But then Tori picks a target who's a little too close to home for Beth. Unsettled, Beth decides to quit their online bullying partnership. The only problem is, Tori is not willing to let her go

.
Sick Kids in Love by Hannah Moskowitz (Entangled Teen)
The Toll by Neal Shusterman (Simon and Schuster)
From New York Times bestselling author Neal Shusterman comes the thrilling conclusion to the Printz Honor–winning series Arc of a Scythe.

It's been three years since Rowan and Citra disappeared; since Scythe Goddard came into power; since the Thunderhead closed itself off to everyone but Grayson Tolliver.

In this pulse-pounding conclusion to New York Times bestselling author Neal Shusterman's Arc of a Scythe trilogy, constitutions are tested and old friends are brought back from the dead.
Find Me Their Bones by Sara Wolf (Entangled Teen)
No one can save her.

In order to protect Prince Lucien d'Malvane's heart, Zera had to betray him. Now, he hates the sight of her. Trapped in Cavanos as a prisoner of the king, she awaits the inevitable moment her witch severs their magical connection and finally ends her life.

But fate isn't ready to give her up just yet.

With freedom coming from the most unlikely of sources, Zera is given a second chance at life as a Heartless. But it comes with a terrible price. As the king mobilizes his army to march against the witches, Zera must tame an elusive and deadly valkerax trapped in the tunnels underneath the city if she wants to regain her humanity.

Winning over a bloodthirsty valkerax? Hard. Winning back her friends before war breaks out? A little harder.

But a Heartless winning back Prince Lucien's heart?

The hardest thing she's ever done.
Girls of Storm and Shadow by Natasha Nygan (Jimmy Paterson Books)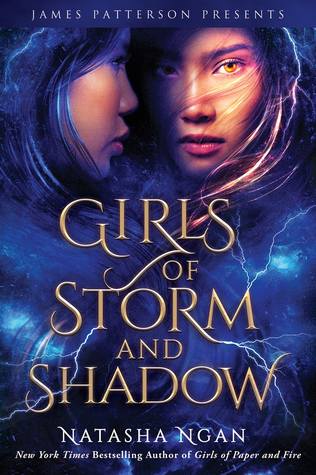 In this mesmerizing sequel to the New York Times bestselling Girls of Paper and Fire, Lei and Wren have escaped their oppressive lives in the Hidden Palace, but soon learn that freedom comes with a terrible cost.

Lei, the naive country girl who became a royal courtesan, is now known as the Moonchosen, the commoner who managed to do what no one else could. But slaying the cruel Demon King wasn't the end of the plan---it's just the beginning. Now Lei and her warrior love Wren must travel the kingdom to gain support from the far-flung rebel clans. The journey is made even more treacherous thanks to a heavy bounty on Lei's head, as well as insidious doubts that threaten to tear Lei and Wren apart from within.

Meanwhile, an evil plot to eliminate the rebel uprising is taking shape, fueled by dark magic and vengeance. Will Lei succeed in her quest to overthrow the monarchy and protect her love for Wren, or will she fall victim to the sinister magic that seeks to destroy her?
Refraction by Naomi Hughes (Page Street)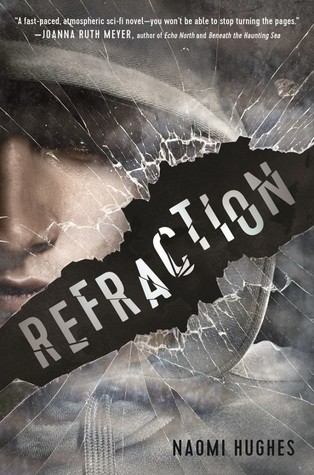 After an attack on earth, all reflective surfaces become weapons to release monsters, causing a planet-wide ban on mirrors. Despite the danger, the demand rises, and 17-year-old Marty Callahan becomes a distributor in an illegal mirror trade—until he's caught by the mayor's son, whose slate is far from clean. Both of them are exiled for their crimes to one of the many abandoned cities overrun by fog. But they soon realize their thoughts influence their surroundings and their deepest fears begin to manifest.

With fast pacing and riveting characters, this is a book that you'll finish in one sitting.
A Court of Thorns and Roses Collector's Edition by Sarah J Mass (Bloomsbury)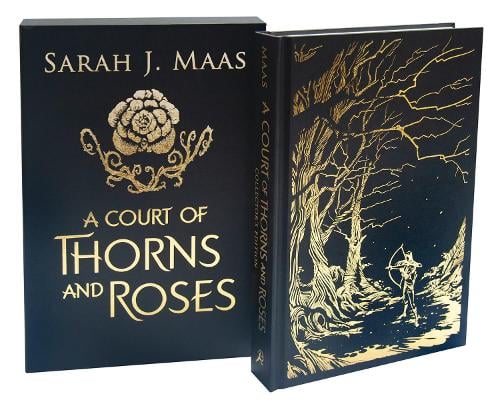 Experience Feyre Archeron's journey all over again with the beautiful collector's edition of A Court of Thorns and Roses, the seductive first book in the #1 New York Times bestselling series by Sarah J. Maas, featuring a deluxe new package, an updated map, ribbon pull, and more!

When nineteen-year-old Feyre kills a wolf in the woods, a beast-like creature arrives to demand retribution for it. Dragged to a treacherous magical land she only knows about from legends, Feyre discovers that her captor is not an animal, but Tamlin-one of the lethal, immortal faeries who once ruled their world.
As she dwells on his estate, her feelings for Tamlin transform from icy hostility into a fiery passion that burns through every lie and warning she's been told about the beautiful, dangerous world of the Fae. But an ancient, wicked shadow over the faerie lands is growing, and Feyre must find a way to stop it or doom Tamlin-and his world-forever.

All of the magic of Feyre's epic journey and romance is reflected in this enchanting, collectible edition of A Court of Thorns and Roses, which comes complete with a cloth slipcase featuring unique foil art on the case and book cover, ribbon pull, brand-new interior page designs, metallic endpapers, and a newly illustrated map.
November 6th
The How and the Why by Cynthia Hand (HarperTeen)
A poignant exploration of family and the ties that bind, perfect for fans of Far From the Tree, from New York Times bestselling author Cynthia Hand.

Today Melly had us writing letters to our babies…

Cassandra McMurtrey has the best parents a girl could ask for. They've given Cass a life she wouldn't trade for the world. She has everything she needs—except maybe the one thing she wants. Like, to know who she is. Where she came from. Questions her adoptive parents can't answer, no matter how much they love her.

But eighteen years ago, someone wrote Cass a series of letters. And they may just hold the answers Cass has been searching for.

Alternating between Cass's search for answers and letters from the pregnant teen who gave her up for adoption, this voice-driven narrative is the perfect read for fans of Nina LaCour and Jandy Nelson.
November 12th
When the Stars Lead to You by Ronnie Davis (Little, Brown)
Eighteen-year-old Devon longs for two things.

The stars.
And the boy she fell in love with last summer.

When Ashton breaks Devon's heart at the end of the most romantic and magical summer ever, she thinks her heart will never heal again. But over the course of the following year, Devon finds herself slowly putting the broken pieces back together.

Now it's senior year, and she's determined to enjoy every moment of it as she prepares for a future studying the galaxies. That is, until Ashton shows up on the first day of school. Can she forgive him and open her heart again? Or are they doomed to repeat history?

From debut author, Ronni Davis, comes a stunning novel about passion, loss, and the power of first love.
Colour Outside the Lines by Various Authors (Soho Teen)
Daniel Ehrenhaft at Soho Teen has bought Sangu Mandanna's Color Outside the Lines, a YA anthology centered around interracial relationships and the complicated, rewarding and sometimes hilarious dynamics between friends, family, and first loves. The collection features Anna-Marie McLemore, Elsie Chapman, Karuna Riazi, Lydia Kang, L.L. McKinney, Lori Lee, Lauren Gibaldi, Tara Sim, Eric Smith, Caroline Tung Richmond, Kelly Zekas, Tarun Shanker, Samira Ahmed and Adam Silvera, and more. Publication is set for fall 2019; Eric Smith at P.S. Literary brokered the deal for world rights.
Day Zero by Kelly DeVos (Harlequin Teen)
Don't miss the exhilarating new novel from the author of Fat Girl on a Plane , featuring a fierce, bold heroine who will fight for her family and do whatever it takes to survive. Fans of Susan Beth Pfeffer's Life As We Knew It series and Rick Yancey's The 5th Wave series will cheer for this fast-paced, near-future thrill ride.If you're going through hell...keep going.

Seventeen-year-old coder Jinx Marshall grew up spending weekends drilling with her paranoid dad for a doomsday she's sure will never come. She's an expert on self-heating meal rations, Krav Maga and extracting water from a barrel cactus. Now that her parents are divorced, she's ready to relax. Her big plans include making it to level 99 in her favorite MMORPG and spending her Thanksgiving Day break in Baja with her new hunky stepbrother, Tyrell.But all that disaster training comes in handy when an explosion traps her in a burning building. Stuck leading her headstrong stepsister, Makeeba, and her precocious little brother, Charles, to safety, Jinx gets them out alive only to discover the explosion is part of a pattern of violence erupting all over the country. Even worse, Jinx's dad stands accused of triggering the chaos.In a desperate attempt to evade paramilitary forces and vigilantes, Jinx and her siblings find Tyrell and make a break for Mexico. With seemingly the whole world working against them, they've got to get along and search for the truth about the attacks--and about each other. But if they can survive, will there be anything left worth surviving for?
Dead Moon Rising by Caitlin Sangster (Simon Pulse)
Sev must decode her mother's last words to find the cure to Sleeping Sickness before Dr. Yang can use it to blackmail the world into submitting to his rule in this thrilling finale to the Last Star Burning trilogy.

Sev finally knows where to find the cure to Sleeping Sickness. The only problem is that she's trapped in an endless sleep herself after refusing to give up her secrets to Dr. Yang.

Howl is determined to save Sev, but he has no idea where Dr. Yang is keeping her. When he runs into a group fleeing Port North on a mission of their own, he has no choice but to follow and hope they can get him back to the mountains before it's too late.

June, infected with SS by the very people she calls family, has now become the one thing she most fears. She's supposed to be Port North's insurance that Howl and Sev return with the cure, but June has other ideas.

And Tai-ge, reunited with the Reds, is airlifted to the City now overrun by SS. He's charged with getting the factories running again by any means necessary—no matter how many Sephs stand in his way.

There's only one thing strong enough to unite people who have been fighting for years, and Sev holds the key to it inside her mind. If she can't reach the cure in time, there may not be anyone left to save.
Crown of Oblivion by Julie Eshbaugh (HarperTeen)
Astrid is the surrogate for Princess Renya, which means she bears the physical punishment if Renya steps out of line. Astrid has no choice—she and her family are Outsiders, the lower class of people without magic and without citizenship.

But there is a way out of this life—competing in the deadly Race of Oblivion. To enter the race, an Outsider is administered the drug Oblivion, which wipes their memory clear of their past as they enter a new world with nothing to help them but a slip of paper bearing their name and the first clue. It's not as simple as solving a puzzle, however—for a majority of the contestants, the race ends in death. But winning would mean not only freedom for Astrid, but citizenship and health care for her entire family. With a dying father to think of, Astrid is desperate to prevail.

From the beginning, the race is filled with twists and turns. One of them is Darius, a fellow racer Astrid meets but isn't sure she can trust. Though they team up in the race, as Astrid's memories begin to resurface, she remembers just who he was to her—a scorned foe who may want revenge. Astrid also starts to notice she has powers no Outsider should—which could help her win the race, but also make her a target if anyone finds out. With stakes that couldn't be higher, Astrid must decide what is more important: risking her life to remember the mysteries of the past, or playing a cutthroat game in order to win her—and her family's—freedom.
The Sky Weaver by Kristen Ciccarelli (HarperTeen)
At the end of one world, there always lies another.

Safire, a soldier, knows her role in this world is to serve the King of Firgaard—helping to maintain the peace in her oft-troubled nation.

Eris, a deadly pirate, has no such conviction. Known as the Death Dancer for her ability to evade even the most determined of pursuers, she possesses a superhuman power to move between worlds.

When one can roam from dimension to dimension, can one ever be home? Can love and loyalty truly exist?

Now Safire and Eris—sworn enemies—find themselves on a common mission: to find Asha, the last Namsara. From the port city of Darmoor to the fabled faraway Star Isles, their search and their stories become woven ever more tightly together as they discover the uncertain fate they're hurtling towards may just be a shared one. In this world—and the next.
All-American Muslim Girl by Nadine Joline Courtney (FSG)
Allie Abraham has it all going for her—she's a straight-A student, with good friends and a close-knit family, and she's dating cute, popular, and sweet Wells Henderson. One problem: Wells's father is Jack Henderson, America's most famous conservative shock jock...and Allie hasn't told Wells that her family is Muslim. It's not like Allie's religion is a secret, exactly. It's just that her parents don't practice and raised her to keep her Islamic heritage to herself. But as Allie witnesses ever-growing Islamophobia in her small town and across the nation, she begins to embrace her faith—studying it, practicing it, and facing hatred and misunderstanding for it. Who is Allie, if she sheds the façade of the "perfect" all-American girl? What does it mean to be a "Good Muslim?" And can a Muslim girl in America ever truly fit in?

ALL-AMERICAN MUSLIM GIRL is a relevant, relatable story of being caught between two worlds, and the struggles and hard-won joys of finding your place.
Gravity by Sara Deming (Knopf Books)
A. S. King meets Chris Crutcher in boxing journalist Sarah Deming's YA novel about a young female boxer who learns to fight for what she wants.


When Gravity Delgado walks into Cops 'n Kids, a no-frills Brooklyn boxing gym, and starts working with the legendary Coach Thomas, she joins a true melting pot of fighters. There's the flirtatious Lefty (a southpaw), hard-to-beat D-Minus ("They call me D-Minus 'cause I'm all you need"), artistic Kimani "Monster" Browne, and a host of others. At the gym, Gravity finds the unexpected: the father she's never had in her coach, not one but two romantic prospects, and, most importantly, a love and skill for boxing. If she can stay focused, despite her troubled home life, she might just have a shot at the Olympics.

With each blow, each jab, and each punch, Sarah Deming draws her readers into the gritty and inspiring world of Gravity Delgado, a Jewish Dominican teenager growing up in Brooklyn and aspiring for greatness.
November 19th
The Queen of Nothing by Holly Black (Little, Brown)
The finale to the New York Times bestselling Folk of Air trilogy, that started with The Cruel Prince and The Wicked King, from award-winning author Holly Black.

After being pronounced Queen of Faerie and then abruptly exiled by the Wicked King Cardan, Jude finds herself unmoored, the queen of nothing. She spends her time with Vivi and Oak, watches her fair share of reality television, and does the odd job or two, including trying to convince a cannibalistic faerie from hunting her own in the mortal world.

When her twin sister Taryn shows up asking of a favor, Jude jumps at the chance to return to the Faerie world, even if it means facing Cardan, who she loves despite his betrayal.

When a dark curse is unveiled, Jude must become the first mortal Queen of Faerie and uncover how to break the curse, or risk upsetting the balance of the whole Faerie world.
Blood Heir by Amelie Wen Zhao (Delacorte)
This hot debut is the first book in an epic new series about a princess hiding a dark secret and the con man she must trust to clear her name for her father's murder.

In the Cyrilian Empire, Affinites are reviled. Their varied gifts to control the world around them are unnatural—dangerous. And Anastacya Mikhailov, the crown princess, has a terrifying secret. Her deadly Affinity to blood is her curse and the reason she has lived her life hidden behind palace walls.

When Ana's father, the emperor, is murdered, her world is shattered. Framed as his killer, Ana must flee the palace to save her life. And to clear her name, she must find her father's murderer on her own. But the Cyrilia beyond the palace walls is far different from the one she thought she knew. Corruption rules the land, and a greater conspiracy is at work—one that threatens the very balance of her world. And there is only one person corrupt enough to help Ana get to its core: Ramson Quicktongue.

A cunning crime lord of the Cyrilian underworld, Ramson has sinister plans—though he might have met his match in Ana. Because in this story, the princess might be the most dangerous player of all.
Crying Laughing by Lance Rubin (Knopf)
The author of Denton Little's Deathdate gives us a tragicomic story of bad dates, bad news, bad performances, and one girl's determination to find the funny in high school.

Winnie Friedman has been waiting for the world to catch on to what she already knows: she's hilarious.

It might be a long wait, though. After bombing a stand-up set at her own bat mitzvah, Winnie has kept her jokes to herself. Well, to herself and her dad, a former comedian and her inspiration.

Then, on the second day of tenth grade, the funniest guy in school actually laughs at a comment she makes in the lunch line and asks her to join the improv troupe. Maybe he's even . . . flirting?

Just when Winnie's ready to say yes to comedy again, her father reveals that he's been diagnosed with ALS. That is . . . not funny. Her dad's still making jokes, though, which feels like a good thing. And Winnie's prepared to be his straight man if that's what he wants. But is it what he needs?

Caught up in a spiral of epically bad dates, bad news, and bad performances, Winnie's struggling to see the humor in it all. But finding a way to laugh is exactly what will see her through.
Cold Falling White by Gabrielle S. Prendergast (Simon and Schuster)
Two teens fight for their lives after an alien invasion in this heart-stopping follow-up to Zero Repeat Forever.

Humans. Clones. Aliens. No one is safe anymore. It's the end of the world.

Xander Liu survived the alien invasion—just barely. For more than a year, he has outsmarted, hidden from, and otherwise avoided the ruthless intruders, the Nahx, dodging the deadly darts that have claimed so many. When the murder of his friend leaves him in the protective company of August, a rebellious Nahx soldier, Xander is finally able to make his way back to human controlled territory and relative safety. But safety among the humans is not what it seems.

When Raven awakes on a wide expanse of snowy sand dunes, she has many questions. What has happened to her and the other reanimated humans gathered around her? What is the meaning of the Nahx ships that hover ominously above them? And most pressing of all, where is August, who promised to keep her safe?

In the shadow of an unforgiving Canadian winter, Xander and Raven find themselves on opposite sides of an alien war. Left with little choice about their roles in the looming battle, they search for answers and allies all while being drawn back to the place where their respective fates were determined, and to the one who determined them: August.
November 26th
Eight Will Fall by Sarah Harian (Henry Holt)
In a world where magic is illegal, eight criminals led by rebellious Larkin are sent on a mission to rid their realm of an ancient evil lurking beneath the surface. Descending into a world full of unspeakable horrors, Larkin and her crew must use their forbidden magic to survive.

As they fight in the shadows, Larkin finds a light in Amias, a fellow outlaw with a notorious past. Soon, Larkin and Amias realize that their destinies are intertwined. The eight of them were chosen for a reason.

But as the beasts grow in number and her band is picked off one by one, Larkin is forced to confront a terrible truth: They were never meant to return.

Lovers of dark, high-octane adventure will be enthralled by this genre-bending YA fantasy standalone, perfect for fans of Kendare Blake and Leigh Bardugo.
The Wickerlight by Mary Watson (Bloomsbury YA)
It's been two months since Laila was found lifeless on Kilshamble village green, not a mark on her. Rumour says she died of an overdose. Or maybe it was suicide? The autopsy found nothing, but somebody must know what happened.

Now Laila's sister Zara is ready to pick up the trail. But retracing her sister's footsteps takes her to David, a Judge at the dangerous heart of an ancient magical feud. All too unwittingly, she begins to tread the same path that led her sister to the village green .

Mary Watson's sequel to The Wren Hunt is an eerie, magical thriller about a dead girl, her sister and the boy who can unlock the truth of what happened the night she died. Perfect for fans of Frances Hardinge and Emily Bain Murphy's The Disappearances.