March 3rd
The Winter Duke by Claire Bartlett (Little, Brown)
An enchanted tale of intrigue where a duke's daughter is the only survivor of a magical curse.

When Ekata's brother is finally named heir, there will be nothing to keep her at home in Kylma Above with her murderous family. Not her books or science experiments, not her family's icy castle atop a frozen lake, not even the tantalizingly close Kylma Below, a mesmerizing underwater kingdom that provides her family with magic. But just as escape is within reach, her parents and twelve siblings fall under a strange sleeping sickness.

In the space of a single night, Ekata inherits the title of duke, her brother's warrior bride, and ever-encroaching challengers from without—and within—her own ministry. Nothing has prepared Ekata for diplomacy, for war, for love...or for a crown she has never wanted. If Kylma Above is to survive, Ekata must seize her family's power. And if Ekata is to survive, she must quickly decide how she will wield it.

Part Sleeping Beauty, part Anastasia, with a thrilling political mystery, The Winter Duke is a spellbinding story about choosing what's right in the face of danger.
The First 7 by Laura Pohl (Sourcebooks Fire)
In the thrilling conclusion to the Last 8 duology, the Last Teenagers on Earth return home to find a colony of survivors who aren't who they seem

Clover Martinez and the Last Teenagers on Earth are busy exploring the galaxy after leaving earth behind...even if they are homesick. So when their ship receives a distress signal from their former home, they hope against hope that it means that there are other survivors. But as soon as they arrive, they realize something's deeply wrong: strange crystal formations are taking over Earth's soil and threatening to destroy the planet.

Seeking the origin of the formations, the group discovers a colony of survivors hidden in the mountains. Relief gives way to panic as the teenagers realize these survivors aren't who they seem…and Clover and her friends might not be able to escape.
The Kingdom of Back by Marie Lu (Putnam)
From #1 New York Times bestselling author Marie Lu comes a historical YA fantasy about a musical prodigy and the dangerous lengths she'll go to make history remember her--perfect for fans of Susanna Clarke and The Hazel Wood.

Two siblings. Two brilliant talents. But only one Mozart.

Born with a gift for music, Nannerl Mozart has just one wish--to be remembered forever. But even as she delights audiences with her masterful playing, she has little hope she'll ever become the acclaimed composer she longs to be. She is a young woman in 18th century Europe, and that means composing is forbidden to her. She will perform only until she reaches a marriageable age--her tyrannical father has made that much clear.

And as Nannerl's hope grows dimmer with each passing year, the talents of her beloved younger brother, Wolfgang, only seem to shine brighter. His brilliance begins to eclipse her own, until one day a mysterious stranger from a magical land appears with an irresistible offer. He has the power to make her wish come true--but his help may cost her everything.

In her first work of historical fiction, #1 New York Times bestselling author Marie Lu spins a lush, lyrically-told story of music, magic, and the unbreakable bond between a brother and sister.
House of Earth and Blood by Sarah J Maas (Bloomsbury) - technically not YA, but included here since the majority of Maas's books are YA.
#1 New York Times bestselling author Sarah J. Maas launches her brand-new CRESCENT CITY series with House of Earth and Blood: the story of half-Fae and half-human Bryce Quinlan as she seeks revenge in a contemporary fantasy world of magic, danger, and searing romance.

Half-Fae, half-human Bryce Quinlan loves her life. By day, she works for an antiquities dealer, selling barely legal magical artifacts, and by night, she parties with her friends, savoring every pleasure Lunathion—otherwise known as Crescent City— has to offer. But it all comes crumbling down when a ruthless murder shakes the very foundations of the city—and Bryce's world.

Two years later, her job has become a dead end, and she now seeks only blissful oblivion in the city's most notorious nightclubs. But when the murderer attacks again, Bryce finds herself dragged into the investigation and paired with an infamous Fallen angel whose own brutal past haunts his every step.

Hunt Athalar, personal assassin for the Archangels, wants nothing to do with Bryce Quinlan, despite being ordered to protect her. She stands for everything he once rebelled against and seems more interested in partying than solving the murder, no matter how close to home it might hit. But Hunt soon realizes there's far more to Bryce than meets the eye—and that he's going to have to find a way to work with her if they want to solve this case.

As Bryce and Hunt race to untangle the mystery, they have no way of knowing the threads they tug ripple through the underbelly of the city, across warring continents, and down to the darkest levels of Hel, where things that have been sleeping for millennia are beginning to stir...

With unforgettable characters and page-turning suspense, this richly inventive new fantasy series by #1 New York Times bestselling author Sarah J. Maas delves into the heartache of loss, the price of freedom—and the power of love.
Witches of Ash and Ruin by E. Latimer (Disney Hyperion)
Modern witchcraft blends with ancient Celtic mythology in an epic clash of witches and gods, perfect for fans of V.E. Schwab's Shades of Magic trilogy and A DISCOVERY OF WITCHES.

Seventeen-year-old Dayna Walsh is struggling to cope with her somatic OCD; the aftermath of being outed as bisexual in her conservative Irish town; and the return of her long-absent mother, who barely seems like a parent. But all that really matters to her is ascending and finally, finally becoming a full witch-plans that are complicated when another coven, rumored to have a sordid history with black magic, arrives in town with premonitions of death. Dayna immediately finds herself at odds with the bewitchingly frustrating Meiner King, the granddaughter of their coven leader.

And then a witch turns up murdered at a local sacred site, along with the blood symbol of the Butcher of Manchester-an infamous serial killer whose trail has long gone cold. The killer's motives are enmeshed in a complex web of witches and gods, and Dayna and Meiner soon find themselves at the center of it all. If they don't stop the Butcher, one of them will be next.

With razor-sharp prose and achingly real characters, E. Latimer crafts a sweeping, mesmerizing story of dark magic and brutal mythology set against a backdrop of contemporary Ireland that's impossible to put down.
The Warrior's Curse by Jennifer A. Nielsen (Scholastic)
The stunning third book in Jennifer A. Nielsen's New York Times bestselling Traitor's Game series!

Simon and Kestra are hurtling down paths ever farther from each other as the battle for control of Antora rages.

Simon, newly king of the Halderians, is pressed on all sides by royal duties. Harlyn Mindell is his betrothed and intended queen, but Simon can't give up hope for a life with Kestra.

Kestra, exiled, feels her magic growing -- and despite everyone's warnings, she knows she must embrace it. That power is the key to the kingdom's future.

Both still strive to defeat the evil Lord Endrick, but danger awaits them on the murky road forward. And is a common enemy enough to help them survive -- or to carry them back to each other?

Jennifer A. Nielsen delivers breathtaking twists and shocking revelations in an epic and action-packed third installment of The Traitor's Game.
The Alcazar by Amy Ewing (HarperTeen)
Sera is ready to go home. Agnes and Leo have secured passage on a ship that will take them to their grandmother, the only person with the means to reach Braxos. The magical tether connecting the human planet and the City Above the Sky, Sera's home, is anchored on Braxos. Though the journey will be treacherous, Sera is willing to risk everything to be reunited with her mothers and best friend, Leela.

Meanwhile, Sera's beloved city is in turmoil. And Leela must channel the courage and curiosity that once made Sera an outcast to ensure Sera's return and save their city. Leela mustn't raise too much suspicion, not until she uncovers the High Priestess's plans.

With the help of friends, family, and their Cerulean magic, Leela and Sera could soon go back to their normal lives. But will Leela be able to serve her City as blindly as she once did? And will Sera be able to leave behind all that she's grown to love?
When We Were Magic by Sarah Gailey (Simon Pulse)
Kill the Boy Band meets The Craft in this sly, witchy, dark comedy about four teens whose magic goes wildly awry in this irreverent debut from "author to watch" (Chuck Wendig) Sarah Gailey.

Keeping your magic a secret is hard. Being in love with your best friend is harder.

Alexis has always been able to rely on two things: her best friends, and the magic powers they all share. Their secret is what brought them together, and their love for each other is unshakeable—even when that love is complicated. Complicated by problems like jealousy, or insecurity, or lust. Or love.

That unshakeable, complicated love is one of the only things that doesn't change on prom night.

When accidental magic goes sideways and a boy winds up dead, Alexis and her friends come together to try to right a terrible wrong. Their first attempt fails—and their second attempt fails even harder. Left with the remains of their failed spells and more consequences than anyone could have predicted, each of them must find a way to live with their part of the story.
Moment of Truth by Kasie West (HarperTeen)
At sixteen, Hannah Moore knows exactly who she is—a swimmer who will earn a scholarship to college. Totally worth all the hard work, even if her aching shoulders don't agree. So when a guy dressed as Hollywood's latest action hero, Heath Hall, crashes her swim meet, she isn't amused. Instead, she's determined to make sure he doesn't bother her again. Only she's not sure exactly who he is.

The swim meet isn't the first event the imposter has interrupted, but a little digging turns up a surprising number of people who could be Heath Hall, including Hannah's ex-boyfriend and her best friend's crush. She soon finds herself getting caught up in the mysterious world of the fake Heath Hall.

As Hannah gets closer to uncovering the masked boy's identity she also discovers some uncomfortable truths about herself—like she might resent the long shadow her late brother has cast over her family, that she isn't as happy as she pretends to be with her life choices… and that she is falling for the last guy she ever thought she would like.
The Night of Your Life by Lydia Sharp (Scholastic)
He's having the worst prom ever... over and over again.
Does a perfect prom night exist? JJ's about to find out.

All year, JJ's been looking forward to going to prom with his best friend, Lucy. It will be their last hurrah before graduation -- a perfect night where all their friends will relax, have fun together, and celebrate making it through high school.

But nothing goes according to plan. When a near car crash derails JJ before he even gets to prom, a potential new romance surfaces, and Lucy can't figure out what happened to him, things spiral out of control. The best night of their lives quickly turns into the worst.

That is... until JJ wakes up the next day only to find that it's prom night all over again. At first, JJ thinks he's lucky to have the chance to get innumerable chances at perfecting the night of his life. But each day ends badly for him and Lucy, no matter what he does. Can he find a way to escape the time loop and move into the future with the girl he loves?

In the end, JJ might not get the prom he wanted, but he may well get the prom he needed...
Wicked As You Wish by Rin Chupeco (Sourcebooks Fire)
Tala Warnock has little use for magic – as a descendant of Maria Makiling, the legendary Filipina heroine, she negates spells, often by accident. But her family's old ties to the country of Avalon (frozen, bespelled, and unreachable for almost 12 years) soon finds them guarding its last prince from those who would use his kingdom's magic for insidious ends.

And with the rise of dangerous spelltech in the Royal States of America; the appearance of the firebird, Avalon's deadliest weapon, at her doorstep; and the re-emergence of the Snow Queen, powerful but long thought dead, who wants nothing more than to take the firebird's magic for her own – Tala's life is about to get even more complicated….
Chain of Gold by Cassandra Clare (Margaret K. McElldry Books)
From #1 New York Times and USA TODAY bestselling author Cassandra Clare comes the first novel in a brand-new trilogy that stars the Shadowhunters of Edwardian London. Chain of Gold is a Shadowhunters novel.

Welcome to Edwardian London, a time of electric lights and long shadows, the celebration of artistic beauty and the wild pursuit of pleasure, with demons waiting in the dark. For years there has been peace in the Shadowhunter world. James and Lucie Herondale, children of the famous Will and Tessa, have grown up in an idyll with their loving friends and family, listening to stories of good defeating evil and love conquering all. But everything changes when the Blackthorn and Carstairs families come to London…and so does a remorseless and inescapable plague.

James Herondale longs for a great love, and thinks he has found it in the beautiful, mysterious Grace Blackthorn. Cordelia Carstairs is desperate to become a hero, save her family from ruin, and keep her secret love for James hidden. When disaster strikes the Shadowhunters, James, Cordelia and their friends are plunged into a wild adventure which will reveal dark and incredible powers, and the true cruel price of being a hero…and falling in love.
Be Not Far From Me by Mindy McGinnis (Katherine Tegan Books)
Hatchet meets Wild in this harrowing survival story from Edgar Award-winning author Mindy McGinnis.
The world is not tame.

Ashley knows this truth deep in her bones, more at home with trees overhead than a roof. So when she goes hiking in the Smokies with her friends for a night of partying, the falling dark and creaking trees are second nature to her. But people are not tame either. And when Ashley catches her boyfriend with another girl, drunken rage sends her running into the night, stopped only by a nasty fall into a ravine. Morning brings the realization that she's alone - and far off trail. Lost in undisturbed forest and with nothing but the clothes on her back, Ashley must figure out how to survive despite the red streak of infection creeping up her leg.
Only Mostly Devastated by S. Gonzales (Wednesday Books)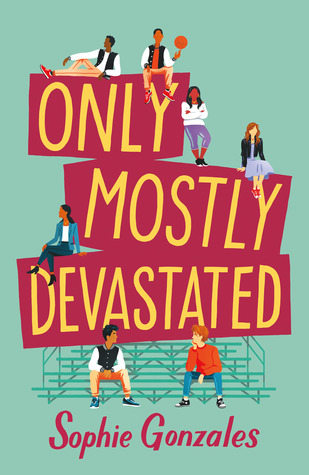 Simon vs. the Homo Sapiens Agenda meets Clueless, inspired by Grease.

When Ollie meets his dream guy, Will, over summer break, he thinks he's found his Happily Ever After. But once summer's ended, Will stops texting him back, and Ollie finds himself one prince short of a fairytale ending. To complicate the fairytale further, a family emergency sees Ollie uprooted and enrolled at a new school across the country—Will's school—where Ollie finds that the sweet, affectionate and comfortably queer guy he knew from summer isn't the same one attending Collinswood High. This Will is a class clown, closeted—and, to be honest, a bit of a jerk.

Ollie has no intention of pining after a guy who clearly isn't ready for a relationship. But as Will starts 'coincidentally' popping up in every area of Ollie's life, from music class to the lunch table, Ollie finds his resolve weakening.

The last time he gave Will his heart, Will handed it back to him trampled and battered. Ollie would have to be an idiot to trust him with it again.

Right?

Right.
Every Reason We Shouldn't by Sara Fujimura (Tor Teen)
Every Reason We Shouldn't by Sara Fujimura is a charming multicultural romance perfect for the many fans of Jenny Han and Rainbow Rowell.

Warning: Contains family expectations, delightful banter, great romantic tension, skating (all kinds!), Korean pastries, and all the feels.

Fifteen-year-old, biracial figure skater Olivia Kennedy's Olympic dreams have ended. She's bitter, but enjoying life as a regular teenager instead of an athlete... until Jonah Choi starts training at her family's struggling rink. Jonah's driven, talented, going for the Olympics in speed skating, completely annoying… and totally gorgeous. Between teasing Jonah, helping her best friend try out for roller derby, figuring out life as a normal teen and keeping the family business running, Olivia's got her hands full. But will rivalry bring her closer to Jonah, or drive them apart?
The Light in Hidden Places by Sharon Cameron (Scholastic)
The extraordinary story of Stefania Podgorska, a Polish teenager who chose bravery and humanity by hiding thirteen Jews in her attic during WWII -from #1 New York Times bestselling author Sharon Cameron.

One knock at the door, and Stefania has a choice to make...

It is 1943, and for four years, sixteen-year-old Stefania has been working for the Diamant family in their grocery store in Przemsyl, Poland, singing her way into their lives and hearts. She has even made a promise to one of their sons, Izio -- a betrothal they must keep secret since she is Catholic and the Diamants are Jewish.

But everything changes when the German army invades Przemsyl. The Diamants are forced into the ghetto, and Stefania is alone in an occupied city, the only one left to care for Helena, her six-year-old sister. And then comes the knock at the door. Izio's brother Max has jumped from the train headed to a death camp. Stefania and Helena make the extraordinary decision to hide Max, and eventually twelve more Jews. Then they must wait, every day, for the next knock at the door, the one that will mean death. When the knock finally comes, it is two Nazi officers, requisitioning Stefania's house for the German army.

With two Nazis below, thirteen hidden Jews above, and a little sister by her side, Stefania has one more excruciating choice to make.
If These Wings Could Fly by Kyrie McCauley (Katherine Tegan Books)
Tens of thousands of crows invading Auburn, Pennsylvania, is a problem for everyone in town except seventeen-year-old Leighton Barnes. Residents complain about the nuisance, the strangeness of the birds. But for Leighton, it's no stranger than her house, which inexplicably repairs itself every time her father loses his temper and breaks things. No stranger than growing up in a town full of people who look the other way. Leighton doesn't have time for the crows, or for her classmate, Liam, even if he is funny, kind, and entirely too charming. It's her senior year, and acceptance to her dream college is finally within reach. But grabbing that lifeline means abandoning her sisters. Which is a choice she's not ready to face. With her father's rage worsening and the town in chaos over the crows, Leighton allows herself a chance at happiness with Liam, even though falling in love feels like a revolutionary act. Balancing school, dating, and survival under the shadow of sixty thousand feathered wings starts to feel almost comfortable, but Leighton knows that this fragile equilibrium can only last so long before it shatters.
Hello Now by Jenny Valentine (Philomel)
From Carnegie Medal finalist Jenny Valentine comes a bold new story about love and second chances, perfect for fans of the popular film Sliding Doors and David Levithan's Every Day.

Jude's life is upended when his mother loses her job and moves them to a little town by the sea to live with Henry Lake--an eccentric old man with rooms to rent. Henry is odd, the town is dull, and worst of all, Jude feels out of place and alone.

So when Novo turns up in the house across the street, dressed all in black and looking unbearably handsome, Jude's summer takes an immediate turn for the better. But Novo isn't all that he seems to be--or maybe he's more than Jude can possibly understand. Novo is a time traveler, someone who wakes up in different places and at different points in time with utter regularity. He knows that each Now is fleeting, that each moment is only worth the energy it expends on itself, and that each experience he has will be lost to him before long.

But Jude and Novo form a bond that shifts reality for both of them. Unlike anything he's ever experienced, Jude begins to question what forever really means--only to find out that Novo knows that forever isn't real. And when things go horribly wrong, he and Novo are faced with an impossible question that may change both of their lives irreparably--what is worth sacrificing for love?

A stunningly written, compelling exploration of what it means to love and live in the moment that quite literally defies both logic and time.
The Twin by Natasha Preston (Delacorte)
In this twisty psychological thriller from #1 New York Times bestselling author of The Cellar, Emmy finds out that her twin sister, Iris, is trying to push her out of her own life--and might be responsible for their mother's death.

After their parents divorced, 10-year-old twins Emmy and Iris were split up--Emmy lived with Dad, Iris with Mom. Now, after a tragic accident takes their mom's life, the twins are reunited and Iris moves in with Emmy and their dad. Devastated over Mom's death, Iris spends the first few weeks in almost total silence--the only person she will speak to is Emmy. Iris feels her life is over and she doesn't know what to do. Emmy promises her twin that she can share her life now. After all, they're sisters. Twins.

It's a promise that Iris takes seriously. And before long, Emmy's friends, her life at school, and her boyfriend, Tyler, fall under Iris's spell. Slowly, Emmy realizes she's being pushed out of her own life. But she's just being paranoid, right? And Mom's accident was . . . just an accident. Right? It's not like she--or Dad--or Tyler--are in any danger. . .
Imagine Me by Taherah Mafi (HarperCollins)
The explosive finale to the New York Times and USA Today bestselling Shatter Me series.

Juliette Ferrars.

Ella Sommers.

Which is the truth and which is the lie?

Now that Ella knows who Juliette is and what she was created for, things have only become more complicated. As she struggles to understand the past that haunts her and looks to a future more uncertain than ever, the lines between right and wrong—between Ella and Juliette—blur. And with old enemies looming, her destiny may not be her own to control.

The day of reckoning for the Reestablishment is coming. But she may not get to choose what side she fights on.
Anna K. by Jenny Lee (Flatiron Books)
Every happy teenage girl is the same, while every unhappy teenage girl is miserable in her own special way.

Meet Anna K. At seventeen, she is at the top of Manhattan and Greenwich society (even if she prefers the company of her horses and Newfoundland dogs); she has the perfect (if perfectly boring) boyfriend, Alexander W.; and she has always made her Korean-American father proud (even if he can be a little controlling). Meanwhile, Anna's brother, Steven, and his girlfriend, Lolly, are trying to weather an sexting scandal; Lolly's little sister, Kimmie, is struggling to recalibrate to normal life after an injury derails her ice dancing career; and Steven's best friend, Dustin, is madly (and one-sidedly) in love with Kimmie.

As her friends struggle with the pitfalls of ordinary teenage life, Anna always seems to be able to sail gracefully above it all. That is…until the night she meets Alexia "Count" Vronsky at Grand Central. A notorious playboy who has bounced around boarding schools and who lives for his own pleasure, Alexia is everything Anna is not. But he has never been in love until he meets Anna, and maybe she hasn't, either. As Alexia and Anna are pulled irresistibly together, she has to decide how much of her life she is willing to let go for the chance to be with him. And when a shocking revelation threatens to shatter their relationship, she is forced to question if she has ever known herself at all.

Dazzlingly opulent and emotionally riveting, Anna K.: A Love Story is a brilliant reimagining of Leo Tolstoy's timeless love story, Anna Karenina―but above all, it is a novel about the dizzying, glorious, heart-stopping experience of first love and first heartbreak.
Salty, Bitter, Sweet by Mayra Cuevas (Blink)
"Happiness, like love, arrives through the kitchen. At least that's what my abuela Lala used to say. I may not know much about love, but I definitely got the kitchen part down."

Seventeen-year-old aspiring chef Isabella Fields' family life has fallen apart after the death of her Cuban abuela and the divorce of her parents. She moves in with her dad and his new wife in France, where Isabella feels like an outsider in her father's new life, studiously avoiding the awkward, "Why did you cheat on Mom?" conversation.

The upside of Isabella's world being turned upside down? Her father's house is located only 30 minutes away from the restaurant of world-famous Chef Pascal Grattard, who runs a prestigious and competitive international kitchen apprenticeship. The prize job at Chef Grattard's renowned restaurant also represents a transformative opportunity for Isabella, who is desperate to get her life back in order.

But how can Isabella expect to hold it together when she's at the bottom of her class at the apprenticeship, her new stepmom is pregnant, she misses her abuela dearly, and a mysterious new guy and his albino dog fall into her life?
We Are Blood and Thunder by Kesia Lupa (Bloomsbury)
In a sealed-off city, it begins with a hunt. A young woman, Lena, running for her life, convicted of being a mage and sentenced to death. Her only way to survive is to trust those she has been brought up to fear - those with magic.

On the other side of the locked gates is a masked lady, Constance, determined to find a way back in. She knows only too well how the people of Duke's Forest loathe magic. Years ago she escaped before her powers were discovered. But now she won't hide who she is any longer.

A powerful and terrifying storm cloud unites them. It descends over the dukedom and devastates much in its wake. But this is more than a thunderstorm. This is a spell, and the truth behind why it has been cast is more sinister than anyone can imagine ... Only Lena and Constance hold the key to destroying the spell. Though neither of them realise it, they need each other. They are the blood and they have the thunder within

A stunning and original YA fantasy from a fantastic new talent. Perfect for fans of Joe Abercrombie and Melinda Salisbury.
The Vinyl Underground by Rob Rufus (Flux)
Dig it.

During the tumultuous year of 1968, four teens are drawn together: Ronnie Bingham, who is grieving his brother's death in Vietnam; Milo, Ronnie's bookish best friend; "Ramrod," a star athlete who is secretly avoiding the draft; and Hana, the new girl, a half-Japanese badass rock-n-roller whose presence doesn't sit well with their segregated high school.

The four outcasts find sanctuary in "The Vinyl Underground," a record club where they spin music, joke, debate, and escape the stifling norms of their small southern town. But Ronnie's eighteenth birthday is looming. Together, they hatch a plan to keep Ronnie from being drafted. But when a horrific act of racial-charged violence rocks the gang to their core, they decide it's time for an epic act of rebellion.
Havenfall by Sara Holland (Bloomsbury)
From the New York Times bestselling author of Everless comes a contemporary fantasy series about the safe haven between worlds--and the girl sworn to protect it.

Maddie Morrow lives for her summers at the Inn at Havenfall, hidden up in the mountains of Colorado. The inn is the only place where she gets to see the boy she loves, Brekken and it provides an escape from her real life, which consists of endless mind-numbing days at high school . . . and visits to the local prison where her mother sits on Death Row accused of murdering Maddie's brother.

But the inn is much more than it appears. The manicured gardens, Mirror Lake, and even the building itself hold a tantalizing power, a magic meant to protect all who seek refuge and peace. Maddie's uncle runs the inn, guardian of the gateways to the hidden worlds that converge in the tunnels, and she dreams of one day taking it over.

But this summer, everything is going wrong. Maddie almost gets run over by an alluring new staffer, Taya, her relationship with handsome Brekken becomes complicated, and then the impossible happens: a dead body is discovered, shattering the inn's sanctity. As questions mount over who's responsible, Maddie realizes even greater dangers face them all.

With everything she loves at stake, Maddie must confront startling truths about the secrets lurking beneath Havenfall, and within herself.

This breathtaking fantasy from New York Times bestselling Everless author Sara Holland is perfect for fans of Melissa Albert and Holly Black.
The Midnight Lie by Marie Rutkoski (FSG)
Where Nirrim lives, crime abounds, a harsh tribunal rules, and society's pleasures are reserved for the High Kith. Life in the Ward is grim and punishing. People of her low status are forbidden from sampling sweets or wearing colors. You either follow the rules, or pay a tithe and suffer the consequences.

Nirrim keeps her head down and a dangerous secret close to her chest.

But then she encounters Sid, a rakish traveler from far away who whispers rumors that the High Caste possesses magic. Sid tempts Nirrim to seek that magic for herself. But to do that, Nirrim must surrender her old life. She must place her trust in this sly stranger who asks, above all, not to be trusted.

Set in the world of the New York Times–bestselling Winner's Trilogy, beloved author Marie Rutkoski returns with an epic LGBTQ romantic fantasy about learning to free ourselves from the lies others tell us—and the lies we tell ourselves.
The Vanishing Deep by Astrid Scholte (Putnam)
Bestselling author Astrid Scholte, returns with a thrilling adventure in which the dead can be revived...for a price.

Seventeen-year-old Tempe was born into a world of water. When the Great Waves destroyed her planet, its people had to learn to survive living on the water, but the ruins of the cities below still called. Tempe dives daily, scavenging the ruins of a bygone era, searching for anything of value to trade for Notes. It isn't food or clothing that she wants to buy, but her dead sister's life. For a price, the research facility on the island of Palindromena will revive the dearly departed for twenty-four hours before returning them to death. It isn't a heartfelt reunion that Tempe is after; she wants answers. Elysea died keeping a terrible secret, one that has ignited an unquenchable fury in Tempe: Her beloved sister was responsible for the death of their parents. Tempe wants to know why.

But once revived, Elysea has other plans. She doesn't want to spend her last day in a cold room accounting for a crime she insists she didn't commit. Elysea wants her freedom and one final glimpse at the life that was stolen from her. She persuades Tempe to break her out of the facility, and they embark on a dangerous journey to discover the truth about their parents' death and mend their broken bond. But they're pursued every step of the way by two Palindromena employees desperate to find them before Elysea's time is up--and before the secret behind the revival process and the true cost of restored life is revealed.
Open Fire by Amber Lough (Carolrhoda)
A dramatic page-turner that captures the devastating toll of war and the impact of women's struggles and solidarity, through the lens of a little-known slice of history.

In 1917, Russia is losing the war with Germany, soldiers are deserting in droves, and food shortages on the home front are pushing people to the brink of revolution. Seventeen-year-old Katya is politically conflicted, but she wants Russia to win the war. Working at a munitions factory seems like the most she can do to serve her country--until the government begins recruiting an all-female army battalion. Inspired, Katya enlists. Training with other brave women, she finds camaraderie and a deep sense of purpose. But when the women's battalion heads to the front, Katya has to confront the horrifying realities of war. Faced with heartbreak and disillusionment, she must reevaluate her commitment and decide where she stands.
March 10th
The June Boys by Court Stevens (Thomas Nelson)
The Gemini Thief could be anyone. Your father, your mother, your best friend's crazy uncle. Some country music star's deranged sister. Anyone.

The Gemini Thief is a serial kidnapper, who takes three boys and holds them captive from June 1st to June 30th of the following year. The June Boys endure thirteen months of being stolen, hidden, observed, and fed before they are released, unharmed, by their masked captor. The Thief is a pro, having eluded authorities for nearly a decade and taken at least twelve boys.

Now Thea Delacroix has reason to believe the Gemini Thief took a thirteenth victim: her cousin, Aulus McClaghen.

But the game changes when one of the kidnapped boys turns up dead. Together with her boyfriend Nick and her best friends, Thea is determined to find the Gemini Thief and the remaining boys before it's too late. Only she's beginning to wonder something sinister, something repulsive, something unbelievable, and yet, not impossible:

What if her father is the Gemini Thief?
Spindle and Dagger by J. Anderson Coats (Candlewick)
Wales, 1109. Three years ago, a warband raided Elen's home. Her baby sister could not escape the flames. Her older sister fought back and almost killed the warband's leader, Owain ap Cadwgan, before being killed herself. Despite Elen's own sexual assault at the hands of the raiders, she saw a chance to live and took it. She healed Owain's wound and spun a lie: Owain ap Cadwgan, son of the king of Powys, cannot be killed, not by blade nor blow nor poison. Owain ap Cadwgan has the protection of Saint Elen, as long as he keeps her namesake safe from harm and near him always.

For three years, Elen has had plenty of food, clothes to wear, and a bed to sleep in that she shares with the man who brought that warband to her door. Then Owain abducts Nest, the wife of a Norman lord, and her three children, triggering full-out war. As war rages, and her careful lies threaten to unravel, Elen begins to look to Nest and see a different life — if she can decide, once and for all, where her loyalties lie. J. Anderson Coats's evocative prose immerses the reader in a dark but ultimately affirming tale of power and survival.
The Survival by Bridget Tyler (HarperTeen)
Earth is uninhabitable. Tau is our home now.

With that terrifying message, Jo and her family learned the truth: They are trapped forever on Tau Ceti e.

Tau may be humanity's last hope, but the planet's current occupants—the Sorrow—are not interested in sharing. The fragile peace Jo negotiated abruptly shatters, and with it Jo's confidence. Soon a bloody battle is raging between the Sorrow and the Pioneers, with Jo caught in between. As tensions rise, the survival of everyone Jo cares for seems less likely by the second.

When a betrayal that shocks Jo to her core threatens to wipe out both Sorrow and human life, Jo must find the strength to speak up once more—and bridge the gaps between all the warring factions—or lose forever the only home left to her.

An irresistible read for fans both old and new, The Survivor combines the electric action of the Illuminae series with the fierce and fearless heroine of Skyward for an unforgettable adventure.
Defy the Stars by Jessica Fleck (Swoon Reads)
Civil war has come to the island of Bellona.

Veda Adeline believes in the Night. She's joined the underground revolutionaries and is determined to overthrow the ruling Imperi and find justice for her people.

Nico Denali, Veda's childhood best friend and maybe-something-more, is one of those ruling Imperi, and he's just been named heir to the most powerful man above ground.

As the war intensifies, Veda and Nico are both captured by their enemies and leveraged against each other: Veda is above as a hostage of the Imperi and Nico is below, taken by the Night.

The island will burn unless Veda and Nico can come together from opposite sides of Bellona to rip everything apart.

The stakes are all or nothing in this second and final book in the BEWARE THE NIGHT duology.
Bone Crier's Moon by Kathryn Purdie (Katherine Tegan)
Bone ​Criers have a sacred duty. They alone can keep the dead from preying on the living. But their power to ferry the spirits of the dead into goddess Elara's Night Heavens or Tyrus's Underworld comes from sacrifice. The gods demand a promise of dedication. And that promise comes at the cost of the Bone Criers' one true love.

Ailesse has been prepared since birth to become the matriarch of the Bone Criers, a mysterious famille of women who use strengths drawn from animal bones to ferry dead souls. But first she must complete her rite of passage and kill the boy she's also destined to love.

Bastien's father was slain by a Bone Crier and he's been seeking revenge ever since. Yet when he finally captures one, his vengeance will have to wait. Ailesse's ritual has begun and now their fates are entwined—in life and in death.

Sabine has never had the stomach for the Bone Criers' work. But when her best friend Ailesse is taken captive, Sabine will do whatever it takes to save her, even if it means defying their traditions—and their matriarch—to break the bond between Ailesse and Bastien. Before they all die.
Harley in the Sky by Akemi Dawn Bowman (Simon Pulse)
Harley Milano has dreamed of being a trapeze artist for as long as she can remember. With parents who run a famous circus in Las Vegas, she spends almost every night in the big top watching their lead aerialist perform, wishing with all her soul that she could be up there herself one day.

After a huge fight with her parents, who continue to insist she go to school instead, Harley leaves home, betrays her family and joins the rival traveling circus Maison du Mystère. There, she is thrust into a world that is both brutal and beautiful, where she learns the value of hard work, passion and collaboration. But at the same time, Harley must come to terms with the truth of her family and her past—and reckon with the sacrifices she made and the people she hurt in order to follow her dreams.
A Phoenix Must First Burn by Various YA Authors (Viking)
Sixteen tales by bestselling and award-winning authors that explore the Black experience through fantasy, science fiction, and magic.

Evoking Beyoncé's Lemonade for a teen audience, these authors who are truly Octavia Butler's heirs, have woven worlds to create a stunning narrative that centers Black women and gender nonconforming individuals. A Phoenix First Must Burn will take you on a journey from folktales retold to futuristic societies and everything in between. Filled with stories of love and betrayal, strength and resistance, this collection contains an array of complex and true-to-life characters in which you cannot help but see yourself reflected. Witches and scientists, sisters and lovers, priestesses and rebels: the heroines of A Phoenix First Must Burn shine brightly. You will never forget them.

Authors include Elizabeth Acevedo, Amerie, Dhonielle Clayton, Jalissa Corrie, Somaiya Daud, Charlotte Davis, Alaya Dawn Johnson, Justina Ireland, Danny Lore, L.L. McKinney, Danielle Paige, Rebecca Roanhorse, Karen Strong, Ashley Woodfolk, and Ibi Zoboi.
The Small Crimes of Tiffany Templeton by Richare Fifeld (Razorbill)
The Serpent King meets Girl in Pieces in this moving and darkly funny story about a teenage girl coming of age and learning how to grieve in small-town Montana.

Tiffany Templeton is tough. She dresses exclusively in black, buys leather jackets that are several sizes too big, and never backs down from a fight. She's known in her tiny Montana town as Tough Tiff, and after her shoplifting arrest and a stint in a reform school, the nickname is here to stay.

But when she comes back home, Tiffany may not be the same old Tough Tiff that everybody remembers. Her life is different now: her mother keeps her on an even shorter leash than before, she meets with a probation officer once a month, and she's still grieving her father's recent death.

As Tiffany navigates her new life and learns who she wants to be, she must also contend with an overbearing best friend, the geriatric cast of a high-maintenance drama production, her first boyfriend, and a town full of eccentric neighbors--not to mention a dark secret she's been keeping about why the ex-football coach left town.
Most Likely by Sarah Watson (Poppy)
From the creator of the hit TV series The Bold Type comes an empowering and heartfelt novel about a future female president's senior year of high school.

Ava, CJ, Jordan, and Martha (listed in alphabetical order out of fairness) have been friends since kindergarten. Now they're in their senior year, facing their biggest fears about growing up and growing apart. But there's more than just college on the horizon. One of these girls is destined to become the president of the United States. The mystery, of course, is which girl gets the gig.

Is it Ava, the picture-perfect artist who's secretly struggling to figure out where she belongs? Or could it be CJ, the one who's got everything figured out...except how to fix her terrible SAT scores? Maybe it's Jordan, the group's resident journalist, who knows she's ready for more than their small Ohio suburb can offer. And don't overlook Martha, who will have to overcome all the obstacles that stand in the way of her dreams.

This is the story of four best friends who have one another's backs through every new love, breakup, stumble, and success--proving that great friendships can help young women achieve anything...even a seat in the Oval Office

.
March 17th
All the Pretty Things by Emily Arsenault (Delacorte)
For fans of Sadie and The Cheerleaders comes an all new thriller about a boy who turns up dead under suspicious circumstances and the one girl who may be the key to solving the mystery of his untimely death.

For Ivy, summer means roller-coaster season, spinning cotton candy at the Fabuland amusement park, and hanging out with her best friend, Morgan. But this summer is different.

One morning, Morgan finds a dead body. It's their former classmate and coworker Ethan. To make matters worse, Morgan is taken to a hospital psych ward only days later, and she's not saying much--not even to Ivy.

The police claim that Ethan simply took a bad fall, but Ivy isn't convinced and realizes it's up to her to get answers. What she finds is unsettling--it's clear that some people aren't being honest about Ethan's last night at Fabuland. Including Morgan. And the more secrets Ivy uncovers, the closer she gets to unraveling dark truths that will change her life forever.
Sparrow by Mary Cecilia Jackson (Tor Teen)
In the tradition of Laurie Halse Anderson's Speak, a devastating but hopeful YA debut about a ballerina who finds the courage to confront the abuse that haunts her past and threatens her future.

There are two kinds of people on the planet. Hunters and prey
I thought I would be safe after my mother died. I thought I could stop searching for new places to hide. But you can't escape what you are, what you've always been.
My name is Savannah Darcy Rose.
And I am still prey.

Though Savannah Rose―Sparrow to her friends and family―is a gifted ballerina, her real talent is keeping secrets. Schooled in silence by her long-dead mother, Sparrow has always believed that her lifelong creed―"I'm not the kind of girl who tells"―will make her just like everyone else: Normal. Happy. Safe. But in the aftermath of a brutal assault by her seemingly perfect boyfriend Tristan, Sparrow must finally find the courage to confront the ghosts of her past, or lose herself forever….
Frozen Beauty by Lena Hillyer (HarperTeen)
BEFORE
Everyone out in Devil's Lake, Michigan, knows the three Malloy sisters: perfect big sister Kit; tomboy Tessa, who shares more with Kit than most people realize; and Lilly, the baby of the family, determined to make her own mark. Yet as close as they are, there are certain things sisters don't tell one another. And one of them is keeping a secret that will turn their little world inside out.

NOW
No one knows exactly what happened to Kit in the woods that night—all they have are a constellation of facts: icy blue lips and fingers cold to the touch, a lacy bra, an abandoned pick-up truck with keys still in the ignition. Still, Tessa, even in her fog of grief, is certain that her sister's killer wasn't Boyd, the boy next door whom they've all loved in their own way. There are too many details that don't add up, too many secrets still tucked away.

But no matter how fiercely she searches for answers, at the core of that complicated night is a truth that's heartbreakingly simple.

Told in lush, haunting prose, Frozen Beauty is a story of the intoxicating power of first love, the deep bonds of sisterhood, and a shocking death that will forever change the living.
All Your Twisted Secrets by Diana Urban (HarperTeen)
"Welcome to dinner, and again, congratulations on being selected. Now you must do the selecting."

What do the queen bee, star athlete, valedictorian, stoner, loner, and music geek all have in common? They were all invited to a scholarship dinner, only to discover it's a trap. Someone has locked them into a room with a bomb, a syringe filled with poison, and a note saying they have an hour to pick someone to kill … or else everyone dies.

Amber Prescott is determined to get her classmates and herself out of the room alive, but that might be easier said than done. No one knows how they're all connected or who would want them dead. As they retrace the events over the past year that might have triggered their captor's ultimatum, it becomes clear that everyone is hiding something. And with the clock ticking down, confusion turns into fear, and fear morphs into panic as they race to answer the biggest question: Who will they choose to die?

This thrilling debut, reminiscent of new fan favorites like One of Us Is Lying and the beloved classics by Agatha Christie, will leave readers guessing until the explosive ending.
The Degenerates by J. Albert Mann (Antheneum)
In the tradition of Girl, Interrupted, this fiery historical novel follows four young women in the early 20th century whose lives intersect when they are locked up by a world that took the poor, the disabled, the marginalized—and institutionalized them for life.

The Massachusetts School for the Feeble-Minded is not a happy place. The young women who are already there certainly don't think so. Not Maxine, who is doing everything she can to protect her younger sister Rose in an institution where vicious attendants and bullying older girls treat them as the morons, imbeciles, and idiots the doctors have deemed them to be. Not Alice, either, who was left there when her brother couldn't bring himself to support a sister with a club foot. And not London, who has just been dragged there from the best foster situation she's ever had, thanks to one unexpected, life altering moment. Each girl is determined to change her fate, no matter what it takes.
Girls With Razor Hearts by Suzanne Young (Simon Pulse)
It's time to fight back in this second novel in a thrilling, subversive near future series from New York Times bestselling author Suzanne Young about a girls-only private high school that is far more than it appears to be.

Make me a girl with a razor heart…

It's been weeks since Mena and the other girls of Innovations Academy escaped their elite boarding school. Although traumatized by the violence and experimentations that occurred there, Mena quickly discovers that the outside world can be just as unwelcoming and cruel. With no one else to turn to, the girls only have each other—and the revenge-fueled desire to shut down the corporation that imprisoned them.

The girls enroll in Stoneridge Prep, a private school with suspect connections to Innovations, to identify the son of an investor and take down the corporation from the inside. But with pressure from Leandra, who revealed herself to be a double-agent, and Winston Weeks, an academy investor gone rogue, Mena wonders if she and her friends are simply trading one form of control for another. Not to mention the woman who is quite literally invading Mena's thoughts—a woman with extreme ideas that both frighten and intrigue Mena.

And as the girls fight for freedom from their past—and freedom for the girls still at Innovations—they must also face new questions about their existence…and what it means to be girls with razor hearts.
The Electric Heir by Victoria Lee (Skyscape)
Six months after Noam Álvaro helped overthrow the despotic government of Carolinia, the Atlantians have gained citizenship, and Lehrer is chancellor. But despite Lehrer's image as a progressive humanitarian leader, Noam has finally remembered the truth that Lehrer forced him to forget—that Lehrer is responsible for the deadly magic infection that ravaged Carolinia.

Now that Noam remembers the full extent of Lehrer's crimes, he's determined to use his influence with Lehrer to bring him down for good. If Lehrer realizes Noam has evaded his control—and that Noam is plotting against him—Noam's dead. So he must keep playing the role of Lehrer's protégé until he can steal enough vaccine to stop the virus.

Meanwhile Dara Shirazi returns to Carolinia, his magic stripped by the same vaccine that saved his life. But Dara's attempts to ally himself with Noam prove that their methods for defeating Lehrer are violently misaligned. Dara fears Noam has only gotten himself more deeply entangled in Lehrer's web. Sooner or later, playing double agent might cost Noam his life.
March 21st
When You Were Everything by Ashley Woodfolk (Delacorte)
You can't rewrite the past, but you can always choose to start again.

It's been twenty-seven days since Cleo and Layla's friendship imploded.

Nearly a month since Cleo realized they'll never be besties again.

Now, Cleo wants to erase every memory, good or bad, that tethers her to her ex–best friend. But pretending Layla doesn't exist isn't as easy as Cleo hoped, especially after she's assigned to be Layla's tutor. Despite budding new friendships with other classmates—and a raging crush on a gorgeous boy named Dom—Cleo's turbulent past with Layla comes back to haunt them both.

Alternating between time lines of Then and Now, When You Were Everything blends past and present into an emotional story about the beauty of self-forgiveness, the promise of new beginnings, and the courage it takes to remain open to love.
March 24th
Between Burning Worlds by Jessica Brody and Joanne Rendell (Simon Pulse)
Laterre is on the brink of war. The Third Estate are rioting against the injustices of a corrupt system. The Patriarche, reeling from the murder of his only heir, makes brutal attempts to quash the unrest, while a new militant faction launches a series of deadly attacks.

Marcellus is now a traitor to his planet, willing to do anything to stop his grandfather from seizing control of Laterre, even if it means joining the Vangarde, a rebel group back from the dead.

Chatine is a prisoner on Bastille. Desperate to survive the harsh conditions of the moon, she becomes embroiled in the Vangarde's dangerous attempt to free their infamous leader.

Alouette is a fugitive who has been lied to her entire life. Searching for the truth about her mysterious past, she soon finds herself hunted by the Regime for reasons she's only beginning to understand.

But when Laterre is threatened by the emergence of a deadly new weapon, these three renegades must risk everything, traveling to the far reaches of the System Divine and into the white hot center of a planet ready to ignite.
Thorn by Intisar Khanani (HarperTeen)
For Princess Alyrra, choice is a luxury she's never had … until she's betrayed.

Princess Alyrra has never enjoyed the security or power of her rank. Between her family's cruelty and the court's contempt, she has spent her life in the shadows. Forced to marry a powerful foreign prince, Alyrra embarks on a journey to meet her betrothed with little hope for a better future.

But powerful men have powerful enemies—and now, so does Alyrra. Betrayed during a magical attack, her identity is switched with another woman's, giving Alyrra the first choice she's ever had: to start a new life for herself or fight for a prince she's never met. But Alyrra soon finds that Prince Kestrin is not at all what she expected. While walking away will cost Kestrin his life, returning to the court may cost Alyrra her own. As Alyrra is coming to realize, sometimes the hardest choice means learning to trust herself.
Tigers, Not Daughters by Samantha Mabry (Algonquin)
The Torres sisters dream of escape. Escape from their needy and despotic widowed father, and from their San Antonio neighborhood, full of old San Antonio families and all the traditions and expectations that go along with them. In the summer after her senior year of high school, Ana, the oldest sister, falls to her death from her bedroom window. A year later, her three younger sisters, Jessica, Iridian, and Rosa, are still consumed by grief and haunted by their sister's memory. Their dream of leaving Southtown now seems out of reach. But then strange things start happening around the house: mysterious laughter, mysterious shadows, mysterious writing on the walls. The sisters begin to wonder if Ana really is haunting them, trying to send them a message—and what exactly she's trying to say.

In a stunning follow-up to her National Book Award–longlisted novel All the Wind in the World, Samantha Mabry weaves an aching, magical novel that is one part family drama, one part ghost story, and one part love story.
Super Adjacent by Crystal Cestari (Disney Hyperion)
For as long as she can remember, Claire has wanted to work with super heroes. She collected Warrior Nation cards as a kid, stalked the message boards, and now she's landed a coveted internship with the Chicago branch of Warrior Nation. Claire will do anything to prove she belongs in this world long term, but complicating things is the newest WarNat hero, Joy aka Girl Power, who happens to be egotistical and self-important . . . and adorable and well-nigh perfect. But Claire doesn't want to be just a hero's girlfriend. She wants to be an integral cog in the Warrior Nation machine. Will Claire's new relationship with Girl Power jeopardize her whole life plan?

Bridgette, meanwhile, wants out of WarNat. The girlfriend of the famous Vaporizer (aka, Matt), Bridgette is sick of playing second, or third, or five-hundredth fiddle to all the people-in-peril in the city of Chicago. Maybe it's selfish to want her boyfriend to show up for a date on time and not in traction every once in a while, but so be it. She's done being the girlfriend of everyone's perfect man. Of course, once she meets Claire-who's clearly in need of a mentor and wingman-giving up WarNat becomes slightly more complicated. It becomes a lot more complicated when Matt and the rest of his WarNat buddies go missing, leaving only Bridgette and Claire, with their insider knowledge of Warrior Nation and its heroes, to save the day.
Brown Girl Ghosted by Mintie Das (HMH)
Violet Choudry may be part of the popular clique at school, but as one of a handful of brown girls in a small Illinois town, all she really wants to do is blend in. Unfortunately for her, she's got a knack for seeing spirits.
When the queen bee of the school ends up dead following a leaked sex tape, Violet's friends from the spirit world decide it's the perfect time for Violet to test her skills and finally accept the legacy of spiritual fighters from whom she's descended. Her mission? Find the killer. Or else she's next.
March 31st
We Are Totally Normal by Rahul Kanakia (HarperTeen)
Nandan's got a plan to make his junior year perfect. He's going to make sure all the parties are chill, he's going to smooth things over with his ex, and he's going to help his friend Dave get into the popular crowd—whether Dave wants to or not. The high school social scene might be complicated, but Nandan is sure he's cracked the code.

Then, one night after a party, Dave and Nandan hook up, which was not part of the plan—especially because Nandan has never been into guys. Still, Dave's cool, and Nandan's willing to give it a shot, even if that means everyone starts to see him differently.

But while Dave takes to their new relationship with ease, Nandan's completely out of his depth. And the more his anxiety grows about what his sexuality means for himself, his friends, and his social life, the more he wonders whether he can just take it all back. But is breaking up with the only person who's ever really gotten him worth feeling "normal" again?

From Rahul Kanakia comes a raw and deeply felt story about rejecting labels, seeking connection, and finding yourself.
The Seven Endless Forests by April Genevieve Tucholke (FSG)
In this gorgeous standalone companion to the critically acclaimed fantasy, The Boneless Mercies, April Tucholke spins a bold and blood-hungry retelling of the King Arthur legend that is perfect for fans of Naomi Novik, Garth Nix, and Laini Taylor.

On the heels of a devastating plague, Torvi's sister, Morgunn is stolen from the family farm by Uther, a flame-loving Fremish wolf-priest who leads a pack of ragged, starving girls. Torvi leaves the only home she's ever known, and joins a shaven-skulled druid and a band of roaming Elsh artists known as the Butcher Bards. They set out on a quest to rescue Torvi's sister, and find a mythical sword.

On their travels, Torvi and her companions will encounter magical night wilds and mystical Drakes who trade in young men. They will sing rowdy Elshland ballads in a tree-town tavern, and find a mysterious black tower in an Endless Forest. They will fight alongside famous Vorseland archers and barter with Fremish wizards. They will feast with rogue Jade Fell children in a Skal Mountain cave, and seek the help of a Pig Witch. They will face wild, dangerous magic that leads to love, joy, tragedy, and death.

Torvi set out to rescue a sister, but she may find it's merely the first step toward a life that is grander and more glorious than anything she could have imagined.
The Year After You by Nina De Pass (Delacorte)
New Years' Eve, San Francisco. The most promising party of the year ends in a tragic accident. Cara survives. Her best friend, Georgina, doesn't.

Nine months later, Cara is struggling, consumed by guilt and grief. Her mum decides that packing her off to a Swiss boarding school will be the fresh start Cara needs. But Cara knows that swapping sunshine for snow won't make a blind bit of difference. Georgina is gone, and nothing will bring her back.

On the plus side, up in the vertiginous Alps, Cara's old life feels a million miles away. At Hope Hall, nobody knows about her past. And she intends to keep it that way. But her classmates, Ren and Hector, have other ideas. Cara tries to keep her distance, but she's drawn to the offbeat, straighttalking Hector, who understands her grief better than anyone. Her new friends are determined to break down the
walls she has so carefully built up. And, despite it all, Cara wants them to.

The closer Cara grows to Hector, the more Georgina slips away. Embracing life at Hope Hall means letting go of the past; of her memories of that fatal New Year's Eve. But Cara's quite sure she doesn't deserve a second chance.
Night of the Dragon by Julie Kagawa (Inkyard Press)
Master storyteller Julie Kagawa concludes the enthralling journey into the heart of the fantastical Empire of Iwagoto in the third book of the Shadow of the Fox trilogy. As darkness rises and chaos reigns, a fierce kitsune and her shadowy protector will face down the greatest evil of all. A captivating fantasy for fans of Sabaa Tahir, Sarah J. Maas and Marie Lu.

Kitsune shapeshifter Yumeko has given up the final piece of the Scroll of a Thousand Prayers in order to save everyone she loves from imminent death. Now she and her ragtag band of companions must journey to the wild sea cliffs of Iwagoto in a desperate last-chance effort to stop the Master of Demons from calling upon the Great Kami dragon and making the wish that will plunge the empire into destruction and darkness.

Shadow clan assassin Kage Tatsumi has regained control of his body and agreed to a true deal with the devil—the demon inside him, Hakaimono. They will share his body and work with Yumeko and their companions to stop a madman and separate Hakaimono from Tatsumi and the cursed sword that had trapped the demon for nearly a millennium.

But even with their combined skills and powers, this most unlikely team of heroes knows the forces of evil may be impossible to overcome. And there is another player in the battle for the scroll, a player who has been watching, waiting for the right moment to pull strings that no one even realized existed…until now.
Almost, Maine by John Cariani (Fiewel and Friends)
Based on a popular play by the same name, John Cariani's Almost, Maine is a charming and romantic collection of stories that will have you thinking about love in an entirely new way.

Welcome to Almost, Maine, a town that's so far north, it's almost not in the United States—it's almost in Canada. And it almost doesn't exist, because its residents never got around to getting organized. So it's just . . . Almost.

One cold, clear Friday night in the middle of winter, while the northern lights hover in the sky above, Almost's residents find themselves falling in and out of love in the strangest ways. Knees are bruised. Hearts are broken. Love is lost and found. And life for the people of Almost, Maine will never be the same.
Look by Zan Romanoff (Dial)
"The Prom Queen of Instagram" meets We Are Okay in this totally enthralling, emotionally deep, contemporary YA.

Things Lulu Shapiro's 10,000 Flash followers don't know about her:
* That the video of her with another girl was never supposed to go public.
* That Owen definitely wasn't supposed to break up with her because of it.
* That behind the carefully crafted selfies and scenes Lulu projects onto people's screens, her life feels like a terrible, uncertain mess.

Then Lulu meets Cass. Cass isn't interested in looking at Lulu's life, only in living in it. And The Hotel--a gorgeous space with an intriguing, Old Hollywood history and a trust-fund kid to restore it--seems like the perfect, secret place for them to get to know each other. But just because Lulu has stepped out of the spotlight doesn't mean it'll stop following her every move.

Look is for fans of Emergency Contact, Everything, Everything, and We Are Okay. It's a story about what you present vs. who you really are, about real intimacy and manufactured intimacy and the blurring of that line. It's a deceptively glamorous, feminist, emotionally complex, utterly compelling, queer coming-of-age novel about falling in love and taking ownership of your own self--your whole self--in the age of social media.
We Were Promised Spotlights by Lindsay Sproul (Putnam)
The Miseducation of Cameron Post meets Everything Leads to You in this queer young adult novel.

Taylor Garland's good looks have earned her the admiration of everyone in her small town. She's homecoming queen, the life of every party, and she's on every boy's most-wanted list.

People think Taylor is living the dream, and assume she'll stay in town and have kids with the homecoming king--maybe even be a dental hygienist if she's super ambitious. But Taylor is actually desperate to leave home, and she hates the smell of dentists' offices. Also? She's completely in love with her best friend, Susan.

Senior year is almost over, and everything seems perfect. Now Taylor just has to figure out how to throw it all away.

Lindsay Sproul's debut is full of compelling introspection and painfully honest commentary on what it's like to be harnessed to a destiny you never wanted.
Music From Another World by Robin Talley (Inkyard Press)
It's summer 1977 and closeted lesbian Tammy Larson can't be herself anywhere. Not at her strict Christian high school, not at her conservative Orange County church and certainly not at home, where her ultrareligious aunt relentlessly organizes antigay political campaigns. Tammy's only outlet is writing secret letters in her diary to gay civil rights activist Harvey Milk…until she's matched with a real-life pen pal who changes everything.

Sharon Hawkins bonds with Tammy over punk music and carefully shared secrets, and soon their letters become the one place she can be honest. The rest of her life in San Francisco is full of lies. The kind she tells for others—like helping her gay brother hide the truth from their mom—and the kind she tells herself. But as antigay fervor in America reaches a frightening new pitch, Sharon and Tammy must rely on their long-distance friendship to discover their deeply personal truths, what they'll stand for…and who they'll rise against.

A master of award-winning queer historical fiction, New York Times bestselling author Robin Talley once again brings to life with heart and vivid detail an emotionally captivating story about the lives of two teen girls living in an age when just being yourself was an incredible act of bravery.
We Are The Wildcats by Siobhan Vivian (Simon and Schuster)
A toxic coach finds himself outplayed by the high school girls on his team in this deeply suspenseful novel, which unspools over twenty-four hours through six diverse perspectives.

Tomorrow, the Wildcat varsity field hockey squad will play the first game of their new season. But at tonight's team sleepover, the girls are all about forging the bonds of trust, loyalty, and friendship necessary to win.

Everything hinges on the midnight initiation ceremony—a beloved tradition and the only facet of being a Wildcat that the girls control. Until now.

Coach—a handsome former college player revered and feared in equal measure—changes the plan and spins his team on a new adventure. One where they take a rival team's mascot for a joyride, crash a party in their pajamas, break into the high school for the perfect picture.

But as the girls slip out of their comfort zone, so do some long-held secrets. And just how far they're willing to go for their team takes them all—especially Coach—by surprise.

A testament to the strength and resilience of modern teenage girls, We Are the Wildcats will have readers cheering.