June 1st
If We Were Us by K. L. Walther (Sourcebooks Fire)
Everyone at the prestigious Bexley School believes that Sage Morgan and Charlie Carmichael are meant to be....that it's just a matter of time until they realize that they are actually in love.

When Luke Morrissey shows up on the Bexley campus his presence immediately shakes things up. Charlie and Luke are drawn to each other the moment they meet, giving Sage the opportunity to steal away to spend time with Charlie's twin brother, Nick.

But Charlie is afraid of what others will think if he accepts that he has much more than a friendship with Luke. And Sage fears that things with Nick are getting too serious too quickly. The duo will need to rely on each other and their lifelong friendship to figure things out with the boys they love.
Hood by Jenny Elder Moke (Disney Hyperion)
You have the blood of kings and rebels within you, love. Let it rise to meet the call.
Isabelle of Kirklees has only ever known a quiet life inside the sheltered walls of the convent, where she lives with her mother, Marien. But after she is arrested by royal soldiers for defending innocent villagers, Isabelle becomes the target of the Wolf, King John's ruthless right hand. Desperate to keep her daughter safe, Marien helps Isabelle escape and sends her on a mission to find the one person who can help: Isabelle's father, Robin Hood.
As Isabelle races to stay out of the Wolf's clutches and find the father she's never known, she is thrust into a world of thieves and mercenaries, handsome young outlaws, new enemies with old grudges, and a king who wants her entire family dead. As she joins forces with Robin and his Merry Men in a final battle against the Wolf, will Isabelle find the strength to defy the crown and save the lives of everyone she holds dear?
In Hood, author Jenny Elder Moke reimagines the world of Robin Hood in lush, historical detail and imbues her story with more breathless action than has ever come out of Sherwood Forest before. This novel is a must-read for historical-fiction fans, adventure lovers, and reluctant readers alike!
June 2nd
My Summer Of Love and Misfortune by Lindsay Wong (Simon Pulse) - delayed due to COVID-19.
Anna and the French Kiss meets Crazy Rich Asians in this hilarious, quirky novel about a Chinese-American teen who is thrust into the decadent world of Beijing high society when she is sent away to spend the summer in China.

Iris Wang is having a bit of a rough start to her summer. In an attempt to snap her out of her funk, Iris's parents send her away to visit family in Beijing, with the hopes that Iris will "reconnect with her culture" and "find herself." Iris resents her parents' high-handedness, but even she admits that this might be a good opportunity to hit the reset button.

Iris expects to eat a few dumplings, meet some of her family, and visit a tourist hotspot or two. What she doesn't expect is to meet a handsome Mandarin-language tutor named Frank and to be swept up in the ridiculous, opulent world of Beijing's wealthy elite, leading her to unexpected and extraordinary discoveries about her family, her future, and herself.
Kissing Lessons by Sophie Jordan (HMH)
A steamy contemporary YA romance by New York Times best-selling author Sophie Jordan about a girl with a bad reputation giving lessons on how to attract guys for some extra cash—only to fall for her client's golden-boy brother. For fans of Kami Garcia, Katie McGarry, and Netflix's Sex Education.

Wild, beautiful, and (as rumor has it) experienced, Hayden Vargas doesn't have time for love or relationships. She's learned the hard way that the only person you can count on is yourself, and she's hell-bent on earning enough money to leave her small, judgy Texas town as fast as possible. So when nerdy Emmaline Martin offers to pay Hayden for lessons in seduction, the money is so easy, there must be a catch. Enter the catch: Emmaline's older brother, popular, all-around nice guy™ Nolan Martin, who doesn't want his sister's reputation tarnished by the school's resident bad girl.

But Hayden should know that looks can be deceiving. Nolan may seem like a golden boy, but like Hayden, he has a few secrets of his own. And the more he meddles in her lessons with Emmaline, the more these polar opposites clash—and the more sparks fly. Turns out Nolan may have some lessons to teach Hayden, but only if she's willing to learn.
A Song Below Water by Bethany C. Morrow (Tor Teen)
The Originals meets Nic Stone's Dear Martin in Bethany C. Morrow's debut YA, A Song Below Water, about two best friends discovering their magical identities against the challenges of today's racism and sexism.

Tavia is already at odds with the world, forced to keep her siren identity under wraps in a society that wants to keep her kind under lock and key. Nevermind she's also stuck in Portland, Oregon, a city with only a handful of black folk and even fewer of those with magical powers. At least she has her bestie Effie by her side as they tackle high school drama, family secrets, and unrequited crushes.

But everything changes in the aftermath of a siren murder trial that rocks the nation; the girls' favorite Internet fashion icon reveals she's also a siren, and the news rips through their community. Tensions escalate when Effie starts being haunted by demons from her past, and Tavia accidentally lets out her magical voice during a police stop. No secret seems safe anymore—soon Portland won't be either.
Jo & Laurie by Margaret Stohl and Melissa de la Cruz (Putnam)
Righting the wrongs of fictional history, two bestselling YA authors Melissa de la Cruz and Margaret Stohl bring us the story generations of Little Women fans have always wanted–a romance starring Jo March and her best friend Laurie.

After the publication of Little Women, Jo March is shocked to discover her book of scribbles has become a bestseller, and her publisher demands a sequel. While pressured into coming up with a story, she goes to New York with her dear friend Laurie. But despite her growing feelings, her desire to remain independent leads her to turn down his heartfelt marriage proposal and sends the boy off to college heartbroken. But when Laurie returns to Concord with a sophisticated new girlfriend, will Jo finally communicate her true heart's desire or lose the love of her life forever?
The Court of Miracles by Kester Grant (Knopf)
A diverse fantasy reimagining of Les Misérables and The Jungle Book.

In the dark days following a failed French Revolution, in the violent jungle of an alternate 1828 Paris, young cat-burglar Eponine (Nina) Thenardier goes head to head with merciless royalty, and the lords of the city's criminal underworld to save the life of her adopted sister Cosette (Ettie).

Her vow will take her from the city's dark underbelly, through a dawning revolution, to the very heart of the glittering court of Louis XVII, where she must make an impossible choice between guild, blood, betrayal and war.

For fans of the gritty criminal underworlds of Six Of Crows, The Lies Of Locke Lamora, fierce alternate histories like The Gilded Wolves, And I Darken …and anyone who knows that Eponine deserved so much more.
This Coven Won't Break by Isabel Sterling (Razorbill)
In this gripping, romantic sequel to These Witches Don't Burn, Hannah must work alongside her new girlfriend to take down the Hunters desperate to steal her magic.

Hannah Walsh just wants a normal life. It's her senior year, so she should be focusing on classes, hanging out with her best friend, and flirting with her new girlfriend, Morgan. But it turns out surviving a murderous Witch Hunter doesn't exactly qualify as a summer vacation, and now the rest of the Hunters seem more intent on destroying her magic than ever.

When Hannah learns the Hunters have gone nationwide, armed with a serum capable of taking out entire covens at once, she's desperate to help. Now, with witches across the country losing the most important thing they have—their power—Hannah could be their best shot at finally defeating the Hunters. After all, she's one of the only witches to escape a Hunter with her magic intact.

Or so everyone believes. Because as good as she is at faking it, doing even the smallest bit of magic leaves her in agony. The only person who can bring her comfort, who can make her power flourish, is Morgan. But Morgan's magic is on the line, too, and if Hannah can't figure out how to save her—and the rest of the Witches—she'll lose everything she's ever known. And as the Hunters get dangerously close to their final target, will all the Witches in Salem be enough to stop an enemy determined to destroy magic for good?
When The Stars Wrote Back by Trista Mateer (Random House)
In the vein of poetry collections like Milk and Honey and Light Filters In, this compilation of short, powerful poems from Instagram sensation Trista Mateer shines beauty and insight into relationships, love, growing up, and learning to cope.

This hardcover collection features completely new material, plus some fan favorites from Trista's account. Filled with colored original artwork from Jess Cruickshank, this powerful collection unpacks how to heal from trauma, explores love in many forms, and empowers you to love yourself and take up the space you deserve.

BIG BANG THEORY
what happens if we collide?
will it feel like atoms bursting?
will it burn like light?
will your hands feel the same as other people's hands?
will the whole world change if we touch?
do you want to find out?
Where We Go From Here by Lucas Rocha (Push/Scholastic)
An absorbing debut novel about three gay young adults in Brazil whose lives become intertwined in the face of HIV, perfect for fans of Adam Silvera and Bill Konigsberg

Ian has just been diagnosed with HIV.

Victor, to his great relief, has tested negative.

Henrique has been living with HIV for the past three years.

When Victor finds himself getting tested for HIV for the first time, he can't help but question his entire relationship with Henrique, the guy he has-had-been dating. See, Henrique didn't disclose his positive HIV status to Victor until after they had sex, and even though Henrique insisted on using every possible precaution, Victor is livid.

That's when Victor meets Ian, a guy who's also getting tested for HIV. But Ian's test comes back positive, and his world is about to change forever. Though Victor is loath to think about Henrique, he offers to put the two of them in touch, hoping that perhaps Henrique can help Ian navigate his new life. In the process, the lives of Ian, Victor, and Henrique will become intertwined in a story of friendship, love, and stigma-a story about hitting what you think is rock bottom, but finding the courage and support to keep moving forward.

Set in Rio de Janeiro, Brazil, this utterly engrossing debut by Brazilian author Lucas Rocha calls back to Alex Sanchez's Rainbow Boys series, bringing attention to how far we've come with HIV, while shining a harsh light on just how far we have yet to go.
You Don't Live Here by Robyn Schneider (Katherine Tegan Books)
Robyn Schneider, author of The Beginning of Everything, delivers a witty and heartbreaking tale of first love, second beginnings, and last chances in this timely and authentic bisexual coming-of-age story, perfect for fans of Becky Albertalli and Adam Silvera.

In Southern California, no one lives more than thirty miles from the nearest fault line. Sasha Bloom is standing right on top of one when her world literally crumbles around her. With her mother now dead and father out of the picture, Sasha moves in with her estranged grandparents.

Living in her mom's old bedroom, Sasha has no idea who she is anymore. Luckily, her grandparents are certain they know who she should be: A lawyer in the making. Ten pounds skinnier. In a socially advantageous relationship with a boy from a good family—a boy like Cole Edwards.

And Cole has ideas for who Sasha should be, too. His plus one at lunch. His girlfriend. His.

Sasha tries to make everything work, but that means folding away her love of photography, her grief for her mother, and he growing interest in the magnificently clever Lily Chen. Sasha wants to follow Lily off the beaten path, to discover hidden beaches, secret menus, and the truth about dinosaur pee.

But being friends with Lily might lead somewhere new. Is Sasha willing to stop being the girl everyone expects and let the girl beneath the surface breath through?
My Calamity Jane by Brodie Ashton, Cynthia Hand and Jodi Meadows (HarperTeen)
Welcome ​to 1876 and a rootin'-tootin' America bursting with gunslingers, outlaws, and garou.

JANE (a genuine hero-eene)

Calamity's her name, and garou hunting's her game—when she's not starring in Wild Bill's Traveling Show, that is. She reckons that if a girl wants to be a legend, she should just go ahead and be one.

FRANK (*wolf whistle*)
Frank "the Pistol Prince" Butler is the Wild West's #1 bachelor. He's also the best sharpshooter on
both sides of the Mississippi, but he's about to meet his match. . . .

ANNIE (get your gun!)
Annie Oakley (yep, that Annie) is lookin' for a job, not a romance, but she can't deny there's something about Frank she likes. Really likes. Still, she's pretty sure that anything he can do,
she can do better.

A HAIRY SITUATION
After a garou hunt goes south and Jane finds a suspicious-like bite on her arm, she turns tail for Deadwood, where there's been talk of a garou cure. But things ain't always what they seem—meaning the gang better hightail it after her before they're a day late and a Jane short.
Little Creeping Things by Chelsea Ichaso (Sourcebooks Fire)
When she was a child, Cassidy Pratt accidentally started a fire that killed her neighbor. At least, that's what she's been told. She can't remember anything from that day, and her town's bullies, particularly the cruel and beautiful Melody Davenport, have never let her live it down.

But then Melody goes missing, and Cassidy thinks she may have information. She knows she should go to the cops, but she recently joked about how much she'd like to get rid of Melody. She even planned out the perfect way to do it. And then she gets a chilling text from an unknown number: I'm so glad we're in this together.

Now it's up to Cassidy to figure out what really happened before the truth behind Melody's disappearance sets the whole town ablaze.
You Should See Me In A Crown by Leah Johnson (Scholastic)
Becky Albertalli meets Jenny Han in a smart, hilarious, black girl magic, own voices rom-com by a staggeringly talented new writer.

Liz Lighty has always believed she's too black, too poor, too awkward to shine in her small, rich, prom-obsessed midwestern town. But it's okay -- Liz has a plan that will get her out of Campbell, Indiana, forever: attend the uber-elite Pennington College, play in their world-famous orchestra, and become a doctor.

But when the financial aid she was counting on unexpectedly falls through, Liz's plans come crashing down . . . until she's reminded of her school's scholarship for prom king and queen. There's nothing Liz wants to do less than endure a gauntlet of social media trolls, catty competitors, and humiliating public events, but despite her devastating fear of the spotlight she's willing to do whatever it takes to get to Pennington.

The only thing that makes it halfway bearable is the new girl in school, Mack. She's smart, funny, and just as much of an outsider as Liz. But Mack is also in the running for queen. Will falling for the competition keep Liz from her dreams . . . or make them come true?
The Falling in Love Montage by Ciara Smyth (HarperTeen)
Saoirse doesn't believe in love at first sight or happy endings. If they were real, her mother would still be able to remember her name and not in a care home with early onset dementia. A condition that Saoirse may one day turn out to have inherited. So she's not looking for a relationship. She doesn't see the point in igniting any romantic sparks if she's bound to burn out.

But after a chance encounter at an end-of-term house party, Saoirse is about to break her own rules. For a girl with one blue freckle, an irresistible sense of mischief, and a passion for rom-coms.

Unbothered by Saoirse's no-relationships rulebook, Ruby proposes a loophole: They don't need true love to have one summer of fun, complete with every cliché, rom-com montage-worthy date they can dream up—and a binding agreement to end their romance come fall. It would be the perfect plan, if they weren't forgetting one thing about the Falling in Love Montage: when it's over, the characters actually fall in love… for real.
The Stepping Off Place by Cameron Kelly Rosenblum (HarperCollins)
Every girl loves her best friend, but Hattie is more like Reid's social oxygen. Hattie's the badass, Reid's the wingman; that's how it's meant to be. But when Hattie drowns off the coast of Maine while summering with her family two weeks before the start of senior year, Reid must confront the devastating loss and her own identity crisis, all while hearing and seeing Hattie everywhere.

The police declare that Hattie died by suicide, but it just doesn't make sense. Hattie was one of the most enigmatic and joyful people Reid has ever known. Something just doesn't feel right, and in her grief, Reid immediately begins to question the circumstances surrounding Hattie's death—and the secrets kept by the person she thought she knew better than herself. This is the summer that Reid is forced to reexamine everything she knows about alphas and betas, truth and lies, the complexities of mental health, and what it means to step into yourself.
Burn by Patrick Ness (HarperTeen)
On a cold Sunday evening in early 1957, Sarah Dewhurst waited with her father in the parking lot of the Chevron gas station for the dragon he'd hired to help on the farm…

Sarah Dewhurst and her father, outcasts in their little town of Frome, Washington, are forced to hire a dragon to work their farm, something only the poorest of the poor ever have to resort to.

The dragon, Kazimir, has more to him than meets the eye, though. Sarah can't help but be curious about him, an animal who supposedly doesn't have a soul, but who is seemingly intent on keeping her safe.

Because the dragon knows something she doesn't. He has arrived at the farm with a prophecy on his mind. A prophecy that involves a deadly assassin, a cult of dragon worshippers, two FBI agents in hot pursuit—and somehow, Sarah Dewhurst herself.
A Song of Wraiths and Ruin by Roseanne A. Brown (Balzer + Bray)
For seventeen-year-old refugee Malik Hilali, the weeklong festival of Solstasia is a chance to escape his poverty-stricken life for a new one in the prosperous desert city of Ziran. But just as he reaches the city's gates, a vengeful spirit kidnaps his younger sister and offers him a deal: her freedom in exchange for the death of Crown Princess Karina Almorahad before Solstasia ends. With nothing but his own wits and dark magic he barely understands, Malik disguises himself as a nobleman and enters Solstasia to compete for Karina's hand in marriage—the perfect opportunity to assassinate her.

But the night before Solstasia begins, an assassin murders Karina's mother, and she inherits a court that threatens mutiny. Grief-stricken and distrustful of everyone around her, Karina resorts to using forbidden magic to bring her mother back from the dead. But resurrection comes at a steep cost, and this ritual requires sacrificing her future husband—the winner of Solstasia.

Over a week of heart-pounding celebrations and dazzling displays of magic, an unlikely bond forms between Karina and Malik, and their interactions force them to question everything they thought they knew about their world. But though they're more alike than their enemies would have them believe, both are willing to do whatever it takes to save the ones they love—even if they have to destroy each other.

A Song of Wraiths and Ruin #ownvoices YA Fantasy inspired by West and North African folklore, perfect for fans of the Sabaa Tahir's An Ember in the Ashes, Tomi Adeyemi's Children of Blood and Bone and Leigh Bardugo's Grishaverse books.
Again Again by E. Lockhart (Delacorte)
New York Times bestselling author E. Lockhart (WE WERE LIARS, GENUINE FRAUD) returns with a complex novel about acceptance, forgiveness, self-discovery, and possibility, as a teenage girl attempts to regain some sense of normalcy in her life after a family crisis and a broken heart.

17-year-old Adelaide Buchman's life has not been the same since her younger brother overdosed on opioids. She saved his life, but she cannot seem to reconnect with her brother. Seeking distraction and solace from her difficult home life, Adelaide finds herself trying to be the person everyone wants her to be.

After a difficult breakup with her boyfriend tears her life even further apart, Adelaide catapults into a summer of wild possibility with a new boy, Jack. But Adelaide knows that what she really must face this summer is her need to confront her brother, their history, and their future as a family.

AGAIN AGAIN gives us an indelible heroine grappling with her place in the world.
Category Five by Ann Davila Cardinal (Tor Teen)
Category Five is a new supernatural YA thriller from Ann Dávila Cardinal, set against the backdrop of a post-hurricane Puerto Rico.

After the hurricane, some see destruction and some smell blood.

The tiny island of Vieques, located just off the northeastern coast of the main island of Puerto Rico, is trying to recover after hurricane Maria, but the already battered island is now half empty. To make matters worse, as on the main island, developers have come in to buy up the land at a fraction of its worth, taking advantage of the island when it is down.

Lupe, Javier, and Marisol are back to investigate a series of murders that follow in the wake of a hurricane and in the shadow of a new supernatural threat.
Beyond the Break by Heather Buchta (Penguin Workshop)
For fans of Sarah Dessen and Jenny Han, Beyond the Break is a funny and gorgeous debut about a girl experiencing her first love. Well, second, if you count her faith… and that's where things may get complicated.

Seventeen-year-old Lovette has two rules in life. One: no surfing. Not after her brother's accident. Two: absolutely, no dating. And going into her junior year of high school, she's pretty happy with that arrangement. She has friends, her church youth group, and God to fall back on when things get dicey. But after Jake Evans walks into her life, following these two simple rules gets a lot more complicated.

Jake is the boy from Lovette's childhood who grew up. Handsome and sweet, he unlocks the part of Lovette that wants nothing more than to surf the waves again. And as their relationship grows, she begins to question what it means to be faithful: to her family, to God, but mostly, to herself.

Told with humor and heart, Heather Buchta delivers a sparkling debut that asks the question: Can you fall in love, be a teenager, and also be a good Christian?
The Challenger by Taran Matharu (Fiewel and Friends)
The stakes are higher than ever in The Challenger, the second book in the Contender YA trilogy by the New York Times bestselling author of the Summoner series, Taran Matharu.
The first battle is over, but the Game is just beginning...
Cade Carter and his friends have survived the qualifying round of the mysterious overlords' twisted games, decimated by the loss of so many of their comrades during the fight. But they have no time to mourn, for the next round of trials is about to begin.
When the group discovers that their next foe will be even more ferocious than the last, Cade leads them on a quest out into their strange new world to find anything that might give them an edge. But what they find in the wilds could prove to be even more dangerous than the impending battle...
The stakes are higher than ever in this thrilling sequel to The Chosen.
June 9th
The Shadow Wand by Laurie Forest (Inkyard Press)
Separated from her friends, Elloren Gardner must hone her newly discovered powers with the help of her new fastmate and unexpected ally, Lukas Grey, in order to keep the darkness sweeping over Erthia at bay.

For the first time in the series, Laurie Forest will be writing in multiple character POVs, following the stories of several fan-favorite secondary characters from earlier books, including Trystan Gardner, Tierney Calix, Wynter Eirllyn, and a young Urisk woman named Sparrow.
All the Things We Never Knew by Liara Tamani (Greenwillow Books)
From the moment Carli and Rex first locked eyes on a Texas high school basketball court, they both knew it was destiny. But can you truly love someone else if you don't love yourself? Acclaimed author Liara Tamani's luminous second novel explores love, family, heartbreak, betrayal, and the power of healing, in gorgeous prose that will appeal to readers of Nicola Yoon and Jacqueline Woodson.

A glance was all it took. That kind of connection, the immediate and raw understanding of another person, just doesn't come along very often. And as rising stars on their Texas high schools' respective basketball teams, destined for bright futures in college and beyond, it seems like a match made in heaven. But Carli and Rex have secrets. As do their families.

Liara Tamani, the author of the acclaimed Calling My Name, follows two Black teenagers as they discover how first love, heartbreak, betrayal, and family can shape you—for better or for worse. A novel full of pain, joy, healing, and hope for fans of Elizabeth Acevedo, Jacqueline Woodson, and Jenny Han.

"A beautifully poignant love letter: to a first love, to basketball, and to that enigmatic bunch we think we know best, only to discover we don't know at all—family. Tamani's latest is a bright shining star."—David Arnold, New York Times–bestselling author of Mosquitoland.
See No Colour (Reprint) by Shannon Gibney (Holiday House)
Black daughter, white father, white mother. Race, adoption, and identity collide in this award-winning #OwnVoices debut about a teen challenging the life she's always known.

Being a transracial adoptee doesn't bother sixteen-year-old Alex Kirtridge-at least, not in a way she can explain to her white family. It doesn't matter that she's biracial when she's the star of the baseball team. But when Alex is off the field, she's teased for "acting" too white and judged for looking black. And while she loves her parents, her hot-headed brother, and her free-speaking sister, they don't seem to understand what it means that Reggie, a fellow ball player, is the first black guy who's wanted to get to know her.

Things only get more complicated when she finds hidden letters from her birth father. Alex can't stop asking questions. Does she really fit in with her family? What would it be like to go to a black hairdresser? Should she contact her birth father, despite the fact that it might devastate her parents? Meanwhile, her body is changing, and Alex isn't sure she can keep up with her teammates. If she's going to find answers, Alex must come to terms with her adoption, her race, and the dreams she thought would always guide her.

Author Shannon Gibney draws from her own experiences as a transracial adoptee to deliver this honest coming-of-age novel about a girl who doesn't know where she wants to fit in.
Followers by Raziel Reid (Penguin Teen)
A naïve teenager is thrown into the high-stakes, back-stabbing world of reality television in this gossipy, satirical romp, perfect for fans of reality TV.

After a disastrous date results in her arrest, sixteen-year-old Lily Rhode is horrified to discover her mugshot is leaked on a gossip website. Lily is the niece of Whitney Paley, a Hollywood housewife and star of reality show Platinum Triangle, a soap-opera-style docu-series in the vein of Real Housewives of Beverly Hills and The Hills, revolving around several glamorous families living in the Beverly Hills, Bel Air and Holmby Hills neighborhoods of Los Angeles.

When Lily's mom kicks her out of their trailer home in the Valley, Whitney (Lily's mom's estranged sister) invites her to live with her, her movie-star husband, Patrick, and their daughter, Hailey. Lily is set up in the pool house and thrust into the company of reality-star offspring -- kids who are born with silver spoon emojis on their feed. Lily's cousin Hailey and the other teens have lived their entire lives on camera and are masters of deception, with Hailey leading the pack.

As Lily learns from the Paleys how to navigate her newfound fame, she finds herself ensnared in the unfolding storylines. What Lily doesn't know is that she's just a pawn being used on the show to make the Paleys look sympathetic to viewers while distracting from on-set sexual misconduct rumors surrounding super hero dad Patrick Paley . . .

Is Lily safe under Patrick's roof? Or will Lily be Patrick's downfall? If she isn't destroyed by Hailey first. When Lily catches the eye of Hailey's designated leading man Joel Strom -- it's war!
The Mall by Megan McCafferty (Wednesday Books)
New York Times bestselling author Megan McCafferty returns to her roots with this YA coming of age story set in a New Jersey mall.

The year is 1991. Scrunchies, mixtapes and 90210 are, like, totally fresh. Cassie Worthy is psyched to spend the summer after graduation working at the Parkway Center Mall. In six weeks, she and her boyfriend head off to college in NYC to fulfill The Plan: higher education and happily ever after.

But you know what they say about the best laid plans...

Set entirely in a classic "monument to consumerism," the novel follows Cassie as she finds friendship, love, and ultimately herself, in the most unexpected of places. Megan McCafferty, beloved New York Times bestselling author of the Jessica Darling series, takes readers on an epic trip back in time to The Mall.
Rage and Ruin by Jennifer L. Armentrout (Inkyard Press)
Forbidden alliances, forbidden love.

A half human, half angel and her bonded gargoyle protector must work with demons to stop the apocalypse while avoiding falling in love. The Harbinger is coming…but who or what is it? All of humankind may fall if Trinity and Zayne can't win the race against time as dark forces gather.

As tensions rise, they must stay close together and patrol the DC streets at night, seeking signs of the Harbinger, an entity that is killing Wardens and demons with no seeming rhyme or reason.

Forbidden to be with each other, Zayne and Trinity fight their feelings and turn to unusual sources for help—the demon Roth and his cohorts. But as deaths pile up and they uncover a sinister plot involving the local high school and endangering someone dear to Zayne, Trin realizes she is being led…herded…played for some unknown end. As anger builds and feelings spiral out of control, it becomes clear that rage may be the ruin of them all.
Agnes at the End of the World by Kelly McWilliams (Little, Brown)
The Village meets Octavia Butler's After the Fire in this unique, voice-driven novel from Kelly McWilliams.

Agnes knows she loves her home of Red Creek—its quiet, sunny mornings, its dusty roads, and its God. There, she cares tirelessly for her younger siblings and follows the town's strict laws. What she doesn't know is that Red Creek is a cult, controlled by a madman who calls himself a prophet.

Then Agnes meets Danny, an Outsider boy, and begins to question what is and isn't a sin. Her younger brother, Ezekiel, will die without the insulin she barters for once a month, even though medicine is considered outlawed. Is she a sinner for saving him? Is her sister, Beth, a sinner for dreaming of the world beyond Red Creek?

As the Prophet grows more dangerous, Agnes realizes she must escape with Ezekiel and leave everyone else, including Beth, behind. But it isn't safe Outside, either: A viral pandemic is burning through the population at a terrifying rate. As Agnes ventures forth, a mysterious connection grows between her and the Virus. But in a world where faith, miracles, and cruelty have long been indistinguishable, will Agnes be able to choose between saving her family and saving the world?
The Good for Nothings by Danielle Banas (Swoon Reads)
They're only good at being bad.

Cora Saros is just trying her best to join the family business of theft and intergalactic smuggling. Unfortunately, she's a total disaster.

After landing herself in prison following an attempted heist gone very wrong, she strikes a bargain with the prison warden: He'll expunge her record if she brings back a long-lost treasure rumored to grant immortality.

Cora is skeptical, but with no other way out of prison (and back in her family's good graces), she has no choice but to assemble a crew from her collection of misfit cellmates—a disgraced warrior from an alien planet; a cocky pirate who claims to have the largest ship in the galaxy; and a glitch-prone robot with a penchant for baking—and take off after the fabled prize.

But the ragtag group soon discovers that not only is the too-good-to-be-true treasure very real, but they're also not the only crew on the hunt for it. And it's definitely a prize worth killing for.

Whip-smart and utterly charming, this irreverent sci-fi adventure is perfect for fans of Guardians of the Galaxy, The Lunar Chronicles, and Firefly.
Half Life by Lillian Clark (Knopf)
Teens will be on the edge of their seats reading this story about a girl who enrolls in an experimental clone study.

There aren't enough hours in the day for Lucille, a perfectionist and overachiever, to do everything she needs to do, and there certainly aren't enough hours to hang out with friends, fall in love, get in trouble — all the teenage things she wants to do. So when she sees an ad for Life2: Do more. Be more, she's intrigued.

The company is looking for beta testers to enroll in an experimental clone program, and Lucille is feeling reckless enough to jump in. At first, it's perfect: her clone, Lucy, is exactly what Lucille needs to have time for a social life. But it doesn't take long for Lucy to take on a life of her own . . .

HALF LIFE is a fast paced, near-future adventure that will appeal to fans of both contemporary YA and science fiction.
This Is All Your Fault by Aminah Mae Safi (Fiewel and Friends)
Set over the course of one day, this smart and voice-driven YA novel follows three young women determined to save their indie bookstore.
Rinn Olivera is finally going to tell her longtime crush AJ that she's in love with him.

Daniella Korres writes poetry for her own account, but nobody knows it's her.

Imogen Azar is just trying to make it through the day.

When Rinn, Daniella, and Imogen clock into work at Wild Nights Bookstore on the first day of summer, they're expecting the hours to drift by the way they always do. Instead, they have to deal with the news that the bookstore is closing. Before the day is out, there'll be shaved heads, a diva author, and a very large shipment of Air Jordans to contend with.

And it will take all three of them working together if they have any chance to save Wild Nights Bookstore.
The Boundless by Anna Bright (HarperTeen)
After enduring deception at the hands of one prince, Selah never imagined she'd find love with Torden of Norge. Or that she'd be banished from his court as a traitor and a spy, unsure when or if they'll see each other again. That heartbreak pales in comparison to her crew's—her friends'—betrayal.
The Beholder's true mission was a secret they didn't trust Selah to keep: transporting weapons to rebels fighting against the Imperiya Yotne's brutal tsarytsya, whose shadow looms over their next port, Shvartsval'd—a place Selah hoped she would never have to go.But gone is the girl who departed Potomac filled with fear. With a stockpile of weapons belowdecks and another prince waiting in the next port, Selah is determined to see the Beholder's quest to its end.
June 16th
You Say It First by Katie Cotugno (Balzer + Bray)
Meg has her entire life set up perfectly: her boyfriend Mason is sweet and supportive, she and her best friend Emily plan to head to Cornell together in the fall, and she even finds time to clock shifts phonebanking at a voter registration call center in her Philadelphia suburb. But everything changes when one of those calls connects her to a stranger from small-town Ohio, who gets under her skin from the moment he picks up the phone.

Colby is stuck in a rut, reeling from a family tragedy and working a dead-end job—unsure what his future holds, or if he even cares. The last thing he has time for is some privileged rich girl preaching the sanctity of the political process. So he says the worst thing he can think of and hangs up.

But things don't end there.…

That night on the phone winds up being the first in a series of candid, sometimes heated, always surprising conversations that lead to a long-distance friendship and then—slowly—to something more. Across state lines and phone lines, Meg and Colby form a once-in-a-lifetime connection. But in the end, are they just too different to make it work?

You Say It First is a propulsive, layered novel about how sometimes the person who has the least in common with us can be the one who changes us most.
The Circus Rose by Betsy Cornwell (Clarion Books)
From a New York Times bestselling author, a queer retelling of "Snow White and Rose Red" in which teenage twins battle evil religious extremists to save their loves and their circus family. YA fantasy perfect for fans of Leigh Bardugo, Mackenzi Lee, and Laini Taylor.

Twins Rosie and Ivory have grown up at their ringmaster mother's knee, and after years on the road, they're returning to Port End, the closest place to home they know. Yet something has changed in the bustling city: fundamentalist flyers paper the walls and preachers fill the squares, warning of shadows falling over the land. The circus prepares a triumphant homecoming show, full of lights and spectacle that could chase away even the darkest shadow. But during Rosie's tightrope act, disaster strikes.

In this lush, sensuous novel interwoven with themes of social justice and found family, it's up to Ivory and her magician love—with the help of a dancing bear—to track down an evil priest and save their circus family before it's too late.
I'll Be The One by Lyla Lee (Katherine Tegan Books)
The world of K-Pop has never met a star like this. Debut author Lyla Lee delivers a deliciously fun, thoughtful rom-com celebrating confidence and body positivity—perfect for fans of Jenny Han and Julie Murphy.

Skye Shin has heard it all. Fat girls shouldn't dance. Wear bright colors. Shouldn't call attention to themselves. But Skye dreams of joining the glittering world of K-Pop, and to do that, she's about to break all the rules that society, the media, and even her own mother, have set for girls like her.

She'll challenge thousands of other performers in an internationally televised competition looking for the next K-pop star, and she'll do it better than anyone else.


When Skye nails her audition, she's immediately swept into a whirlwind of countless practices, shocking performances, and the drama that comes with reality TV. What she doesn't count on are the highly fat-phobic beauty standards of the Korean pop entertainment industry, her sudden media fame and scrutiny, or the sparks that soon fly with her fellow competitor, Henry Cho.

But Skye has her sights on becoming the world's first plus-sized K-pop star, and that means winning the competition—without losing herself.
Bookish and the Beast by Ashley Poston (Quirk Books)
In the third book in Ashley Poston's Once Upon a Con series, Beauty and the Beast is retold in the beloved Starfield universe.

Rosie Thorne is feeling stuck—on her college application essays, in her small town, and on that mysterious General Sond cosplayer she met at ExcelsiCon. Most of all, she's stuck in her grief over her mother's death. Her only solace was her late mother's library of rare Starfield novels, but even that disappeared when they sold it to pay off hospital bills.

On the other hand, Vance Reigns has been Hollywood royalty for as long as he can remember—with all the privilege and scrutiny that entails. When a tabloid scandal catches up to him, he's forced to hide out somewhere the paparazzi would never expect to find him: Small Town USA. At least there's a library in the house. Too bad he doesn't read.

When Rosie and Vance's paths collide and a rare book is accidentally destroyed, Rosie finds herself working to repay the debt. And while most Starfield superfans would jump at the chance to work in close proximity to the Vance Reigns, Rosie has discovered something about Vance: he's a jerk, and she can't stand him. The feeling is mutual.

But as Vance and Rosie begrudgingly get to know each other, their careful masks come off—and they may just find that there's more risk in shutting each other out than in opening their hearts.
The Kinder Poison by Natalie Mae (Razorbill)
Perfect for fans of Victoria Aveyard and Holly Black, this enthralling fantasy adventure follows a sixteen-year-old girl chosen to be the human sacrifice in a deadly game between three heirs who will do anything for the crown.

In the magical kingdom of Orkena, sixteen-year-old Zahru has long dreamed of a life beyond the desert, even though she knows her lowly position as a stable girl who can commune with animals will never afford her such a luxury.

All that changes when the ailing ruler invokes an ancient tradition known as the Crossing. It's a death-defying race across the desert, in which the first to finish—and take the life of a human sacrifice at the journey's end—will ascend to the throne and be granted untold powers.

As preparations and celebrations for the Crossing ramp up, Zahru jumps at the chance to experience a small taste of glamour by sneaking into the palace. But the minor indiscretion quickly becomes the worst mistake of her life as she gets caught up in a feud between the heirs and is ultimately forced to become the contest's human sacrifice.
Smooth by Matt Burns (Candlewick)
Kevin's acne is horribly, hideously bad. Can a risky treatment fix his face — and his entire life? A witty and sharply observed debut.

Fifteen-year-old Kevin has acne, and not just any acne. Stinging red welts, painful pustules, and massive whiteheads are ruining his life. In an act of desperation, he asks his dermatologist to prescribe him a drug with a dizzying list of possible side effects — including depression — and an obligatory monthly blood test. But when he meets Alex, a girl in the lab waiting room, blood test day quickly becomes his safe haven — something he sorely needs, since everyone, including his two best friends, is trying his last nerve. But as Kevin's friendships slip further away and he discovers who Alex is outside of the lab, he realizes he's not sure about anything anymore. Are loneliness and self-doubt the side effects of his new acne meds? Or are they the side effects of being fifteen?

Told in a bitingly funny first-person narration, this debut novel crackles with wry and wistful insights about the absurdities of high school, longing and heartbreak, and a body out of control. A surefire hit for teen boys and reluctant readers, Smooth gets under the skin of a tenth-grader who is changing — inside and out.
Fake Plastic World by Zara Lisbon (Henry Holt)
Youth, beauty, and the perils of fame combine in this suspenseful sequel to Fake Plastic Girl.
How badly do you want to be famous? What―or who―would you sacrifice?
These are the questions Justine Childs is forced to reckon with as the main suspect in the murder of It-girl Eva-Kate Kelly. Not long ago, Eva-Kate drew Justine into her orbit before meeting her untimely end in a Venice Beach canal. Prosecutors and the public want to know: Did Justine, now a social media darling in her own right, kill her celebrity best friend? Can anyone be trusted to tell the truth? Justine has always wanted people to know her name―but not all notoriety is created equal.
June 23rd
Forest of Souls by Lori M. Lee (Page Street)
Danger lurks within the roots of Forest of Souls, an epic, unrelenting tale of destiny and sisterhood, perfect for fans of Naomi Novik and Susan Dennard.

Sirscha Ashwyn comes from nothing, but she's intent on becoming something. After years of training to become the queen's next royal spy, her plans are derailed when shamans attack and kill her best friend Saengo.

And then Sirscha, somehow, restores Saengo to life.

Unveiled as the first lightwender in living memory, Sirscha is summoned to the domain of the Spider King. For centuries, he has used his influence over the Dead Wood—an ancient forest possessed by souls—to enforce peace between the kingdoms. Now, with the trees growing wild and untamed, only a lightwender can restrain them. As war looms, Sirscha must master her newly awakened abilities before the trees shatter the brittle peace, or worse, claim Saengo, the friend she would die for.
Deadly Curious by Cindy Anstey (Swoon Reads)
1834. Sophia Thompson wants nothing more than to be one of the famed Bow Street Runners, London's most elite corps of detectives. Never mind that a woman has never before joined their ranks--and certainly never mind that her reclusive family has forbidden her from pursuing such an unladylike goal.

She gets the chance to prove her capabilities when an urgent letter arrives from her frantic cousin Daphne, begging Sophia to come look into the suspicious death of Daphne's brother.

As Sophia begins to unravel the tangled threads of the case--with the help of a charming young policeman--she soon realizes that the murderer may be even closer to her family than she ever suspected.

A twisty tale reminiscent of Jane Austen--with a dash of murder--Deadly Curious is perfect for fans of Kerri Maniscalco.
What Unbreakable Looks Like by Kate McLaughlin (Wednesday Books)
Lex was taken – trafficked - and now she's Poppy. Kept in a hotel with other girls, her old life is a distant memory. But when the girls are rescued, she doesn't quite know how to be Lex again.

After she moves in with her aunt and uncle, for the first time in a long time, she knows what it is to feel truly safe. Except, she doesn't trust it. Doesn't trust her new home. Doesn't trust her new friend. Doesn't trust her new life. Instead she trusts what she shouldn't because that's what feels right. She doesn't deserve good things.

But when she is sexually assaulted by her so-called boyfriend and his friends, Lex is forced to reckon with what happened to her and that just because she is used to it, doesn't mean it is okay. She's thrust into the limelight and realizes she has the power to help others. But first she'll have to confront the monsters of her past with the help of her family, friends, and a new love.

Kate McLaughlin's What Unbreakable Looks Like is a gritty, ultimately hopeful novel about human trafficking through the lens of a girl who has escaped the life and learned to trust, not only others, but in herself.
My Eyes Are Up Here by Laura Zimmermann (Dutton)
My Eyes Are Up Here is YA novel from debut author Laura Zimmerman about a teenage girl struggling to rediscover her balance--and her voice--in the year after a surprising growth spurt.

A "monimal" is a simple algebraic expression consisting of a single term. 30H, for example. 15-year-old Greer Walsh hasn't blinked at basic algebra since sixth grade, but for the last year, 30H has felt like an unsolvable equation--one that's made her world a very small, very lonely place. 30H is her bra size--or it was the last time anyone checked. She stopped letting people get that close to her with a tape measure a while ago.

Ever since the sudden change summer before ninth grade, Greer has felt out of control. She can't control her first impressions, the whispers that follow, or the stares that linger after. The best she can do is put on her faithful XXL sweatshirt and let her posture--and her expectations for other people--slump. (She's not even surprised when her advanced-math classmates are reduced to typing 58008 on their calculators.)

But sophomore year seems determined to remind her that life is not supposed to be this way. Despite carefully avoiding physical contact and anything tighter than a puffy coat, Greer finds an unexpected community on the skin-tight-unforms-and-hugs-between-every-point volleyball team. And then there's Jackson Oates, newly arrived at her school and maybe actually more interested in her banter than her breasts.
You're Next by Kylie Schachte (Jimmy Paterson)
When a girl with a troubled history of finding dead bodies investigates the murder of her ex, she uncovers a plot to put herself---and everyone she loves---on the list of who's next.

Flora Calhoun has a reputation for sticking her nose where it doesn't belong. After stumbling upon a classmate's body years ago, the trauma of that discovery and the police's failure to find the killer has haunted her ever since. One night, she gets a midnight text from Ava McQueen, the beautiful girl who had ignited Flora's heart last summer, then never spoke to her again.

Just in time to witness Ava's death from a gunshot wound, Flora is set on a path of rage and vengeance for all the dead girls whose killer is never found. Her tunnel-visioned sleuthing leads to valuable clues about a shocking conspiracy involving her school and beyond, but also earns her sinister threats from the murderer. She has a choice---to give up the hunt for answers, or keep digging and risk her loved ones' lives. Either way, Flora will regret the consequences. Who's next on the killer's list?
Girl Unframed by Deb Calletti (Simon Pulse)
A teen girl's summer with her mother turns sinister in this gripping thriller about the insidious dangers of unwanted attention, from Printz Honor medal–winning and National Book Award finalist author Deb Caletti—perfect for fans of Courtney Summers's Sadie.

Sydney Reilly has a bad feeling about going home to San Francisco before she even gets on the plane. How could she not? Her mother is Lila Shore—the Lila Shore—a film star who prizes her beauty and male attention above all else…certainly above her daughter.

But Sydney's worries multiply when she discovers that Lila is involved with the dangerous Jake, an art dealer with shady connections. Jake loves all beautiful objects, and Syndey can feel his eyes on her whenever he's around. And he's not the only one. Sydney is starting to attract attention—good and bad—wherever she goes: from sweet, handsome Nicco Ricci, from the unsettling construction worker next door, and even from Lila. Behaviors that once seemed like misunderstandings begin to feel like threats as the summer grows longer and hotter.

It's unnerving, how beauty is complicated, and objects have histories, and you can be looked at without ever being seen. But real danger, crimes of passion, the kind of stuff where someone gets killed—it only mostly happens in the movies, Sydney is sure. Until the night something life-changing happens on the stairs that lead to the beach. A thrilling night that goes suddenly very wrong. When loyalties are called into question. And when Sydney learns a terrible truth: beautiful objects can break.
Seasons of the Storm by Elle Cosimano (HarperTeen)
Choice number one: live or die.

One cold, crisp night, Jack Sommers was faced with that choice—live forever according to the ancient, magical rules of Gaia, or die. Jack chose to live, and in exchange, he became a Winter. Like the other Seasons, each year Jack must hunt and kill the one before him. Gaia's rules are pretty straightforward. Winter kills Autumn. Autumn kills Summer. Summer kills Spring. And Spring kills Winter.

Which means that Jack kills Amber. Amber kills Julio. Julio kills Fleur. And Fleur kills Jack. They die. They train. They hunt.

But when Jack and Fleur—Winter and Spring—fall for each other against all odds, the true brutality of their eternal lives becomes all too personal and all too painful. And Fleur is on the brink of being purged, forever. Unless they can come up with a plan to stop the cycle.

When the four Seasons unite, risking immortality for a chance at love and to reclaim their free will, their cross-country escape brings them to a place where they must defend each other against a creator who seeks to destroy them all.
Hunted by the Sky by Tanaz Bhathena (FSG)
Gul has spent her life running. She has a star-shaped birthmark on her arm, and in the kingdom of Ambar, girls with such birthmarks have been disappearing for years. Gul's mark is what caused her parents' murder at the hand of King Lohar's ruthless soldiers and forced her into hiding to protect her own life. So when a group of rebel women called the Sisters of the Golden Lotus rescue her, take her in, and train her in warrior magic, Gul wants only one thing: revenge.

Cavas lives in the tenements, and he's just about ready to sign his life over to the king's army. His father is terminally ill, and Cavas will do anything to save him. But sparks fly when he meets a mysterious girl—Gul—in the capital's bazaar, and as the chemistry between them undeniably grows, he becomes entangled in a mission of vengeance—and discovers a magic he never expected to find.

Dangerous circumstances have brought Gul and Cavas together at the king's domain in Ambar Fort . . . a world with secrets deadlier than their own. Exploring identity, class struggles, and high-stakes romance, Hunted by the Sky is a gripping adventure set in a world inspired by medieval India.
Keep my Heart in San Francisco by Amelia Diane Coombs (Simon Pulse)
Caroline Wilson—Chuck—is the reluctant heir to Bigmouth's Bowl, her family's ancient San Francisco bowling alley. She knew business was dwindling, but when she finds out that her father owes an absurd amount of back rent, things take on an entirely new light. Suddenly, her dreams of staying in her beloved San Francisco to attend fashion school are seeming less likely, especially when she finds her father looking at property in Surprise, Arizona. This is not the sort of surprise she welcomes.

Chuck's only option is to come up with the money herself—and as luck would have it, her former best friend Beckett Porter has an idea how to make it work. Sure, hustling might be slightly illegal, but if it worked for Paul Newman, maybe it can work for them. Right?

Beckett and Chuck team up to infiltrate the Bay Area action bowling scene, with enough success that saving Bigmouth's seems within reach. But Chuck can't shake the nagging feeling that she's acting irrational—too much like her mentally ill mother for comfort—and lying to her father and aunt is weighing heavily upon her. Plus, despite her best efforts to keep things strictly business, Beckett's charm is winning her back over. Can she pull off saving Bigmouth's, protecting her father and aunt, keeping tabs on her mental health, and deal with her newfound feelings about her former best friend? If she loses, Bigmouth's Bowl and their San Francisco legacy are gone forever. But if she wins, she might just get everything she ever wanted.
Rebel Spy by Veronica Rossi (Delacorte)
A reimagining of the story behind Agent 355--a New York society girl and spy for George Washington during the Revolutionary War--perfect for fans of Tatiana de Rosnay's Sarah's Key and the novels of Julie Berry.

Rebellious Frannie Tasker knows little about the war between England and its thirteen colonies in 1776, until a shipwreck off her home in Grand Bahama Island presents an unthinkable opportunity. The body of a young woman body floating in the sea gives Frannie the chance to escape her brutal stepfather--and she takes it.

Assuming the identity of the drowned Emmeline Coates, Frannie is rescued by a British merchant ship and sails with the crew to New York. For the next three years, Frannie lives a lie as Miss Coates, swept up in a courtship by a dashing British lieutenant. But after witnessing the darker side of the war, she realizes that her position gives her power. Soon she finds herself eavesdropping on British officers, risking everything to pass information on to George Washington's Culper spy ring as agent 355. Frannie believes in the fight for American liberty--but what will it cost her? Inspired by the true "355" and rich in historical detail and intrigue, this is the story of an unlikely New York society girl turned an even unlikelier spy.
Sisters of Sword and Song by Rebecca Ross (HarperTeen)
From the author of The Queen's Rising comes a thrilling YA stand-alone fantasy about the unbreakable bond between sisters. Perfect for fans of Ember in the Ashes, Sky in the Deep, and Court of Fives.

After eight long years, Evadne will finally be reunited with her older sister, Halcyon, who has been proudly serving in the queen's army. But when Halcyon appears earlier than expected, Eva knows something has gone terribly wrong. Halcyon is on the run, hunted by her commander and charged with murder.

Though Halcyon's life is spared during her trial, the punishment is heavy. And when Eva volunteers to serve part of Halcyon's sentence, she's determined to find out exactly what happened. But as Eva begins her sentence, she quickly learns that there are fates much worse than death.
Take Me With You by Tara Altebrando (Bloomsbury)
From the acclaimed author of The Leaving comes a new psychological thriller that challenges our trust in the electronic devices we keep close.

Eden, Eli, Marwan, and Ilanka barely know each other beyond having a class or two together. But when they are all summoned via messaging app to an empty classroom after school, they find a small cube sitting on a desk. Its sides light up with rules for them:
Do not tell anyone about the device. Never leave the device unattended.
And then, Take me with you . . . or else.

At first they think it's some kind of prank or a social experiment orchestrated by the school administration. Still, they follow its instructions until the newly-formed group starts to splinter. Nobody has time for these games--their lives are complicated enough. But the device seems increasingly invested in the private details of their lives. And disobeying its rules has scary--even life-threatening--consequences . . .

This timely thriller probes our dependence on personal technology and challenges the notion that our devices are keeping us connected. The truth may very well be the opposite.
Scorpion by Jeff Sweat (Fiewel and Friends)
In this sequel to Mayfly, Jemma, Lady, and Pico all left the Holy Wood to seek answers to the End, and when they find the Old Guys—the only adults to have survived the original wipeout of everyone over the age of seventeen—they think they've found help at last.

But there's a lot the Old Guys aren't telling them. In fact, some of them don't seem interested in solving the End at all and just want Jemma and her friends to leave. Meanwhile, war is brewing among the tribes of the rest of the Children. Jemma's old home has fallen into disorder, and is far from prepared for battle. It won't be long before the fighting reaches Jemma and the Old Guys, if they even live to see it.
A Sky Painted Gold by Laura Wood (Random House)
The Great Gatsby meets I Capture the Castle in this gorgeously dreamy coming-of-age romance perfect for fans of A Gentleman's Guide to Vice and Virtue.

It is the summer of 1929. Lou Trevelyan is a small-town girl with big dreams of becoming a writer. Then she meets the Cardew siblings: the bubbly Caitlin and her handsome, enigmatic brother, Robert. Lou is swept into their glittering whirlwind of moonlit parties, unrivaled glamour, and whispered secrets. As she falls deeper into the world of high society, Lou must find a way to stay true to herself . . . and her heart.
June 30th
TRUEL1F3 by Jay Kristoff (Random House)
From the bestselling co-author of the Illuminae Files comes the thrilling finale in the LIFEL1K3 trilogy–hailed by Marie Lu as "a breathless, action-packed exploration of what humanity really means."

Best friends have become enemies. Lovers have become strangers. And deciding whose side you're on could be the difference between life and death. For Eve and Lemon, discovering the truth about themselves–and each other–was too much for their friendship to take. But with the country on the brink of a new world war–this time between the BioMaas swarm at CityHive and Daedalus's army at Megopolis, loyalties will be pushed to the brink, unlikely alliances will form and with them, betrayals. But the threat doesn't stop there, because the lifelikes are determined to access the program that will set every robot free, a task requiring both Eve and Ana, the girl she was created to replace. In the end, violent clashes and heartbreaking choices reveal the true heroes . . . and they may not be who you think they are.
I Killed Zoe Spanos by Kit Frick (Margaret K. McElderry Books) - delayed due to COVID19.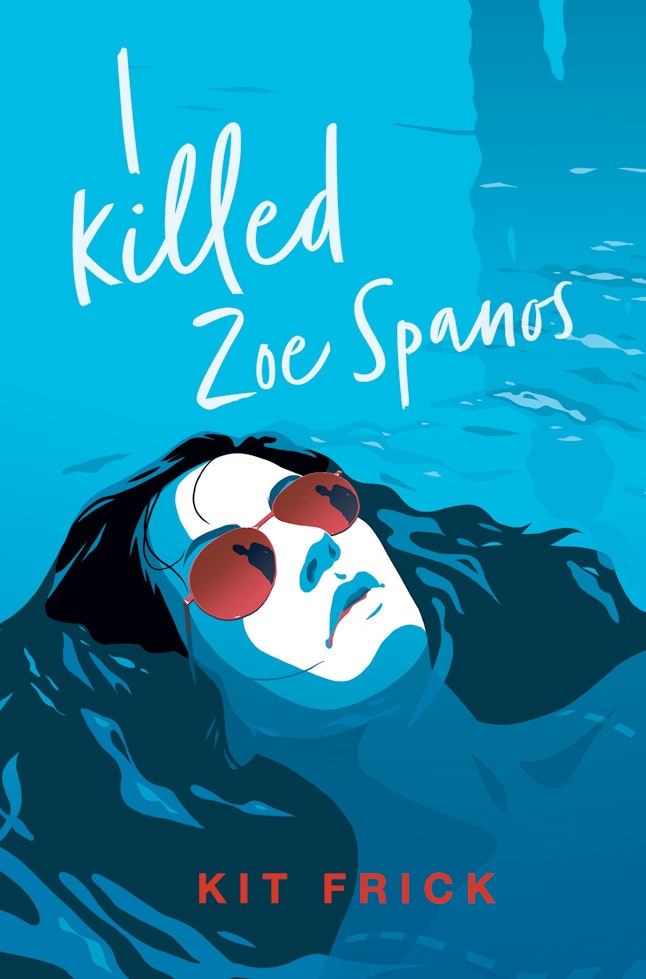 What happened to Zoe won't stay buried.

When Anna Cicconi arrives in the small Hamptons village of Herron Mills for a summer nanny gig, she has high hopes for a fresh start. What she finds instead is a community on edge after the disappearance of Zoe Spanos, a local girl who has been missing since New Year's Eve. Anna bears an eerie resemblance to Zoe, and her mere presence in town stirs up still-raw feelings about the unsolved case. As Anna delves deeper into the mystery, stepping further and further into Zoe's life, she becomes increasingly convinced that she and Zoe are connected—and that she knows what happened on New Year's.

Two months later, Zoe's body is found in a nearby lake, and Anna is charged with manslaughter. But Anna's confession's is riddled with holes, and Martina Green, teen host of the Missing Zoe podcast, isn't satisfied. Did Anna really kill Zoe? And if not, can Martina's podcast uncover the truth?

Inspired by Serial and Daphne du Maurier's Rebecca, this thrilling story of psychological suspense is told in three interwoven timelines, including the transcript of a fictionalized true crime podcast.
The Empire of Gold by S. A. Chakraborty (Harper Voyager) - technically an adult title but has a large YA audience.
The final chapter in the bestselling, critically acclaimed Daevabad Trilogy, in which a con-woman and an idealistic djinn prince join forces to save a magical kingdom from a devastating civil war.

Daevabad has fallen.

After a brutal conquest stripped the city of its magic, Nahid leader Banu Manizheh and her resurrected commander, Dara, must try to repair their fraying alliance and stabilize a fractious, warring people.

But the bloodletting and loss of his beloved Nahri have unleashed the worst demons of Dara's dark past. To vanquish them, he must face some ugly truths about his history and put himself at the mercy of those he once considered enemies.

Having narrowly escaped their murderous families and Daevabad's deadly politics, Nahri and Ali, now safe in Cairo, face difficult choices of their own. While Nahri finds peace in the old rhythms and familiar comforts of her human home, she is haunted by the knowledge that the loved ones she left behind and the people who considered her a savior are at the mercy of a new tyrant. Ali, too, cannot help but look back, and is determined to return to rescue his city and the family that remains. Seeking support in his mother's homeland, he discovers that his connection to the marid goes far deeper than expected and threatens not only his relationship with Nahri, but his very faith.

As peace grows more elusive and old players return, Nahri, Ali, and Dara come to understand that in order to remake the world, they may need to fight those they once loved . . . and take a stand for those they once hurt.
Influence by Sara Shepard and Lilia Buckingham (Delacorte)
Get ready to delve into the world of teen influencers like you've never done before--from the #1 New York Times bestselling author of PRETTY LITTLE LIARS Sara Shepard and sixteen-year-old actress and social media personality Lilia Buckingham comes a twisty mystery that takes place in the fiercely competitive world of Internet stars.

After a video she makes goes viral, everyone knows Delilah Rollins. And now that she's in LA, Delilah's standing on the edge of something incredible. Everything is going to change. She has no idea how much.

Jasmine Walters-Diaz grew up in the spotlight. A child star turned media darling, the posts of her in her classic Lulu C. rainbow skirt practically break the Internet. But if the world knew who Jasmine really was, her perfect life? Canceled.

Fiona Jacobs is so funny--the kind of girl for whom a crowd parts--no wonder she's always smiling! But on the inside? The girl's a hot mess. And when someone comes out of the shadows with a secret from her past, it's one that won't just embarrass Fiona: it will ruin her.

Who wouldn't want to be Scarlet Leigh? Just look at her Instagram. Scarlet isn't just styled to perfection: she is perfection. Scarlet has a gorgeous, famous boyfriend named Jack and there's a whole fanbase about their ship. To everyone watching online, their lives seem perfect . . . but are they really? The sun is hot in California . . . and someone's going to get burned.
Goddess in the Machine by Lora Beth Johnson (Razorbill)
Andra wakes up from a cryogenic sleep 1,000 years later than she was supposed to, forcing her to team up with an exiled prince to navigate an unfamiliar planet in this smart, thrilling sci-fi adventure, perfect for fans of Renegades and Aurora Rising.

When Andra wakes up, she's drowning.

Not only that, but she's in a hot, dirty cave, it's the year 3102, and everyone keeps calling her Goddess. When Andra went into a cryonic sleep for a trip across the galaxy, she expected to wake up in a hundred years, not a thousand. Worst of all, the rest of the colonists–including her family and friends–are dead. They died centuries ago, and for some reason, their descendants think Andra's a deity. She knows she's nothing special, but she'll play along if it means she can figure out why she was left in stasis and how to get back to Earth.

Zhade, the exiled bastard prince of Eerensed, has other plans. Four years ago, the sleeping Goddess's glass coffin disappeared from the palace, and Zhade devoted himself to finding it. Now he's hoping the Goddess will be the key to taking his rightful place on the throne–if he can get her to play her part, that is. Because if his people realize she doesn't actually have the power to save their dying planet, they'll kill her.

With a vicious monarch on the throne and a city tearing apart at the seams, Zhade and Andra might never be able to unlock the mystery of her fate, let alone find a way to unseat the king, especially since Zhade hasn't exactly been forthcoming with Andra. And a thousand years from home, is there any way of knowing that Earth is better than the planet she's woken to?
Daughter of Dust by Joshua David Bellin (Entangled Teen)
Michelle Simmons watched the eerie yellow fire consume the countryside on her seventeenth birthday. Cut off from home, she's lost in the desolation that remains. When Michelle is discovered by other survivors under the command of Jason, a ruthless leader with a mysterious past, she fears she may never be freed to search for her missing family. And when a video surfaces showing nightmarish creatures with the ability to mimic human beings, Michelle is sure the end has come.

But then Kareem, a teenage boy, arrives in Jason's camp claiming to have lost all memory except one: there is a city nearby, a city that holds the secret to the attacks that shattered Michelle's world. He can take her there, if she's willing to risk leaving Jason's camp behind. What Michelle doesn't know is that there are other, more sinister secrets hiding in the scarred city. And that Kareem might not be what he claims to be.

Daughter of Dust is the first volume in the Book of the Huntress series by speculative fiction author Joshua David Bellin.
Love, Creekwood by Becky Albertalli (Balzer + Bray)
Fall in love all over again with the characters from the bestselling Simonverse novels in this highly anticipated epilogue novella. Perfect for fans of Becky Albertalli, the movie Love, Simon, and the new Hulu series spin-off, Love, Victor!

It's been more than a year since Simon and Blue turned their anonymous online flirtation into an IRL relationship, and just a few months since Abby and Leah's unforgettable night at senior prom.