January 1st
Run, Hide, Fight Back by April Henry (Henry Holt)
Six teens must band together to survive after a shooting breaks out.

When a deadly shooting breaks out in a Portland shopping mall, a diverse group of teens ends up trapped behind a store's security shutter. To her own surprise, seventeen-year-old Miranda finds the others looking to her as their leader. But she's hiding a big secret—and she's not the only one. The group has only three choices—run, hide, or fight back. The wrong decision will have fatal consequences.












Deadly Little Scandals by Jennifer Lynn Barnes (Freeform Books)

Reluctant debutante Sawyer Taft joined Southern high society for one reason and one reason alone: to identify and locate her biological father. But the answers Sawyer found during her debutante year only left her with more questions and one potentially life-ruining secret. When her cousin, Lily, ropes her into pledging a mysterious, elite, and all-female secret society called the White Gloves, Sawyer soon discovers that someone in the group's ranks may have the answers she's looking for. Things are looking up... until Sawyer and the White Gloves unearth a decades-old body—and an even more twisted secret, decades in the making.








The Nameless Queen by Rebecca McLaughlin (Crown)

A ruffian thief, Coin, unwittingly inherits a kingdom; and the throne, power, and the danger that come with it.

For as long as she can remember, Coin has been Nameless—she has no name, no legal status and no rights in her city. Then she one day wakes up and discovers that she has impossibly been named the successor to her city-state's throne, forcing her to search for her true identity, and fast. If she succeeds, the city's royals will fit her for a crown, but if she fails, they'll fit her for a noose instead.A ruffian thief, Coin, unwittingly inherits a kingdom; and the throne, power, and the danger that come with it.

For as long as she can remember, Coin has been Nameless—she has no name, no legal status and no rights in her city. Then she one day wakes up and discovers that she has impossibly been named the successor to her city-state's throne, forcing her to search for her true identity, and fast. If she succeeds, the city's royals will fit her for a crown, but if she fails, they'll fit her for a noose instead.

January 7th
We Used To Be Friends by Amy Spalding (Amulet)

Two best friends grow up—and grow apart—in this innovative contemporary YA novel

Told in dual timelines—half of the chapters moving forward in time and half moving backward—We Used to Be Friends explores the most traumatic breakup of all: that of childhood besties. At the start of their senior year in high school, James (a girl with a boy's name) and Kat are inseparable, but by graduation, they're no longer friends. James prepares to head off to college as she reflects on the dissolution of her friendship with Kat while, in alternating chapters, Kat thinks about being newly in love with her first girlfriend and having a future that feels wide open. Over the course of senior year, Kat wants nothing more than James to continue to be her steady rock, as James worries that everything she believes about love and her future is a lie when her high-school sweetheart parents announce they're getting a divorce. Funny, honest, and full of heart, We Used to Be Friends tells of the pains of growing up and growing apart.

It's My Life by Stacey Ramey (Sourcebooks Fire)
If she wants a future with him, she'll have to make peace with her past.
Jenna's never let her cerebral palsy get her down. But when she discovers that her condition was actually caused by an injury at birth, she's furious with her parents, who withheld the truth. And as they push her to get yet another difficult procedure, Jenna feels her control over her life starting to slip.
Enter Julian, Jenna's childhood crush. He's just moved back to town, and he's struggling in school, so Jenna reaches out to him—anonymously— to help. Soon, their conversations are about so much more than class. She's falling for him all over again, hard and fast. But would Julian still be interested in her if he knew who she really was? And can she find a way to take back her own narrative before she pushes away everyone she loves?


Scavenge the Stars by Tara Sim (Disney Hyperion)

When Amaya rescues a mysterious stranger from drowning, she fears her rash actions have earned her a longer sentence on the debtor ship where she's been held captive for years. Instead, the man she saved offers her unimaginable riches and a new identity, setting Amaya on a perilous course through the coastal city-state of Moray, where old-world opulence and desperate gamblers collide. Amaya wants one thing: revenge against the man who ruined her family and stole the life she once had. But the more entangled she becomes in this game of deception—and as her path intertwines with the son of the man she's plotting to bring down—the more she uncovers about the truth of her past. And the more she realizes she must trust no one…

Packed with high-stakes adventure, romance, and dueling identities, this gender-swapped retelling of The Count of Monte Cristo is the first novel in an epic YA fantasy duology, perfect for fans of Sarah J. Maas, Sabaa Tahir, and Leigh Bardugo.

Just Breathe by Cammie McGovern (HarperTeen)

From the critically acclaimed author of A Step Toward Falling and Say What You Will comes a new YA standalone about mental health, chronic illness, and two teenagers learning to deal with both while falling for each other, perfect for fans of Five Feet Apart.

David Sheinman is the popular president of his senior class, battling cystic fibrosis.

Jamie Turner is a quiet sophomore, struggling with depression.

The pair soon realizes that they can be their true selves with each other, and their unlikely friendship develops into something so much more. But neither Jamie nor David can bring themselves to reveal the secrets that weigh most heavily on their hearts—and their time for honesty may be running out.


Loveboat, Taipei by Abigail Hing Wen (HarperTeen)

Perfect for fans of Jenny Han and Sarah Dessen, and praised as "an intense rush of rebellion and romance" by #1 New York Times bestselling author Stephanie Garber, this romantic and layered Own Voices debut from Abigail Hing Wen is a dazzling, fun-filled romp.

"Our cousins have done this program," Sophie whispers. "Best kept secret. Zero supervision."

And just like that, Ever Wong's summer takes an unexpected turn. Gone is Chien Tan, the strict educational program in Taiwan that Ever was expecting. In its place, she finds Loveboat: a summer-long free-for-all where hookups abound, adults turn a blind eye, snake-blood sake flows abundantly, and the nightlife runs nonstop.

But not every student is quite what they seem:

Ever is working toward becoming a doctor but nurses a secret passion for dance.

Rick Woo is the Yale-bound child prodigy bane of Ever's existence whose perfection hides a secret.

Boy-crazy, fashion-obsessed Sophie Ha turns out to have more to her than meets the eye.

And under sexy Xavier Yeh's shell is buried a shameful truth he'll never admit.

When these students' lives collide, it's guaranteed to be a summer Ever will never forget.

The Light Between Us by Andrew Fukuda (Tor Teen)

From award-winning YA author Andrew Fukuda comes The Light Between Us, a powerfully affecting story of World War II about the unlikeliest of pen pals--a Japanese American boy and a French Jewish girl--as they fight to maintain hope in a time of war.

"I remember visiting Manzanar Camp in California and standing in the windswept plains where over ten thousand internees were once imprisoned, their voices cut off. I remember how much I wanted to write a story that did right by them. Hopefully this book delivers."--Andrew Fukuda

In 1935, ten-year-old Alex Maki from Bainbridge Island, Washington is disgusted when he's forced to become pen pals with Charlie Levy of Paris, France--a girl. He thought she was a boy. In spite of Alex's reluctance, their letters continue to fly across the Atlantic--and along with them the shared hopes and dreams of friendship. Until the Japanese attack on Pearl Harbor and the growing Nazi persecution of Jews force them to confront the darkest aspects of human nature.

From the desolation of an internment camp on the plains of Manzanar to the horrors of Auschwitz and the devastation of European battlefields, the only thing they can hold onto are the memories of their letters. But nothing can dispel the light between them.

Throw Like A Girl by Sarah Henning (Little, Brown)

Friday Night Lights meets Morgan Matson's The Unexpected Everything in this contemporary debut where swoonworthy romance meets underdog sports story.

When softball star Liv Rodinsky throws one ill-advised punch during the most important game of the year, she loses her scholarship to her fancy private school, her boyfriend, and her teammates all in one fell swoop. With no other options, Liv is forced to transfer to the nearest public school, Northland, where she'll have to convince their coach she deserves a spot on the softball team, all while facing both her ex and the teammates of the girl she punched... Every. Single. Day.

Enter Grey, the injured star quarterback with perfect hair and an even more perfect plan: if Liv joins the football team as his temporary replacement, he'll make sure she gets a spot on the softball team in the Spring. But it will take more than the perfect spiral for Liv to find acceptance in Northland's halls, and behind that charming smile, Grey may not be so perfect after all.

With well-drawn characters and a charming quarterback love interest who's got brains as well as brawn, Throw Like a Girl will have readers swooning from the very first page.

Only Love Can Break Your Heart by Katherine Webber (Scholastic)

A grieving girl. An unexpected boy. A perfect love story . . . until it isn't perfect at all.
Sometimes a broken heart is all you need to set you free...

Reiko loves the endless sky and electric colors of the Californian desert. It is a refuge from an increasingly claustrophobic life of family pressures and her own secrets. Then she meets Seth, a boy who shares a love of the desert and her yearning for a different kind of life. But Reiko and Seth both want something the other can't give them. As summer ends, things begin to fall apart. But the end of love can sometimes be the beginning of you...
Lie To Me by Kaitlin Ward (Scholastic)
From the author of the acclaimed novels Girl in a Bad Place and Where She Fell comes a pulse-pounding novel about love, betrayal, and a serial killer.
Ever since Amelia woke up in the hospital, recovering from a near-death fall she has no memory of, she's been suspicious. Her friends, family, and doctors insist it was an accident, but Amelia is sure she remembers being pushed. Then another girl is found nearby -- one who fell, but didn't survive. Amelia's fears suddenly feel very real, and with the help of her new boyfriend, Liam, she tries to investigate her own horrific ordeal. But what is she looking for, exactly? And how can she tell who's trustworthy, and who might be -- must be -- lying to her?

The closer Amelia gets to the truth, the more terrifying her once orderly, safe world becomes. She's determined to know what happened, but if she doesn't act fast, her next accident might be her last.
The Fire Never Goes Out by Noelle Stevenson (HarperTeen)
From Noelle Stevenson, the New York Times bestselling author-illustrator of Nimona, comes a captivating, honest illustrated memoir that finds her turning an important corner in her creative journey—and inviting readers along for the ride.

In a collection of essays and personal mini-comics that span eight years of her young adult life, author-illustrator Noelle Stevenson charts the highs and lows of being a creative human in the world. Whether it's hearing the wrong name called at her art school graduation ceremony or becoming a National Book Award finalist for her debut graphic novel, Nimona, Noelle captures the little and big moments that make up a real life, with a wit, wisdom, and vulnerability that are all her own.
One of Us Is Next by Karen M. McManus (Delacorte)
The highly anticipated sequel to the New York Times bestselling thriller everyone is talking about, One of Us Is Lying! There's a new mystery to solve at Bayview High, and there's a whole new set of rules.

Come on, Bayview, you know you've missed this.

A ton of copycat gossip apps have popped up since Simon died, but in the year since the Bayview four were cleared of his shocking death, no one's been able to fill the gossip void quite like he could. The problem is no one has the facts.

Until now.

This time it's not an app, though—it's a game.

Truth or Dare.

Phoebe's the first target. If you choose not to play, it's a truth. And hers is dark.

Then comes Maeve and she should know better—always choose the dare.

But by the time Knox is about to be tagged, things have gotten dangerous. The dares have become deadly, and if Maeve learned anything from Bronwyn last year, it's that they can't count on the police for help. Or protection.

Simon's gone, but someone's determined to keep his legacy at Bayview High alive. And this time, there's a whole new set of rules.
Shadowshaper Legacy by Daniel Jose Older (Arthur A. Levine Books)
The epic conclusion to the acclaimed Shadowshaper Cypher series!
A house divided

Sierra and the shadowshapers have been split apart. Juan, Anthony, and Izzy are in jail, anxiously waiting to find out what will become of them. Back in Brooklyn, the other shadowshapers have been getting threatening messages from whisper wraiths, catching strangely shaped figures stalking them, and fending off random spirits. A war is brewing among the houses, and the very magic of the shadowshapers is at stake.

The fate of the worlds

Sierra is determined to protect her own in the coming conflict. Even if that means keeping secrets from them. But a deal with Death by one of Sierra's ancestors has far-reaching consequences in the battles of the present, and as old fates tangle with new powers, Sierra will have to harness the Deck of Worlds and confront her family's past if she has any hope of saving the future and everyone she loves. Only doing so will mean following the magic to places the shadowshapers have never gone before . . . and may never return from.

New York Times bestselling author Daniel José Older spins a masterful conclusion to his evocative and captivating Shadowshaper Cypher series in a finale of searing rebellion, the power of fate, and a magic unlike anything you've ever imagined.
The Night Country by Melissa Albert (Flatiron Books)
Can you ever truly escape the Hazel Wood?

In the sequel to her New York Times bestselling, literary/commercial breakout, The Hazel Wood, Melissa Albert dives back into the menacing, mesmerizing world that captivated readers of the first book. Follow Alice Proserpine and Ellery Finch as they come to learn that The Hazel Wood was just the beginning of worlds beyond, "a place where stories and real life convene, where magic contains truth, and the world as it appears false, and where just about anything can happen, particularly in the pages of a good book".
Come Tumbling Down by Seanan McGuire (Tor)
The fifth installment in Seanan McGuire's award-winning, bestselling Wayward Children series, Come Tumbling Down picks up the threads left dangling by Every Heart a Doorway and Down Among the Sticks and Bones

When Jack left Eleanor West's School for Wayward Children she was carrying the body of her deliciously deranged sister--whom she had recently murdered in a fit of righteous justice--back to their home on the Moors.

But death in their adopted world isn't always as permanent as it is here, and when Jack is herself carried back into the school, it becomes clear that something has happened to her. Something terrible. Something of which only the maddest of scientists could conceive. Something only her friends are equipped to help her overcome.

Eleanor West's "No Quests" rule is about to be broken.

Again.
Jane Anonymous by Laurie Faria Stolarz (Wednesday Books)
Then, "Jane" was just your typical 17-year-old girl in a typical New England suburb getting ready to start her senior year. She had a part-time job she liked, an awesome best friend, overbearing but loving parents, and a crush on a boy who was taking her to see her favorite band. She never would've imagined that in her town where virtually nothing ever happens, a series of small coincidences would lead to a devastating turn of events that would forever change her life.
Now, it's been three months since "Jane" escaped captivity and returned home. Three months of being that girl who was kidnapped, the girl who was held by a "monster." Three months of writing down everything she remembered from those seven months locked up in that stark white room. But, what if everything you thought you knew—everything you thought you experienced—turned out to be a lie?
The Storm of Life by Amy Rose Capetta (Viking)
The sumptuous and powerful conclusion to the gender-fluid duet begun by The Brilliant Death, hailed by Kirkus as "a delicious and magical intrigue too tempting not to devour" (starred review).

Teodora diSangro and Cielo, the strega she loves, are on a mission to save their country of Vinalia from its manipulative leader, who wants to exploit streghe and use them as his weapons. But will marshaling a small but powerful band of streghe be enough to wrest power from a cunning dictator? And what if Teo's been setting her sights on the wrong enemy all along? This epic sequel to The Brilliant Death completes the Italian-inspired fantasy duology with shocking twists, steamy romance, and magic that will dazzle your imagination and make you wish Vinalia were a real place.
The King's Questioner by Nicki Katz (Swoon Reads)
From the author of 'The Midnight Dance' comes an epic YA fantasy featuring royal drama, dark magic, and a secret that could topple a kingdom.

Kalen has been cursed with a gift: he's a mental picklock, able to access a person's memories and secrets by touch. His skills make him the perfect questioner to the king, and he spends his days interrogating prisoners of the crown.

But when Kalen's estranged childhood friend, Prince Cirrus, falls into a sudden coma, the king begs Kalen to intervene. By accessing Cirrus' mind, Kalen saves his life—and uncovers a terrifying secret. The prince has a sister, banished long ago, and she is the key to the destruction or survival of the kingdom.

With the help of Cirrus and a silver-haired thief named Luna, Kalen must find the princess and bring her home. Or risk death at the hands of his king.
How To Speak Boy by Tiana Smith (Swoon Reads)
Quinn and Grayson have been fierce speech and debate rivals for years. They can't stand one another, either in competition or in real life.

But when their AP Government teacher returns their school assignments to the wrong cubbies, they begin exchanging anonymous notes without knowing who the other is.

Despite their differences, the two come together through their letters and find themselves unknowingly falling for the competition. Before the state tournament, the two of them need to figure out what they want out of life, or risk their own future happiness. After all, what's the point of speech and debate if you can't say what's in your heart?
The Map From Here to There by Emery Lord (Bloomsbury)
It's senior year, and Paige Hancock is finally living her best life. She has a fun summer job, great friends, and a super charming boyfriend who totally gets her. But senior year also means big decisions. Feeling the weight of 'the rest of her life' Paige starts to panic. Everything is exactly how she always wanted it to be - how can she leave it all behind next year? In her head, she knows there is so much more to life after high school. But in her heart, is it so terrible to want everything to stay the same forever? Emery Lord's signature storytelling shines with lovable characters and heartfelt exploration of life's most important questions. There will be break-ups, make-ups, a road trip, and even a wedding. Through it all, can Paige figure out what happens in the after part of happily ever after? Fans of Rainbow Rowell, Jennifer Niven and Nicola Yoon should look no further than this unforgettable story of friendship and connection.
Woven in Moonlight by Isabel Ibanez (Page Street Books)
A lush tapestry of magic, romance, and revolución, drawing inspiration from Bolivian politics and history.

Ximena is the decoy Condesa, a stand-in for the last remaining Illustrian royal. Her people lost everything when the usurper, Atoc, used an ancient relic to summon ghosts and drive the Illustrians from La Ciudad. Now Ximena's motivated by her insatiable thirst for revenge, and her rare ability to spin thread from moonlight.

When Atoc demands the real Condesa's hand in marriage, it's Ximena's duty to go in her stead. She relishes the chance, as Illustrian spies have reported that Atoc's no longer carrying his deadly relic. If Ximena can find it, she can return the true aristócrata to their rightful place.

She hunts for the relic, using her weaving ability to hide messages in tapestries for the resistance. But when a masked vigilante, a warm-hearted princess, and a thoughtful healer challenge Ximena, her mission becomes more complicated. There could be a way to overthrow the usurper without starting another war, but only if Ximena turns her back on revenge—and her Condesa.
Every Other Weekend by Abigail Johnson (Inkyard Press)
Adam Moynihan's life used to be awesome. Straight As, close friends and a home life so perfect that it could have been a TV show straight out of the 50s. Then his oldest brother died. Now his fun-loving mom cries constantly, he and his remaining brother can't talk without fighting, and the father he always admired proved himself a coward by moving out when they needed him most.

Jolene Timber's life is nothing like the movies she loves--not the happy ones anyway. As an aspiring director, she should know, because she's been reimagining her life as a film ever since she was a kid. With her divorced parents at each others throats and using her as a pawn, no amount of mental re-editing will give her the love she's starving for.

Forced to spend every other weekend in the same apartment building, the boy who thinks forgiveness makes him weak and the girl who thinks love is for fools begin an unlikely friendship. The weekends he dreaded and she endured soon become the best part of their lives. But when one's life begins to mend while the other's spirals out of control, they realize that falling in love while surrounded by its demise means nothing is ever guaranteed

.
Three Things I Know Are True by Betty Culley (HarperCollins)
This moving debut novel in verse about a teenage girl dealing with the aftermath of an accident that nearly takes her brother's life is a stunning exploration of grief and the power of forgiveness.

The reminder is always there—a dent on the right side of Jonah's forehead. The spot you'd press when you felt a headache coming on. The bullet tore away bone, the way dynamite blasts rock—leaving a soft crater.

Life changes forever for Liv when her older brother, Jonah, accidentally shoots himself with his best friend Clay's father's gun. Now Jonah needs round-the-clock care just to stay alive, and Liv seems to be the only person who can see that her brother is still there inside his broken body.

With Liv's mom suing Clay's family, there are divisions in the community that Liv knows she's not supposed to cross. But Clay is her friend, too, and she refuses to turn away from him—just like she refuses to give up on Jonah.
You Too? by Various YA Authors (Inkyard Press)
A timely and heartfelt collection of essays inspired by the #MeToo movement, edited by acclaimed young adult and middle-grade author Janet Gurtler. Featuring Beth Revis, Mackenzi Lee, Ellen Hopkins, Saundra Mitchell, Jennifer Brown, Cheryl Rainfield and many more.

When #MeToo went viral, Janet Gurtler was among the millions of people who began to reflect on her past experiences. Things she had reluctantly accepted—male classmates groping her at recess, harassment at work—came back to her in startling clarity. She needed teens to know what she had not: that no young person should be subject to sexual assault, or made to feel unsafe, less than or degraded.

You Too? was born out of that need. By turns thoughtful and explosive, these personal stories encompass a wide range of experiences and will resonate with every reader who has wondered, "Why is this happening to me?" or secretly felt that their own mistreatment or abuse is somehow their fault—it's not. Candid and empowering, You Too? is written for teens, but also an essential resource for the adults in their lives—an urgent, compassionate call to listen and create change.
Chosen by Kiersten White (Simon Pulse)
Nina continues to learn how to use her slayer powers against enemies old and new in this second novel in the New York Times bestselling series from Kiersten White, set in the world of Buffy the Vampire Slayer.

Now that Nina has turned the Watcher's Castle into a utopia for hurt and lonely demons, she's still waiting for the utopia part to kick in. With her sister Artemis gone and only a few people remaining at the castle—including her still-distant mother—Nina has her hands full. Plus, though she gained back her Slayer powers from Leo, they're not feeling quite right after being held by the seriously evil succubus Eve, a.k.a. fake Watcher's Council member and Leo's mom.

And while Nina is dealing with the darkness inside, there's also a new threat on the outside, portended by an odd triangle symbol that seems to be popping up everywhere, in connection with Sean's demon drug ring as well as someone a bit closer to home. Because one near-apocalypse just isn't enough, right?

The darkness always finds you. And once again, it's coming for the Slayer.
City of Stone and Silence by Django Wexler (Tor Teen)
Django Wexler's City of Stone and Silence is the second book in the cinematic fantasy Wells of Sorcery Trilogy featuring a fierce young woman skilled in the art of combat magic on an epic mission to steal a ghost ship...
January 14th
Finding Mr Better-Than-You by Shani Petroff (Swoon Reads)
Camryn has been dating Marc FOREVER—since freshman year! She dropped out of volleyball to go to all his games, switched her schedule around to be in his favorite class, and has been busting her butt to get into Columbia so they can go to the same college. So when Marc suddenly, and very publically, breaks up with her a week into their senior year so that he can date the new transfer student, she's absolutely devastated.

But why be sad, when you can get even? Inspired by her favorite movies, Camryn decides that the best revenge is a Senior Year well lived, starring a boy who is ever so much better than her ex. With a little help from her friends, Cam is going to have the Best. Senior. Year. Ever.
Beyond the Shadowed Earth by Joanna Ruth Meyer (Page Street)
It has always been Eda's dream to become empress, no matter the cost. Haunted by her ambition and selfishness, she's convinced that the only way to achieve her goal is to barter with the gods. But all requests come with a price and Eda bargains away the soul of her best friend in exchange for the crown.

Years later, her hold on the empire begins to crumble and her best friend unexpectedly grows sick and dies. Gnawed by guilt and betrayal, Eda embarks on a harrowing journey to confront the very god who gave her the kingdom in the first place. However, she soon discovers that he's trapped at the center of an otherworldly labyrinth and that her bargain with him is more complex than she ever could have imagined.

Set in the same universe as Joanna's debut, Beneath the Haunting Sea, Beyond the Shadowed Earth combines her incredible world building and lush prose with a new, villainous lead.
Strange Exit by Parker Peevyhouse (Tor Teen)
Seventeen-year-old Lake spends her days searching a strange, post-apocalyptic landscape for people who have forgotten one very important thing: this isn't reality. Everyone she meets is a passenger aboard a ship that's been orbiting Earth since a nuclear event. The simulation that was supposed to prepare them all for life after the apocalypse has trapped their minds in a shared virtual reality and their bodies in stasis chambers.

No one can get off the ship until all of the passengers are out of the sim, and no one can get out of the sim unless they believe it's a simulation. It's up to Lake to help them remember.

When Lake reveals the truth to a fellow passenger, seventeen-year-old Taren, he joins her mission to find everyone, persuade them that they've forgotten reality, and wake them up. But time's running out before the simulation completely deconstructs, and soon Taren's deciding who's worth saving and who must be sacrificed for the greater good. Now, Lake has no choice but to pit herself against Taren in a race to find the secret heart of the sim, where something waits that will either save them or destroy them all.
Saving Savannah by Tonya Bolden (Bloomsbury)
Savannah is lucky. The daughter of upper-class African-American parents in Washington D.C. in 1919, she lives luxuriously, with an elite education and her pick of the young men in her set. But lately the structure of her society--the croquet games, the Sunday teas, the pretentiousness--has felt suffocating. When she meets a young man from the working class named Lloyd, Savannah has a chance to see how the "other half" lives. Saddened by their situation, she is motivated to make a true difference. But suffragist lectures and socialist meetings are a radical interest for a young girl from society, and Savannah must find a way--her way--to change the world. Deeply relevant and emotionally resonant for a modern audience, this searing story reveals a girl becoming a woman in a world on the brink of sweeping change.
Me and Mr Cigar by Gibby Haynes (Soho Teen)
From legendary Butthole Surfers front-man Gibby Haynes comes a darkly humorous speculative YA debut about a lost Texas teen and his supernatural dog, and the power of found family.

For the past five years seventeen-year-old Oscar Lester has never been without his dog, Mr. Cigar. The two have made a pretty good life for themselves in North Texas. Oscar spends most of his time organizing drug-fueled dance parties with his best friend, Lytle Taylor. And all three benefit from the care of Carla Marks, the genius behind the mysterious IBC corporation. Oscar's deceased CEO father "discovered" Carla, though Oscar's mother spends all her time with her new boyfriend. As for Oscar's older sister, Rachel . . . she fled Texas after Mr. Cigar bit off her left hand. Oscar was twelve. But he alone knows now as he knew then: his beloved pet is no menace. Mr. Cigar is a supernatural companion.

After years of silence, Rachel—now a twenty-two-year-old artist living in New York—phones Oscar out of the blue. She's being held hostage and will only be released if she pays a debt she owes. At the same time, Carla Marks warns Oscar to get out of town. Nefarious forces are after his dog. Suddenly Oscar, Lytle, and Mr. Cigar find themselves on the run to New York, to save Rachel and to save themselves. And in the end, the truth of Rachel's circumstances ultimately uncovers the truth of Oscar's own . . . and the truth about Mr. Cigar.
Black Girl Unlimited by Echo Brown (Holt/Ottaviano)
A powerful memoir for fans of Piecing Me Together by Renee Watson and American Street by Ibi Zoboi.

Echo Brown is a wizard from the East Side, where apartments are small and parents suffer addictions to the white rocks. Yet there is magic . . . everywhere. New portals begin to open when Echo transfers to the rich school on the West Side, and an insightful teacher becomes a pivotal mentor. Each day, Echo travels between two worlds, leaving her brothers, her friends, and a piece of herself behind on the East Side. There are dangers to leaving behind the place that made you. Echo soon realizes there is pain flowing through everyone around her, and a black veil of depression threatens to undo everything she's worked for.

Heavily autobiographical and infused with magical realism, Black Girl Unlimited fearlessly explores the intersections of poverty, sexual violence, depression, racism, and sexism—all through the arc of a transcendent coming-of-age.
Infinity Son by Adam Silvera (Soho Teen)
Balancing epic and intensely personal stakes, bestselling author Adam Silvera's Infinity Son is a gritty, fast-paced adventure about two brothers caught up in a magical war generations in the making.
Growing up in New York, brothers Emil and Brighton always idolized the Spell Walkers—a vigilante group sworn to rid the world of specters. While the Spell Walkers and other celestials are born with powers, specters take them, violently stealing the essence of endangered magical creatures.
Brighton wishes he had a power so he could join the fray. Emil just wants the fighting to stop. The cycle of violence has taken a toll, making it harder for anyone with a power to live peacefully and openly. In this climate of fear, a gang of specters has been growing bolder by the day.
Then, in a brawl after a protest, Emil manifests a power of his own—one that puts him right at the heart of the conflict and sets him up to be the heroic Spell Walker Brighton always wanted to be.
Brotherhood, love, and loyalty will be put to the test, and no one will escape the fight unscathed.
Echoes Between Us by Katie McGarry (Tor Teen)
Echoes Between Us is bestselling author Katie McGarry's breakout teen contemporary novel about a girl with everything to lose and the boy who will do anything to save her.

Veronica sees ghosts. More specifically, her mother's ghost. The afterimages of blinding migraines caused by the brain tumor that keeps her on the fringes and consumes her whole life haunt her, even as she wonders if it's something more...

Golden boy Sawyer is handsome and popular, a state champion swimmer, but his adrenaline addiction draws him to Veronica.

A girl with nothing to live for and a boy with everything to lose--can they conquer their demons together?
Lucky Caller by Emma Mills (Henry Holt)
When Nina decides to take a radio broadcasting class her senior year, she expects it to be a walk in the park. Instead, it's a complete disaster.

The members of Nina's haphazardly formed radio team have approximately nothing in common. And to maximize the awkwardness her group includes Jamie, a childhood friend she'd hoped to basically avoid for the rest of her life. The show is a mess, internet rumors threaten to bring the wrath of two fandoms down on their heads, and to top it all off Nina's family is on the brink of some major upheaval. Everything feels like it's spiraling out of control--but maybe control is overrated?

With the warmth, wit, intimate friendships, and heart-melting romance she brings to all her books, Emma Mills crafts a story about believing in yourself, owning your mistakes, and trusting in human connection.
The Conference of the Birds by Ranson Riggs (Penguin)
"Do you trust me?"

An instant bestseller, A Map of Days launched readers into the previously unexplored world of American peculiars, one bursting with new questions, new allies, and new adversaries.

Now, with enemies behind him and the unknown ahead, Jacob Portman's story continues as he takes a brave leap forward into The Conference of the Birds, the next installment of the beloved, bestselling Miss Peregrine's Peculiar Children series.
Say Her Name by Zeta Elliott (Disney Hyperion)
Inspired by the #SayHerName campaign launched by the African American Policy Forum, these poems pay tribute to victims of police brutality as well as the activists insisting that Black Lives Matter. Elliott engages poets from the past two centuries to create a chorus of voices celebrating the creativity, resilience, and courage of Black women and girls.

This collection features forty-nine powerful poems, four of which are tribute poems inspired by the works of Lucille Clifton, Audre Lorde, Nikki Giovanni, and Phillis Wheatley.

This provocative collection will move every reader to reflect, respond-and act

.
January 21st
This Vicious Cure by Emily Suveda (Simon Pulse)
Cat is desperate to find a way to stop Cartaxus and the plague in this gripping finale to a series New York Times bestselling author Amie Kaufman says "redefines 'unputdownable!'"

Cat's hacking skills weren't enough to keep her from losing everything—her identity, her past, and now her freedom. She's trapped and alone, but she's survived this long, and she's not giving up without a fight.

Though the outbreak has been contained, a new threat has emerged—one that's taken the world to the brink of a devastating war. With genetic technology that promises not just a cure for the plague, but a way to prevent death itself, both sides will stop at nothing to seize control of humanity's future.

Facing her smartest, most devastating enemy yet, Cat must race against the clock to protect her friends and save the lives of millions on the planet's surface. No matter the outcome, humanity will never be the same.

And this time, Cat can't afford to let anything, or anyone, stand in her way.
Not So Pure and Simple by Lamar Giles (HarperTeen)
Two-time Edgar Award finalist Lamar Giles delivers his first contemporary YA—an eye-opening novel that spotlights societal pressures, confronts toxic masculinity, and asks the question: What does it mean to be a "real man"?

Del has had a crush on Kiera Westing since kindergarten. And now, during their junior year, she's finally available. So when Kiera volunteers for an opportunity at their church, Del's right behind her. Though he quickly realizes he's inadvertently signed himself up for a Purity Pledge. His best friend, Qwan, doesn't believe anyone is worth this long of a long game. But Del's not about to lose his dream girl.

And that's where fellow pledger Jameer comes in. He can put in the good word, but with other boys circling Kiera like sharks, Del needs to make his move now. However, with all his plotting and scheming, Del never really stops to think: What does Kiera want? No matter, though—once he gets the girl, he's sure all will sort itself out. Right?
The Iron Will of Genie Lo by F.C. Yee (Amulet)
The fate of the heavens is at stake in this hilarious and highly-anticipated sequel to the The Epic Crush of Genie Lo.

Genie Lo thought she was busy protecting the Bay Area from demons. But now, as a Heaven- appointed Guardian, even the well-being of demons is her responsibility—and their numbers are multiplying. Guanyin and Quentin are doing their best to help; but what they really need is for the Jade Emperor to get off his butt and deal with the crisis. While he's AWOL, Genie nominates Guanyin to fill in his shoes, unaware that the role will go to the god who can defeat a mysterious threat to the supernatural order. Along with a few other contenders for the throne, including a former enemy, Genie and her friends embark on a Heavenly quest to an in-between world. But when faced with true danger, the group realizes that what will save the universe this time is sacrifice, not strength.
What I Carry by Jennifer Longo (Random House)
For readers of Robin Benway's Far From the Tree, a powerful and heartwarming look at a teen girl about to age out of the foster care system.

Growing up in foster care, Muir has lived in many houses. And if she's learned one thing, it is to Pack. Light.
Carry only what fits in a suitcase.
Toothbrush? Yes.
Socks? Yes.
Emotional attachment to friends? foster families? a boyfriend? Nope!
There's no room for any additional baggage.
Muir has just one year left before she ages out of the system. One year before she's free. One year to avoid anything--or anyone--that could get in her way.

Then she meets Francine. And Kira. And Sean.

And everything changes.
Wardens of Eternity by Courtney Allison Moulton (Blink)
Ziva Ellison has one memory of her parents, made the day they abandoned her on the streets of New York City when she was three years old. They left her with only a memory and a promise that she had a great and terrible destiny.

Fifteen years later, Ziva discovers that destiny includes powers that she doesn't understand and can barely control. Her magic attracts vicious, otherworldly monsters, and eventually compatriots to help her fight them. Sayer and Nasira know the secrets Ziva doesn't; that Ziva is descended from Egyptian royalty and in possession of ancient magic passed down from the time of the gods. They promise to teach Ziva to control her magic and to give her the family she's always yearned for.

But trouble is brewing in the world around them; darkness is descending on Hitler's Germany, threatening World War II. As the last heir of a revered Egyptian queen, Ziva is the only one with the power to prevent another costly global conflict. As Ziva navigates her newfound abilities and makes a connection with Anubis and other Egyptian gods, the Nazis are hunting for the ultimate weapon, and Ziva has caught their interest.

From Courtney Allison Moulton, author of the acclaimed Angelfire series, comes Wardens of Eternity, an action-packed page-turner that blends history, mythology, and magic, perfect for fans of Rick Riordan and Kiersten White.
Never Once by B.R. Myers (Swoon Reads)
Princess Tianna knows that it's her duty to choose the right husband and gain powerful alliances for her failing planet. Yet, she has always dreamed of marrying for love, and feels like there must be a better way. Determined to chart her own course, she steals a spaceship and runs away, only to discover that her get-away ship is already inhabited.

All Sinter wanted was to "borrow" a few parts to fix his ship so he could find the hidden treasure his mother told him about. Okay so maybe liberating the parts from a royal ship wasn't the smartest plan, but he never expected to be kidnapped by a run-away princess!

Sparks fly as this headstrong princess and would-be thief uncover a rebel conspiracy that could destroy their planet forever in this gender-swapped sci-fi YA retelling of Cinderella.
Tweet Cute by Emma Lord (Wednesday Books)
A fresh, irresistible rom-com from debut author Emma Lord about the chances we take, the paths life can lead us on, and how love can be found in the opposite place you expected.

Meet Pepper, swim team captain, chronic overachiever, and all-around perfectionist. Her family may be falling apart, but their massive fast-food chain is booming ― mainly thanks to Pepper, who is barely managing to juggle real life while secretly running Big League Burger's massive Twitter account.

Enter Jack, class clown and constant thorn in Pepper's side. When he isn't trying to duck out of his obscenely popular twin's shadow, he's busy working in his family's deli. His relationship with the business that holds his future might be love/hate, but when Big League Burger steals his grandma's iconic grilled cheese recipe, he'll do whatever it takes to take them down, one tweet at a time.

All's fair in love and cheese ― that is, until Pepper and Jack's spat turns into a viral Twitter war. Little do they know, while they're publicly duking it out with snarky memes and retweet battles, they're also falling for each other in real life ― on an anonymous chat app Jack built.

As their relationship deepens and their online shenanigans escalate ― people on the internet are shipping them?? ― their battle gets more and more personal, until even these two rivals can't ignore they were destined for the most unexpected, awkward, all-the-feels romance that neither of them expected.
Devil Darling Spy by Matt Killeen (Viking Books)
In this utterly gripping thriller, Sarah, the fearless heroine of Orphan Monster Spy, hunts a rogue German doctor in West Africa who might be a serial murderer.

Still hiding in plain sight as "Ursula Haller," the Shirley Temple of Nazi high society, Sarah Goldstein gathers information for Captain Floyd at parties, and when he learns of a German doctor who went rogue in West Africa, she wants to help him hunt the doctor down. Rumors say the doctor has discovered a tool of germ warfare known as "the Bleeding" that could wipe out whole nations. The journey begins as a thrilling adventure for Sarah but as they get closer to the doctor, and see more effects of "the Bleeding" in the communities they pass through, their trip turns from caper to nightmare. A biracial German/Senegalese girl who travels with them, a black French priest with a foul mouth, and the doctor's glamorous daughter round out the cast of this unbearably high-stakes thriller that pushes Sarah to face the worst humanity is capable of--and challenges her to find reasons to keep fighting.
Gone by Nightfall by Dee Garretson (Swoon Reads)
It's 1918, and Charlotte Mason is determined to make a life for herself in czarist Russia. When her mother dies, Charlotte is forced to put her plans to go to medical school aside to care for her unruly siblings. Then a handsome new tutor arrives. Charlotte has high hopes that he'll stay, freeing her up to follow her dreams of becoming a doctor. But there's more to Dmitri that meets the eye.

Just when she thinks she can get her life back, Russia descends into revolution and chaos. Now, not only does Charlotte need to leave Russia, she needs to get her siblings out too - and fast.

Can Charlotte flee Russia, keep her siblings safe, and uncover Dmitri's many secrets before she runs out of time?
Ashlords by Scott Reintgen (Crown)
Red Rising meets The Scorpio Races in this epic fantasy following three phoenix horse riders--skilled at alchemy--who must compete at The Races--the modern spectacle that has replaced warfare within their empire.

Every year since the Ashlords were gifted phoenix horses by their gods, they've raced them. First into battle, then on great hunts, and finally for the pure sport of seeing who rode the fastest. Centuries of blood and fire carved their competition into a more modern spectacle: The Races.

Over the course of a multi-day event, elite riders from clashing cultures vie to be crowned champion. But the modern version of the sport requires more than good riding. Competitors must be skilled at creating and controlling phoenix horses made of ash and alchemy, which are summoned back to life each sunrise with uniquely crafted powers to cover impossible distances and challenges before bursting into flames at sunset. But good alchemy only matters if a rider knows how to defend their phoenix horse at night. Murder is outlawed, but breaking bones and poisoning ashes? That's all legal and encouraged.

In this year's Races, eleven riders will compete, but three of them have more to lose than the rest--a champion's daughter, a scholarship entrant, and a revolutionary's son. Who will attain their own dream of glory? Or will they all flame out in defeat?
Cloak of Night by Evelyn Skye (Balzer + Bray)
After the devastating Ceremony of Two Hundred Hearts, Sora, Daemon, Fairy, and Broomstick are truly alone in the fight to save their kingdom. Empress Aki is missing, and everyone else who could help them is a prisoner to the Dragon Prince's mind control.

At least Sora understands what they're up against. Or so she believes, until she overhears the Dragon Prince bargaining with the god of war for immortality and learns that ryuu magic may be a more insidious danger than she realized.

Suddenly, the stakes are higher and even more personal for Sora—not only must she stop a seemingly indestructible Prince Gin, but she must also unravel the secrets of ryuu magic before it is too late for nearly everyone she loves.

And as Sora, Daemon, Fairy, and Broomstick face dangerous obstacles at every turn, the greatest challenge may be discovering who they truly are, and what, if anything, they are capable of.
The Hand On The Wall by Maureen Johnson (Katherine Tegan Books)
New York Times bestselling author Maureen Johnson delivers the witty and pulse-pounding conclusion to the Truly Devious series as Stevie Bell solves the mystery that has haunted Ellingham Academy for over 75 years.

Ellingham Academy must be cursed. Three people are now dead. One, a victim of either a prank gone wrong or a murder. Another, dead by misadventure. And now, an accident in Burlington has claimed another life. All three in the wrong place at the wrong time. All at the exact moment of Stevie's greatest triumph . . .

She knows who Truly Devious is. She's solved it. The greatest case of the century.

At least, she thinks she has. With this latest tragedy, it's hard to concentrate on the past. Not only has someone died in town, but David disappeared of his own free will and is up to something. Stevie is sure that somehow—somehow—all these things connect. The three deaths in the present. The deaths in the past. The missing Alice Ellingham and the missing David Eastman. Somewhere in this place of riddles and puzzles there must be answers.

Then another accident occurs as a massive storm heads toward Vermont. This is too much for the parents and administrators. Ellingham Academy is evacuated. Obviously, it's time for Stevie to do something stupid. It's time to stay on the mountain and face the storm—and a murderer.

In the tantalizing finale to the Truly Devious trilogy, New York Times bestselling author Maureen Johnson expertly tangles her dual narrative threads and ignites an explosive end for all who've walked through Ellingham Academy.
Spellhacker by M.K. England (HarperTeen)
A lovable band of misfits? Check. High-tech magic? Check. Last heist ever? . . . Try again. Packed with high-stakes action, humor, and hijinks, this genre-bending YA fantasy from the author of The Disasters is perfect for fans of Marie Lu and Amie Kaufman.

In Kyrkarta, magic—better known as maz—was once a freely available natural resource. Then an earthquake released a magical plague, killing thousands and opening the door for a greedy corporation to make maz a commodity that's tightly controlled—and, of course, outrageously expensive.

Which is why Diz and her three best friends run a highly lucrative, highly illegal maz siphoning gig on the side. Their next job is supposed to be their last heist ever. But when their plan (literally) blows up in their faces, they're driven to unravel a conspiracy at the very center of the spellplague—and possibly save the world. No pressure.

With a diverse cast, infinite wit, and a fresh take on magic, Spellhacker will keep readers on the edge of their seats from start to explosive finish.
Layoverland by Gabby Noone (Razorbill)
Two teens, one stuck atoning for her sins and one destined for heaven, fall in love in purgatory in this darkly hilarious and heartfelt rom-com, perfect for fans of The Good Place.

Beatrice Fox deserves to go straight to hell. At least, that's what she thinks. On her last day on Earth, she ruined the life of the person she loves most--her little sister, Emmy. So when Bea awakens from a fatal car accident to find herself on an airplane headed for a mysterious destination, she's confused, to say the least. Once on the ground, Bea receives some truly harrowing news: not only is she in purgatory, but she has been chosen to join the Memory Experience team. If she wants another shot at heaven, she'll have to use her master manipulation skills to help 5,000 souls suss out what's keeping them from moving on.

There's just one slight problem. Bea's first assigned soul is Caleb, the boy who caused her accident, and the last person Bea would ever want to send to the pearly gates. But as much as Bea would love to see Caleb suffer for dooming her to a seemingly endless future of listening to other people's problems, she can't help but notice that he's kind of cute, and sort of sweet, and that maybe, despite her best efforts, she's totally falling for him. And to make matters worse, he's definitely falling for her. Now, determined to make the most of her time in purgatory, Bea must decide what is truly worth dying for--romance or revenge.
Off Script by Kate Watson (Flux)
Emma gets a Hollywood-tinged, feminist update in this funny and fierce retelling of Austen's classic about a well-intentioned but tragically misguided matchmaker.

The summer after her first year of college, teen starlet Emma Crawford returns home to Manhattan to prepare for the role of a lifetime—and play career matchmaker to her friends. When Emma's search for an assistant leads her to the wide-eyed Brittany Smith, Emma sees the big screen in the girl's future. And because Emma knows best, she's sure that steering Brittany onto the right path is all she needs to do to make her a star—even if Brittany doesn't know it yet.

Emma's plans start to unravel, however, when professional soccer player Liam Price re-enters her life. Not only is Liam her former best friend's older brother, but he's gorgeous, smart, and has no problem pointing out the (totally exaggerated) flaws in Emma's plans. But as Emma comes in close contact with the darker side of Hollywood, she starts to question the glamorous world she's always known and realizes her role in it needs to change—if she can find the courage to go off script.
January 28th
Blood Countess by Lana Popovic (Amulet)
A historical YA horror novel based on the infamous real-life inspiration for Countess Dracula.

In 17th century Hungary, Anna Darvulia has just begun working as a scullery maid for the young and glamorous Countess Elizabeth Báthory. When Elizabeth takes a liking to Anna, she's vaulted to the dream role of chambermaid, a far cry from the filthy servants' quarters below. She receives wages generous enough to provide for her family, and the Countess begins to groom Anna as her friend and confidante. It's not long before Anna falls completely under the Countess's spell—and the Countess takes full advantage. Isolated from her former friends, family, and fiancé, Anna realizes she's not a friend but a prisoner of the increasingly cruel Elizabeth. Then come the murders, and Anna knows it's only a matter of time before the Blood Countess turns on her, too.
Dark and Deepest Red by Anna-Marie McLemore (Fiewel and Friends)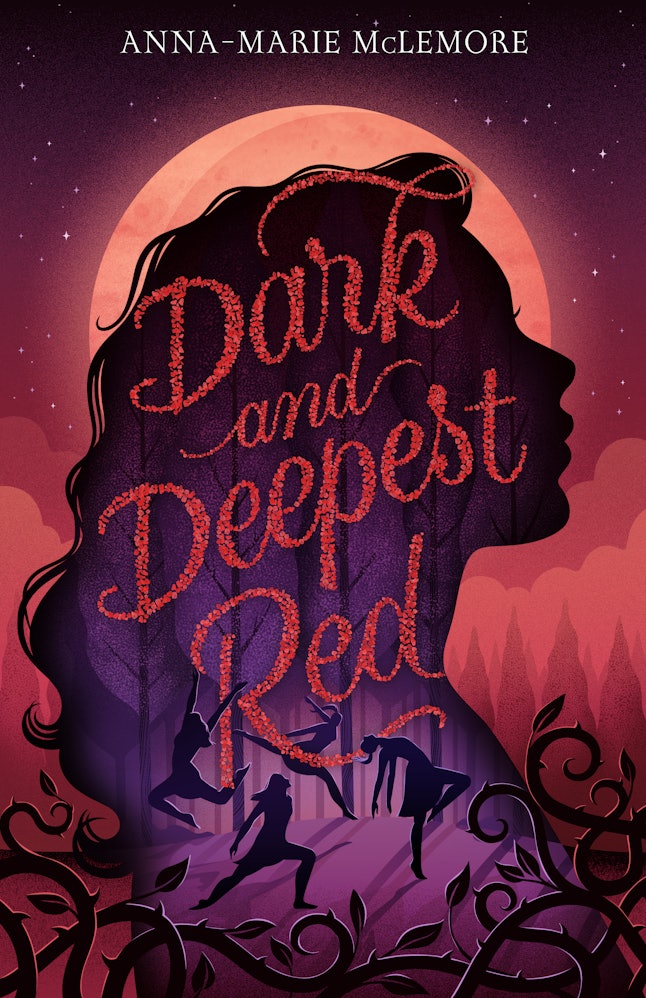 Summer, 1518. A strange sickness sweeps through Strasbourg: women dance in the streets, some until they fall down dead. As rumors of witchcraft spread, suspicion turns toward Lavinia and her family, and Lavinia may have to do the unimaginable to save herself and everyone she loves.

Five centuries later, a pair of red shoes seal to Rosella Oliva's feet, making her dance uncontrollably. They draw her toward a boy who knows the dancing fever's history better than anyone: Emil, whose family was blamed for the fever five hundred years ago. But there's more to what happened in 1518 than even Emil knows, and discovering the truth may decide whether Rosella survives the red shoes.

With McLemore's signature lush prose, Dark and Deepest Red pairs the forbidding magic of a fairy tale with a modern story of passion and betrayal.
A Heart So Fierce and Frozen by Bridget Kemmerer (Bloomsbury)
In the sequel to New York Times bestselling A Curse So Dark and Lonely, Brigid Kemmerer returns to the world of Emberfall in a lush fantasy where friends become foes and love blooms in the darkest of places.

Find the heir, win the crown.
The curse is finally broken, but Prince Rhen of Emberfall faces darker troubles still. Rumors circulate that he is not the true heir and that forbidden magic has been unleashed in Emberfall. Although Rhen has Harper by his side, his guardsman Grey is missing, leaving more questions than answers.

Win the crown, save the kingdom.
Grey knows he's the heir. On the run since he destroyed Lilith, he has no desire to challenge Rhen. Until Karis Luran once again threatens to take Emberfall by force. Her own daughter Lia Mara sees the flaws in her mother's violent plan, but can she convince Grey to stand against Rhen, even for the good of Emberfall?

The heart-pounding, compulsively readable saga continues as loyalties are tested and new love blooms in a kingdom on the brink of war.
Hostile Territory by Paul Greci (Imprint)
In Paul Greci's Hostile Territory, a catastrophic earthquake strands four teens in the Alaskan wilderness—and leaves them without a civilization to return to.

Josh and three other campers at Simon Lake are high up on a mountain when an earthquake hits. The rest of the camp is wiped out in a moment—leaving Josh, Derrick, Brooke, and Shannon alone, hundreds of miles from the nearest town, with meager supplies, surrounded by dangerous Alaskan wildlife.

After a few days, it's clear no rescue is coming, and distant military activity in the skies suggests this natural disaster has triggered a political one.

Josh and his fellow campers face a struggle for survival in their hike back home—to an America they might not recognize.
A Castle in the Clouds by Kierstin Gier (Henry Holt)
A Castle in the Clouds follows a girl as she navigates secrets, romance, and danger in an aging grand hotel.

Way up in the Swiss mountains, there's an old grand hotel steeped in tradition and faded splendor. Once a year, when the famous New Year's Eve Ball takes place and guests from all over the world arrive, excitement returns to the vast hallways.

Sophie, who works at the hotel as an intern, is busy making sure that everything goes according to plan. But unexpected problems keep arising, and some of the guests are not who they pretend to be. Very soon, Sophie finds herself right in the middle of a perilous adventure--and at risk of losing not only her job, but also her heart.
Almost American Girl by Robin Ha (Balzer + Bray)
Add caption
A powerful and timely teen graphic novel memoir—perfect for fans of American Born Chinese and Hey, Kiddo—about a Korean-born, non-English-speaking girl who is abruptly transplanted from Seoul to Huntsville, Alabama, and struggles with extreme culture shock and isolation, until she discovers her passion for comic arts.

For as long as she can remember, it's been Robin and her mom against the world. Growing up in the 1990s as the only child of a single mother in Seoul, Korea, wasn't always easy, but it has bonded them fiercely together.

So when a vacation to visit friends in Huntsville, Alabama, unexpectedly becomes a permanent relocation—following her mother's announcement that she's getting married—Robin is devastated. Overnight, her life changes. She is dropped into a new school where she doesn't understand the language and struggles to keep up. She is completely cut off from her friends at home and has no access to her beloved comics. At home, she doesn't fit in with her new stepfamily. And worst of all, she is furious with the one person she is closest to—her mother.

Then one day Robin's mother enrolls her in a local comic drawing class, which opens the window to a future Robin could never have imagined.
Diamond City by Francesca Flores (Wednesday Books)
Francesca Flores' DIAMOND CITY is a debut YA fantasy perfect for fans of Leigh Bardugo and Victoria Schwab.

At twelve years old, Aina Solís was pulled off of the streets she slept on and trained to be one of the most feared assassins in Sumerand, a kingdom founded by immigrants and built by magic—and in recent years transformed by an industrial revolution. Magic is now outlawed and Sumerand is divided between those who've grown wealthy from the new factories and those who've been left behind, their culture gutted and their stomachs empty.

When Aina is given the most lucrative and dangerous job of her career— killing a wealthy industrialist named Kouta—she knows it's a once-in-alifetime opportunity to leave her impoverished roots in her past once and-for-all: the payout is enough to free her from under her boss Kohl's thumb. But when the job goes wrong and Kouta escapes, she is left without a penny to her name and in the crosshairs of Kohl, who is eager to show the world what happens to those that fail him: They end up dead.

With Kohl on her heels, Aina is running out of time to find Kouta and finish what she started. But the closer she gets to killing him, the more she begins to ask the questions assassins are never meant to ask: who wants Kouta dead? And why? In a city full of half-constructed subway tunnels, hidden magical dens, secret weapons markets, and wolf-sized spiders, Aina discovers a conspiracy that could rewrite her city's history and—if it isn't stopped—sink her country into a catastrophic war.
Don't Read the Comments by Eric Smith (Inkyard Press)
Reclaim the Sun is about Divya and Aaron, two teens who meet in the massively popular, No-Mans-Sky-esque video game, Reclaim the Sun.

Divya is a teen girl who streams video games on her YouTube channel, and enjoys a bit of Internet celebrity as a result. However, this brings the trolls, and she finds herself under constant assault online. She'd leave, but the sponsorships help her and her struggling single mother pay the rent and her college classes. Plus, she can't let them win.

Aaron wants to write storylines for video games, and has a little group of developer friends. His parents have other plans for him though. And when he meets Divya in the video game, the two spark up a friendship in the wild digital landscape of lush planets and wide reaching galaxies.

But when Divya is doxed, and her family is attacked in the real world, she vanishes from the Internet. And seemingly from real life. She's got plans to go to speak at Comic Con and confront the trolls. And Aaron, he's got plans to roadtrip to Comic Con to try and "save" her.

But girls aren't princesses in castles who need rescuing, and real life is a lot more complicated than a video game

.
How to Build a Heart by Maria Padian (Algonquin Young Readers)
One young woman's journey to find her place in the world as the carefully separated strands of her life — family, money, school, and love — begin to overlap and tangle.

All sixteen-year-old Izzy Crawford wants is to feel like she really belongs somewhere. Her father, a marine, died in Iraq six years ago, and Izzy's moved to a new town nearly every year since, far from the help of her extended family in North Carolina and Puerto Rico. When Izzy's hardworking mom moves their small family to Virginia, all her dreams start clicking into place. She likes her new school—even if Izzy is careful to keep her scholarship-student status hidden from her well-to-do classmates and her new athletic and popular boyfriend. And best of all: Izzy's family has been selected by Habitat for Humanity to build and move into a brand-new house. Izzy is this close to the community and permanence she's been searching for, until all the secret pieces of her life begin to collide.

How to Build a Heart is the story of Izzy's journey to find her place in the world and her discovery that the choices we make and the people we love ultimately define us and bring us home.
Wildfire by Carrie Mac (Knopf)
Into the Wild meets The Serpent King in this story about Annie and Pete, two best friends on a dangerous and emotional trek through the woods.

Annie and Pete have been best friends since they were little. They know each other better than anyone, and they've been on more adventures than they can count--they even have a notebook filled with all the times they've almost died. But they always survive, because together, they're invincible.

And they've always been just friends. But lately, Annie has been thinking that maybe friendship is just the beginning, and she's been mentally replaying all the times they were almost something more.

Now they're heading out on their next great quest: a ten-day backpacking trip through the mountains of Washington State, ending at Fire Camp, where they'll learn to fight the area's growing wildfire problem. The woods spark with the promise of adventure, but a freak climbing accident interrupts their progress, and as the wildfires close in and smoke envelops them, Annie and Pete wander farther from the trail. Carrie Mac's gripping story of the power of unrequited love and the danger of the elements is harrowing, beautiful, and unforgettable.
Seven Deadly Shadows by Courtney Alameda and Valynne E. Maetani (HarperCollins)
Seventeen-year-old Kira Fujikawa has never had it easy. She's bullied by the popular girls in school. Her family ignores her. And she's also plagued with a secret: She can see yokai, the ghosts and demons that haunt the streets of Japan. But things accelerate from bad to worse when she learns that Shuten-doji, the demon king, will rise at the next blood moon to hunt down an ancient relic and bring the world to a catastrophic end.

Not exactly skilled at fighting anything, much less the dead, Kira enlists the aid of seven powerful death gods to help her slay Shuten-doji. They include Shiro, a kitsune with boy-band looks who is more flirtatious than helpful, and O-bei, a regal demon courtesan with covert reasons of her own for getting involved.

As the confrontation with Shuten-doji draws nearer by the day, the fate of Japan hangs in the balance. Can Kira save humankind? Or will the demon king succeed in bringing eternal darkness upon the world?