January 1st
The Last Days of Us by Beck Nicholas (Harlequin Teen)
Five teens, one derelict Kombi and an unforgettable road trip…

Six months ago, Zoey's life went off the rails. After the tragic loss of her brother, she partied her way to oblivion, estranged her best friend, Cass, and pushed away her now ex, Finn. But when her destructive behaviour reaches dangerous heights, Zoey realises she needs to pull herself together and get her old life back, including her ex. There's just one complication: Finn is now dating Cass.

Now, it's the last week of summer and Zoey, Cass and Finn are setting out on the road trip of a lifetime to see their favourite musician, Gray, perform live, joined by Finn's infuriatingly attractive bad-boy cousin Luc and his vibrant younger sister Jolie. Zoey thinks this is her chance to put things to rights and convince Finn they should get back together. But she wasn't counting on her friends' lingering resentment, Luc's disarming sincerity, and Jolie's infectious love for life to turn her plans upside down.

This emotional coming-of-age story will resonate with anyone who's ever messed up, fallen in love, or taken off on an adventure.
January 2nd
The Cruel Prince by Holly Black (Little Brown)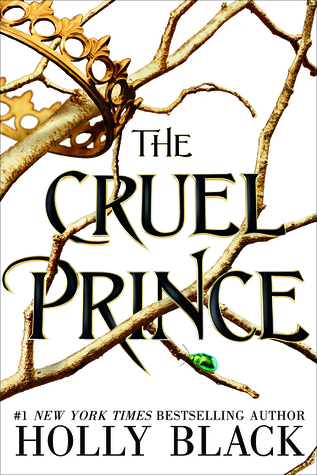 Of course I want to be like them. They're beautiful as blades forged in some divine fire. They will live forever.

And Cardan is even more beautiful than the rest. I hate him more than all the others. I hate him so much that sometimes when I look at him, I can hardly breathe.

Jude was seven years old when her parents were murdered and she and her two sisters were stolen away to live in the treacherous High Court of Faerie. Ten years later, Jude wants nothing more than to belong there, despite her mortality. But many of the fey despise humans. Especially Prince Cardan, the youngest and wickedest son of the High King.

To win a place at the Court, she must defy him–and face the consequences.
In doing so, she becomes embroiled in palace intrigues and deceptions, discovering her own capacity for bloodshed. But as civil war threatens to drown the Courts of Faerie in violence, Jude will need to risk her life in a dangerous alliance to save her sisters, and Faerie itself.
Before I Let Go by Marieke Nijkamp (Sourcebooks Fire)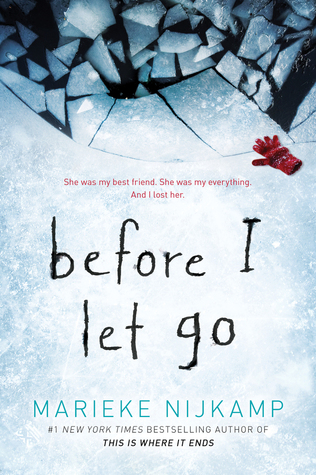 Days before Corey is to return home to the snow and ice of Lost Creek, Alaska, to visit her best friend, Kyra dies. Corey is devastated―and confused. The entire Lost community speaks in hushed tones about the town's lost daughter, saying her death was meant to be. And they push Corey away like she's a stranger.

Corey knows something is wrong. Lost is keeping secrets―chilling secrets. But piecing together the truth about what happened to her best friend may prove as difficult as lighting the sky in an Alaskan winter...
Busted by Gina Ciocca (Sourcebooks Fire)
Marisa wasn't planning to be a snoop for hire—until she accidentally caught her best friend's boyfriend making out with another girl. Now her reputation for sniffing out cheaters has spread all over school, and Marisa finds herself the reluctant queen of busting two-timing boys.

But when ex-frenemy Kendall asks her to spy on her boyfriend, TJ, Marisa quickly discovers the girl TJ might be falling for is Marisa herself. And worse yet? The feelings are quickly becoming mutual. Now, she's stuck spying on a "mystery girl" and the spoken-for guy who just might be the love of her life…
Someone To Love by Melissa de la Cruz (Harlequin Teen)
A Conspiracy of Stars by Olivia A. Cole (Katherine Tegan Books)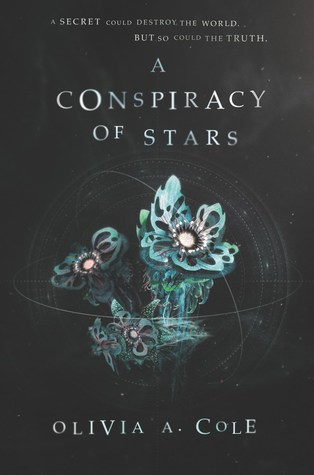 Olivia A. Cole blends a richly imagined world, fantastical creatures, family secrets, and a simmering romance in her cinematic sci-fi/fantasy YA debut, perfect for fans of Amie Kaufman and Pierce Brown.

Octavia has only ever had one goal: to follow in the footsteps of her parents and become a prestigious whitecoat, one of the scientists who study the natural wonders of Faloiv. The secrets of the jungle's exotic plants and animals are protected fiercely in the labs by the Council of N'Terra, so when the rules suddenly change, allowing students inside, Octavia should be overjoyed.

But something isn't right. The newly elected leader of the Council has some extremist views about the way he believes N'Terra should be run, and he's influencing others to follow him. When Octavia witnesses one of the Faloii—the indigenous people of Faloiv—attacked in front of her in the dark of night, she knows the Council is hiding something. They are living in separate worlds on a shared planet, and their fragile peace may soon turn into an all-out war.

With the help of Rondo, a quiet boy in class with a skill for hacking, and her inquisitive best friend, Alma, Octavia is set on a collision course to discover the secrets behind the history she's been taught, the science she's lived by, and the truth about her family.

You'll Miss Me When I'm Gone by Rachel Lynn Solomon (Simon Pulse)
Eighteen-year-old twins Adina and Tovah have little in common besides their ambitious
nature. Viola prodigy Adina yearns to become a soloist—and to convince her music teacher he wants her the way she wants him. Overachiever Tovah awaits her acceptance to Johns Hopkins, the first step on her path toward med school and a career as a surgeon.

But one thing could wreck their carefully planned futures: a genetic test for Huntington's, a rare degenerative disease that slowly steals control of the body and mind. It's turned their Israeli mother into a near stranger and fractured the sisters' own bond in ways they'll never admit. While Tovah finds comfort in their Jewish religion, Adina rebels against its rules.

When the results come in, one twin tests negative for Huntington's. The other tests positive.

These opposite outcomes push them farther apart as they wrestle with guilt, betrayal, and the unexpected thrill of first love. How can they repair their relationship, and is it even worth saving?

From debut author Rachel Lynn Solomon comes a luminous, heartbreaking tale of life, death, and the fragile bond between sisters.
Love and Other Train Wrecks by Leah Konen (Katherine Tegan Books)
A twenty-four-hour romance about two teens who meet—and perhaps change their minds about love—on a train ride to Upstate New York in the middle of a snowstorm

One train ride. Two strangers.

Noah is a hopeless romantic. He's heading back home for one last chance with his first love, whom he broke up with when he went off to college.

Ammy doesn't believe in true love—her parents being prime examples. She's escaping from a mom who can't take care of her to a dad who may not even want her. That is, until one winter night when Noah and Ammy find themselves in the same Amtrak car heading to Upstate New York.

After a train-wreck first encounter between the two of them, the Amtrak train suddenly breaks down due to a snowstorm. Desperate to make it to their destinations, Noah and Ammy have no other option but to travel together. What starts off as a minor detour turns into the whirlwind journey of a lifetime, and over the course of the night they fall in love. But come morning their adventure takes an unexpected turn for the worst. Can one night can really change how they feel about love...and the course of their lives forever?
Batman: Nightwalker by Marie Lu (Random House)
Before he was Batman, he was Bruce Wayne. A reckless boy willing to break the rules for a girl who may be his worst enemy.

The Nightwalkers are terrorizing Gotham City, and Bruce Wayne is next on their list.

One by one, the city's elites are being executed as their mansions' security systems turn against them, trapping them like prey. Meanwhile, Bruce is turning eighteen and about to inherit his family's fortune, not to mention the keys to Wayne Enterprises and all the tech gadgetry his heart could ever desire. But after a run-in with the police, he's forced to do community service at Arkham Asylum, the infamous prison that holds the city's most brutal criminals.

Madeleine Wallace is a brilliant killer . . . and Bruce's only hope.

In Arkham, Bruce meets Madeleine, a brilliant girl with ties to the Nightwalkers. What is she hiding? And why will she speak only to Bruce? Madeleine is the mystery Bruce must unravel. But is he getting her to divulge her secrets, or is he feeding her the information she needs to bring Gotham City to its knees? Bruce will walk the dark line between trust and betrayal as the Nightwalkers circle closer.
The True Queen by Sarah Fine (Margaret K. McElldry Books)
Now that Ansa knows she is the destined queen of Kupari, she is desperate to find a permanent home for her people, the Kriegere, in the Kupari lands. But as the small band of warriors crosses into the foreign territory, Ansa loses her fragile grip on her newly-acquired—and violent—fire and ice magic and puts everyone, including her love Thyra, in danger.

Inside the walls of Kupari, Elli maintains the facade that she is the magical queen, with her secret—that she has no magic at all—on the brink of exposure every day. But as she tries to prepare the citizens to protect themselves from another invasion, unrest spreads as wielders like her beloved Oskar begin to lose control of their powers.

As Kupari grows increasingly unstable, with the land literally crumbling beneath their feet, and a common enemy once again threatening everything, these two young women on a collision course with destiny must find a way to save the realm and their people from total destruction.

In this epic conclusion to the Impostor Queen series, Sarah Fine's sweeping tale of two fierce leaders imbued with unimaginable power and called to unthinkable sacrifice finally answers the question: who has the strength to be the True Queen?
Everless by Sara Holland (HarperTeen)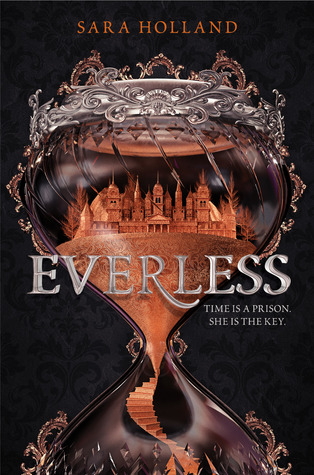 In the land of Sempera, time is extracted from blood and used as payment. Jules Ember and her father were once servants at Everless, the wealthy Gerling family's estate, but were cast out after of a fateful accident a decade ago. Now, Jules's father is reaching his last hour, and she will do anything to save him. Desperate to earn time, she arrives at the palace as it prepares for a royal wedding, ready to begin her search into childhood secrets that she once believed to be no more than myths. As she uncovers lost truths, Jules spirals deeper into a past she hardly recognizes, and faces an ancient and dangerous foe who threatens her future and the future of time itself.
Between the Blade and the Heart by Amanda Hocking (Wednesday Books)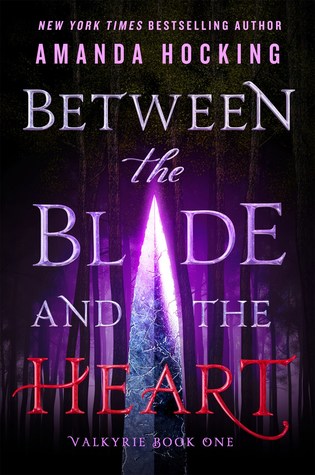 Valkyries have one great responsibility: to return immortals to the afterlife by slaying them. As a Valkyrie, Malin has always known that the balance of the world rests on her ability to carry out orders. But when Malin discovers that her mother spared the life of an immortal who was destined to die, her world is thrown into chaos.

Malin not only wrestles with the knowledge that her mother might not be who she thought—she's also thrust into the path of a gorgeous blue eyed guy named Asher who needs her help slaying the rogue immortal who destroyed his family. The balance of the world is at stake. And, as Asher competes with Malin's ex for her love and loyalty, so is her heart.
Gunslinger Girl by Lyndsay Ely
Little, Brown's Jimmy Patterson imprint presents a bold new heroine—a cross between Katniss Everdeen and Annie Oakley: Serendipity Jones, the fastest sharpshooter in tomorrow's West.

Seventeen-year-old Serendipity "Pity" Jones inherited two things from her mother: a pair of six shooters and perfect aim. She's been offered a life of fame and fortune in Cessation, a glittering city where lawlessness is a way of life. But the price she pays for her freedom may be too great....

In this extraordinary debut from Lyndsay Ely, the West is once again wild after a Second Civil War fractures the U.S. into a broken, dangerous land. Pity's struggle against the dark and twisted underbelly of a corrupt city will haunt you long after the final bullet is shot.
Meet Cute by Various YA Authors (HMH)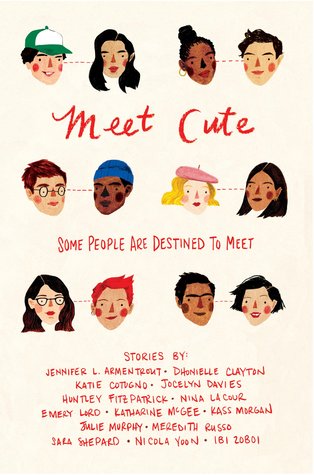 Whether or not you believe in fate, or luck, or love at first sight, every romance has to start somewhere. MEET CUTE is an anthology of original short stories featuring tales of "how they first met" from some of today's most popular YA authors.

Readers will experience Nina LaCour's beautifully written piece about two Bay Area girls meeting via a cranky customer service Tweet, Sara Shepard's glossy tale about a magazine intern and a young rock star, Nicola Yoon's imaginative take on break-ups and make-ups, Katie Cotugno's story of two teens hiding out from the police at a house party, and Huntley Fitzpatrick's charming love story that begins over iced teas at a diner. There's futuristic flirting from Kass Morgan and Katharine McGee, a riveting transgender heroine from Meredith Russo, a subway missed connection moment from Jocelyn Davies, and a girl determined to get out of her small town from Ibi Zoboi. Jennifer Armentrout writes a sweet story about finding love from a missing library book, Emery Lord has a heartwarming and funny tale of two girls stuck in an airport, Dhonielle Clayton takes a thoughtful, speculate approach to pre-destined love, and Julie Murphy dreams up a fun twist on reality dating show contestants.

This incredibly talented group of authors brings us a collection of stories that are at turns romantic and witty, epic and everyday, heartbreaking and real.
As You Wish by Chelsea Sedoti (Sourcebooks Fire)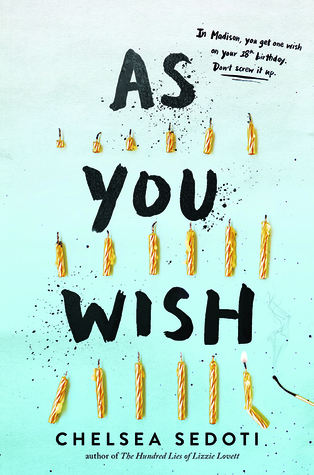 What if you could ask for anything- and get it?

In the sandy Mojave Desert, Madison is a small town on the road between nothing and nowhere. But Eldon wouldn't want to live anywhere else, because in Madison, everyone gets one wish—and that wish always comes true.

Some people wish for money, some people wish for love, but Eldon has seen how wishes have broken the people around him. And with the lives of his family and friends in chaos, he's left with more questions than answers. Can he make their lives better? How can he be happy if the people around him aren't? And what hope is there for any of them if happiness isn't an achievable dream? Doubts build, leading Eldon to a more outlandish and scary thought: maybe you can't wish for happiness…maybe, just maybe, you have to make it for yourself.
The Forgotten Book by Mechthlid Glaser (Feiwel and Friends)
A Jane Austen-inspired YA tale about a sixteen-year-old girl who finds a magical book—and discovers that anything she writes inside it comes true.

Emma is used to things going her way. Her father is headmaster of her prestigious boarding school, her friends take her advice as gospel, and she's convinced that a relationship with her long-time crush is on the horizon.

As it turns out, Emma hasn't seen anything yet. When she finds an old book in an abandoned library, things really start going Emma's way: anything she writes in the book comes true.

But the power of the book is not without consequences, and Emma soon realizes that she isn't the only one who knows about it. Someone is determined to take it from her—and they'll stop at nothing to succeed.

A new boy in school—the arrogant, aloof, and irritatingly handsome Darcy de Winter—becomes Emma's unlikely ally as secrets are revealed and danger creeps ever closer.
Don't Cosplay With My Heart by Cecil Castellucci (Scholastic)
When Edan Kupferman dresses up like her favorite character, Gargantua, she feels tall and powerful. That's important right now, because her family is a mess, her best friend is gone for the summer, her crush is confusing, and Edan's feeling small and not sure which end is up.

When Edan's cosplaying, she can be angry, loud, and not the good girl everyone thinks she is. And when she's at conventions, she feels like she's found her own Team Tomorrow. But when her personal life starts to spiral out of control, Edan has to figure out whether she needs a sidekick, or if she has the strength to be the hero of her own story.
Together at Midnight by Jennifer Castle (HarperTeen)
Combining the emotional deftness of Sarah Dessen with the magical spark of New York City in wintertime, this affecting novel will inspire readers to pay closer attention to the world around them.

What does it really mean to be kind . . . and why does it sometimes feel like the hardest thing in the world to do? High school senior Kendall, who just returned from a life-changing semester in Europe, and Max, who is drifting his way through a gap year before college, struggle with these questions when they witness a tragic accident in New York City during the holiday season. Racked with guilt, the two accept a dare to perform random acts of kindness to strangers. The challenge pulls these two teens, who have a history together from back home, closer and closer as they explore a vibrant city filled with other people's stories and secrets.

Kendall and Max can't deny their growing bond, even though they both have other romantic entanglements and uncertain futures. As the clock counts down on New Year's Eve, will they find themselves together at midnight?

Jennifer Castle's latest novel is a romantic, thought-provoking tale of human connection and how we find—and make—our place in the world.
Pretty Dead Girls by Monica Murphy (Entangled Teen)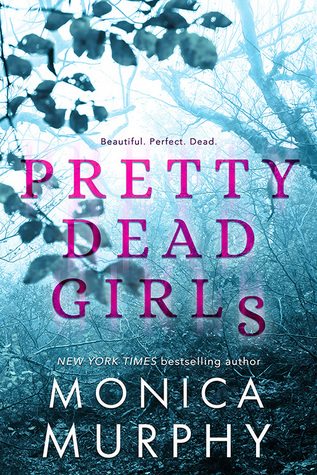 Beautiful. Perfect. Dead.

They're arranged in a particular way. Their faces turned at the most flattering angles, their designer clothes immaculate, as immaculate as their carefully made-up faces. Only the slash of blood across their necks mars the perfect surface. Only the vacant stare in their eyes indicates they're dead.

The most popular girls in school are going down, and Penelope Malone is terrified she's next. All the victims so far have been linked to Penelope—and to the mysterious loner boy from her physics class. The one with the lopsided smirk and intense stare that's almost…cute? Even though she's not sure she can trust him, she reluctantly agrees to work with him to figure out what's happening. All while trying to stay one step ahead of the brutal serial killer on the loose.

But this killer won't be satisfied until every beautiful, popular girl in the senior class is dead—especially Penelope. And the killer is closer than she thinks...
January 9th
Unearthed by Amie Kaufman and Meagan Spooner (Disney Hyperion)
When Earth intercepts a message from a long-extinct alien race, it seems like the solution
the planet has been waiting for. The Undying's advanced technology has the potential to undo environmental damage and turn lives around, and Gaia, their former home planet, is a treasure trove waiting to be uncovered.

For Jules Addison and his fellow scholars, the discovery of an alien culture offers unprecedented opportunity for study... as long as scavengers like Amelia Radcliffe don't loot everything first. Mia and Jules' different reasons for smuggling themselves onto Gaia put them immediately at odds, but after escaping a dangerous confrontation with other scavvers, they form a fragile alliance.

In order to penetrate the Undying temple and reach the tech and information hidden within, the two must decode the ancient race's secrets and survive their traps. But the more they learn about the Undying, the more their presence in the temple seems to be part of a grand design that could spell the end of the human race...
The Curses by Laure Eve (Amulet)
Picking up the pieces after the chilling events of the previous year isn't easy, but the Graces are determined to do it. Wolf is back after a mysterious disappearance, and everyone's eager to return to normal. Except for Summer, the youngest Grace. Summer has a knack for discovering the truth—and something is troubling her. After a trail of clues leads her to what could be the key to both her family's mysterious past and the secret of Wolf, she's determined to vanquish yet another curse. But exposing secrets is a dangerous game, and it's not one Summer can win alone.

At Summer's behest, the coven comes back together, reluctantly drawing their erstwhile friend River back into the fold. But Wolf's behavior becomes unpredictable even as Fenrin's strength fades, and Summer must ask herself whether the friend she so loves is also planning her family's ultimate, cursed demise.

This riveting sequel to The Graces is saturated with magic, the destructive cost of power, the
complications of family, and the nature of forgiveness.
Sinless by Sarah Tarkoff (Harper Voyager)
With shades of Scott Westerfeld's Uglies and Ally Condie's Matched, this dark, cinematic dystopian novel—the first in the thrilling Eye of the Beholder series—is set in a near future society in which "right" and "wrong" are manifested by beauty and ugliness

In Grace Luther's world, morality is physically enforced. Those who are "good" are blessed with beauty, while those who are not suffer horrifying consequences—disfigurement, or even death. When the cleric's daughter stumbles onto information that proves her world is more complicated than it seems, she finds herself at the center of an epic battle where good and evil are not so easily distinguished. Despite all her efforts to live a normal teenage life, Grace is faced with a series of decisions that will risk the lives of everyone she loves.

With each page, Sarah Tarkoff masterfully tightens the screws in this electrifying debut novel that plunges us into a nightmarish and all too plausible future. Full of high-drama and pulsating tension, Eye of the Beholder: Revelation explores essential questions teenagers wrestle with every day: What is beauty? What is faith? Where does friendship end and love begin? Do we take our world at face value and accept all that we have been taught—or do we question the mores of the society into which we are born?

Chilling and thought-provoking, Eye of the Beholder: Revelation is must reading for fans of The Hunger Games, Divergent, The Maze Runner, The Giver, and Delirium.
Beneath the Sugar Sky by Seanan McGuire (Tor)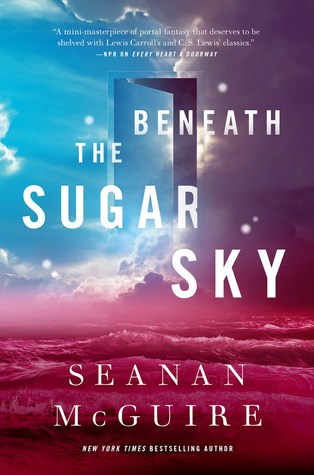 A stand-alone fantasy tale from Seanan McGuire's Alex-award winning Wayward Children series, which began in Every Heart a Doorway.

NPR called Seanan McGuire's Every Heart a Doorway "a mini-masterpiece of portal fantasy that deserves to be shelved with Lewis Carroll's and C. S. Lewis' classics." Beneath the Sugar Sky, the third book in McGuire's Wayward Children series, returns to Eleanor West's Home for Wayward Children in a standalone contemporary fantasy for fans of all ages. At this magical boarding school, children who have experienced fantasy adventures are reintroduced to the "real" world.

Sumi died years before her prophesied daughter Rini could be born. Rini was born anyway, and now she's trying to bring her mother back from a world without magic.
A Taxonomy of Love by Rachael Allen (Amulet Books)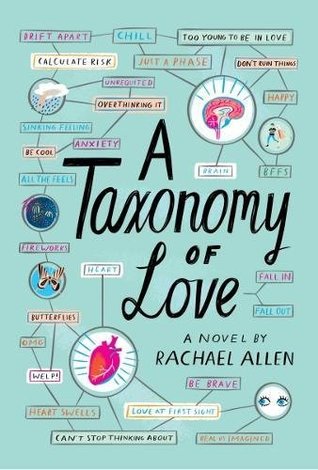 The moment Spencer meets Hope the summer before seventh grade, it's . . . something at first sight. He knows she's special, possibly even magical. The pair become fast friends, climbing trees and planning world travels. After years of being outshone by his older brother and teased because of his Tourette syndrome, Spencer finally feels like he belongs. But as Hope and Spencer get older and life gets messier, the clear label of "friend" gets messier, too.

Through sibling feuds and family tragedies, new relationships and broken hearts, the tw
o grow together and apart, and Spencer, an aspiring scientist, tries to map it all out using his trusty system of taxonomy. He wants to identify and classify their relationship, but in the end, he finds that life doesn't always fit into easy-to-manage boxes, and it's this messy complexity that makes life so rich and beautiful.
Thunderhead by Neal Shusterman (Simon and Shuster)
Rowan and Citra take opposite stances on the morality of the Scythedom, putting them at odds, in the second novel of the chilling New York Times bestselling series from Neal Shusterman, author of the Unwind dystology.

Rowan has gone rogue, and has taken it upon himself to put the Scythedom through a trial by fire. Literally. In the year since Winter Conclave, he has gone off-grid, and has been striking out against corrupt scythes—not only in MidMerica, but across the entire continent. He is a dark folk hero now—"Scythe Lucifer"—a vigilante taking down corrupt scythes in flames.

Citra, now a junior scythe under Scythe Curie, sees the corruption and wants to help change it from the inside out, but is thwarted at every turn, and threatened by the "new order" scythes. Realizing she cannot do this alone—or even with the help of Scythe Curie and Faraday, she does the unthinkable, and risks being "deadish" so she can communicate with the Thunderhead—the only being on earth wise enough to solve the dire problems of a perfect world. But will it help solve those problems, or simply watch as perfection goes into decline?
Nice Try, Jane Sinner by Lianne Oekle (Clarion Books)
The only thing 17-year-old Jane Sinner hates more than failure is pity. After a personal crisis and her subsequent expulsion from high school, she's going nowhere fast. Jane's well-meaning parents push her to attend a high school completion program at the nearby Elbow River Community College, and she agrees, on one condition: she gets to move out.

Jane tackles her housing problem by signing up for House of Orange, a student-run reality show that is basically Big Brother, but for Elbow River Students. Living away from home, the chance to win a car (used, but whatever), and a campus full of people who don't know what she did in high school… what more could she want? Okay, maybe a family that understands why she'd rather turn to Freud than Jesus to make sense of her life, but she'll settle for fifteen minutes in the proverbial spotlight.

As House of Orange grows from a low-budget web series to a local TV show with fans and shoddy T-shirts, Jane finally has the chance to let her cynical, competitive nature thrive. She'll use her growing fan base, and whatever Intro to Psychology can teach her, to prove to the world—or at least viewers of substandard TV—that she has what it takes to win.
A Quiet Kind of Thunder by Sara Barnard (Simon Pulse)
A girl who can't speak and a boy who can't hear go on a journey of self-discovery and find support with each other in this gripping, emotionally resonant novel from bestselling author Sara Barnard. Perfect for fans of Morgan Matson and Jandy Nelson.

Steffi doesn't talk, but she has so much to say.
Rhys can't hear, but he can listen.

Steffi has been a selective mute for most of her life. The condition's name has always felt ironic to her, because she certainly does not "select" not to speak. In fact, she would give anything to be able to speak as easily and often as everyone around her can. She suffers from crippling anxiety, and uncontrollably, in most situations simply can't open her mouth to get out the words.

Steffi's been silent for so long that she feels completely invisible. But Rhys, the new boy at school, sees her. He's deaf, and her knowledge of basic sign language means that she's assigned to help him acclimate. To Rhys, it doesn't matter that Steffi doesn't talk. As they find ways to communicate, Steffi discovers that she does have a voice, and that she's falling in love with the one person who makes her feel brave enough to use it. But as she starts to overcome a lifelong challenge, she'll soon confront questions about the nature of her own identity and the very essence of what it is to know another person.
Beneath the Haunting Sea by Joanna Ruth Meyer (Page Street)
This stunning and sweeping YA fantasy debut, weaving together royal intrigue, high-stakes adventure and a dangerous mythological world, will entrance fans of Sarah J. Maas and
Leigh Bardugo.
Sixteen-year-old Talia was born to a life of certainty and luxury, destined to become Empress of half the world. But when an ambitious rival seizes power, she and her mother are banished to a nowhere province on the far edge of the Northern Sea.

On their terrifying journey, the sea seems to call to Talia in strange ways, and her mother—spiraling into madness—becomes obsessed with ancient myths that talk of the sea-goddess Rahn who rules the watery Hall of the Dead.

Joanna Meyer is a wonderful new voice in the YA fantasy genre. Her original, fresh story handles popular fantasy themes in surprising ways. Her lush, atmospheric prose masterfully brings to life her unique mythology and vividly imagined, culturally diverse world.

Beneath the Haunting Sea will appeal to fans of bestselling series such as Throne of Glass, The Remnant Chronicles, The Winner's Trilogy, and The Grisha Trilogy, as well as recent debuts such as The Reader, The Star-Touched Queen, Sword and Verse, Fear the Drowning Deep, and Given to the Sea. It will also attract readers of adult fantasy, who enjoy Earthsea, The Silmarillion, and Game of Thrones. Its slow-burn romance and gothic setting, inspired by Sense and Sensibility and Jane Eyre, will appeal to a wider audience. Joanna describes Talia's love interest as Willoughby-esque and Beneath the Haunting Sea as The Silmarillion meets Jane Eyre, with kissing.
January 11th
The Sacrifice Box by Martin Stewart (HarperCollins)
Sep, Arkle, Mack, Lamb and Hadley: five friends thrown together one hot, sultry summer. When they discover an ancient stone box hidden in the forest, they decide to each make a sacrifice: something special to them, committed to the box for ever. And they make a pact: they will never return to the box at night; they'll never visit it alone; and they'll never take back their offerings.

Four years later, the gang have drifted apart. Then a series of strange and terrifying events take place, and Sep and his friends understand that one of them has broken the pact.

As their sacrifices haunt them with increased violence and hunger, they realise that they are not the first children to have found the box in their town's history. And ultimately, the box may want the greatest sacrifice of all: one of them.
January 16th
Love, Hate & Other Filters by Samira Ahmed (Soho Teen)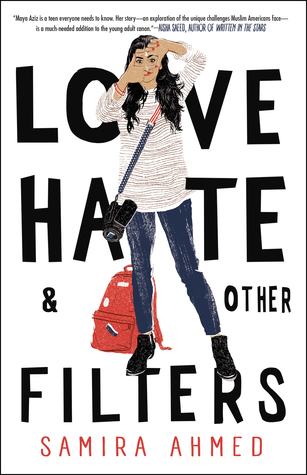 A searing #OwnVoices coming-of-age debut in which an Indian-American Muslim teen
confronts Islamophobia and a reality she can neither explain nor escape--perfect for fans of Angie Th
omas, Jacqueline Woodson, and Adam Silvera.
Maya Aziz is torn between futures: the one her parents expect for their good Indian daughter (i.e.; staying nearby in Chicago and being matched with a "suitable" Muslim boy), and the one where she goes to film school in New York City--and maybe, just maybe, kisses a guy she's only known from afar. There's the also the fun stuff, like laughing with her best friend Violet, making on-the-spot documentaries, sneaking away for private swimming lessons at a secret pond in the woods. But her world is shattered when a suicide bomber strikes in the American heartland; by chance, he shares Maya's last name. What happens to the one Muslim family in town when their community is suddenly consumed with hatred and fear?
Iron Gold by Pierce Brown (Del Rey)
They call him father, liberator, warlord, Reaper. But he feels a boy as he falls toward the pale blue planet, his armor red, his army vast, his heart heavy. It is the tenth year of war and the thirty-second of his life.

A decade ago, Darrow was the hero of the revolution he believed would break the chains of the Society. But the Rising has shattered everything: Instead of peace and freedom, it has brought endless war. Now he must risk everything he has fought for on one last desperate mission. Darrow still believes he can save everyone, but can he save himself?

And throughout the worlds, other destinies entwine with Darrow's to change his fate forever:

A young Red girl flees tragedy in her refugee camp and achieves for herself a new life she could never have imagined.

An ex-soldier broken by grief is forced to steal the most valuable thing in the galaxy—or pay with his life.

And Lysander au Lune, the heir in exile to the sovereign, wanders the stars with his mentor, Cassius, haunted by the loss of the world that Darrow transformed, and dreaming of what will rise from its ashes.

Red Rising was the story of the end of one universe, and Iron Gold is the story of the creation of a new one. Witness the beginning of a stunning new saga of tragedy and triumph from masterly New York Times bestselling author Pierce Brown.
Truly Devious by Maureen Johnson (HarperCollins)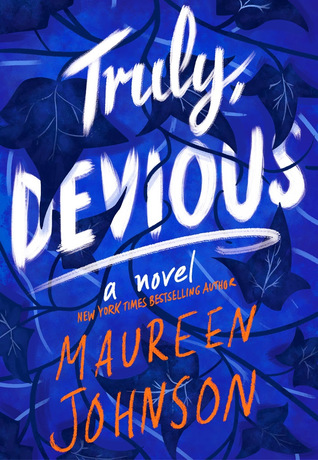 Something is wrong at Ellingham Academy: Its murderous past won't stay in the past.

Ellingham Academy is an American institution. Students can't buy admission, they have to earn it: these are the brightest of their generation, the thinkers, inventors, artists, dreamers, and schemers who will change the world. Ellingham is the brainchild of philanthropist and tycoon Edward J. Ellingham, who happened on a remote, idyllic spot outside of Burlington, Vermont in the 1920s, the perfect setting for his "dream school of the future." For Ellingham, the dream ended a decade later, when his wife and child were kidnapped, then murdered, in what would become the crime of the century. Ellingham pledged everything to find the killer—he ended up giving his life.

It was an empty sacrifice: For years, the killer remained at large. He taunted the police, signing his letters Truly, Devious. Eventually, someone was caught, found guilty, and executed for the heinous crimes… but questions lingered. Why, for example, did Ellingham write these words on the day he died?

Where do you look for someone

who's never really there?

Always on a staircase

but never on a stair.

Every institution has its ghost stories; every school imagines itself haunted. Ellingham Academy is, officially, beyond such silliness: it is devoted to greatness, and everyone accepted achieves it.

This includes Stevie Bell, who gained her fame by solving a murder when she was thirteen years old. Clever murders don't happen along very often, and Stevie has been struggling to find her place in the competitive atmosphere of Ellingham. Then she finds out about the decades-old Ellingham riddle: Problem solved. She'll solve the riddle, name the real killer, and prove herself exceptional. True Ellingham material.

Her investigation into the cold case is interrupted by a fresh one. When one of her classmates, internet superstar Hayes Major, turns up dead, Stevie is the first to question the official explanation. An accident? Really? Everyone else is convinced that Ellingham's murderous past is just that, which leaves justice up to Stevie.
Poison's Kiss by Breeana Shields (Random House Books)
An assassin becomes a spy in this heart-pounding sequel to Poison's Kiss. Readers who love the assassin angle in Throne of Glass, the lethal touch in Shatter Me, or the high stakes of The Wrath and the Dawn will want to follow this story to the end.

A single kiss could kill. A single secret could save the kingdom.

Iyla and Marinda have killed many men together: Iyla as the seductress, Marinda as the final, poisonous kiss. Now they understand who the real enemy is—the Snake King—and together they can take him down. Both girls have felt as though they were living a lie in the past, so moving into the King's palace and pretending to serve him isn't as difficult as it sounds. But when you're a spy, even secrets between friends are dangerous. And each girl has something—or someone—to lose. Does every secret, every lie, bring them closer to the truth or . . . to a trap?

In Poison's Kiss, Marinda pulled a dangerous thread. In this sequel, it unravels to a heart-pounding conclusion.
You Won't Know I'm Gone by Kristen Orlando (Swoon Reads)
Reagan has to prove herself to an elite group of special agents—and avenge her mother's death—in the second book in the Black Angel Chronicles from the author of You Don't Know My Name.

Going rogue in an effort to rescue her kidnapped parents has cost Reagan Hillis her automatic ticket to the Training Academy. But becoming a Black Angel is the only way Reagan will be able to exact revenge on her mother's merciless killer, Santino Torres.

When Reagan is given a chance to prove that she's worthy of training to be a Black Angel, she also gets the first chance she's ever had to be her true self. No aliases. No disguises.

But when her friend Luke joins her at the Black Angels training compound, Reagan finds herself once again torn between the person she was and the person she wants to be. Reagan has to prove that she's as good as her parents trained her to be, because she'll never find Torres without the Black Angels' help
Zenith by Sasha Alsberg and Lindsay Cummings (Harlequin Teen)
From #1 New York Times bestselling author duo Sasha Alsberg and Lindsay Cummings comes the first book in The Androma Saga, full of action, fantastical intrigue and steamy star-crossed romance.

Most know Androma Racella as the Bloody Baroness, a powerful mercenary whose reign of terror stretches across the Mirabel Galaxy. To those aboard her glass starship, Marauder, however, she's just Andi, their friend and fearless leader.

But when a routine mission goes awry, the Marauder's all-girl crew is tested as they find themselves in a treacherous situationand at the mercy of a sadistic bounty hunter from Andi's past.

Meanwhile, across the galaxy, a ruthless ruler waits in the shadows of the planet Xen Ptera, biding her time to exact revenge for the destruction of her people. The pieces of her deadly plan are about to fall into place, unleashing a plot that will tear Mirabel in two.

Andi and her crew embark on a dangerous, soul-testing journey that could restore order to their shipor just as easily start a war that will devour worlds. As the Marauder hurtles toward the unknown, and Mirabel hangs in the balance, the only certainty is that in a galaxy run on lies and illusion, no one can be trusted.
Blood and Sand by C.V. Wyk (Tor Teen)
The action-packed tale of a 17-year-old warrior princess and a handsome gladiator who dared take on the Roman Republic--and gave rise to the legend of Spartacus....

Roma Victor. The Republic of Rome is on a relentless march to build an empire--an empire built on the backs of the conquered, brought back to Rome as slaves.

Attia was once destined to rule as the queen and swordmaiden of Thrace, the greatest warrior kingdom the world had seen since Sparta. Now she is a slave, given to Xanthus, the Champion of Rome, as a sign of his master's favor. Enslaved as a child, Xanthus is the preeminent gladiator of his generation.

Against all odds, Attia and Xanthus form a tentative bond. A bond that will spark a rebellion. A rebellion that threatens to bring the Roman Republic to its end--and gives rise to the legend of Spartacus....
All That Was by Karen Rivers (FSG)
A heartrending young adult novel about the complexities of best friendships gone wrong, and the redemptive power of letting go.

Piper and Sloane were best friends. They grew up together, from childhood to first love, and in spite of how different they were, their friendship was supposed to last forever. That is, until Piper caught Sloane kissing her boyfriend—and just days later, Piper was found dead, washed ashore on a beach. Sloane was torn with grief and guilt. How do you make amends for hurting someone you love, if that person is no longer around? And how can you ever move on and love again? Told from alternating perspectives, this is a story about the complexity of friendships, forgiveness, and growing up.
January 23rd
Markswoman by Rati Mehrotra (Harper Voyager)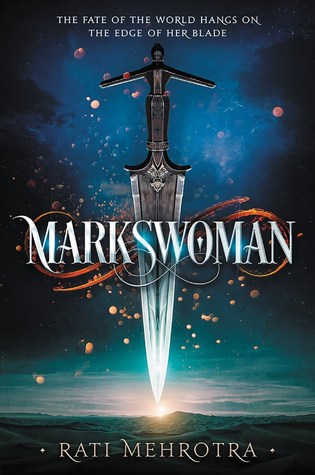 An order of magical-knife wielding female assassins brings both peace and chaos to their post-apocalyptic world in this bewitching blend of science fiction and epic fantasy—the first entry in a debut duology that displays the inventiveness of the works of Sarah Beth Durst, Marie Lu, and S. J. Kincaid

Kyra is the youngest Markswoman in the Order of Kali, a highly trained sisterhood of elite warriors armed with telepathic blades. Guided by a strict code of conduct, Kyra and the other Orders are sworn to protect the people of Asiana. But to be a Markswoman, an acolyte must repudiate her former life completely. Kyra has pledged to do so, yet she secretly harbors a fierce desire to avenge her dead family.

When Kyra's beloved mentor dies in mysterious circumstances, and Tamsyn, the powerful, dangerous Mistress of Mental Arts, assumes control of the Order, Kyra is forced on the run. Using one of the strange Transport Hubs that are remnants of Asiana's long-lost past, she finds herself in the unforgiving wilderness of desert that is home to the Order of Khur, the only Order composed of men. Among them is Rustan, a young, disillusioned Marksman whom she soon befriends.

Kyra is certain that Tamsyn committed murder in a twisted bid for power, but she has no proof. And if she fails to find it, fails in her quest to keep her beloved Order from following Tamsyn down a dark path, it could spell the beginning of the end for Kyra--and for Asiana.

But what she doesn't realize is that the line between justice and vengeance is razor thin . . . thin as the blade of a knife.
Reign of the Fallen by Sarah Glenn Marsh (Razorbill)
An LGBT fantasy series that follows a talented necromancer who must face down a deadly nemesis who has learned how to turn her magic into a weapon.

Odessa is one of Karthia's master necromancers, catering to the kingdom's ruling Dead. Whenever a noble dies, it's Odessa's job to raise them by retrieving their souls from a dreamy and dangerous shadow world called the Deadlands. But there is a cost to being raised--the Dead must remain shrouded, or risk transforming into zombie-like monsters known as Shades. If even a hint of flesh is exposed, the grotesque transformation will begin.

A dramatic uptick in Shade attacks raises suspicions and fears among Odessa's necromancer community. Soon a crushing loss of one of their own reveals a disturbing conspiracy: someone is intentionally creating Shades by tearing shrouds from the Dead--and training them to attack. Odessa is faced with a terrifying question: What if her necromancer's magic is the weapon that brings Karthia to its knees?

A lavish fantasy with a surprising and breathtaking LGBT romance at its core, Reign of the Fallen is a gutsy, unpredictable read that will grab readers by the throat and never let go...
Let's Talk About Love by Claire Kann (Swoon Reads)
Alice had her whole summer planned. Non-stop all-you-can-eat buffets while marathoning her favorite TV shows (best friends totally included) with the smallest dash of adulting--working at the library to pay her share of the rent. The only thing missing from her perfect plan? Her girlfriend (who ended things when Alice confessed she's asexual). Alice is done with dating--no thank you, do not pass go, stick a fork in her, done.

But then Alice meets Takumi and she can't stop thinking about him or the rom com-grade romance feels she did not ask for (uncertainty, butterflies, and swoons, oh my!).

When her blissful summer takes an unexpected turn, and Takumi becomes her knight with a shiny library employee badge (close enough), Alice has to decide if she's willing to risk their friendship for a love that might not be reciprocated—or understood.
The Defiant by Lesley Livingston (Razorbill)
The darling of the Roman Empire is in for the fight of her life.

Be brave, gladiatrix… And be wary. Once you win Caesar's love, you'll earn his enemies' hate.

Fallon was warned.

Now she is about to pay the price for winning the love of the Roman people as Caesar's victorious gladiatrix.

In this highly anticipated sequel to THE VALIANT, Fallon and her warrior sisters find themselves thrust into a vicious conflict with a rival gladiator academy, one that will threaten not only Fallon's heart – and her love for Roman soldier Cai – but the very heart of the ancient Roman Empire.

When dark treachery and vicious power struggles threaten her hard-won freedom, the only thing that might help the girl known as Victrix save herself and her sisters is a tribe of long-forgotten mythic Amazon warriors.

The only trouble is, they might just kill her themselves first.
The Last Girl In The World by Alexandra Blogier (Delacorte)
Fans of The 5th Wave will devour this heart-pounding sci-fi novel about a girl with a secret: on a near-future Earth taken over by aliens, she is the only human left alive.

RAISED AMONG THEM.
Li has a father and a sister who love her. A best friend, Mirabae, to share things with. She goes to school and hangs out at the beach and carefully follows the rules. She has to. Everyone she knows--her family, her teachers, her friends--is an alien. And she is the only human left on Earth.

A SECRET THAT COULD END HER LIFE.
The Abdoloreans hijacked the planet sixteen years ago, destroying all human life. Li's human-sympathizer father took her in as a baby and has trained her to pass as one of them. The Abdoloreans appear human. But they don't think with human minds or feel with human hearts. And they have special abilities no human could ever have.

FIT IN OR DIE.
When Li meets Ryn, she's swept up in a relationship that could have disastrous consequences. How far will Li go to stay alive? Will she save herself--and in turn, the human race--or will she be the final witness to humanity's destruction?
January 25th
I Am Thunder by Muhammad Khan (Macmillan)
Fifteen-year-old Muzna Saleem, who dreams of being a writer, struggles with controlling parents who only care about her studying to be a doctor. Forced to move to a new school in South London after her best friend is shamed in a scandal, Muzna realizes that the bullies will follow her wherever she goes. But deciding to stand and face them instead of fighting her instinct to disappear is harder than it looks when there's prejudice everywhere you turn. Until the gorgeous and confident Arif shows an interest in her, encouraging Muzna to explore her freedom.

But Arif is hiding his own secrets and, along with his brother Jameel, he begins to influence Muzna with their extreme view of the world. As her new freedom starts to disappear, Muzna is forced to question everything around her and make a terrible choice - keep quiet and betray herself, or speak out and betray her heart?

A stunning new YA voice which questions how far you'll go to protect what you believe in.
January 30th
The Hazel Wood by Melissa Albert (Flatiron)
Seventeen-year-old Alice and her mother have spent most of Alice's life on the road, always a step ahead of the uncanny bad luck biting at their heels. But when Alice's grandmother, the reclusive author of a cult-classic book of pitch-dark fairy tales, dies alone on her estate, the Hazel Wood, Alice learns how bad her luck can really get: Her mother is stolen away―by a figure who claims to come from the Hinterland, the cruel supernatural world where her grandmother's stories are set. Alice's only lead is the message her mother left behind: "Stay away from the Hazel Wood."


Alice has long steered clear of her grandmother's cultish fans. But now she has no choice but to ally with classmate Ellery Finch, a Hinterland superfan who may have his own reasons for wanting to help her. To retrieve her mother, Alice must venture first to the Hazel Wood, then into the world where her grandmother's tales began―and where she might find out how her own story went so wrong.
Say You'll Remember Me by Katie McGarry (Harlequin Teen)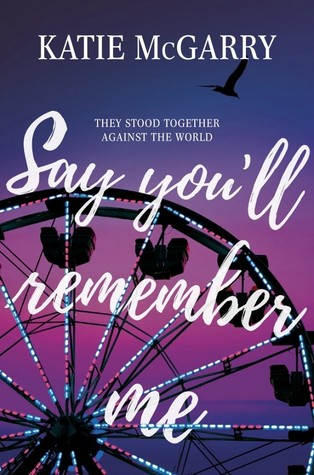 When Drix was convicted of a crime--one he didn't commit--he thought his life was over. But opportunity came with the new Second Chance Program, the governor's newest pet project to get delinquents off the streets, rehabilitated and back into society. Drix knows this is his chance to get his life back on track, even if it means being paraded in front of reporters for a while.

Elle knows she lives a life of privilege. As the governor's daughter, she can open doors with her name alone. But the expectations and pressure to be someone she isn't may be too much to handle. She wants to follow her own path, whatever that means.

When Drix and Elle meet, their connection is immediate, but so are their problems. Drix is not the type of boy Elle's parents have in mind for her, and Elle is not the kind of girl who can understand Drix's messy life.

But sometimes love can breach all barriers.

Fighting against a society that can't imagine them together, Drix and Elle must push themselves--Drix to confront the truth of the robbery, and Elle to assert her independence--and each other to finally get what they deserve.

Wires and Nerve Vol 2: Gone Rogue by Marissa Meyer (Feiwel and Friends)
Iko – an audacious android and best friend to the Lunar Queen Cinder – has been tasked with hunting down Alpha Lysander Steele, the leader of a rogue band of bioengineered wolf-soldiers who threaten to undo the tenuous peace agreement between Earth and Luna. Unless Cinder can reverse the mutations that were forced on them years before, Steele and his soldiers plan to satisfy their monstrous appetites with a massacre of the innocent people of Earth.

And to show he's serious, Steele is taking hostages.

Cinder and Kai, Scarlet and Wolf, Cress and Thorne, and Winter and Jacin all feature in this epic new battle. But it is Iko who must face her deepest fears when she uncovers the truth about her own unusual programming.
Reign the Earth by A.C. Gaughen (Bloomsbury)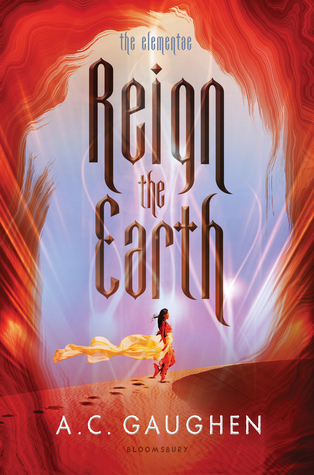 Shalia is a proud daughter of the desert, but after years of devastating war with the adjoining kingdom, her people are desperate for peace. Willing to trade her freedom to ensure the safety of her family, Shalia becomes Queen of the Bonelands.

But she soon learns that her husband, Calix, is motivated only by his desire to exterminate the Elementae—mystical people who can control earth, wind, air, and fire. Even more unsettling are Shalia's feelings for her husband's brother, which unleash a power over the earth she never knew she possessed—a power that could get her killed. As rumors of a rebellion against Calix spread, Shalia must choose between the last chance for peace and her own future as an Elementae.

This intense, richly drawn high-fantasy by the author of Scarlet will hold readers spellbound.
Purple Hearts by Michael Grant (Katherine Tegan Books)
The gritty and powerful conclusion to New York Times bestselling author Michael Grant's epic alternate history series follows the young women American soldiers as D-day approaches during the final days of World War II.
Courage, sacrifice, and fear have led Rio, Frangie, and Rainy through the front line battles in North Africa and Sicily, and their missions are not over. These soldiers and thousands of Allies must fight their deadliest battle yet—for their country and their lives—as they descend into the freezing water and onto the treacherous sands of Omaha Beach. It is June 6, 1944. D-day has arrived.

None of these women are the same naïve recruits they were when the war started. They are Silver Star recipients and battle-hardened now as they traverse the dangerous bocage country and find their way out of the forests of Hürtgen and the Eifel. Others look to them for guidance and confidence, but this is a war that will leave 60 million dead. Flesh will turn to charcoal. Piles will be made of torn limbs. The women must lead through the devastating concentration camps of Buchenwald and Dachau while attempting to hold on to their own last shreds of belief in humanity.

In this powerful conclusion to the Front Lines series, New York Times bestselling author Michael Grant vividly evokes the gritty, brutal truth of World War II: War is hell.
This Is Not a Love Letter by Kim Purcell (Disney Hyperion)
One week. That's all Jessie said. A one-week break to get some perspective before graduation, before she and her boyfriend, Chris, would have to make all the big, scary decisions about their future--decisions they had been fighting about for weeks.

Then, Chris vanishes. The police think he's run away, but Jessie doesn't believe it. Chris is popular and good-looking, about to head off to college on a full-ride baseball scholarship. And he disappeared while going for a run along the river--the same place where some boys from the rival high school beat him up just three weeks ago. Chris is one of the only black kids in a depressed paper mill town, and Jessie is terrified of what might have happened.

As the police are spurred to reluctant action, Jessie speaks up about the harassment Chris kept quiet about and the danger he could be in. But there are people in Jessie's town who don't like the story she tells, who are infuriated by the idea that a boy like Chris would be a target of violence. They smear Chris's character and Jessie begins receiving frightening threats.

Every Friday since they started dating, Chris has written Jessie a love letter. Now Jessie is writing Chris a letter of her own to tell him everything that's happening while he's gone. As Jessie searches for answers, she must face her fears, her guilt, and a past more complicated than she would like to admit.
The Dangerous Art of Blending In by Angelo Sermelis (Balzer and Bray)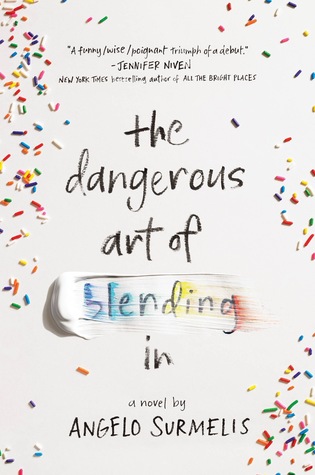 Seventeen-year-old Evan Panos doesn't know where he fits in. His strict Greek mother refuses to see him as anything but a disappointment. His quiet, workaholic father is a staunch believer in avoiding any kind of conflict. And his best friend Henry has somehow become distractingly attractive over the summer.

Tired, isolated, scared—Evan's only escape is drawing in an abandoned church that feels as lonely as he is. And, yes, he kissed one guy over the summer. But it's his best friend Henry who's now proving to be irresistible. It's Henry who suddenly seems interested in being more than friends. And it's Henry who makes him believe that he's more than his mother's harsh words and terrifying abuse. But as things with Henry heat up, and his mother's abuse escalates, Evan has to decide how to find his voice in a world where he has survived so long by avoiding attention at all costs.
Winner Take All by Laurie Devore (Imprint)
For Nell Becker, life is a competition she needs to win.
For Jackson Hart, everyone is a pawn in his own game.
They both have everything to lose.

Nell wants to succeed at everything—school, sports, life. And victory is sweeter when it means beating Jackson Hart, the rich, privileged, undisputed king of Cedar Woods Prep Academy. Yet no matter how hard she tries, Jackson is somehow one step ahead. They're a match made in hell, but opposites do attract.

Drawn to each other by their rivalry, Nell and Jackson fall into a whirlwind romance that consumes everything in their lives. But when a devastating secret exposes their relationship as just another game, how far will Nell go to win?

Visceral and whip-smart, Laurie Devore's Winner Take All paints an unflinching portrait of obsessive love, toxic competition, and the drive for perfection.
American Heart by Laura Moriarty (HarperTeen)
A gripping and timely YA debut from New York Times bestselling author Laura Moriarty that asks readers to consider how they themselves would react to injustice

Imagine a United States in which registries and detainment camps for Muslim Americans are a reality.

This is the world of fifteen-year-old Sarah-Mary Williams of Hannibal, Missouri. Sarah-Mary, who has strong opinions on almost everything, isn't concerned with the internments, as she doesn't know any Muslims. She assumes that everything she reads and sees in the news is true, and that these plans are better for everyone's safety.

When she happens upon Sadaf, a Muslim fugitive determined to reach freedom in Canada, Sarah-Mary at first believes she must turn her in. But Sadaf challenges Sarah-Mary's perception of right and wrong, and instead Sarah-Mary decides, with growing conviction, to do all she can to help Sadaf escape. The two set off on a desperate journey, hitchhiking through the heart of an America that is at times courageous and kind but always full of tension and danger for anyone deemed suspicious.

American Heart is a powerful new novel from bestselling adult author Laura Moriarty that is thought-provoking, compelling, and sure to spark conversation.
The Upside of Falling Down by Rebekah Crane (Skyscape)
For Clementine Haas, finding herself is more than a nice idea. Ever since she woke up in an Irish hospital with complete amnesia, self-discovery has become her mission.

They tell her she's the lone survivor of a plane crash. They tell her she's lucky to be alive. But she doesn't feel lucky. She feels…lost.

With the relentless Irish press bearing down on her, and a father she may not even recognize on his way from America to take her home, Clementine assumes a new identity and enlists a blue-eyed Irish stranger, Kieran O'Connell, to help her escape her forgotten life…and start a new one.

Hiding out in the sleepy town of Waterville, Ireland, Clementine discovers there's an upside to a life that's fallen apart. But as her lies grow, so does her affection for Kieran, and the truth about her identity becomes harder and harder to reveal, forcing Clementine to decide: Can she leave her past behind for a new love she'll never forget?
Keeper by Kim Chance (Flux Books)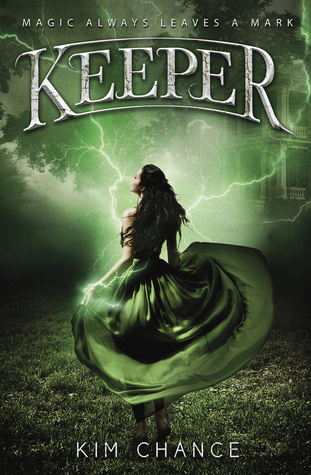 When a 200-year-old witch attacks her, sixteen-year-old bookworm Lainey Styles is determined to find a logical explanation. Even with the impossible staring her in the face, Lainey refuses to believe it—until she finds a photograph linking the witch to her dead mother.

After consulting a psychic, Lainey discovers that she, like her mother, is a Keeper: a witch with the exclusive ability to unlock and wield the Grimoire, a dangerous but powerful spell book. But there's a problem. The Grimoire has been stolen by a malevolent warlock who is desperate for a spell locked inside it—a spell that would allow him to siphon away the world's magic.

With the help of her comic-book-loving best friend and an enigmatic but admittedly handsome street fighter, Lainey must leave her life of college prep and studying behind to prepare for the biggest test of all: stealing back the book.
S.T.A.G.S. by M.A. Bennett (Penguin Teen)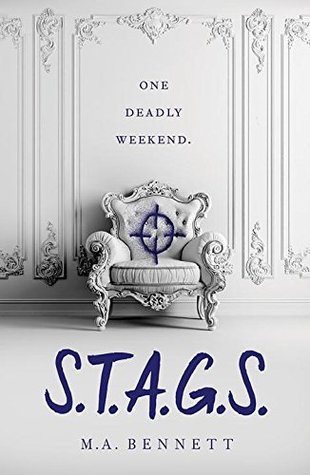 Seventeen-year-old Greer, a scholarship girl at a prestigious private school, St Aidan the Great School (known as STAGS), soon realizes that the school is full of snobs and spoilt rich brats, many of whom come from aristocratic families who have attended the institute throughout the centuries. She's immediately ignored by her classmates. All the teachers are referred to as Friars (even the female ones), but the real driving force behind the school is a group of prefects known as the Medievals, whose leader, Henry de Warlencourt, Greer finds both strangely intriguing as well as attractive. The Medievals are all good-looking, clever and everyone wants to be among their circle of friends. Greer is therefore surprised when she receives an invitation from Henry to spend a long weekend with him and his friends at his family house in the Lake District, especially when she learns that two other "outsiders" have also been invited: Shafeen and Chanel. As the weekend unfolds, Greer comes to the chilling realization that she and two other "losers" were invited only because they were chosen to become prey in a mad game of manhunt.