July 1st
Copycat by Hannah Jayne (Sourcebooks Fire)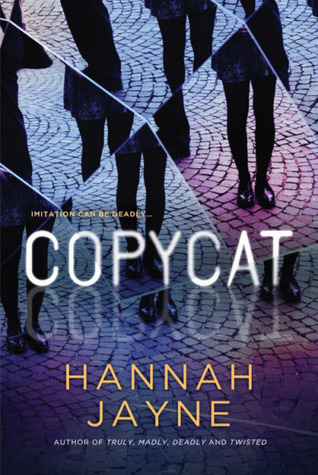 Everyone is dying to read the latest book in the popular Gap Lake mystery series, and Addison is no exception. As the novels biggest fan, Addison is flattered when the infamously reclusive author, R.J. Rosen, contacts her, granting her inside information others would kill for.
But when the most popular girl in Addison's high school is murdered, Addison can't help but think that life may be imitating fiction. And as other terrifying events from the book start happening around her, Addison has to figure out how to write her own ending -and survive the story.
July 3rd
Zen and Gone by Emily France (Soho Teen)
Born and raised in Boulder, Colorado, Essence McKree feels older than any seventeen-year-old she knows. Ever since weed was legalized, Mom has been working in a pot shop, high more often than not. Lately it's been up to Essa to care for her nine-year-old sister, Puck.

When Essa meets Oliver—a brainy indoor type, in town for the summer—she is cautious at first, distrustful of the tourist crowd and suspicious of Oliver's mysterious past in Chicago. But Puck is charmed and pushes Essa toward him. Soon Essa finds herself showing Oliver the Boulder she has forgotten: the mountain parties, the long hikes…and at Oliver's urging, the exploration of Buddhism at the local zendo.

When Oliver agrees to accompany Essa on a three-day survival game in the Rocky Mountains, she feels a lightness she hasn't known in a long time. Then she discovers that Puck has stowed away and followed them into the wilderness. After spending a night stuck in a mountain storm, Essa wakes to find Puck missing. Now Essa must rely on her newfound spiritual strength if she is to save her sister's life, and ultimately her own.
The Letting Go by Deborah Markus (Sky Pony Press)
Everyone Emily has ever loved has been brutally murdered. The killer has never been caught, but Emily knows who's responsible.

She is.

It's the only possible explanation. Emily is the one thing all the victims have in common, which can only mean that someone—or something—is killing them to make her suffer.

Determined never to subject another person to the same horrible fate as her parents, friends, and pets, Emily sequesters herself at a private boarding school, keeping her classmates at a distance with well-timed insults and an unapproachable air. Day after day, she loses herself in the writing of Emily Dickinson—the poet makes a perfect friend, since she's already dead.

Emily's life is lonely, but it's finally peaceful. That is, until two things happen. A corpse appears on the steps of the school. And a new girl insists on getting close to Emily—unknowingly setting herself up to become the killer's next victim.
The Brink of Darkness by Jeff Giles (Bloomsbury)
"A must-read for fantasy fans everywhere." --Susan Dennard, New York Times bestselling author of the Witchlands series

Things have changed for seventeen-year-old Zoe ever since the otherworldly events that brought her together with the mysterious bounty hunter she calls X. In order to save Zoe and her family, X has done the unthinkable--he's given up his freedom and returned to captivity in the Lowlands.

X is determined to break the lords' hold on him once and for all, but being stripped of his power pushes him toward a darkness he's never experienced and a pas he's never known. The secrets that surface could be the key to reuniting X and Zoe . . . or they could mean the destruction of everything they have been fighting for.

Gripping and full of heart, this epic continuation of Jeff Giles' series--which already has rave reviews from New York Times bestselling authors Kami Garcia, Melissa de la Cruz, and Cassandra Clare, among others--will bring readers right to the edge of everything.
Smoke and Iron by Rachel Caine (Berkley Books)
To save the Great Library, the unforgettable characters from Ink and Bone, Paper and Fire, and Ash and Quill put themselves in danger in the next thrilling adventure in the New York Times bestselling series.

The opening moves of a deadly game have begun. Jess Brightwell has put himself in direct peril, with only his wits and skill to aid him in a game of cat and mouse with the Archivist Magister of the Great Library. With the world catching fire, and words printed on paper the spark that lights rebellion, it falls to smugglers, thieves, and scholars to save a library thousands of years in the making...if they can stay alive long enough to outwit their enemies.
The Loneliest Girl in the Universe by Lauren James
(HarperTeen)
Can you fall in love with someone you've never met, never even spoken to – someone who is light years away?

Romy Silvers is the only surviving crew-member of a spaceship travelling to a new planet, on a mission to establish a second home for humanity amongst the stars. Alone in space, she is the loneliest girl in the universe until she hears about a new ship which has launched from Earth – with a single passenger on board. A boy called J.

Their only communication with each other is via email – and due to the distance between them, their messages take months to transmit across space. And yet Romy finds herself falling in love.

But what does Romy really know about J? And what do the mysterious messages which have started arriving from Earth really mean?

Sometimes, there's something worse than being alone . . .
Kiss of the Royal by Lindsey Duga (Entangled Teen)
In the war against the Forces of Darkness, the Royals are losing. Princess Ivy is determined to end this centuries-long conflict once and for all, so her new battle partner must succeed where the others failed. Prince Zach's unparalleled skill with a sword, enhanced by Ivy's magic Kiss, should make them an unstoppable pair—but try convincing Zach of that.

Prince Zach has spent his life preparing for battle, but he would rather be branded a heretic than use his lips as nothing more than a way to transfer magic. A kiss is a symbol of love, and love is the most powerful weapon they have—but try convincing Ivy of that.

With the fate of their world on the line, the battlefield has become a testing ground, and only one of them can be right. Falling for each other wasn't part of the plan—but try convincing their hearts of that.
The Year of Living Awkwardly by Emma Chastain (Simon Pulse)
Bridget Jones's Diary meets Mean Girls as lovably flawed high school student Chloe Snow chronicles another year in her life while she navigates the highs and lows of family, friendship, school, and love in a diary that sparkles with humor and warmth.

It's Chloe Snow's sophomore year of high school, and life has only grown more complicated.

Last year, Chloe was the star of the musical. This year, after an audition so disastrous she runs off the stage in tears, she's cast as a lowly member of the ensemble. Will she be able to make it through the show knowing everyone's either pitying her or reveling in her downfall?

Chloe's best friend, Hannah, is no help: she's been sucked into the orbit of Lex, the velvet-gloved, iron-fisted ruler of the sophomore class. Chloe's dad is busy falling in love with Miss Murphy, and Chloe is no longer speaking to her mother, who is sending her increasingly desperate and unhinged emails from Mexico. As her parents' divorce negotiations unravel, a custody battle looms.

If only Chloe could talk to Grady about it: his parents are divorced, and he's easy to talk to. Or he was, until he declared his love for Chloe, she turned him down because despite all her rational brain cells she can't seem to get over Mac, and then Grady promptly started going out with Lex.

As the performance of the show approaches, Chloe must find a way to navigate all the messy elements of her life and make it through to the end of the year.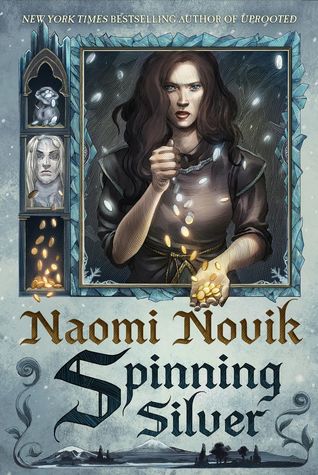 Miryem is the daughter and granddaughter of moneylenders... but her father isn't a very good one. Free to lend and reluctant to collect, he has loaned out most of his wife's dowry and left the family on the edge of poverty--until Miryem steps in. Hardening her heart against her fellow villagers' pleas, she sets out to collect what is owed--and finds herself more than up to the task. When her grandfather loans her a pouch of silver pennies, she brings it back full of gold.

But having the reputation of being able to change silver to gold can be more trouble than it's worth--especially when her fate becomes tangled with the cold creatures that haunt the wood, and whose king has learned of her reputation and wants to exploit it for reasons Miryem cannot understand.
The Traitor's Ruin by Erin Beaty (Imprint)
In the sequel to The Traitor's Kiss, war breaks out between nations and Sage Fowler must infiltrate enemy territory to reconnect with her first love, Captain Alex Quinn.

After proving her worth in book one as a deft spy and strategic matchmaker, Sage Fowler is now comfortably positioned in high society as the royal tutor. When she's called upon to teach his majesty's soldiers how to read and write, she jumps at the chance to serve her kingdom of Demora—and to be reunited with her fiancé, Captain Alex Quinn.

During a skirmish, Sage and Alex are separated. She watches him die before he can deliver important military intel—or so she thinks. She escapes from the enemy and makes an unlikely alliance with a mysterious soldier from a third nation. As Sage tries to rally their support against a common foe, the important political alliance is plagued by secrets and betrayal.

Can Sage complete Alex's mission and save her kingdom once more?
Beast: A Tale of Love and Revenge by Lisa Jensen (Candlewick Press)
They say Château Beaumont is cursed. But servant-girl Lucie can't believe such foolishness about handsome Jean-Loup Henri Christian LeNoir, Chevalier de Beaumont, master of the estate. The chevalier's cruelty is soon revealed, however, and Lucie vows to see him suffer. A wisewoman grants her wish, with a spell that transforms Jean-Loup into monstrous-looking Beast, reflecting the monster he is inside.

But Beast is nothing like the chevalier. Jean-Loup would never patiently tend his roses; Jean-Loup would never attempt poetry; Jean-Loup would never express remorse for the wrong done to Lucie. Gradually, Lucie realizes that Beast is an entirely different creature from the handsome chevalier, with a heart more human than Jean-Loup's ever was.

Lucie dares to hope that noble Beast has permanently replaced the cruel Jean-Loup — until an innocent beauty arrives at Beast's château with the power to break the spell.

Lisa Jensen's multilayered novel will make you question all you think you know about beauty, beastliness, and happily ever after.
I'm Not Missing by Carrie Fountain (Flatiron Books)
Set in the desert city of Las Cruces, New Mexico, I'm Not Missing is the debut novel by an award-winning poet about a half-Latina girl stepping outside of the larger-than-life shadow of her best friend

When Miranda Black's mother abandoned her, she took everything—the sun, moon, and stars—and Miranda found shelter in her friendship with Syd, who wore her own motherlessness like a badge of honor: Our mothers abandoned us. We won't go begging for scraps.

When Syd runs away suddenly and inexplicably in the middle of their senior year, Miranda is abandoned once again, left to untangle the questions of why Syd left, where she is—and if she's even a friend worth saving. Her only clue is Syd's discarded pink leopard print cell phone and a single text contained there from the mysterious HIM. Along the way, forced to step out from Syd's enormous shadow, Miranda finds herself stumbling into first love with Nick Allison of all people and learning what it means to be truly seen, to be finally not missing in her own life.
All These Beautiful Strangers by Elizabeth Klehfoth (William Morrow)
In the last day of summer, Grace Fairchild, the beautiful young wife of real estate mogul Allister Calloway, vanished from the family's lake house without a trace, leaving behind her seven-year old daughter, Charlie, and a slew of unanswered questions.

Years later, seventeen-year-old Charlie still struggles with the dark legacy of her family name and the mystery surrounding her mother. Determined to finally let go of the past, she throws herself into life at Knollwood, the prestigious New Englandschool she attends. Charlie quickly becomes friends with Knollwood's "it" crowd.

Charlie has also been tapped by the A's—the school's elite secret society well known for terrorizing the faculty, administration, and their enemies. To become a member of the A's, Charlie must play The Game, a semester-long, diabolical high-stakes scavenger hunt that will jeopardize her friendships, her reputation, even her place at Knollwood.

As the dark events of past and present converge, Charlie begins to fear that she may not survive the terrible truth about her family, her school, and her own life.
Things Jolie Needs To Do Before She Bites It by Kerry Winfrey (Feiwel and Friends)
Months before her underbite corrective surgery, Jolie decides she needs to live life to the fullest—just in case the surgery doesn't go as expected in this funny and honest YA novel.

Jolie's a lot of things, but she knows that pretty isn't one of them. She has mandibular prognathism, which is the medical term for underbite. Chewing is a pain, headaches are a common occurrence, and she's never been kissed. She's months out from having a procedure to correct her underbite, and she cannot wait to be fixed.

While her family watches worst-case scenario TV shows, Jolie becomes paralyzed with the fear that she could die under the knife. She and her best friends Evelyn and Derek decide to make a THINGS JOLIE NEEDS TO DO BEFORE SHE BITES IT (WHICH IS SUPER UNLIKELY BUT STILL IT COULD HAPPEN) list. Things like: eat every appetizer on the Applebee's menu and kiss her crush, Noah Reed. Their plan helps Jolie discover what beauty truly means to her.
The Unfortunates by Kim Liggett (Tor Teen)
When seventeen-year-old senator's son Grant Tavish is involved in a fatal accident, all he wants to do is face the consequences of what he's done, but the consequences never come, even if headlines of "affluenza" do. The truth soon becomes clear: Due to his father's connections, not only will Grant not be held accountable for his actions, he's going to get away with murder.

When a long Tavish tradition approaches, a cave excursion on the Appalachian trail, Grant seizes the opportunity to take justice into his own hands by staging an accident and never coming back. But before he has a chance to enact his plans, the cave system collapses, trapping him miles beneath the surface with four other teens from much less fortunate circumstances. As they struggle to survive, they share their innermost secrets and fears, and just when it seems they might be on track to finding a way out, they realize there's something else down there. And it's hunting them.
Notes From My Captivity by Kathy Parks (Katherine Tegan Books)
Girl meets boy… and the family holding her hostage.

Adrienne Cahill cares about three things: getting into a great college; becoming a revered journalist like her idol, Sydney Declay; and making her late father proud of her.

So when Adrienne is offered the chance to write an article that will get her into her dream school and debunk her foolishly optimistic stepfather Dan's claim—no, belief—that a legendary family of hermits is living in the Siberian wilderness, there's no question that she's going to fly across the world.

After all, it is the trip of a lifetime.

But the Russian terrain is even less forgiving than Adrienne. And when disaster strikes, nothing—not the flirtatious guide or her stepdad's obsessively detailed preparations—can protect Adrienne from the sheer force of nature. Now, Adrienne's being held captive by the family she was convinced didn't exist, and her best hope for escape is to act like she cares about befriending them, even if it means wooing the youngest son.
Bright We Burn by Kiersten White (Delacorte)
Haunted by the sacrifices he made in Constantinople, Radu is called back to the new capital. Mehmed is building an empire, becoming the sultan his people need. But Mehmed has a secret: as emperor, he is more powerful than ever . . . and desperately lonely. Does this mean Radu can finally have more with Mehmed . . . and would he even want it?

Lada's rule of absolute justice has created a Wallachia free of crime. But Lada won't rest until everyone knows that her country's borders are inviolable. Determined to send a message of defiance, she has the bodies of Mehmed's peace envoy delivered to him, leaving Radu and Mehmed with no choice. If Lada is allowed to continue, only death will prosper. They must go to war against the girl prince.

But Mehmed knows that he loves her. He understands her. She must lose to him so he can keep her safe. Radu alone fears that they are underestimating his sister's indomitable will. Only by destroying everything that came before--including her relationships--can Lada truly build the country she wants.

Claim the throne. Demand the crown. Rule the world.
July 17th
Like Never and Always by Ann Aquirre (Tor Teen)
On a hot summer night, a screech of brakes and shattering glass changes two lives forever.

Liv wakes in the hospital, confused when they call her Morgan. She assumes it's a case of mistaken identity, yet when the bandages come off, it's not her face in the mirror anymore. It's her best friend Morgan's.

Morgan always seemed to have the perfect life, yet Liv must navigate endlessly disturbing secrets of the criminal and murderous variety—and a romance that feels like a betrayal. Torn between the boy she loved as Liv and the boy she's grown to love as Morgan, Liv still has to survive Morgan's last request.
Wrong in All The Right Ways by Tiffany Brownlee (Henry Holt)
Everything in Emma's life has always gone according to her very careful plans. But things take a turn toward the unexpected when she falls in love for the first time with the one person in the world who's off-limits–her new foster brother, the gorgeous and tormented Dylan McAndrews.

Meanwhile, Emma's AP English class is reading Wuthering Heights, and she's been assigned to mimic Bronte's style in an epistolary format. With no one to confide in, she's got a lot to write about. Emma and Dylan try to constrain their romance to the page–for fear of threatening Dylan's chances of being adopted into another home. But the strength of first love is all-consuming, and they soon get enveloped in a passionate, secretive relationship with a very uncertain outcome.
Hullmetal Girls by Emily Strutskie (Delacorte)
For fans of Pierce Brown and Rhoda Belleza, here is epic space adventure full of action, heart and two kick-butt heroines.

Aisha Un-Haad would do anything for her family. When her brother contracts a plague, she knows her janitor's salary isn't enough to fund his treatment. So she volunteers to become a Scela, a mechanically enhanced soldier sworn to protect and serve the governing body of the Fleet, the collective of starships they call home. If Aisha can survive the harrowing modifications and earn an elite place in the Scela ranks, she may be able to save her brother.

Key Tanaka awakens in a Scela body with only hazy memories of her life before. She knows she's from the privileged end of the Fleet, but she has no recollection of why she chose to give up a life of luxury to become a hulking cyborg soldier. If she can make it through the training, she might have a shot at recovering her missing past.

In a unit of new recruits vying for top placement, Aisha's and Key's paths collide, and the two must learn to work together--a tall order for girls from opposite ends of the Fleet. But a rebellion is stirring, pitting those who yearn for independence from the Fleet against a government struggling to maintain unity.

With violence brewing and dark secrets surfacing, Aisha and Key find themselves questioning their loyalties. They will have to put aside their differences, though, if they want to keep humanity from tearing itself apart.
Nyxia Unleashed by Scott Reintgen (Crown)
Getting to Eden brought Emmett and his crewmates one step closer to their promised fortune. But surviving Eden may be the biggest reward of all. Discover book two in the trilogy Marie Lu called, "a high-octance thriller."

Emmett Atwater thought Babel's game sounded easy. Get points. Get paid. Go home. But it didn't take long for him to learn that Babel's competition was full of broken promises, none darker or more damaging than the last one.

Now Emmett and the rest of the Genesis survivors must rally and forge their own path through a new world. Their mission from Babel is simple: extract nyxia, the most valuable material in the universe, and play nice with the indigenous Adamite population.

But Emmett and the others quickly realize they are caught between two powerful forces—Babel and the Adamites—with clashing desires. Will the Genesis team make it out alive before it's too late?
When Life Gives You Demons by Jennifer Honeybourne (Swoon Reads)
Sixteen-year-old Shelby Black has spent the past year training to be an exorcist. Her great-uncle Roy—a Catholic priest and Shelby's guardian—believes she has a gift for expelling demons, and he's put her through exorcist boot camp hell, but he still doesn't trust her to do an exorcism on her own.
High school is hard enough without having to explain that you fight demons for a living, so Shelby keeps her extracurricular activity quiet, especially from Spencer, her cute math tutor. Secrets run in Shelby's family, though: her mother has been missing ever since an exorcism went horribly wrong, and Uncle Roy is tight-lipped about it. But Shelby's hell-bent on finding her mom, no matter what—even if what it ends up costing her her soul AND a date with Spencer.
Campfire by Shawn Sarles (Jimmy Paterson)
While camping in a remote location, Maddie Davenport gathers around the fire with her friends and family to tell scary stories. Caleb, the handsome young guide, shares the local legend of the ferocious Mountain Men who hunt unsuspecting campers and leave their mark by carving grisly antlers into their victims' foreheads.

The next day, the story comes true.

Now Maddie and her family are lost in the deep woods--with no way out--being stalked by their worst nightmares. Because there were other, more horrifying stories told that night--and Maddie's about to find out just how they end...
Letting Go of Gravity by Meg Leder (Simon Pulse)
Twins Parker and Charlie are polar opposites.
Where Charlie is fearless, Parker is careful.
Charlie is confident while Parker aims to please.
Charlie is outgoing and outspoken; Parker is introverted and reserved.
And of course, there's the one other major difference: Charlie got leukemia. Parker didn't.

But now that Charlie is officially in remission, life couldn't be going better for Parker. She's landed a prestigious summer internship at the hospital and is headed to Harvard in the fall to study pediatric oncology—which is why the anxiety she's felt since her Harvard acceptance is so unsettling. And it doesn't help that her relationship with Charlie has been on the rocks since his diagnosis.

Enter Finn, a boy who's been leaving strange graffiti messages all over town. Parker can't stop thinking about those messages, or about Finn, who makes her feel free for the first time: free to doubt, free to make mistakes, and free to confront the truth that Parker has been hiding from for a long time.

That she keeps trying to save Charlie, when the person who really needs saving is herself.
July 24th
Grace and Fury by Tracey Banghart (Little, Brown)
In a world where women have no rights, sisters Serina and Nomi Tessaro face two very different fates: one in the palace, the other in prison.

Serina has been groomed her whole life to become a Grace–someone to stand by the heir to the throne as a shining, subjugated example of the perfect woman. But when her headstrong and rebellious younger sister, Nomi, catches the heir's eye, it's Serina who takes the fall for the dangerous secret that Nomi has been hiding.

Now trapped in a life she never wanted, Nomi has only one way to save Serina: surrender to her role as a Grace until she can use her position to release her sister. This is easier said than done. A traitor walks the halls of the palace, and deception lurks in every corner. But Serina is running out of time, imprisoned on an island where she must fight to the death to survive and one wrong move could cost her everything.
Endless Water, Starless Skye by Rosamund Hodge (Balzer + Bray)
In the last days of the world, the walls of Viyara are still falling, and the dead are rising faster than ever.

Juliet is trapped—ordered by Lord Ineo of the Mahyanai to sacrifice the remaining members of her family, the Catresou, to stave off the end of the world. Though they're certain his plan is useless, Juliet and her former friend Runajo must comply with Lord Ineo's wishes—unless they can discover a different, darker path to protecting Viyara.

Romeo is tortured: finally aware that his true love is alive, he is at once elated and devastated, for his actions led directly to the destruction of her clan. The only way to redemption is to offer his life to the Catresou to protect and support them . . . even if it means dying to do so.

When Romeo's and Juliet's paths converge once again, only a journey into Death will offer answers and the key to

saving them all—but is it a journey either of them will survive?
Sanctuary by Caryn Lix (Simon Pulse)
Alien meets Alexandra Bracken's The Darkest Minds in this thrilling debut novel about prison-guard-in-training, Kenzie, who is taken hostage by the superpowered criminal teens of the Sanctuary space station—only to have to band together with them when the station is attacked by mysterious creatures.

Kenzie holds one truth above all: the company is everything.

As a citizen of Omnistellar Concepts, the most powerful corporation in the solar system, Kenzie has trained her entire life for one goal: to become an elite guard on Sanctuary, Omnistellar's space prison for superpowered teens too dangerous for Earth. As a junior guard, she's excited to prove herself to her company—and that means sacrificing anything that won't propel her forward.

But then a routine drill goes sideways and Kenzie is taken hostage by rioting prisoners.

At first, she's confident her commanding officer—who also happens to be her mother—will stop at nothing to secure her freedom. Yet it soon becomes clear that her mother is more concerned with sticking to Omnistellar protocol than she is with getting Kenzie out safely.

As Kenzie forms her own plan to escape, she doesn't realize there's a more sinister threat looming, something ancient and evil that has clawed its way into Sanctuary from the vacuum of space. And Kenzie might have to team up with her captors to survive—all while beginning to suspect there's a darker side to the Omnistellar she knows.
Contagion by Erin Bowman (HarperTeen)
IT GOT IN US

After receiving an urgent SOS from a work detail on a distant planet, a skeleton crew is dispatched to perform a standard search-and-rescue mission.

MOST ARE DEAD

But when the crew arrives, they find an abandoned site, littered with rotten food, discarded weapons…and dead bodies.

DON'T SET FOOT HERE AGAIN

As they try to piece together who—or what—could have decimated an entire operation, they discover that some things are best left buried—and some monsters are only too ready to awaken.
Scream All Night by Derek Milman (Balzer and Bray)
DARIO HEYWARD KNOWS ONE THING: He's never going back to Moldavia Studios, the iconic castle that served as the set, studio, and home to the cast and crew of dozens of cult classic B-horror movies. It's been three years since Dario's even seen the place, after getting legally emancipated from his father, the infamous director of Moldavia's creature features.

But then Dario's brother invites him home to a mysterious ceremony involving his father and a tribute to his first film—The Curse of the Mummy's Tongue. Dario swears his homecoming will be a one-time visit. A way for him to get closure on his past—and reunite with Hayley, his first love and costar of Zombie Children of the Harvest Sun, a production fraught with real-life tragedy—and say good-bye for good. But the unthinkable happens—Dario gets sucked back into the twisted world of Moldavia and the horrors, both real and imagined, he's left there.

With only months to rescue the sinking studio and everyone who has built their lives there, Dario must confront the demons of his past—and the uncertainties of his future. But can he escape the place that's haunted him his whole life?
I Am Still Alive by Kate Marshall (Viking)
Cheryl Strayed's Wild meets The Revenant in this heart-pounding story of survival and revenge in the unforgiving wilderness.

Jess is stranded in the woods. She has few supplies and only her dog for company. Her survival skills are limited, and she has disabilities that make physical labor a challenge. And winter is on its way. How did she get here?

Alternating between the past and the present, this tightly-paced novel tells the story of a girl who survived a car crash that killed her mother, then was pulled from foster care and sent to live with her estranged survivalist father in the remote Canadian wilderness. Jess was just beginning to get to know her dad when a secret from his past paid them a visit, leaving their cabin burned to the ground and Jess's father dead. Now, Jess must fight with everything she has to forage and hunt for food, build shelter, and keep herself warm. But she will survive. She has to survive. Because she wants revenge.
July 31st
Lovely, Dark and Deep by Justina Chen (Scholastic)
What would you do if the sun became your enemy?

That's exactly what happens to Viola Li after she returns from a trip abroad and develops a sudden and extreme case of photosensitivity -- an inexplicable allergy to sunlight. Thanks to her crisis-manager parents, she doesn't just have to wear layers of clothes and a hat the size of a spaceship. She has to stay away from all hint of light. Say goodbye to windows and running outdoors. Even her phone becomes a threat when its screen burns her.

Viola is determined to maintain a normal life, particularly after she meets Josh. He's a funny, talented Thor look-alike who carries his own mysterious grief. But the intensity of their romance makes her take more and more risks, and when a rebellion against her parents backfires dangerously, she must find her way to a life -- and love -- as deep and lovely as her dreams.
The Cheerleaders by Kara Thomas (Delacorte)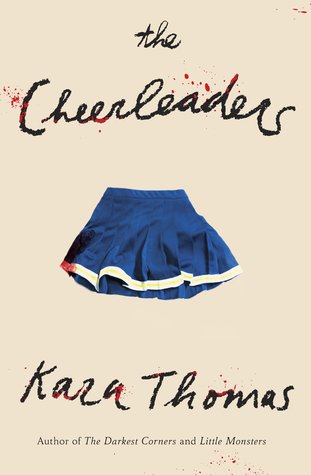 There are no more cheerleaders in the town of Sunnybrook.

First there was the car accident—two girls gone after hitting a tree on a rainy night. Not long after, the murders happened. Those two girls were killed by the man next door. The police shot him, so no one will ever know why he did it. Monica's sister was the last cheerleader to die. After her suicide, Sunnybrook High disbanded the cheer squad. No one wanted to be reminded of the girls they lost.

That was five years ago. Now the faculty and students at Sunnybrook High want to remember the lost cheerleaders. But for Monica, it's not that easy. She just wants to forget. Only, Monica's world is starting to unravel. There are the letters in her stepdad's desk, an unearthed, years-old cell phone, a strange new friend at school. . . . Whatever happened five years ago isn't over. Some people in town know more than they're saying. And somehow Monica is at the center of it all.

There are no more cheerleaders in Sunnybrook, but that doesn't mean anyone else is safe.
The Girl You Thought I Was by Rebecca Philips (HarperTeen)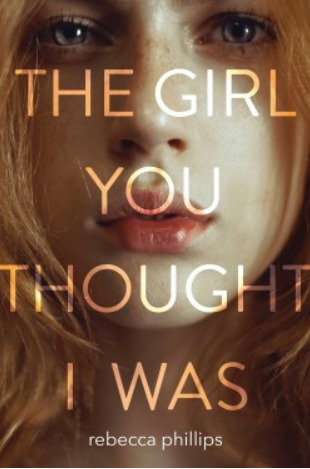 No one looking at Morgan Kemper would think she had a secret-at least not one that she's deeply ashamed of. To everyone she meets, she comes across as sweet, pretty, and put together. But Morgan knows that looks can be deceiving. For over a year, she's shoplifted countless pieces of clothing and makeup. Each time she tells herself it will be the last, and each time it never is.

But when she's caught and sentenced to thirty hours of community service, the image Morgan has carefully constructed starts to crumble. She's determined to complete her punishment without her friends discovering the truth about her sticky fingers, but that's easier said than done...Especially once she meets Eli, the charming, handsome nephew of the owner of the charity shop where Morgan is volunteering. Soon, Morgan is faced with an impossible decision: continue to conceal the truth or admit that she's lied to everyone in her life, including the boy she's falling for.
The Impossibility of Us by Katy Upperman (Swoon Reads)
The last thing Elise wants is to start her senior year in a new town. But after her brother's death in Afghanistan, she and her mother move from San Francisco to a sleepy coastal village.

When Elise meets Mati, they quickly discover how much they have in common. Mati is new to town too, visiting the U.S. with his family. Over the course of the summer, their relationship begins to blossom, and what starts out as a friendship becomes so much more.

But as Elise and Mati grow closer, her family becomes more and more uncomfortable with their relationship, and their concerns all center on one fact—Mati is Afghan.

Beautifully written, utterly compelling, and ultimately hopeful, THE IMPOSSIBILITY OF US asks—how brave can you be when your relationship is questioned by everyone you love?
Heart of Thorns by Bree Barton (Katherine Tegan Books)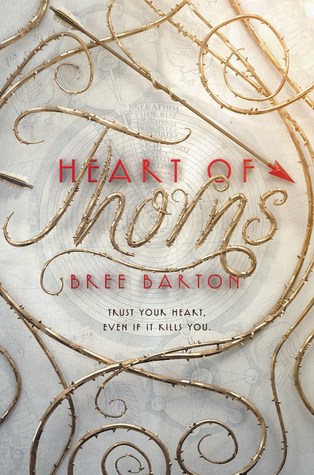 In the ancient river kingdom, touch is a battlefield, bodies the instruments of war. Seventeen-year-old Mia Rose has pledged her life to Hunting the Gwyrach: women who can manipulate flesh, bones, breath, and blood.
Not women. Demons. The same demons who killed her mother without a single scratch.

But when Mia's father suddenly announces her marriage to the prince, she is forced to trade in her knives and trousers for a sumptuous silk gown. Only after the wedding goes disastrously wrong does she discover she has dark, forbidden magic—the very magic she has sworn to destroy.

Bree Barton's HEART OF THORNS trilogy, pitched as Graceling meets Pride and Prejudice, is the story of a girl desperately seeking the truth about her body's powers and desires. Mia must challenge everything she thought she knew about humans, magic, and most of all, love.
How We Learned to Lie by Meredith Miller (HarperCollins)
A voice-driven and explosive novel about friendship, love, and letting go, from the author of Little Wrecks

Violence in the small, suburban town of Highbone, Long Island, is escalating, and best friends Joan and Daisy are finding themselves in the center of it.

Joan has always been fascinated by the inner workings of living things: dogfish, eels, stingrays. But the more she sees of life outside her microscope, the more she realizes that people aren't as easy to read as cells on a slide, and no one, not even Daisy, tells the truth.

Daisy's always wished he had a family more like Joan's, and that desire has only grown since his dad went to jail. But not even Joan can help Daisy keep his deadbeat older brother from putting everyone close to them in more danger.

When tragedy strikes too close to home, Joan and Daisy need each other more than ever. But no matter how hard they try, their secrets and lies have driven them apart. It's only a matter of time before their friendship, just like their town, goes up in flames.

Sharp-edged and voice-driven, Meredith Miller's How We Learned to Lie is a keenly observed story about friendship, violence, and life in a town on the brink.
Sea Witch by Sarah Henning (Katherine Tegan Books)
Everyone knows what happens in the end.
A mermaid, a prince, a true love's kiss.
But before that young siren's tale, there were three friends.
One feared, one royal, and one already dead.

Ever since her best friend, Anna, drowned, Evie has been an outcast in her small fishing town. A freak. A curse. A witch.

A girl with an uncanny resemblance to Anna appears offshore and, though the girl denies it, Evie is convinced that her best friend actually survived. That her own magic wasn't so powerless after all. And, as the two girls catch the eyes—and hearts—of two charming princes, Evie believes that she might finally have a chance at her own happily ever after.

But her new friend has secrets of her own. She can't stay in Havnestad, or on two legs, unless Evie finds a way to help her. Now Evie will do anything to save her friend's humanity, along with her prince's heart—harnessing the power of her magic, her ocean, and her love until she discovers, too late, the truth of her bargain.

The rise of Hans Christian Andersen's iconic villainess is a heart-wrenching story of friendship, betrayal, and a girl pushed beyond her limits—to become a monster.
If Only by Jennifer Gilmore (HarperTeen)
A beautiful and thought-provoking nonlinear literary novel about a pregnant teen and a teen searching for her birth mother.

BEFORE:

When Bridget imagined her life at sixteen, it didn't look like this. She didn't think that her boyfriend would dump her for another girl. And she certainly didn't think that she would be pregnant. With just a few months until she gives birth, Bridget must envision an entirely new future—one for her baby. But as she sifts through the many paths and the many people who want to parent her child, she can't help but feel that there is no right decision.

AFTER:

Ivy doesn't know much about her birth mother. She knows that she is now the same age Bridget was when she placed Ivy for adoption. She knows that Bridget was the one who named her. And she knows that fifteen years ago Bridget disappeared from Ivy's and her adoptive moms' lives. Ivy wants to discover more about herself, but as she goes to find Bridget, she can't help but feel that the risks might far outweigh the benefits of knowing where she comes from and why her birth mother chose to walk away.

Acclaimed novelist Jennifer Gilmore deftly explores the weight of both teenagers' decisions on their futures and their lives in this intimate and achingly beautiful novel.
The Darkest Legacy by Alexandra Bracken (Disney Hyperion)
Don't miss the hotly-anticipated new novel in the New York Times bestselling Darkest Minds series by Alexandra Bracken, just in time for the major motion picture adaptation of The Darkest Minds, starring Amandla Stenberg and Mandy Moore! Told through the eyes of beloved character Zu, now seventeen, this harrowing, standalone story of resilience, resistance, and reckoning will thrill loyal fans and new readers alike