July 1st
All These Monsters by Amy Tintera (HMH)
From New York Times best-selling author Amy Tintera, a high-stakes sci-fi adventure about a teen girl who will do anything to escape her troubled home—even if that means joining a dangerous monster-fighting squad. Perfect for fans of Warcross and Renegades.

Seventeen-year-old Clara is ready to fight back. Fight back against her abusive father, fight back against the only life she's ever known, and most of all, fight back against scrabs, the earth-dwelling monsters that are currently ravaging the world. So when an opportunity arises for Clara to join an international monster-fighting squad, she jumps at the chance.

When Clara starts training with her teammates, however, she realizes what fighting monsters really means: sore muscles, exhaustion, and worst of all, death. Scrabs are unpredictable, violent, and terrifying. But as Clara gains confidence in her battle skills, she starts to realize scrabs might not be the biggest evil. The true monsters are the ones you least expect.
The Crow Rider by Kalyn Josephson (Sourcebooks Fire)
Princess Thia, her allies, and her crow, Res, are planning a rebellion to defeat Queen Razel and Illucia once and for all. Thia must convince the neighboring kingdoms to come to her aid, and Res's show of strength is the only thing that can help her.

But so many obstacles stand in her way. Res excels at his training, until he loses control of his magic, harming Thia in the process. She is also pursued by Prince Ericen, heir to the Illucian throne and the one person she can't trust but can't seem to stay away from.

As the rebel group prepares for war, Res's magic grows more unstable. Thia has to decide if she can rely on herself and their bond enough to lead the rebellion and become the crow rider she was meant to be.
July 7th
The Damned by Renee Ahdieh (Penguin Teen) - delayed due to COVID-19.
New York Times bestselling author Renée Ahdieh returns with the second installment of her new sumptuous, sultry and romantic series, The Beautiful.
Following the events of The Beautiful, Sébastien Saint Germain is now cursed and forever changed. The treaty between the Fallen and the Brotherhood has been broken, and war between the immortals seems imminent. The price of loving Celine was costly. But Celine has also paid a high price for loving Bastien. Still recovering from injuries sustained during a night she can't quite remember, her dreams are troubled. And she doesn't know she has inadvertently set into motion a chain of events that could lead to her demise and unveil a truth about herself she's not quite ready to learn.
Forces hiding in the shadows have been patiently waiting for this moment for centuries. And just as Bastien and Celine begin to uncover the danger around them, they learn their love could tear them apart.
Escape Room by Maren Stoffels (Underlined)
There's no escape from this room. Full of menace and suspense, it's an unputdownable thriller--and a paperback original!

Alissa, Sky, Cleo, and Miles just wanted something to do on a Friday night, so they signed up for an Escape Room. They have one hour to find clues, crack codes, and figure out puzzles. The Game Master told them they can always leave the game. But what if that's not true? What if the Game Master has no intention of letting them out?
Love & Olives by Jenna Evans Welch (Simon Pulse)
From the New York Times bestselling author of Love & Gelato comes a Mamma Mia–inspired tale about a teen girl finding romance while trying to connect with her absent father in beautiful Santorini, Greece.

Evie Varanakis doesn't have a lot of fond memories of her father, which makes sense—he fled to Greece when she was only eight. What Evie does remember, though, is their shared love for Greek myths and the lost city of Atlantis. So when Evie suddenly receives a postcard from her father explaining that National Geographic is funding a documentary about his theories on Atlantis—and will she fly out to Greece and help?—Evie jumps at the opportunity.

But when she arrives to gorgeous Santorini, things are a little…awkward. There are so many questions, so many emotions that flood to the surface after seeing her father for the first time in years. And yet Evie doesn't want their past to get in the way of a possible reconciliation. She also definitely doesn't want Theo—her father's charismatic so-called "protégé"—to witness her struggle.

And that means diving into all that Santorini has to offer—the beautiful sunsets, the turquoise water, the hidden caves, and the delicious cuisine. But not everything on the Greek island is as perfect as it seems. Because as Evie slowly begins to discover, her father may not have invited her to Greece for Atlantis, but for something much more important.
Girl, Serpent, Thorn
by Melissa Bashardoust (Flatiron Books) - delayed due to COVID-19.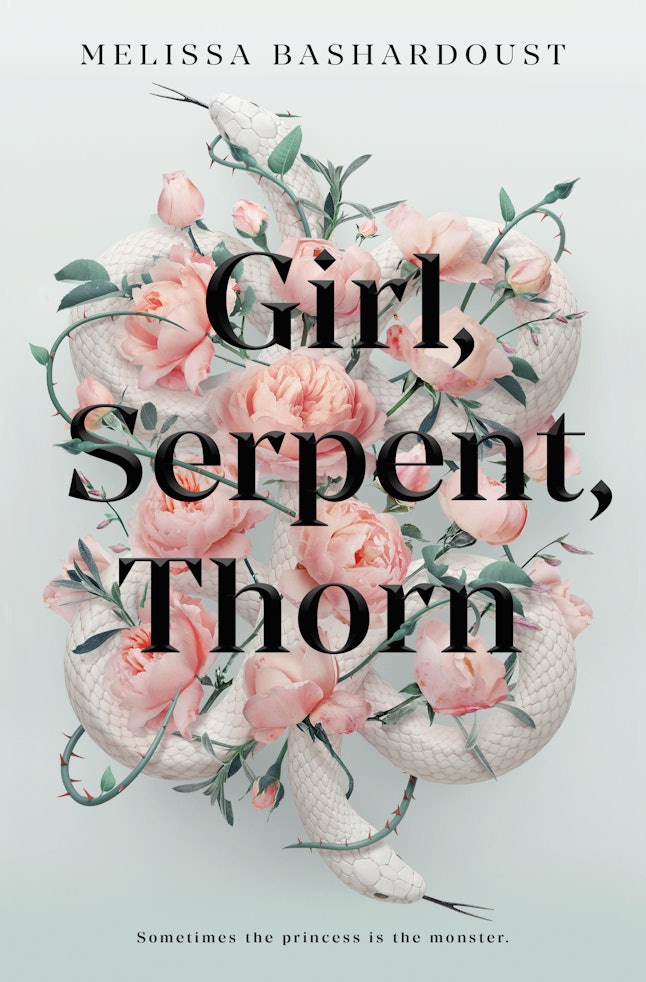 A captivating and utterly original fairy tale about a girl cursed to be poisonous to the touch, and who discovers what power might lie in such a curse...

There was and there was not, as all stories begin, a princess cursed to be poisonous to the touch. But for Soraya, who has lived her life hidden away, apart from her family, safe only in her gardens, it's not just a story.

As the day of her twin brother's wedding approaches, Soraya must decide if she's willing to step outside of the shadows for the first time. Below in the dungeon is a demon who holds knowledge that she craves, the answer to her freedom. And above is a young man who isn't afraid of her, whose eyes linger not with fear, but with an understanding of who she is beneath the poison.

Soraya thought she knew her place in the world, but when her choices lead to consequences she never imagined, she begins to question who she is and who she is becoming...human or demon. Princess or monster.
Love, Jacaranda by Alex Flinn (HarperTeen)
From #1 New York Times bestselling author Alex Flinn comes a tale of taking a chance on love and letting your inner voice soar.

Jacaranda Abbott has always tried to keep her mouth shut. As a foster kid, she's learned the hard way that the less she talks about her mother and why she's in jail, the better. But when a video of Jacaranda singing goes viral, a mysterious benefactor offers her a life-changing opportunity—a scholarship to a prestigious boarding school to study musical theater. Eager to start over somewhere new, Jacaranda leaps at the chance. She pours her heart out in emails to the benefactor she's never met.

Suddenly she's swept up in a world of privilege where the competition is fierce and the talent is next level. As Jacaranda—Jackie to her new friends—tries to find her place, a charming boy from this world of wealth catches her eye. She begins to fall for him, but can he accept her for who she really is?
Unravel the Dusk by Elizabeth Lim (Knopf)
The thrilling sequel to SPIN THE DAWN, a magical series steeped in Chinese culture.

Maia Tamarin's journey to sew the dresses of the sun, the moon and the stars has taken a grievous toll. She returns to a kingdom on the brink of war. The boy she loves is gone, and she is forced to don the dress of the sun and assume the place of the emperor's bride-to-be
to keep the peace.

But the war raging around Maia is nothing compared to the battle within. Ever since she was touched by the demon Bandur, she has been changing . . . glancing in the mirror to see her own eyes glowing red, losing control of her magic, her body, her mind. It's only a matter of time before Maia loses herself completely, but she will stop at nothing to find Edan, protect her family, and bring lasting peace to her country.

YA fantasy readers will love the sizzling forbidden romance, mystery, and intrigue of UNRAVEL THE DUSK.
The Voting Booth by Brandy Colbert (Disney Hyperion)
Duke Crenshaw is so done with this election. He just wants to get voting over with so he can prepare for his band's first paying gig tonight. Only problem? Duke can't vote.
When Marva sees Duke turned away from their polling place, she takes it upon herself to make sure his vote is counted. She hasn't spent months doorbelling and registering voters just to see someone denied their right.
And that's how their whirlwind day begins, rushing from precinct to precinct, cutting school, waiting in endless lines, turned away time and again, trying to do one simple thing: vote. They may have started out as strangers, but as Duke and Marva team up to beat a rigged system (and find Marva's missing cat), it's clear that there's more to their connection than a shared mission for democracy.
Romantic and triumphant, The Voting Booth is proof that you can't sit around waiting for the world to change . . . but some things are meant are meant to be.
The Unleashed by Danielle Vega (Razorbill)
In the terrifying sequel to The Haunted, Hendricks discovers that even though Steele House is gone, the hauntings in Drearfield are far from over — and it's up to her to stop them.

Following the devastating blaze at Steele House, Hendricks and her friends are trying to return to normal. Prom is coming up and the school is in full preparation mode. Hendricks tries to pitch in, to mimic Portia's enthusiasm, but the events of the last few months still haunt her. Steele House. Raven. Eddie.

Hendricks believes Eddie is still out there. She just has to find a way to reach him. Together with her friends, she forms a circle of seven and attempts to summon his spirit. Suddenly things start happening again. Flickering lights in the school library. Mysterious girls roaming the halls. The same song playing on a loop wherever she goes.

It all culminates in a violent attack and Hendricks realizes what they summoned may not be Eddie at all. The one thing she does know is that Steele House was only the beginning. And whatever they've unleashed is more dangerous than anything they've ever seen before.
Faith: Taking Flight by Julie Murphy (Balzer + Bray)
From Julie Murphy, #1 New York Times bestselling author of Dumplin', comes the first in a two-book origin story of Faith, a groundbreaking, plus-sized superhero from the Valiant Entertainment comics.

Faith Herbert is a pretty regular teen. When she's not hanging out with her two best friends, Matt and Ches, she's volunteering at the local animal shelter or obsessing over the long-running teen drama The Grove.

So far, her senior year has been spent trying to sort out her feelings for her maybe-crush Johnny and making plans to stay close to Grandma Lou after graduation. Of course, there's also that small matter of recently discovering she can fly….

When the fictional world of The Grove crashes into Faith's reality as the show relocates to her town, she can't believe it when TV heroine Dakota Ash takes a romantic interest in her.

But her fandom-fueled daydreams aren't enough to distract Faith from the fact that first animals, then people, have begun to vanish from the town. Only Faith seems able to connect the dots to a new.
Cinderella Is Dead by Kalynn

Bayron (Bloomsbury)
It's 200 years after Cinderella found her prince, but the fairy tale is over. Teen girls are now required to appear at the Annual Ball, where the men of the kingdom select wives based on a girl's display of finery. If a suitable match is not found, the girls not chosen are never heard from again.
Sixteen-year-old Sophia would much rather marry Erin, her childhood best friend, than parade in front of suitors. At the ball, Sophia makes the desperate decision to flee, and finds herself hiding in Cinderella's mausoleum. There, she meets Constance, the last known descendant of Cinderella and her step sisters. Together they vow to bring down the king once and for all–and in the process, they learn that there's more to Cinderella's story than they ever knew...
This fresh take on a classic story will make readers question the tales they've been told, and root for girls to break down the constructs of the world around them.
Burn Our Bodies Down by Rory Power (Delacorte)
From the author of the New York Times bestseller Wilder Girls comes a new twisty thriller about a girl whose past has always been a mystery--until she decides to return to her mother's hometown . . . where history has a tendency to repeat itself.

Ever since Margot was born, it's been just her and her mother. No answers to Margot's questions about what came before. No history to hold on to. No relative to speak of. Just the two of them, stuck in their run-down apartment, struggling to get along.

But that's not enough for Margot. She wants family. She wants a past. And she just found the key she needs to get it: A photograph, pointing her to a town called Phalene. Pointing her home. Only, when Margot gets there, it's not what she bargained for.

Margot's mother left for a reason. But was it to hide her past? Or was it to protect Margot from what's still there?

The only thing Margot knows for sure is there's poison in their family tree, and their roots are dug so deeply into Phalene that now that she's there, she might never escape

.
The Princess Will Save You by Sarah Henning (Tor Teen)
A PRINCESS
A STABLE BOY
A QUEST

When her father dies, Princess Amarande is given an ultimatum: Marry the leader of one of the four neighboring kingdoms, or lose her crown—and possibly her life. And to force her hand, her beloved, the stable boy Luca, is kidnapped.

But Amarande was raised to be a warrior, not a sacrifice.

And nothing will stop her from saving her true love and rescuing her kingdom.

The acclaimed author of Sea Witch turns the classic damsel-in-distress tale on its head with this story of adventure, identity, and love.
A Peculiar Peril by Jeff Vandermeer (FSG)
The first book in a new YA fantasy duology from a bestselling genre-expanding master, about a teenager who embarks on a quest to protect the world from an alternate universe where magic abounds and history has been rewritten.

After Jonathan Lambshead's elusive grandfather dies, the recently orphaned teenager inherits the family mansion—and its contents. Jonathan soon discovers that the mansion's basement holds more than just oddities: three doors serve as portals, with one leading to an alt-Earth called Aurora, where magic abounds, history has been re-written, and an occult dictator called Aleister Crowley leads an army pillaging alt-Europe. Jonathan learns of his destiny as a member of The Order, a secret society devoted to keeping our world separate from Aurora, and embarks on an epic quest to protect Earth from Crowley's dark magic.

Over the course of the duology, Jonathan uncovers more of the worlds outside of our own, the magic that permeates them, his own destiny, and the secrets buried in his family history.
Accidental by Alex Richards (Bloomsbury)
This timely, emotionally-resonant story about a teen girl dealing with the aftermath of a tragic shooting is a must-read from an exciting new YA talent.

Johanna has had more than enough trauma in her life. She lost her mom in a car accident, and her father went AWOL when Johanna was just a baby. At sixteen, life is steady, boring . . . maybe even stifling, since she's being raised by her grandparents who never talk about their daughter, her mother Mandy.

Then he comes back: Robert Newsome, Johanna's father, bringing memories and pictures of Mandy. But that's not all he shares. A tragic car accident didn't kill Mandy--it was Johanna, who at two years old, accidentally shot her own mother with an unsecured gun.

Now Johanna has to sort through it all--the return of her absentee father, her grandparents' lies, her part in her mother's death. But no one, neither her loyal best friends nor her sweet new boyfriend, can help her forgive them. Most of all, can she ever find a way to forgive herself?

In a searing, ultimately uplifting story, debut author Alex Richards tackles a different side of the important issue that has galvanized teens across our country.
Not Another Love Story by Olivia Wildenstein (Swoon Reads)
Angie gets thrown into the deep end of the music industry and goes head to head with a sexy new boy.

Success requires sacrifice.

No one understands this better than high school senior Angie, who's worked her entire life toward her dream of making it onto Nashville's music scene. When her idol, Mona Stone, launches a songwriting competition, her dream suddenly feels within reach. Against her mother's wishes, Angie pours her heart and soul into creating a song worthy of Mona.

But soon it isn't only her mother who stands in the way of her dream. Reedwood High's newest transfer student, Ten, becomes a major roadblock in Angie's path to success. With his endless collection of graphic tees, his infuriating attitude, smoldering good looks, and endearing little sister, Ten toys with the rhythm of Angie's heart.

She's never desired anything but success until Ten mauled her with his big black car. Now she wants him and Mona Stone, but she can't have both.

And picking one means losing the other.

Against the glittery backdrop of Nashville's music scene unfolds a story of betrayal and abandonment, of first love and acceptance, and of ties that go far beyond those made of blood.
July 9th
Harrow Lake by Kat Ellis (Penguin)
There's something bad in the water . . .

Lola Nox is the daughter of a celebrated horror filmmaker, and thinks she knows all about Harrow Lake, the setting of his most famous movie.

But when her father is brutally attacked and she's sent there to stay with her reclusive grandmother, she realizes the town is harbouring secrets more horrifying than she could ever have imagined. Not only is this the place where her mother disappeared without a trace, it's a town holding on to a dark past that's even more frightening than her father's movies. As Lola is drawn deeper into the town's grip, she starts to question what's real, what happened to her mother, and whether she'll ever get out of Harrow Lake alive.
July 14th
Mayhem by Estelle Laure (Wednesday Books)
Mayhem Brayburn and her mother are on the run, not away from home, but back to it: Santa Maria, California, a beach town that looks like paradise, like carnival rides and street food and bikinis under the hot sun.

It's where Mayhem has always wanted to be. It's where generations of Brayburns have lived and thrived, and she has never understood what made her mother leave Santa Maria in favor of the arms of her abusive stepfather.

But when she befriends her aunt's foster kids and they take her to their hideout, decades of secrets unravel, and Mayhem is thrust into a world of chaotic magic, a serial killer's mind, and finally, even the answers to her own past.

Set in 1987, MAYHEM is a mashup of The Lost Boys and The Craft with a bit of the Manson family thrown in for good measure. It's original, compelling, and a little bit rock-'n'-roll, and reading it will leave you feeling deliciously wicked.
Running by Natalia Sylvester (Clarion) - delayed due to COVID19.
When fifteen-year-old Cuban American Mariana Ruiz's father runs for president, Mari starts to see him with new eyes. A novel about waking up and standing up, and what happens when you stop seeing your dad as your hero—while the whole country is watching.

In this thoughtful, authentic, humorous, and gorgeously written novel about privacy, waking up, and speaking up, Senator Anthony Ruiz is running for president. Throughout his successful political career he has always had his daughter's vote, but a presidential campaign brings a whole new level of scrutiny to sheltered fifteen-year-old Mariana and the rest of her Cuban American family, from a 60 Minutes–style tour of their house to tabloids doctoring photos and inventing scandals. As tensions rise within the Ruiz family, Mari begins to learn about the details of her father's political positions, and she realizes that her father is not the man she thought he was.

But how do you find your voice when everyone's watching? When it means disagreeing with your father—publicly? What do you do when your dad stops being your hero? Will Mari get a chance to confront her father? If she does, will she have the courage to seize it?
The Extraordinaries by T. J. Klune (Tor Teen) - delayed due to COVID-19.
Rainbow Rowell's Fangirl meets Brandon Sanderson's Steelheart in The Extraordinaries, a hilarious and heartfelt gay coming-of-age novel by TJ Klune, a talented new voice to YA

In Nova City, there are people capable of feats that defy the imagination. They're called Extraordinaries. There is Shadow Star and his arch-nemesis is Pyro Storm. And then there's sixteen-year-old Nicholas Bell, who isn't extraordinary in the slightest. He's Shadow Star's number one fan, writing fan fiction of their adventures together and dreaming of a day where he too dons a costume and fights crime. Too bad ADHD isn't a superpower, otherwise Nick would be golden.

Instead of stopping villains and their convoluted schemes of global domination, Nick must contend with starting his junior year, a father who doesn't trust him, and a best friend named Seth, who may or may not be the love of Nick's ordinary, uneventful life. It should be enough.

And it is… until a fateful encounter with Shadow Star forces Nick to realize his true destiny. Because he's tired of being ordinary, and he'll do whatever it takes to become something more.

Something Extraordinary.
The Do-Over by Jennifer Honeybourn (Swoon Reads)
A teenage girl gets the chance to redo her past in this smart and charming YA novel by the author of When Life Gives You Demons.

Emilia has always wanted to fit in with the A crowd. So, when Ben, the hottest guy in school, asks her out, she chooses him over Alistair, her best friend ? even after he confesses his feelings to her.

Six months later, Emilia wonders how her life would have been different if she?d chosen Alistair instead. Haunted by her mistake, she finds a magical solution that promises to rectify the past. As a result, everything in her life is different. What happens if her second chance is her only chance to make things right?
The Invention of Sophie Carter by Samantha Hastings (Swoon Reads)
1851. Bounced from one begrudging relative to another their whole lives, orphaned identical twins Sophie and Mariah Carter have always relied on each other for love and support, even though the sisters couldn't be more different.

Brash Sophie wants to be an inventor, and demure Mariah wants to be an artist. Both long to visit London for the summer—Sophie to see the Queen's Great Exhibition and Mariah to study the world's finest collection of paintings. But when their cantankerous aunt answers their letter pleading for a place to stay, she insists she only has time and room to spare for one of them.

So, Mariah and Sophie hatch a clever scheme: They will travel to London together and take turns playing the part of "Sophie".

At first the plan runs like clockwork. But as the girls avoid getting caught by increasingly narrow margins and two handsome gentlemen—both of whom think they're falling in love with the real Sophie Carter—enter the equation, the sisters find they don't have the situation quite as under control as they thought.

With all sorts of delightful Parent Trap-style identical twin hijinks, The Invention of Sophie Carter is the perfect light-and-sweet palate cleanser.
He Must Like You by Danielle Younge-Ullman (Viking)
Libby's having a rough senior year. Her older brother absconded with his college money and is bartending on a Greek island. Her dad just told her she's got to pay for college herself, and he's evicting her when she graduates so he can Airbnb her room. A drunken hook-up with her coworker Kyle has left her upset and confused.
So when Perry Ackerman, serial harasser and the most handsy customer at The Goat where she waitresses, pushes her over the edge, she can hardly be blamed for dumping a pitcher of sangria on his head. Unfortunately, Perry is a local industry hero, the restaurant's most important customer, and Libby's mom's boss.
Now Libby has to navigate the fallout of her outburst, find an apartment, and deal with her increasing rage at the guys who've screwed up her life--and her increasing crush on the one guy who truly gets her. As timely as it is timeless, He Must Like You is a story about consent, rage, and revenge, and the potential we all have to be better people.
A Thief Among the Trees by Sabaa Tahir (Boom! Studios)
Taking place years before the bestselling An Ember in the Ashes novel series, this standalone original graphic novel follows three young military recruits: Elias, Helene, and Tavi, during their brutal training as soldiers for the Martial Empire.

WITHIN THE EMPIRE THERE ARE NO QUESTIONS, ONLY ORDERS.

Elias, Helene and Tavi are Fivers --in training to become elite military recruits for the Martial Empire at Blackcliff Academy. When they're sent on a dangerous mission to steal a heavily-guarded poison on Isle South, they soon find themselves up against surprising enemies -- including other recruits. As the true horror of their assignment is revealed, these three will begin to confront the harrowing realities of Martial rule, their place in the system . . . and the choices they must make to survive.

New York Times bestselling author Sabaa Tahir joins writer Nicole Andelfinger and artist Sonia Liao for an all-new original graphic novel revealing an early tale of Elias and Helene at Blackcliff, and a stirring standalone chapter in the An Ember in the Ashes mythology.
The Fell of Dark by Caleb Roehrig (Feiwel and Friends)
The only thing August Pfeiffer hates more than algebra is living in a vampire town. Located at a nexus of mystical energy fields, Fulton Heights is practically an electromagnet for supernatural drama. And when a mysterious (and annoyingly hot) vampire boy arrives with a cryptic warning, Auggie suddenly finds himself at the center of it. An ancient and terrible power is returning to the earthly realm, and somehow Auggie seems to be the only one who can stop it.
Now & When by Sarah Bennett Wealer (Delacorte)
For fans of Jenny Han and Christine Riccio comes a romantic dramedy about a teen girl who stumbles upon a mysterious website that tells her everything she doesn't want to know about her future.

There's something about Truman Alexander that Skyler Finch finds incredibly annoying. Actually, several things: his voice (grating), his arrogance (total know-it-all), his debate-team obsession (eyeroll), and his preppy vibe (does he iron his shorts?). She does her best to avoid him and focus on the important stuff: friends, school, and her boyfriend, Eli. His promposal was perfect--just like he is--and the future is looking bright. Or is it?

For some unexplainable reason, Skylar's phone is sending her notifications from the future . . . a future in which, to her horror, she appears to be with Truman. As in, romantically. As in, Skyler cannot let that happen.

But trying to change the future means messing up the present, and what Skyler sees keeps shifting. Classmates disappear and reappear, swap partners and futures. Turns out there are no actions without reactions, and life doesn't come with a road map. But sometimes the wandering leads you exactly where you need to be, and people--like glitchy phones--are full of surprises.
The Montague Twins by Nathan Page and Drew Shannon (Knopf)
Brothers. Detectives. Witches? Meet Pete and Alastair Montague in the first installment of a new graphic novel duology that is the Hardy Boys meets Paper Girls.

Pete and Alastair Montague are just a couple of mystery-solving twins, living an ordinary life. Or so they thought. After a strange storm erupts on a visit to the beach, they discover there is more to their detective skills than they had thought. Their guardian, David Faber, a once prominent professor, has been keeping secrets about their parents and what the boys are truly capable of.

At the same time, three girls go missing after casting a mysterious spell, which sets in motion a chain of events that takes their small town down an unexpected path. With the help of David's daughter, Charlie, they discover there are forces at work that they never could have imagined, which will impact their lives forever.

An exciting new graphic novel from innovative creators Nathan Page and Drew Shannon that is at once timely and thrilling.
Gimme Everything You Got by Iva-Marie Palmer (Balzer + Bray)
A feminist, sex-positive, and hilarious rom-com about a girl in 1970s Chicago trying everything she can to score—on and off the soccer field.

It's 1979—the age of roller skates and feathered bangs, of Charlie's Angels and Saturday Night Fever—and Susan Klintock is a junior in high school with a lot of sexual fantasies…but not a lot of sexual experience. No boy, at least none she knows, has ever been worth taking a shot on.

That is, until Bobby McMann arrives.

Bobby is foxy, he's charming—and he's also the coach of the brand-new girls' soccer team at school and totally, 100 percent, completely off limits. But Susan decides she's going to try out for the team to get close to him anyway. And over the course of an eventful season, she discovers that what she wants might not be what she first expected when Bobby McMann walked in the door—and that figuring out who she is means taking risks, both on and off the pitch.

Author Iva-Marie Palmer returns with a fresh, funny, feminist coming-of-age novel about learning to take a shot at the things that truly matter.
July 21st
Ghost Wood Song by Erica Waters (HarperTeen)
Shady Grove is her father's daughter, through and through. She inherited his riotous, curly hair, his devotion to bluegrass, and his ability to call ghosts from the grave with his fiddle.

That cursed instrument drowned with him, though, when his car went off the road, taking with it the whispering ghosts, nightmares, and the grief and obsession that forced her daddy to play.

But Shady's brother was just accused of murder, and so she has a choice to make: unearth the fiddle that sang her father to the grave and speak to the dead to clear her brother's name, or watch the only family she has left splinter to pieces.

The ghosts have secrets to keep, but Shady will make those old bones sing.
More Than Maybe by Erin Hahn (Wednesday Books) - postponed from May 2020 due to COVID-19.
Growing up under his punk rocker dad's spotlight, eighteen-year-old Luke Greenly knows fame and wants nothing to do with it. His real love isn't in front of a crowd, it's on the page. Hiding his gift and secretly hoarding songs in his bedroom at night, he prefers the anonymous comfort of the locally popular podcast he co-hosts with his outgoing and meddling, far-too-jealousy-inspiringly-happy-with-his-long-term-boyfriend twin brother, Cullen. But that's not Luke's only secret. He also has a major un-requited crush on music blogger, Vada Carsewell.
Vada's got a five year plan: secure a job at the Loud Lizard to learn from local legend (and her mom's boyfriend) Phil Josephs (check), take over Phil's music blog (double check), get accepted into Berkeley's prestigious music journalism program (check, check, check), manage Ann Arbor's summer concert series and secure a Rolling Stone internship. Luke Greenly is most definitely NOT on the list. So what if his self-deprecating charm and out-of-this-world music knowledge makes her dizzy? Or his brother just released a bootleg recording of Luke singing about some mystery girl on their podcast and she really, really wishes it was her?
10 Things I Hate About Pinky by Sandhya Menon (Simon Pulse) -
postponed from June 2020 due to COVID-19.
The delightful follow-up to When Dimple Met Rishi and There's Something about Sweetie follows Pinky and Samir as they pretend to date—with disastrous and hilarious results.

Pinky Kumar wears the social justice warrior badge with pride. From raccoon hospitals to persecuted rock stars, no cause is too esoteric for her to champion. But a teeny-tiny part of her also really enjoys making her conservative, buttoned-up corporate lawyer parents cringe.

Samir Jha might have a few . . . quirks remaining from the time he had to take care of his sick mother, like the endless lists he makes in his planner and the way he schedules every minute of every day, but those are good things. They make life predictable and steady.

Pinky loves lazy summers at her parents' Cape Cod lake house, but after listening to them harangue her about the poor decisions (aka boyfriends) she's made, she hatches a plan. Get her sorta-friend-sorta-enemy, Samir—who is a total Harvard-bound Mama's boy—to pose as her perfect boyfriend for the summer. As they bicker their way through lighthouses and butterfly habitats, sparks fly, and they both realize this will be a summer they'll never forget.
Girl From Nowhere by Tiffany Rosenhan (Bloomsbury)
Red Sparrow meets One of Us Is Lying in this action-packed, romance-filled YA debut about a girl trying to outrun her past.

Ninety-four countries. Thirty-one schools. Two bullets.
Now it's over...or so she thinks.

Sophia arrives in Montana with the promise of a normal high school experience. But after a turbulent few years abroad with her diplomat parents, forgetting the past is easier said than done. After all, "normal" high schoolers aren't trained in several forms of combat.

Then Sophia meets Aksel and finds herself opening up in ways she never thought she could. Except Sophia's past is about to catch up with her, and she must confront who she really is, why she was betrayed, and what she is capable of in the name of love and survival.

Full of heart-stopping action and breathtaking romance, this cinematic debut features a girl willing to risk everything to save the life she built for herself.
Shielded by KayLynn Flanders (Delacorte)
After hiding her magic for seventeen years, Princess Jennesara is all that stands between the Plateau kingdoms she loves and the power-hungry mages bent on destroying them. Shielded is a adventurous YA fantasy for fans of The Girl of Fire and Thorns, Hunted, and The Demon King.

As second born to Hálendi's royal family, Princess Jennesara was never supposed to inherit magic. She is supposed to wed the prince of Turia to strengthen the alliance between their kingdoms. While traveling to Turia, she feels the magical tethers connecting her to her family snap one - a sign of her family's death. At the same moment, a mage bent on revenge blasts through her traveling party, killing everyone in his path to get to her. Knowing she has to survive for her kingdom's sake, Jennesara flees into the Wild, chased by hunger, wolves and shadowmen.

She's barely alive when she stumbles out of the Wild and into Turia, but vows to find a ways to protect others from mage's destruction. She befriends the prince she was supposed to wed and works her way into Turia's palace. But with war threatening at every border and the murder of her family is her mind, she can't reveal her identity to anyone, including the prince. Not if Jennesara, with her forbbiden magic, hopes to defeat the mage before he becomes unstoppable and destroys all the kingdoms on the Plateau.
River of Dreams by Jan Nash (Roaring Brook Press)
Draped in themes of first love and family, secrets and malevolence, and swirling through an exhilarating dream world full of danger, violence, and love, this exciting debut is a high-stakes adventure full of suspense, romance, and magic.

Finn Driscoll is counting down the days until she can leave for college. With her beloved brother, Noah, in a coma and her high school social life sinking every day, she's ready for a fresh start.

Until the night she sees Noah in a dream. He begs for her help. At first, she shakes it off as just a nightmare. Then it happens again. And again. Frightened, Finn confides in her grandmother, only to learn the shocking truth about her family. They're Dreamwalkers--heroes who step into the River of Dreams and fight the monsters in other people's nightmares, freeing them to face the problems in their real lives.

Awake or asleep, Finn has never thought of herself as any kind of hero, and walking through other people's dreams seems much worse than just hiding at school. But as hard as facing this challenge might be, Finn knows she has no choice: she will do anything she can to save her brother.
Salvation by Caryn Lix (Simon Pulse)
When Kenzie and her friends find themselves trapped on a strange planet, they must risk everything to save themselves and Earth in this thrilling final book in the addictive Sanctuary trilogy!

Fall down seven times, get up eight.

These are the words Kenzie has always lived by. The problem is, she's fallen down too many times to count.

Kenzie and her friends have already escaped two vicious alien attacks—not to mention the corporate bounty hunters sent to capture them. They're haunted by the friends they've lost and the hard choices they've had to make in this war they never asked for.

And now, thanks to superpowers she received from the very aliens she's fighting, Kenzie has stranded everyone on a strange planet with no way off. She just wanted a safe place from the monstrous creatures terrorizing her world, but this new planet has dangers of its own, and Kenzie will have to uncover its secrets if she has any hope of ever making it home again.

Sacrifice is nothing new for Kenzie. She'll do anything—anything—to destroy the aliens that killed both of her parents. But how can Kenzie save Earth if she can't even save the people she loves?
The State of Us by Shaun David Hutchinson (HarperCollins)
When Dean Arnault's mother decided to run for president, it wasn't a surprise to anyone, least of all her son. But that doesn't mean Dean was ready for the public scrutiny or the 24-hour news cycle that comes along with it. As far as everyone knows, Dean is button-down shirt wearing, church-going, straight A-high school student. Yet no one knows who Dean really is, not even himself—at least not until Dean meets Dre Rosario. Finally, there's someone in Dean's life who actually understands him. The only problem: Dre's the son of the Democratic opposition.
But when Dean and Dre find themselves locked together in the green room before the start of that first debate, they're surprised at their instant connection. And as their meet-ups on the campaign trail become less left to chance, their friendship quickly becomes the deepest connection either of the boys have ever known. But if it wasn't hard enough being on opposite sides of the aisle, a shady third-party candidate suddenly claims to have "pictures that will change everything," pictures that could cause Dean and Dre's world to explode around them.
The Year of the Witching by Alexis Henderson (Ace)
A young woman living in a rigid, puritanical society discovers dark powers within herself in this stunning, feminist fantasy debut.

In the lands of Bethel, where the Prophet's word is law, Immanuelle Moore's very existence is blasphemy. Her mother's union with an outsider of a different race cast her once-proud family into disgrace, so Immanuelle does her best to worship the Father, follow Holy Protocol, and lead a life of submission, devotion, and absolute conformity, like all the other women in the settlement.

But a mishap lures her into the forbidden Darkwood surrounding Bethel, where the first prophet once chased and killed four powerful witches. Their spirits are still lurking there, and they bestow a gift on Immanuelle: the journal of her dead mother, who Immanuelle is shocked to learn once sought sanctuary in the wood.

Fascinated by the secrets in the diary, Immanuelle finds herself struggling to understand how her mother could have consorted with the witches. But when she begins to learn grim truths about the Church and its history, she realizes the true threat to Bethel is its own darkness. And she starts to understand that if Bethel is to change, it must begin with her.
Splinters of Scarlet by Emily Bain Murphy (HMH)
Enchantée meets Downton Abbey in this atmospheric YA historical fantasy set in nineteenth-century Denmark, where secrets can kill and magic is a deadly gift.

For Marit Olsen, magic is all about strategy: it flows freely through her blood, but every use leaves behind a deadly, ice-like build-up within her veins called the Firn. Marit knows how dangerous it is to let too much Firn build up—after all, it killed her sister—and she has vowed never to use her thread magic. But when Eve, a fellow orphan whom Marit views like a little sister, is adopted by the wealthy Helene Vestergaard, Marit will do anything to stay by Eve's side. She decides to risk the Firn and uses magic to secure a job as a seamstress in the Vestergaard household.

But Marit has a second, hidden agenda: her father died while working in the Vestergaards' jewel mines—and it might not have been an accident. The closer Marit gets to the truth about the Vestergaard family, the more she realizes she and everyone she's come to love are in danger. When she finds herself in the middle of a treacherous deception that goes all the way up to the king of Denmark, magic may be the only thing that can save her—if it doesn't kill her first.
They Wish They Were Us by Jessica Goodman (Razorbill)
Gossip Girl meets One of Us Is Lying with a dash of The Secret History in this slick, taut murder mystery set against the backdrop of an exclusive prep school on Long Island.

In Gold Coast, Long Island, everything from the expensive downtown shops to the manicured beaches, to the pressed uniforms of Jill Newman and her friends, looks perfect. But as Jill found out three years ago, nothing is as it seems.

Freshman year Jill's best friend, the brilliant, dazzling Shaila Arnold, was killed by her boyfriend. After that dark night on the beach, Graham confessed, the case was closed, and Jill tried to move on.

Now, it's Jill's senior year and she's determined to make it her best yet. After all, she's a senior and a Player--a member of Gold Coast Prep's exclusive, not-so-secret secret society. Senior Players have the best parties, highest grades and the admiration of the entire school. This is going to be Jill's year. She's sure of it.

But when Jill starts getting texts proclaiming Graham's innocence, her dreams of the perfect senior year start to crumble. If Graham didn't kill Shaila, who did? Jill is vows to find out, but digging deeper could mean putting her friendships, and her future, in jeopardy.
July 28th
A Wicked Magic by Sasha Laurens (Razorbill)
The Chilling Adventures of Sabrina meets The Craft when modern witches must save teens stolen by an ancient demon in this YA fantasy-thriller debut.

Dan and Liss are witches. The Black Book granted them that power. Harnessing that power feels good, especially when everything in their lives makes them feel powerless.

During a spell gone wrong, Liss's boyfriend is snatched away by an evil entity and presumed dead. Dan and Liss's friendship dies that night, too. How can they practice magic after the darkness that they conjured?

Months later, Liss discovers that her boyfriend is alive, trapped underground in the grips of an ancient force. She must save him, and she needs Dan and the power of The Black Book to do so. Dan is quickly sucked back into Liss's orbit and pushes away her best friend, Alexa. But Alexa has some big secrets she's hiding and her own unique magical disaster to deal with.

When another teenager disappears, the girls know it's no coincidence. What greedy magic have they awakened? And what does it want with these teens it has stolen?

Set in the atmospheric wilds of California's northern coast, Sasha Laurens's thrilling debut novel is about the complications of friendship, how to take back power, and how to embrace the darkness that lives within us all.
Today Tonight Tomorrow by Rachel Lynn Solomon (Simon Pulse) - postponed from June 2020 due to COVID-19.
The Hating Game meets Nick and Norah's Infinite Playlist by way of Morgan Matson in this unforgettable romantic comedy about two rival overachievers who realize they may actually love each other over the course of twenty-four hours, from the acclaimed author of You'll Miss Me When I'm Gone and Our Year of Maybe.

Today, she hates him.

It's the last day of senior year. Rowan Roth and Neil McNair have been bitter rivals for all of high school, clashing on test scores, student council elections, and even gym class pull-up contests. While Rowan, who secretly wants to write romance novels, is anxious about the future, she'd love to beat her infuriating academic nemesis one last time.

Tonight, she puts up with him.

When Neil is named valedictorian, Rowan has only one chance at victory: Howl, a senior class game that takes them all over Seattle, a farewell tour of the city she loves. But after learning a group of seniors is out to get them, she and Neil reluctantly decide to team up until they're the last players left—and then they'll destroy each other.

As Rowan spends more time with Neil, she realizes he's much more than the awkward linguistics nerd she sparred with for the past four years. And, perhaps, this boy she claims to despise might actually be the boy of her dreams.

Tomorrow . . . maybe she's already fallen for him.
I Kissed Alice by Anna Birch (Imprint) - delayed due to COVID-19.
For fans of Simon vs. The Homo Sapiens Agenda and Fangirl, I Kissed Alice is a romantic comedy about enemies, lovers, and everything in between.

Rhodes and Iliana couldn't be more different, but that's not why they hate each other.

Hyper-gifted artist Rhodes has always excelled at Alabama's Conservatory of the Arts despite a secret bout of creator's block, while transfer student Iliana tries to outshine everyone with her intense, competitive work ethic. Since only one of them can get the coveted Capstone scholarship, the competition between them is fierce.

They both escape the pressure on a fanfic site where they are unknowingly collaborating on a graphic novel. And despite being worst enemies in real life, their anonymous online identities I-Kissed-Alice and Curious-in-Cheshire are starting to like each other...a lot. When the truth comes out, will they destroy each other's future?
The Friend Scheme
by Cale Dietrich (Feiwel and Friends) - delayed due to COVID-19.
Part thriller, part romance, The Friend Scheme is another twisty #ownvoices YA novel from Cale Dietrich, author of The Love Interest.

High schooler Matt's father is rich, powerful, and seemingly untouchable-- a mobster with high hopes that his son will follow in his footsteps. Matt's older brother Lukas seems poised to do just that, with a bevy of hot girls in tow. But Matt has other ambitions--and attractions.

And attraction sometimes doesn't allow for good judgement. Matt wouldn't have guessed that Jason, the son of the city's police commisioner, is also carrying a secret. The boys' connection turns romantic, a first for both. Now Matt must decide if he can ever do the impossible and come clean about who he really is, and who he is meant to love.
Damsel meets A Heart in a Body in the World in this incisive and lyrical feminist fairy tale about a princess determined to save her sisters from a curse, even if it means allying herself with the very witch who cast it.

The Princesses of Ever are beloved by the kingdom and their father, the King. They are cherished, admired.

Cursed.

Jane, Alice, Nora, Grace, and Eden carry the burden of being punished for a crime they did not commit, or even know about. They are each cursed to be Without one essential thing—the ability to eat, sleep, love, remember, or hope. And their mother, the Queen, is imprisoned, frozen in time in an unbreakable glass box.

But when Eden's curse sets in on her thirteenth birthday, the princesses are given the opportunity to break the curse, preventing it from becoming a True Spell and dooming the princesses for life. To do this, they must confront the one who cast the spell—Reagan, a young witch who might not be the villain they thought—as well as the wickedness plaguing their own kingdom…and family.

Told through the eyes of Reagan and Jane—the witch and the bewitched—this insightful twist of a fairy tale explores power in a patriarchal kingdom not unlike our own.
This Is My America by K. C. Johnson (Random House)
Dear Martin meets Just Mercy in this unflinching yet uplifting YA novel that explores the racist injustices in the American justice system.

Every week, seventeen-year-old Tracy Beaumont writes letters to Innocence X, asking the organization to help her father, an innocent Black man on death row. After seven years, Tracy is running out of time--her dad has only 267 days left. Then the unthinkable happens. The police arrive in the night, and Tracy's older brother, Jamal, goes from being a bright, promising track star to a "thug" on the run, accused of killing a white girl. Determined to save her brother, Tracy investigates what really happened between Jamal and Angela down at the Pike. But will Tracy and her family survive the uncovering of the skeletons of their Texas town's racist history that still haunt the present?

Fans of Nic Stone, Tiffany D. Jackson, and Jason Reynolds won't want to miss this provocative and gripping debut.