August 1st
Wayward Witch by Zoraida Cordova (Sourcebooks Fire)
Rose Mortiz has always been a fixer, but lately she's been feeling lost. She has brand-new powers she doesn't understand, and her family is still trying to figure out how to function in the wake of her amnesiac father's return home. Then, on the night of her Deathday party, Rose discovers her father's memory loss has been a lie.

As she rushes to his side, the two are ambushed and pulled through a portal to the land of Adas, a fairy realm hidden in the Caribbean Sea. There, Rose is forced to work with a group of others to save Adas. Soon, she begins to discover the scope of her powers, the troubling truth about her father's past, and the sacrifices he made to save her sisters.

But if Rose wants to return home so she can repair her broken family, she must figure out how to heal Adas first.
Prelude for Lost Souls by Helene Dunbar (Sourcebooks Fire)
Seventeen-year-old Dec Hampton knows there are no coincidences in St. Hilaire, New York, the spiritualist community he's longing to leave. So when the train of Annie Krylova, the piano prodigy he's captivated by, breaks down outside of town, he's forced to take her sudden entry into his life seriously… just like the unexpected reappearance of Tristan, the childhood friend he'd assumed – and hoped – was imaginary.

Despite everything Dec has learned about Annie on the internet, he's unaware that she has her own figurative ghosts to deal with. She has a family she supports but rarely sees, and a recently deceased teacher whose final communication charged her with a seemingly impossible task: find the rest of The Unfinished Prelude, the mysterious piece of music that catapulted her to stardom.

Dec and his best friend Russ, a talented, but complicated medium, offer Annie their help. But when Annie's quest for the remainder of The Prelude becomes an obsession and it's clear that Tristan is involved, Dec finds himself increasingly at odds with his plan to leave St. Hilaire. Even worse is the growing tension with Russ who, in trying to help Dec and Annie, begins to embrace dark and potentially life-threatening forces, including an enigmatic and manipulative ghost.
It Came From the Sky by Chelsea Sedoti (Sourcebooks Fire)
From the author of The Hundred Lies of Lizzie Lovett and As You Wish comes the unforgettable story of the one small town's biggest hoax and the two brothers who started it all.

This is the absolutely true account of how Lansburg, Pennsylvania was invaded by aliens and the weeks of chaos that followed. There were sightings of UFOs, close encounters, and even abductions. There were believers, Truth Seekers, and, above all, people who looked to the sky and hoped for more.

Only...there were no aliens.

Gideon Hofstadt knows what really happened. When one of his science experiments went wrong, he and his older brother blamed the resulting explosion on extraterrestrial activity. And their lie was not only believed by their town―it was embraced. As the brothers go to increasingly greater lengths to keep up the ruse and avoid getting caught, the hoax flourishes. But Gideon's obsession with their tale threatened his whole world. Can he find a way to banish the aliens before Lansburg, and his life, are changed forever?

Told in a report format and comprised of interviews, blog posts, text conversations, found documents, and so much more, It Came from the Sky is a hysterical and resonant novel about what it means to be human in the face of the unknown.
August 4th
Set Fire to the Gods by Sara Raasch and Kristen Simmons (Balzer + Bray)
Ash is descended from a long line of gladiators, and she knows the brutal nature of war firsthand. But after her mother dies in an arena, she vows to avenge her by overthrowing her fire god, whose temper has stripped her country of its resources.

Madoc grew up fighting on the streets to pay his family's taxes. But he hides a dangerous secret: he doesn't have the earth god's powers like his opponents. His elemental gift is something else—something that hasn't been seen in centuries.

When an attempted revenge plot goes dangerously wrong, Ash inadvertently throws the fire and earth gods into a conflict that can only be settled by deadly, lavish gladiator games. The fights put Madoc in Ash's path, and she realizes that his powers are the weapon her rebellion needs—but Madoc won't jeopardize his family, regardless of how intrigued he is by the beautiful warrior.

But when the gods force Madoc's hand, he and Ash uncover an ancient war that will threaten more than one immortal—it will unravel the world.
Igniting Darkness by Robin La Fevers (HMH)
- delayed due to COVID-19.
From New York Times best-selling author Robin LaFevers comes the follow up to "sharp and breathless" (Kirkus Reviews) historical fantasy Courting Darkness. Set in the world of the beloved His Fair Assassin series, this is perfect for fans of Leigh Bardugo and Game of Thrones.

When you count Death as a friend, who can stand as your enemy?

Sybella, novitiate of the convent of Saint Mortain and Death's vengeance on earth, is still reeling from her God's own passing, and along with him a guiding hand in her bloody work. But with her sisters on the run from their evil brother and under the watchful eye of her one true friend (and love) at court, the soldier known as Beast, Sybella stands alone as the Duchess of Brittany's protector.

After months of seeking her out, Sybella has finally made contact with a fellow novitiate of the convent, Genevieve, a mole in the French court. But when Genevieve mistakenly draws the attention of the French king to the convent of Saint Mortain and its deadly arts, she may do her sisters (and herself) more harm than good. Sybella, having already drawn the ire of the French regent, may not be able to depend on her sister and ally as much as she hoped. Still, Death always finds a way, even if it's not what one expects.

No one can be trusted and the wolves are always waiting in this thrilling conclusion to the Courting Darkness duology, set in the world of Robin's beloved His Fair Assassins trilogy.
The Dark Tide by Alicia Jasinska (Sourcebooks Fire) - delayed due to COVID-19.
A fast-paced, well-plotted fantasy retelling of an ancient Scottish fairy tale ballad, this exciting debut will appeal to fans of Stephanie Garber's CARAVAL, Shea Ernshaw's THE WICKED DEEP, and Kendare Blake's THREE DARK CROWNS.

Every year on Walpurgis Night, Caldella's Witch Queen lures a young boy back to her palace. An innocent life to be sacrificed on the full moon to keep the island city from sinking.

Convinced her handsome brother is going to be taken, sixteen-year-old Lina Kirk enlists the help of the mysterious Tomas Lin, her secret crush, and the only boy to ever escape from the palace. Working together they protect her brother, but draw the Queen's attention. When the Queen spirits Tomas away instead, Lina blames herself and determines to go after him.

Caught breaking into the palace, the Queen offers Lina a deal: she will let Tomas go, if, of course, Lina agrees to take his place. Lina accepts, with a month before the full moon, surely she can find some way to escape. But the Queen is nothing like she envisioned, and Lina is not at all what the Queen expected. Against their will, they find themselves falling for each other. As water floods Caldella's streets and the dark tide demands its sacrifice, they must choose who to save: themselves, each other, or the island city relying on them both

.
Don't Ask Me Where I'm From by Jennifer De Leon (Anthenum) - delayed due to COVID-19.
First-generation American LatinX Liliana Cruz does what it takes to fit in at her new nearly all-white school. But when family secrets spill out and racism at school ramps up, she must decide what she believes in and take a stand.

Fifteen-year-old Liliana is fine, thank you very much. It's fine that her best friend, Jade, is all caught up in her new boyfriend lately. It's fine that her inner-city high school is disorganized and underfunded. It's fine that her father took off again—okay, maybe that isn't fine, but what is Liliana supposed to do? She's fifteen! Being left with her increasingly crazy mom? Fine. Her heathen little brothers? Fine, fine, fine. But it turns out Dad did leave one thing behind besides her crazy family. Before he left, he signed Liliana up for a school desegregation program called METCO. And she's been accepted.

Being accepted into METCO, however, isn't the same as being accepted at her new school. In her old school, Liliana—half-Guatemalan and half-El Salvadorian—was part of the majority where almost everyone was a person of color. But now at Westburg, where almost everyone is white, the struggles of being a minority are unavoidable. It becomes clear that the only way to survive is to lighten up—whiten up. And if Dad signed her up for this program, he wouldn't have just wanted Liliana to survive, he would have wanted her to thrive. So what if Liliana is now going by Lili? So what if she's acting like she thinks she's better than her old friends? It's not a big deal. It's fine.

But then she discovers the gutting truth about her father: He's not on one of his side trips. And it isn't that he doesn't want to come home…he can't. He's undocumented and he's been deported back to Guatemala. Soon, nothing is fine, and Lili has to make a choice: She's done trying to make her white classmates and teachers feel more comfortable. Done changing who she is, denying her culture and where she came from. They want to know where she's from, what she's about? Liliana is ready to tell them.
Lobizona by Romina Garber and Romina Russell (Wednesday Books) - delayed from May 2020 due to COVID-19.
Some people ARE illegal.

Lobizonas do NOT exist.

Both of these statements are false.

Manuela Azul has been crammed into an existence that feels too small for her. As an undocumented immigrant who's on the run from her father's Argentine crime-family, Manu is confined to a small apartment and a small life in Miami, Florida.

Until Manu's protective bubble is shattered.

Her surrogate grandmother is attacked, lifelong lies are exposed, and her mother is arrested by ICE. Without a home, without answers, and finally without shackles, Manu investigates the only clue she has about her past--a mysterious "Z" emblem—which leads her to a secret world buried within our own. A world connected to her dead father and his criminal past. A world straight out of Argentine folklore, where the seventh consecutive daughter is born a bruja and the seventh consecutive son is a lobizón, a werewolf. A world where her unusual eyes allow her to belong.

As Manu uncovers her own story and traces her real heritage all the way back to a cursed city in Argentina, she learns it's not just her U.S. residency that's illegal. . . .it's her entire existence.
The Summer of Everything by Julian Winters (Interlude Press)
Comic book geek Wesley Hudson excels at two things: slacking off at his job and pining after his best friend, Nico. Advice from his friends, '90s alt-rock songs, and online dating articles aren't helping much with his secret crush. And his dream job at Once Upon a Page, the local used bookstore, is threatened when a coffeeshop franchise wants to buy the property. To top it off, his annoying brother needs wedding planning advice. When all three problems converge, Wes comes face-to-face with the one thing he's been avoiding—adulthood.

Now, confronted with reality, can Wes balance saving the bookstore and his strained sibling relationship? Can he win the heart of his crush, too?
Some Kind of Animal by Maria Romansco Moore (Delacorte)
A story about two girls guarding a secret no one would ever believe and the desperate lengths they will go to in order to protect each other from the outside world.
Jo lives in the same town where her mother disappeared fifteen years ago. Everyone knows what happened to Jo's mom. Now people are starting to talk about Jo. She's barely passing her classes and falls asleep at her desk every day. She's following in her mom's footsteps. Jo has a secret — she has a twin sister. Her sister is not like most people. She lives in the woods, wild and free. Night after night, as often as she can manage, Jo slips out of her bedroom window and meets her sister in the woods, where together they run, fearlessly.

When Jo's twin attacks a boy from town, the people in town assume it must have been Jo. Now Jo has to decide whether to tell the world about her sister or to run. SOME KIND OF ANIMAL is an accessible, feminist thriller that digs into themes of sisterhood, family, and friendship.
Midnight Sun by Stephanie Meyer (Little, Brown)
When Edward Cullen and Bella Swan met in Twilight, an iconic love story was born. But until now, fans have heard only Bella's side of the story. At last, readers can experience Edward's version in the long-awaited companion novel, Midnight Sun.
This unforgettable tale as told through Edward's eyes takes on a new and decidedly dark twist. Meeting beautiful, mysterious Bella is both the most intriguing and unnerving event he has experienced in his long life as a vampire. As we learn more fascinating details about Edward's past and the complexity of his inner thoughts, we understand why this is the defining struggle of his life. How can he let himself fall in love with Bella when he knows that he is endangering her life?
In Midnight Sun, Stephenie Meyer transports us back to a world that has captivated millions of readers and, drawing on the classic myth of Hades and Persephone, brings us an epic novel about the profound pleasures and devastating consequences of immortal love.
For over a decade, readers have been eagerly anticipating the arrival of Midnight Sun. Open this book and see why it was worth the wait!
Facing the Sun by Janice Lynn Mather (Simon and Schuster)
The Sisterhood of the Traveling Pants meets The Education of Margot Sanchez in this Caribbean-set story about four friends who experience unexpected changes in their lives during the summer when a hotel developer purchases their community's beloved beach.

Change is coming to Pinder Street…

Eve is the rock in her family of seven, the one they always depend on. But when her dad is diagnosed with cancer, she wants nothing more than to trade her worries for some red lipstick and a carefree night.

Faith is the dancer all the boys want, but she only has eyes for the one she can't have. Only thing is, all the flirting in the world can't distract her from her broken home life...or the secrets that she hides.

KeeKee is the poet who won't follow the rules, not even to please her estranged father. But after a horrible betrayal, she'll have to choose between being right and losing everyone she loves.

Nia is the prisoner longing to escape her overprotective mother. A summer art program might be her ticket to freedom, yet it comes with a terrible price—and the risk may not be worth the reward.

Ready or not, it's time for these four friends to face the sun.
Sia Martinez and the Moonlit Beginning of Everything by Raquel Vasquez Gilliand (Simon Pulse)
Aristotle & Dante Discover the Secrets of the Universe meets Roswell by way of Laurie Halse Anderson in this astonishing, genre-bending novel about a Mexican American teen who discovers profound connections between immigration, folklore, and alien life.

It's been three years since ICE raids and phone calls from Mexico and an ill-fated walk across the Sonoran. Three years since Sia Martinez's mom disappeared. Sia wants to move on, but it's hard in her tiny Arizona town where people refer to her mom's deportation as "an unfortunate incident."

Sia knows that her mom must be dead, but every new moon Sia drives into the desert and lights San Anthony and la Guadalupe candles to guide her mom home.

Then one night, under a million stars, Sia's life and the world as we know it cracks wide open. Because a blue-lit spacecraft crashes in front of Sia's car…and it's carrying her mom, who's very much alive.

As Sia races to save her mom from armed-quite-possibly-alien soldiers, she uncovers secrets as profound as they are dangerous in this stunning and inventive exploration of first love, family, immigration, and our vast, limitless universe.
More Than Just a Pretty Face by Syed M. Masood (Little, Brown)
For fans of Becky Albertalli and Jenny Han, a sweetly funny YA rom-com debut about arranged marriage, falling in love, familial expectations, and being a Renaissance Man.

Danyal Jilani has no lack of confidence. He may not be the smartest guy in the room, but he's funny, gorgeous, and going to make a great chef one day. His father doesn't approve of his career choice, but that hardly matters. What does matter is the opinion of Danyal's longtime crush, the perfect-in-all-ways Kaval, and her family, who consider him a less than ideal arranged-marriage prospect.

Then Danyal gets selected for the Renaissance Man, a school-wide academic championship and the perfect opportunity to show everyone he's smarter than they think. He recruits the brilliant, totally-uninterested-in-him Bisma to help with the competition, but the more time Danyal spends with her...the more he learns from her...the more he cooks for her...the more he realizes that happiness may be staring him right in his pretty face.
Illegal by Francisco X. Stork
(Scholastic)
What does it mean to be illegal in the United States?
Life in Mexico is a death sentence for Emiliano and his sister Sara.

To escape the violent cartel that is after them, they flee across the border, seeking a better life in the United States and hoping that they can find a way to bring their pursuers to justice.

Sara turns herself over to the authorities to apply for asylum.

Emiliano enters the country illegally, planning to live with their father.

But now Sara is being held indefinitely in a detention facility, awaiting an asylum hearing that may never come, finding it harder every day to hold on to her faith and hope. Life for Emiliano is not easy either. Everywhere he goes, it's clear that he doesn't belong. And all the while, the cartel is closing in on them...

Emiliano sets off on a tense and dangerous race to find justice, but can he expose the web of crimes from his place in the shadows?

Award-winning author Francisco X. Stork's powerful follow-up to Disappeared delves into the corruption and racism that hides under the guise of the law in the United States. With an unsparing look at the asylum process and the journey to find a new life in the US, this is a timely and moving story.
The Game by Linsey Miller (Sourcebooks Fire)
If you loved American Horror Story 1984, you'll die for this paperback original thriller mashup of Agatha Christie's The A.B.C. Murders and Riverdale in which a game turns deadly with a killer who picks his victims one by one, letter by letter.

Every year the senior class at Lincoln High plays assassin. Lia Prince has been planning her strategy for years and she's psyched that not only does she finally get to play, she's on a team with Devon Diaz. But this year, the game isn't any fun--it's real. Abby Ascher, Ben Barnard, and Cassidy Clarke have all turned up . . . dead. Can Lia stop the ABC killer before he reaches D?
Scorched Sun by Tommy Wallach (Simon and Schuster)
From the New York Times bestselling author of We All Looked Up comes the exciting conclusion to the "haunting…beautiful and heartbreaking" (School Library Journal) Anchor & Sophia trilogy, where the rules of humanity come to a head in the final battle between two warring cities.

In this thrilling conclusion to the Anchor & Sophia trilogy, the great war has finally begun. The Descendancy must fight for its survival against not only the Sophian army, but a Wesah nation newly galvanized by the Black Wagon Massacre. And four young people will once again find themselves at the center of the maelstrom.

Accused of a crime she didn't commit, Paz Dedios is on the run from the law...and the man she loves.

Traumatized by the near-genocide of her people and the death of her lover, Athène is bent on revenge.

Newly reunited in the Anchor, Clive and Clover Hamill will struggle to come to terms with the reappearance of a ghost from the past.

Who will win the war for the future? And who will be left standing when it's all over?
A Map to the Sun by Sloane Leong (First Second Books)
One summer day, Ren meets Luna at a beachside basketball court and a friendship is born. But when Luna moves to back to Oahu, Ren's messages to her friend go unanswered.

Years go by. Then Luna returns, hoping to rekindle their friendship. Ren is hesitant. She's dealing with a lot, including family troubles, dropping grades, and the newly formed women's basketball team at their highschool. With Ren's new friends and Luna all on the basketball team, the lines between their lives on and off the court begin to blur. During their first season, this diverse and endearing group of teens are challenged in ways that make them reevaluate just who and how they trust.

Sloane Leong's evocative storytelling about the lives of these young women is an ode to the dynamic nature of friendship.
Court of Lions by Somiya Daud (Flatiron Books)
Two identical girls, one a princess, the other a rebel. Who will rule the empire?

After being swept up into the brutal Vathek court, Amani, the ordinary girl forced to serve as the half-Vathek princess's body double, has been forced into complete isolation. The cruel but complex princess, Maram, with whom Amani had cultivated a tenuous friendship, discovered Amani's connection to the rebellion and has cornered her into silence, and if Amani crosses Maram once more, she will be revealed to everyone in the court.

Amani is desperate to continue helping the rebellion, to fight for her people's freedom. But she must make a devastating decision: will she continue to aid them, and put her family—and herself—in mortal danger? And can she remain separated, forever, from Maram's fiancé, Idris, with whom she shares a dangerous attraction?

Court of Lions is the stunning sequel to Somaiya Daud's debut Mirage, the first in her Mirage trilogy.
Seven Devils by Elizabeth May and Laura Lam (DAW) - officially an adult title.

This first book in a feminist space opera duology follows seven resistance fighters who will free the galaxy from the ruthless Tholosian Empire -- or die trying.

When Eris faked her death, she thought she had left her old life as the heir to the galaxy's most ruthless empire behind. But her recruitment by the Novantaen Resistance, an organization opposed to the empire's voracious expansion, throws her right back into the fray.

Eris has been assigned a new mission: to infiltrate a spaceship ferrying deadly cargo and return the intelligence gathered to the Resistance. But her partner for the mission, mechanic and hotshot pilot Cloelia, bears an old grudge against Eris, making an already difficult infiltration even more complicated.

When they find the ship, they discover more than they bargained for: three fugitives with firsthand knowledge of the corrupt empire's inner workings.

Together, these women possess the knowledge and capabilities to bring the empire to its knees. But the clock is ticking: the new heir to the empire plans to disrupt a peace summit with the only remaining alien empire, ensuring the empire's continued expansion. If they can find a way to stop him, they will save the galaxy. If they can't, millions may die.
August 7th
Dangerous Remedy by Kat Dunn (Zephyr)
Camille, a revolutionary's daughter, leads a band of outcasts – a runaway girl, a deserter, an aristocrat in hiding. As the Battalion des Mortes they cheat death, saving those about to meet a bloody end at the blade of Madame La Guillotine. But their latest rescue is not what she seems. The girl's no aristocrat, but her dark and disturbing powers means both the Royalists and the Revolutionaries want her. But who and what is she?

In these dangerous days, no one can be trusted, everyone is to be feared. As Camille learns the truth, she's forced to choose between loyalty to those she loves and the future.
August 11th
Cut Off by Adrianne Finlay (HMH)
Warcross meets Lost in this haunting young adult sci-fi thriller in which teens compete to survive in the wilderness for one million dollars on a new virtual reality show. When something goes horribly wrong and the contestants realize no one is coming to save them, they must question their very reality—and how much of the game is really for show.

Each contestant has their own reasons—and their own secrets—for joining the new virtual reality show CUT/OFF that places a group of teenagers alone in the wilderness. It's a simple premise: whoever lasts the longest without "tapping out" wins a cash prize. Not only that, new software creates a totally unprecedented television experience, allowing viewers to touch, see, and live everything along with the contestants. But what happens when "tapping out" doesn't work and no one comes to save you? What happens when the whole world seemingly disappears while you're stranded in the wild? Four teenagers must confront their greatest fears, their deepest secrets, and one another when they discover they are truly cut off from reality. Sci-fi, mystery, and romance converge in this high-stakes, fast-paced read that will leave you guessing to the very last moment.
All Our Worst Ideas by Vicky Skinner (Swoon Reads)
When Amy, on her way to becoming valedictorian of her graduating class and getting accepted to her dream school, gets dumped by her long-term boyfriend, she takes a job at a record store to ease the pain. She needs a distraction, badly.

Oliver, Amy's record store co-worker, isn't so sure about Amy—his complete opposite—but what he is sure of is his decision not to go to college. He just can't figure out how to tell his mother.

As they work late-night shifts at the record store, Amy and Oliver become friends and then confidantes and then something more, but when Amy has a hard time letting go of what she thought was her perfect future with her ex, she risks losing the future she didn't even know she wanted with Oliver.
Star Daughter by Shveta Thakrar (Harper Teen)
The daughter of a star and a mortal, Sheetal is used to keeping secrets. But when a flare of starfire injures her human father, Sheetal needs a full star's help to heal him. A star like her mother, who returned to the sky long ago.

Sheetal's quest will take her to a celestial court of shining wonders and dark shadows, where she must act as her family's champion in a competition to decide the next ruling house of the heavens—or risk never returning to Earth at all.

Neil Gaiman's Stardust meets a rich landscape of Hindu mythology and celestial intrigue in this sparkling YA fantasy debut.
Each of Us a Desert by Mark Oshiro (Tor Teen)
From the award-winning author Mark Oshiro comes a powerful fantasy novel about finding home and falling in love amidst the dangers of a desert where stories come to life.

Xochital is destined to wander the desert alone, speaking her troubled village's stories into its arid winds. Her only companions are the blessed stars above and enimagic lines of poetry magically strewn across dusty dunes.

Her one desire: to share her heart with a kindred spirit.

One night, Xo's wish is granted—in the form of Emilia, the cold and beautiful daughter of the town's murderous mayor. But when the two set out on a magical journey across the desert, they find their hearts could be a match... if only they can survive the nightmare-like terrors that arise when the sun goes down.

Fresh off of Anger Is a Gift's smashing success, Oshiro branches out into a fantastical direction with their new YA novel, The Stars Around Us.
August 18th
The Faithless Hawk by Margaret Owen (Henry Holt) - postponed from July.
Kings become outcasts and lovers become foes in the thrilling sequel to Margaret Owen's The Merciful Crow.

As the new chieftain of the Crows, Fie knows better than to expect a royal to keep his word. Still she's hopeful that Prince Jasimir will fulfill his oath to protect her fellow Crows. But then black smoke fills the sky, signaling the death of King Surimir and the beginning of Queen Rhusana's merciless bid for the throne.

With the witch queen using the deadly plague to unite the nation of Sabor against Crows—and add numbers to her monstrous army—Fie and her band are forced to go into hiding, leaving the country to be ravaged by the plague. However, they're all running out of time before the Crows starve in exile and Sabor is lost forever.

A desperate Fie calls on old allies to help take Rhusana down from within her own walls. But inside the royal palace, the only difference between a conqueror and a thief is an army. To survive, Fie must unravel not only Rhusana's plot, but ancient secrets of the Crows—secrets that could save her people, or set the world ablaze
Raybearer by Jordan Ifueko (Amulet)
The epic debut YA fantasy from an incredible new talent—perfect for fans of Tomi Adeyemi and Sabaa Tahir

Nothing is more important than loyalty.
But what if you've sworn to protect the one you were born to destroy?

Tarisai has always longed for the warmth of a family. She was raised in isolation by a mysterious, often absent mother known only as The Lady. The Lady sends her to the capital of the global empire of Aritsar to compete with other children to be chosen as one of the Crown Prince's Council of 11. If she's picked, she'll be joined with the other Council members through the Ray, a bond deeper than blood. That closeness is irresistible to Tarisai, who has always wanted to belong somewhere. But The Lady has other ideas, including a magical wish that Tarisai is compelled to obey: Kill the Crown Prince once she gains his trust. Tarisai won't stand by and become someone's pawn—but is she strong enough to choose a different path for herself? With extraordinary world-building and breathtaking prose, Raybearer is the story of loyalty, fate, and the lengths we're willing to go for the ones we love.
Six Angry Girls by Adrienne Kisner (Feiwel and Friends) - delayed due to COVID-19.
A story of mock trial, feminism, and the inherent power found in a pair of knitting needles.

Raina Petree is crushing her senior year, until her boyfriend dumps her, the drama club (basically) dumps her, the college of her dreams slips away, and her arch-nemesis triumphs.

Things aren't much better for Millie Goodwin. Her father treats her like a servant, and the all-boy Mock Trial team votes her out, even after she spent the last three years helping to build its success.

But then, an advice columnist unexpectedly helps Raina find new purpose in a pair of knitting needles and a politically active local yarn store. This leads to an unlikely meeting in the girls' bathroom, where Raina inspires Millie to start a rival team. The two join together and recruit four other angry girls to not only take on Mock Trial, but to smash the patriarchy in the process.
All Eyes on Her by Laura Elizabeth Flynn (Imprint) - delayed due to COVID-19.
Perfect for fans of One of Us is Lying and We Were Liars, All Eyes on Her by L.E. Flynn is a gripping young adult thriller told from the perspective of everyone except the alleged killer— a seventeen-year-old girl.

You heard the story on the news. A girl and a boy went into the woods. The girl carried a picnic basket. The boy wore bright yellow running shoes. The girl found her way out, but the boy never did….

Everyone thinks they know what happened. Some say Tabby pushed him off that cliff— she didn't even like hiking. She was jealous. She had more than her share of demons. Others think he fell accidentally—she loved Mark. She would never hurt him…even if he hurt her.

But what's the real story? All Eyes On Her is told from everyone but Tabby herself as the people in her life string together the events that led Tabby to that cliff. Her best friend. Her sister. Her enemy. Her ex-boyfriend. Because everybody thinks they know a girl better than she knows herself.

What do you think is the truth?
What Goes Up by Christin Heppermann (HarperTeen)
How do you forgive yourself—and the people you love—when a shocking discovery leads to a huge mistake?

Acclaimed author Christine Heppermann's novel-in-verse tackles betrayals and redemption among family and friends with her signature unflinching—but always sharply witty—style. For fans of Elana K. Arnold, Laura Ruby, and A. S. King.

When Jorie wakes up in the loft bed of a college boy she doesn't recognize, she's instantly filled with regret. What happened the night before? What led her to this place? Was it her father's infidelity? Her mother's seemingly weak acceptance? Her recent breakup with Ian, the boy who loved her art and supported her through the hardest time of her life?

As Jorie tries to reconstruct the events that led her to this point, free verse poems lead the reader through the current morning, as well as flashbacks to her relationships with her parents, her friends, her boyfriend, and the previous night.
The Knockout by S.A. Patel (Flux)
A rising star in Muay Thai figures out what (and who) is worth fighting for in this #ownvoices YA debut full of heart.

If seventeen-year-old Kareena Thakkar is going to alienate herself from the entire Indian community, she might as well do it gloriously. She's landed the chance of a lifetime, an invitation to the US Muay Thai Open, which could lead to a spot on the first-ever Olympic team. If only her sport wasn't seen as something too rough for girls, something she's afraid to share with anyone outside of her family. Despite pleasing her parents, exceling at school, and making plans to get her family out of debt, Kareena's never felt quite Indian enough, and her training is only making it worse.

Which is inconvenient, since she's starting to fall for Amit Patel, who just might be the world's most perfect Indian. Admitting her feelings for Amit will cost Kareena more than just her pride–she'll have to face his parents' disapproval, battle her own insecurities, and remain focused for the big fight. Kareena's bid for the Olympics could very well make history–if she has the courage to go for it.
Displacement by Kiki Hughes (First Second Books)
A teenager is pulled back in time to witness her grandmother's experiences in World War II-era Japanese internment camps in Displacement, a historical graphic novel from Kiku Hughes.

Kiku is on vacation in San Francisco when suddenly she finds herself displaced to the 1940s Japanese-American internment camp that her late grandmother, Ernestina, was forcibly relocated to during World War II.

These displacements keep occurring until Kiku finds herself "stuck" back in time. Living alongside her young grandmother and other Japanese-American citizens in internment camps, Kiku gets the education she never received in history class. She witnesses the lives of Japanese-Americans who were denied their civil liberties and suffered greatly, but managed to cultivate community and commit acts of resistance in order to survive.

Kiku Hughes weaves a riveting, bittersweet tale that highlights the intergenerational impact and power of memory.
Aftershocks by Marisa Reichardt (Amulet)
A gripping YA novel about two strangers struggling to survive a massive California earthquake

When a magnitude 7.8 earthquake hits California, Ruby is trapped in a laundromat with Charlie, a boy she had her first conversation with only moments before. She can't see anything beyond the rubble that she's trapped beneath, but she's sure someone will come save them soon. As the hours and days tick by, Ruby and Charlie struggle to stay hopeful—and stay alive. Ruby has only Charlie's voice and her memories to find the hope to keep holding on. Will the two make it out alive? And if they do, what will they have lost to the earthquake? Riveting, tense, and emotionally complex, Aftershocks weaves together the terror and hope of a catastrophic event while showing the ways that disasters can change and unite us.
Ignite the Sun by Hanna Howard (Blink)
Once upon a time, there was something called the sun ... In a kingdom ruled by an evil witch, the sun is just part of a legend about light-filled days of old. Luckily for everybody in the kingdom, Siria Nightingale is headed to the heart of the darkness to try and restore the light--or she will lose everything trying.

Sixteen year-old Siria Nightingale has never seen the sun. The light is dangerous, according to Queen Iyzabel, an evil witch who has shrouded the kingdom in shadow.

Siria has always hated the darkness and revels in the stories of the light-filled old days that she hears from her best friend and his grandfather. Besides them, nobody else understands her fascination with the sun, especially not her strict and demanding parents. Siria's need to please them is greater even than her fear of the dark. So she heads to the royal city--the very center of the darkness--for a chance at a place in Queen Iyzabel's court.

But what Siria discovers at the Choosing Ball sends her on a quest toward the last vestiges of the sun with a ragtag group of rebels who could help her bring back the Light ... or doom the kingdom to shadow forever.
Skywatchers by Carrie Arcos (Philomel)
From National Book Award Finalist Carrie Arcos comes a thrilling, genre-bending mystery about the history of the Cold War and the UFO phenomenon. Perfect for fans of In the Woods by Tana French and Netflix's Stranger Things.

California, 1952. It's the early years of the Cold War, and the threat of invasion from the Communist-controlled Soviet Union has people in a panic. President Truman has put out a call to civilians to act as radar–and Teddy, John, Caroline, Eleanor, Bunny, Frank, and Oscar eagerly answer. The teens are members of their high school's "Operation Skywatch" club in an effort to protect the country from attack. Across the country, people of all ages are looking to the sky.

But they're not prepared for the strange green light they see when on duty, which looks like nothing they've been trained to look out for. And when the mysterious object lands in the forest, Teddy, John, Caroline, and Bunny go in to investigate. Then they go missing. Three days later, John, Caroline, and Bunny all emerge from the forest–with no memory of what happened. And without Teddy.

Told in alternating points of view, Carrie Arcos expertly explores the unbelievable-but-true history of "skywatchers" during the Cold War and the UFO phenomenon through the eyes of three teens, a man sent to determine the validity of what happened, and a town caught up in fear. Inspired by real events!
Vicious Spirits by Kat Cho (Putnam)
New romance and dangers abound in this companion to the crowd-pleasing Wicked Fox.

As Vicious Spirits begins, Miyoung and Jihoon are picking up the pieces of their broken lives following the deaths of Miyoung's mother, Yena, and Jihoon's grandmother. With the support of their friend Somin, and their frenemy, Junu, they might just have a shot at normalcy. But Miyoung is getting sicker and sicker by the day and her friends don't know how to save her. With few options remaining, Junu has an idea but it might require the ultimate sacrifice and, let's be honest, Junu isn't known for his "generosity."
Meanwhile, the events at the end of Wicked Fox have upended the forces that govern life and death and there are supernatural entities lurking in the background that will stop at nothing to right their world.
Body Talk by Various YA Authors (Algonquin Young Readers)
It's time to bare it all about bodies!
We all experience the world in a body, but we don't usually take the time to explore what it really means to have and live within one. Just as every person has a unique personality, every person has a unique body, and every body tells its own story.
In
Body Talk
, thirty-seven writers, models, actors, musicians, and artists share essays, lists, comics, and illustrations—about everything from size and shape to scoliosis, from eating disorders to cancer, from sexuality and gender identity to the use of makeup as armor. Together, they contribute a broad variety of perspectives on what it's like to live in their particular bodies—and how their bodies have helped to inform who they are and how they move through the world.
Come on in, turn the pages, and join the celebration of our diverse, miraculous, beautiful bodies!
August 25th
Where Dreams Descend by Janella Angeles (Wednesday Books) - delayed due to COVID-19.
In a city covered in ice and ruin, a group of magicians face off in a daring game of magical feats to find the next headliner of the Conquering Circus, only to find themselves under the threat of an unseen danger striking behind the scenes.

As each act becomes more and more risky and the number of missing magicians piles up, three are forced to reckon with their secrets before the darkness comes for them next.

The Star: Kallia, a powerful showgirl out to prove she's the best no matter the cost

The Master: Jack, the enigmatic keeper of the club, and more than one lie told

The Magician: Demarco, the brooding judge with a dark past he can no longer hide

Where Dreams Descend is the startling and romantic first book in Janella Angeles' debut Kingdom of Cards fantasy duology where magic is both celebrated and feared, and no heart is left unscathed.
Now That I've Found You by Kristina Forest (Roaring Brook Press) - delayed due to COVID-19.
Eighteen-year-old Evie Jones is poised to be Hollywood's next big movie star, following in the footsteps of her über famous grandma, Evelyn Conaway. That is, until a friend's betrayal ultimately leads to Evie being fired and blacklisted.
A public appearance with Evelyn Conaway, AKA Gigi, is just the thing to save Evie's floundering career. But the week Evie plans to present Gigi with a major award in front of Hollywood's elite, Gigi, a recluse who's been out of the limelight for almost 20 years, disappears.
With time running out and her comeback on the line, Evie reluctantly enlists the help of the last person to see Gigi before she disappeared: Milo Williams, a cute musician whom Evie isn't sure she can trust. As Evie and Milo spend a wild week together in New York City searching for Gigi, romance and adventure abound, and Evie makes some new discoveries about Gigi, but most importantly, about herself.
The Companion by Katie Alender (Putnam)
The other orphans say Margot is lucky.

Lucky to survive the horrible accident that killed her family.

Lucky to have her own room because she wakes up screaming every night.

And finally, lucky to be chosen by a prestigious family to live at their remote country estate.

But it wasn't luck that made the Suttons rescue Margot from her bleak existence at the group home. Margot was handpicked to be a companion to their silent, mysterious daughter, Agatha. At first, helping with Agatha--and getting to know her handsome older brother--seems much better than the group home. But soon, the isolated, gothic house begins playing tricks on Margot's mind, making her question everything she believes about the Suttons . . . and herself.

Margot's bad dreams may have stopped when she came to live with Agatha – but the real nightmare has just begun.
Kind of a Big Deal by Shannon Hale (Roaring Brook Press)
From bestselling author Shannon Hale comes Kind of a Big Deal: a hilarious, deliciously readable YA novel that will suck you in—literally.

There's nothing worse than peaking in high school. Nobody knows that better than Josie Pie.

She was kind of a big deal—she dropped out of high school to be a star! But the bigger you are, the harder you fall. And Josie fell. Hard. Ouch. Broadway dream: dead.

Meanwhile, her life keeps imploding. Best friend: distant. Boyfriend: busy. Mom: not playing with a full deck? Desperate to escape, Josie gets into reading.

Literally. She reads a book and suddenly she's inside it. And with each book, she's a different character: a post-apocalyptic heroine, the lead in a YA rom-com, a 17th century wench in a corset.

It's alarming. But also . . . kind of amazing?

It's the perfect way to live out her fantasies. Book after book, Josie the failed star finds a new way to shine. But the longer she stays in a story, the harder it becomes to escape.

Will Josie find a story so good that she just stays forever?
Return of the Thief by Megan Whalen Turner (Greenwillow Books)
The thrilling, twenty-years-in-the-making, conclusion to the New York Times–bestselling Queen's Thief series, by Megan Whalen Turner. This beloved and award-winning series began with the acclaimed novel The Thief. It and four more stand-alone volumes bring to life a world of epics, myths, and legends, and feature one of the most charismatic and incorrigible characters of fiction, Eugenides the thief. Now more powerful and cunning than ever before, Eugenides must navigate a perilous future in this sweeping conclusion. Perfect for fans of Leigh Bardugo, Marie Lu, Patrick Rothfuss, and Sarah J. Maas.

Neither accepted nor beloved, Eugenides is the uneasy linchpin of a truce on the Lesser Peninsula, where he has risen to be high king of Attolia, Eddis, and Sounis. As the treacherous Baron Erondites schemes anew and a prophecy appears to foretell the death of the king, the ruthless Mede empire prepares to strike. The New York Times–bestselling Queen's Thief novels are rich with political machinations, divine intervention, dangerous journeys, battles lost and won, power, passion, and deception.
The Nemesis by S. J. Kincaid (Simon and Schuster)
In the heart-pounding conclusion to the New York Times bestselling Diabolic series, the Empire teeters on the edge of destruction as rumors spread that Nemesis is still alive.

Three years ago, Tyrus Domitrian shocked the galaxy by killing the woman he swore to love forever. The woman for whom he upended the Empire. The woman with whom he wanted to build a new and brighter future.

Now, the once-idealistic heir apparent has become the cruel Emperor Tyrus, wielding his authority with an iron fist, capable of destroying planets with a single word, controlling all technology with a simple thought. He has bent the Grandiloquy to their knees, and none has the power to stand against him.

But there is a muttering among the Excess. They say that Nemesis is not truly gone. They whisper of her shadow spotted in distant star systems. They say that Nemesis lives. That she will rise, and rally the people to topple the man who was once her truest love—and is now her fiercest enemy.
The Whitsun Daughters by Carrie Mesrobian (Dutton)
From a critically acclaimed author, a twisty and gorgeously written YA ghost story about young women separated by centuries but connected by a desire to control their futures. Read an excerpt below!

I am no longer a creature, yet my habits remain. My desires, still the old ones. Lurking amidst the brush, watching squirrels collect acorns and deer drink from puddles. Watching my girls. I am allowed pleasure here, too, despite the warnings of the Bible my mother loved so well. It is pleasure, and my delight, to see my girls, their skin supple and sweating, their mouths eating, their fists clamping over their hips as their legs bend and stretch over the earth. The work of bodies never ends. I particularly like their hair, how it grows long and shaggy until lopped off by one of their mothers, the priestly one whose thoughts swirl like perfume in lilac time; she finds such joyful thrift in snipping the little girls' tresses. Where I had watched Patrick feed Arthur Ganey's horses is now a kitchen with an unlikely polished floor; over what was dirt and hay, the priestly mother sweeps up the girls' lost tresses—gold, white, mahogany. The priestly one's sister, a midwife, makes each daughter gulp down spoonfuls of castor and fish oil; one year, they each suffered needle jabs, given for their own good. Their tears brimmed and they winced under the puncture, their betrayed howls ringing out through the open windows.

The palomino girl loves so harshly; she sees everything as a prize to be won or lost. The unicorn girl's love ripples uncontained; her soul is flimsy, easily stained by sadness or goaded into laughter. The dark bay foal, who has since become steady on her feet in a manner that I envy, rushes through the brush. She is a thirsty creature. I ache when I see her touch the cool water at the bottom of the ravine where Patrick liked to wash.

A house helmed by two sisters, and their three daughters. The mothers' love, borne of their sister pact, has made a world where no men ever deigned to rule. The daughters' love at times is heavy, a pail of milk to a waiting hand; other times, easy as a hairbrush before Sunday service. It is most visible in their hands: what they make and toss away, what they strive to hold. I watch for restfulness. The after hours of tables cleared and dishes washed and floors swept and pencils and needles jabbing at paper and cloth; here their thick love dreams and wraps over each other, like hair in a braid. This reminds me of my own sister, and I recall my beating heart, strong beneath my chemise, galloping in grief for her. I think of my own hair—long gone, a cat's cradle for the faeries—and the relief of unwinding it each night, the burden heavy no more. I think of my own hands and what they learned about desire.

How quickly everything in God's world disintegrates. Everything but the loneliness of young women.
Reign by Cora Carmack (Tor Teen)
FIRST SHE ROARED. THEN SHE RAGED. NOW IT'S TIME FOR HER REIGN.

Aurora Pavan wanted to change her world.

She wanted to protect her people, not because they paid taxes, but because they deserved to live without fear. She wanted Pavan to be a home that welcomed everyone—remnants, stormhunters, and witches included.

For the first time in her life, she did not dread the duty into which she was born. She wanted it.

Then she met him. The Stormlord—the man who wielded the same magic as she, but with the intent to destroy rather than save. The Aurora Pavan who came home from that confrontation was not the same girl that had braved the wildlands and joined a rebellion. She was no longer the girl who was ready to change the world, ready to rule.

But she's the queen now all the same. And her kingdom needs her.

If only she can keep the new darkness inside her at bay.

The series that USA Today called "bright, electric, and imaginative" continues: Aurora Pavan rises to take her throne in this third installment of the Stormheart series by New York Times bestselling author Cora Carmack.
Twin Daggers by MarcyKate Connolly (Blink)
Aissa's life is a web of carefully constructed lies. She and her twin sister, Zandria, are Magi spies, magic users most believe to be extinct. And they're on a mission for revenge.

This action & adventure spy thriller--a fantasy spin on Romeo and Juliet from New York Times bestselling author MarcyKate Connolly--is perfect for fans of Marissa Meyer and Elly Blake and is about to become your new obsession!

By day, Aissa and Zandria play the role of normal young Technocrats eager to fulfill the duties of their new apprenticeships. By night, they plot their revenge to retake their city from the Technocrats. But then Aissa is given a new mission: find the heir to the Technocrat throne, who is rumored to be one of the Heartless, and kidnap her. Born without a working heart, the Heartless survive with a mechanical replacement.

Aissa is more likely to be caught than to be successful, but she's never been one to turn down an assignment, even if the hunt is complicated by a kind Technocrat researcher who is determined to find a cure for the Heartless. But when Zandria is captured by the Technocrats, Aissa will do anything to get her sister back. Even if it means abandoning all other loyalties--and missions--and deciding whether or not it's worth risking everything on getting help from her sworn enemies.
The Con Code by Shana Silver (Swoon Reads)
A teen forger and thief forms a criminal crew from her high school friends (and crush) to perform a series of heists leading to the location of her missing mother in this action-packed contemporary YA novel.

By day, seventeen-year-old Fiona Spangler runs small cons for her ritzy prep-school classmates: getting them out of tests and forging fake hall passes. But by night, Fiona joins her dad on riskier heists: stealing back the clue-filled forgeries her mom scattered across the country before she disappeared. Fiona desperately hopes that her mother will be waiting at the end of the scavenger hunt she left behind.

And they are SO close. Just three more heists remain, but then disaster strikes when Fiona's dad is captured by the FBI. Desperate to finish the job and save what's left of her family, Fiona assembles of crew of teen criminals: a master of disguise who can transform into anyone, a talented hacker who only communicates in glares, and a rival con artist with a vendetta against—and possible crush on—Fiona.

All they have to do is perform three nearly impossible heists, solve her mother's incredibly complex clues, and evade the FBI. Easy, right?
Darius the Great Deserves Better by Adib Khorram (Dial)
In this companion to the award-winning Darius the Great Is Not Okay, Darius suddenly has it all: a boyfriend, an internship, a spot on the soccer team. It's everything he's ever wanted–but what if he deserves better?

Darius Kellner is having a bit of a year. Since his trip to Iran this past spring, a lot has changed. He's getting along with his dad, and his best friend Sohrab is only a Skype call away. Between his first boyfriend, Landon, his varsity soccer practices, and his internship at his favorite tea shop, Darius is feeling pretty okay. Like he finally knows what it means to be Darius Kellner.

Then, of course, everything changes. Darius's grandmothers are in town for a long visit while his dad is gone on business, and Darius isn't sure whether they even like him. The internship isn't what Darius thought it would be, and now he doesn't know about turning tea into his career. He was sure he liked Landon, but when he starts hanging out with Chip–soccer teammate and best friend of Trent Bolger, epic bully–well, he's just not so sure about Landon anymore, either.

Darius thought he knew exactly who he was and what he wanted, but maybe he was wrong. Maybe he deserves better.
The Assignment by Liza M. Wiemer (Delacorte)
In the vein of the classic The Wave and inspired by a real-life incident, this riveting novel explores discrimination and antisemitism and reveals their dangerous impact.

SENIOR YEAR. When an assignment given by a favorite teacher instructs a group of students to argue for the Final Solution, a euphemism used to describe the Nazi plan for the genocide of the Jewish people, Logan March and Cade Crawford are horrified. Their teacher cannot seriously expect anyone to complete an assignment that fuels intolerance and discrimination. Logan and Cade decide they must take a stand.
As the school administration addressed the teens' refusal to participate in the appalling debate, the student body, their parents, and the larger community are forced to face the issue as well. The situation explodes, and acrimony and anger result. What does it take for intolerance, justice, and love to prevail?
Clown in a Cornfield by Adam Cesare (HarperTeen)
Quinn Maybrook just wants to make it until graduation. She might not make it to morning.
Quinn and her father moved to tiny, boring Kettle Springs to find a fresh start. But ever since the Baypen Corn Syrup Factory shut down, Kettle Springs has cracked in half. On one side are the adults, who are desperate to make Kettle Springs great again, and on the other are the kids, who want to have fun, make prank videos, and get out of Kettle Springs as quick as they can.
Kettle Springs is caught in a battle between old and new, tradition and progress. It's a fight that looks like it will destroy the town. Until Frendo, the Baypen mascot, a creepy clown in a pork-pie hat, goes homicidal and decides that the only way for Kettle Springs to grow back is to cull the rotten crop of kids who live there now.
The Burning Kingdoms by Sally Green (Viking Books)
The heart-pounding conclusion to the daring Smoke Thieves trilogy.

In this conclusion to the epic Smoke Thieves trilogy, the world has erupted into all-out war. King Aloysius is mining powerful demon smoke and using it to fuel an unstoppable army of children. March, now banished for treason, has joined up with this boy army. Forbidden from ever seeing Edyon again, and overwhelmed by his own betrayal, March no longer cares if he lives or dies.

Catherine--now queen of Pitoria--must find a way to defeat the boy army, while also grappling with her own troubles: her secret demon smoke addiction, and unresolved tension with her former lover, Ambrose. Catherine seeks military support from Calidor by reaching out to her illegitimate cousin Edyon, who has been proclaimed heir to the Calidorian throne. But Edyon has almost no power as he's entangled in the unfamiliar machinations and manipulations of the royal court, finding that being the claimed son of a prince may be no easier than being a bastard.

With Catherine, his love, now married off and moving on, and his brother and sister tortured and executed before him, Ambrose doesn't know what his role in this world is any more. He leads an expedition into the demon world, hoping to destroy the boy army's stores of demon smoke. In this underground world, he runs into Tash, whom everyone had believed dead. She has survived in this new world using magical abilities that, prior to now, only demons had.

Aloysius will send his demon smoke-powered boy army to kill them all, if he can. But what nobody knows is that there is more to the smoke than meets the eye...
Elatsoe by Darcy Little Badger (Levine Querido)
Imagine an America very similar to our own. It's got homework, best friends, and pistachio ice cream.

There are some differences. This America been shaped dramatically by the magic, monsters, knowledge, and legends of its peoples, those Indigenous and those not. Some of these forces are charmingly everyday, like the ability to make an orb of light appear or travel across the world through rings of fungi. But other forces are less charming and should never see the light of day.

Elatsoe lives in this slightly stranger America. She can raise the ghosts of dead animals, a skill passed down through generations of her Lipan Apache family. Her beloved cousin has just been murdered, in a town that wants no prying eyes. But she is going to do more than pry. The picture-perfect facade of Willowbee masks gruesome secrets, and she will rely on her wits, skills, and friends to tear off the mask and protect her family.
Ironspark by C. M. McGuire (Swoon Reads)
A teen outcast must work together with new friends to keep her family and town safe from murderous Fae while also dealing with panic attacks, family issues, and a lesbian love triangle in C.M. McGuires's kick-butt paranormal YA debut.

For the past nine years, ever since a bunch of those evil Tinkerbells abducted her mother, cursed her father, and forced her family into hiding, Bryn has devoted herself to learning everything she can about killing the Fae. Now it's time to put those lessons to use.

Then the Court Fae finally show up, and Bryn realizes she can't handle this on her own. Thankfully, three friends offer to help: Gwen, a kindhearted water witch; Dom, a new foster kid pulled into her world; and Jasika, a schoolmate with her own grudge against the Fae.

But trust is hard-won, and what little Bryn has gained is put to the test when she uncovers a book of Fae magic that belonged to her mother. With the Fae threat mounting every day, Bryn must choose between faith in her friends and power from a magic that could threaten her very humanity.
Traitor by Amanda McCrina (FSG)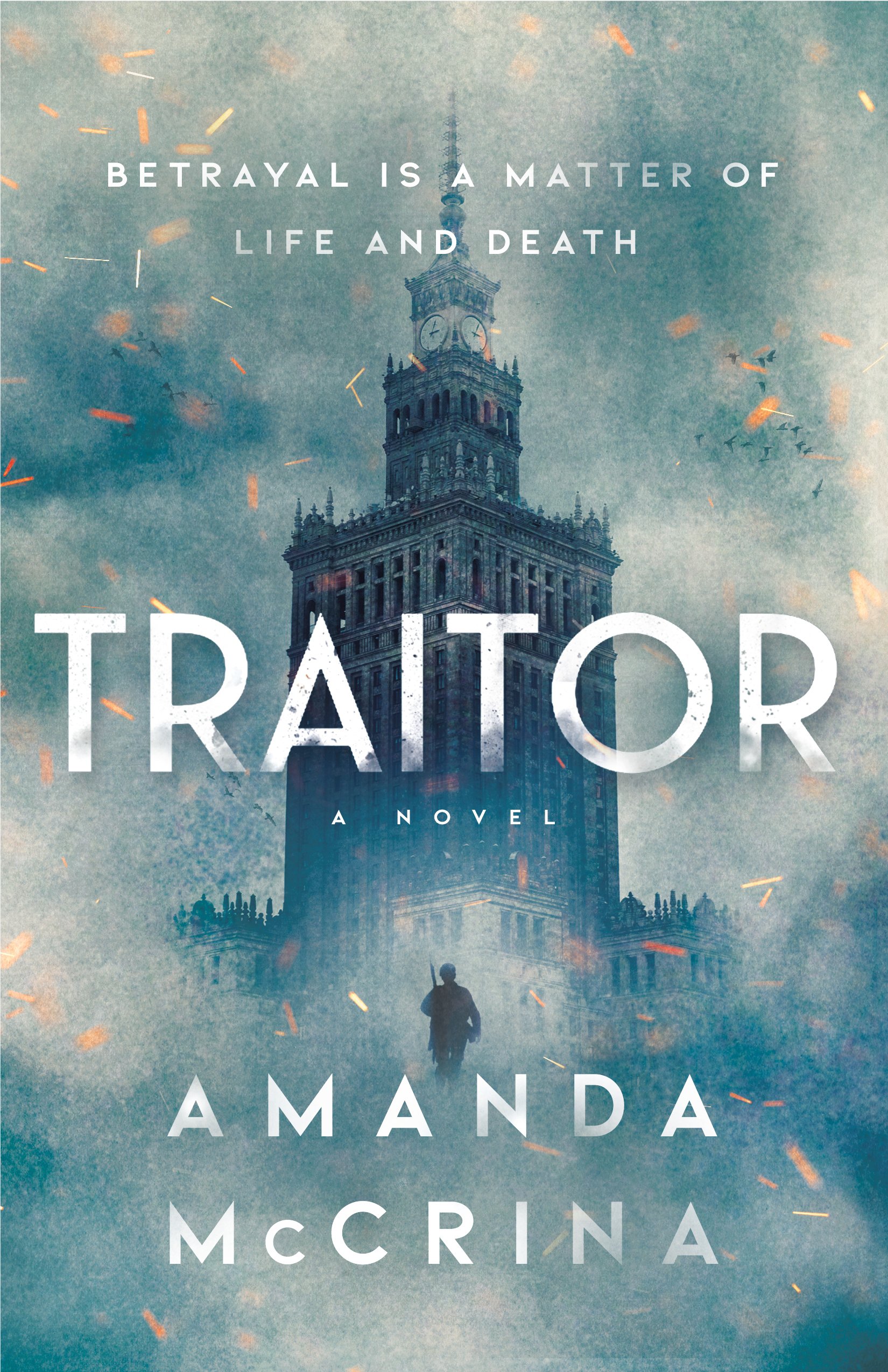 Lwów, Poland, July 1944. Seventeen-year-old Tolya Korolenko, a half-Polish, half-Ukrainian Red Army conscript and the son of a kulak farmer murdered by the Soviets, knows the principle of collective guilt: family members of traitors to the Motherland are punished along with the traitors themselves.

When he shoots his political officer not-quite-by-accident and is sentenced to death by the NKVD, the Soviet secret police, he already knows he won't be the only one to pay.

Rescued by a squad of Ukrainian-nationalist partisans, Tolya has every reason to believe his girlfriend, fellow soldier Nataliya Koval, is dead at the hands of the NKVD. Concealing his Polish heritage, he agrees to help the partisans assassinate the NKVD's regional commander. But when somebody in the squad betrays the plan to the NKVD, all evidence points to Tolya as the traitor.

Following two connected timelines, TRAITOR explores Polish-Ukrainian political conflicts, deep-seated ethnic prejudices, and the terror of living in a world where even the smallest betrayal can be a matter of life or death.
August 31st
Bright Raven Skies by Kristina Perez (Imprint)
Bright Raven Skies is the thrilling conclusion to the lush and heart-wrenching romantic fantasy trilogy about ancient magic, warring families, and star-crossed lovers.
To save the kingdom, Branwen embraced the darkest aspects of her magic. But she may have lost herself –– and the two people she loves most.
Tristan and Eseult are missing. As Branwen searches for them, she must hide the truth surrounding their disappearance from both the king and her lover. Above all, she must find the Queen and her Champion first.
New and old enemies circle Branwen, clamoring for power and revenge, and threatening to destroy the fragile peace that she has sacrificed everything to secure.