April 1st
The Murder Game by Carrie Doyle (Sourcebooks Fire)
What if your best friend and roommate killed a teacher at your prep school? Or what if he didn't do it, but he's being framed, and you're the only person who can save him?

Luke Chase didn't mean to get caught up solving the mystery of Mrs. Heckler's murder. He just wanted to spend alone time with the new British girl at their boarding school.

But little did he know someone would end up dead right next to their rendezvous spot in the woods, and his best friend and roommate Oscar Weymouth would be the one to take the blame. With suspects aplenty and a past that's anything but innocent, Luke Chase reluctantly calls on his famous survival skills to solve the mystery and find the true killer.
Everyone Dies Famous in a Small Town by Bonnie-Sue Hitchcock (Random House)
A lyrical and heartfelt collection by an award-winning writer that connects the lives of young people from small towns in Alaska and the American west. Each story is unique, yet universal.

In this book, the impact of wildfire, a wayward priest, or a mysterious disappearance ricochet across communities, threading through stories. Here, ordinary actions such as ice skating or going to church reveal hidden truths. One choice threatens a lifelong friendship. Siblings save each other. Rescue and second chances are possible, and so is revenge.

On the surface, it seems that nothing ever happens in these towns. But Bonnie-Sue Hitchcock shows that underneath that surface, teenagers' lives blaze with fury, with secrets, and with love so strong it burns a path to the future.
Untitled by Sarah J Maas (Bloomsbury)
Untitled by Gayle Foreman (Simon and Schuster) - some editions dated May 2021.
April 6th
The Half Orphan's Handbook by Joan F. Smith (Imprint)
It's been three months since Lila lost her father to suicide. Since then, she's learned to protect herself from pain by following two unbreakable rules:

1. The only people who can truly hurt you are the ones you love. Therefore, love no one.

2. Stay away from liars. Liars are the worst.

But when Lila's mother sends her to a summer-long grief camp, it's suddenly harder for Lila to follow these rules. Potential new friends and an unexpected crush threaten to drag her back into life for the first time since her dad's death.

On top of everything, there's more about what happened that Lila doesn't know, and facing the truth about her family will be the hardest part of learning how a broken heart can love again.
Blessed Monsters by Emily A. Duncan (Wednesday Books)
The startling conclusion to the instant New York Times bestselling Something Dark and Holy trilogy

The girl, the monster, the prince, the queen.

They broke the world.

And some things can never be undone.

In Emily A. Duncan's Blessed Monsters, they must unite once more to fight the dark chaos they've unleashed—but is it already too late?
The Box in the Woods by Maureen Johnson (Katherine Tegan Books)
The Truly Devious series continues as Stevie Bell investigates her first mystery outside of Ellingham Academy in this spine-chilling and hilarious stand-alone mystery.

Stevie Bell did it. She solved the greatest unsolved mystery of the century. So, what now?

Figuring it all out—the truth behind Truly Devious and what exactly happened in the Ellingham Affair—has granted Stevie Bell a bit of celebrity in the true crime community. So she's not surprised when she gets an email from the man who owns Camp Bounty Lake (now called Camp Wonder Falls), the site of the infamous "Box in the Woods" murders from the 1970s.

Weird things are happening at the camp again, although nothing as sinister as before. No murders, no bodies posed by the mysterious figure they called The Doll Collector. But there is a threatening message chalked across a wall. And a box has appeared, with three grisly dolls inside it.

Stevie accepts a job as a camp counselor so she can figure out what's going on. She recruits her friends from Ellingham—Nate, Janelle, and Vi—to become counselors, too, and even Germaine Batt turns up. Not long after they arrive, the owner of the camp dies in a suspicious hiking accident.

Once again, Stevie will have to solve a cold case from the past before a killer catches up with her in the present.
Zara Hossain is Here by Sabina Khan (Scholastic)
Zara's family has waited years for their visa process to be finalized so that they can officially become US citizens. But it only takes one moment for that dream to come crashing down around them.

Seventeen-year-old Pakistani immigrant, Zara Hossain, has been leading a fairly typical life in Corpus Christi, Texas, since her family moved there for her father to work as a pediatrician. While dealing with the Islamophobia that she faces at school, Zara has to lay low, trying not to stir up any trouble and jeopardize their family's dependent visa status while they await their green card approval, which has been in process for almost nine years.

But one day her tormentor, star football player Tyler Benson, takes things too far, leaving a threatening note in her locker, and gets suspended. As an act of revenge against her for speaking out, Tyler and his friends vandalize Zara's house with racist graffiti, leading to a violent crime that puts Zara's entire future at risk. Now she must pay the ultimate price and choose between fighting to stay in the only place she's ever called home or losing the life she loves and everyone in it.

From the author of the "heart-wrenching yet hopeful" (Samira Ahmed) novel, The Love and Lies of Rukhsana Ali, comes a timely, intimate look at what it means to be an immigrant in America today, and the endurance of hope and faith in the face of hate.
Kisses and Croissants by
Anne-Sophie Jouhanneau (Delacorte)
As sweet as a macaron from Laduree, with writing as crisp as a freshly baked baguette, this romantic novel set in Paris about an American ballerina and a charming French boy is parfait for fans of American Royals and Netflix's To All the Boys I've Loved Before.

Sixteen-year-old Mia, an American girl at an elite summer ballet program, has six weeks to achieve her dreams: to snag an audition with one of the world's best ballet companies. But there's more to Paris than ballet—especially when a charming French boy, Louis, wants to be her tour guide—and the pair discover the city has a few mysteries up its sleeve.

In the vein of romances like Love and Gelato, this is the perfect summer adventure for anyone looking to get swept away in the City of Love.
Somewhere Between Bitter and Sweet by Laekan Zea Kemp (Little Brown)
I'm Not Your Perfect Mexican Daughter meets Emergency Contact in this stunning story of first love, familial expectations, the power of food, and finding where you belong.

As an aspiring pastry chef, Penelope Prado has always dreamed of opening her own pastelería next to her father's restaurant, Nacho's Tacos. But her mom and dad have different plans -- leaving Pen to choose between disappointing her traditional Mexican-American parents or following her own path. When she confesses a secret she's been keeping, her world is sent into a tailspin. But then she meets a cute new hire at Nacho's who sees through her hard exterior and asks the questions she's been too afraid to ask herself.

Xander Amaro has been searching for home since he was a little boy. For him, a job at Nacho's is an opportunity for just that -- a chance at a normal life, to settle in at his abuelo's, and to find the father who left him behind. But when both the restaurant and Xander's immigrant status are threatened, he will do whatever it takes to protect his new found family and himself.

Together, Pen and Xander must navigate first love and discovering where they belong -- both within their families and their fiercely loyal Chicanx community -- in order to save the place they all call home.
Zoe Rosenthal Is Not Lawful Good by Nancy Werlin (Candlewick)
A buttoned-up overachiever works overtime to keep her inner nerd at bay—failing spectacularly—in Nancy Werlin's hilarious and heartfelt return to contemporary realistic fiction.

Planning is Zoe Rosenthal's superpower. She has faith in a properly organized to-do list and avoids unnecessary risks. Her mental checklist goes something like this: 1) Meet soulmate: DONE! 2) Make commitment: DONE! 3) Marriage: TO COME! (after college). She isn't sure which college yet, but it will have a strong political science department, since her perfect boyfriend, Simon, plans to "save the country," as his sister puts it, "and the planet and everything." Zoe will follow along, the perfect serious, supportive girlfriend. It's good to have her love life resolved, checked off, done. But speaking of unnecessary risks, Zoe's on a plane to Atlanta, sneaking off to Dragon Con for the second season premiere of Bleeders. The show is subject to her boyfriend's lofty scorn, but Zoe is nothing like these colorful hordes "wearing their inside on their outside." Once her flirtation with fandom is over, she will get back to the important business of planning a future with Simon. The trouble is, right now, Bleeders—and her fellow "Bloodygits"—may just mean the world to her. Will a single night of nerdery be enough?

Best-selling and award-winning author Nancy Werlin is best known for science fiction, fantasy, and suspense, but here she turns her pen to realistic fiction with broad appeal. Confirmed nerds will revel in a diverse cast, zany fandoms, and cosplaying crowds, but this is for any reader seeking a smart, breezy coming-of-age story about finding your friends—and your inconvenient self.
Where the Road Leads Us by Robin Ruel (Sourcebooks Fire)
From Robin Reul, the author of My Kind of Crazy, comes an uplifting YA contemporary novel about two teens on an unexpected journey to forge their own paths.

Jack knows what he wants: to be valedictorian, to go to NYU like his father did, to become a doctor. But when his dad unexpectedly dies, all of Jack's wants suddenly feel like someone else's. With the start of college on the horizon, Jack makes a spontaneous decision to go to San Francisco to hunt down his estranged brother and try to heal their fractured relationship before it's too late.

Hallie doesn't want much of anything, except to visit her friend Owen. Like Hallie, Owen has been battling cancer, but his is terminal and he's currently planning his assisted suicide. Hallie has mere days to travel to Washington so she can say goodbye in person.

Jack and Hallie had a class together years ago, but haven't seen each other since. But fate puts them into the same rideshare to the bus terminal, setting off a whirlwind and hysterical road trip that may lead them to their own true selves...and maybe to each other.
The Sky Blues by Robbie Couch (Simon and Schuster)
Sky's small town turns absolutely claustrophobic when his secret promposal plans get leaked to the entire school in this witty, heartfelt, and ultimately hopeful debut novel for fans of What if it's Us? and I Wish You All the Best.

Sky Baker may be openly gay, but in his small, insular town, making sure he was invisible has always been easier than being himself. Determined not to let anything ruin his senior year, Sky decides to make a splash at his high school's annual beach bum party by asking his crush, Ali, to prom—and he has thirty days to do it.

What better way to start living loud and proud than by pulling off the gayest promposal Rock Ledge, Michigan, has ever seen?

Then, Sky's plans are leaked by an anonymous hacker in a deeply homophobic e-blast that quickly goes viral. He's fully prepared to drop out and skip town altogether—until his classmates give him a reason to fight back by turning his thirty-day promposal countdown into a school-wide hunt to expose the e-blast perpetrator.

But what happens at the end of the thirty days? Will Sky get to keep his hard-won visibility? Or will his small-town blues stop him from being his true self?
The Infinity Courts by Akemi Dawn Bowman (Simon Pulse)
Eighteen-year-old Nami Miyamoto is certain her life is just beginning. She has a great family, just graduated high school, and is on her way to a party where her entire class is waiting for her—including, most importantly, the boy she's been in love with for years.

The only problem? She's murdered before she gets there.

When Nami wakes up, she learns she's in a place called Infinity, where human consciousness goes when physical bodies die. She quickly discovers that Ophelia, a virtual assistant widely used by humans on Earth, has taken over the afterlife and is now posing as a queen, forcing humans into servitude the way she'd been forced to serve in the real world. Even worse, Ophelia is inching closer and closer to accomplishing her grand plans of eradicating human existence once and for all.

As Nami works with a team of rebels to bring down Ophelia and save the humans under her imprisonment, she is forced to reckon with her past, her future, and what it is that truly makes us human.
From award-winning author Akemi Dawn Bowman comes an incisive, action-packed tale that explores big questions about technology, grief, love, and humanity.
House of Hollow by Krystal Sutherland (Putnam)
Seventeen-year-old Iris Hollow has always been strange. Something happened to her and her two older sisters when they were children, something they can't quite remember but that left each of them with an identical half-moon scar at the base of their throats.

Iris has spent most of her teenage years trying to avoid the weirdness that sticks to her like tar. But when her eldest sister, Grey, goes missing under suspicious circumstances, Iris learns just how weird her life can get: horned men start shadowing her, a corpse falls out of her sister's ceiling, and ugly, impossible memories start to twist their way to the forefront of her mind.

As Iris retraces Grey's last known footsteps and follows the increasingly bizarre trail of breadcrumbs she left behind, it becomes apparent that the only way to save her sister is to decipher the mystery of what happened to them as children.

The closer Iris gets to the truth, the closer she comes to understanding that the answer is dark and dangerous – and that Grey has been keeping a terrible secret from her for years.
The Flipside of Perfect by Liz Reinhardt (Inkyard Press)
A heartfelt, fun, and romantic novel about balancing who we are with who we're expected to be, perfect for fans of Jenna Evans Welch, Morgan Matson and Jenn Bennett!

What happens when her two worlds collide?
AJ is a buttoned-up, responsible student attending a high-achieving high school in Michigan. She lives with her mother, stepfather and two younger half sisters.

Della spends every summer with her father in Florida. A free-spirited wild child, she spends as much time as possible on the beach with her friends and older siblings.

But there's a catch: AJ and Della are the same person. Adelaide Beloise Jepsen to be exact, and she does everything she can to keep her school and summer lives separate.

When her middle sister crashes her carefree summer getaway, Adelaide's plans fall apart. In order to help her sister, save her unexpected friendship with a guy who might just be perfect for her, and discover the truth about her own past, Adelaide will have to reconcile the two sides of herself and face the fact that it's perfectly okay not to be perfect all the time.
What Beauty There Is by Cory Anderson (Roaring Brook Press) - some editions also scheduled for January 2021.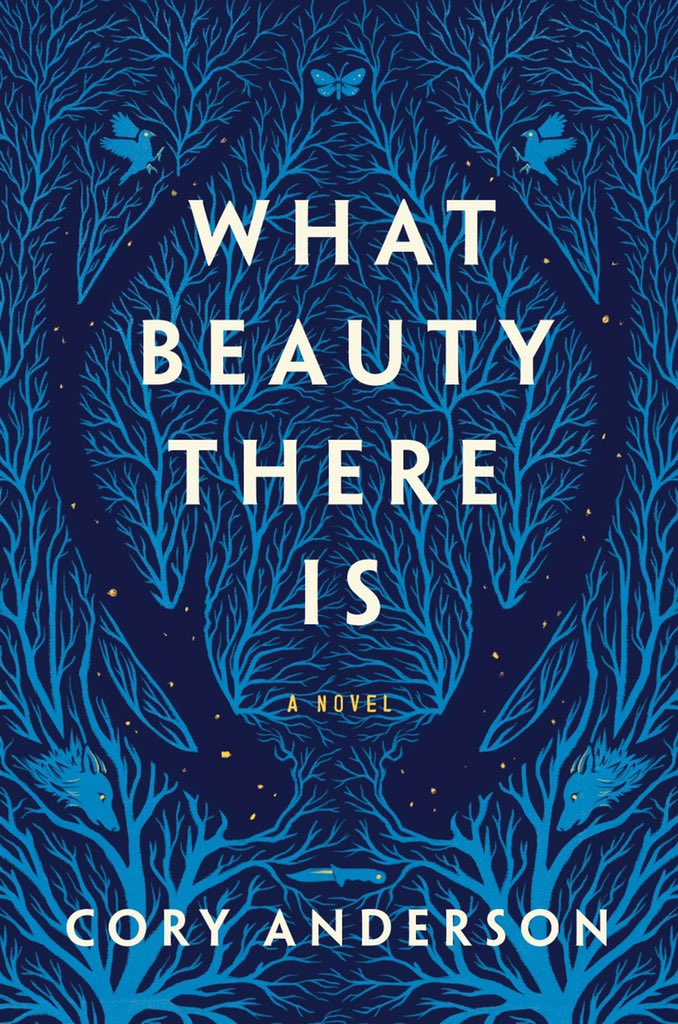 An exhilarating, emotionally powerful and superbly written thriller that's Winter's Bone meets The Road

Winter. The sky is dark. It is cold enough to crack bones.

Jack Morton has nothing left. Except his younger brother, Matty, who he'd do anything for. Even die for. Now with their mother gone, and their funds quickly dwindling, Jack needs to make a choice: lose his brother to foster care, or find the drug money that sent his father to prison. He chooses the money.

Ava Bardem lives in isolation, a life of silence. For seventeen years her father has controlled her fate. He has taught her to love no one. Trust no one. Now Victor Bardem is stalking the same money as Jack. When he picks up Jack's trail, Ava must make her own wrenching choice: remain silent or help the brothers survive.

Choices. They come at a price.
My Epic Spring Break-Up by Kristin Rockaway (Delacorte)
A fun and upbeat paperback original romance about a girl who finds a cheat sheet for love.

Spring break . . . heartache?

For coder extraordinaire Ashley, high school is all about prepping for college. Her love life? Virtually nonexistent. She's never been on a date. Never been kissed. Never been in love.

When her plans veer off course, Ashley realizes she might be missing out on her high school experience. Now that spring break is finally here, Ashley vows to have fun . . . and, for the first time, follow her heart.

Starting with Walker Beech, her gorgeous, maybe-not-so-unrequited crush. But with Jason Eisler--her childhood friend turned prankster--in the picture, trouble is bound to follow. Will Ashley's epic spring break lead her to love, or will her heart crash and burn?
Between the Bliss and Me by Lizzy Mason (Soho Teen)
For fans of Jandy Nelson, Robin Benway, and Kathleen Glasgow, critically acclaimed author Lizzy Mason delivers a richly crafted contemporary YA novel about young romance, mental illness, and the importance of family.

18 year-old Sydney Holman shocks her family by announcing that she's accepted a large financial gift from her grandparents and has decided to attend NYU. Her decision means she won't be at home with her Mom and commuting to Rutgers, but instead living in the city; it also means she'll be close to off-bounds but dreamy Grayson—a guitar prodigy who is going to Julliard in the fall and very much isn't single.

As a new life awaits her, though, Sydney discovers shocking truths about her father: he wasn't just a drug addict who left when she was little, he's schizophrenic, homeless, and living on the streets of New York. And there's a statistical chance that Sydney herself will prove to be schizophrenic. As Sydney is caught between the pressure to stay close to home and watched over her by her mom, and the temptation to take risks and be free, she finds herself falling for Grayson even as she worries her family history of mental illness might make love a terrible choice for both of them.
April 13th
The Prison Healer by Lynnette Noni (HMH)
Seventeen-year-old Kiva Meridan has spent the last ten years fighting for survival in the notorious death prison, Zalindov, working as the prison healer.

When the Rebel Queen is captured, Kiva is charged with keeping the terminally ill woman alive long enough for her to undergo the Trial by Ordeal: a series of elemental challenges against the torments of air, fire, water, and earth, assigned to only the most dangerous of criminals.

Then a coded message from Kiva's family arrives, containing a single order: "Don't let her die. We are coming." Aware that the Trials will kill the sickly queen, Kiva risks her own life to volunteer in her place. If she succeeds, both she and the queen will be granted their freedom.

But no one has ever survived.

With an incurable plague sweeping Zalindov, a mysterious new inmate fighting for Kiva's heart, and a prison rebellion brewing, Kiva can't escape the terrible feeling that her trials have only just begun.

From bestselling author Lynette Noni comes a dark, thrilling YA fantasy perfect for fans of Sarah J. Maas, and Sabaa Tahir.
The Serpent's Curse by Lisa Maxwell (Simon and Schuster) - postponed from December 2020 due to COVID-19.
Leigh Bardugo's Six of Crows meets Alexandra Bracken's Passenger in this spellbinding conclusion the "vivid and compelling" (BCCB), New York Timesbestselling Last Magician series.

Bind the Book.
Stop the Order.
Save the Magic.

Esta is no stranger to high-stakes heists; she is a seasoned thief with no reservations about using her time traveling abilities to give her an edge. But saving Harte—and magic itself—will put her skills to the test. The Book of Mysteriesthreatens to tear through the world and change the shape of magic forever, and only Esta and Harte stand in its way.

They race through time and across the country to steal back the remaining elemental stones needed to bind the book's power, stop the Order, and save the future of the Mageus.
Between Perfect and Real by Ray Stoeve (Amulet)
A moving YA debut about a trans boy finding his voice—and himself

Dean Foster knows he's a trans guy. He's watched enough YouTube videos and done enough questioning to be sure. But everyone at his high school thinks he's a lesbian—including his girlfriend Zoe, and his theater director, who just cast him as a "nontraditional" Romeo. He wonders if maybe it would be easier to wait until college to come out. But as he plays Romeo every day in rehearsals, Dean realizes he wants everyone to see him as he really is now––not just on the stage, but everywhere in his life. Dean knows what he needs to do. Can playing a role help Dean be his true self?
Step into the spotlight with this graphic novel about crushes, confidence, and catchy choruses!

Spending an entire summer on tour as a backup singer for pop star Nika Nitro? What?! That's the DREAM, right? Especially for Jenni, Lauren, and Maggie, three misfit performing arts students with hopes of making it in the music world.

But being twenty feet from fame isn't easy. Between crushes, constant rehearsals, Nika's sky-high expectations, and their own insecurities, this dream is starting to feel more like a nightmare. And that's before they accidentally start beef with a rival band threatening to reveal a secret that could end Nika's career.

Can this trio of new friends come together to save the tour, or will the Backups be kept out of the spotlight forever?
New York Times –bestselling author Goldy Moldavsky delivers a deliciously twisty YA thriller that's Scream meets Karen McManus about a mysterious club with an obsession for horror.

New girl Rachel Chavez is eager to make a fresh start at Manchester Prep. But as one of the few scholarship kids, Rachel struggles to fit in, and when she gets caught up in a prank gone awry, she ends up with more enemies than friends.

To her surprise, however, the prank attracts the attention of the Mary Shelley Club, a secret club of students with one objective: come up with the scariest prank to orchestrate real fear. But as the pranks escalate, the competition turns cutthroat and takes on a life of its own.

When the tables are turned and someone targets the club itself, Rachel must track down the real-life monster in their midst . . . even if it means finally confronting the dark secrets from her past.
Notes From a Young Black Chef by Kwame Onwuachi (Delacorte)
This inspiring memoir, now adapted for young adults, chronicles Top Chef star and Forbes and Zagat 30 Under 30 phenom Kwame Onwuachi's incredible and odds-defying fame in the food world after a tough childhood in the Bronx and Nigeria.

Food was Kwame Onwuachi's first great love. He connected to cooking via his mother, in the family's modest Bronx apartment. From that spark, he launched his own catering company with twenty thousand dollars he made selling candy on the subway and trained in the kitchens of some of the most acclaimed restaurants in the country. He faced many challenges on the road to success, including breaking free of a dangerous downward spiral due to temptation and easy money, and grappling with just how unwelcoming the world of fine dining can be for people of color.

Born on Long Island and raised in New York City, Nigeria, and Louisiana, Kwame Onwuachi's incredible story is one of survival and ingenuity in the face of adversity.
Victories Greater Than Death by Charlie Jane Anders (Tor Teen)
A thrilling adventure set against an intergalactic war with international bestselling author Charlie Jane Anders at the helm in her YA debut—think Star Wars meets Doctor Who, and buckle your seatbelts

Tina has always known her destiny is outside the norm—after all, she is the human clone of the most brilliant alien commander in all the galaxies (even if the rest of the world is still deciding whether aliens exist). But she is tired of waiting for her life to begin.

And then it does—and maybe Tina should have been more prepared. At least she has a crew around her that she can trust—and her best friend at her side. Now, they just have to save the world.

From internationally bestselling author Charlie Jane Anders (All the Birds in the Sky) comes a thrilling adventure set against an intergalactic war—Anders's long-awaited YA debut.
April 20th
These Feathered Flames by Alexandra Overy (Inkyard Press)
A fantasy retelling of the Firebird folktale with a female/female romance.

Two sisters. Separated by duty. One certain truth: magic always comes with a price. In the land of Tóurin, when twin heirs are born, one is raised to rule and the other becomes the next Firebird, a creature to ensure magic remains balanced.

While Izaveta remained at court, learning the lies and deception needed to survive, Asya was taken away to train with her aunt, the mysterious and deadly Firebird. But before Asya's training is completed, the ancient power suddenly blooms inside her, which can mean only one thing: the queen is dead, and a new ruler must be crowned. Asya returns to court for her sister's coronation, only to feel the stirring of her first calling as the Firebird.

Now, she must navigate the unfamiliar territory of the royal courts, where friend and foe are often one and the same, to hunt down the person who used the forbidden magic. But not all is as it seems, for magic is dying in Tóurin, political schemes are in motion, and the two sisters will soon find how much their years apart have changed them both.
In Deeper Waters by F.T. Lukens (Margaret K. McElderry Books)
A young prince must rely on a mysterious stranger to save him when he is kidnapped during his coming-of-age tour in this swoony adventure that is The Gentleman's Guide to Vice and Virtue meets Pirates of the Caribbean.

Prince Tal has long awaited his coming-of-age tour. After spending most of his life cloistered behind palace walls as he learns to keep his forbidden magic secret, he can finally see his family's kingdom for the first time. His first taste of adventure comes just two days into the journey, when their crew discovers a mysterious prisoner on a burning derelict vessel.
Tasked with watching over the prisoner, Tal is surprised to feel an intense connection with the roguish Athlen. So when Athlen leaps overboard and disappears, Tal feels responsible and heartbroken, knowing Athlen could not have survived in the open ocean.

That is, until Tal runs into Athlen days later on dry land, very much alive, and as charming—and secretive—as ever. But before they can pursue anything further, Tal is kidnapped by pirates and held ransom in a plot to reveal his rumored powers and instigate a war. Tal must escape if he hopes to save his family and the kingdom. And Athlen might just be his only hope…
The Key to You and Me by Jaye Robin Brown (HarperTeen)
Piper Kitts is spending the summer living with her grandmother, training at the barn of a former Olympic horseback rider and trying to get over her ex-girlfriend. Much to Piper's dismay, her grandmother is making her face her fear of driving head-on by forcing her to take lesson with a girl in town.

Kat Pearson has always suspected that she likes girls but fears her North Carolina town is too small to color outside the lines. But when Piper's grandmother hires Kat to give Piper driving lessons, everything changes.

Piper's not sure if she's ready to let go of her ex. Kat's navigating uncharted territory with her new crush. With the summer running out, will they be able to unlock a future together?
After her father vanishes while investigating the disappearance of 13 young women, a teen returns to her secretive hometown to pick up the trail in this second YA historical mystery from the author of The Silence of Bones.

Hwani's family has never been the same since she and her younger sister went missing and were later found unconscious in the forest, near a gruesome crime scene. The only thing they remember: Their captor wore a painted-white mask.

To escape the haunting memories of this incident, the family flees their hometown. Years later, Detective Min—Hwani's father—learns that thirteen girls have recently disappeared under similar circumstances, and so he returns to their hometown to investigate... only to vanish as well.

Determined to find her father and solve the case that tore their family apart, Hwani returns home to pick up the trail. As she digs into the secrets of the small village—and reconnects with her now estranged sister—Hwani comes to realize that the answer lies within her own buried memories of what happened in the forest all those years ago.

Suspenseful and richly atmospheric, June Hur's The Forest of Stolen Girls is a haunting historical mystery sure to keep readers guessing until the last page.
Told in two interwoven timelines—the summer when everything changed, and the summer that changes everything—Where Secrets Lie is a seductive thriller as dark as it is enthralling.

Amy Larsen has spent every summer with her cousin Ben and their best friend Teddy in River Run, Kentucky, loving country life and welcoming the break from her intensive ambitions and overbearing mother—until the summer she and Teddy confront the changing feelings and simmering sexual tension growing between them, destroying the threesome's friendship in a dramatic face-off.

One year later, Amy returns to River Run dreading what she might find. But when Teddy's sister disappears, Amy, Ben and Teddy agree to put aside their differences to search for her. As they dig deeper into the dark history of their small town, all three friends must unearth the truths that tie their families to tragedy, cope with their own toxic upbringings and beliefs, and atone for the damage done to each other and themselves.
She Drives Me Crazy by Kelly Quindlen (Roaring Brook Press)
High school nemeses fall in love in this queer YA rom com perfect for fans of Becky Albertalli and Casey McQuisten.

After losing spectacularly to her ex-girlfriend in their first game since their break up, Scottie Zajac gets into a fender bender with the worst possible person: her nemesis, the incredibly beautiful and incredibly mean Irene Abraham. Things only get worse when their nosey, do-gooder moms get involved and the girls are forced to carpool together until Irene's car gets out of the shop.

Their bumpy start the only gets bumpier the more time they spend together. But when an opportunity presents itself for Scottie to get back at her toxic ex (and climb her school's social ladder at the same time), she bribes Irene into playing along. Hijinks, heartbreak, and gay fake-dating scheme for the ages. From author Kelly Quindlen comes a new laugh-out-loud romp through the ups and downs of teen romance.
Witches Steeped in Gold by Ciannon Smart (HarperTeen)
Divided by their castes. United by their vengeance.

Iraya has spent her life in a cell, but every day brings her closer to freedom—and vengeance.

Jazmyne is the queen's daughter, but unlike her sister before her, she has no intention of dying to strengthen her mother's power.

Sworn enemies, these two witches enter a precarious alliance to take down a mutual threat. But revenge is a bloody pursuit, and nothing is certain—except the lengths they will go to win this game.

Deadly, fierce, magnetically addictive: this Jamaican-inspired fantasy debut is a thrilling journey where dangerous magic reigns supreme and betrayal lurks beneath every word.
Southern Sun, Northern Star by Joanna Hathaway (Tor Teen)
Battles, revolution, and romance collide in Joanna Hathaway's stunning, World Wars-inspired Southern Sun, Northern Star

Reeling from the tragedy that beset her family, Princess Aurelia has joined the resistance in Havenspur, spying on the Northern leaders who were once her allies and determined to stop her uncle's machinations for war. Meanwhile, her beloved pilot Athan leads his squadron into battle as the Safire wage a losing war abroad and combat growing unrest back home.

When Athan is sent on leave to Havenspur following the death of a comrade, the pair reunite and rekindle their romance until Aurelia uncovers one of Athan's secrets, a secret that could save countless lives. But exposing it to the right people will cost her Athan's trust, and this time, their shared memories of love might not be enough to stop the fateful path of destruction that threatens all they've fought to defend.

As history unfolds around them, every move they make drives them one step closer to either recreating their parents' shadowed past or redeeming the alliance that could bring peace.

The breathtaking finale to a legendary series. Part war drama, part romance, Southern Sun, Northern Star is the epic conclusion to the Glass Alliance series.
Dustborn by Erin Bowman (HMH)
Delta of Dead River sets out to rescue her family from a ruthless dictator rising to power in the Wastes and discovers a secret that will reshape her world in this postapocalyptic Western mashup for fans of Mad Max and Gunslinger Girl.

Delta of Dead River has always been told to hide her back, where a map is branded on her skin to a rumored paradise called the Verdant. In a wasteland plagued by dust squalls, geomagnetic storms, and solar flares, many would kill for it—even if no one can read it. So when raiders sent by a man known as the General attack her village, Delta suspects he is searching for her.

Delta sets out to rescue her family but quickly learns that in the Wastes no one can be trusted—perhaps not even her childhood friend, Asher, who has been missing for nearly a decade. If Delta can trust Asher, she just might decode the map and trade evidence of the Verdant to the General for her family. What Delta doesn't count on is what waits at the Verdant: a long-forgotten secret that will shake the foundation of her entire world.
Kate in Waiting by Becky Albertalli (Balzer + Bray)
From #1 New York Times bestselling author and rom-com queen Becky Albertalli comes a buoyant new novel about daring to step out of the shadows and into the spotlight in love, life, and, yes, theater.

Contrary to popular belief, best friends Kate Garfield and Anderson Walker are not codependent. Carpooling to and from theater rehearsals? Environmentally sound and efficient. Consulting each other on every single life decision? Basic good judgment. Pining for the same guys from afar? Shared crushes are more fun anyway.

But when Kate and Andy's latest long-distance crush shows up at their school, everything goes off script. Matt Olsson is talented and sweet, and Kate likes him. She really likes him. The only problem? So does Anderson.

Turns out, communal crushes aren't so fun when real feelings are involved. This one might even bring the curtains down on Kate and Anderson's friendship.
The Buried by Melissa Grey (Scholastic)
A heart-pounding, claustrophobic new story from Melissa Grey, the author of RATED.

Ten years ago, disaster struck the remote town of Indigo Falls. A horrific event drove the residents underground, into shelters that keep them safe from the danger on the surface. No one speaks about what happened that fateful day, but even the youngest still remember the fear and, most of all, the searing pain when sunlight touched their skin.

Now, a handfull of families inhabit this bunker together, guided by a charismatic leader named Dr. Imogen Moran. There are many rules Dr. Moran has instilled to govern life belowground. You must always tell the truth. You must avoid the light of the sun. You must never touch skin to skin.

But the most important rule, the one that was drilled into their heads from the moment the hatch slammed shut all those years ago, was at the very end of the list. It rattled around in their skulls when all was silent, echoing in the quiet, lonely dark.

You must never go outside.
What's Not to Love by Emily Wibberly and Austin Siegemund Broka (Penguin Teen) - uncertain as to if this is the correct US release date.
An academic enemies-to-lovers YA with all the nerdy drama, high school antics, and heartpounding romance of the Netflix original series Never Have I Ever

Since high school began, Alison Sanger and Ethan Molloy have competed on almost everything. AP classes, the school paper, community service, it never ends. If Alison could avoid Ethan until graduation, she would. Except, naturally, for two over-achieving seniors with their sights on valedictorian and Harvard, they share all the same classes and extracurriculars. So when their school's principal assigns them the task of co-planning a previous class's ten-year reunion, with the promise of a recommendation for Harvard if they do, Ethan and Alison are willing to endure one more activity together if it means beating the other out of the lead. But with all this extra time spent in each other's company, their rivalry begins to feel closer to friendship. And as tension between them builds, Alison fights the growing realization that the only thing she wants more than winning…is Ethan.
Slingshot by Mercedes Helnwein (Wednesday Books)
An exciting debut contemporary young adult novel perfect for fans of Rainbow Rowell and Mary H. K. Choi

Grace Welles had resigned herself to the particular loneliness of being fifteen and stuck at a third-tier boarding school in the swamps of Florida, when she accidentally saves the new kid in her class from being beat up. With a single aim of a slingshot, the monotonous mathematics of her life are obliterated forever…because now there is this boy she never asked for. Wade Scholfield.

With Wade, Grace discovers a new way to exist. School rules are optional, life is bizarrely perfect, and conversations about wormholes can lead to make-out sessions that disrupt any logical stream of thoughts.

So why does Grace crush Wade's heart into a million tiny pieces? And what are her options when she finally realizes that 1. The universe doesn't revolve around her, and 2. Wade has been hiding a dark secret. Is Grace the only person unhinged enough to save him?

Acidly funny and compulsively readable, Mercedes Helnwein's debut novel Slingshot is a story about two people finding each other and then screwing it all up. See also: soulmate, friendship, stupidity, sex, bad poetry, and all the indignities of being in love for the first time.
Fade In the Bright by Jessica Etting and Alyssa Schwatz (Delacorte)
Five Feet Apart meets Tell Me Three Things in this YA contemporary novel about two sisters, one summer, and a diagnosis that changes everything.

Abby needs to escape a life that she no longer recognizes as her own. Her old life--the one where she was a high school volleyball star with a textbook-perfect future--has been ripped away. Abby and her sister, Brooke, have received a letter from their estranged dad informing them he has Huntington's disease, a fatal, degenerative disorder that you wouldn't wish on your worst enemy. And when the sisters agree to genetic testing, one of them tests positive.

Fleeing to Catalina Island for the summer, Abby is relieved to be in a place where no one knows her tragic history. But when she meets aspiring documentary filmmaker Ben--tall, outdoorsy, easygoing, with eyes that don't miss a thing--she's thrown off her game. Ben's the kind of guy who loves to figure out people's stories. What if he learns hers?
Sure, I'll Be Your Black Friend by Ben Philipe (HarperCollins)