Undated
Fantastic Worlds: Impossible Places by Various YA Authors (Random House)
We Need Diverse Books™ (WNDB), a grassroots organization dedicated to advocating for and supporting marginalized narratives, will publish its second young adult anthology with Random House Children's Books, this collection focusing on fantasy and science fiction. Phoebe Yeh, VP/Publisher of Crown Books for Young Readers, acquired world rights to the anthology from Barry Goldblatt of Barry Goldblatt Literary, and the collection will be edited by Dhonielle Clayton, Chief Operations Officer of We Need Diverse Books.
The Nature of Witches by Rachel Griffin (Sourcebooks Fire)
Annie Berger at Sourcebooks Fire has acquired Rachel Griffin's debut YA, The Nature of Witches. Set in a world where witches have long maintained the climate but are now losing control, Clara Densmore, an Everwitch whose magic is tied to all four seasons, is the world's only hope—despite a curse that could cost her everything. Publication is scheduled for spring 2021; Elana Roth Parker at Laura Dail Literary Agency brokered the two-book deal for world English rights.
Kate in Waiting by Becky Albertalli (Balzer + Bray)
"It's about best friends and crushes and high school theater and ****boys and singing and being too earnest."
April 6th
The Half Orphan's Handbook by Joan F. Smith (Imprint)
It's been three months since Lila lost her father to suicide. Since then, she's learned to protect herself from pain by following two unbreakable rules:

1. The only people who can truly hurt you are the ones you love. Therefore, love no one.

2. Stay away from liars. Liars are the worst.

But when Lila's mother sends her to a summer-long grief camp, it's suddenly harder for Lila to follow these rules. Potential new friends and an unexpected crush threaten to drag her back into life for the first time since her dad's death.

On top of everything, there's more about what happened that Lila doesn't know, and facing the truth about her family will be the hardest part of learning how a broken heart can love again.
What Beauty There Is by Cory Anderson (Roaring Brook Press) - some editions also scheduled for January 2021.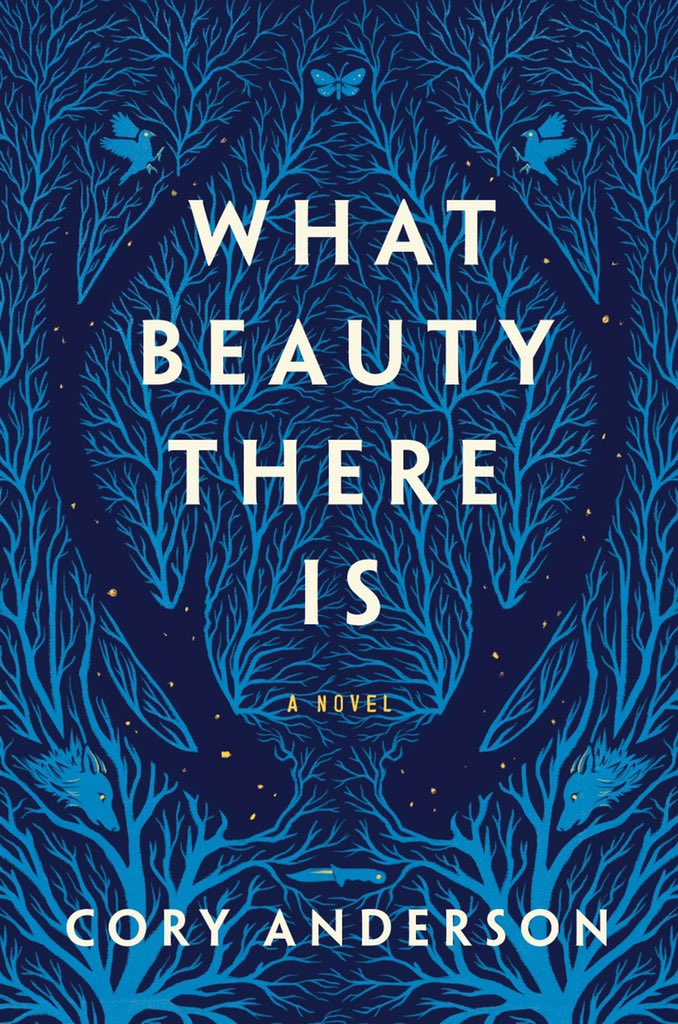 An exhilarating, emotionally powerful and superbly written thriller that's Winter's Bone meets The Road

Winter. The sky is dark. It is cold enough to crack bones.

Jack Morton has nothing left. Except his younger brother, Matty, who he'd do anything for. Even die for. Now with their mother gone, and their funds quickly dwindling, Jack needs to make a choice: lose his brother to foster care, or find the drug money that sent his father to prison. He chooses the money.

Ava Bardem lives in isolation, a life of silence. For seventeen years her father has controlled her fate. He has taught her to love no one. Trust no one. Now Victor Bardem is stalking the same money as Jack. When he picks up Jack's trail, Ava must make her own wrenching choice: remain silent or help the brothers survive.

Choices. They come at a price.
Between the Bliss and Me by Lizzy Mason (Soho Teen)
For fans of Jandy Nelson, Robin Benway, and Kathleen Glasgow, critically acclaimed author Lizzy Mason delivers a richly crafted contemporary YA novel about young romance, mental illness, and the importance of family.

18 year-old Sydney Holman shocks her family by announcing that she's accepted a large financial gift from her grandparents and has decided to attend NYU. Her decision means she won't be at home with her Mom and commuting to Rutgers, but instead living in the city; it also means she'll be close to off-bounds but dreamy Grayson—a guitar prodigy who is going to Julliard in the fall and very much isn't single.

As a new life awaits her, though, Sydney discovers shocking truths about her father: he wasn't just a drug addict who left when she was little, he's schizophrenic, homeless, and living on the streets of New York. And there's a statistical chance that Sydney herself will prove to be schizophrenic. As Sydney is caught between the pressure to stay close to home and watched over her by her mom, and the temptation to take risks and be free, she finds herself falling for Grayson even as she worries her family history of mental illness might make love a terrible choice for both of them.
April 13th
Step into the spotlight with this graphic novel about crushes, confidence, and catchy choruses!

Spending an entire summer on tour as a backup singer for pop star Nika Nitro? What?! That's the DREAM, right? Especially for Jenni, Lauren, and Maggie, three misfit performing arts students with hopes of making it in the music world.

But being twenty feet from fame isn't easy. Between crushes, constant rehearsals, Nika's sky-high expectations, and their own insecurities, this dream is starting to feel more like a nightmare. And that's before they accidentally start beef with a rival band threatening to reveal a secret that could end Nika's career.

Can this trio of new friends come together to save the tour, or will the Backups be kept out of the spotlight forever?
Victories Greater Than Death by Charlie Jane Anders (Tor Teen)
Charlie Jane Anders' currently-untitled YA will be a trilogy of novels about a disaffected present-day teenager who discovers that everything she believes about herself is wrong—that she is not, in fact, human, or from Earth. That, in fact, she has a critical role to play in an interstellar drama involving many contending alien species and a long and complex history of politics, diplomacy and warfare among them. That she carries within herself the memories and abilities of a now-deceased warrior leader of her true species, deliberately implanted in her for safekeeping. It is a tale of the heart of adolescence: vast power and knowledge yoked to a vulnerable young consciousness that's just now learning, in fits and starts and with repeated failures and setbacks, how to be a person.
Tiffany Liao at Henry Holt has acquired, at auction, North American rights to The Mary Shelley Club by Goldy Moldavsky (Kill the Boy Band). Pitched as Scream meets Gossip Girl, the YA novel follows Rachel Chavez, a new girl at New York City's elite Manchester Prep, who joins a secret club to see who can come up with the best scary prank. But when someone begins terrorizing the club, Rachel must discover who's behind it before they all wind up dead. Publication is scheduled for spring 2021; Jenny Bent at the Bent Agency negotiated the two-book deal.
April 20th
These Feathered Flames by Alexandra Overy (Inkyard Press)
A fantasy retelling of the Firebird folktale with a female/female romance.

Two sisters. Separated by duty. One certain truth: magic always comes with a price. In the land of Tóurin, when twin heirs are born, one is raised to rule and the other becomes the next Firebird, a creature to ensure magic remains balanced.

While Izaveta remained at court, learning the lies and deception needed to survive, Asya was taken away to train with her aunt, the mysterious and deadly Firebird. But before Asya's training is completed, the ancient power suddenly blooms inside her, which can mean only one thing: the queen is dead, and a new ruler must be crowned. Asya returns to court for her sister's coronation, only to feel the stirring of her first calling as the Firebird.

Now, she must navigate the unfamiliar territory of the royal courts, where friend and foe are often one and the same, to hunt down the person who used the forbidden magic. But not all is as it seems, for magic is dying in Tóurin, political schemes are in motion, and the two sisters will soon find how much their years apart have changed them both.
After her father vanishes while investigating the disappearance of 13 young women, a teen returns to her secretive hometown to pick up the trail in this second YA historical mystery from the author of The Silence of Bones.

Hwani's family has never been the same since she and her younger sister went missing and were later found unconscious in the forest, near a gruesome crime scene. The only thing they remember: Their captor wore a painted-white mask.

To escape the haunting memories of this incident, the family flees their hometown. Years later, Detective Min—Hwani's father—learns that thirteen girls have recently disappeared under similar circumstances, and so he returns to their hometown to investigate... only to vanish as well.

Determined to find her father and solve the case that tore their family apart, Hwani returns home to pick up the trail. As she digs into the secrets of the small village—and reconnects with her now estranged sister—Hwani comes to realize that the answer lies within her own buried memories of what happened in the forest all those years ago.

Suspenseful and richly atmospheric, June Hur's The Forest of Stolen Girls is a haunting historical mystery sure to keep readers guessing until the last page.
Wiches Steeped in Gold by Ciannon Smart (HarperTeen)
Alice Jerman at HarperTeen has acquired Ciannon Smart's YA debut, Witches Steeped in Gold, and a sequel, at auction. A Caribbean-inspired fantasy, the novel follows two witches from enemy castes—one seeking power, and one seeking revenge—who will stop at nothing to overthrow the Witch Queen, even if it means forming an alliance with each other and unleashing chaos on their island nation. Publication is slated for winter 2021; Taylor Haggerty at Root Literary negotiated the two-book deal for North American rights.
The Great Big One by J. C. Geiger (Disney Hyperion)
Griffin wants to be prepared for The Great Big One: the tsunami that is predicted to wipe out his Lost Coast town. He knows the power of the ocean; after all, his brother was lost to it less than a year ago. But when a new world opens up in the form of a secret series of no-tech music festivals in the middle of the desert, and he meets people living in the now, Griff has to come to terms with who his brother was, and who Griff wants to be.
Scottie and Irene by Kelly Quindlen (Roaring Brook Press) - author has been calling this project She Drives Me Crazy, unsure which title is correct.
"Get ready for snarky basketball player + imperious head cheerleader + enemies-to-lovers trope... coming your way April 2021!"
Slingshot by Mercedes Helnwein (Wednesday Books)
An exciting debut contemporary young adult novel perfect for fans of Rainbow Rowell and Mary H. K. Choi

Grace Welles had resigned herself to the particular loneliness of being fifteen and stuck at a third-tier boarding school in the swamps of Florida, when she accidentally saves the new kid in her class from being beat up. With a single aim of a slingshot, the monotonous mathematics of her life are obliterated forever…because now there is this boy she never asked for. Wade Scholfield.

With Wade, Grace discovers a new way to exist. School rules are optional, life is bizarrely perfect, and conversations about wormholes can lead to make-out sessions that disrupt any logical stream of thoughts.

So why does Grace crush Wade's heart into a million tiny pieces? And what are her options when she finally realizes that 1. The universe doesn't revolve around her, and 2. Wade has been hiding a dark secret. Is Grace the only person unhinged enough to save him?

Acidly funny and compulsively readable, Mercedes Helnwein's debut novel Slingshot is a story about two people finding each other and then screwing it all up. See also: soulmate, friendship, stupidity, sex, bad poetry, and all the indignities of being in love for the first time.